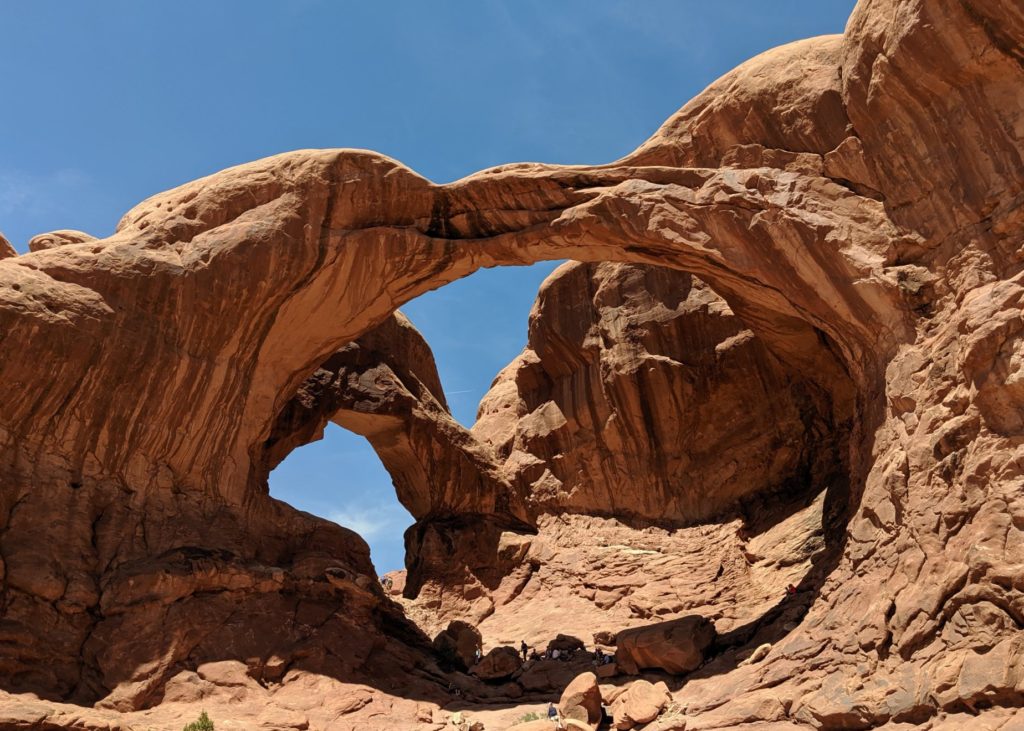 With the car fixed and back on the road, our cross-country camping adventure was finally back on track. Until this point it hardly felt like a camping adventure at all, as we had stayed only two nights in a tent compared to six in a motel. And due to the popularity of Zion, the two nights camping were closer to sleeping in a crowded parking lot than a campground. While we were making the best of it, we were ready for more nature. We decided to head east towards Moab for use as a jumping off point for Arches and Canyonlands National Parks. Both of the parks, and Moab in general, turned out to be absolutely spectacular.
Going into this trip, despite there being five National Parks in Southern Utah, I was only aware of Zion, Bryce Canyon, and Arches. While I was disappointed to miss Bryce Canyon, it seemed like there just weren't many places for us to camp and we were getting sick of staying in motels. My research found that there are a bunch of spots for camping in and around Moab, so that made the decision for us. We rolled in at about 11am on a Thursday and despite the promise of plenty of sites, we found one full campground after another. Luckily, we ended up getting the second to last spot in just about the final campground along the Colorado River. Whew!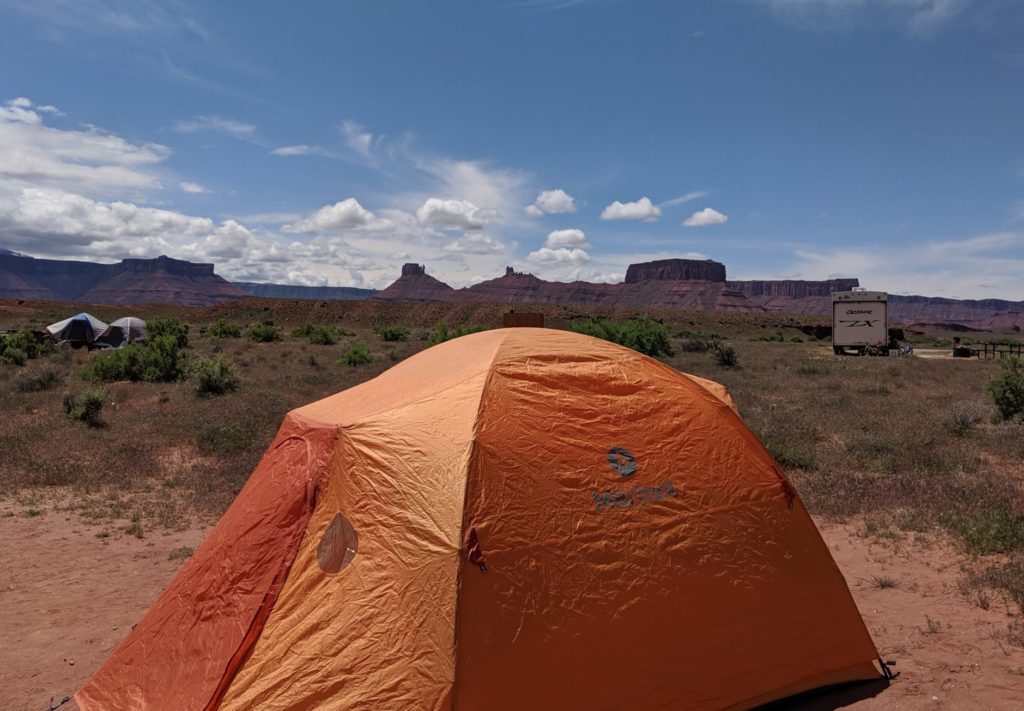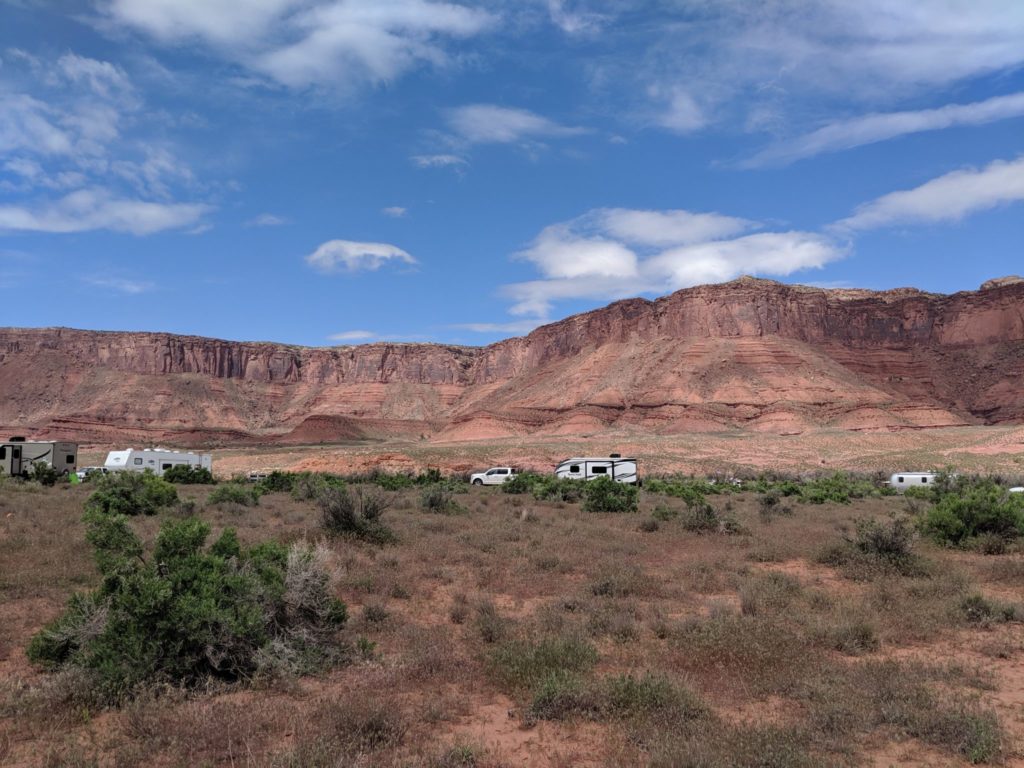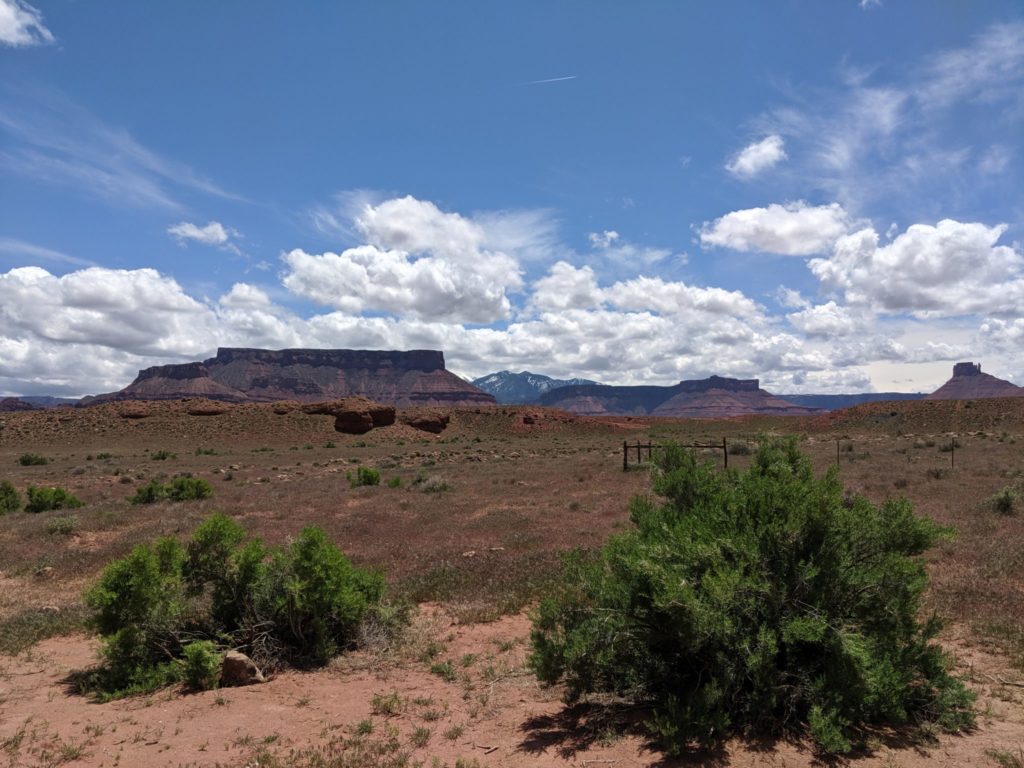 We stayed three nights at the Lower Onion Creek Campground, which is about 20 miles outside of town. The weather cooperated with highs in the low to mid 70s and no rain, so the fact that there wasn't a single tree for shade didn't matter too much. The campground itself is nestled into a valley surrounded by giant cliffs and great views. In fact, it seemed like everywhere we looked was a spectacular vista. The whole Moab area is packed full of red rocks, plateaus, mesas, canyons, snow-covered mountains, and expansive views in just about every direction. Even the drive from the campground into town along the Colorado River is awesome with its sheer cliff walls.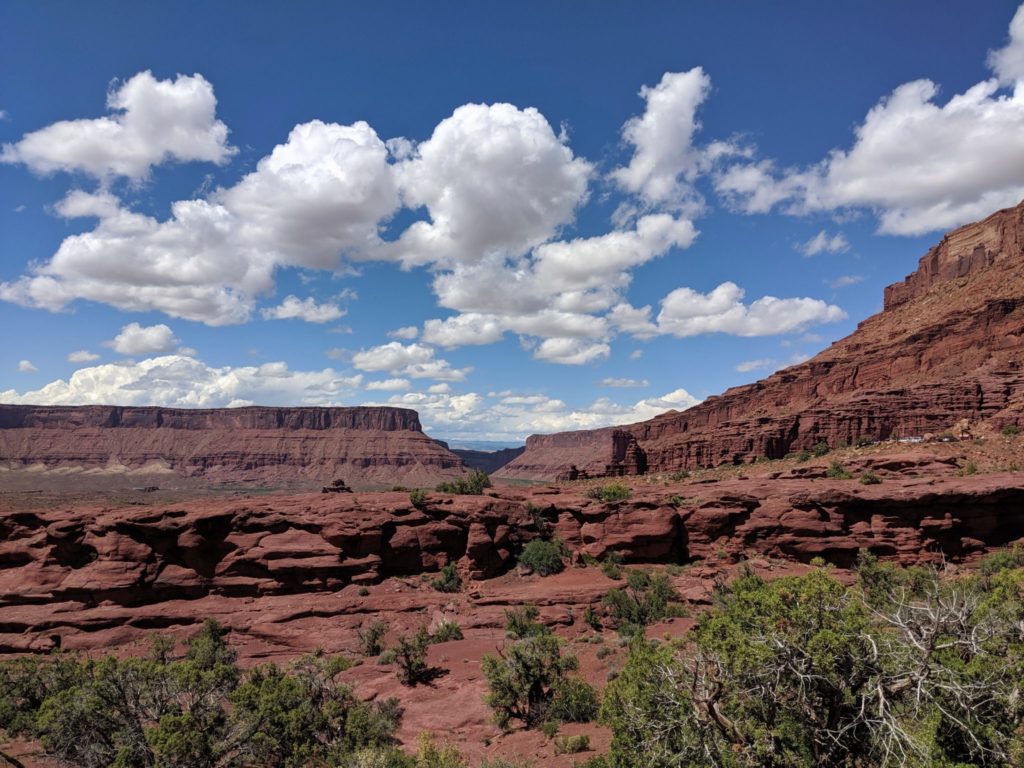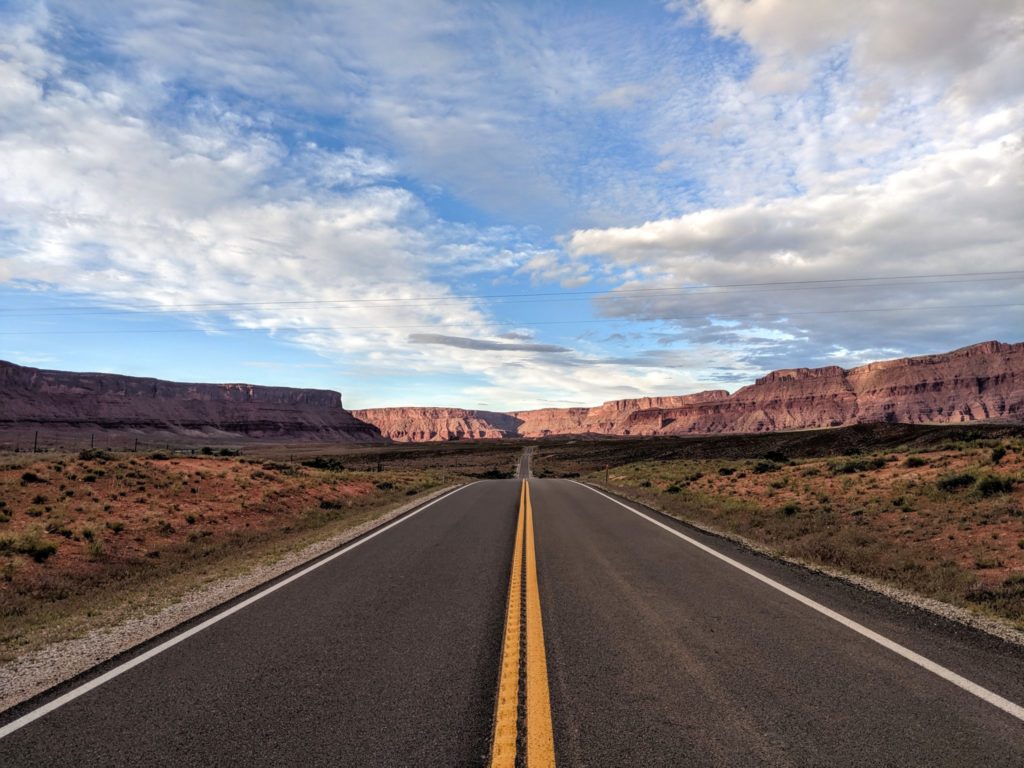 It's kind of hard to convey how incredible it was, and I don't feel like most of the pictures do it justice. But let's just say that we planned to stay for three nights and ended up staying seven instead. There's that retirement flexibility rearing its head again and allowing us to maximize our time in the places we liked the best. And Moab was definitely our top spot so far.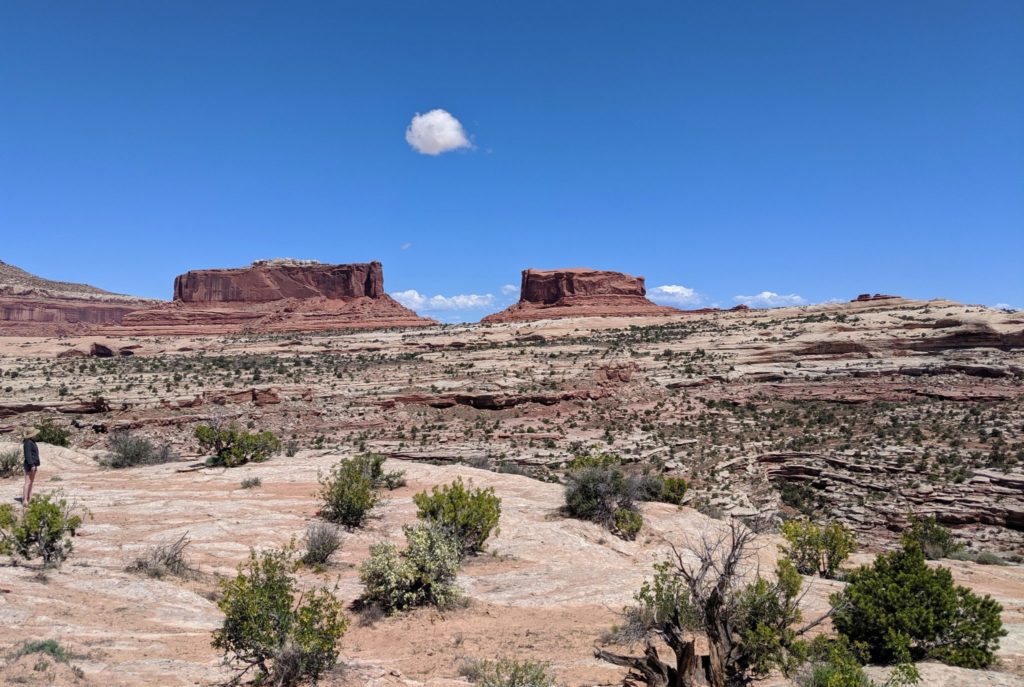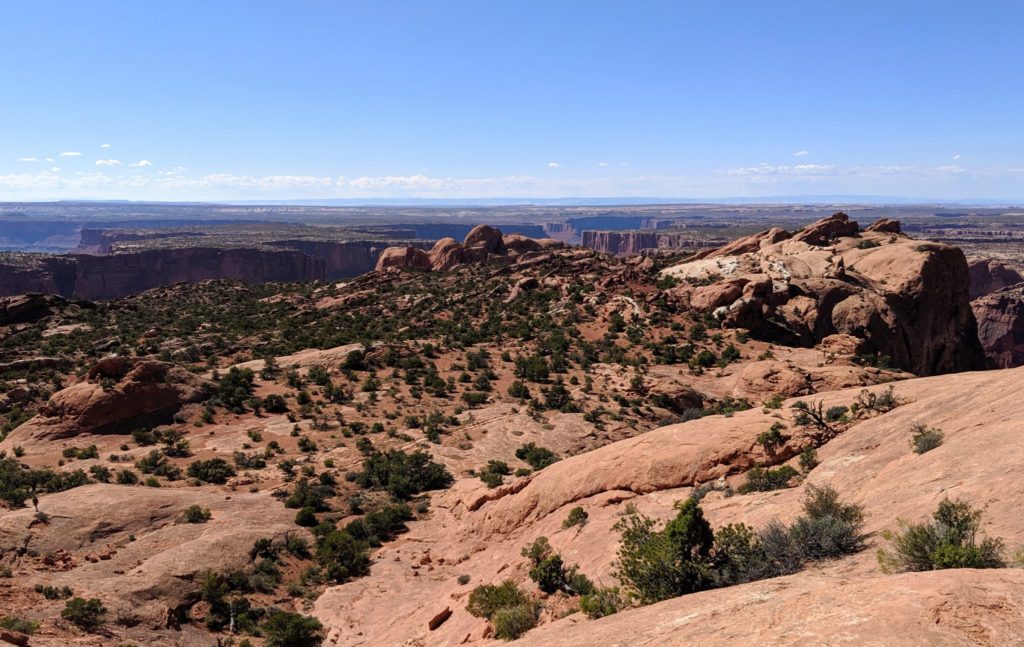 At one point, we made a favorable comparison to Rome. In Rome, you can walk down a random street and stumble upon a glorious ancient building that isn't listed in any tourist guide book. In any other city it would be a top attraction, but in Rome it doesn't even make the list due to the sheer number of even more amazing sites. Moab has a similar kind of feel. Everywhere we looked was something spectacular, even if it wasn't on the list of popular attractions. We did a couple of hikes that were fantastic but weren't close to being in a National Park, let alone on a list of best hikes. It seemed like everywhere we turned we were finding a new fun thing to do or stunning view to absorb.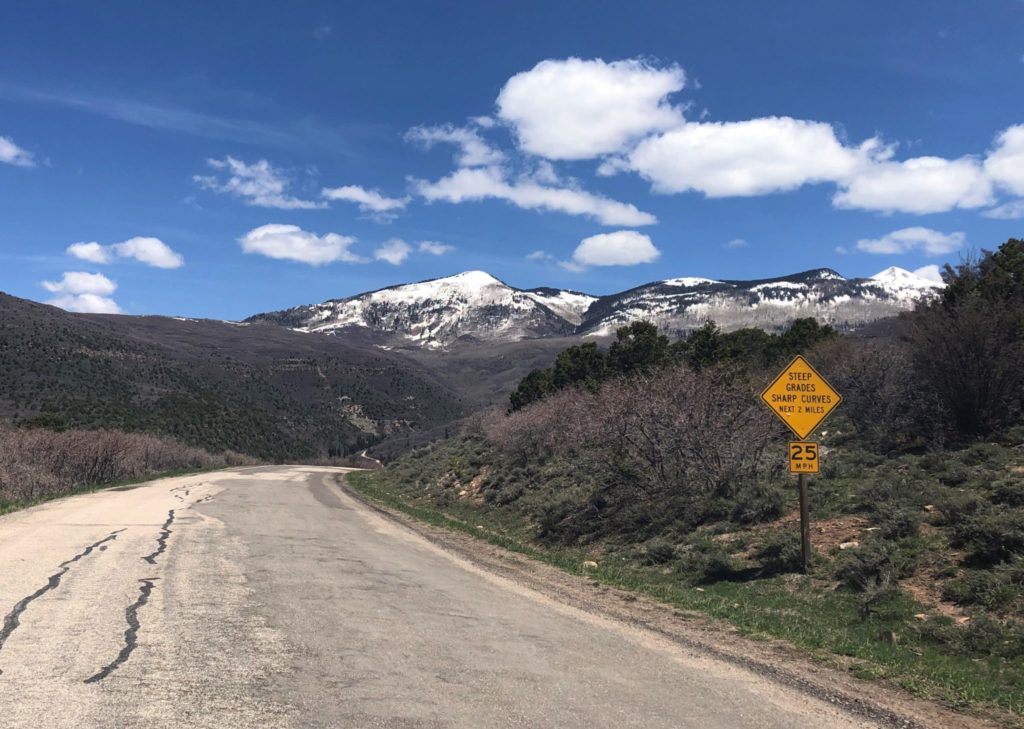 It happened this way from day one as we were about to run into town after setting up camp, but chose to check out the trailhead across the road from our campground. We initially wanted to just read about the trail, but seeing the views and that it was a relatively short hike, we decided to call an audible and tackle the trail right then. It turns out that this was a slightly famous area called the Fisher Towers. According to the sign at the trailhead, it had been used for filming 1950s and 1960s Western movies called Wagon Master, The Comancheros, and Geronimo. They even had signs up that they were going to film something there (a commercial, I think) a few days later. And I'm so glad that we decided to hike it, as it's completely unique and really stunning.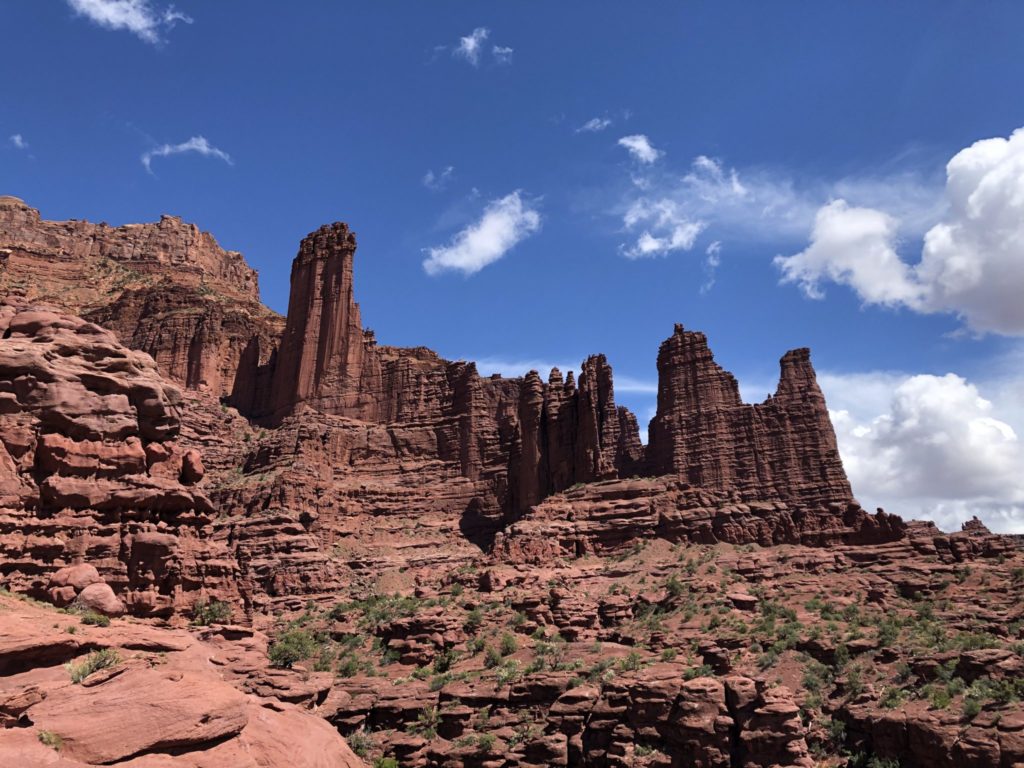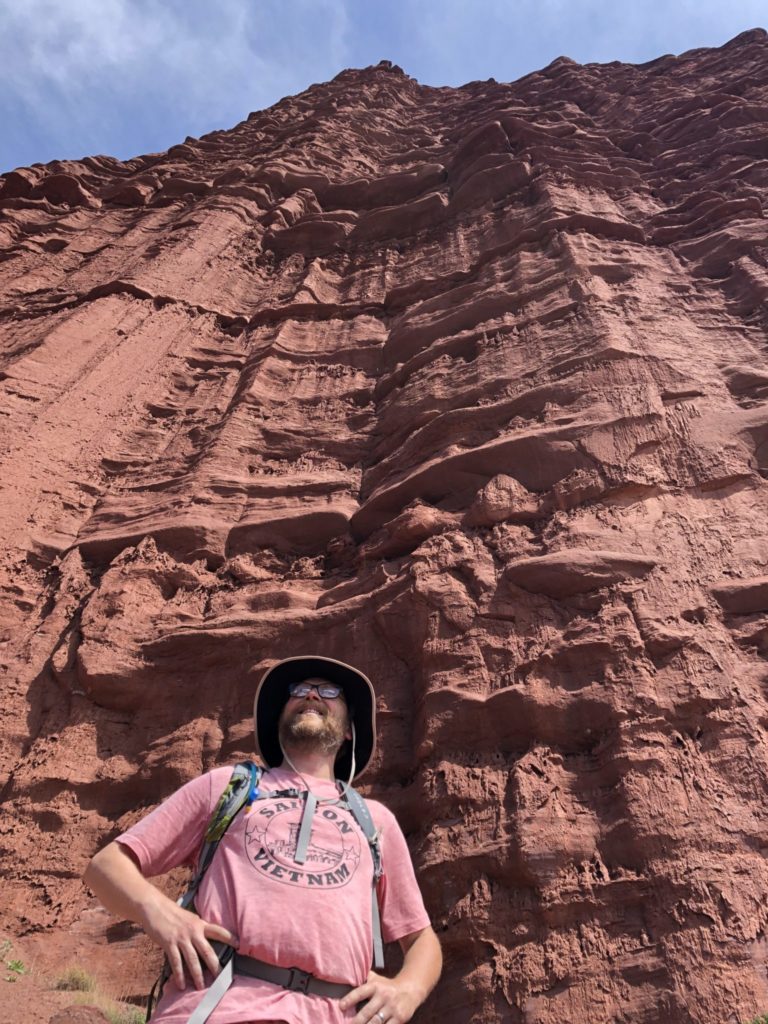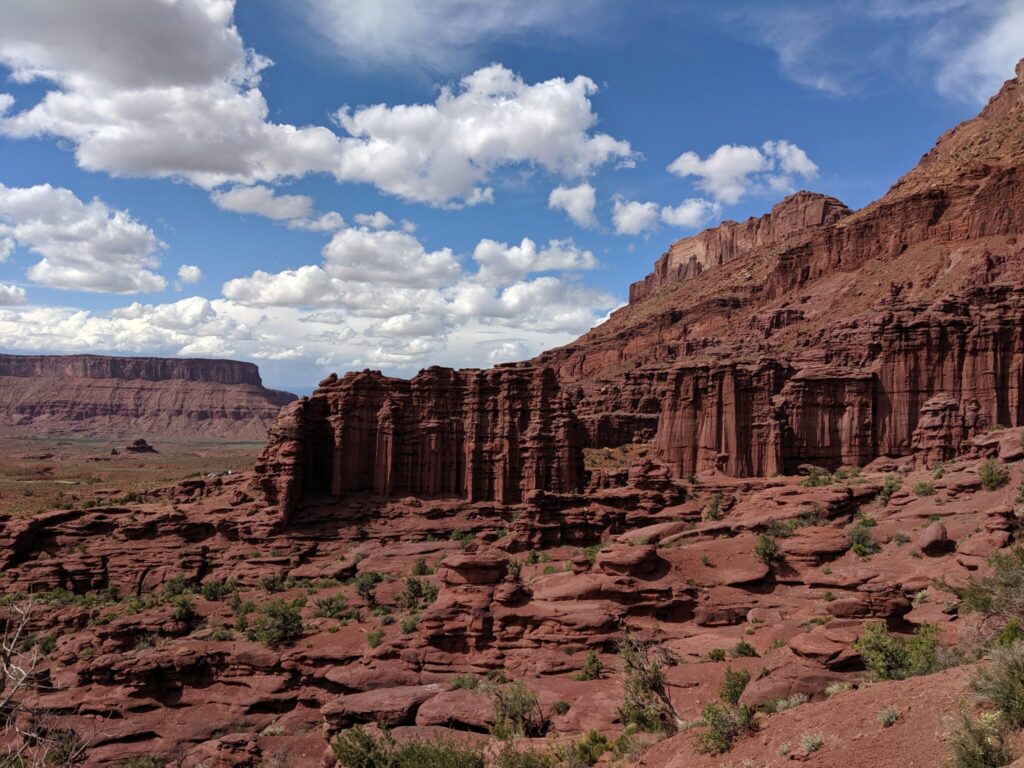 The next day our trip to Arches National Park coincided with the only cloudy day the whole week we stayed. As such, it was still really cool but pictures from that day don't do it justice due to the lack of sun. Given how much we enjoyed this park in the less than ideal weather, it was a no brainer for us to head back again later in the week when the sun was out.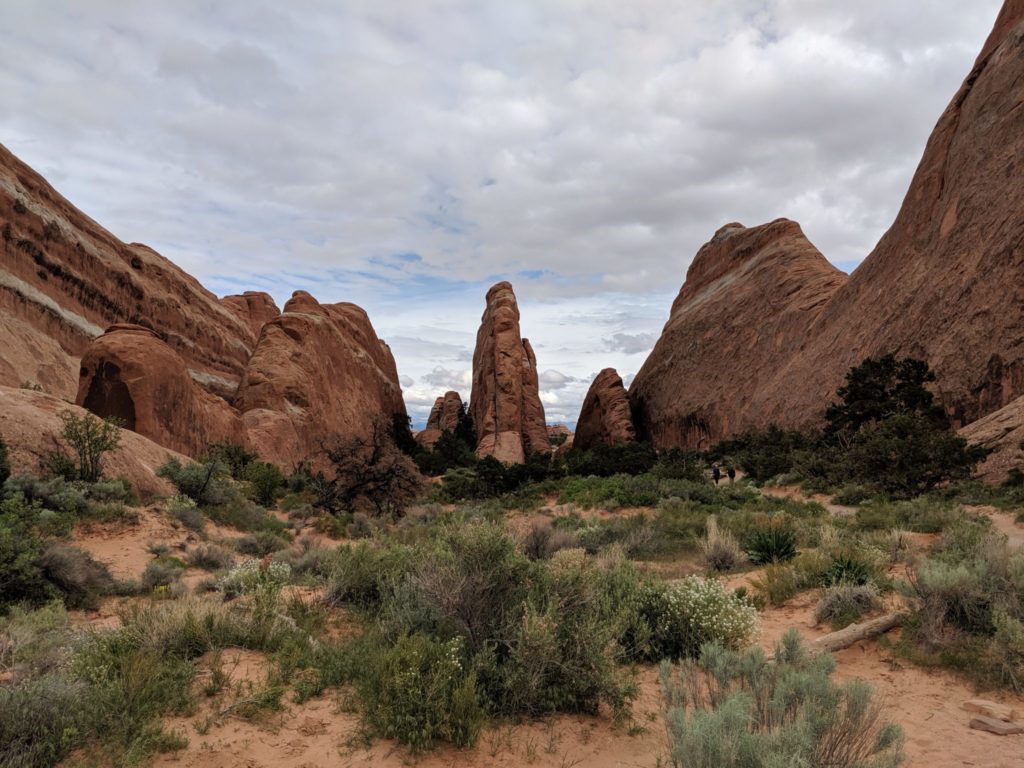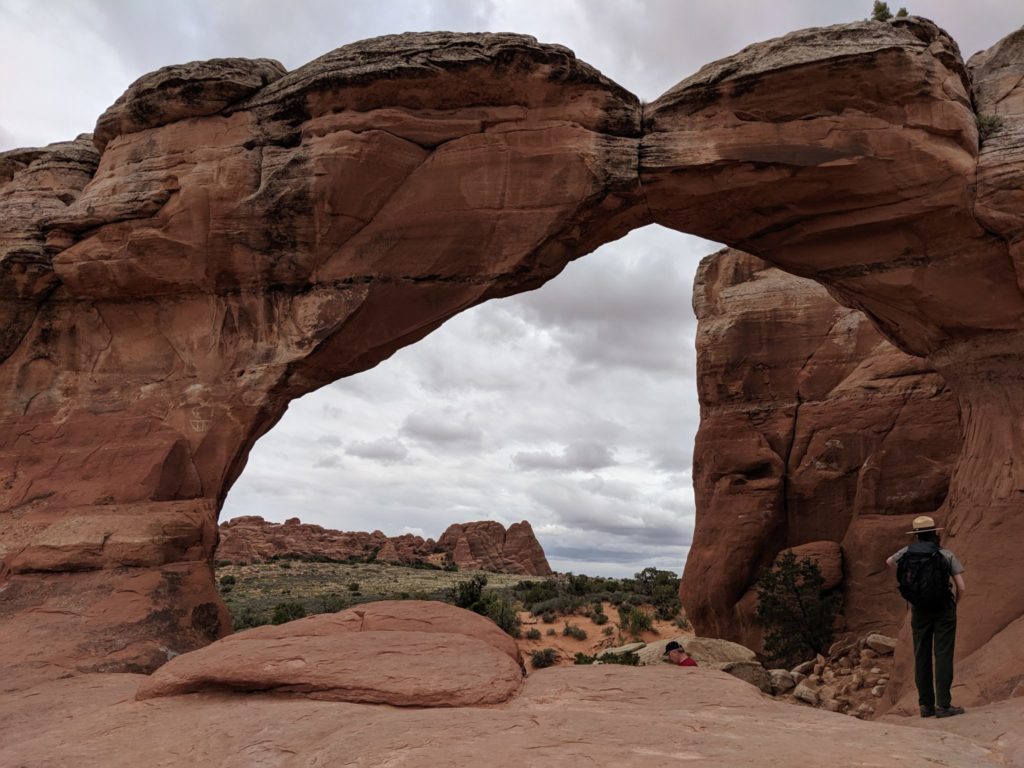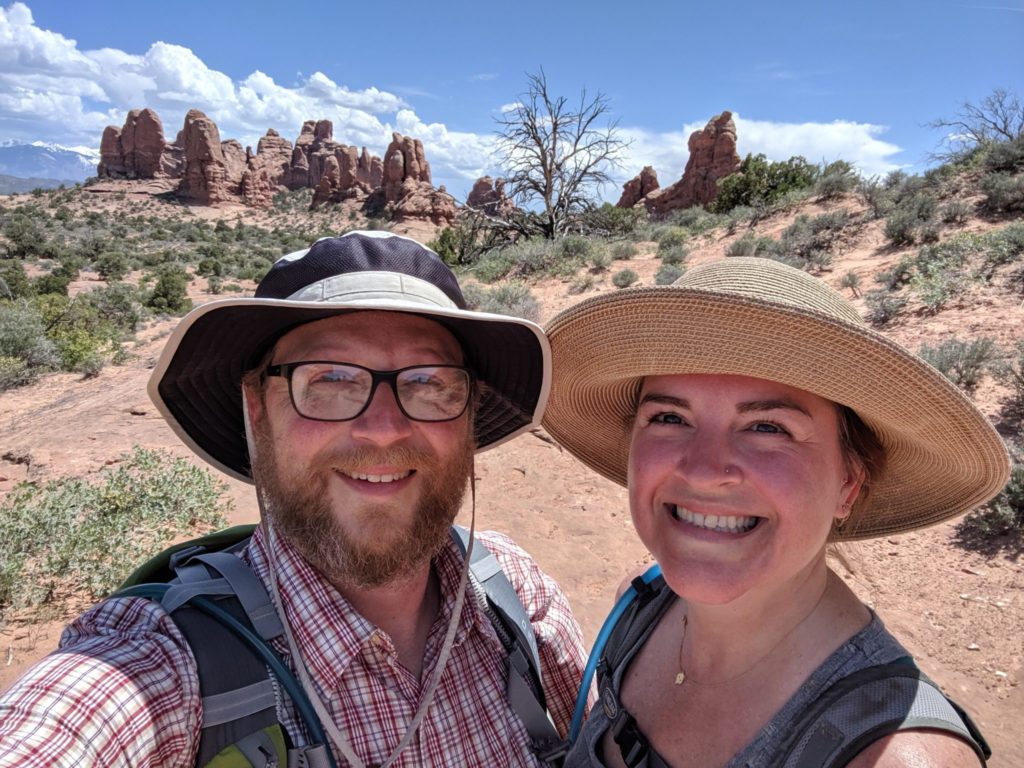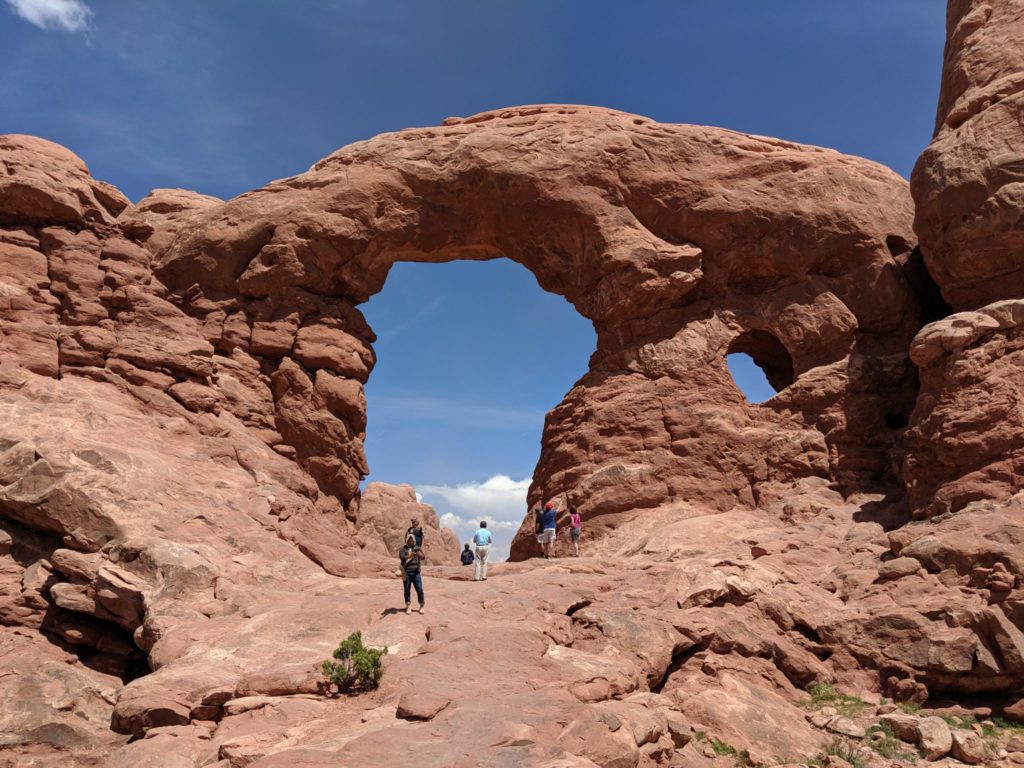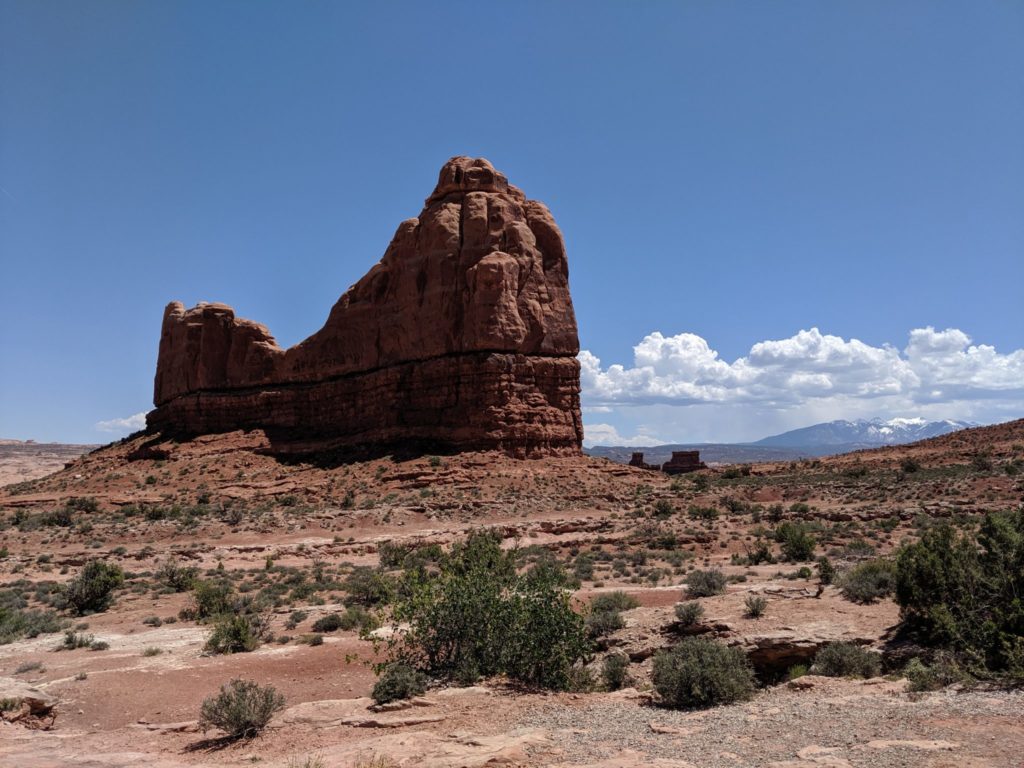 I had never heard of Canyonlands National Park until we arrived in Southern Utah, but it was a very pleasant surprise. There are two main areas. The easiest to access and closest to Moab is the Island in the Sky section. This section of the park is on top of a large plateau which provides distant views in every direction on clear days. There are also really cool rock formations and due to it being Spring, we saw a ton of wildflowers. It was simply gorgeous.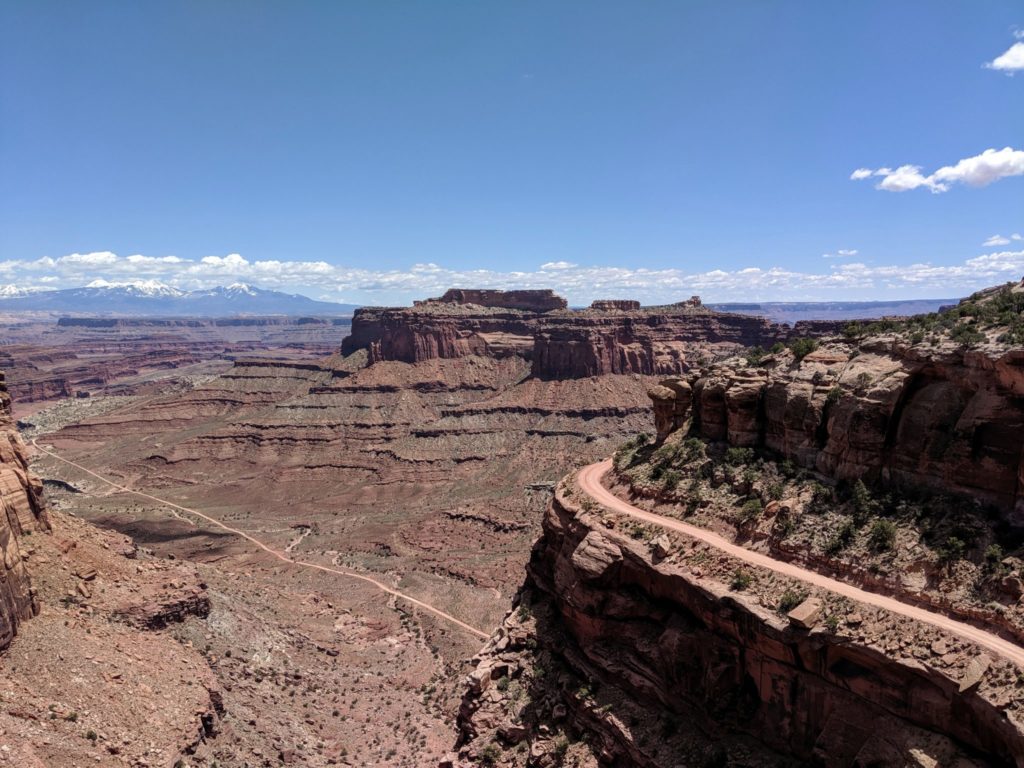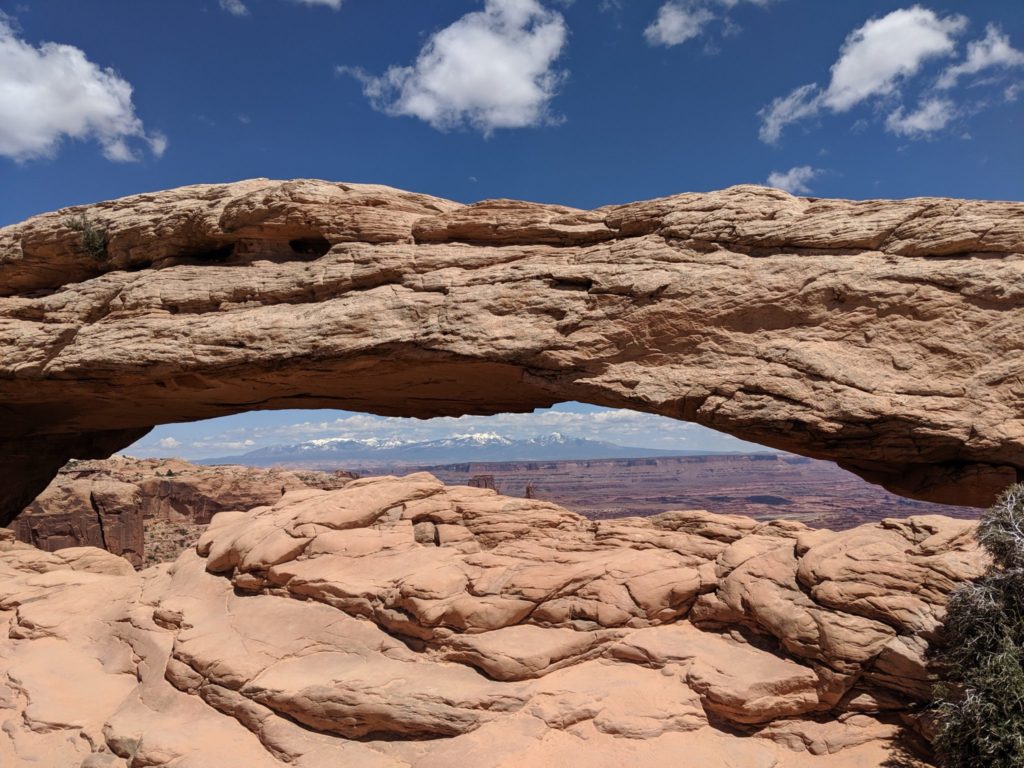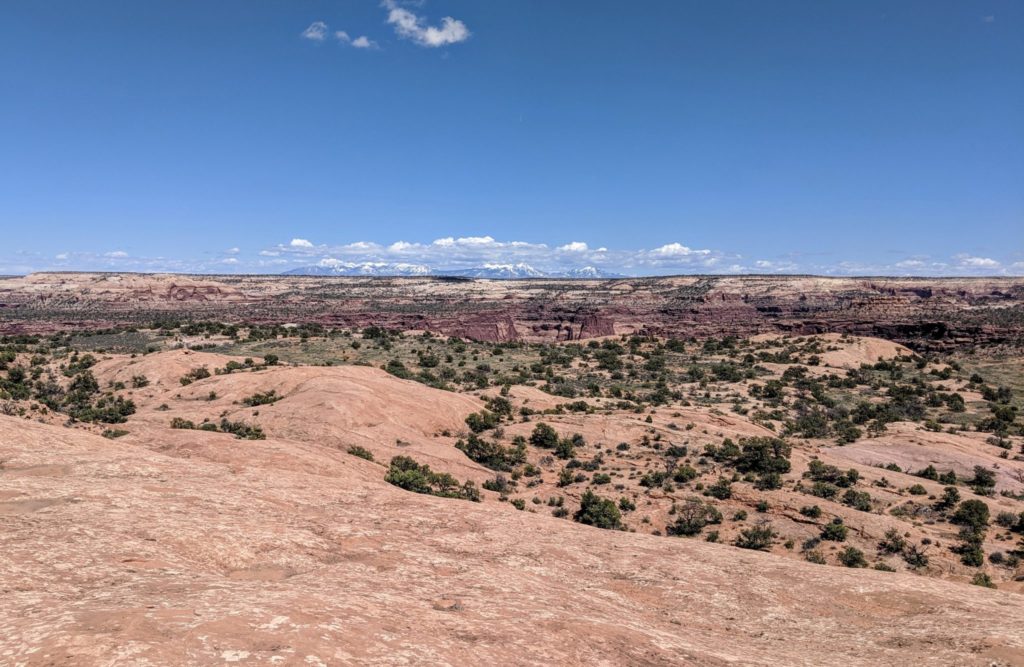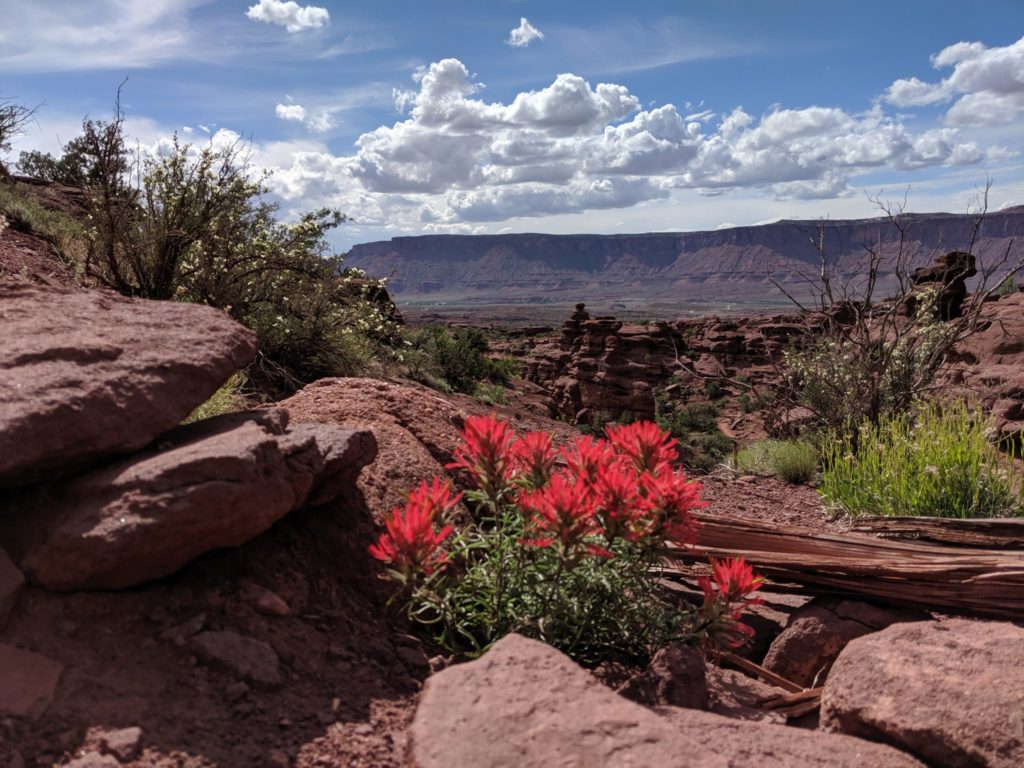 The second section of the same park, The Needles, is about 100 miles away. Here we did our longest and best hike of the trip. It involved a great variety of desert landscapes and a lot of climbing on the rocks in between canyons. It was a ton of fun. Where there is no trail because a lot of it is just walking on solid rock, the park sets up cairns (little piles of rocks) to serve as a guide for which direction to travel. At points it felt like playing the part of an old time explorer blazing a new path.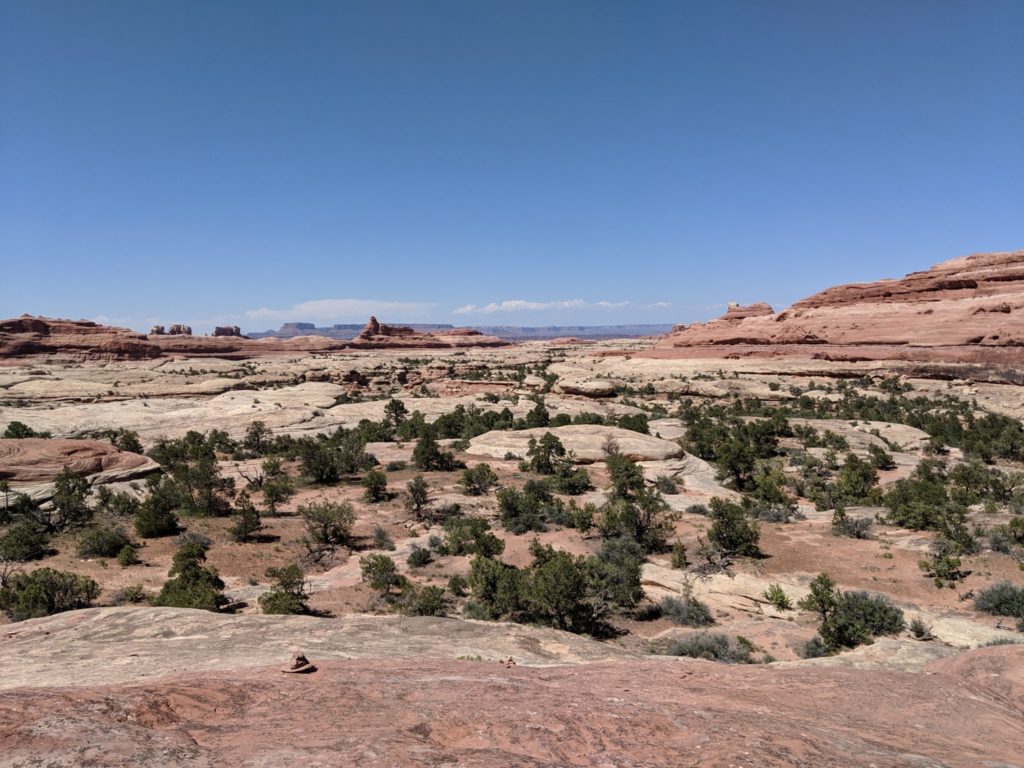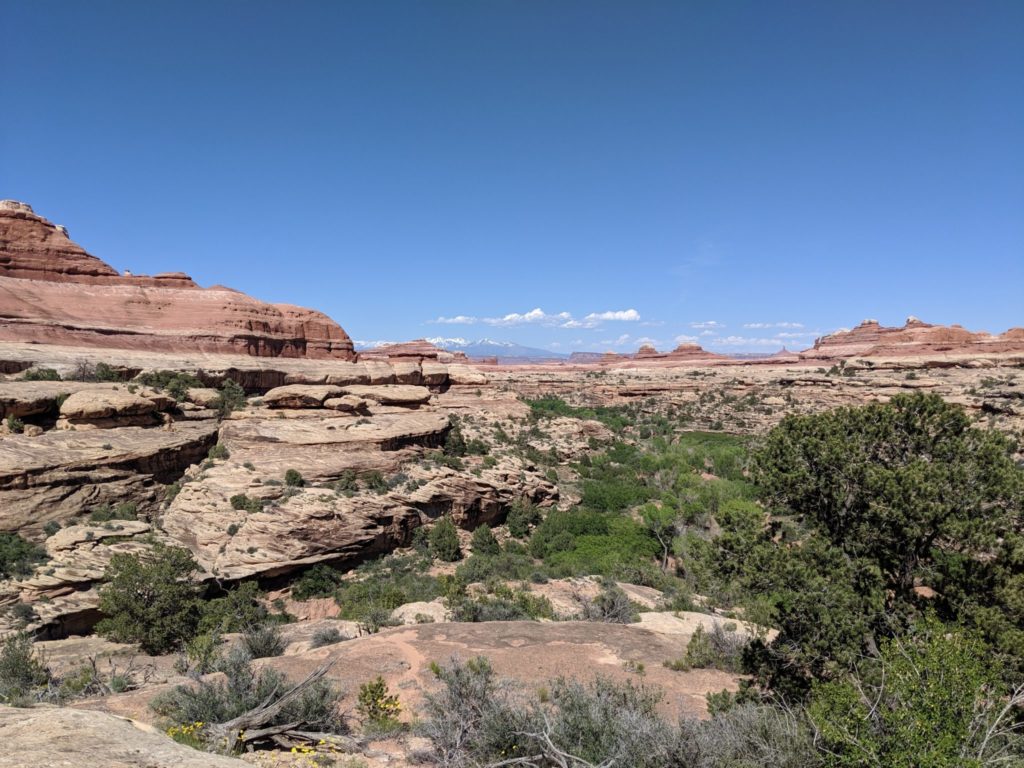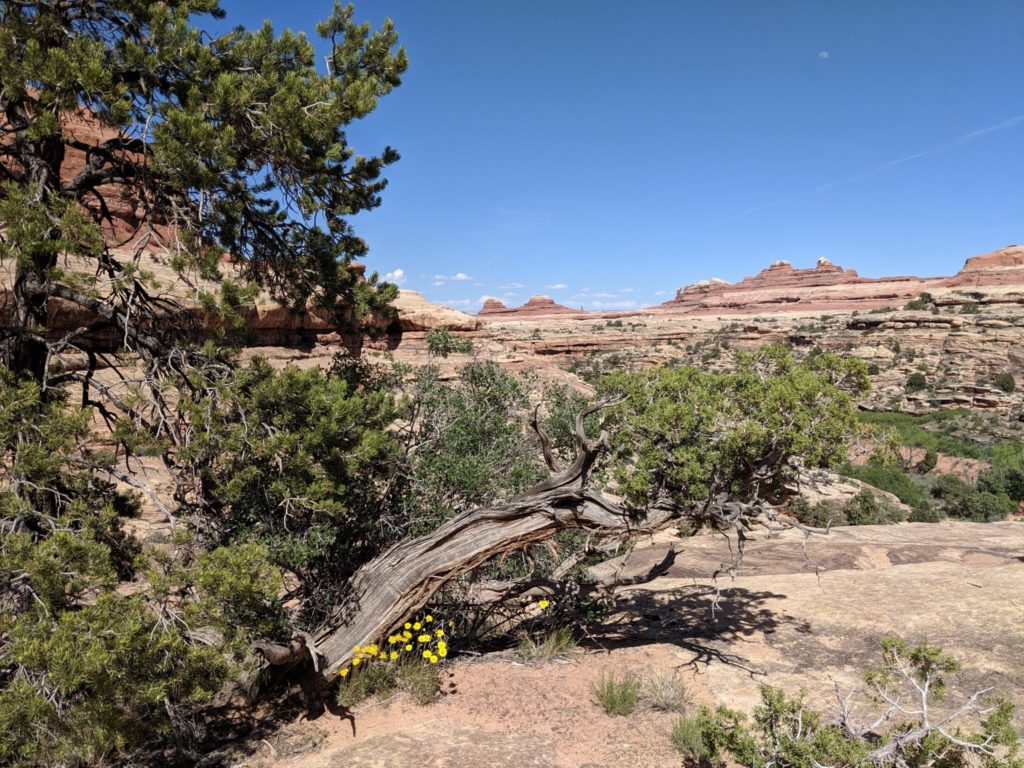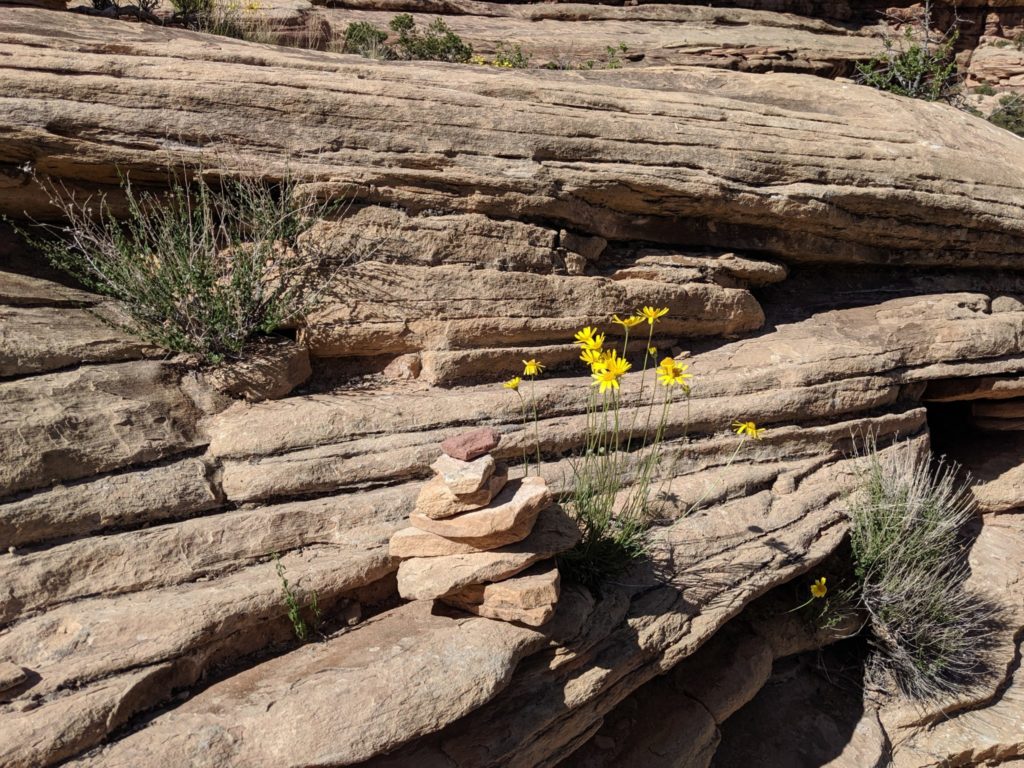 After staying 3 nights at the Lower Onion Creek Campground, we decided to get a motel for night 4 in order to shower and catch the Cubs game on Sunday Night Baseball. We got up on day 5, this time a Monday morning, and snagged a much closer spot at the Grandstaff Campground. So not only was our trip into town cut by 75%, we also gained a couple of trees for shade, which came in extremely handy since temperatures were scheduled to get up into the 90s. Don't worry Mom, we were diligent in carrying water and applying the sunscreen.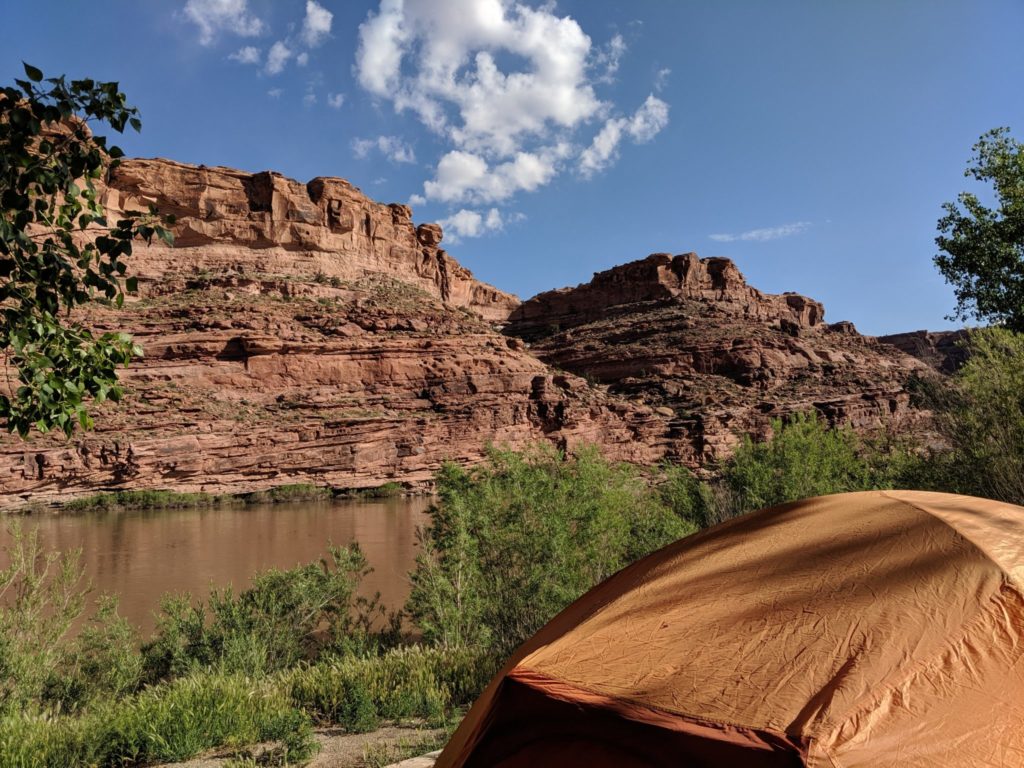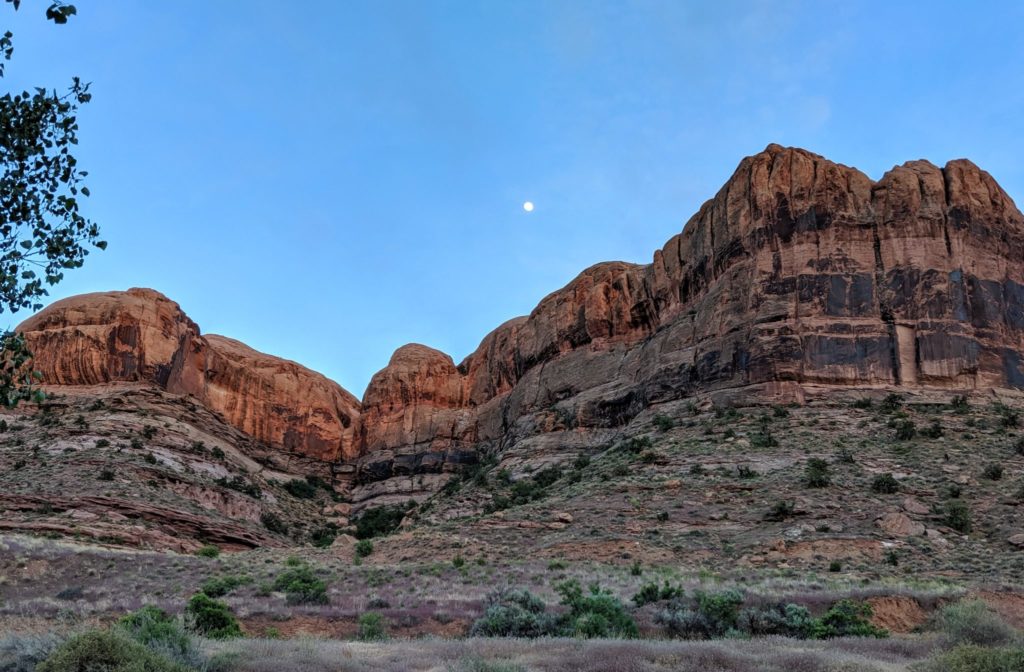 I think we could've easily stayed multiple weeks and still have been totally enthralled. But despite the temporary extension to our Moab stay, we still have commitments that we've made to our families to be in certain places at certain times. As such we had to end our stay after a week and head towards the upper Midwest.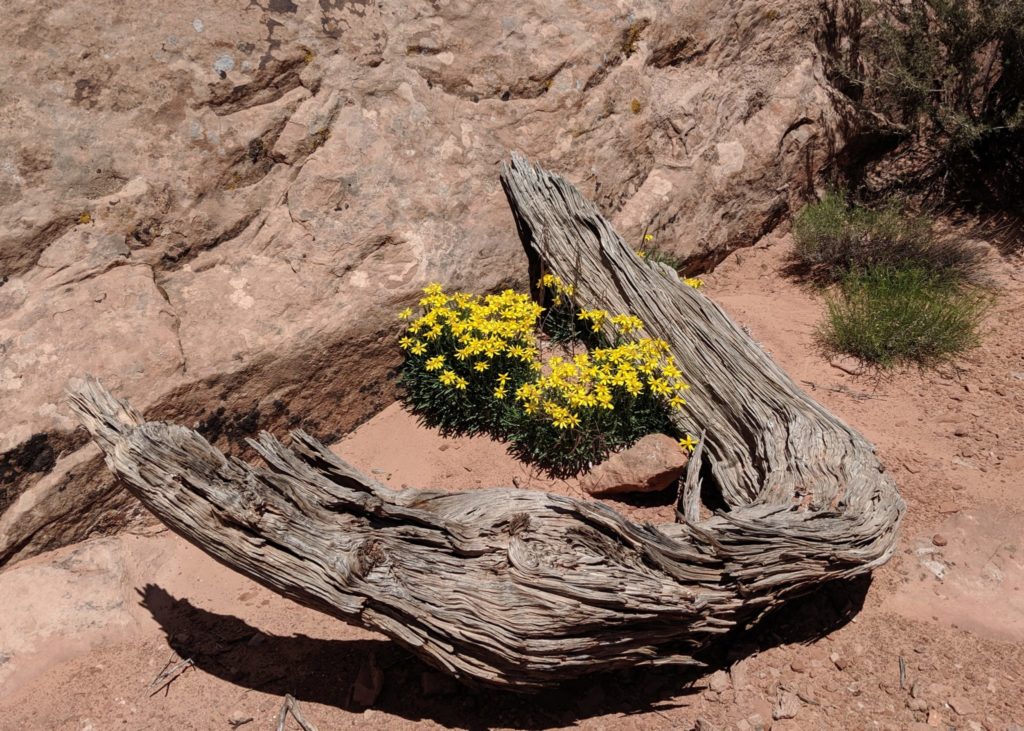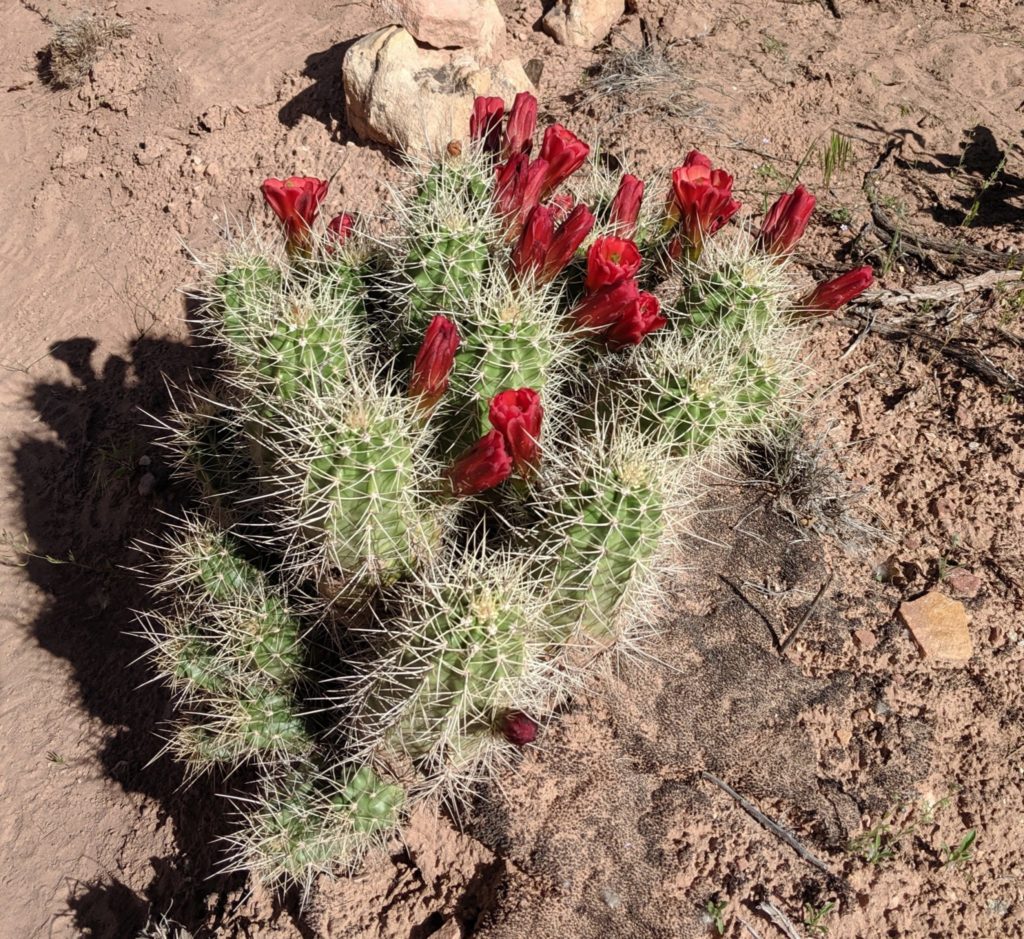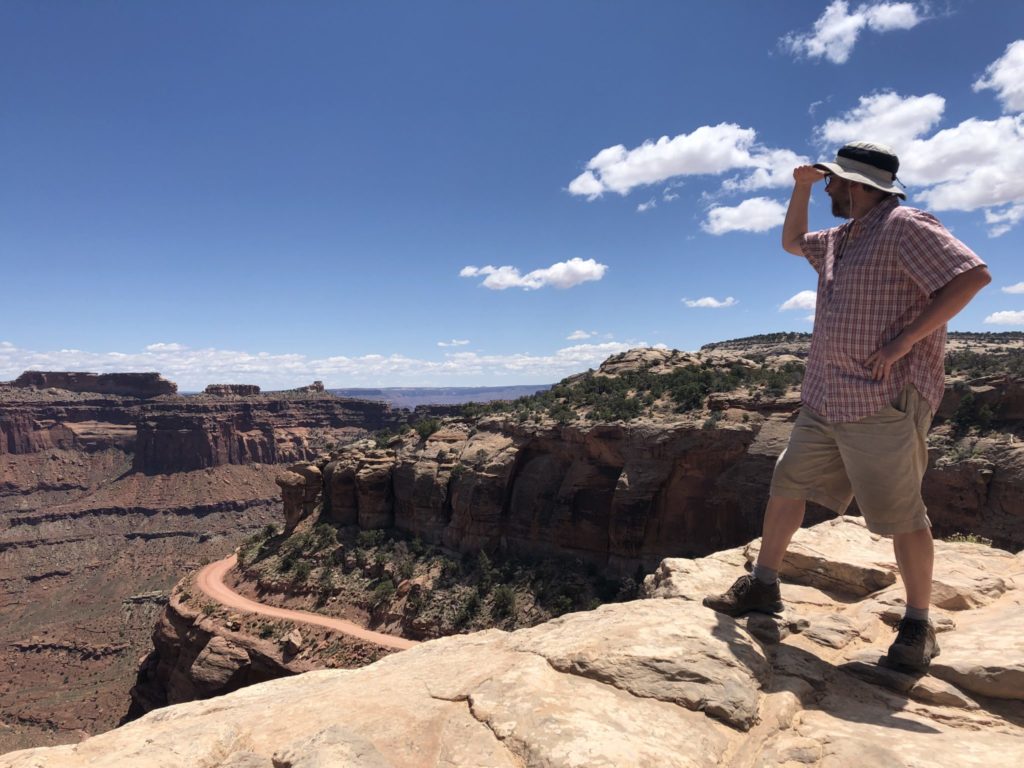 I'm not sure why, but I had barely heard about Utah and its amazing scenery before visiting. I knew there was some good mountain biking, and of course rock formations, but there was so much more. As it turns out, we love Utah! And Moab is the best of the best. There are gorgeous views in every direction and the landscape is simply incredible. So spread the word, and get yourself and your sunscreen to Utah.