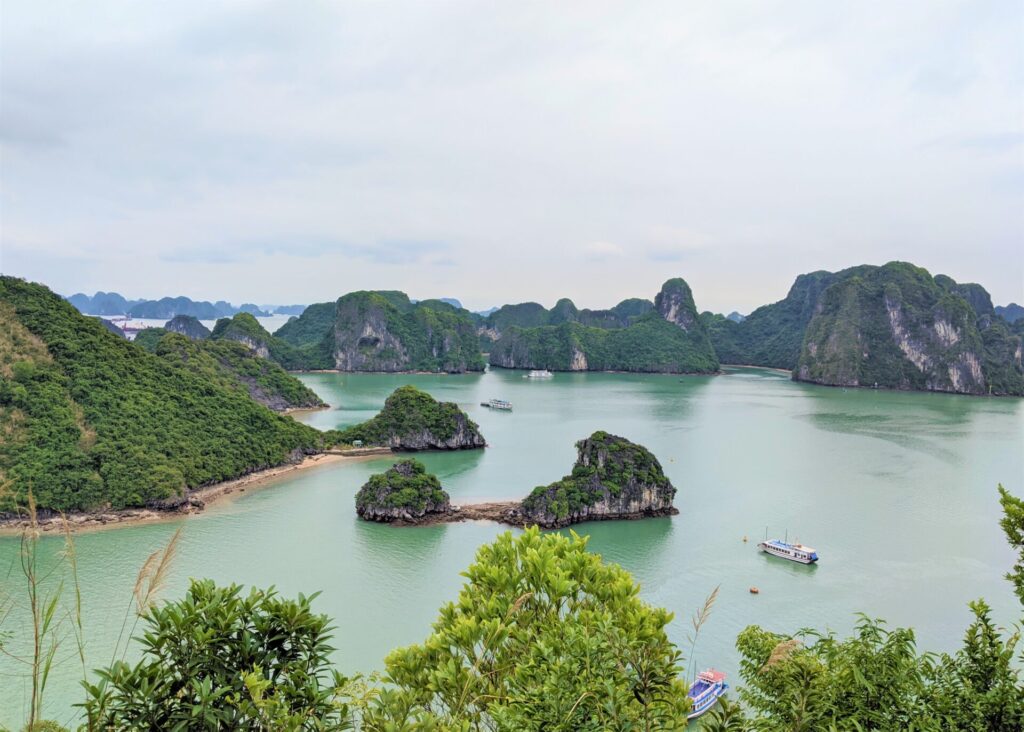 By any measure, Ha Long Bay is one of the top natural wonders of the world. Its unique limestone karsts seem to continue forever across the seascape. Each of these small isles is different, having been carved up by millions of years of geologic evolution. The result is a vast and beautiful terrain that's mesmerizing to witness by boat. A cruise through this labyrinth of outcroppings is an unforgettable experience.
I'd estimate that 95% of the tours that serve Ha Long Bay originate in Hanoi. Between two and three hours away by shuttle, they all offer a similar itinerary. You'll be picked up at your hotel early in the morning and driven in a van or minibus with a dozen others to Ha Long. From there you'll board the boat for an afternoon departure.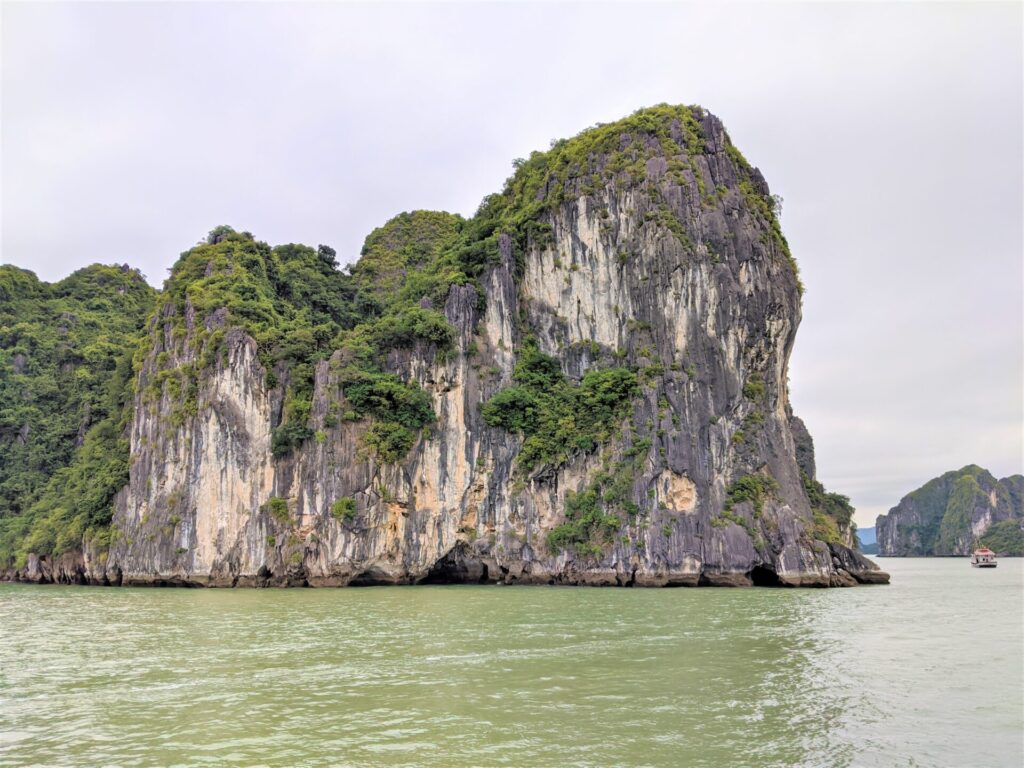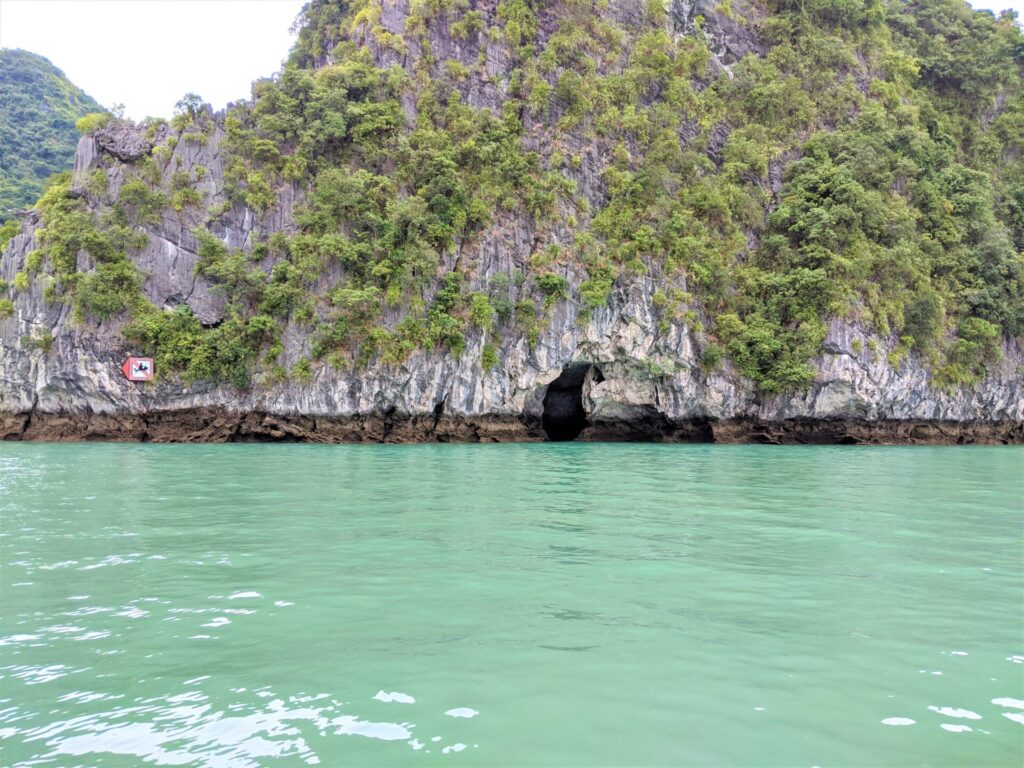 If you choose a single day cruise, you'll get about four hours on the water followed by another few hours in the shuttle back to Hanoi. If you choose an overnight cruise, you'll get 4-5 hours of daylight on Ha Long Bay, dinner on board, and then another 3-4 hours of daylight the next morning before they drop you back at the pier to prepare for the next arrivals to repeat the process. There are dozens of tour companies competing for tourists on these two itineraries.
Since we travel slower and have more time, we chose a different route. The day cruise from Hanoi was too long of a day with only a short time on the bay. The overnight cruise offered more time, but was much more expensive. Instead, we traveled to the city of Ha Long and stayed a week there. This allowed us to take a day cruise that departed at 9am and returned at 4pm. That gave us a similar amount of time on the bay as an overnight cruise but at a third of the cost.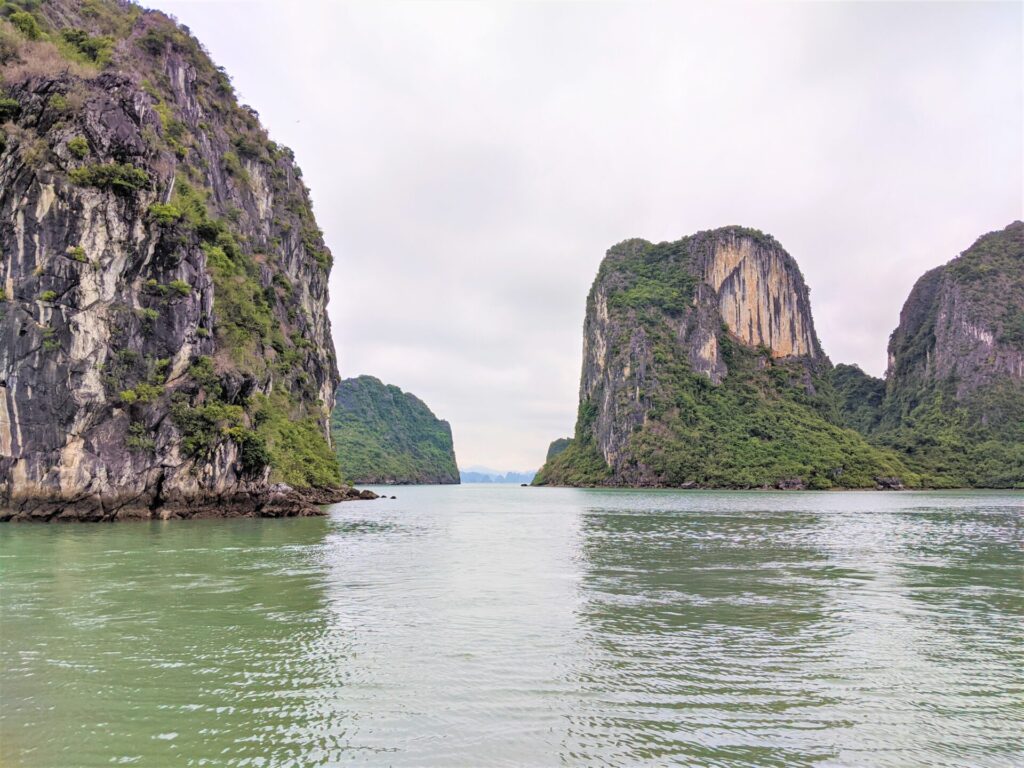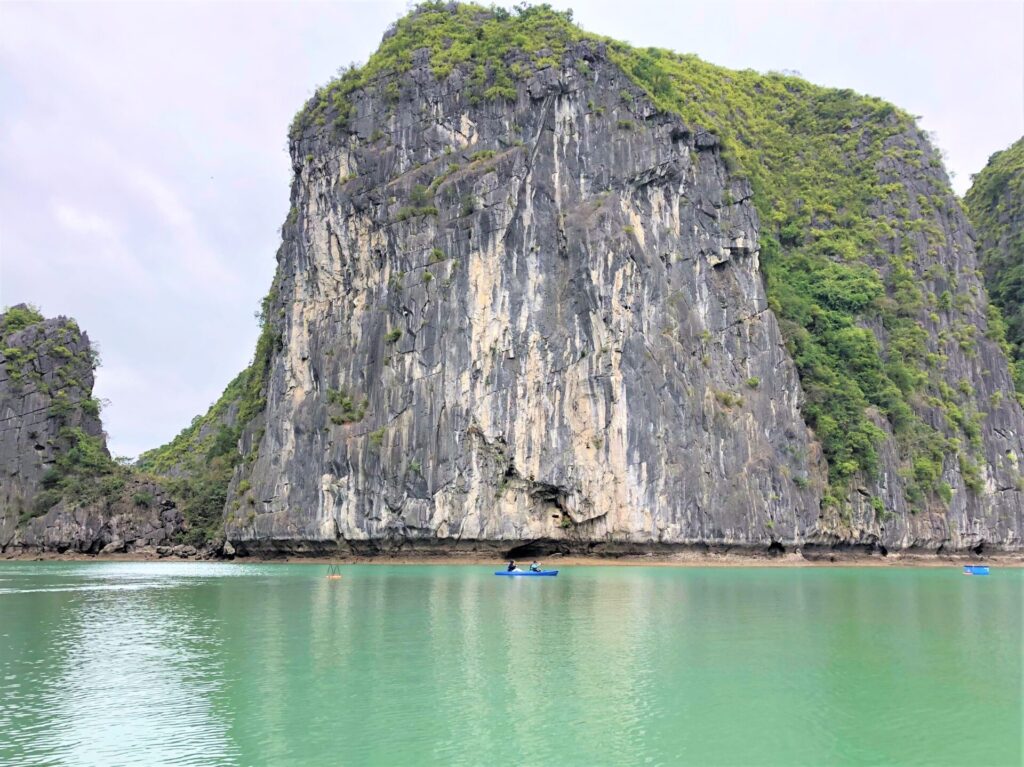 Staying for a while in Ha Long also allowed us flexibility to pick the day with the best weather. In this case, the day with the best weather still didn't include sunshine, as it's pretty rare along the coast in the winter. Visibility was good though, and avoiding any chance of rain made for a more enjoyable tour. So while our pictures might not look amazing, I can assure you that the scenery is pretty stunning in person.
Due to the fact that nearly everyone starts their tour in Hanoi, there weren't a ton of options to choose from. After some research, we found a well-reviewed tour tailored to those of us already in Ha Long. We booked the full day cruise through A21 Tours online for a total of $42 each. Although this turned out to be a travel agent and not the actual tour company. I figured out after the fact that we could've booked the same trip directly with the Ha Bihn tour website for 850,000 VND, or about $36.50 each. So check that out if you want an even better deal.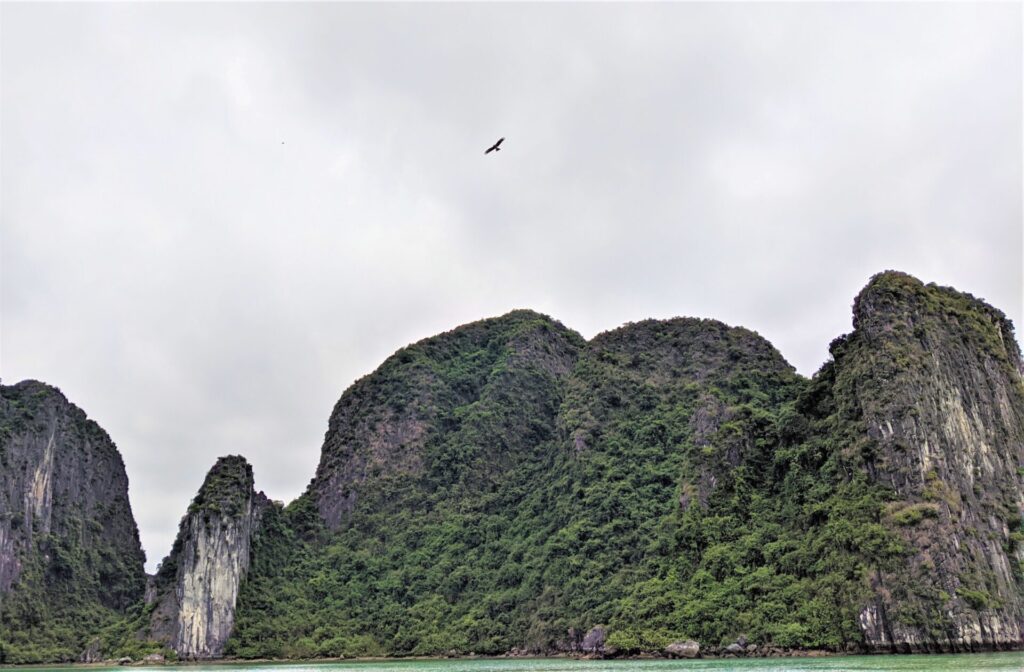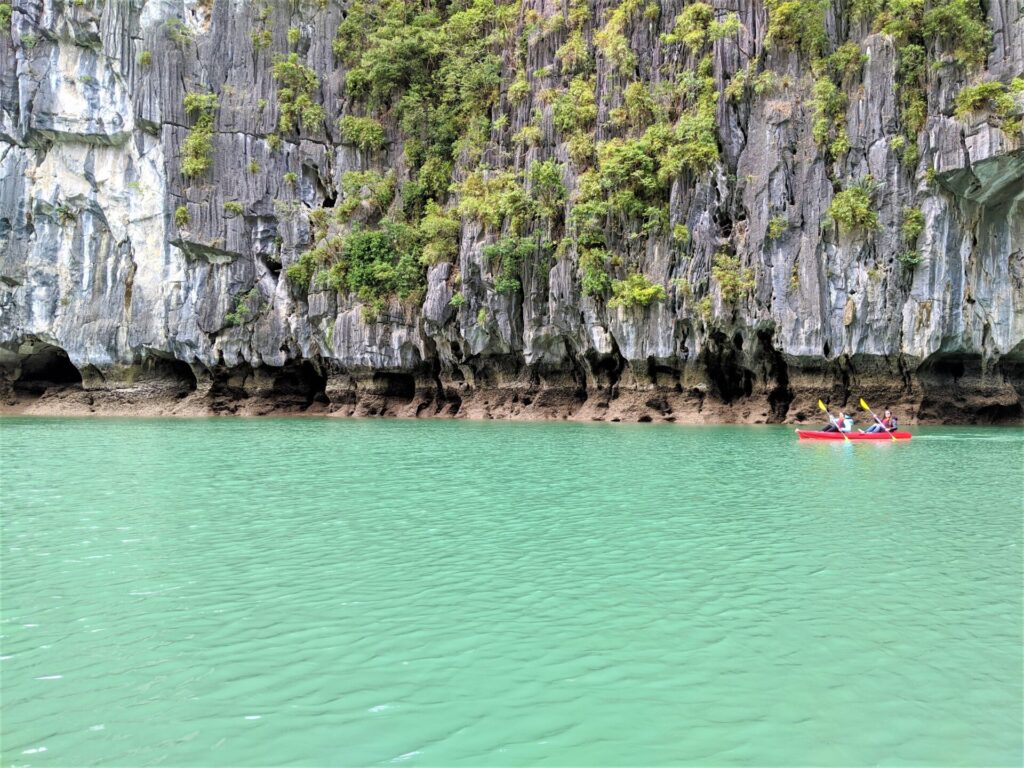 Our itinerary included lunch, kayaking, cruising by famous islets like Stone Dog and Incense Burner, visiting two separate caves, and a hike to the best view in Ha Long Bay. It would've included swimming too, but it was far too cold in early February. The boat we took held 48 people, but there were only about 30 of us on our trip. Even when paying our slight premium, It felt like we got a lot of value for the price.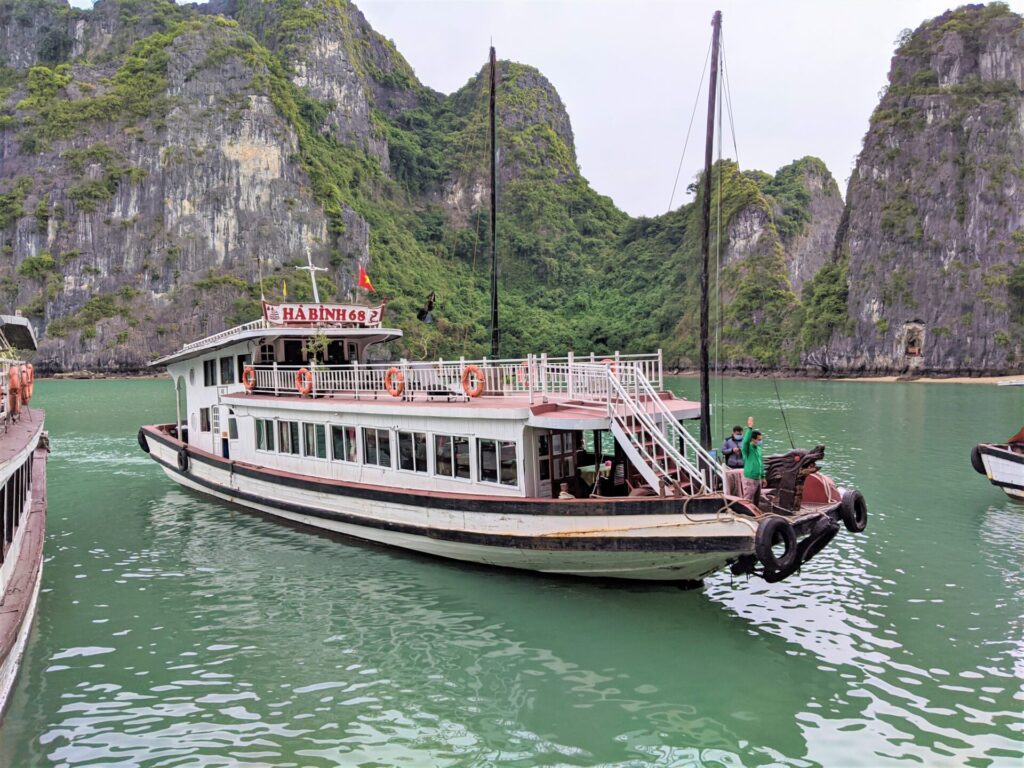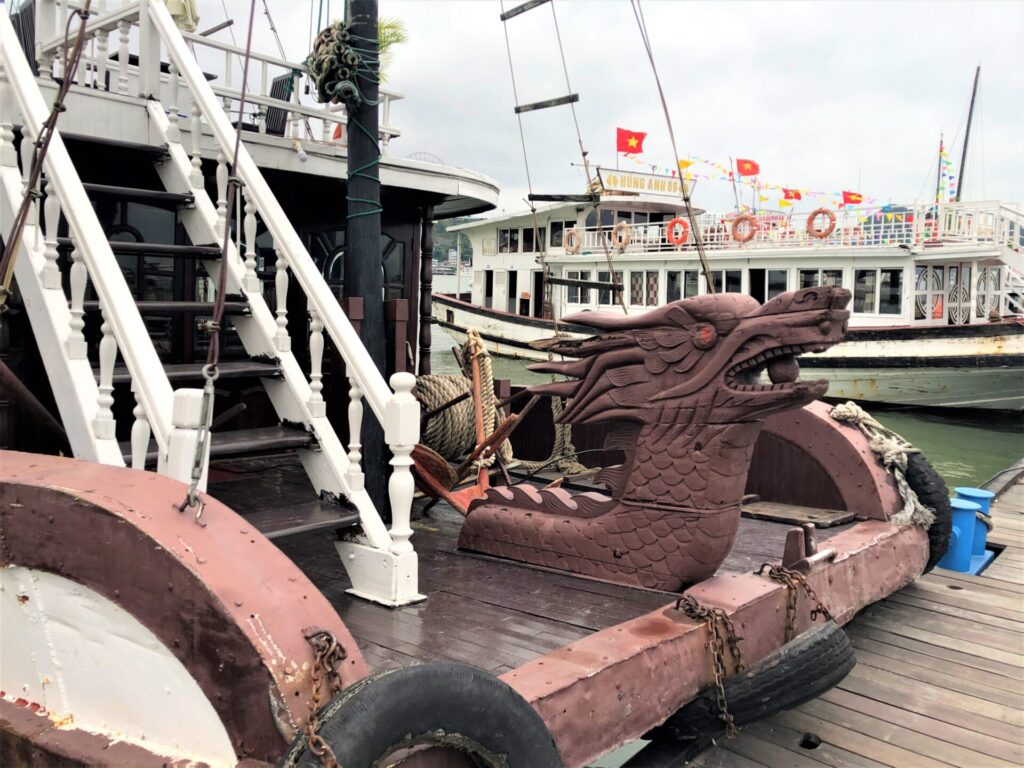 After a quick briefing on safety features and rules, our Ha Bihn tour boat left the dock a little after 9am. We slowly cruised along the limestone outcroppings while making our way towards the top sights. After 90 minutes or so, we took a turn towards the center of the bay and the famous rock formations. Here we saw the Stone Dog, Incense Burner, and Fighting Cock Islets, along with a number of other fun rocks with no notable names. Incense Burner Islet is featured on the 200,000 VND bill, so make sure you have one with you if you want to be the ultimate tourist.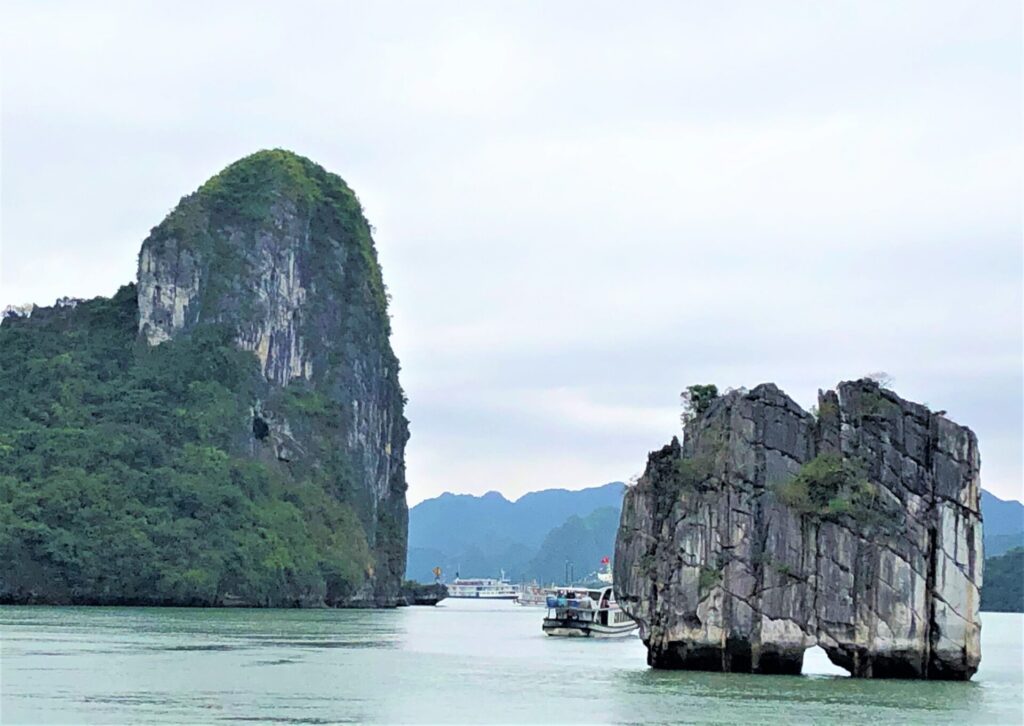 An immutable law of nature states that where there is limestone, there are bound to be caves. After a couple of hours of slowly cruising among the limestone karsts, our first stop was at Sung Sot Cave, which translates to Surprise Cave. A small opening in the rock face about 50 meters above the bay surprisingly opens up to an enormous cavern. This cave is full of interesting colors, textures, and patterns. The walking path is fairly well lit, and it's so big that it doesn't feel overly touristy despite its popularity. It was truly incredible.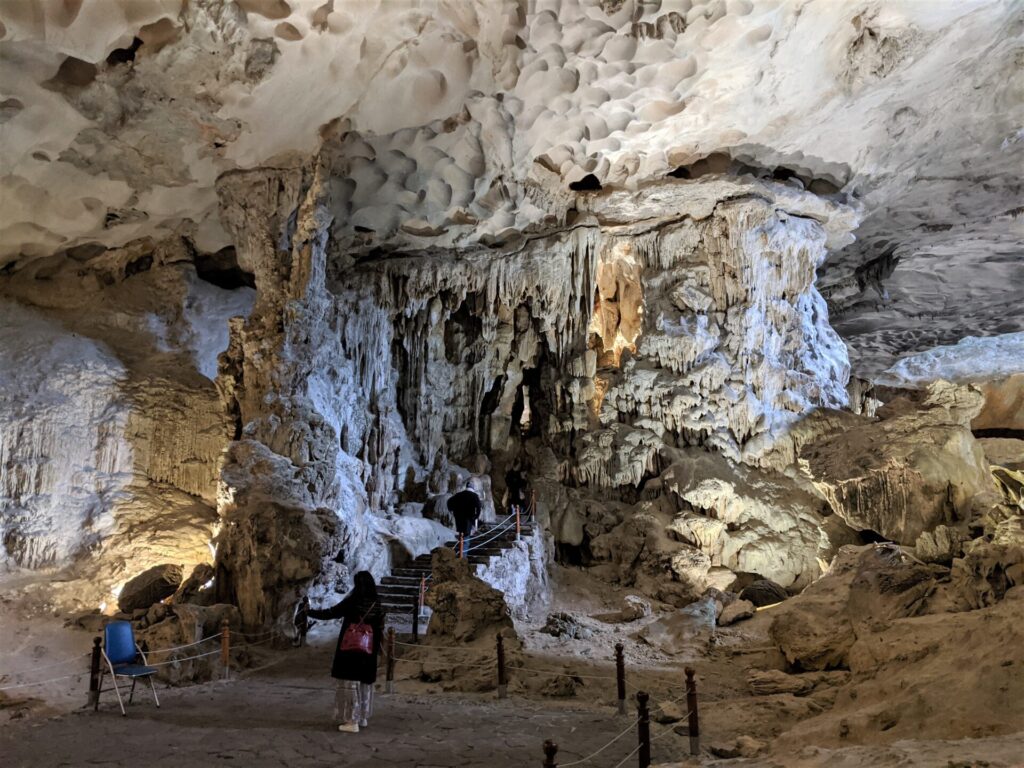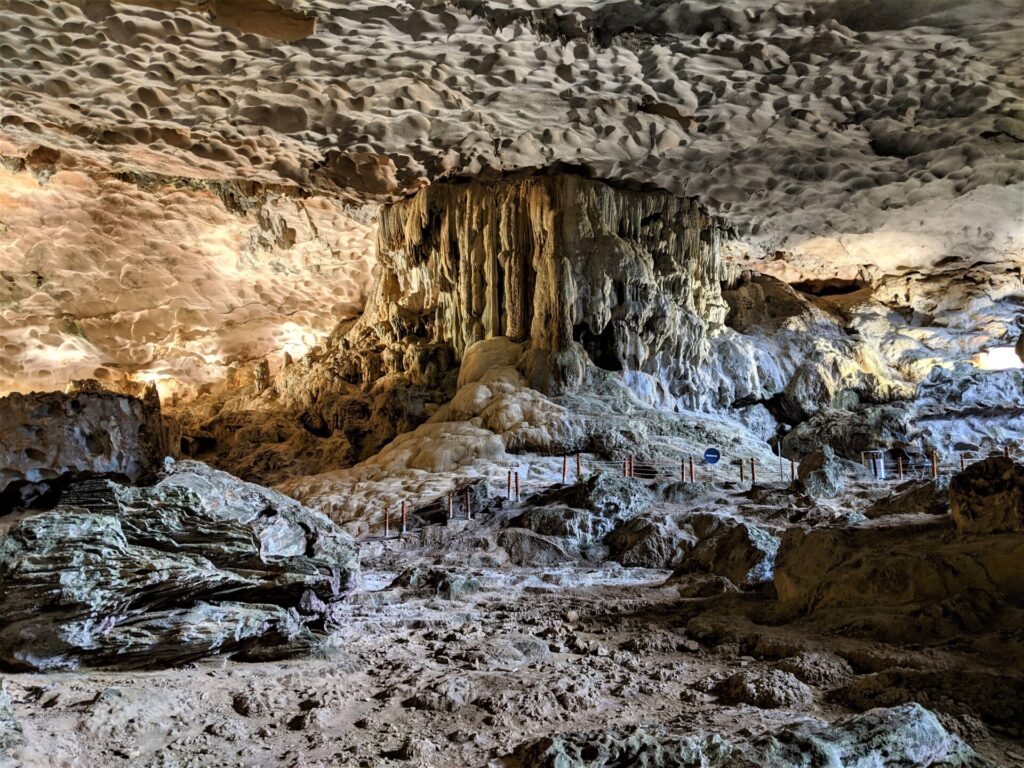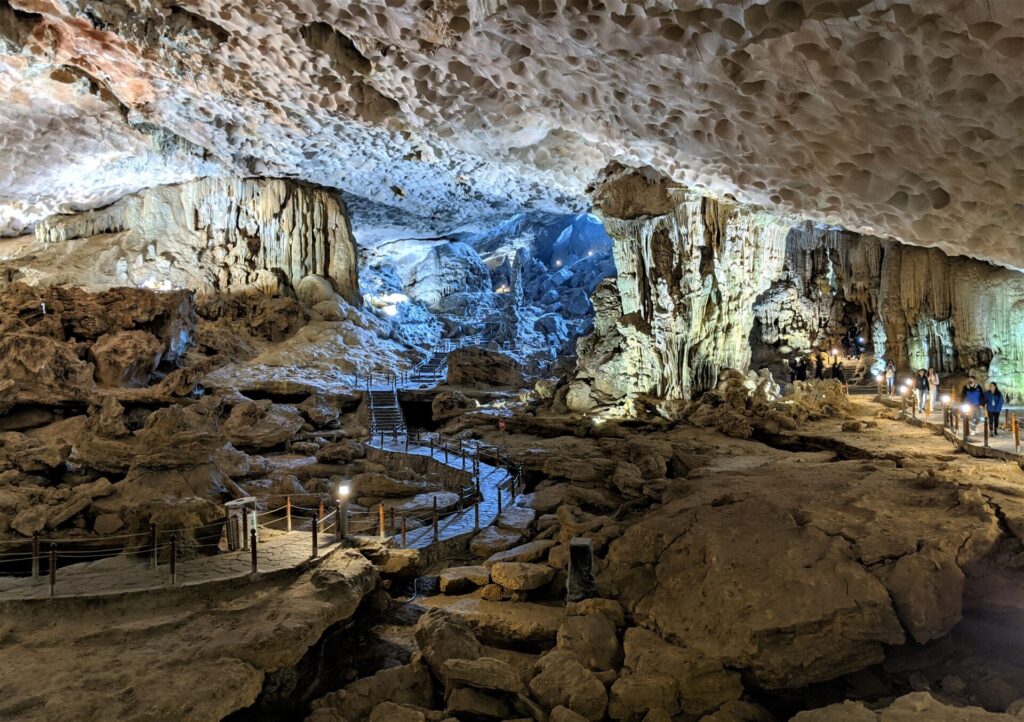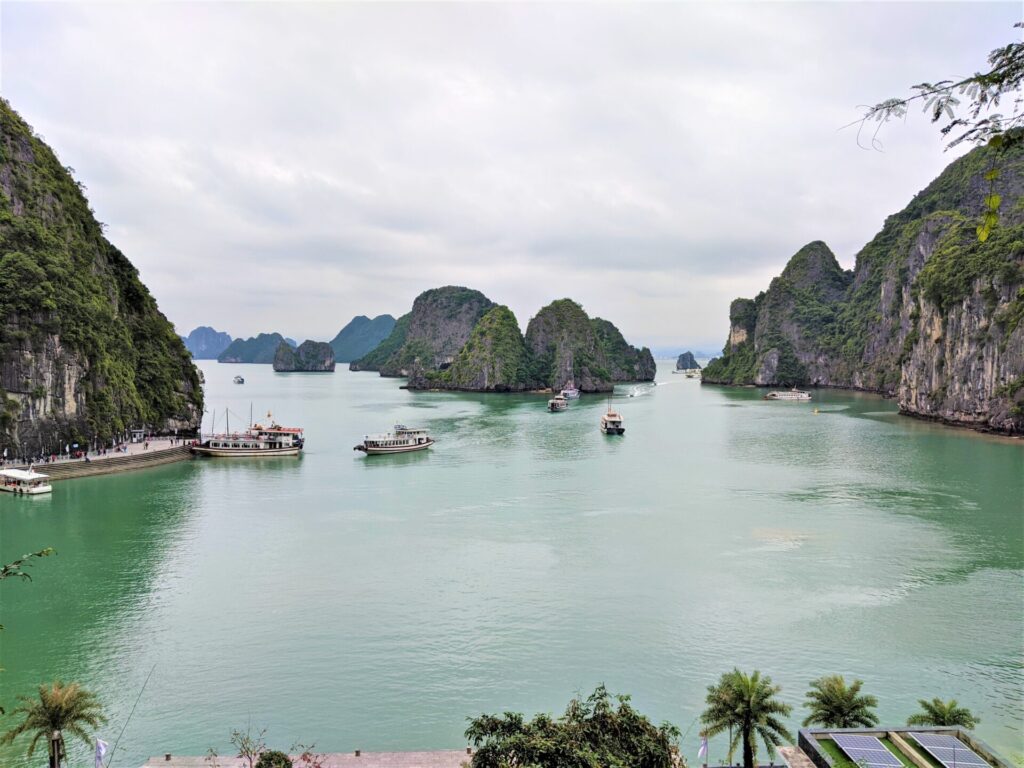 After lunch on the boat, we arrived at another cave, the Luon Cave. This cave is only accessible by water so we had the choice of exploring by kayak or by a boat paddled by an attendant. We opted for the lazy way and were taken through the cave opening into the inner lake. Here we were greeted by a large troop of monkeys on the shore. We were then paddled around the small lake for a bit and back to the dock. We were only in the boat for about 20 minutes, so while it was very pretty, it was a short stop. In hindsight, I'm happy with the decision to forgo the kayak, as the temperatures were not warm and everyone we saw that chose the kayak option had pants that ranged from damp to soaked. That probably didn't make for a pleasant remaining ride.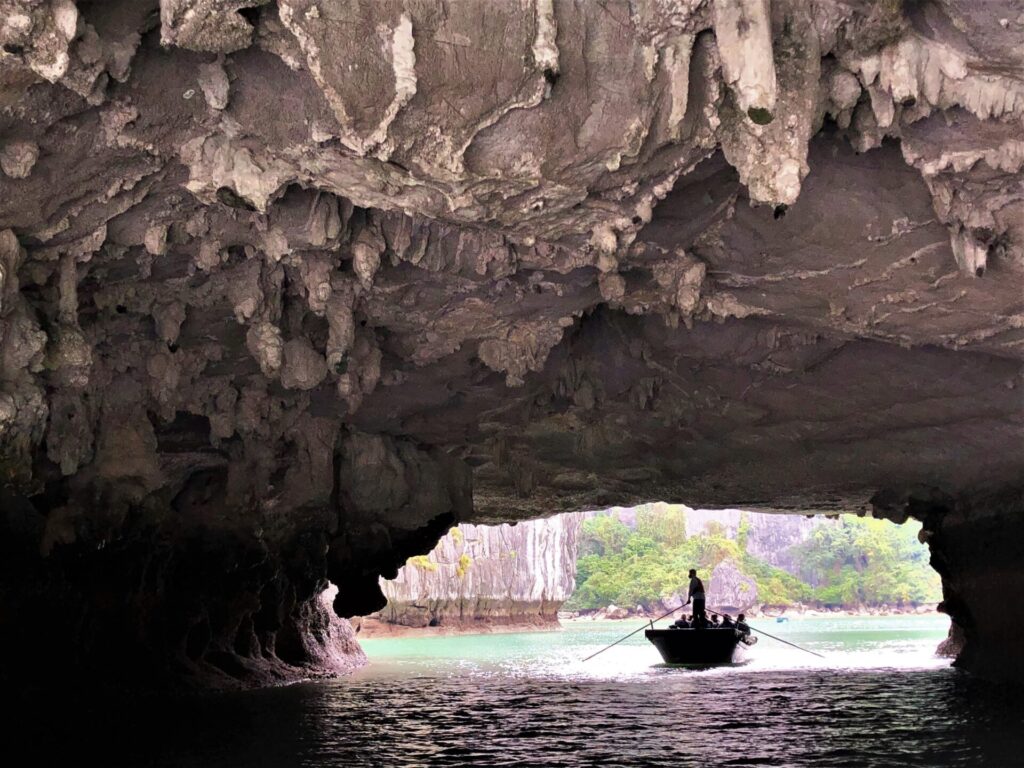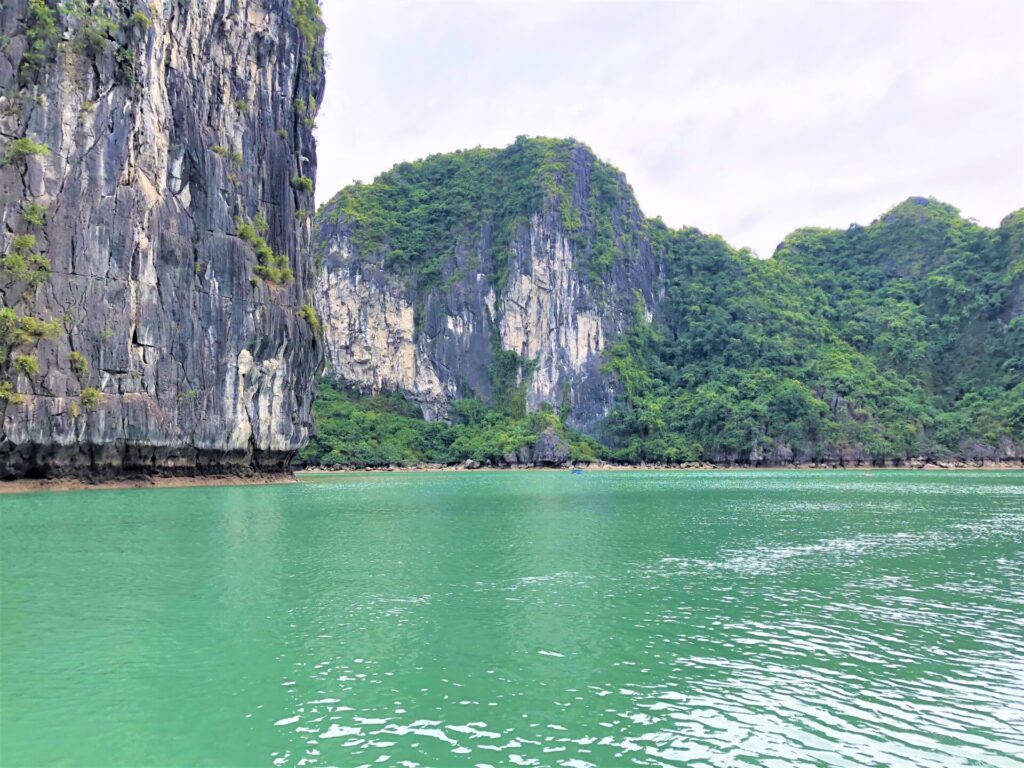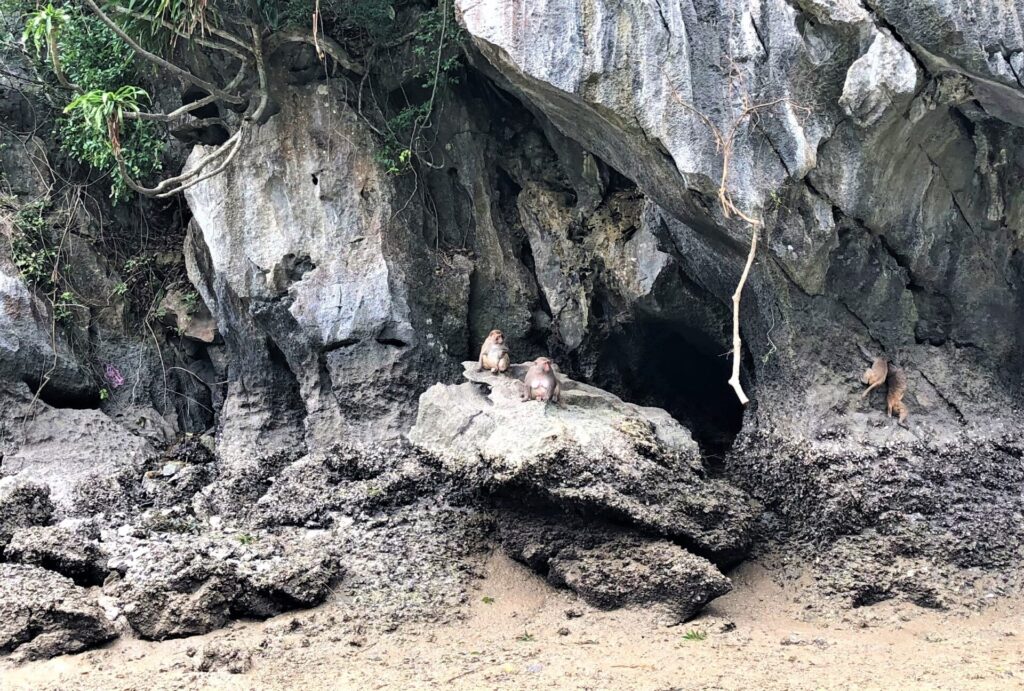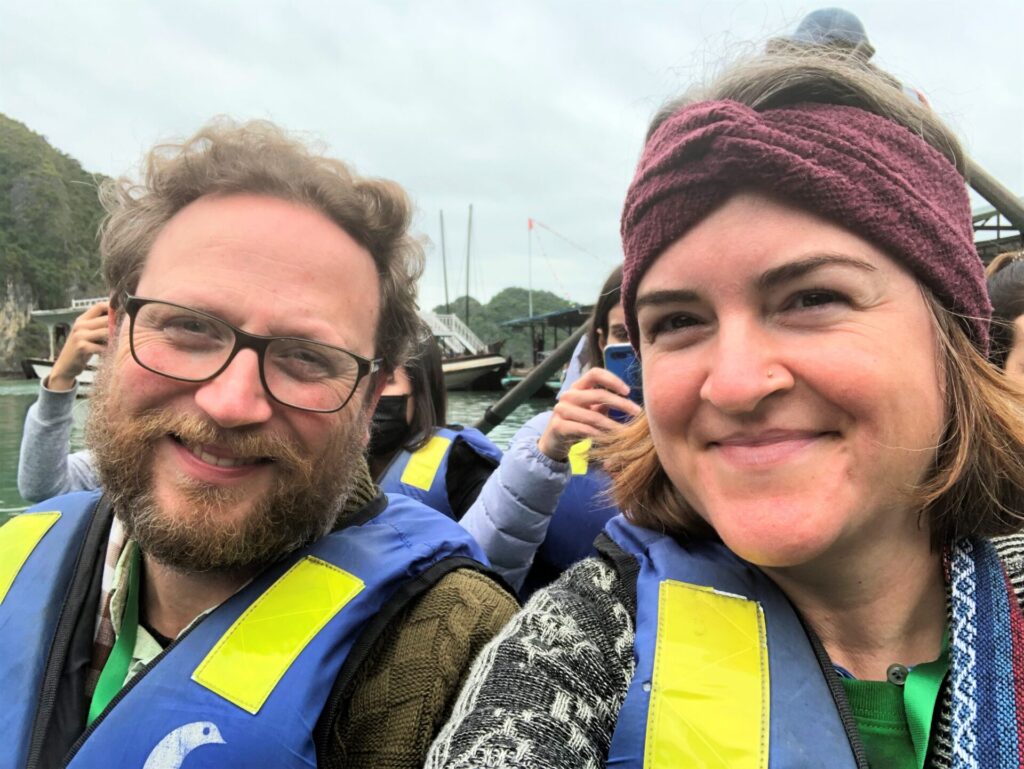 Next we cruised through even more stunning water scenery until we reached the popular Titop island. It's named after a Russian cosmonaut that visited there with Ho Chi Mihn in the 60s. The small steep isle features one of the few beaches in Ha Long Bay. But instead of chilling on the sandy beach, a better option is to make the steep hike to the top for a commanding viewpoint around the bay. It takes about 15 minutes of straight climbing to reach the top, but the reward is worth it.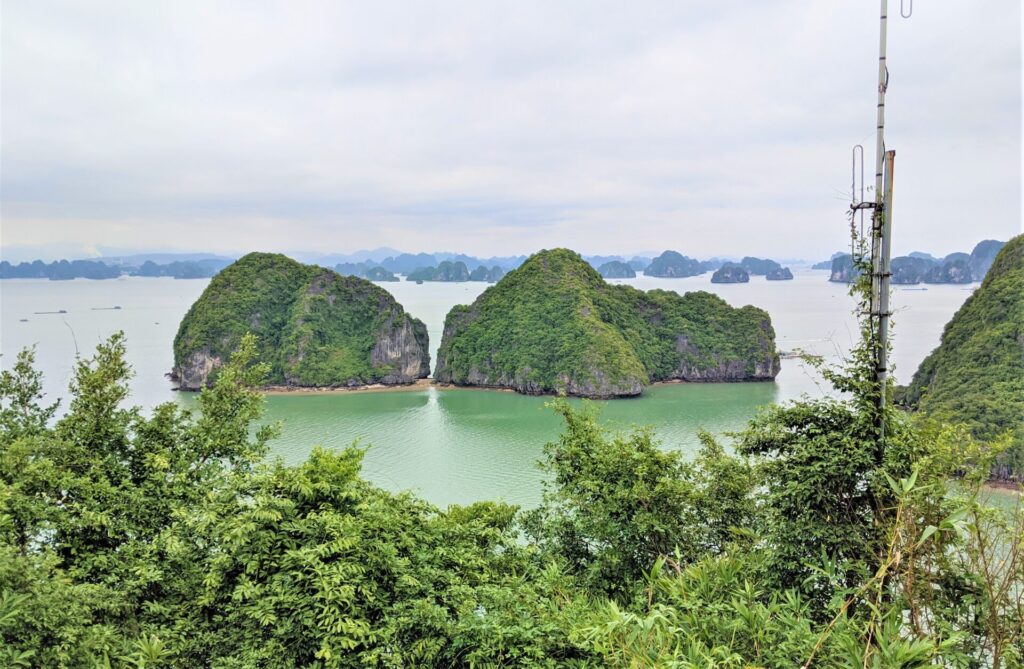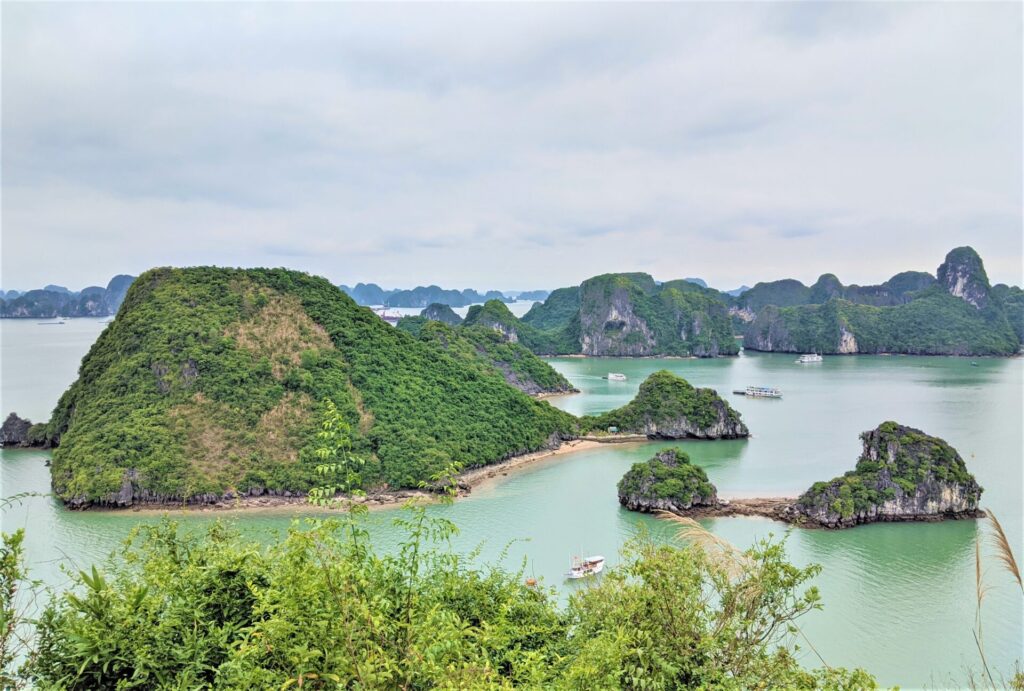 At this point, our tour boat then turned back toward its origin. This still left us with another couple of hours of relaxing ocean time among the limestone pillars. The multiple karsts help kill any waves and make for a very smooth ride. There is very little rocking at any point on the boat, making it suitable even for those who are prone to seasickness.
Overall, we were very happy with our choice to venture out into Ha Long Bay from Ha Long. The price paid was a great value considering that it included all food, entry fees, and a full day tour. Getting a similar number of daylight hours on the bay to an overnight cruise but sleeping in our own comfortable bed made it tough to beat. Paying only a third of the price and getting to pick the best weather made it a slam dunk. While this may not work for everyone, no matter which tour you choose, Ha Long Bay is a can't miss destination and a truly amazing place in this world.