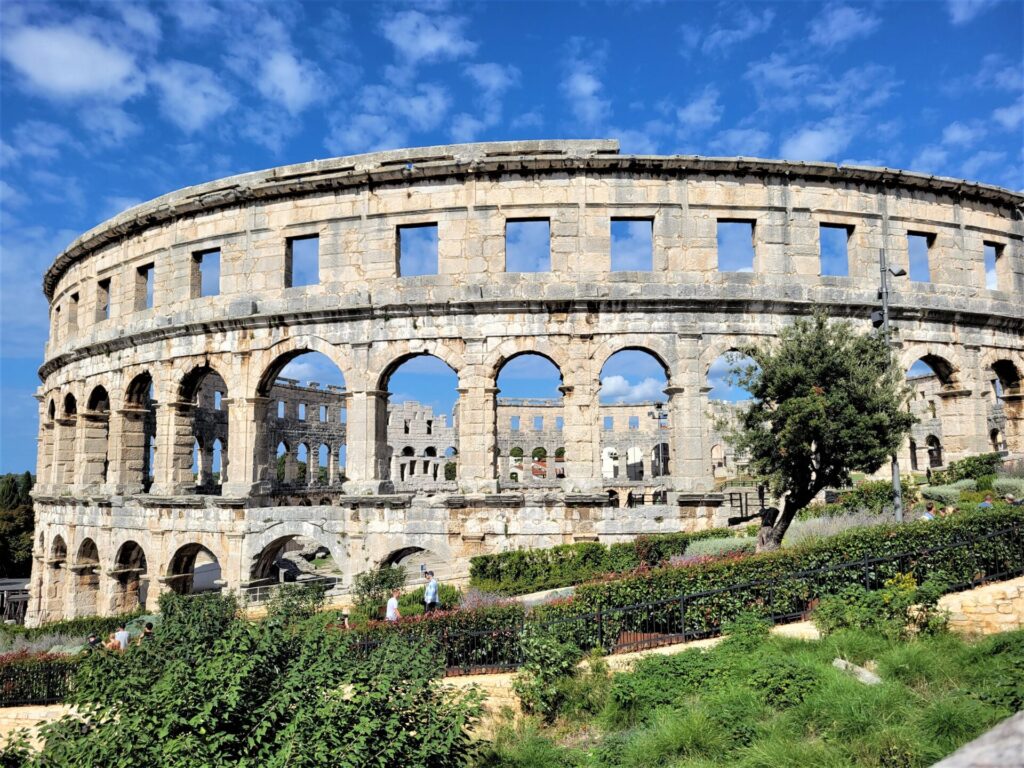 Pula is home to one of the best preserved Roman amphitheaters on the planet. The Pula Arena is around 2000 years old, but it barely shows its age. It really is a marvel of engineering and longevity on the Croatian coast. Old structures like these are normally referred to as ancient ruins, but there's not much about it that's ruined. While the Pula Arena is absolutely incredible, we also found a lot of natural beauty nearby. Our two week stay was a lot of fun.
At the southern end of the Istrian Peninsula, Pula is a former defensive stronghold. The area is littered with forts, bunkers, and military buildings from previous wars. Many of these structures are now abandoned, but still accessible. Some are overgrown and all have graffiti and broken glass, but they are fun places to explore (with the proper footwear). Most offer great views of the area, since what good is a fortress if you can't see the enemy advancing?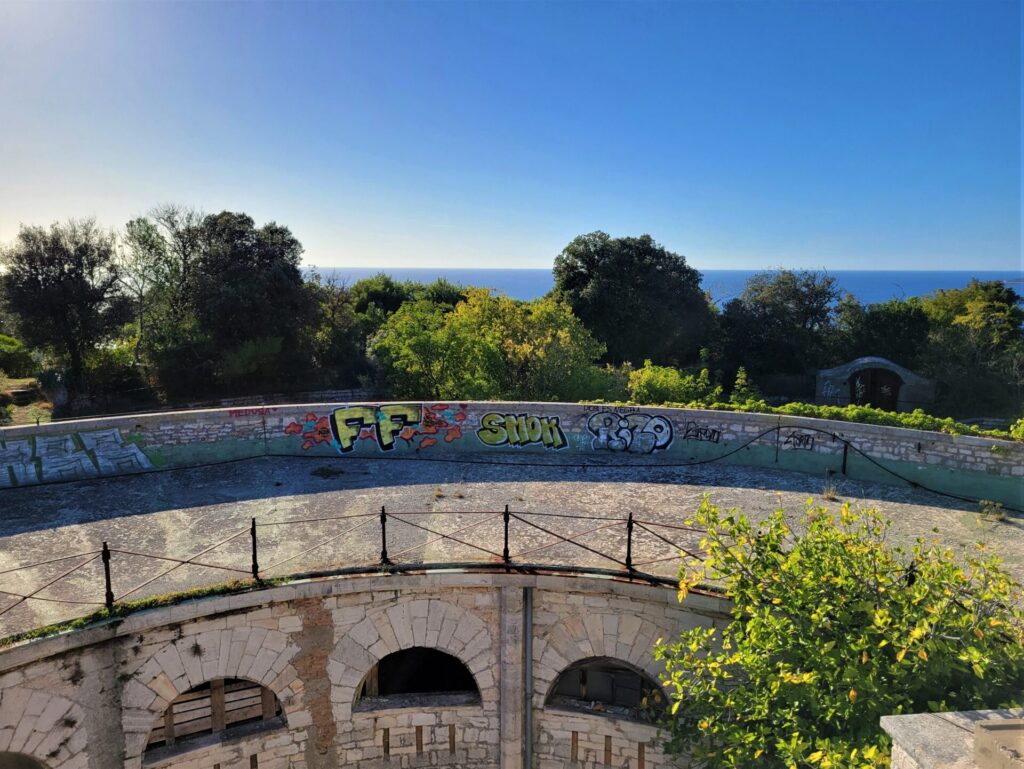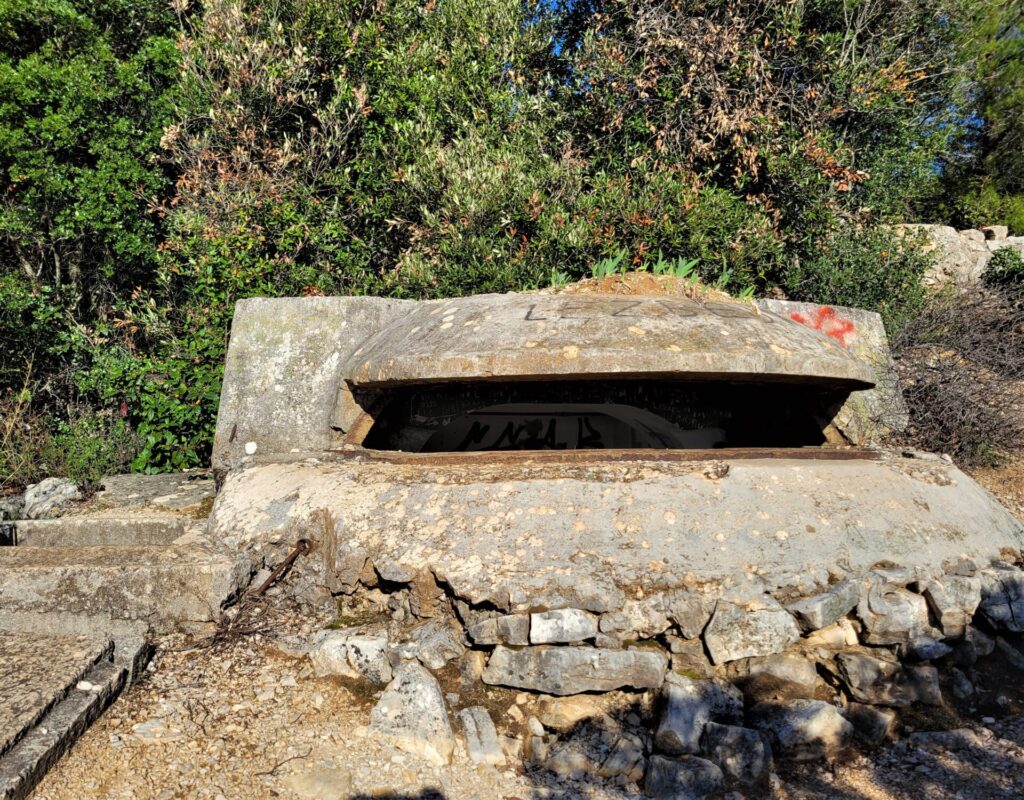 Just wandering around the 50,000 person town was quite enjoyable as well. Everything grows here and seemingly every house has either fruit trees, a garden, or both. The city is stuffed with olive trees. There are so many fig trees that they sprout like weeds out of cracks in the cobblestones. Grape vines are used as covers for carports and patios. The red orbs of pomegranates peek over stone walls. Rosemary and lavender bushes fill the air with pleasant scents. We even found some kiwi fruit vines, which was a first for us and very exciting.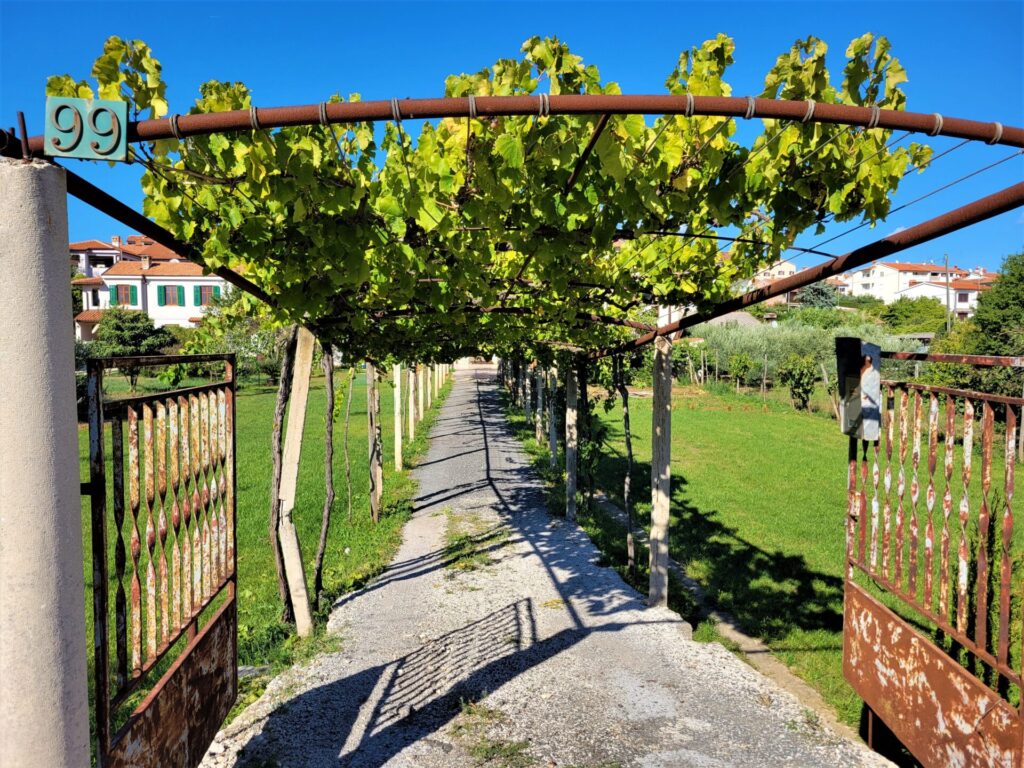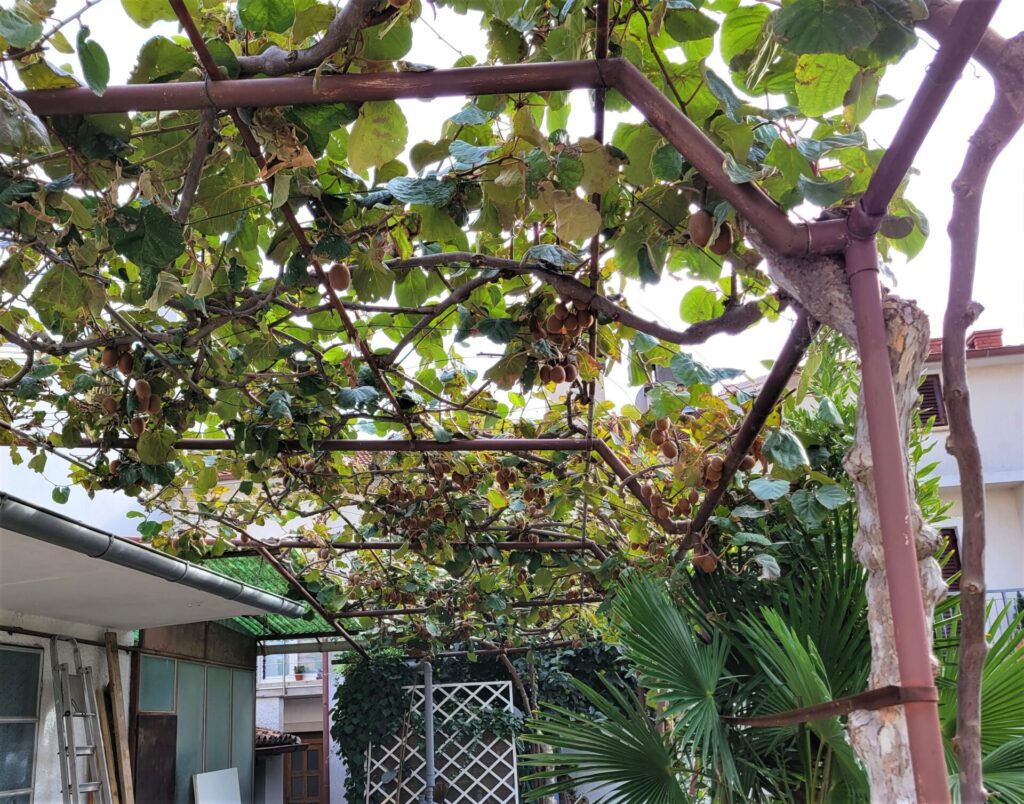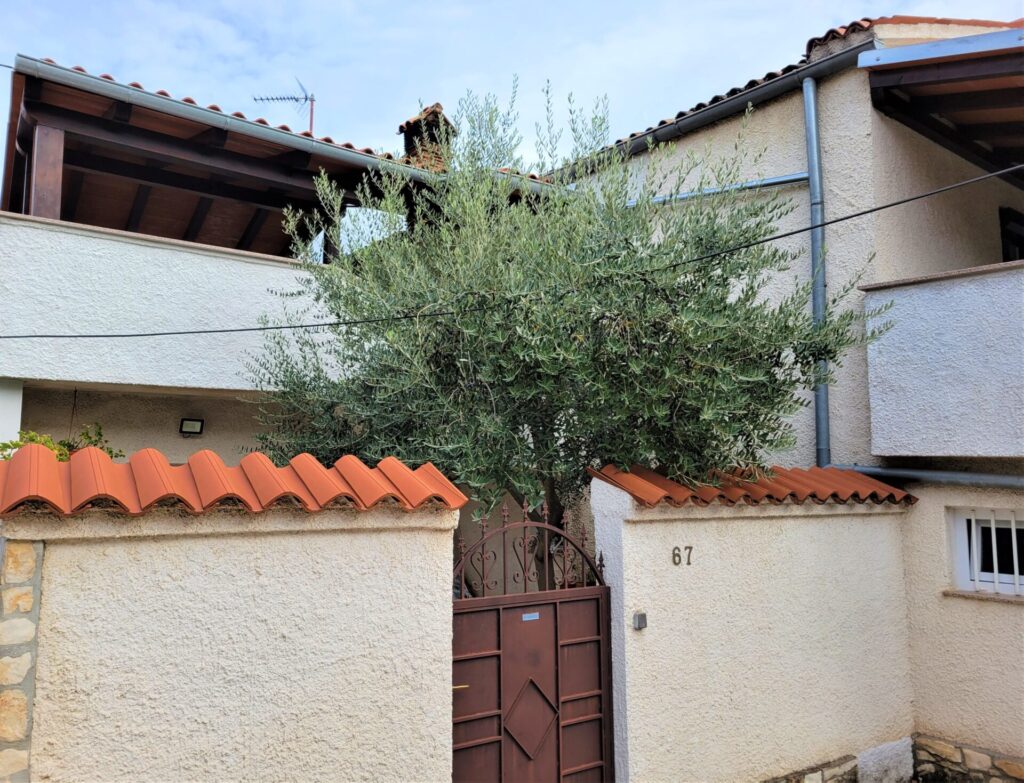 There are also amazing sea views, especially from outside of the city proper. Pula is a port city tucked back in a protective bay, but nearby is the crystal clear water of the vast Adriatic Sea. The rocky shoreline is perfect for hiking and spending a day by the coast. There are countless footpaths along the coastline, and almost none of them are marked on the map. We were able to just go without much worry that we would hit a dead end.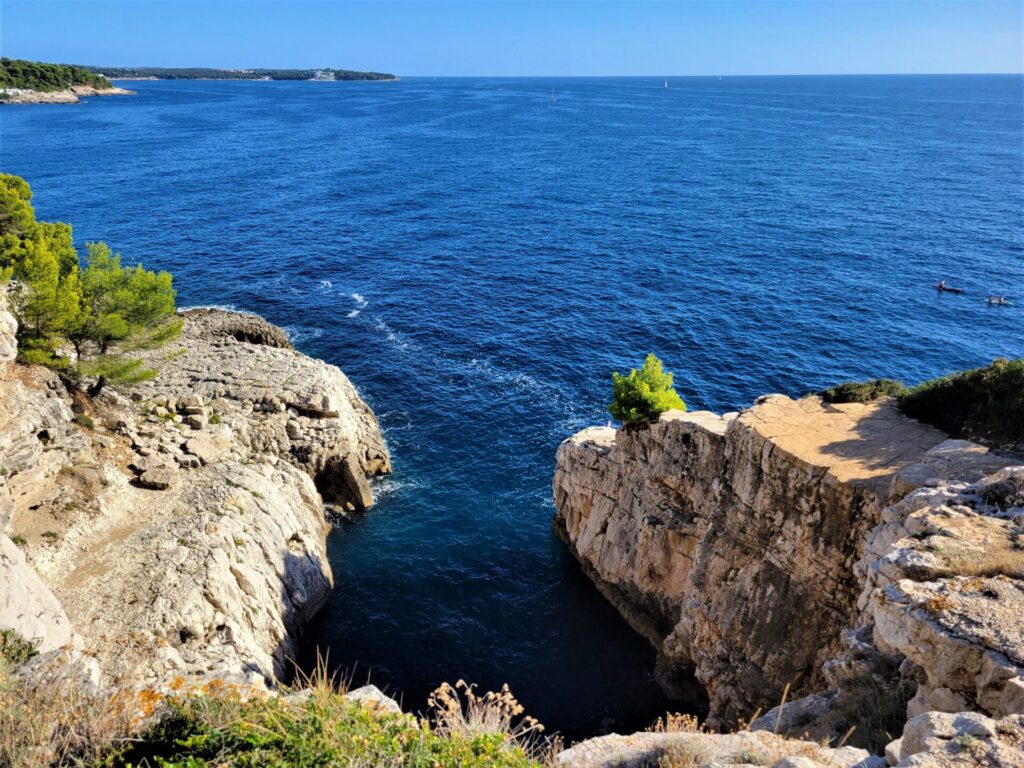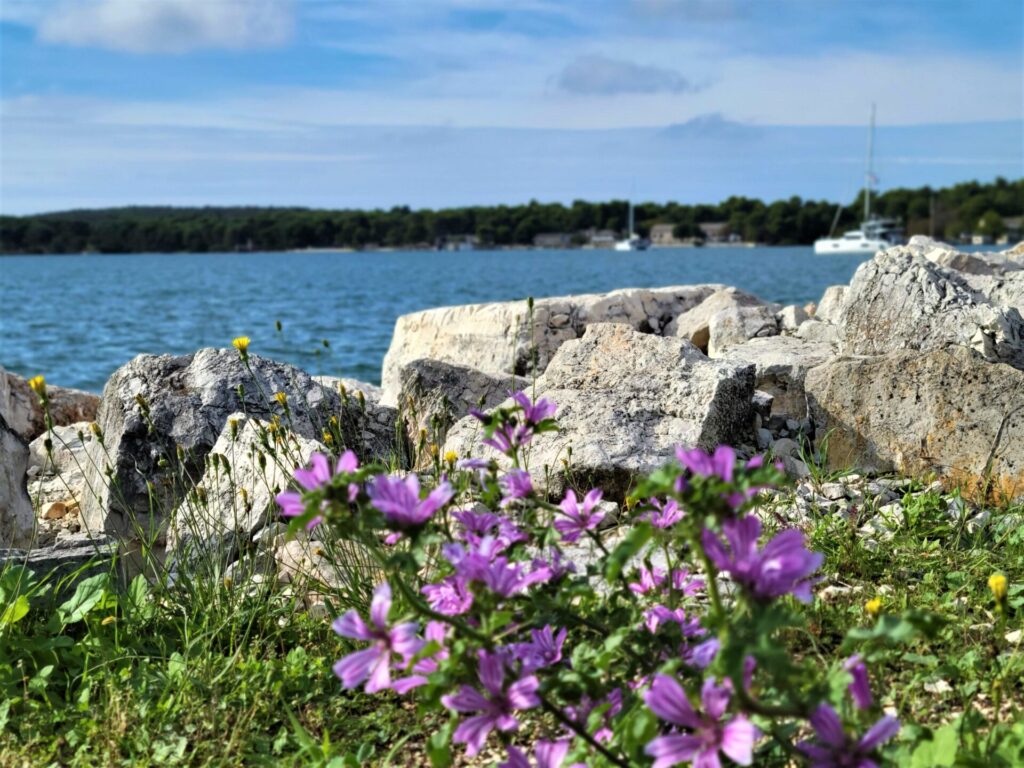 What We Did
The Pula Arena
We went to the Pula Arena, of course! We stayed right in the old town and walked by the Pula Arena a dozen or more times. It's almost impossible not to, as it has some sort of magnetic draw that pulls all foot traffic in the city there. It's not the Roman Colosseum, but it's not that far off. As in Rome, it's just sitting right there in the middle of the city. It's also possible to see just about everything that there is to see from the outside, so we never even made it inside. But with enough trips by, I'm confident we saw it all.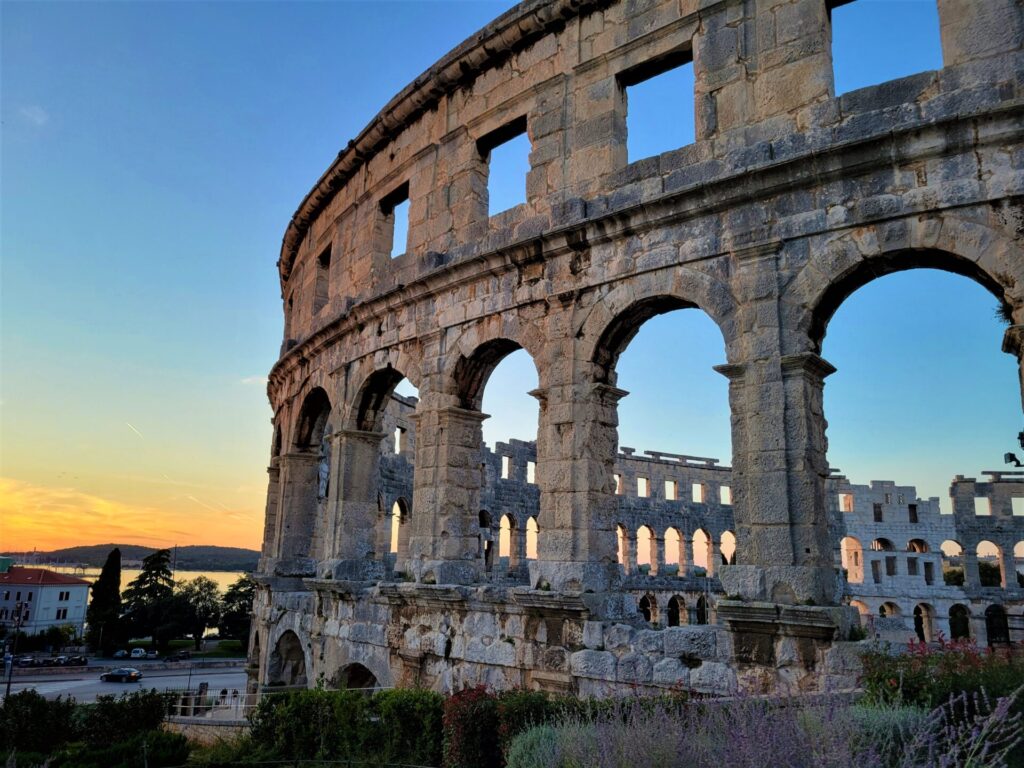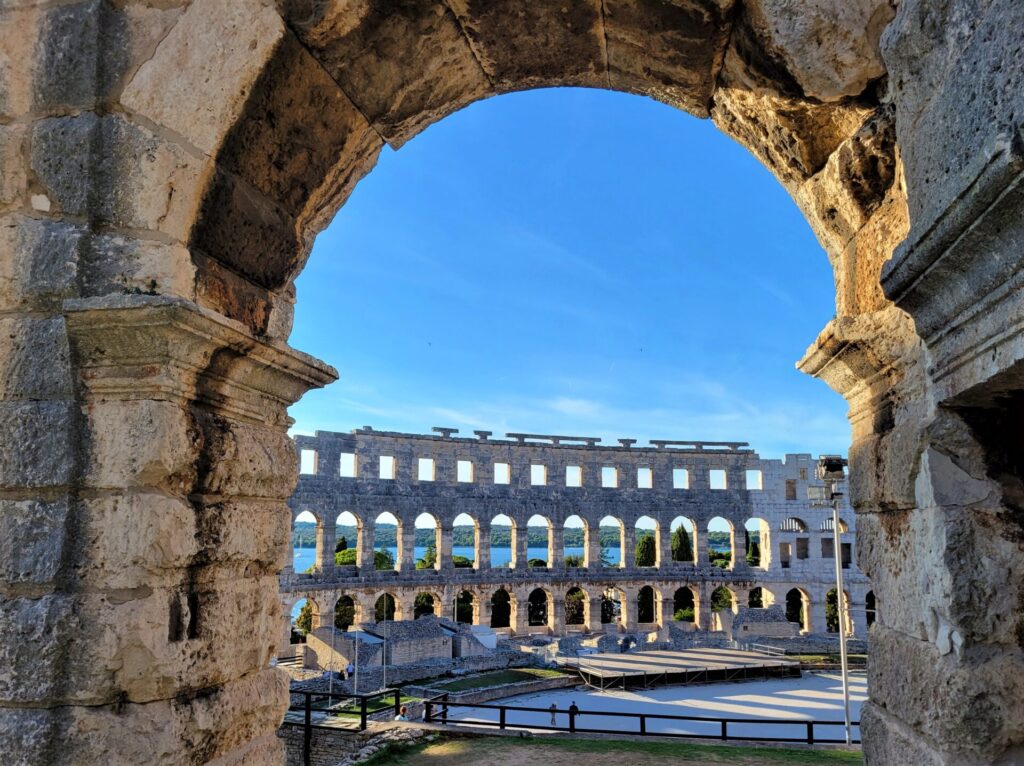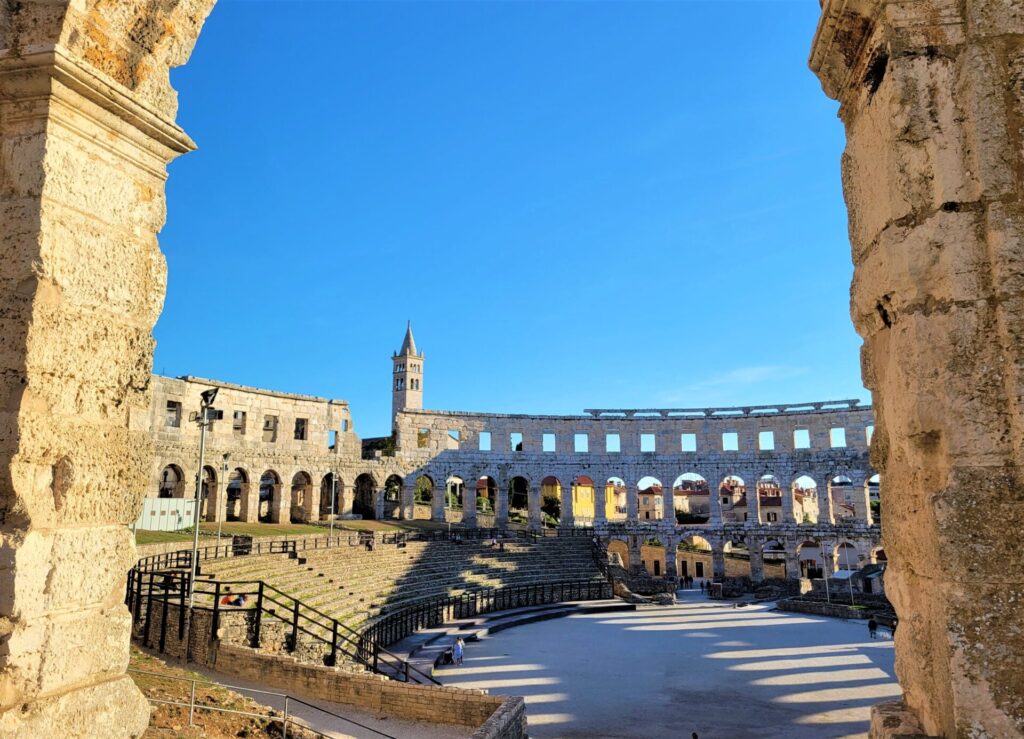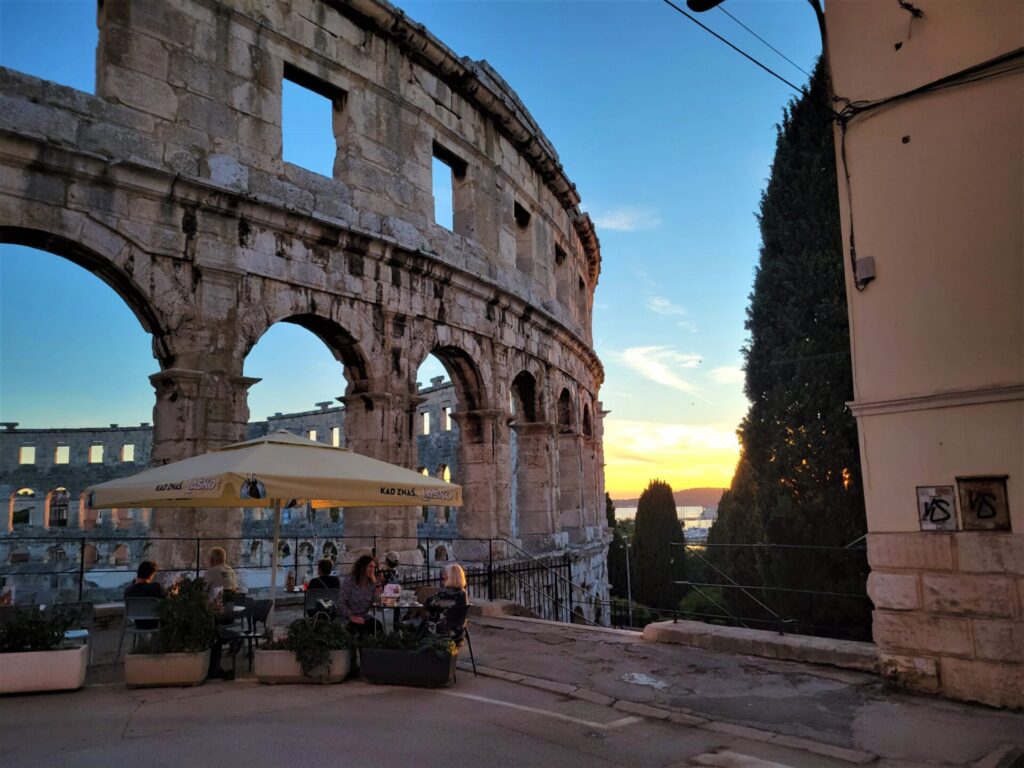 St. Anthony's Church
Right next to the arena is St. Anthony's Church. It's worth a stop in for the detailed mosaic artwork. The grounds are also quite appealing, with many flowering plants near the small parking lot.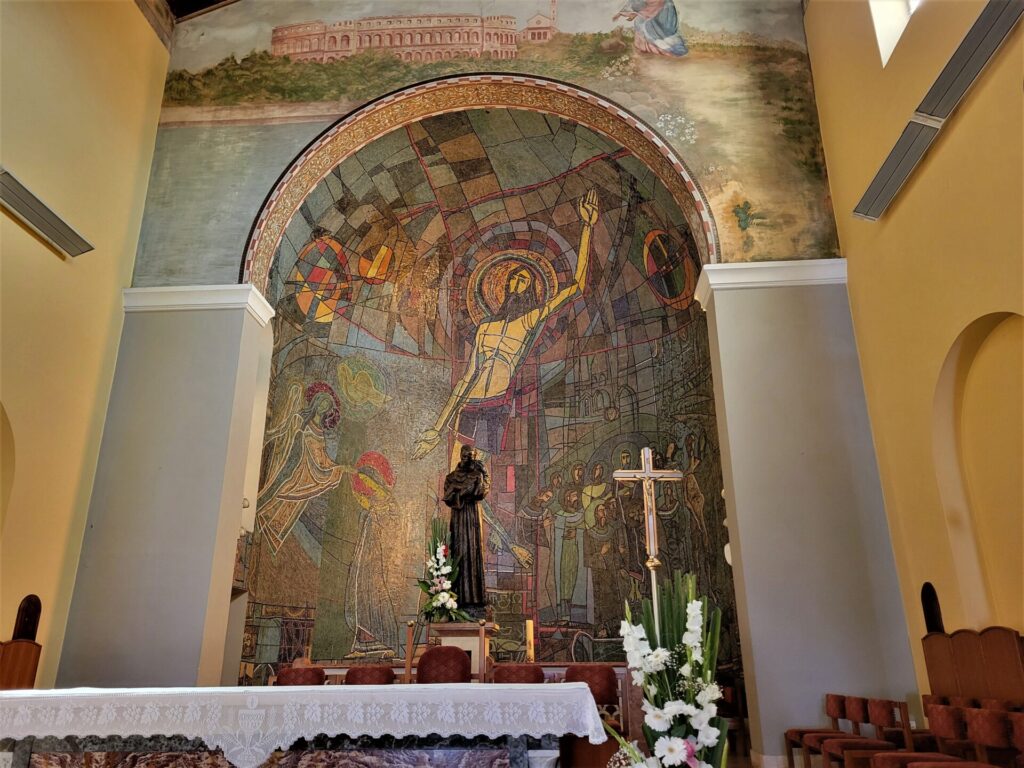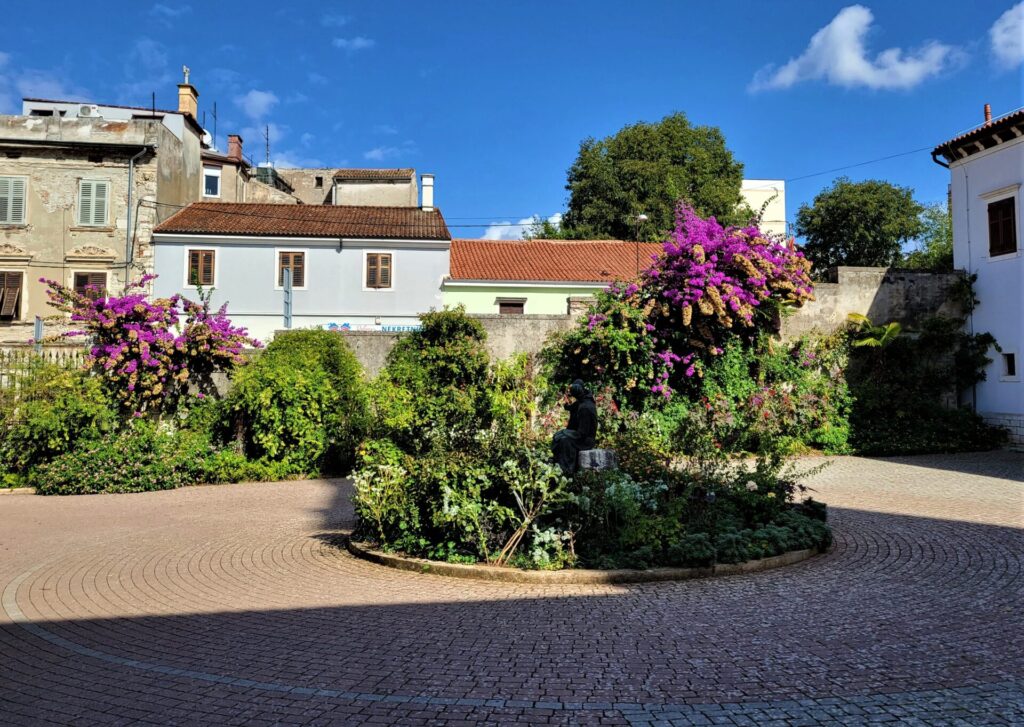 Fortress Kastel
In the center of downtown is an old 17th century Venetian fortress. Plopped on the highest hill in the area, the Fortress Kastel features great views from the walls and tower. There's also a historical museum timeline of life at the fortress over the centuries that was reasonably interesting.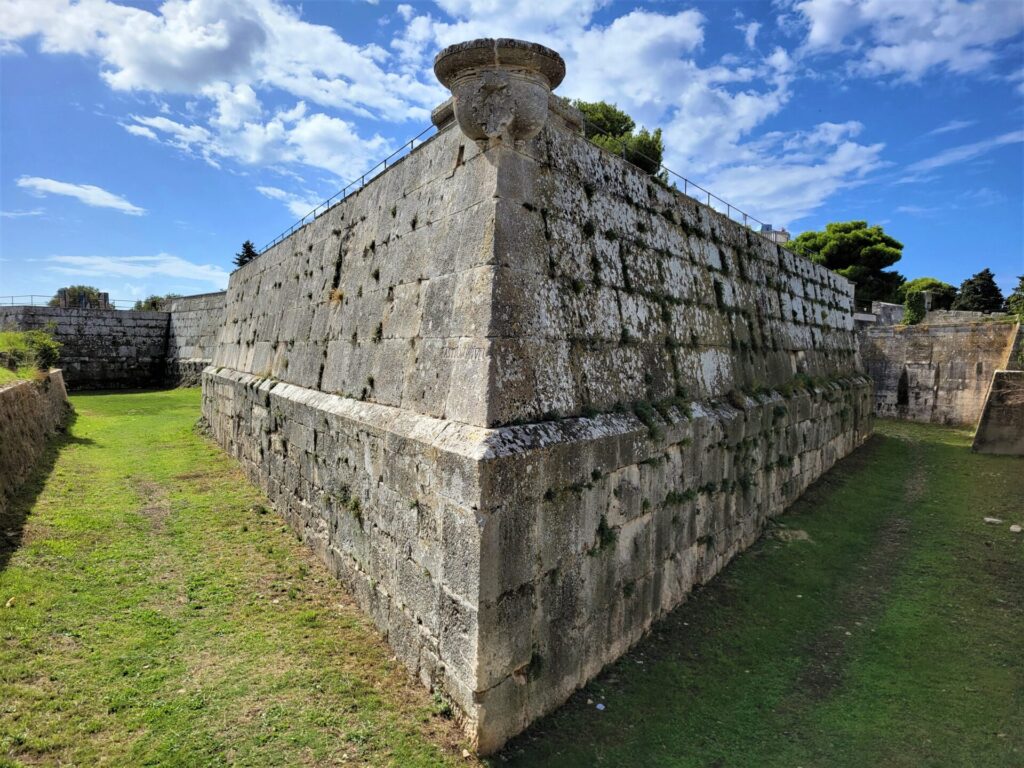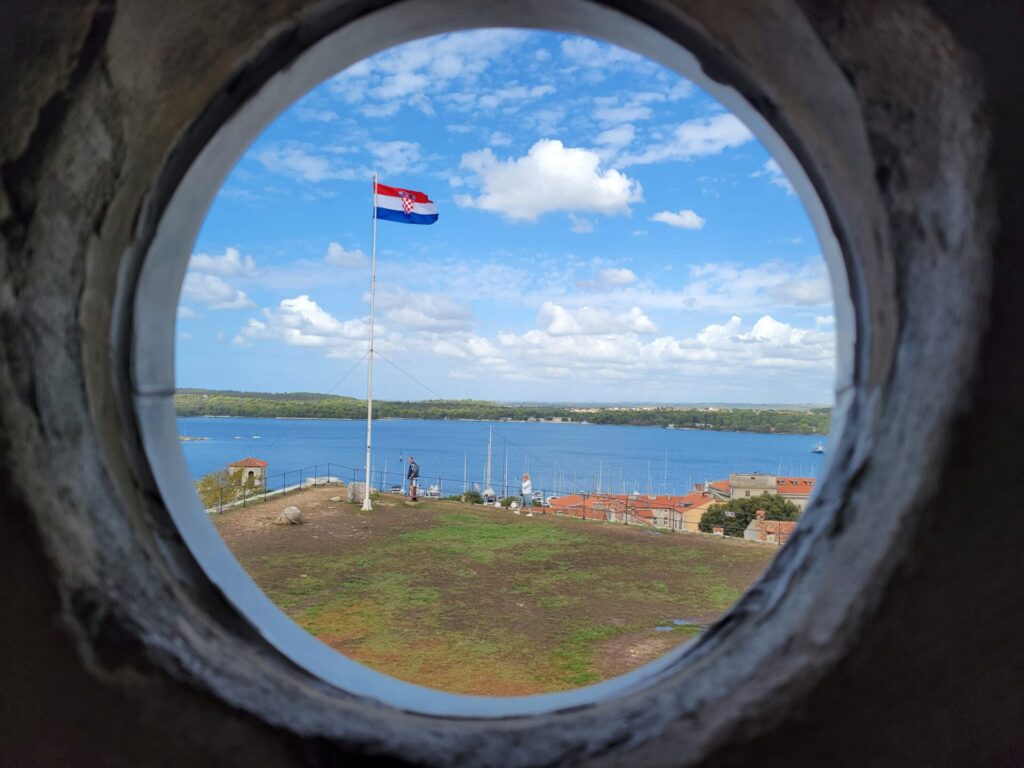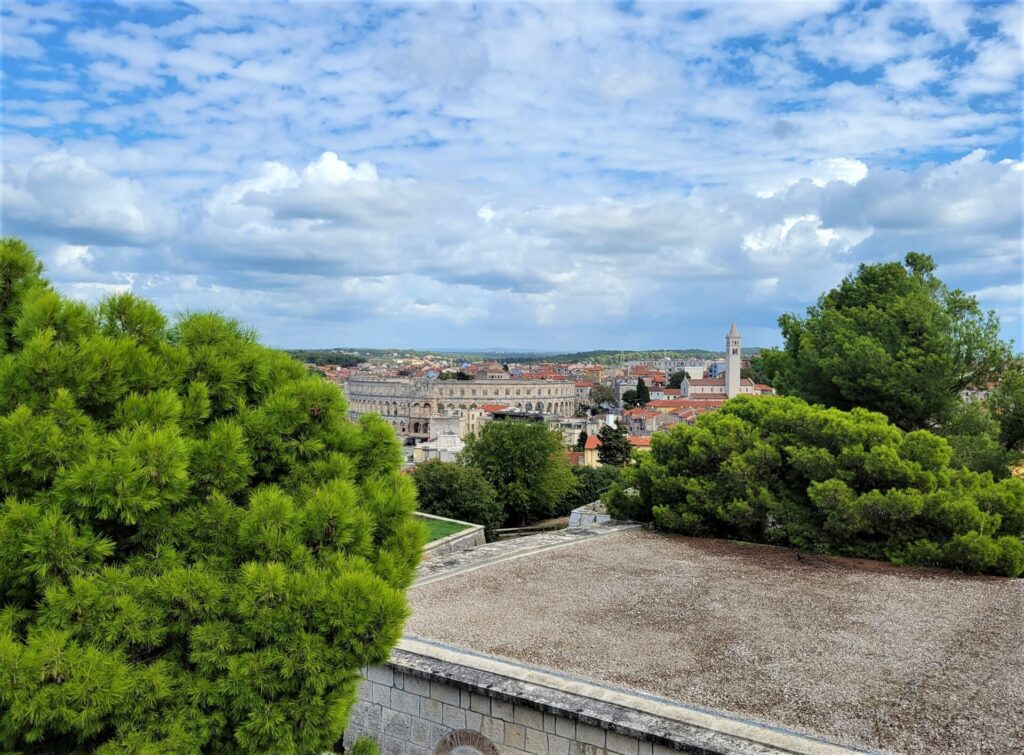 Old Town and Forum Square
The Pula old town is mostly a single pedestrian street that circles the fortress hill. It's pretty touristy, even in October. The half mile (.8 km) cobblestone street is home to a ridiculous 5 self-serve candy stores, twice as many gelaterias, and a whole horde of souvenir shops selling cheap trinkets. Naturally, there are plenty of places to eat and drink as well. But there are also cool ruins that are worth seeing. We visited in the shoulder season, so we didn't have to fight through too many crowds, but I imagine the summer is very busy.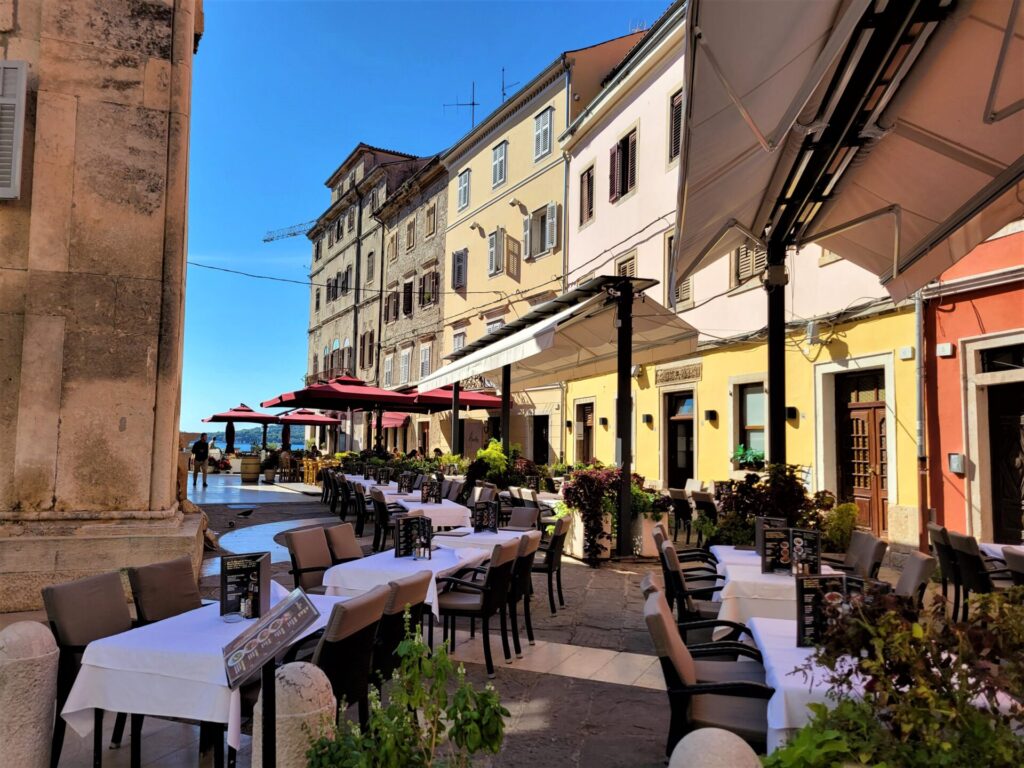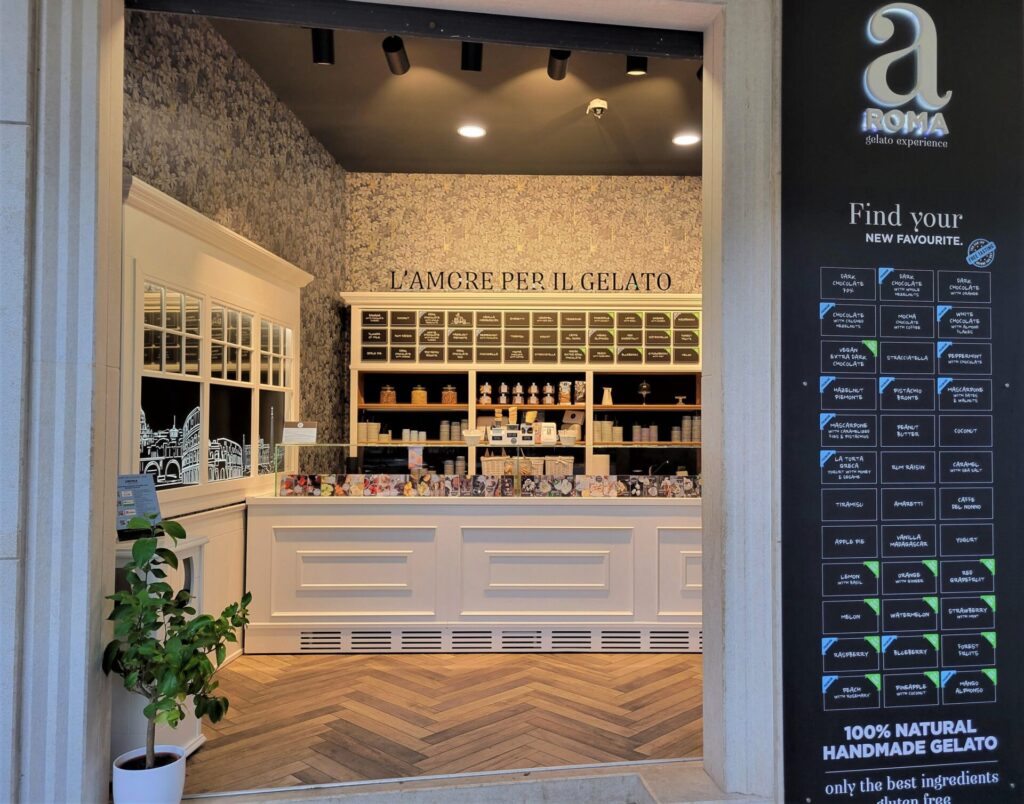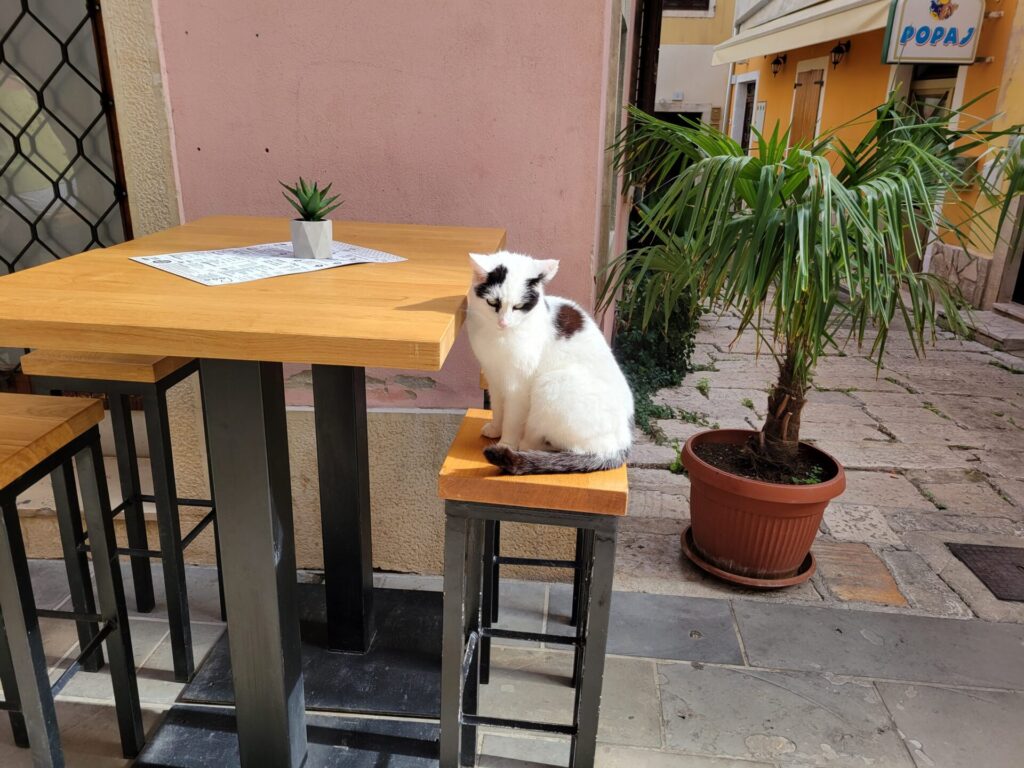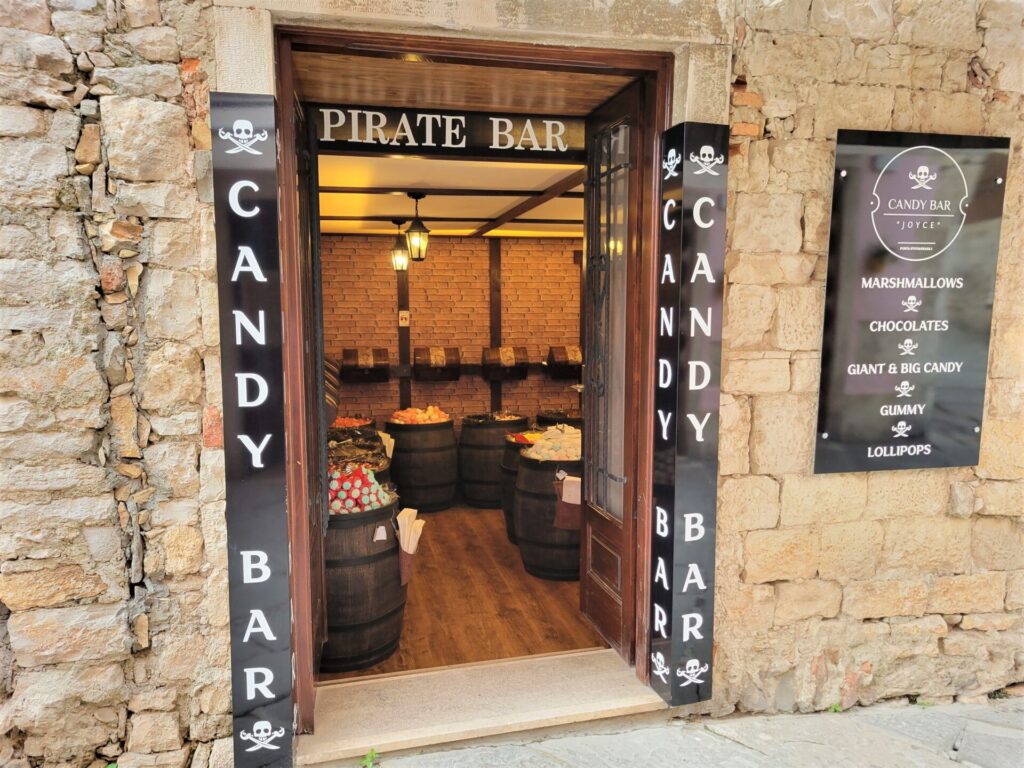 The center of old town is the Forum Square and the Temple of Augustus dominates the scene. This temple dating from 2 BC is really impressive. For 10 Kuna ($1.30), we went inside the building to see the remains of some old statues and other ruins, but nothing too amazing. The main draw is outside, as the well-preserved columns are pretty glorious.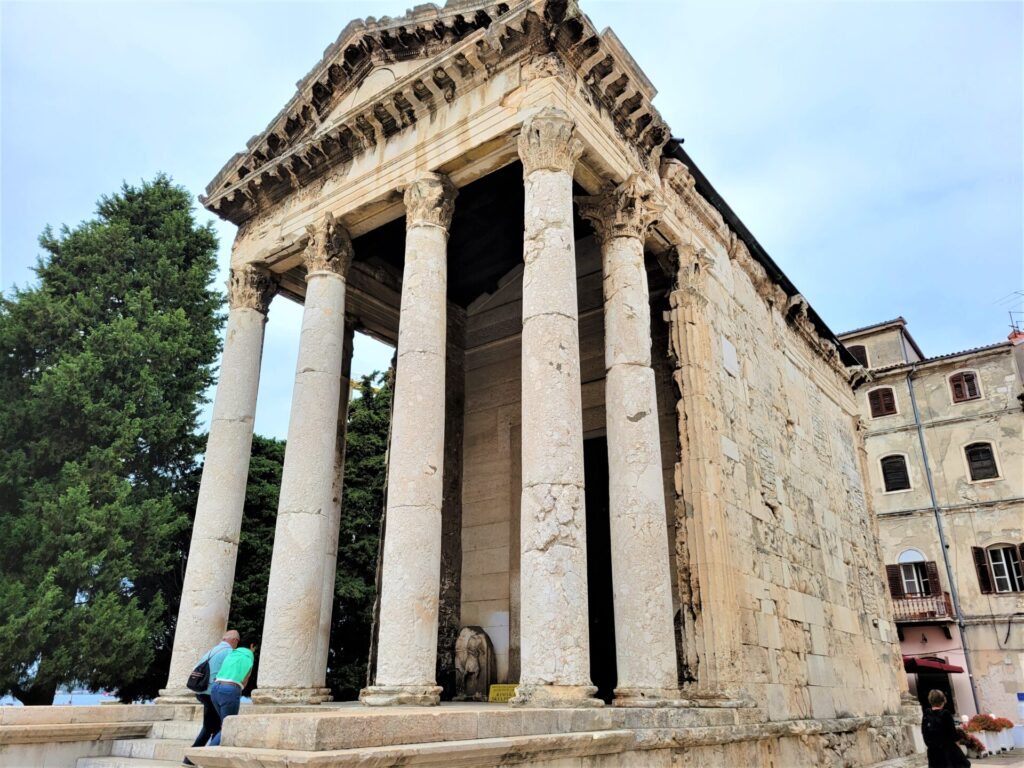 Nearby there's also a mosaic from the 3rd century dedicated to the Greek legend of the Punishment of Dirce. Apparently Dirce was mean to the mother of Zeus's twin sons, and they didn't like that. So they tied her to a bull, which is what the floor depicts. It wasn't discovered until cleaning up after bombing that took place during World War II. It's quite detailed.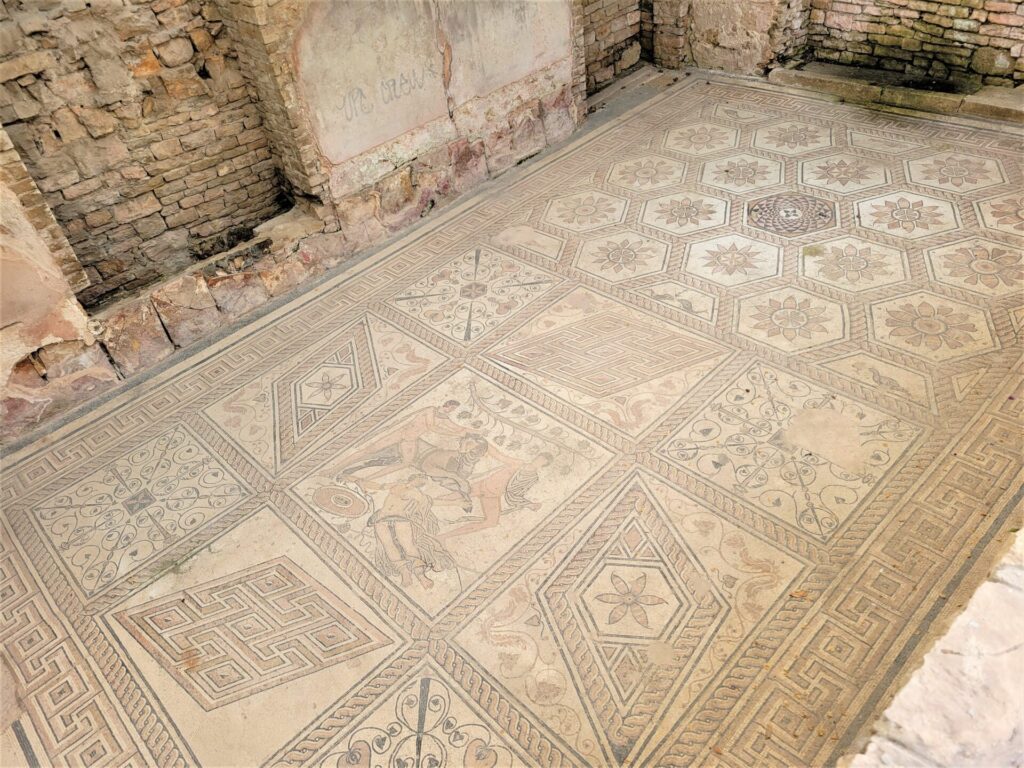 At the end of the old town pedestrian lane is the Arch of the Sergii. This 2000 year old arch was part of the former city gate and walls and is still in amazing condition. We've seen a number of old structures lately that are newer and worse off. A lot of the original detail can still be seen upon inspection. Plus it just looks cool.
Fort Giorgio
Less than a 30 minute walk from the old town sits abandoned Fort Giorgio. This was the first of three abandoned forts that we visited, and it's the best preserved one we saw. Climbing the staircase to the top provides some pretty good views, although this is one of the few spots in town where the Pula Arena isn't visible. For some reason I can't explain, I don't think this place is very popular. We didn't see a single other person there when we were exploring it. It was a nice day out too. I was also surprised by the lack of graffiti as it seems like the perfect spot for the street artists to apply their trade. There was a little, but not much. Nevertheless, we really liked poking around it.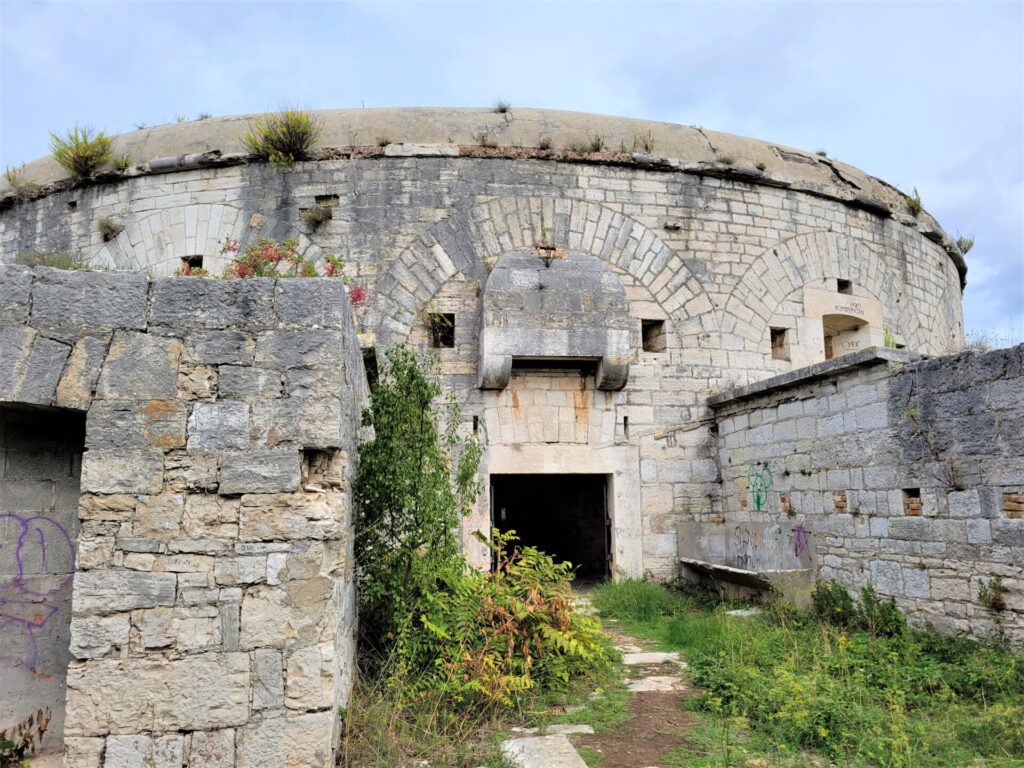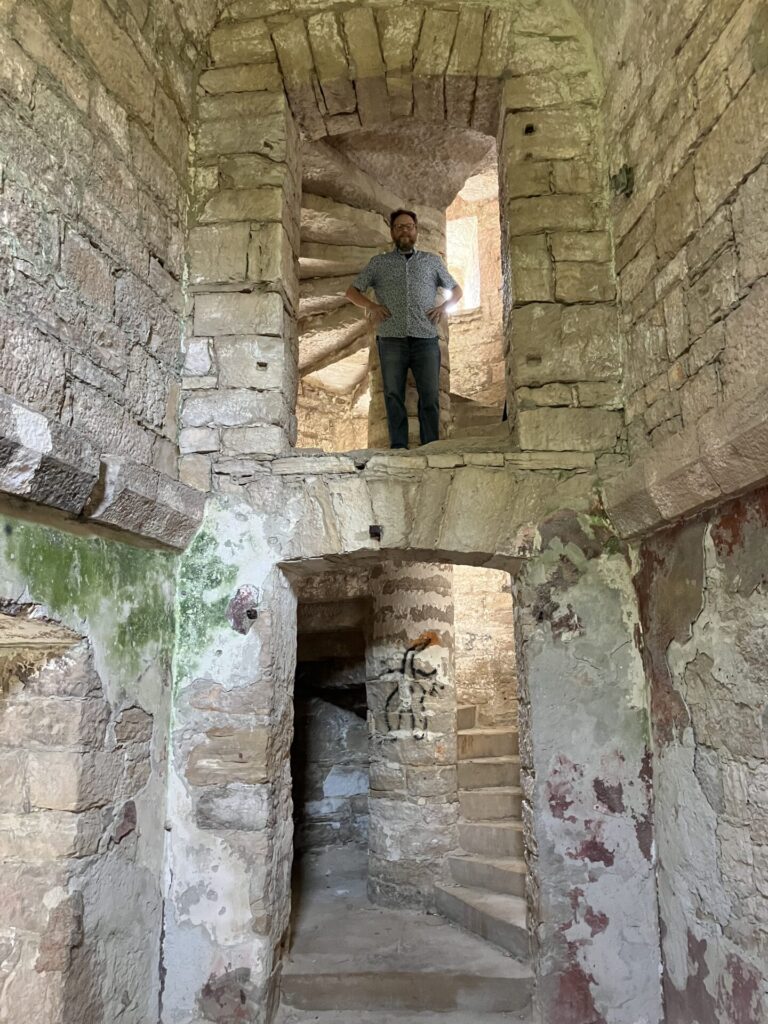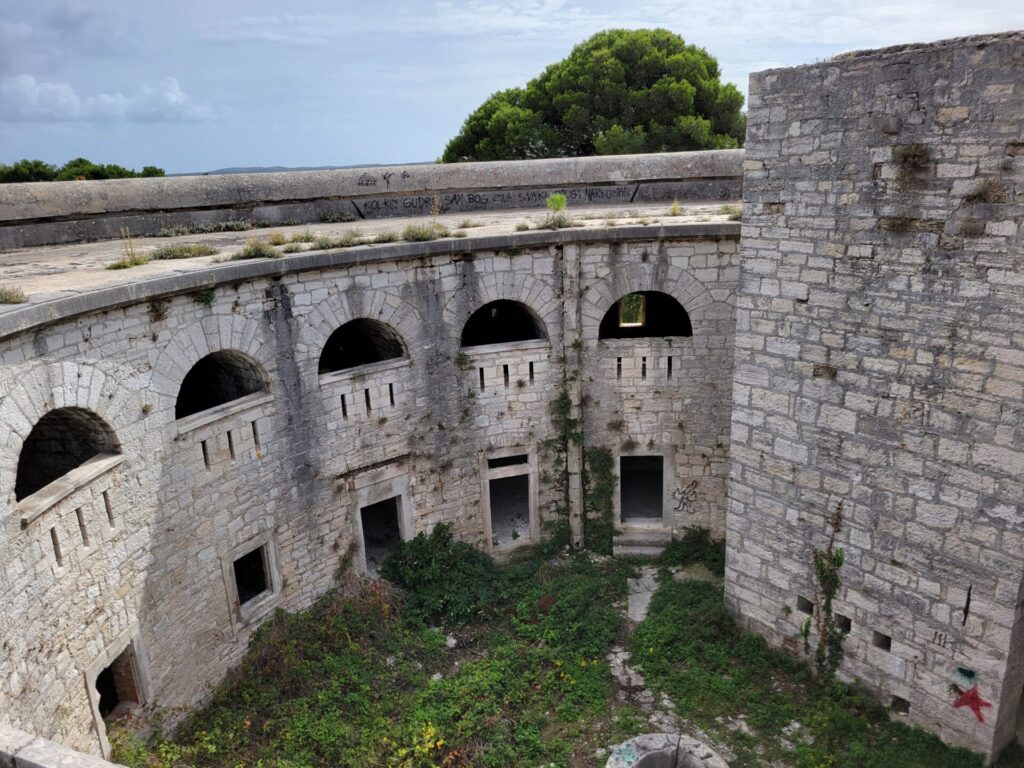 Toured The "Beaches"
To both the west and south of town are beach areas. I'm using the term beach loosely here, as none of the coastal areas have sand. Some are smoothed rocks the size of your phone and some are just flat rock shelves that can be sat or laid upon. That didn't stop people from being out there uncomfortably sunning themselves during the days we were exploring. But while it might not be comfortable, it is undeniably breathtaking.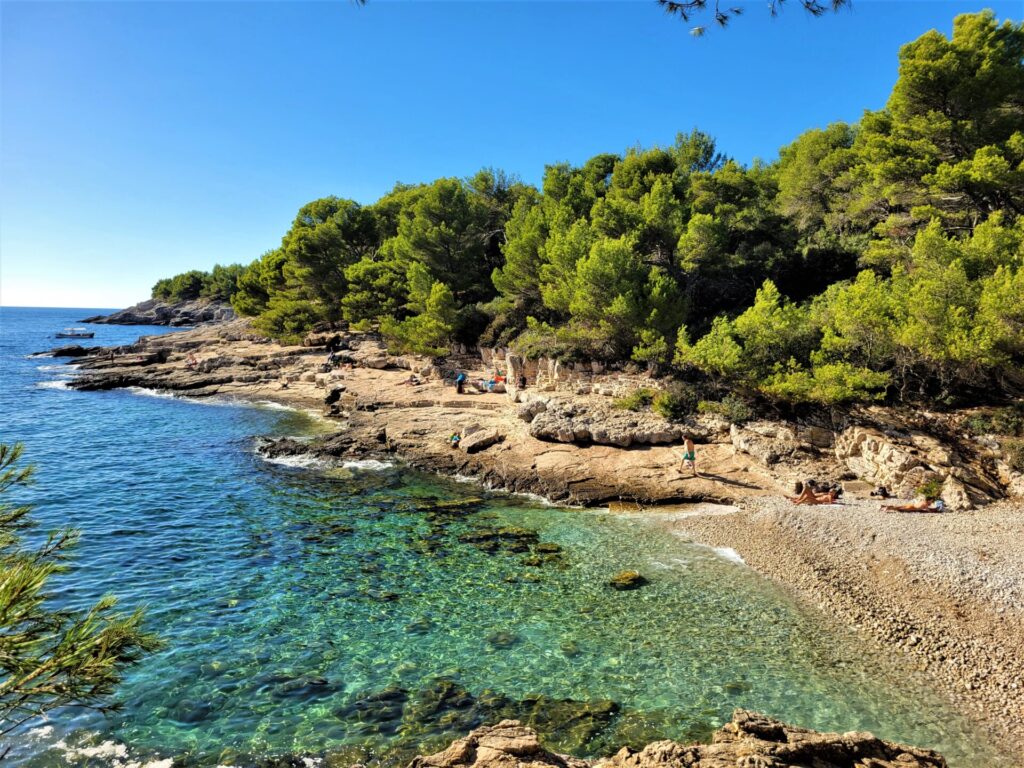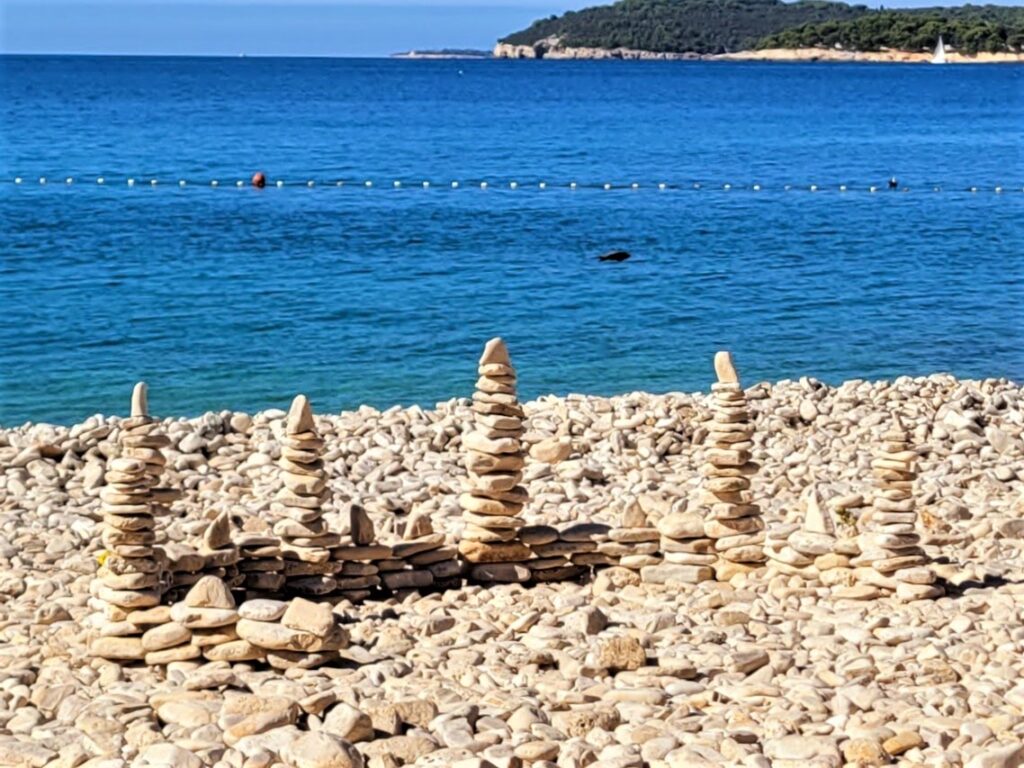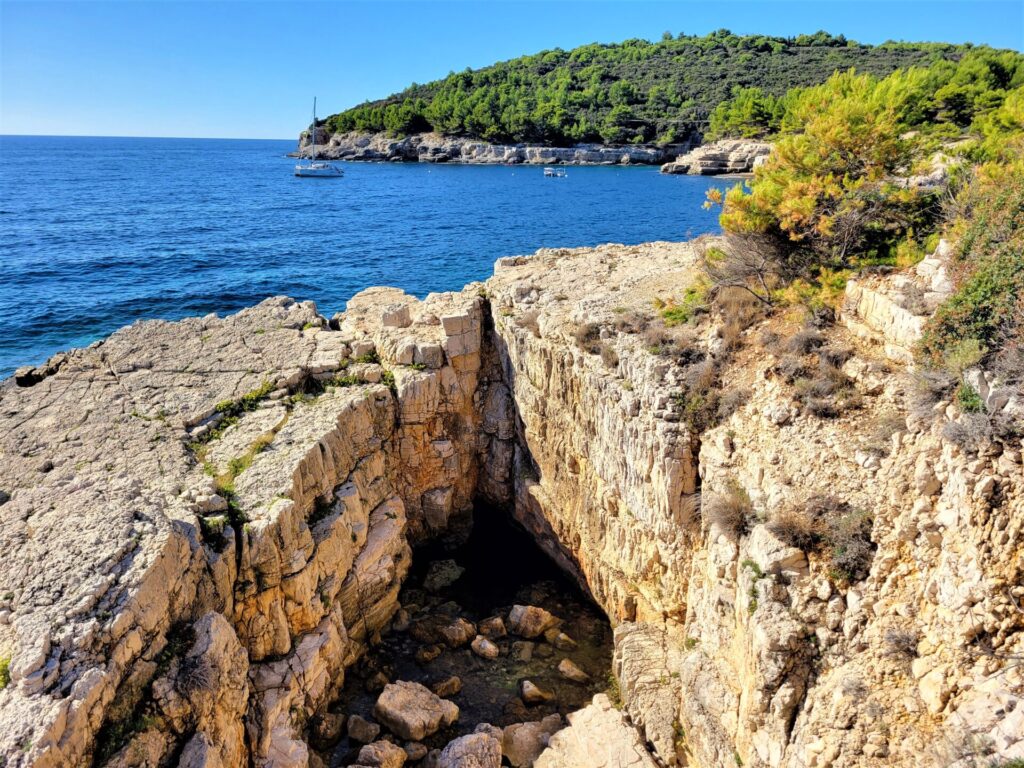 We didn't sunbathe or swim, as the area is way better suited for hiking in my opinion. The sea is jaw-droppingly gorgeous on a sunny day. Walking around on the rocks is an adventure on its own. And there are many abandoned defensive outposts here as well that can be climbed on and poked around in.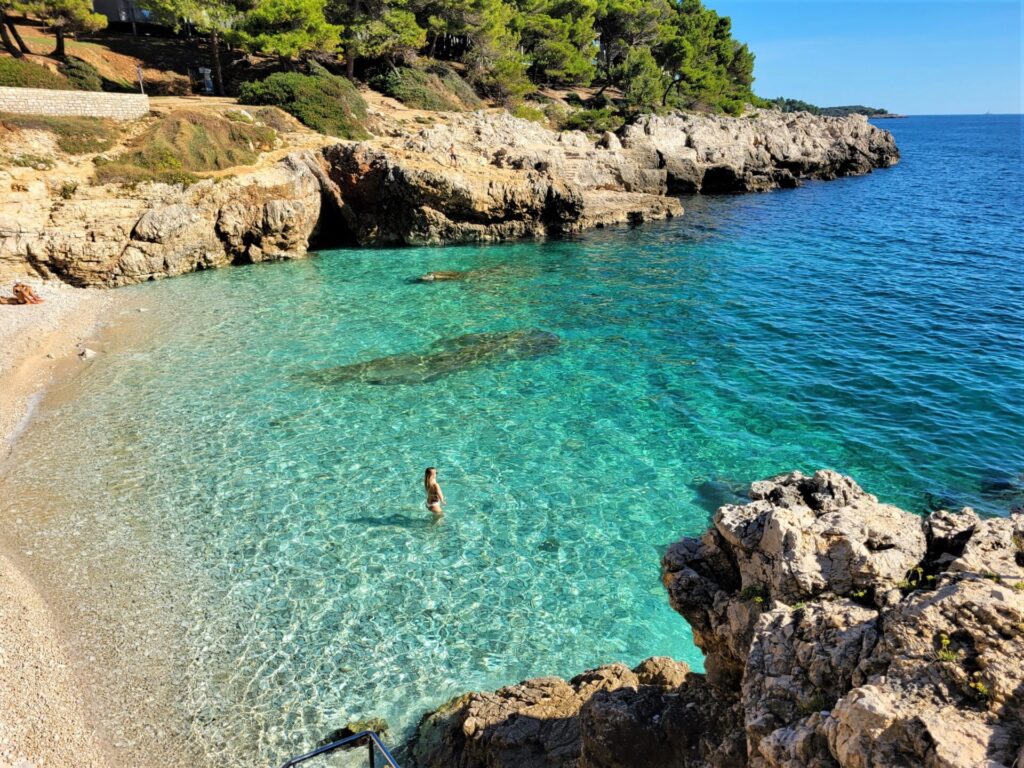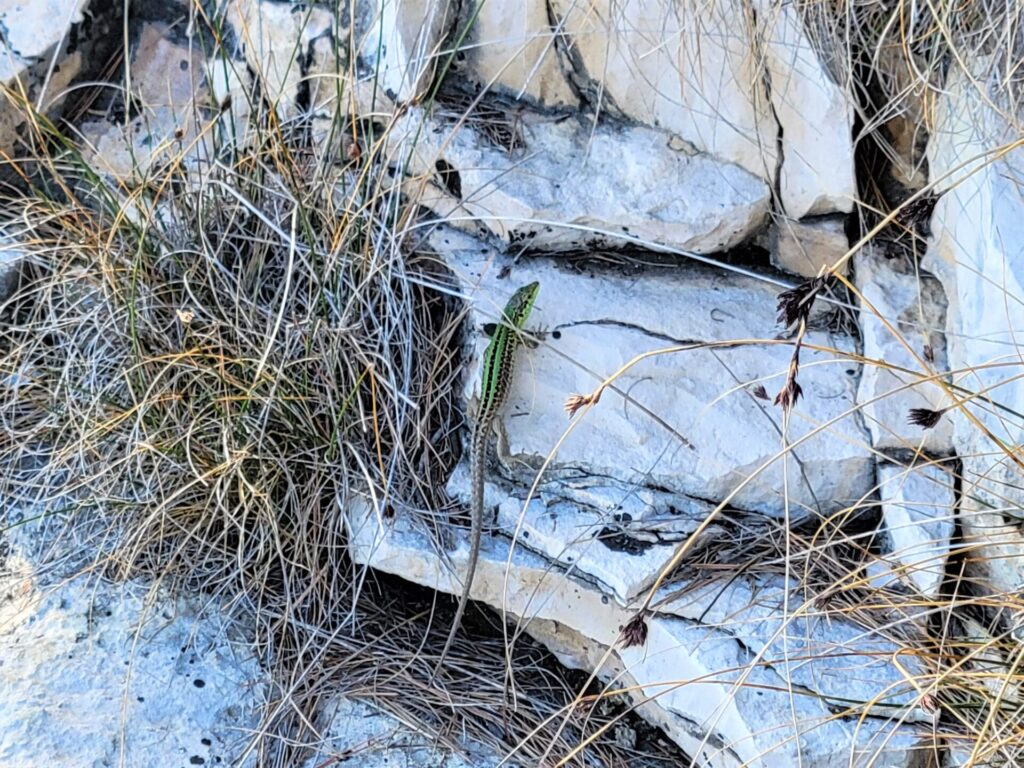 Near the southern beaches is the Cat Home. It's not really a structure, or anything formal, but it's listed on Google Maps so we had to check it out. We saw about a dozen cats who were just hanging out napping. They were probably tired from a long night of catting around. Most of them wanted nothing to do with us, but we did find one friendly one.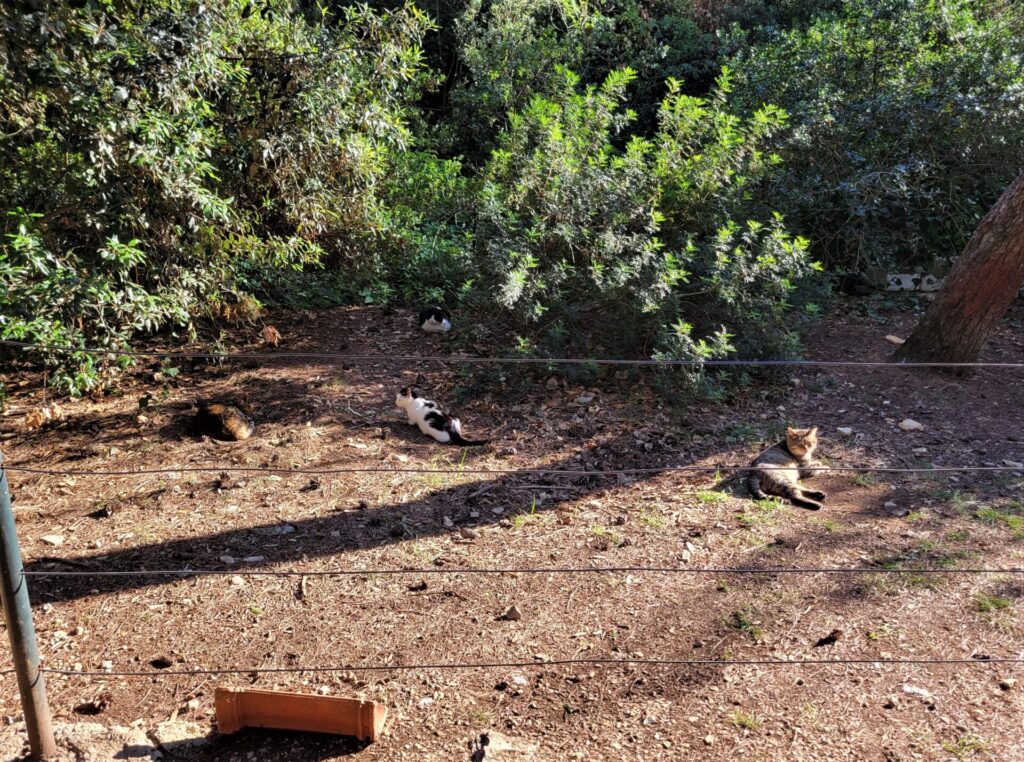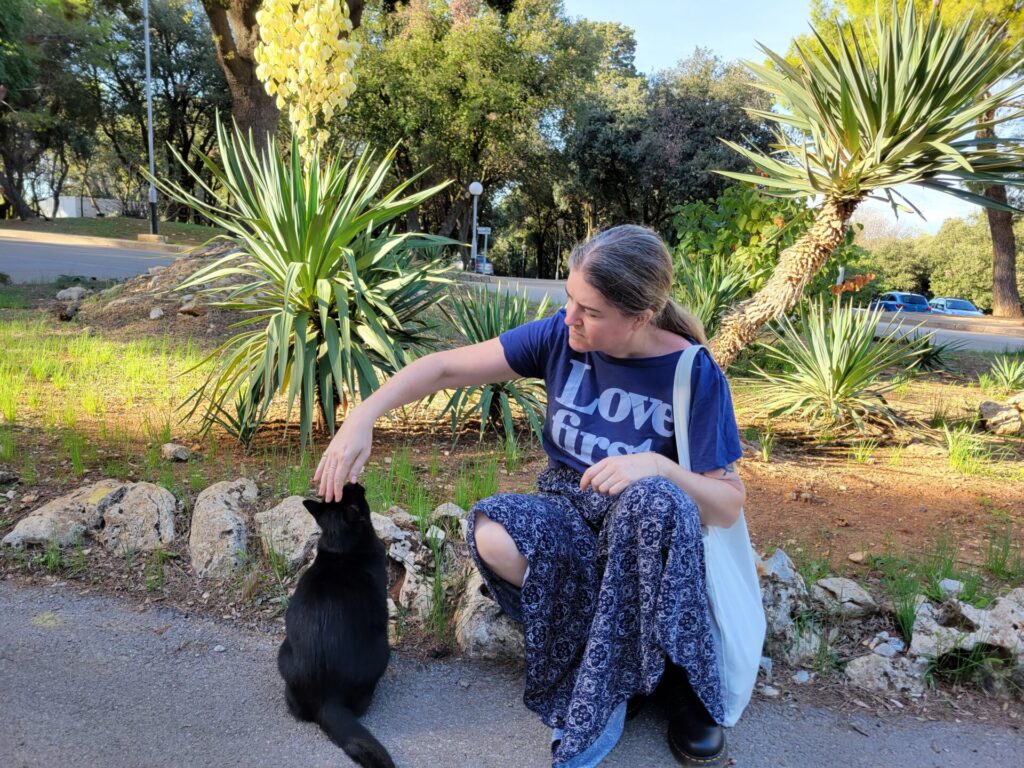 Walking The Coastline Northwest Of Town
Just past the train station is a path that follows the bay on the northwest side of town. The area doesn't have a name on the map, nor does it even show there's a path that connects to the main town. But one exists and it passes by dozens of old abandoned buildings. Most of them are former military, but not all of them. This is where the graffiti art is. The walk goes along the shore and provides plenty of great views of the city from across the bay. This trail was very popular when we did it, with dogs being walked, kids riding bikes, people fishing, and teenagers playing hide and seek in and around the abandoned buildings.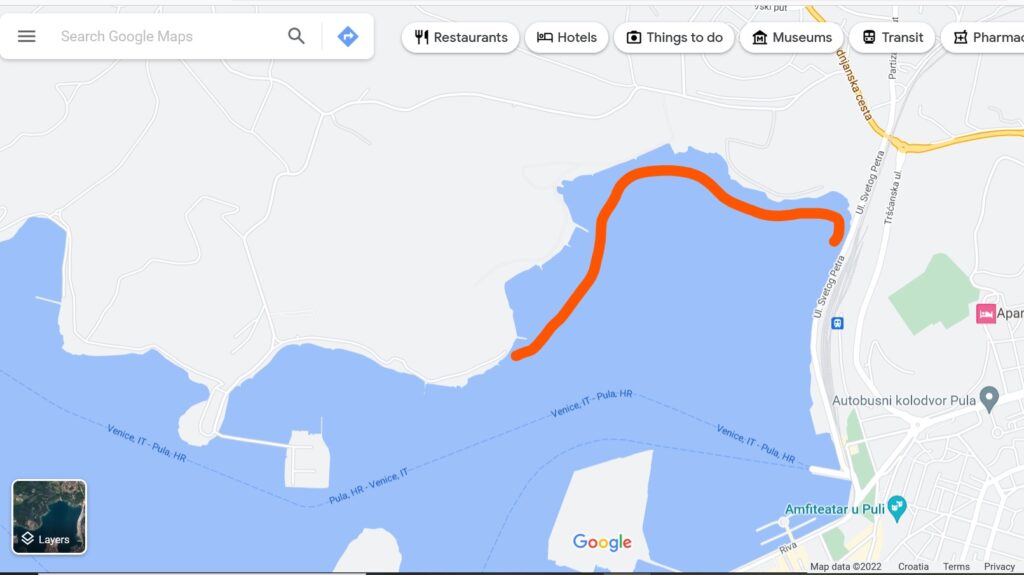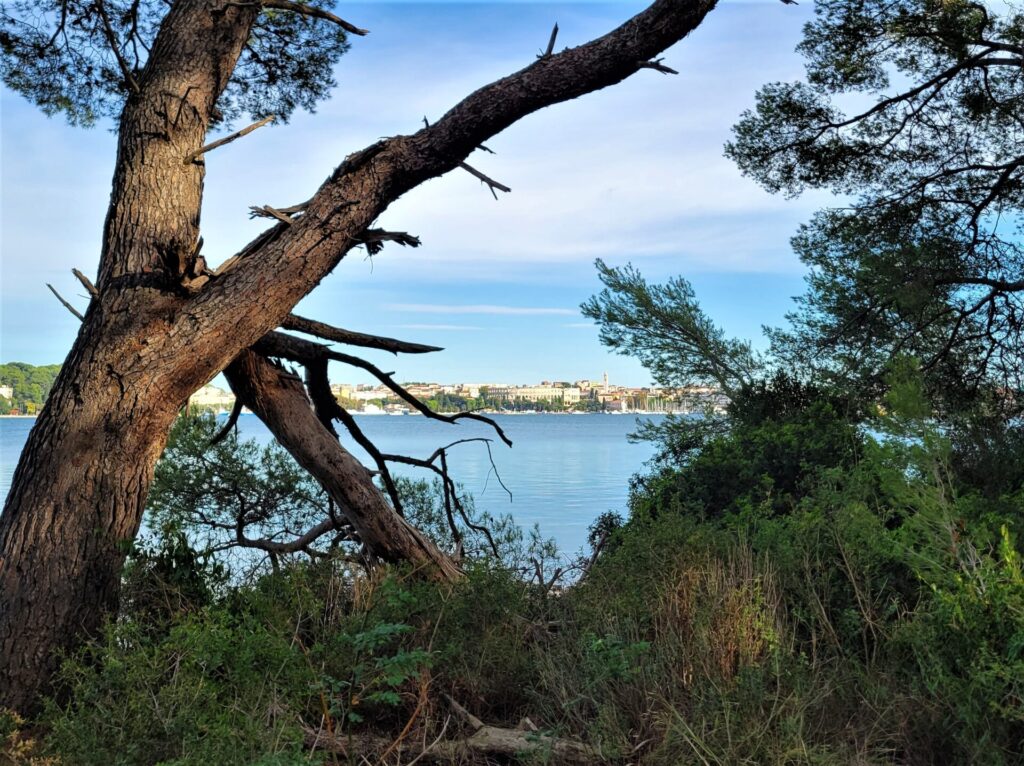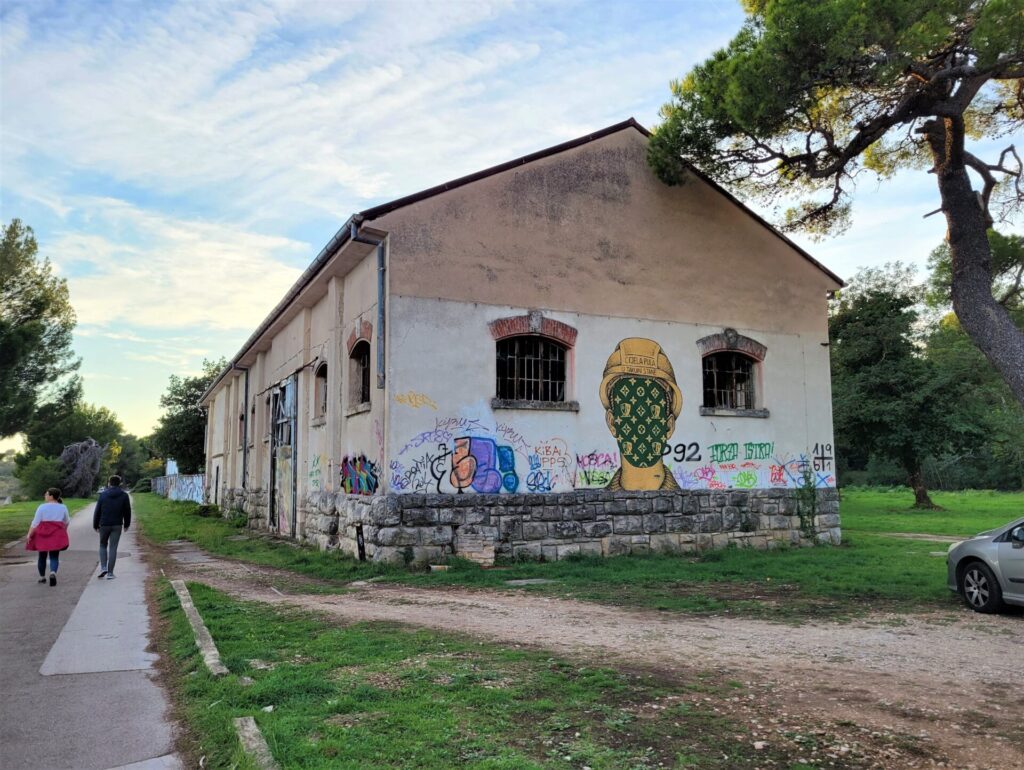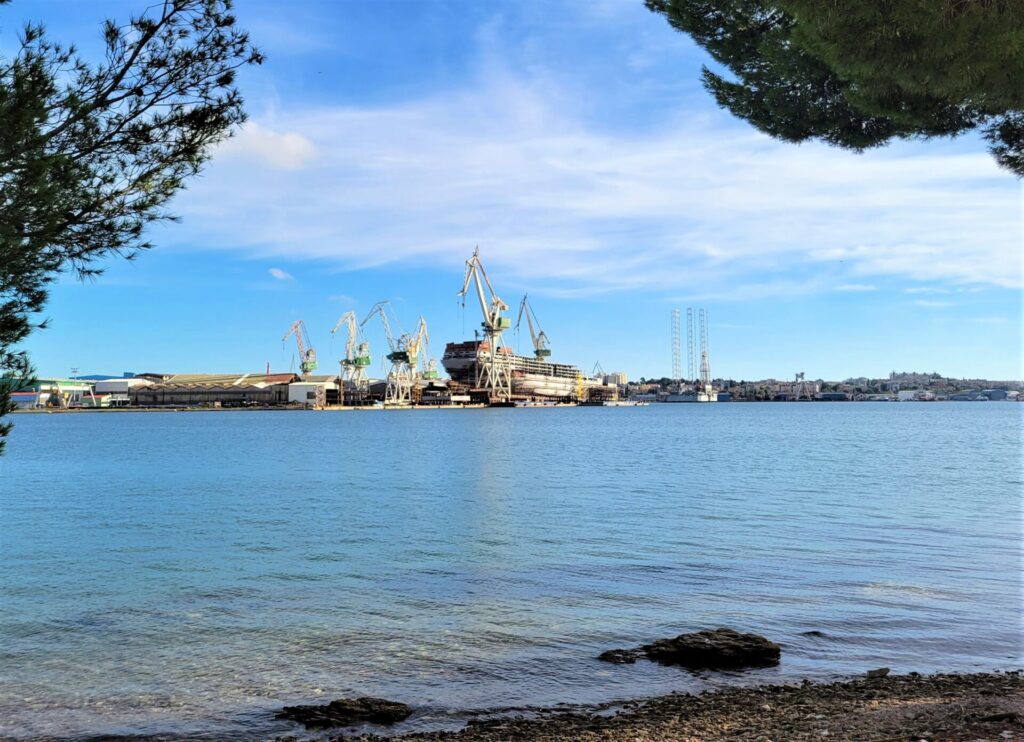 Day Trip To Rovinj
We took an awesome day trip up the coast to Rovinj. Just 45 minutes away by bus, this super charming coastal town was the perfect place to spend a nice day. I wrote a whole post about it, so check that out if you want to see more.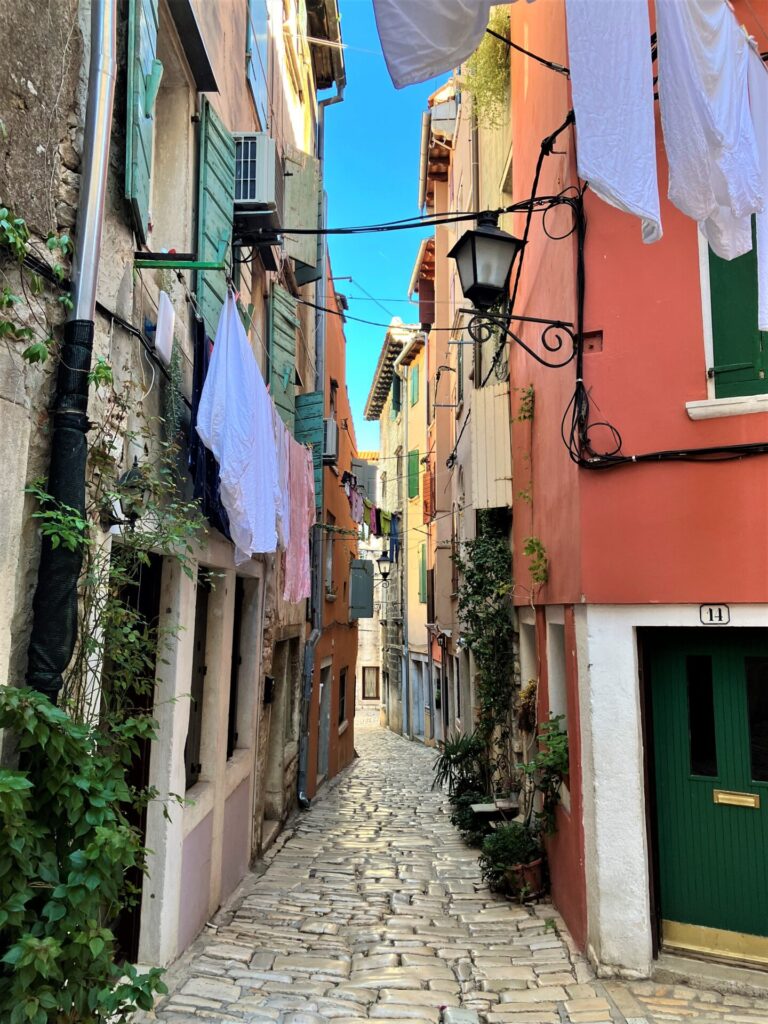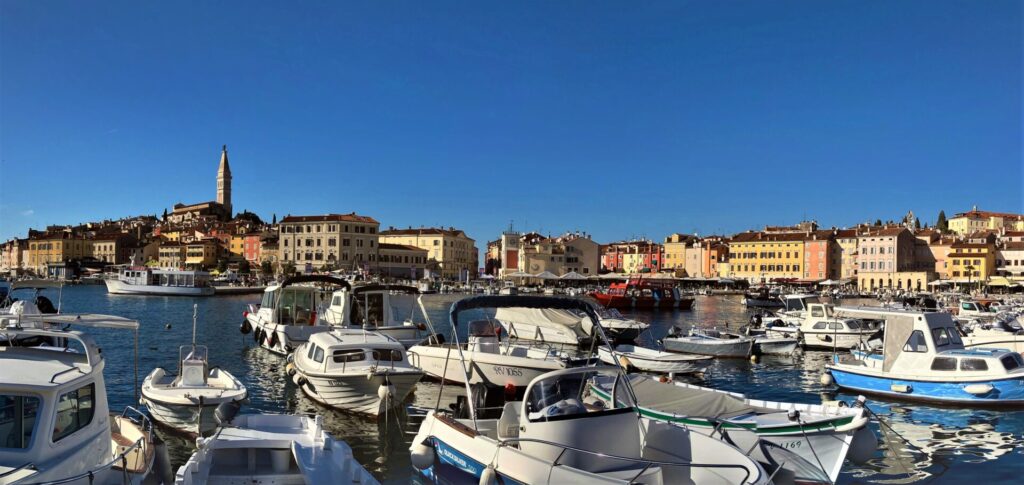 Where We Stayed
We rented a cute, albeit somewhat cluttered one bedroom apartment right in the center of old town. We were only steps off of the main pedestrian street. The location was much more central than we normally choose. As such, the closest large grocery stores were about a half hour walk away, which is pretty far for a small town like Pula. Luckily, that gave us a chance to explore those local neighborhoods that we probably wouldn't have otherwise seen and enjoy all of their great gardens. We liked the apartment's kitchen and bed. The couch was not nearly as comfortable as I would expect, but you can't win them all.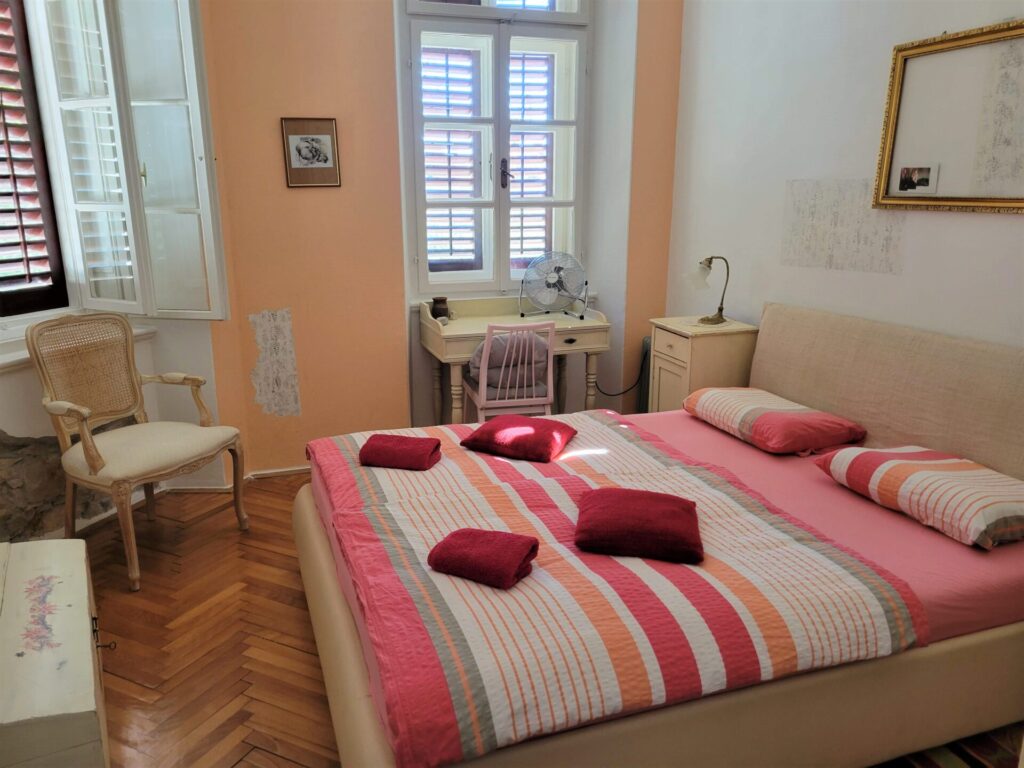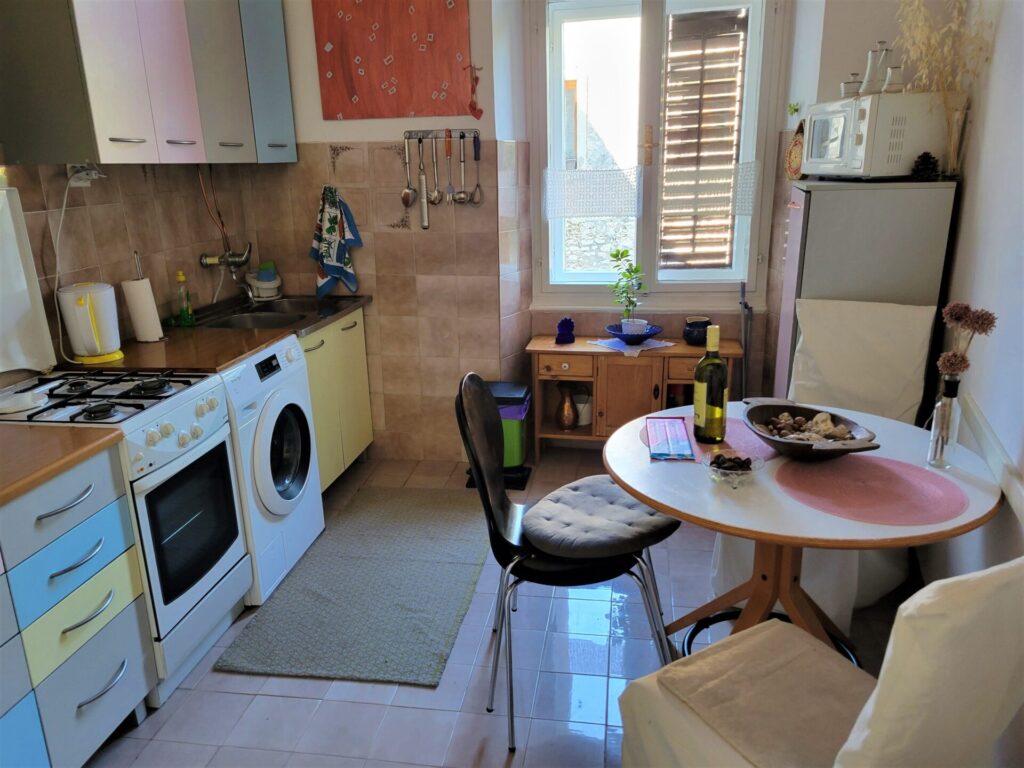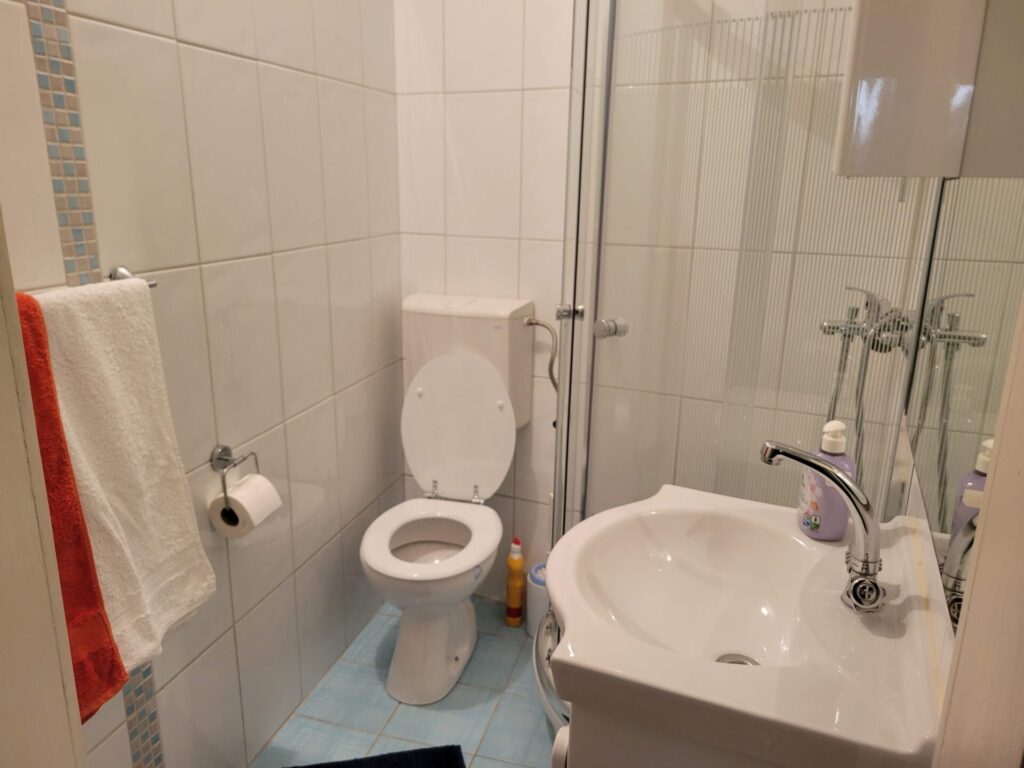 What We Spent
Our apartment cost $664 for our two week stay. That's a little steep, as we were missing our normal monthly discount. But that's the price of a short(er) stay. Most of our entertainment was free, which was nice. We also sort of went hog wild on some warmer clothes and new boots to prepare for the upcoming winter season. So our total spending in Pula was $1294. Adding in our prorated monthly expenses like mail service and insurance brings our total spending for the two weeks to $1379, or just under $100/day. ($77/day without the clothes/shoes.)
Overall, we really liked the time we spent in Pula. In fact, we enjoyed all of the time we spent on the Istrian Peninsula. Our four weeks in Trieste and our two weeks in Pula were both great. The plant life and climate were spectacular and reminded us a lot of coastal Northern California. The hiking that's accessible from both cities, even if it's just urban hiking, was pretty satisfying.
I thought we'd get bored if we stayed a month since Pula is such a small town, but we could've easily filled our time. The downtown area is small and the arena, old town ruins, and fortress can all be seen in a day if desired. But the Pula area deserves a lot more than a day trip. It really shines outside of the main tourist path. The coastlines are awesome. Climbing over rocky shoreline, marveling at the crystal clear Adriatic, and exploring abandoned military strongholds were all very entertaining. Our two weeks went by really fast.