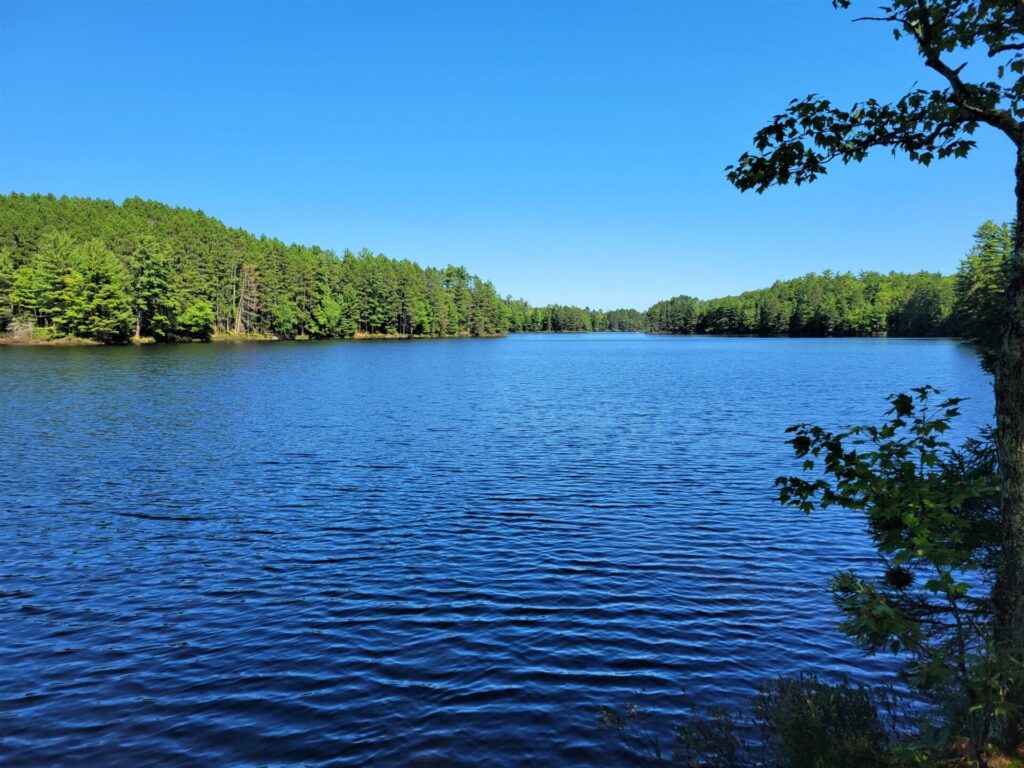 Katie and I just finished a refreshing two and a half week camping trip. We spent our time in what's colloquially known to Midwesterners as Up North. In this case, I'm referring to Northern Wisconsin and Northern Michigan. We did a lot of hiking and bird watching while enjoying the fresh air and plentiful stars. And since we made it before the snow started falling, we could do so in a tent.
Before I get into what we did, I just want to point out that I'm a big fat liar. Not only to you, but also to myself. When people would ask what stuff we kept from our pre-nomadic life, I would only mention the single Bankers Box of documents that is stored in my parents basement. It holds things like tax returns, pictures, and other small keepsakes. Somehow, I had completely blocked out that we still had all of our camping gear in storage too.
I'm not quite sure why that never crossed my mind, but every time I was asked what we owned I ignored the sleeping bags, air mattress, tarps, mallet, flashlight, and all the other little things that are needed to properly enjoy a campsite. Everything we used to camp our way across the country after quitting California was properly stored and ready to be put to use. Which we did, right after we bought ourselves a new tent.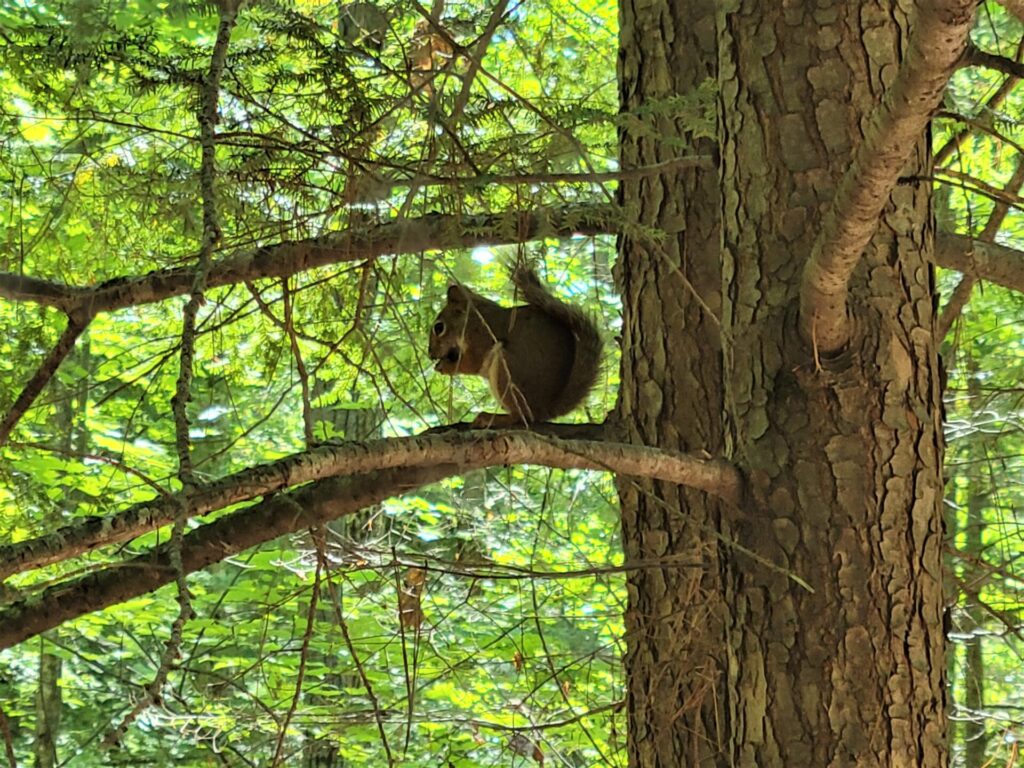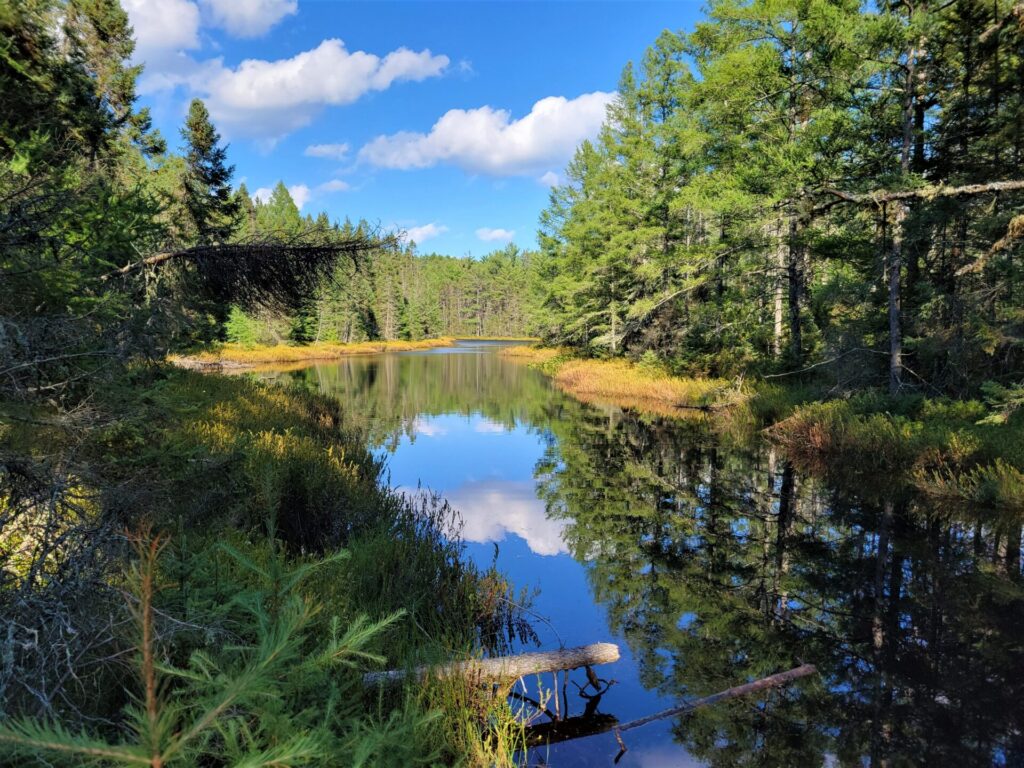 So since I still own all of this stuff, and now acknowledge its existence, I set out to plan the perfect 17 night camping trip through Northern Wisconsin and Northern Michigan. I looked at campgrounds, hotels, and driving distances to get the right mix. The idea was to strategically sprinkle in a few hotel stays to scrub ourselves clean while still maximizing time in the tent. No drive was longer than 4 hours, allowing us to forgo the main highways in favor of the more scenic county roads. No camping stretch was longer than 3 nights without shower access.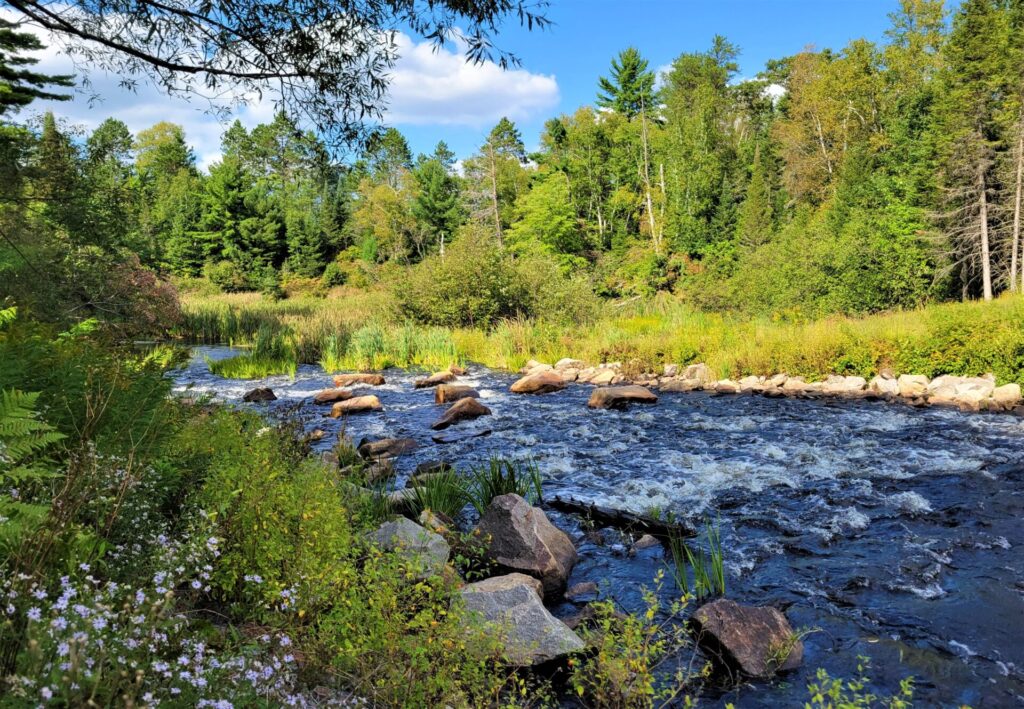 And then like most of my recent travel plans, it was blown up almost immediately. The weather forecast for our 2nd and 3rd night was major thunderstorms with a projected 3 inches of rain. Even if everything goes right, that just makes camping no fun. Despite pre-paying for 3 nights, we abandoned our campsite in Black River Falls after a single night to go check into a hotel. That definitely turned out to be the correct decision as the storms raged the first night and barely let up throughout the entire next day. I enjoyed watching the rain from my hotel room window a lot more than I would've from the one in my tent.
We used this time to make sure we were fully stocked up on supplies, including some delicious Wisconsin cheese curds. Now I've had cheese curds plenty of times before, but the ones we found on this trip were mind blowing. At a high end grocery store, Lamb's Market in Wausau, they had fresh cheese curds packaged that same day at 7am (according to the date stamp). They were sold at room temperature. It's hard for me to overstate just how amazing these were. My mouth sounded like it was hosting a basketball game with everyone wearing new shoes on a freshly swept court. Squeak, squeak, squeak was the sound with every delicious bite. The curds were way more snappy, poppy, and squeaky than I've ever experienced. The flavor was much more pronounced too.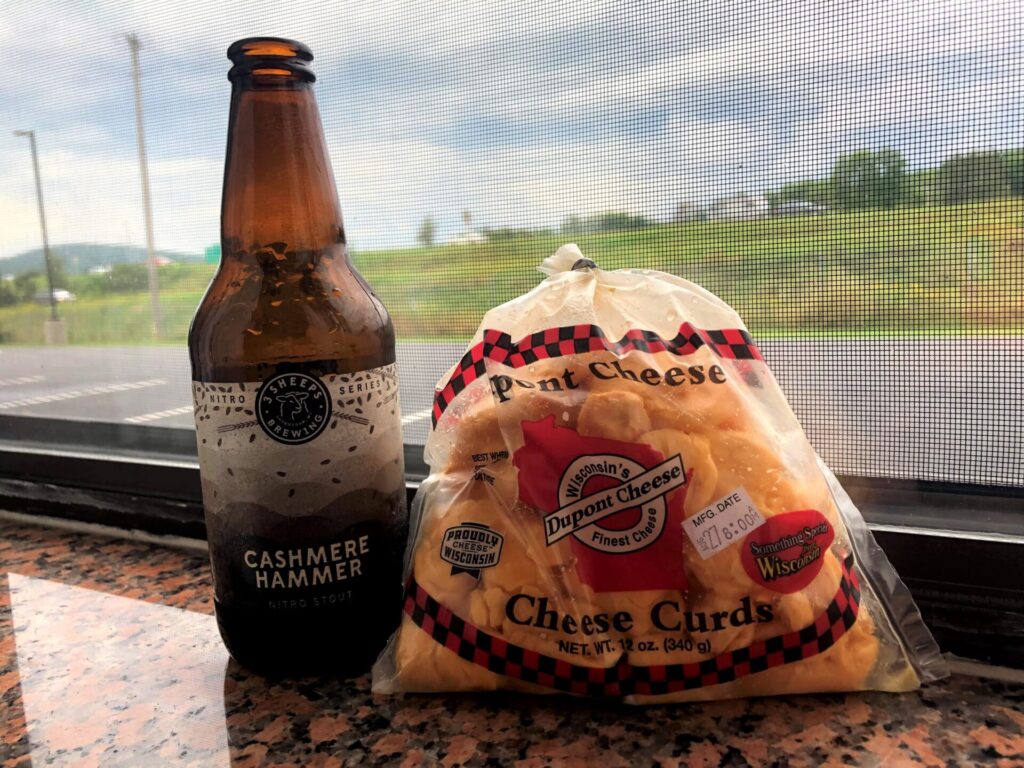 Cheese curds from the refrigerated section are very good, say a 7 out of 10 rating. These fresh ones were about 15 out of 10. If you ever find fresh non-refrigerated ones, it is mandatory that you buy them. We looked during the rest of our trip, but to no avail. I am now considering buying a house in Wausau just for access to these curds.
We took our cheese curds and continued traveling north into the Northern Highland–American Legion State Forest. Despite the convoluted name, it's an absolutely gorgeous area of the country. Everywhere you look is a lake with crystal clear water. In between all of this fresh water are tons of hiking trails and quaint small towns. We didn't have reservations anywhere, but I had a few different campgrounds to check out that were first come first serve. After viewing the first one on my list, Razorback Lake, I knew that one was enough. We found one of the nicest campsites that I've had the privilege of sleeping in, situated right on the edge of the lake. Our site was technically a walk-in, but it was only about 30 yards from our car to the site itself. Being a walk-in, that meant that we had few neighbors despite the idyllic setting. Perfect.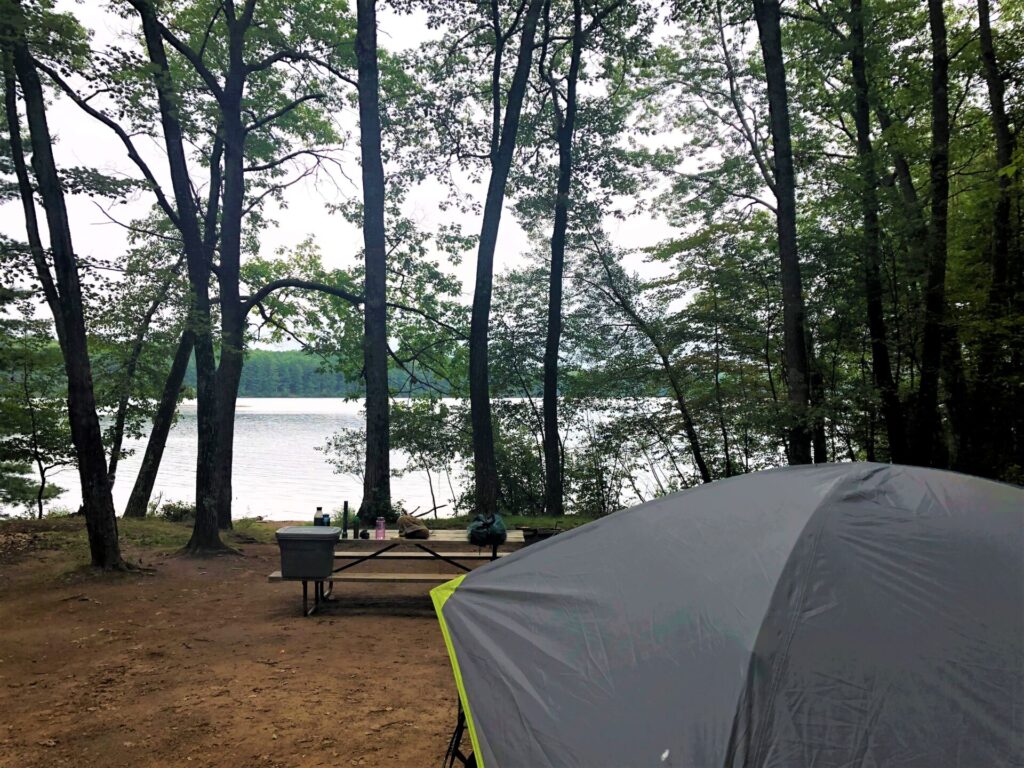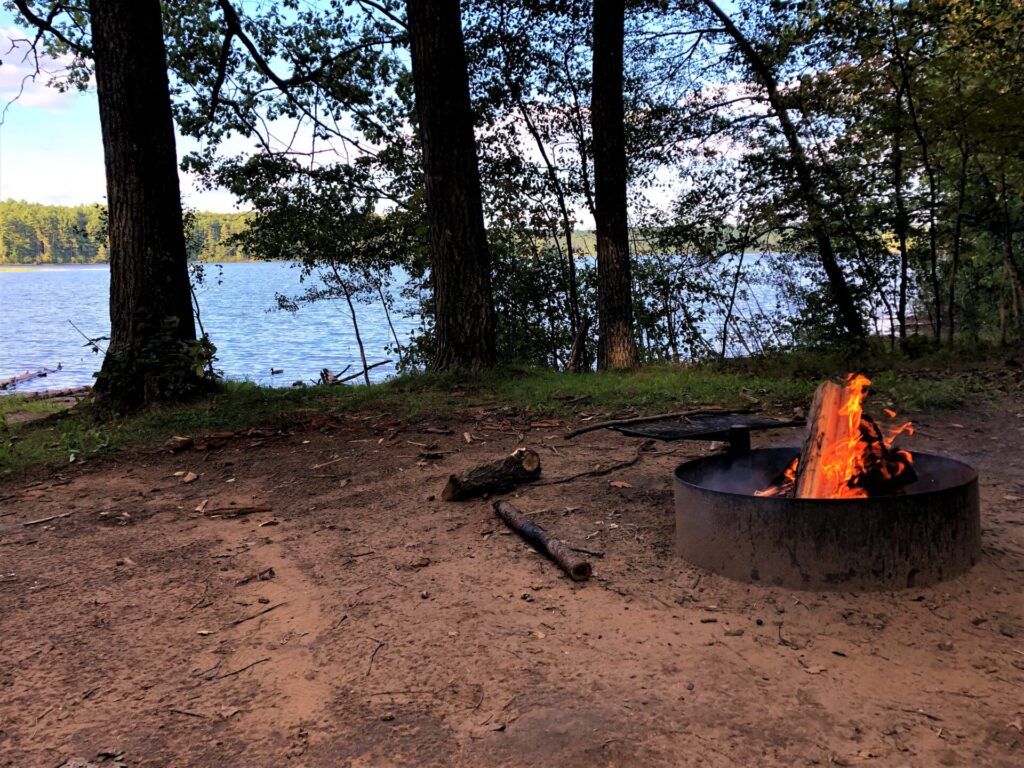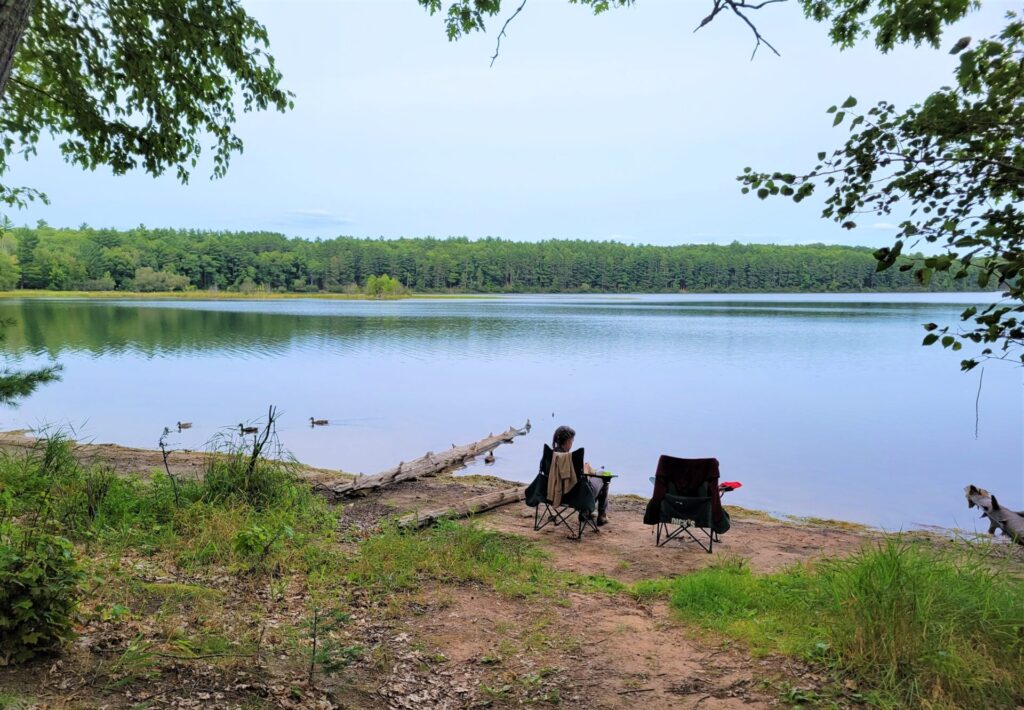 The original plan was to stay 3 nights in this area, but since we got rained out earlier, we set our sights on 4 instead. Each day was spent in a similar fashion. After breakfast we hiked one of the many area trails. Afterwards, we went back to camp and sat by the lakeshore and watched all the wildlife activity. We made friends with a group of ducks, enjoyed the loons diving, saw two types of mergansers (hooded and common), watched a kingfisher fish, spied multiple bald eagles, and even an osprey. I could probably write 4 paragraphs just on the wildlife, but I know reading about it doesn't have the same thrill as experiencing it. In fact, we were enjoying it so much that we decided that 4 nights wasn't enough. We went to stay one night in a hotel, and then came right back to the exact same campsite and stayed 5 more nights.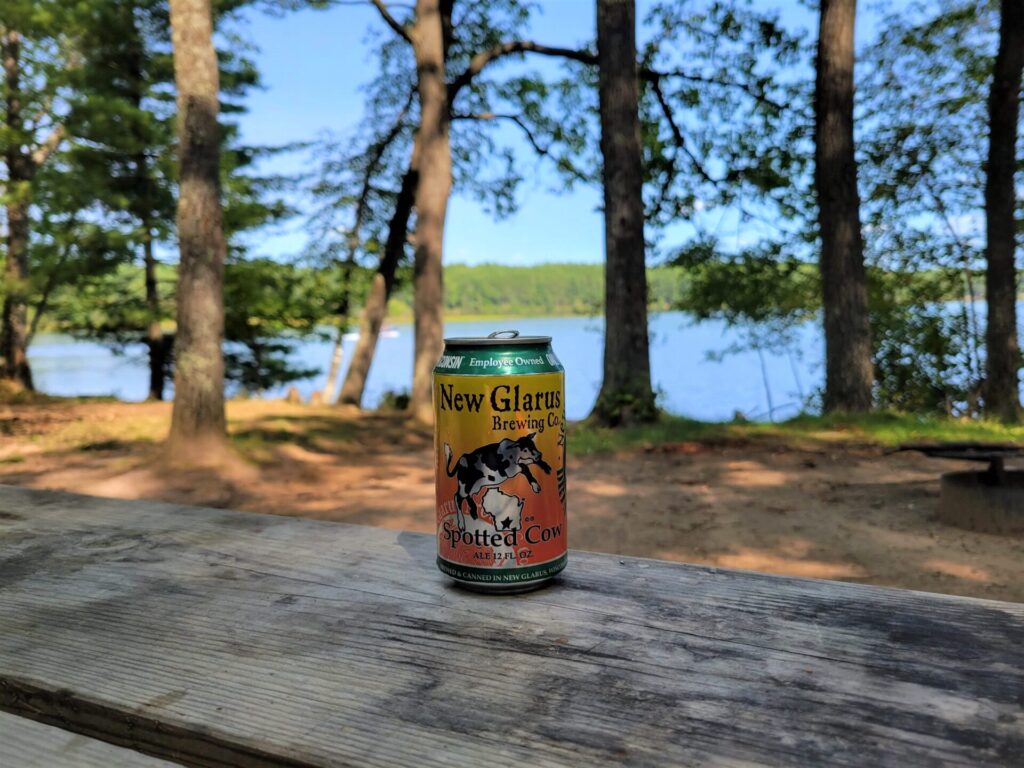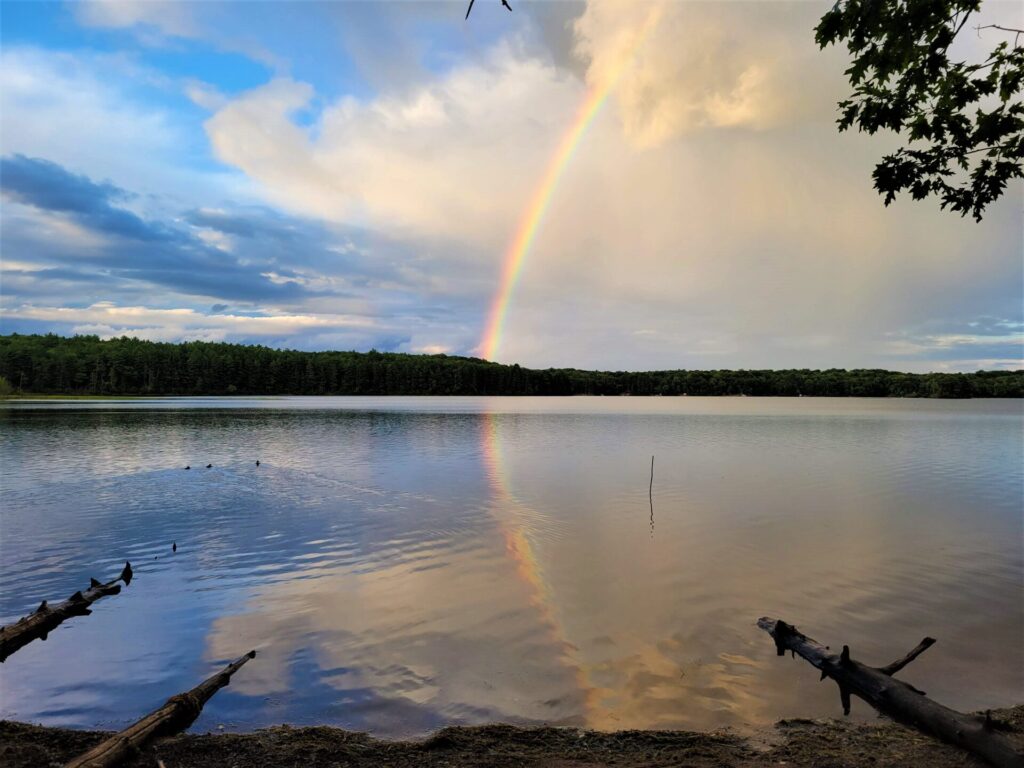 (Recommended hikes – Raven Trail and Escanaba Lake for 5-8 mile hikes, Fallison Lake and Star Lake for 2-3 miles.)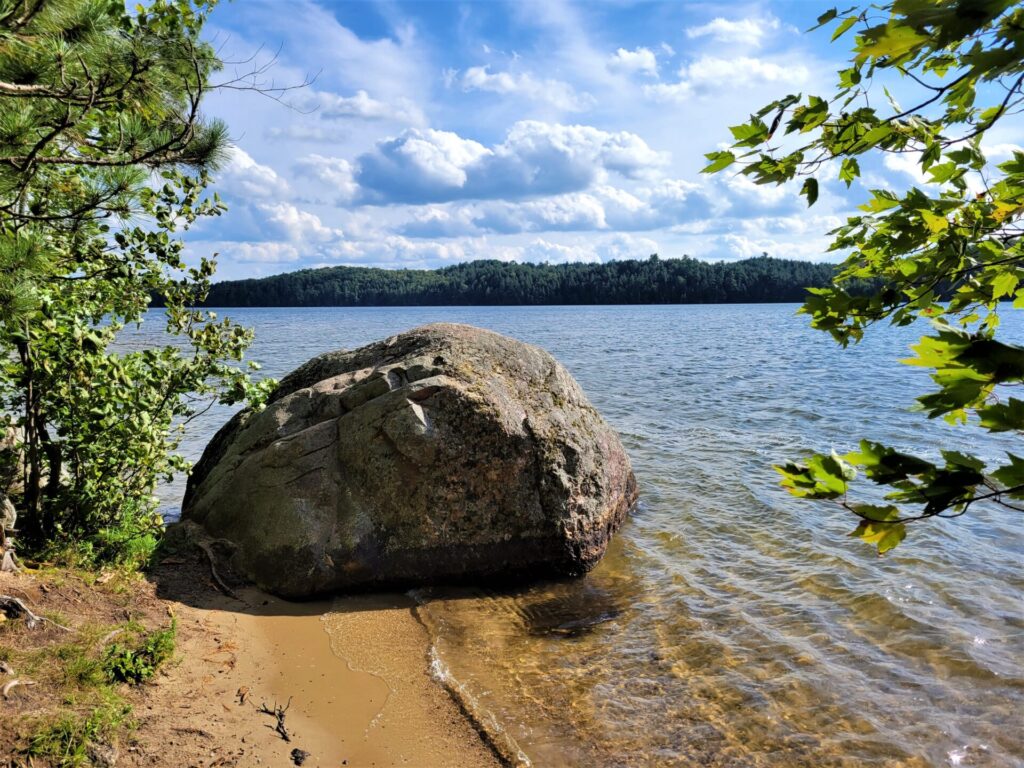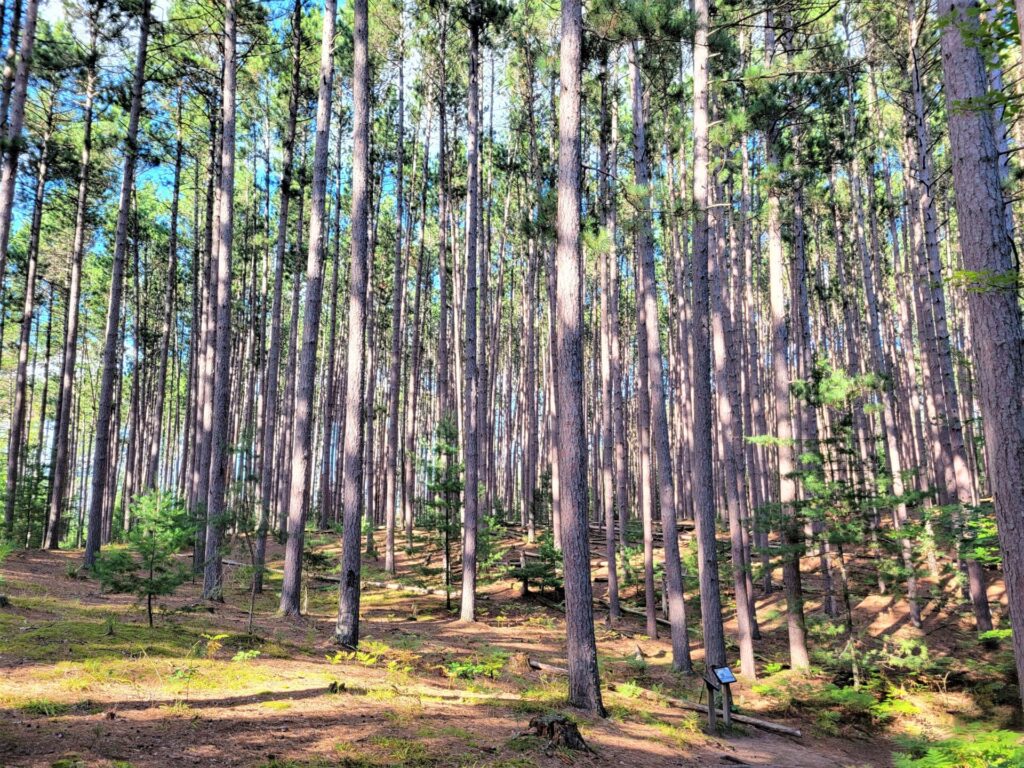 It was doubtful that we were going to find a site better than this one, so we just stayed. There was plenty to do, the weather was nice, and we love Northern Wisconsin. It's just so charming. This feeling was cemented when we went for a hike on Labor Day Monday. Upon entering the town of Woodruff, there was a group of 25 or 30 people on the side of an intersection, sitting in their lawn chairs, drinking beer at 11am, and waiving to passing cars. There was a big sign stating "Thank You For A Great Season. See You Next Year." When we got a little further along, there was another group doing the same thing. 4 hours later after our hike was over, we drove through in the opposite direction and the crowds had tripled. There was even a band at one gathering.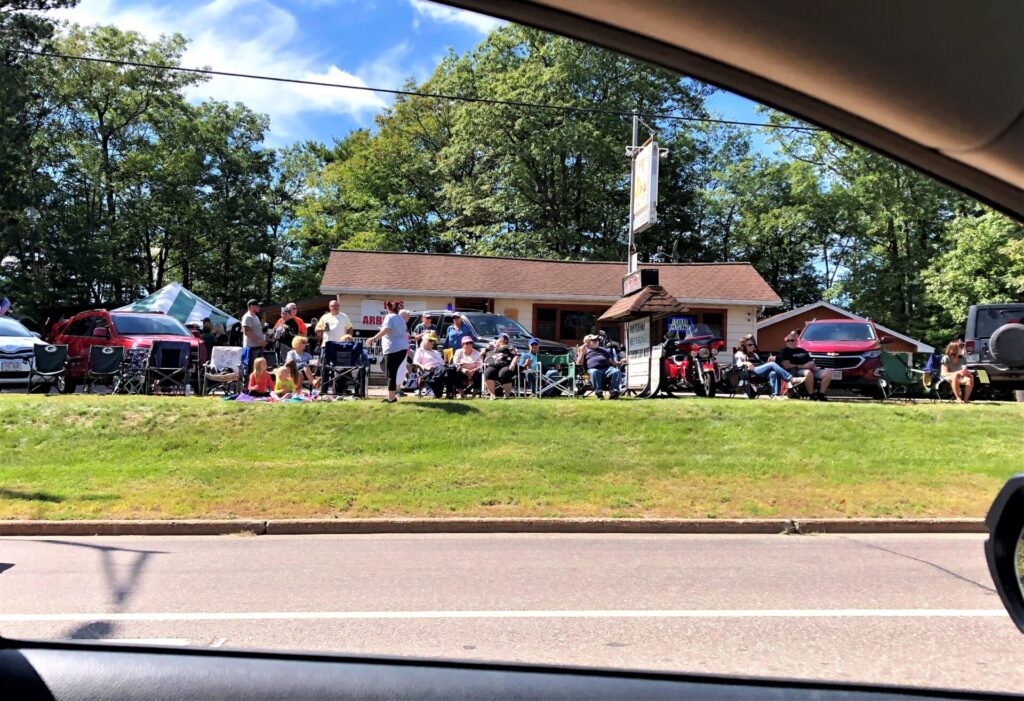 Now the cynic in me would think that these locals were just happy that the tourists were finally leaving and having a party to celebrate getting their towns back. But after some observation, it seemed like they were genuinely saying goodbye and were thankful for the business. There were even some groups of two sitting along a sidewalk waving at all the RVs, campers, and anyone else rolling through town. It was just about the nicest thing I've seen.
Having avoided all that traffic, we packed up the next day and headed into Michigan's Upper Peninsula. All of our hiking in Wisconsin was a warm up for our Michigan goal, which was to do the signature hike at Tahquamenon Falls State Park. This is one of, if not the best hike in the state. The trail follows the Tahquamenon River between the Upper and Lower Falls (and back) and is about 10 miles in total.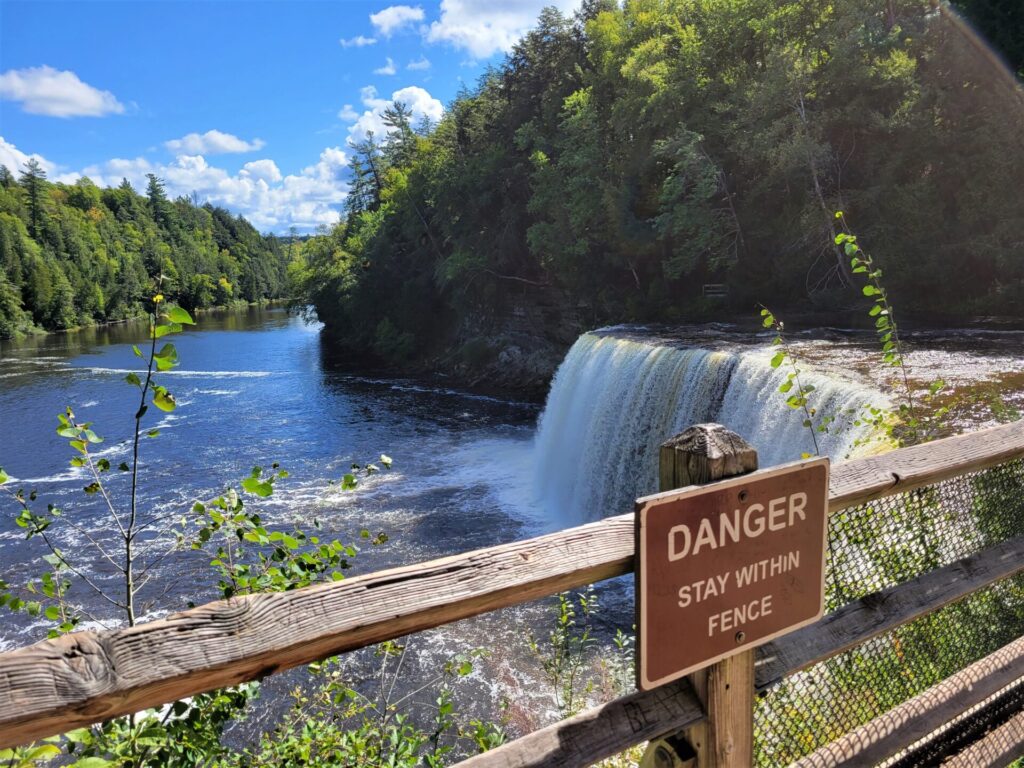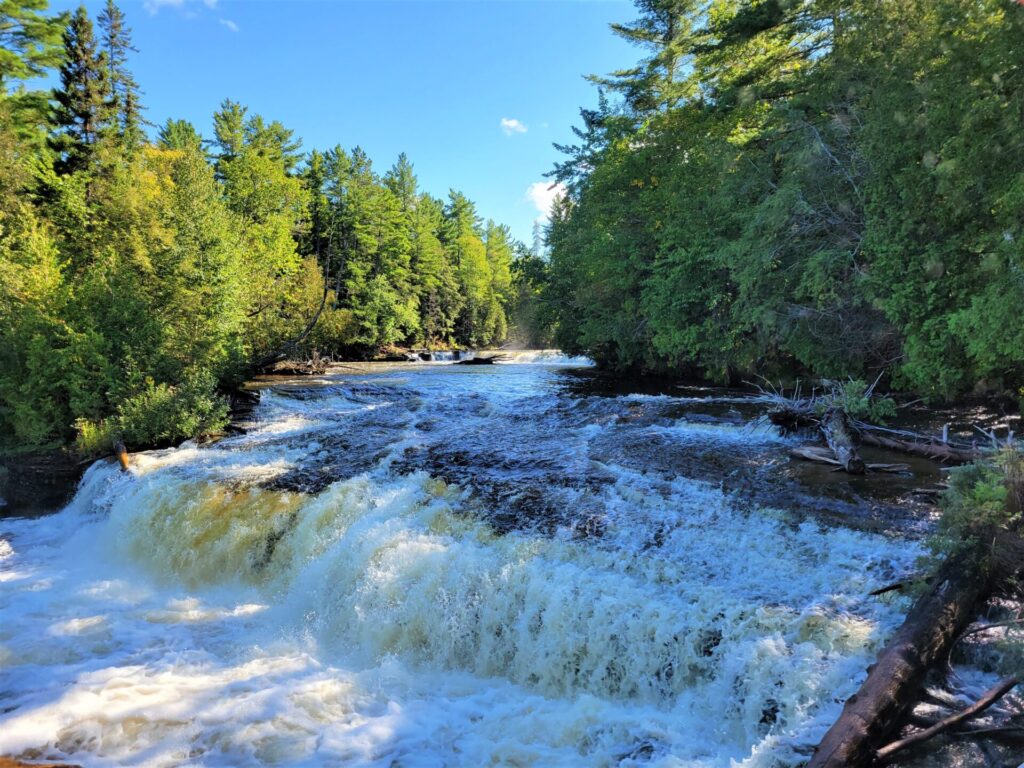 The hike did not disappoint. We parked at the Lower Falls and walked to the Upper Falls and back. The official stated distance is 4 miles each way, but if you want to see the proper viewpoints, it's longer. Katie's pedometer said we covered 10.5 miles. But it didn't feel that long, as the vast majority of the trail is gorgeous. Even covering the same ground in the opposite direction barely felt repetitive, owing to the beauty.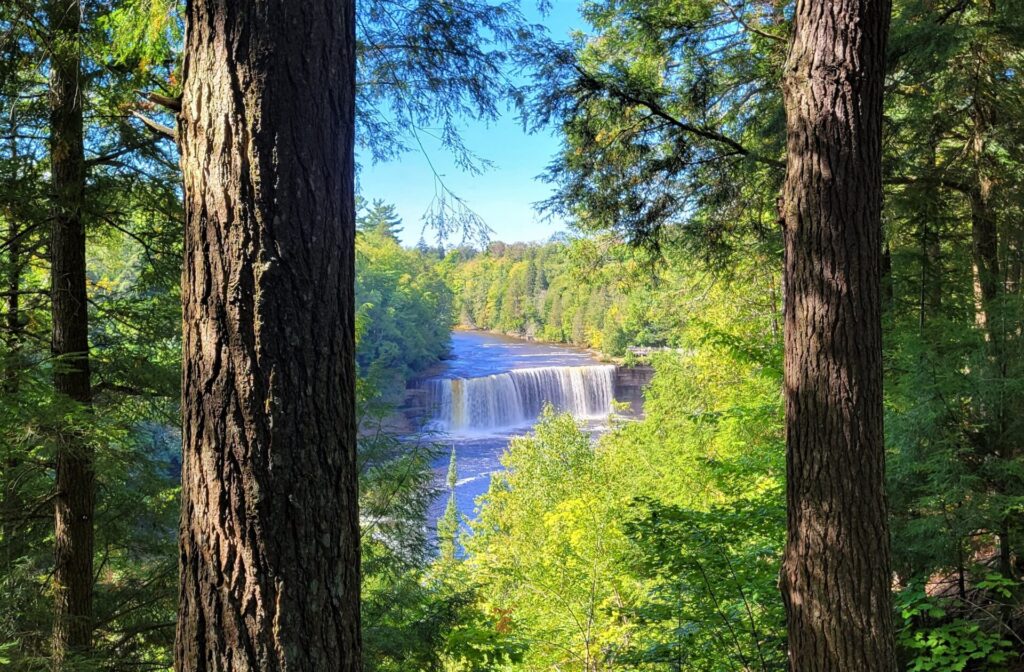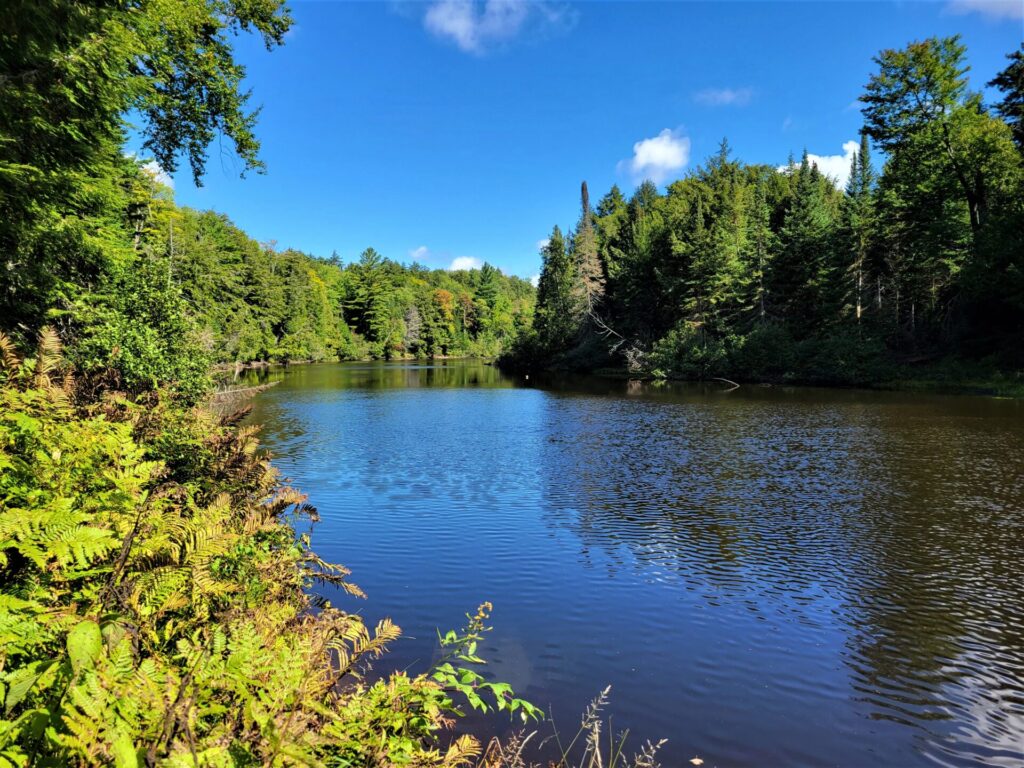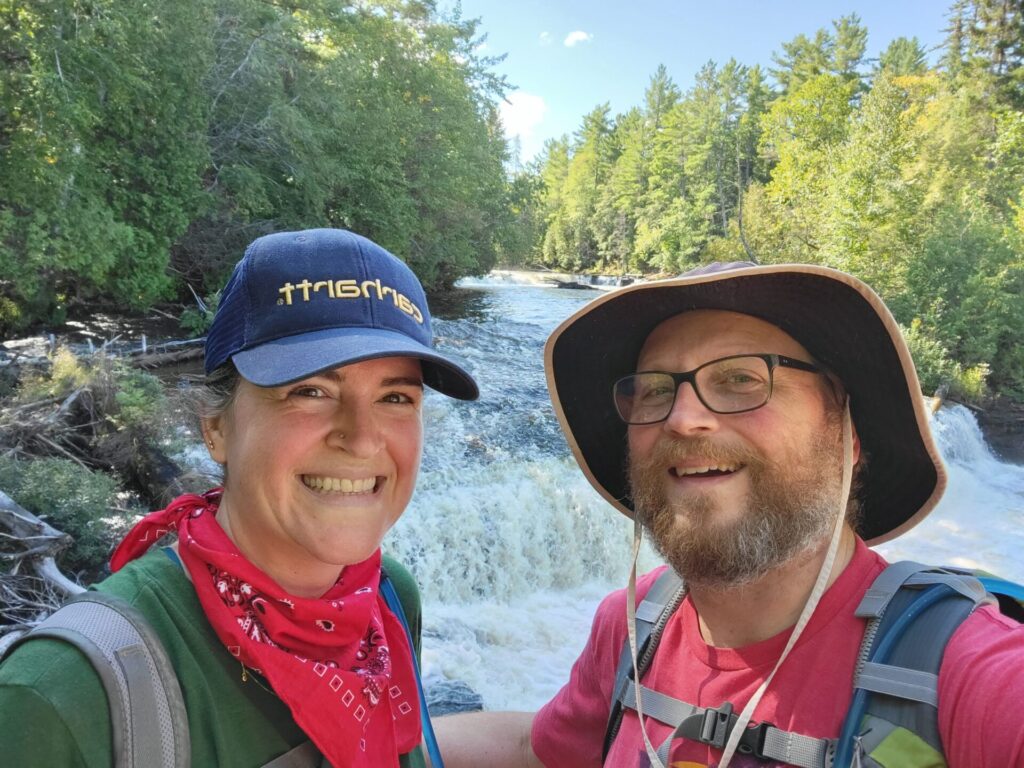 We camped a couple of nights at Perch Lake, which is about an hour away from Tahquamenon Falls. The state park does have their own camping areas, but they are a little too modern with too many RVs for us. We like it a little more rustic. This lake also made for a very nice campsite, but of course we were super spoiled by our previous one at Razorback Lake.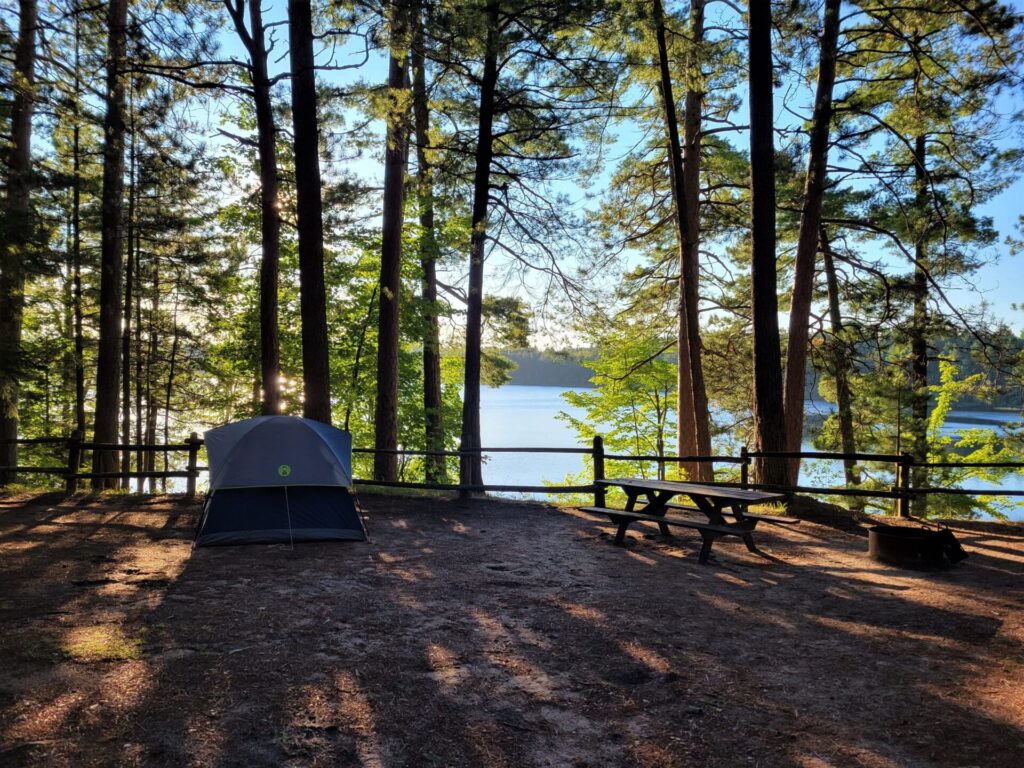 And that was about it. We stayed our 2 nights in the U.P. before driving south through the rest of Michigan. In total we slept in a tent 13 nights and a hotel 4 nights. Aside from the beginning, the weather was mostly great. We welcomed the lows in the mid-40s to low-50s, as that pretty much meant no mosquitoes and good sleeping weather. It still got into the 70s daily, and almost everyday was sunny, so the lows were easy to shake off.
It felt great to get out into nature, something that we had been sorely missing. Even when we lived in the major metropolis of the SF Bay area, we'd always go camping at least twice a year. So having been stuck indoors for so long before this allowed us to appreciate it even more. This won't be our last camping trip this year, but I have a feeling it will be the best one.