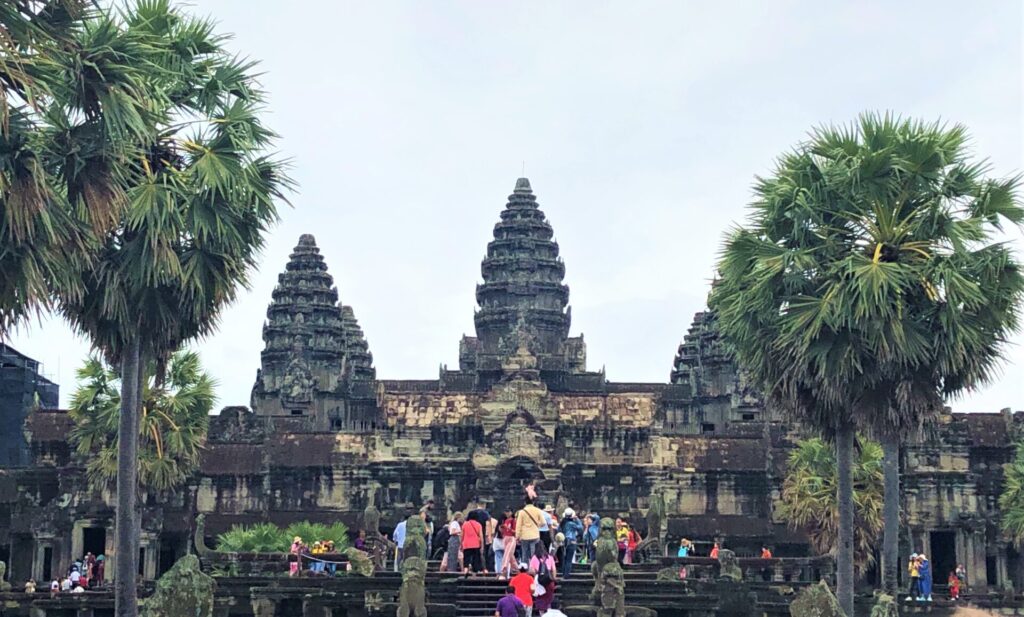 Most people are familiar with Angkor Wat, but that's only one of dozens of temples within the enormous Angkor Temple complex. While nearly everyone who visits Siem Reap will set foot inside Angkor Wat, there are plenty of others that are worth visiting as well. Bayon, Ta Prohm, Preah Khan, Banteay Kdei, and more are all worthy stops. These temples and others throughout the sprawling jungle site range from amazing old buildings to piles of rubble where your imagination is required, sometimes even within the same grounds.
One ticket grants access to every temple throughout the Angkor complex. This ticket must be purchased in person, as your photo is taken and printed on it to prevent sharing. As such, every visitor must visit the official Angkor Park Pass Ticket Counters building, where they sell them in 1, 3, and 7 day increments. The ticket building is a little far from the actual park, so it's more efficient to buy your ticket the day before you want to visit instead of the day of. The 1 day pass can be purchased after 4:30pm for use the next day. (The official website says 5pm, but they definitely started selling next day passes before 5pm the day we were there.) The 3 day and 7 day passes do not have to be used on consecutive days, but instead are good over 10 days and 30 days respectively. Katie and I opted for the 3 day passes, and I think that was about perfect for us.
Since the Angkor Temple complex is a few miles outside of town, we hired a tuk tuk driver to take us around. Tuk tuks are cheap in Cambodia, and Siem Reap has no shortage of drivers willing to take you for what I consider a very reasonable fee. Our driver picked us up at our apartment, shuttled us between multiple temples, and returned us to our front door for a flat fee of $20 per day. That's about the same price as it would cost to rent a scooter, but with the added bonus of never getting lost and being able to safely gawk at the countryside during the trip.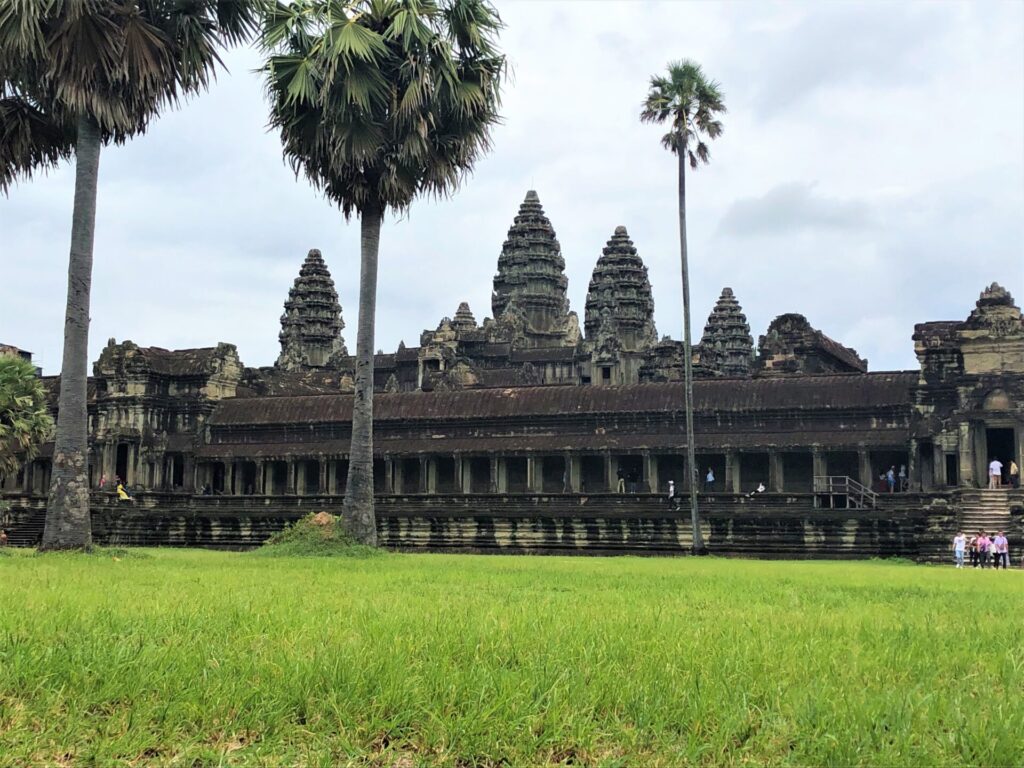 We opened our first day by visiting the famous Angkor Wat. While the temple opens at 5:00am for sunrise, we opted for a more reasonable 8:30am departure and got there around 9:00am. The day was overcast with sporadic light rain. This made for less than ideal pictures, but comfortable conditions to visit since the clouds kept the blazing hot sun at bay.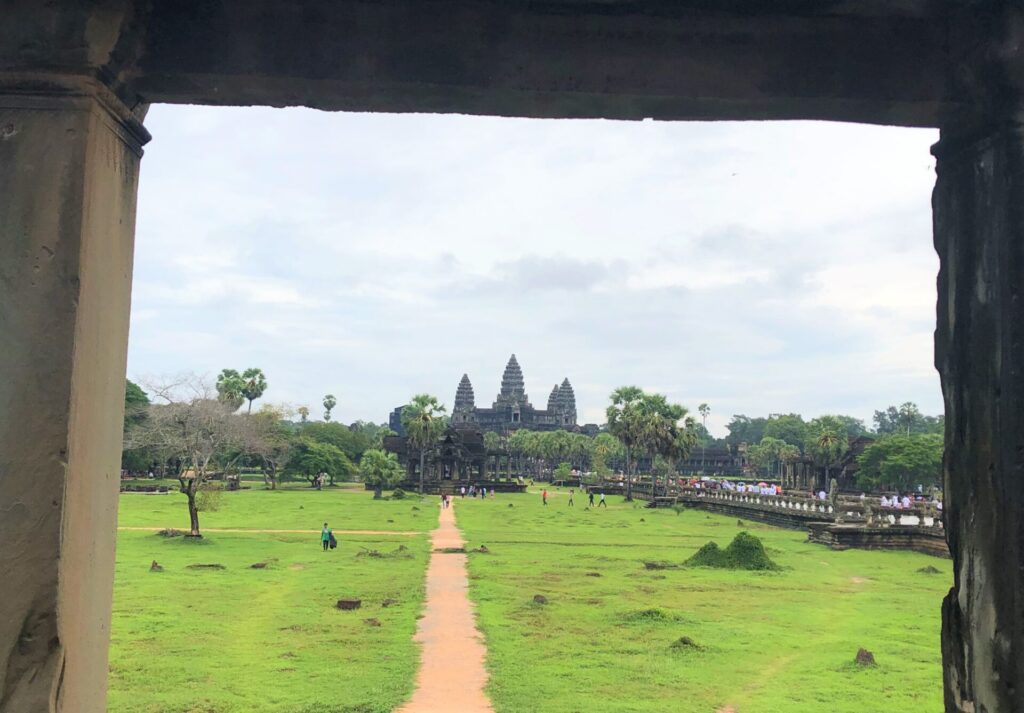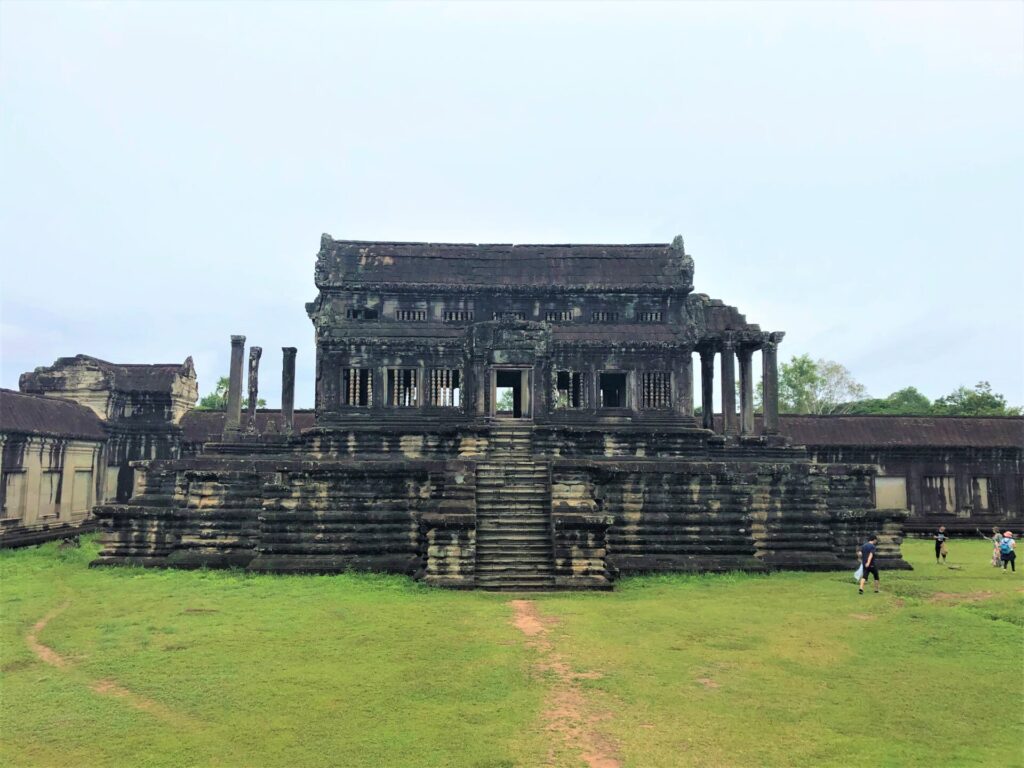 The Angkor Wat temple grounds are large with lots of open space. The outer walls give way to a semi-barren green area with a few small buildings and a raised walkway to the main temple area. Within that main temple area, there are still more walls and steps that must be cleared to get to the inner area. Exploring these temples is a bit like peeling an onion, as there always seems to be another layer.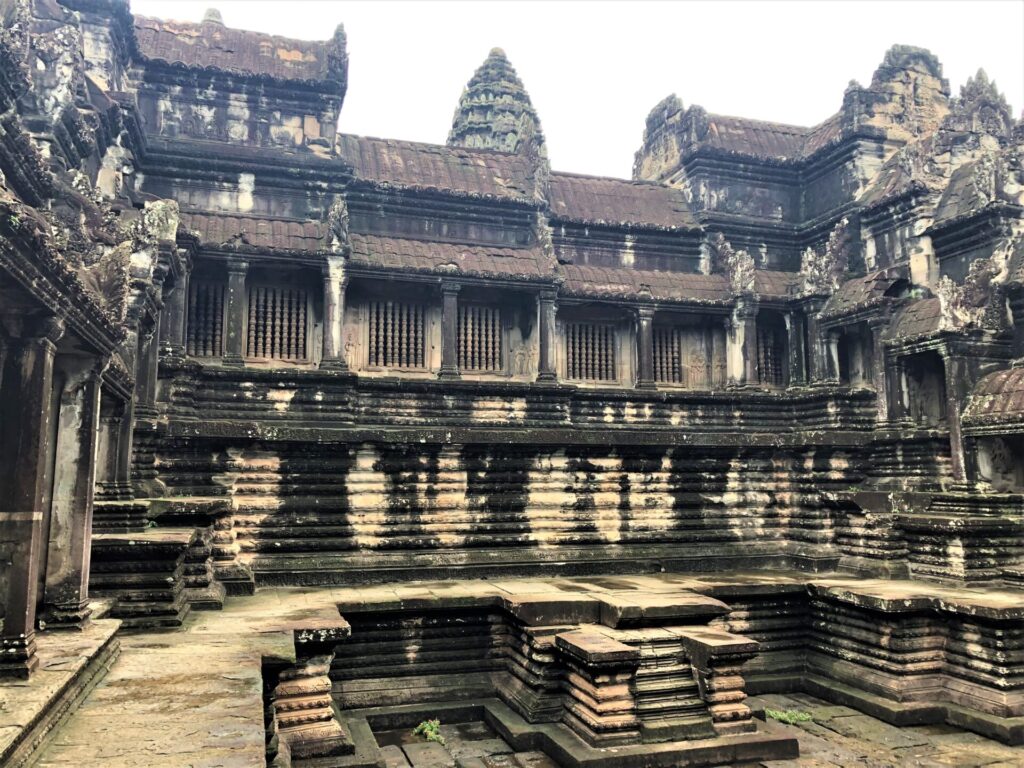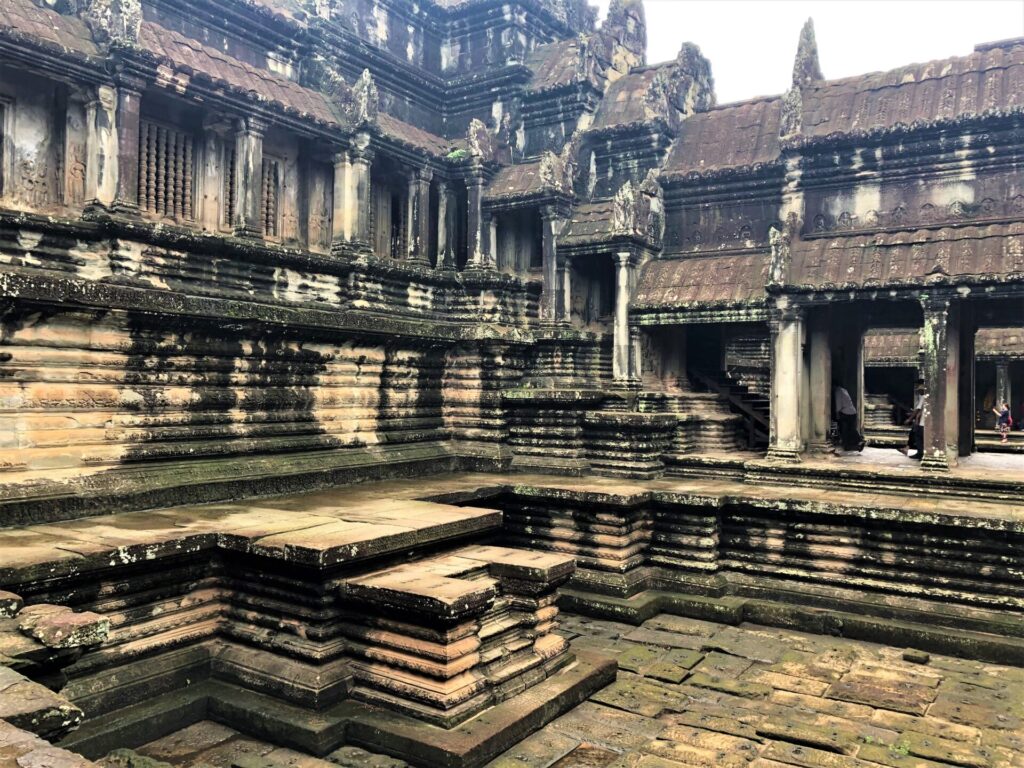 Most of the walls throughout the temple provide a narrow walkway between thick stone blocks on either side. There are plenty of opportunities to duck through doorways and explore the path through the middle of a wall, illuminated only by a few small windows. Amazingly, lots of these walls still have their original carvings preserved. Some carvings are just decoration, but many are stories of gods, kings, battles, creation, and tradition.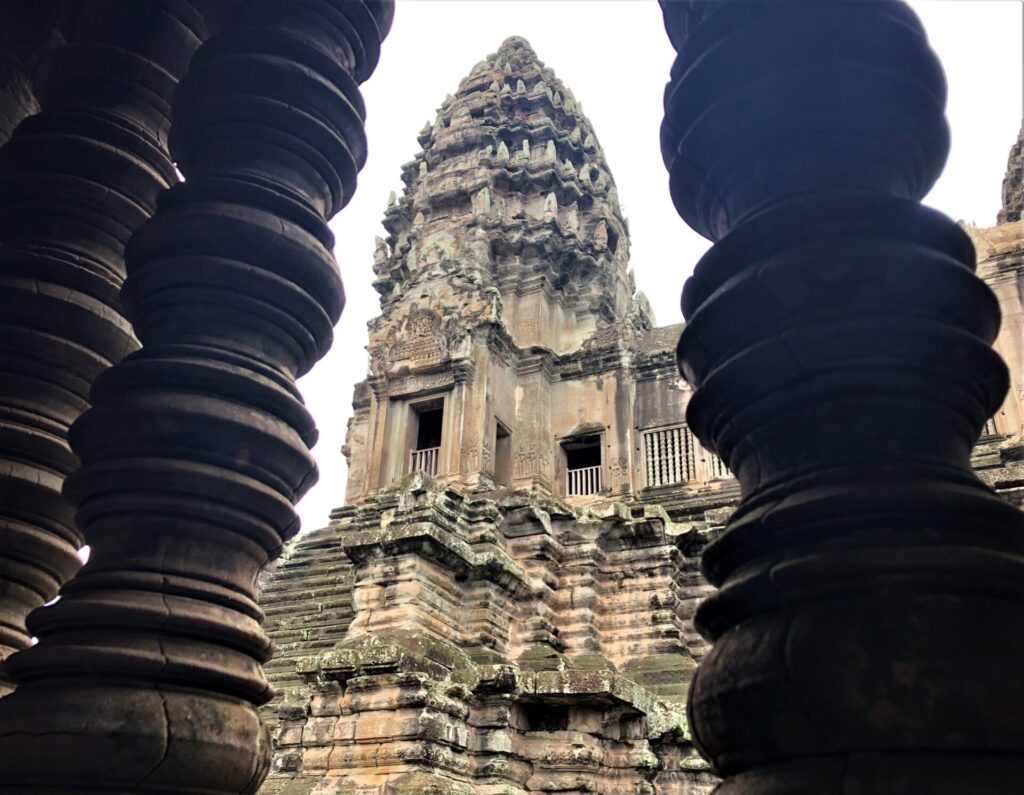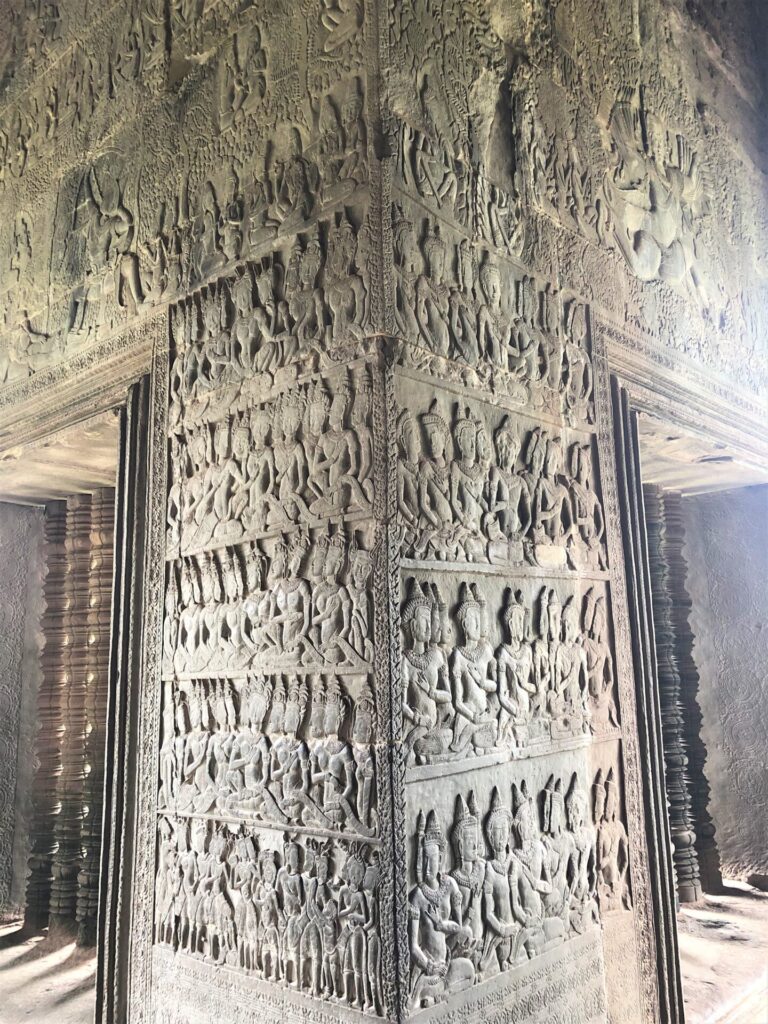 Unlike some temples, visiting Angkor Wat didn't really come with a sense of reverence like I would've expected. I blame this mostly on the wannabe instagram influencers, who were out in full force despite the poor lighting conditions. There were so many, I stopped taking pictures of the temple and started taking pictures of them for a while.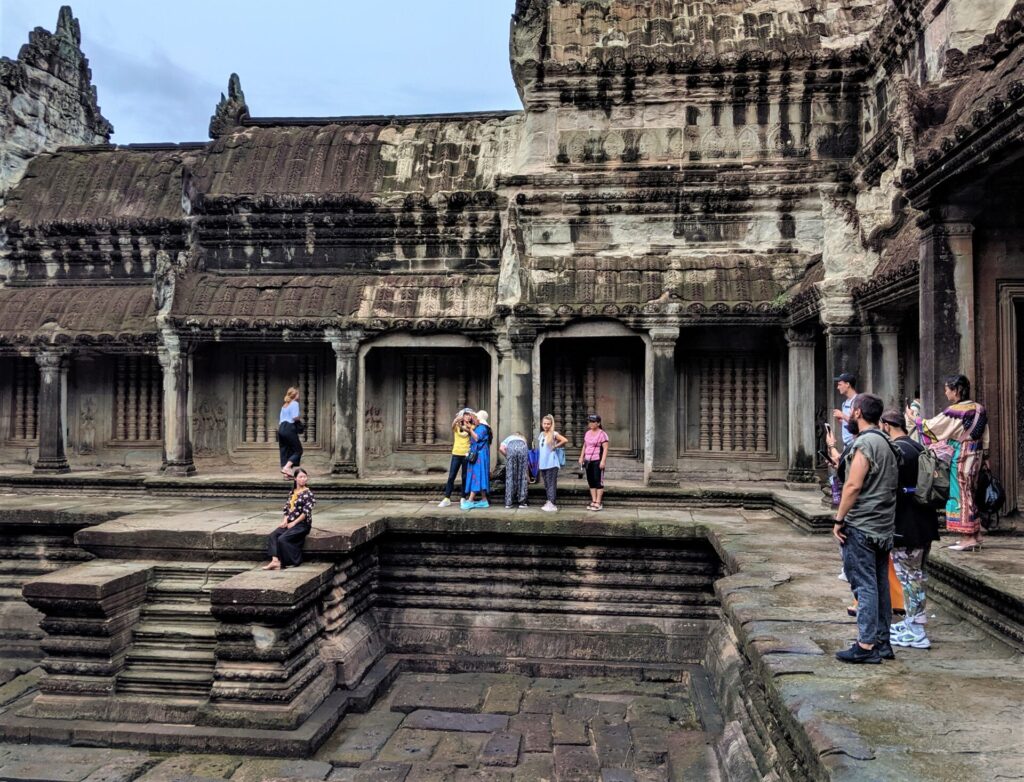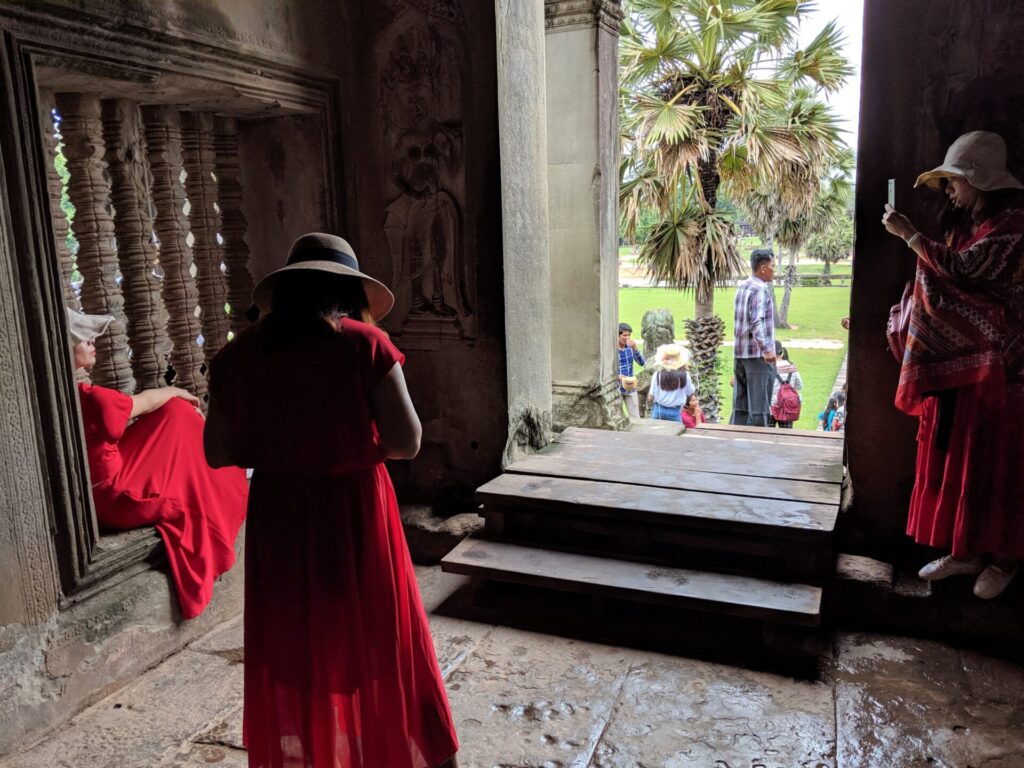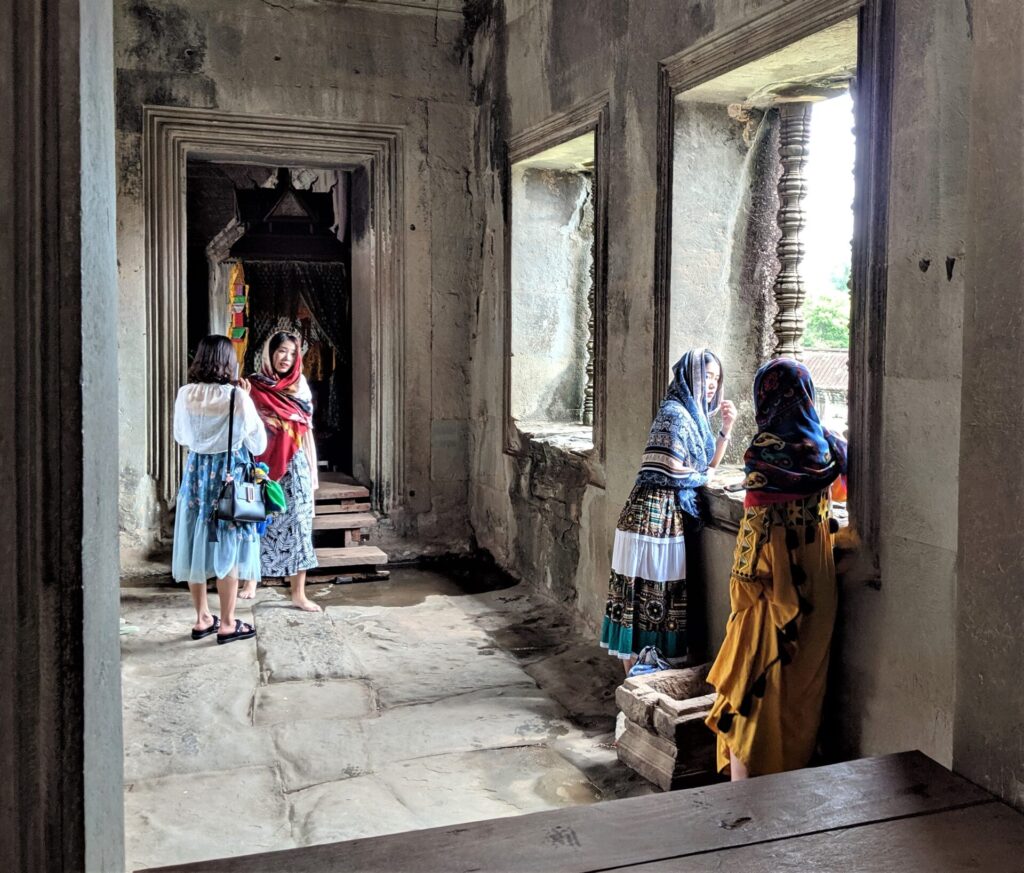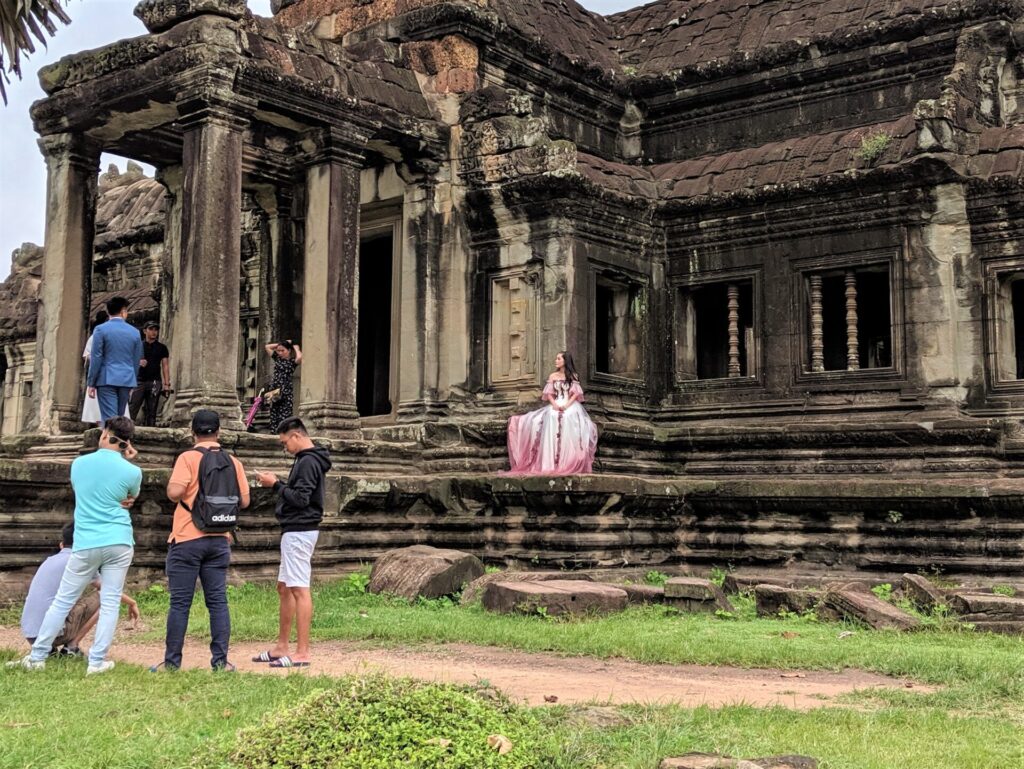 On the way out after exploring most of the temple, I saw a monkey with her baby. They have monkeys at Angkor Wat! I didn't know that ahead of time, but as we made our way towards the exit, we started seeing bunches of them. They were alternately running about, begging for food, and climbing on the trees and stone. The monkeys are thoroughly entertaining but they are unpredictable and super fast. After my first experience with aggressive monkey behavior, I made sure to keep my distance. Or at least, I made sure there was a minimum of one tourist closer than I was. It's like the real life version of the old joke about outrunning a bear.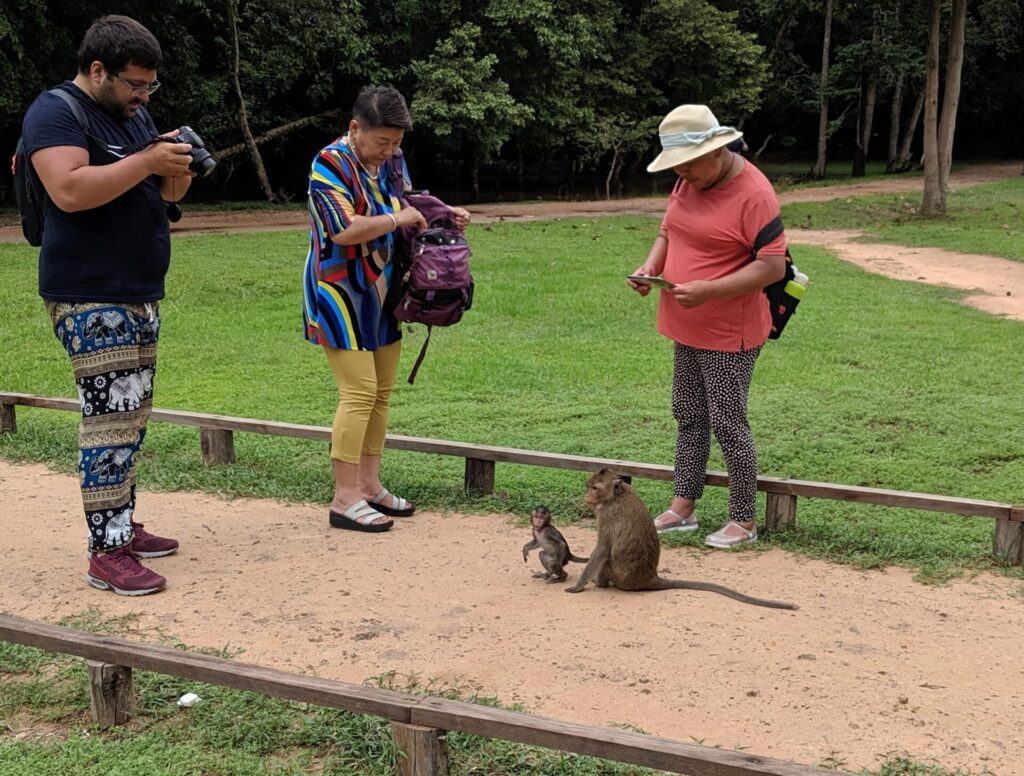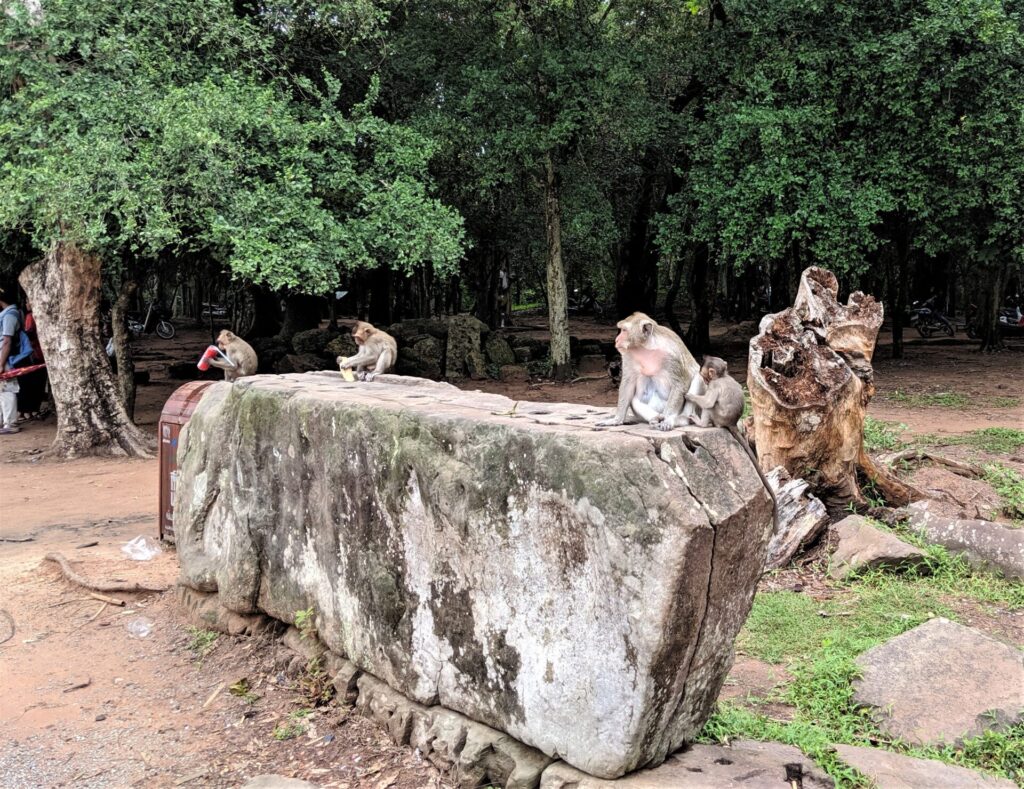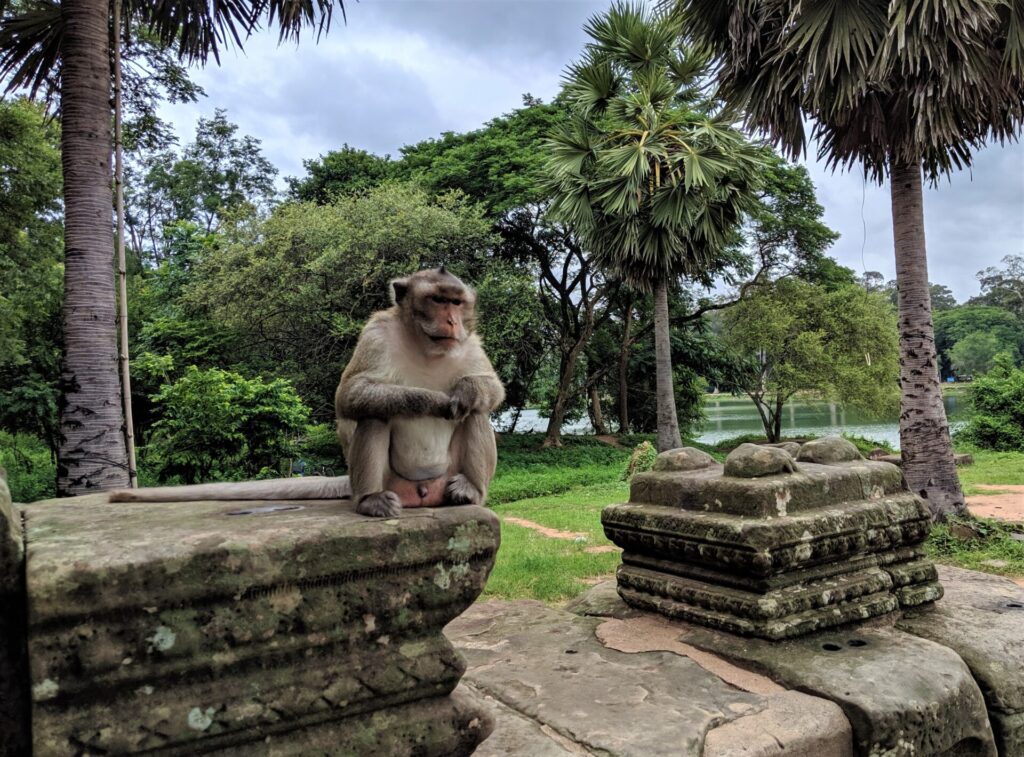 Next, our tuk tuk driver took us north into the even larger Angkor Thom area. At one time, the Cambodian king lived here. In the center of Angkor Thom is the Bayon Temple. Unlike Angkor Wat, which originated as a Hindu temple, Bayon is a relic of the Buddhist faith.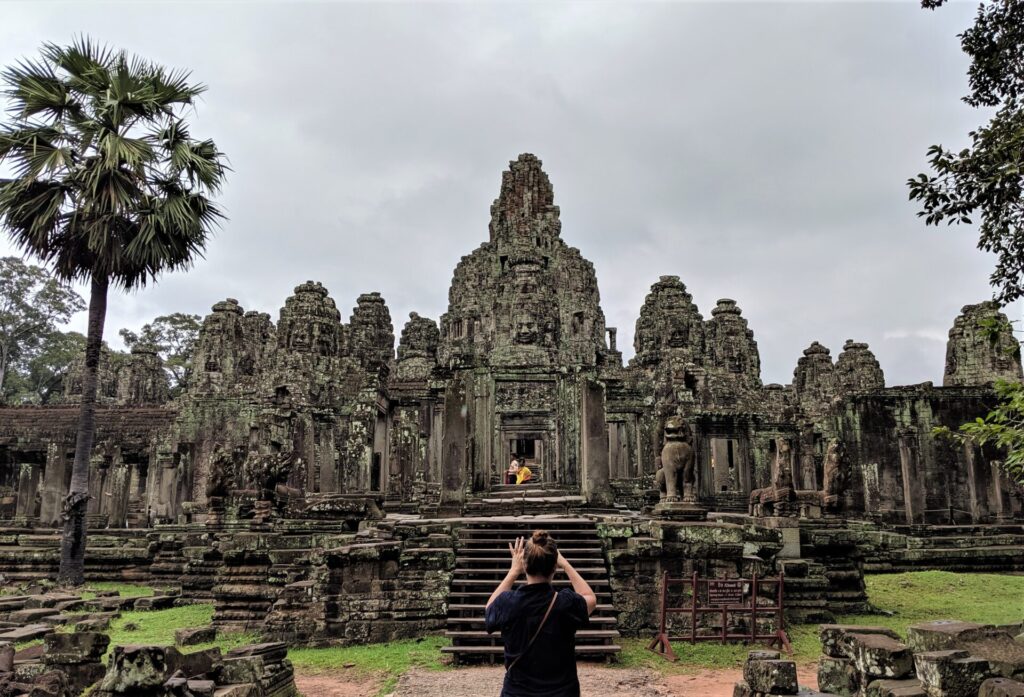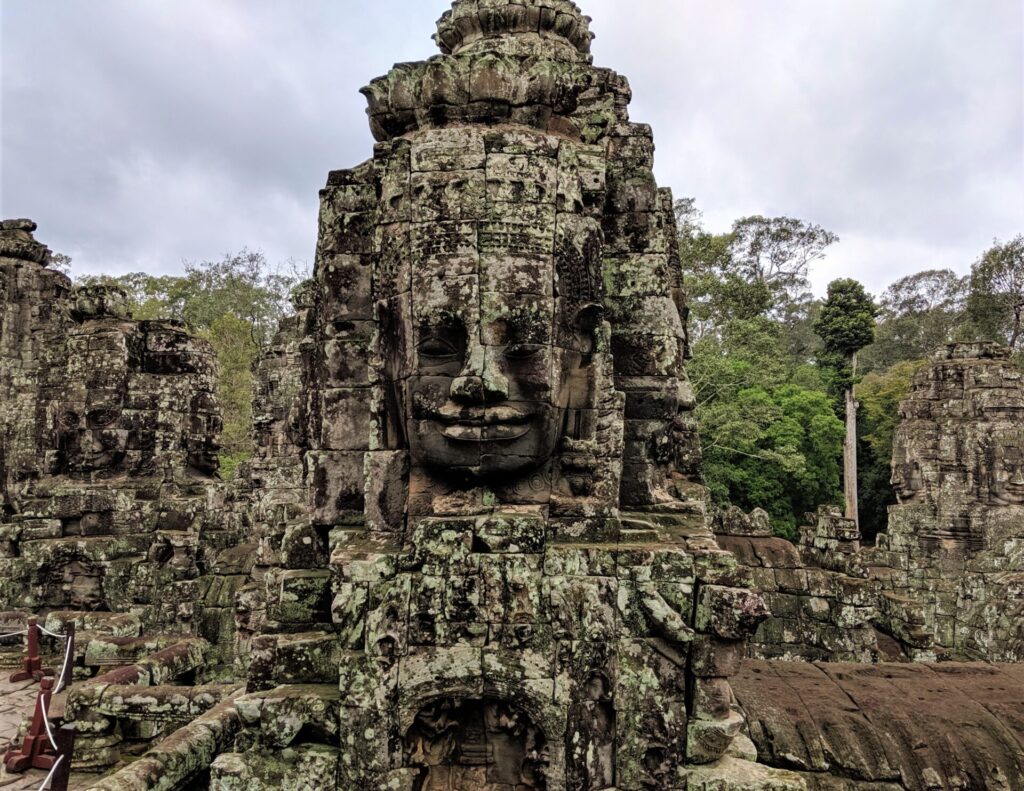 There are 54 separate towers, all with a face on each side. We were told by a worker that these faces represent the four phases of life: joy, serenity, sorrow, and anger. Another theory is that at the time the temple was built, there were 54 Cambodian provinces and this temple at the center of the kingdom was symbolically looking over each of them. Some think the faces were modeled after King Jayavarman VII himself. Whatever they represent, they are incredible.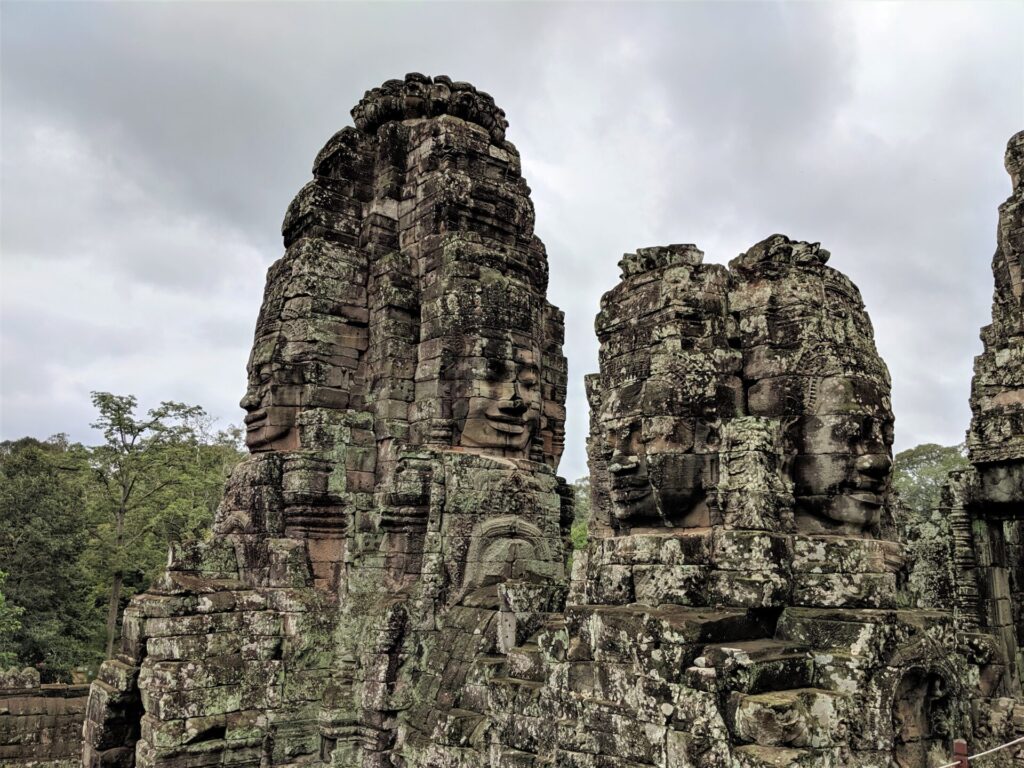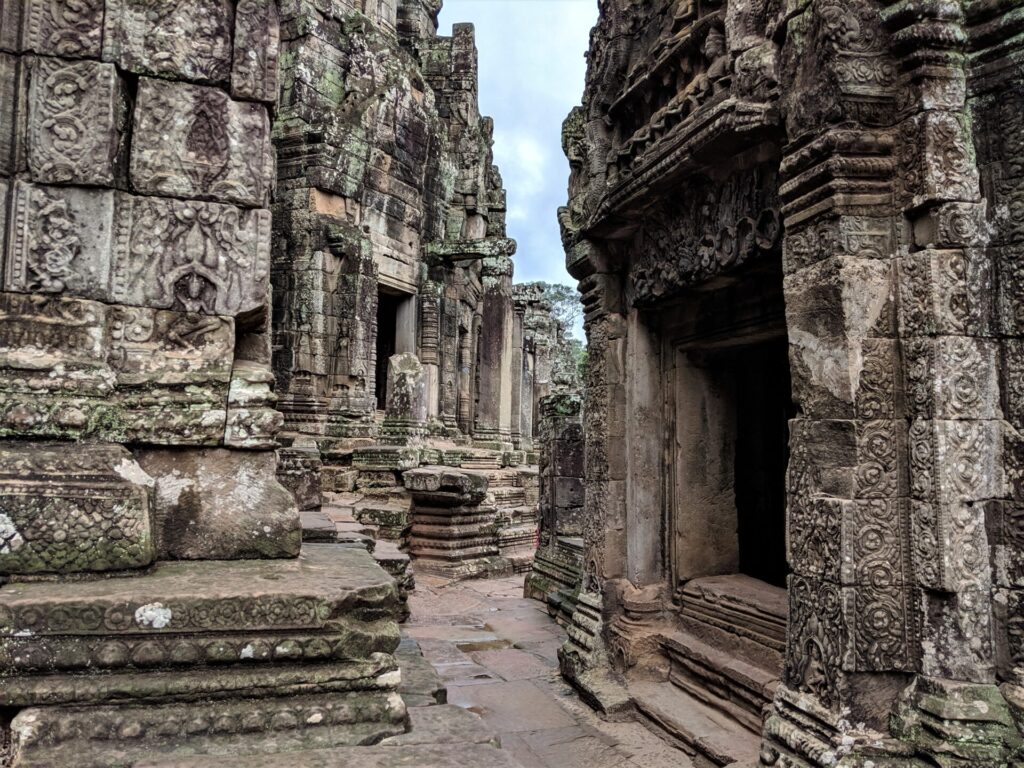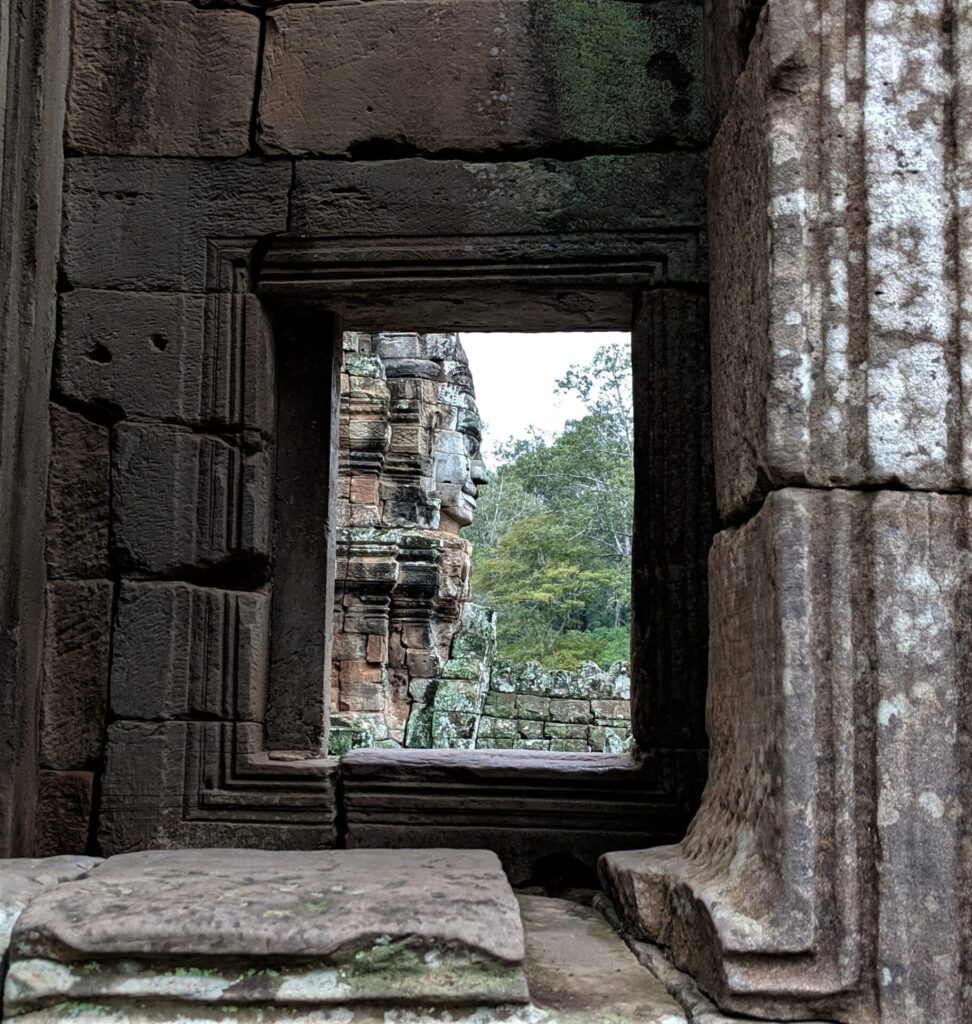 From there, we walked to the Baphuon Temple. The approach is gorgeous, with a raised walkway splitting two ponds. Inside, there are some ridiculously steep steps that climb to a commanding view of the surrounding area. And when I say ridiculously steep, I mean it. The stairs had to be around 60 degrees. Luckily, there were at least wooden steps and railings for us to clutch onto when climbing the stairs. I was definitely not comfortable even with the hand rail, but the views were totally worth it.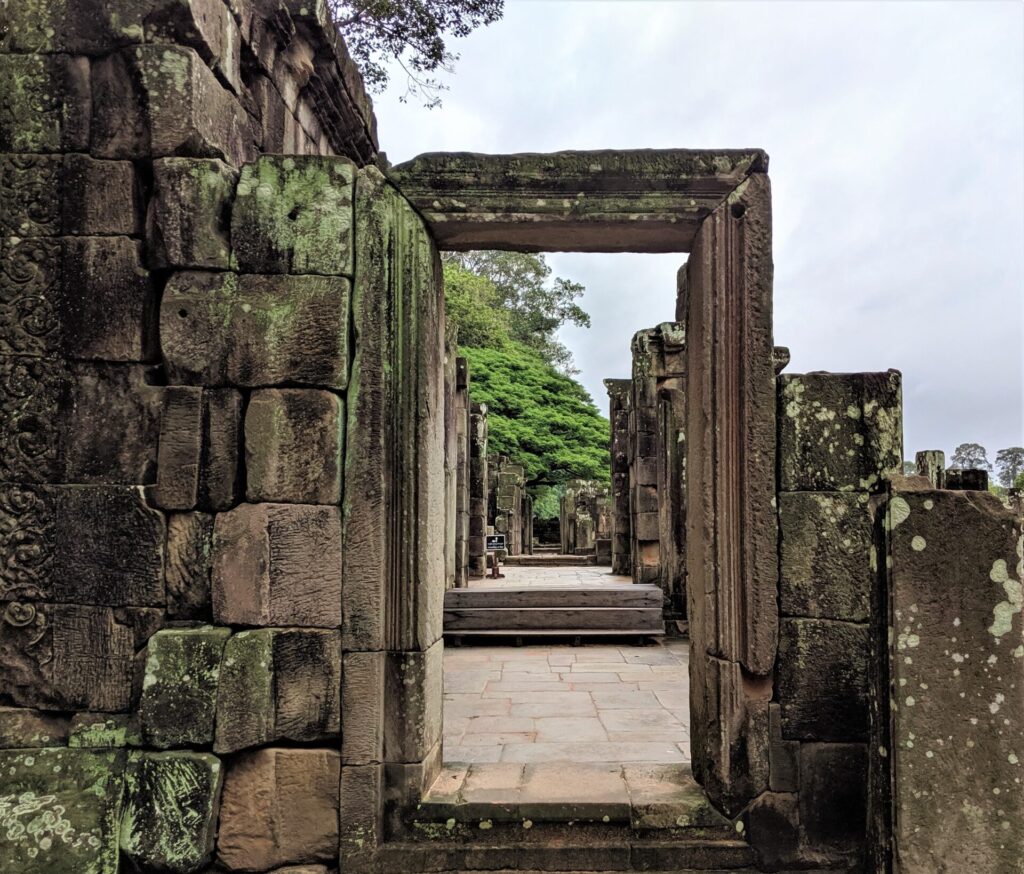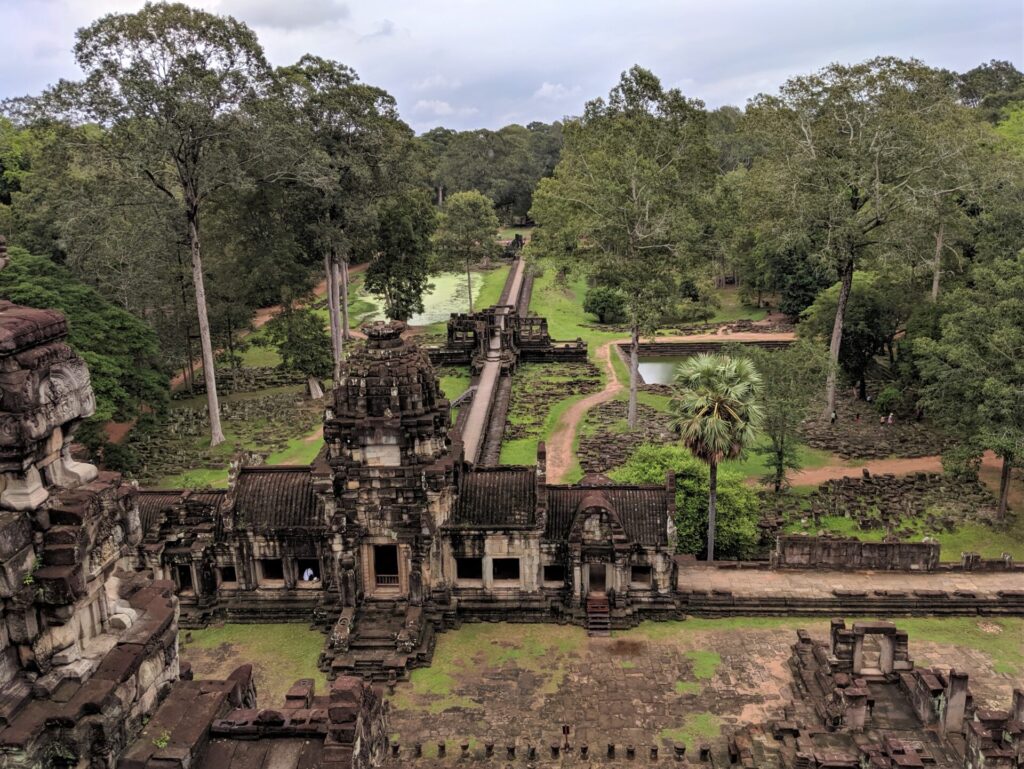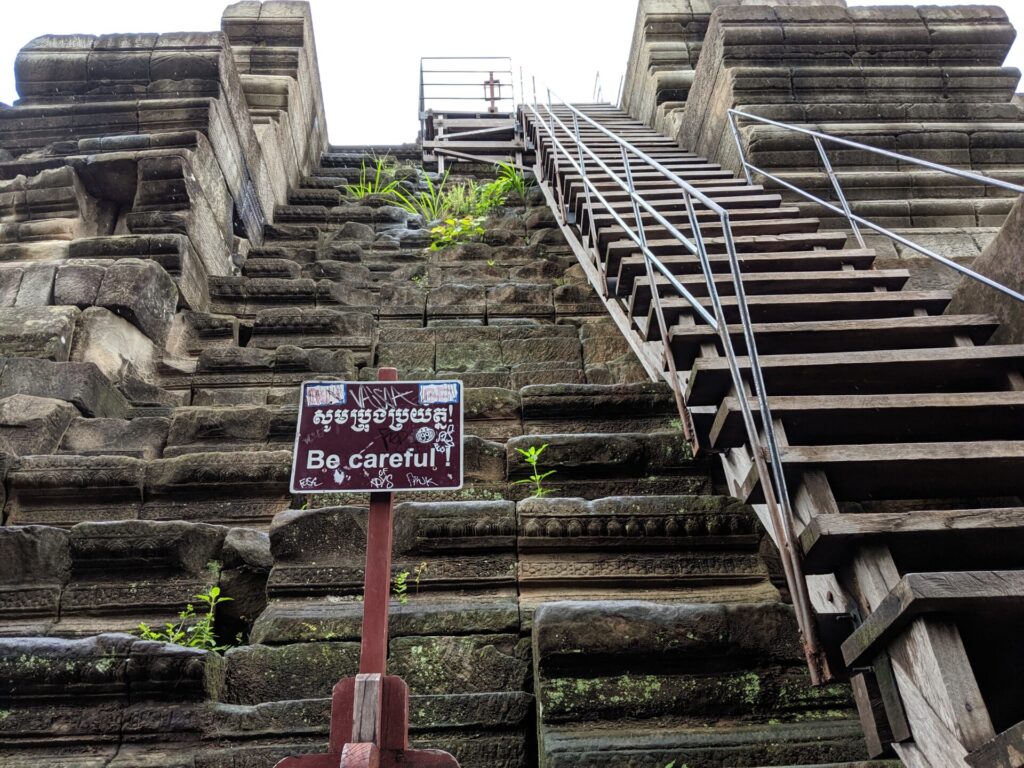 From there, we hiked by the Phimeanakas Temple. It was closed to visitors at this time, but still offered a nice view. There were also very few tourists around at this point, unlike at Angkor Wat and Bayon, which was a nice change.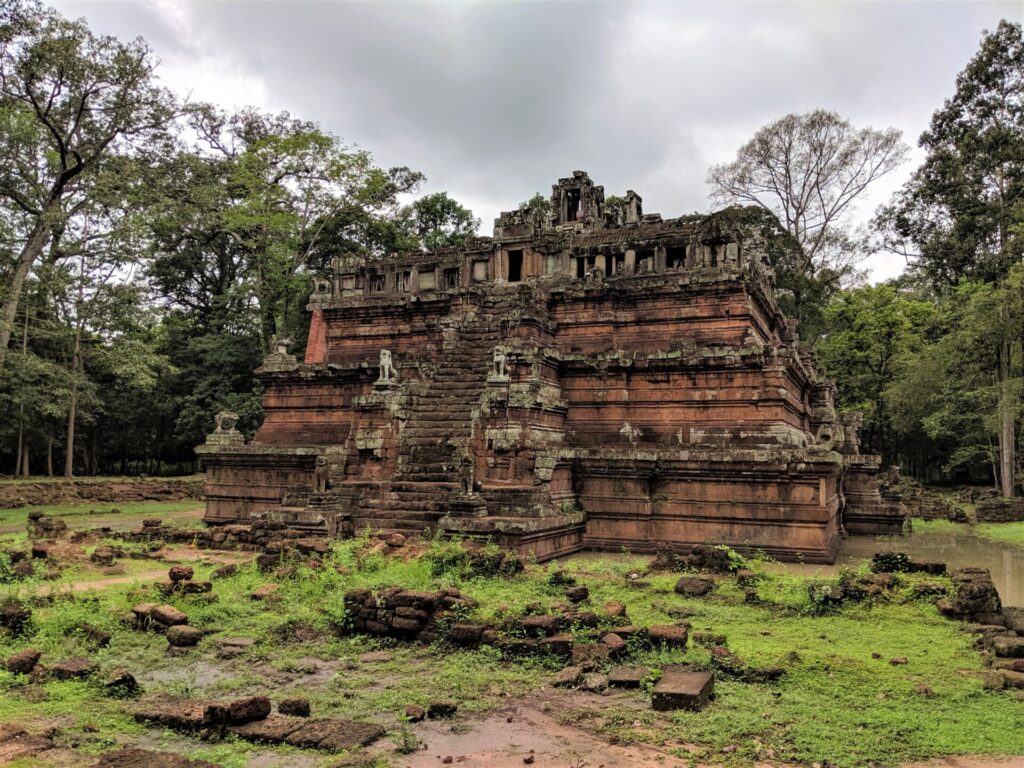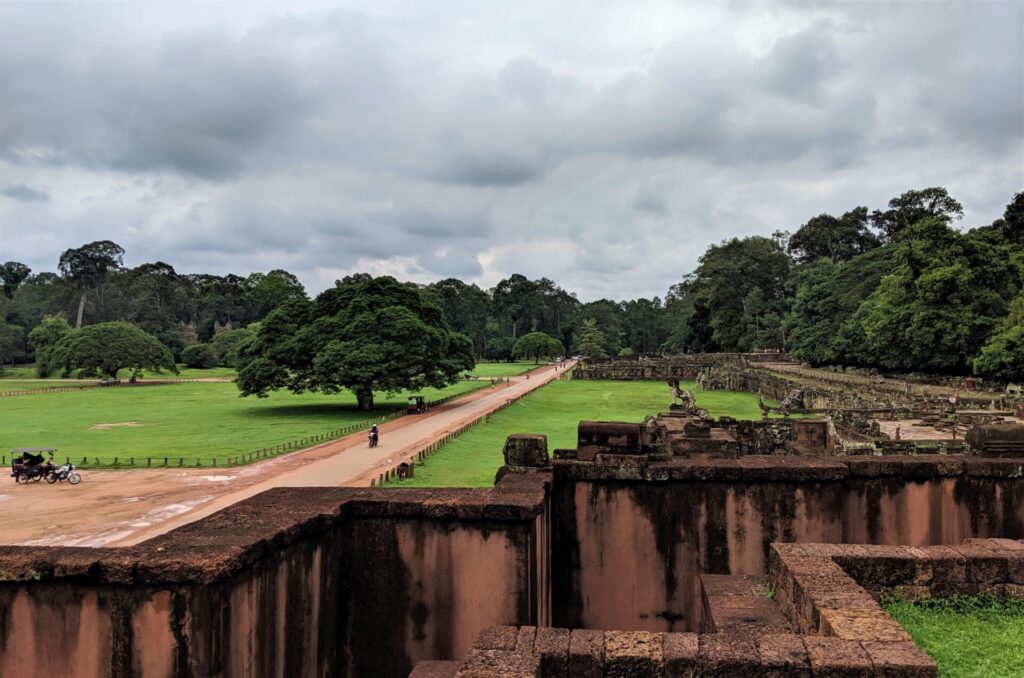 Our day finished at the Terrace of the Elephants. There are many other small temples in the area that we could've spent a little time at, but we decided to call it a day. Plus, this was only day one. We still had two additional days to see more temples and explore more ruins, including what turned out to be my favorite one.