The last stop on our two month Thailand visit was the island of Phuket. Since we had just spent a month being beach bums on Koh Phangan and Koh Samui, we opted to start our last two weeks in Thailand where there isn't a beach in sight. We stayed for a week in Phuket Town, sometimes called Old Town in reference to the downtown area. Here we found some gorgeous buildings, delicious food, and some wild animals that would want to steal it.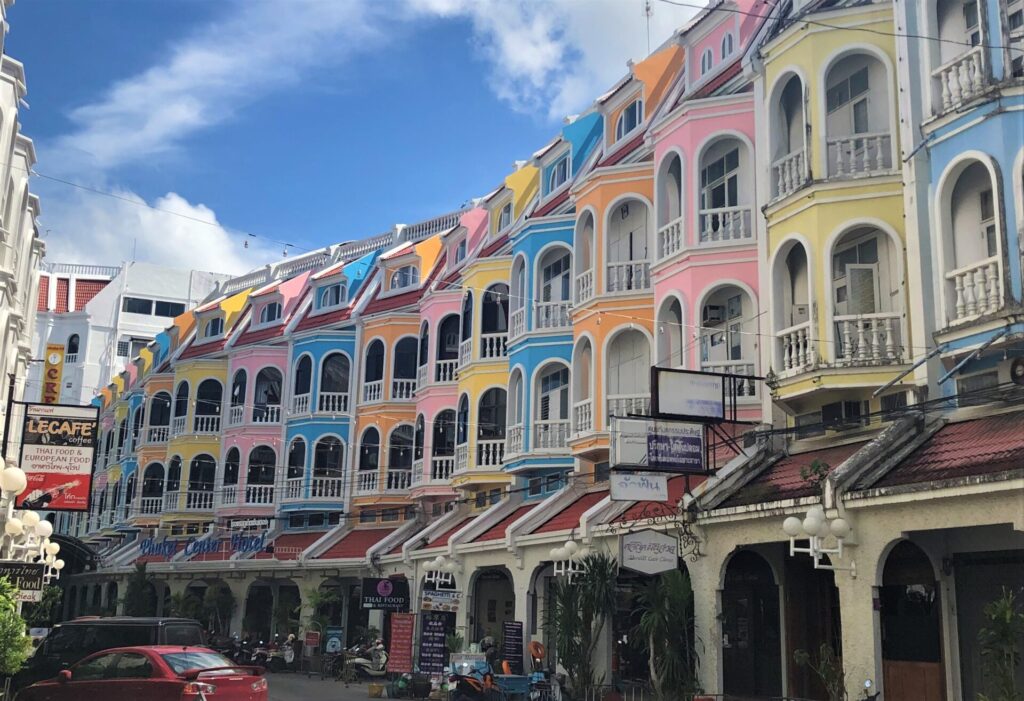 The actual Old Town section of Phuket Town is only a few square blocks, but it's filled with gorgeous pastel colored buildings and lots of street art. It's also where the weekly Sunday Night Market takes place. This market is a prime example of a wonderful Thailand street market and one of the main reasons why Thailand is one of the top tourist destinations in the world.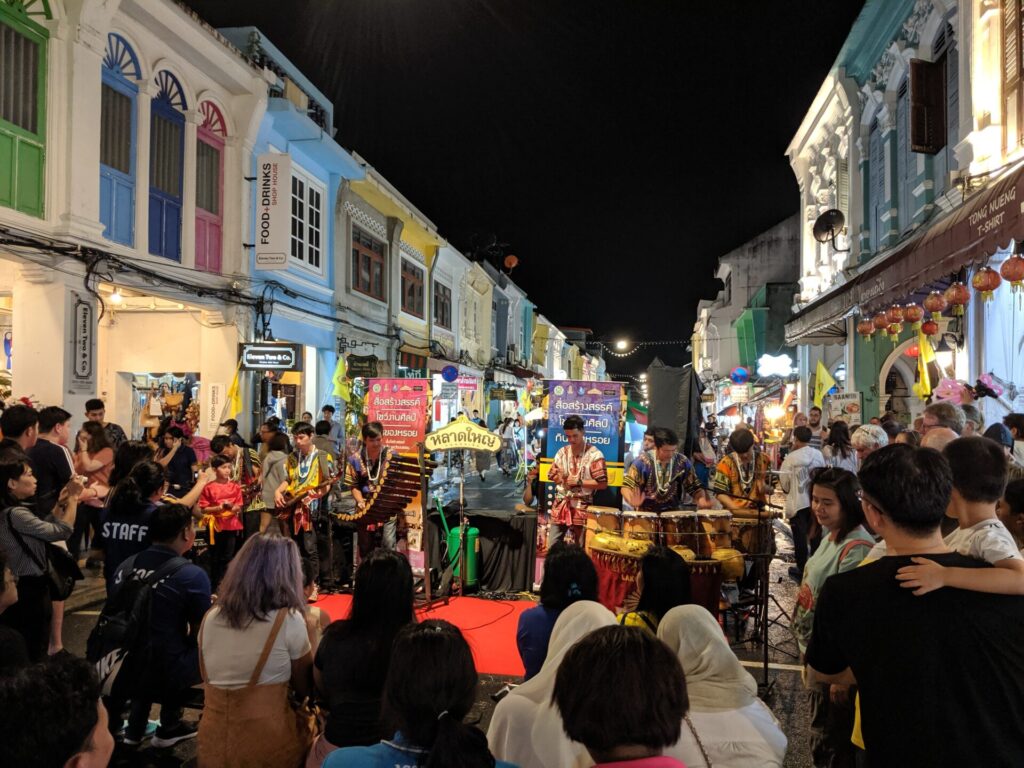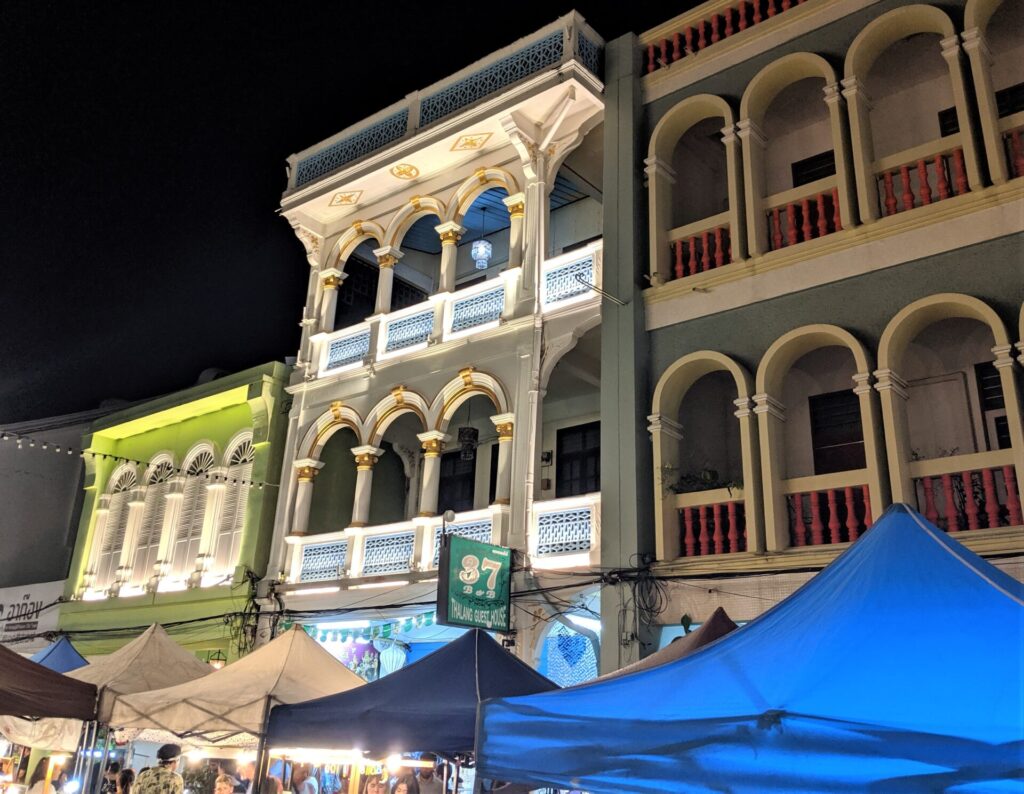 The lively atmosphere is great, but the food is the star of the show. There was so much to choose from. We started with some grilled glutinous rice rounds that were like eating giant sweet chips. We had never seen these before and they were delicious. For more substantial fare, I had a stewed pork leg on rice with pickled vegetables and a hard boiled egg. Katie had a local delicacy of curried fish cake with lots of Thai herbs and spices grilled on a skewer. We had some ridiculously tasty coconut pancakes for dessert. We were impressed with everything we ate and left there completely stuffed. And of course the best part is that all of that deliciousness cost us less than $10.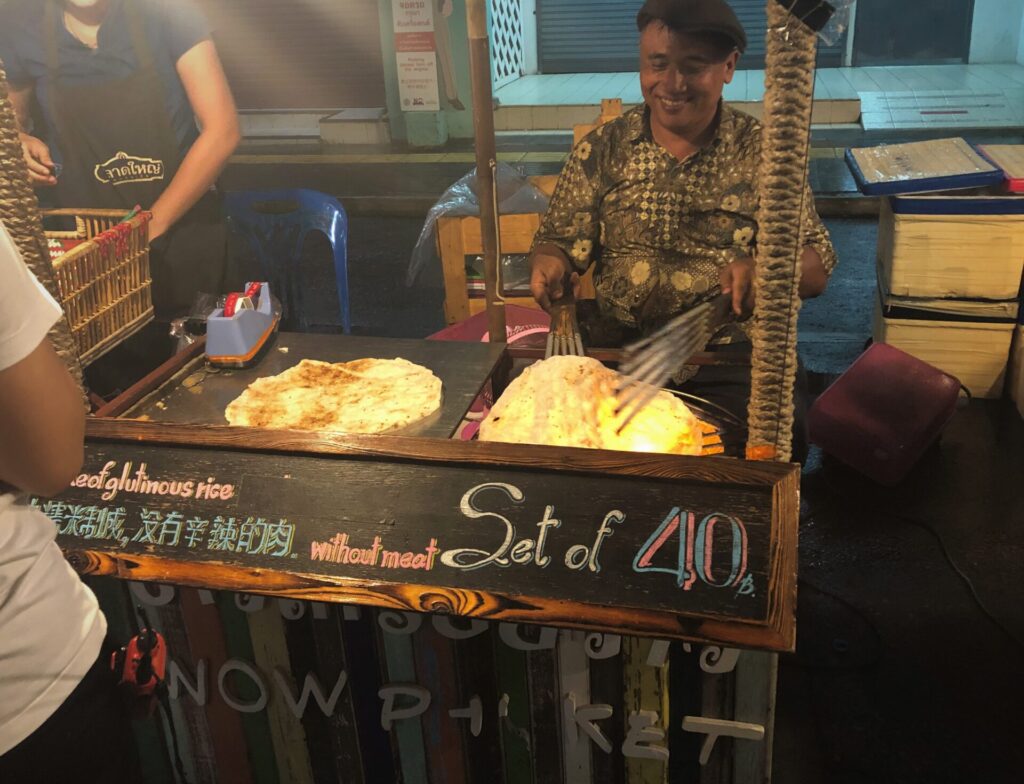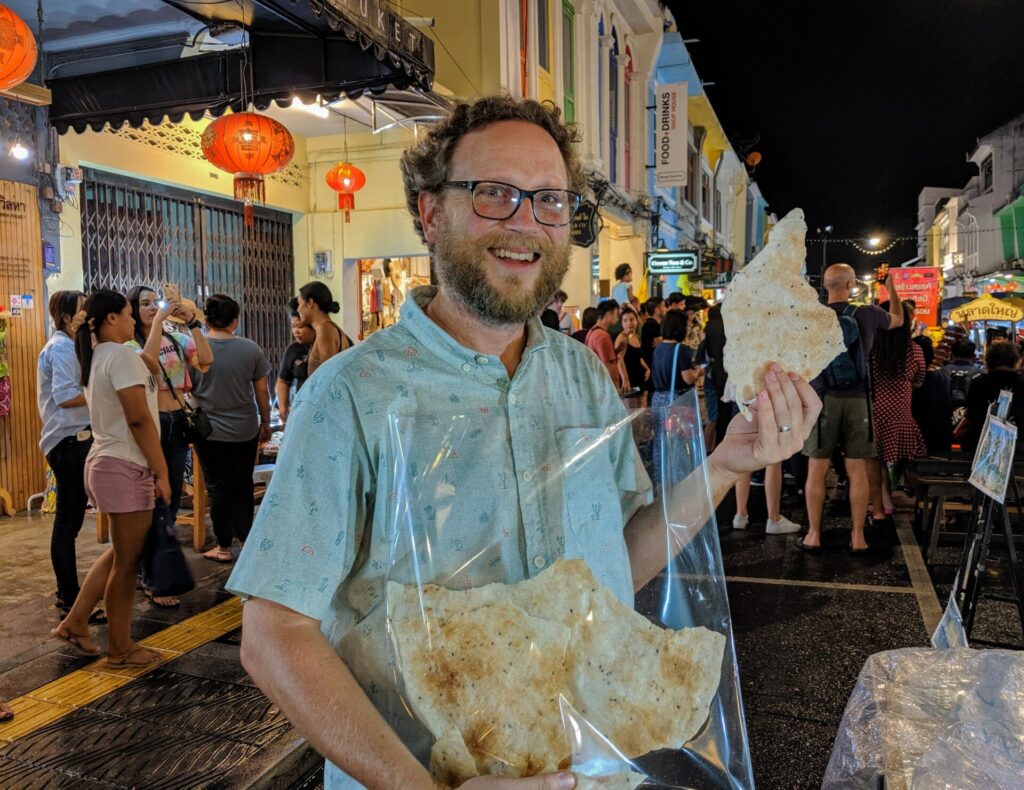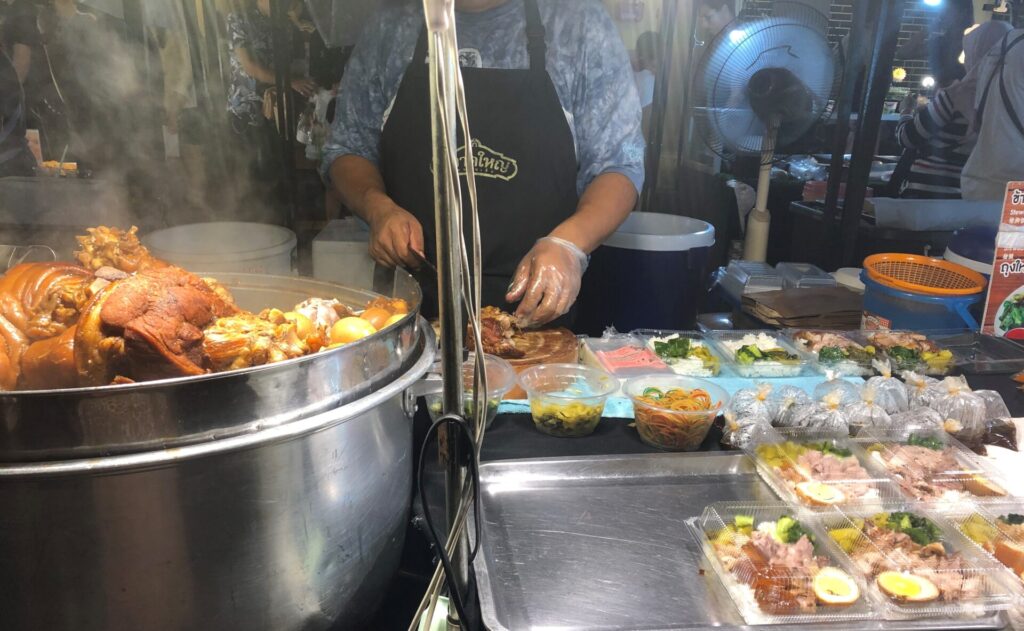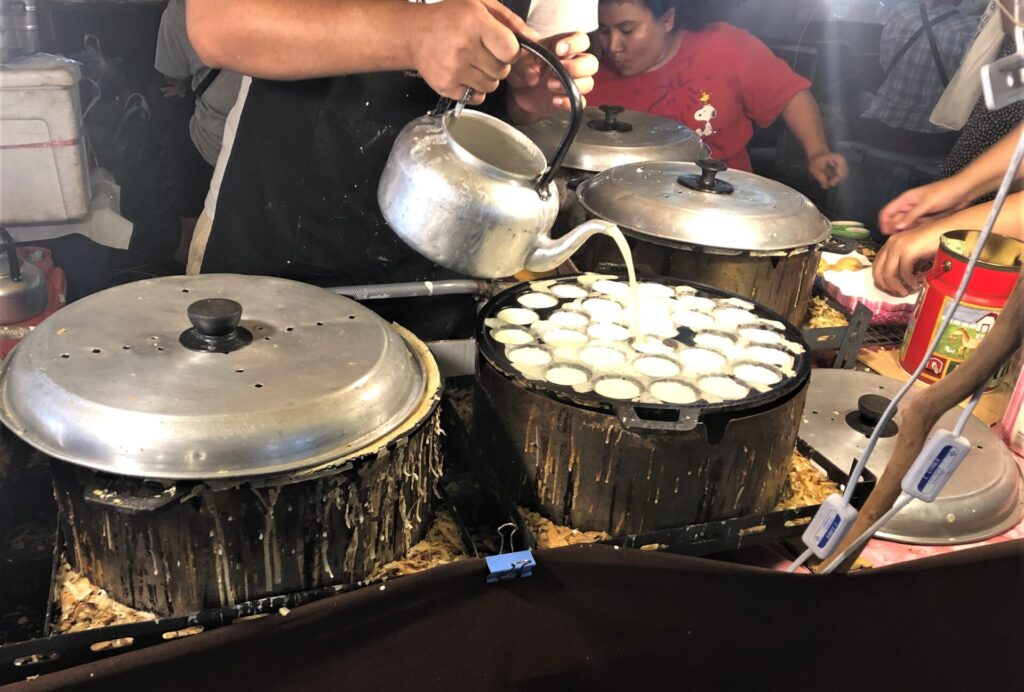 We went to a couple of other markets during our week in Phuket Town, but neither held a candle to the weekly Sunday market. The Phuket Indy Night Market was a small market with mostly food vendors next to a mall. We weren't super impressed with the food selection, but it did have a number of tables with chairs set up for the market patrons to eat at. This was a nice change from our usual choices of eating while standing or sitting on the ground somewhere. There was also a stage with a drum kit and mics set up, but we didn't witness any music. It was open three nights while we were there, but we only went to the first night and skipped the next two.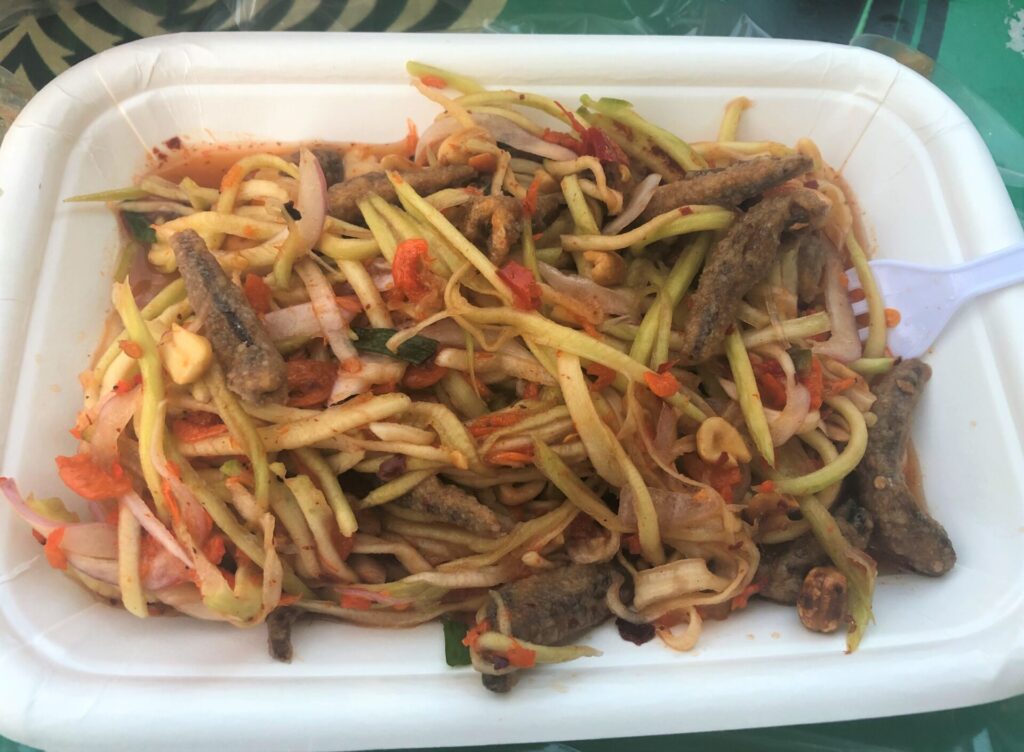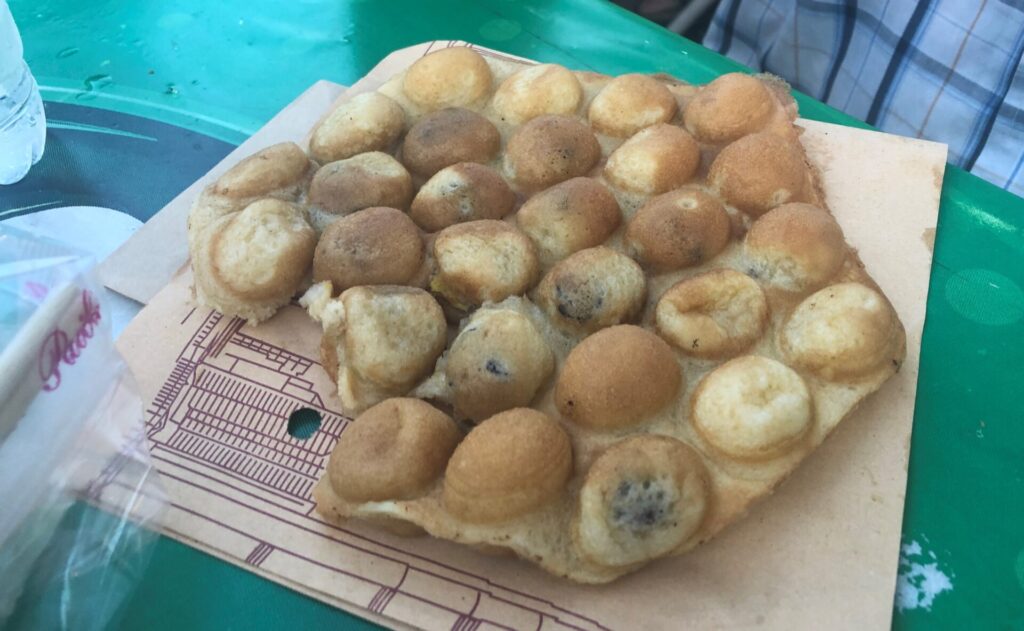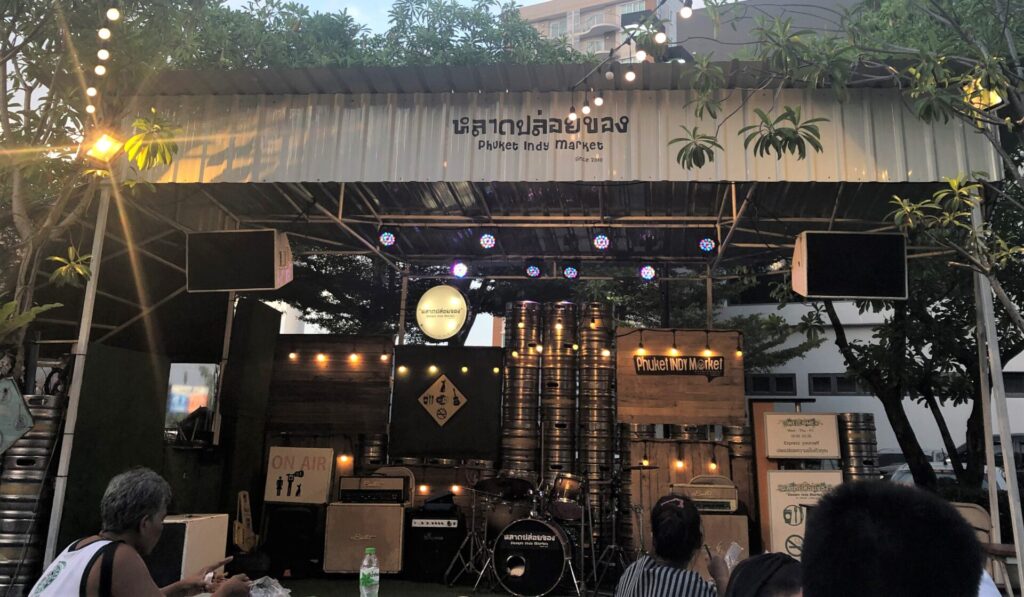 While there, Katie did have the honor of being chosen for an interview by a shy Thai school girl who was tasked with picking out a tourist to practice her English on. She asked some standard questions like where we were from, how long we were in Thailand, and what is our favorite part about their country. Afterwards, Katie had to grade the interviewer on her English skills and could offer suggestions or thoughts. It was pretty cute.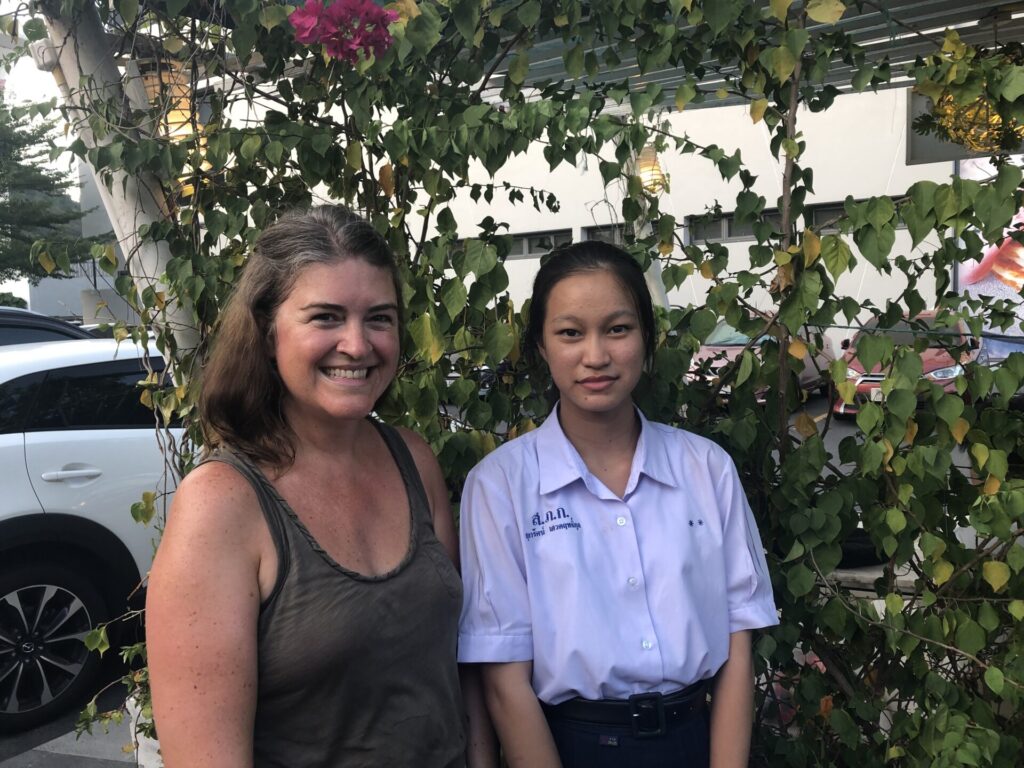 We also found another one called the Chatuchak Market. Although it was not even close to the Bangkok market of the same name. It's like comparing Paris, France and Paris, Texas. They are both cities, like these are both markets, but that's about where the comparison ends. Instead of the massive collection of quality goods, it was 20 or so vendors selling mostly used clothing with some power tools and jewelry mixed in. The only food vendor's main dish was the ubiquitous cup o noodles. The most impressive part was it was under a metal roof and while we were there a ferocious rain storm passed through.
While walking back to our condo one evening, I spotted a viewing platform up on the hill behind where we were staying. After some research we learned that the view, while nice, was not the main attraction. Instead, it was the monkeys that live on the hill and nearly every review of the place mentions them. Reading through them was somewhat infuriating though, as half of them mention bringing food to feed the monkeys. Bring peanuts says one, bring bananas says another, bring other fruit says a third, and reading them I'm starting to fume. Don't feed wild animals! Keep them wild! Stupid tourists! What is wrong with you?!
From where we were staying it was only a 2 km hike up to the viewpoint. Despite being all uphill in the Thailand heat, it was a pretty nice walk thanks to plenty of trees and shade. There was even a sidewalk for part of the time, which is somewhat of a novelty in this part of the world especially away from a main road. We were getting near the top when Katie said that she could smell something similar to a farm animal or a wet dog. Then seconds later we spotted a monkey up in the tree ahead. Cool! We must be almost there. And then we get up to the top and see the sign. Ugh.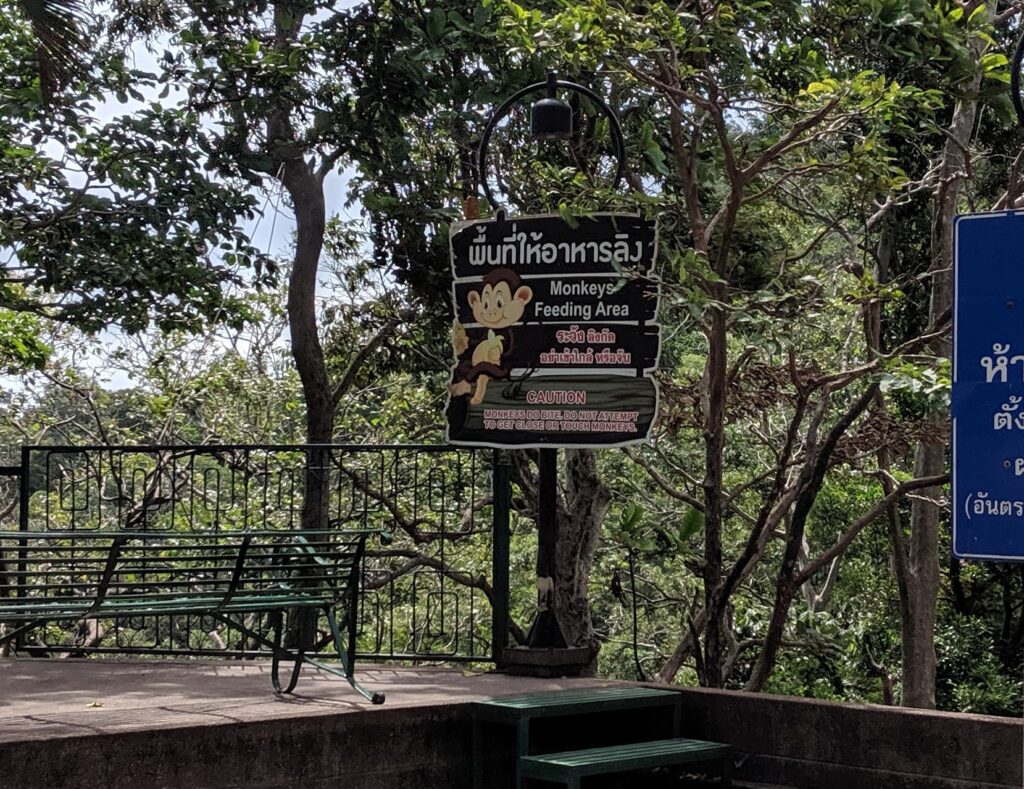 So of course, since there is food involved there were monkeys everywhere. We saw a dozen or more and they were very used to human interaction. They were also very fast. In a split second, we watched one aggressively approach a tourist, jump up and grab her water bottle away from her, and then run back to the parking lot railing. From there, it tore open the bottom of the plastic with its teeth and proceeded to shotgun the water from the bottle like a college kid does with a beer. It was pretty crazy! Later, we saw a couple of monkeys with juice boxes which they presumably also pilfered from unsuspecting tourists.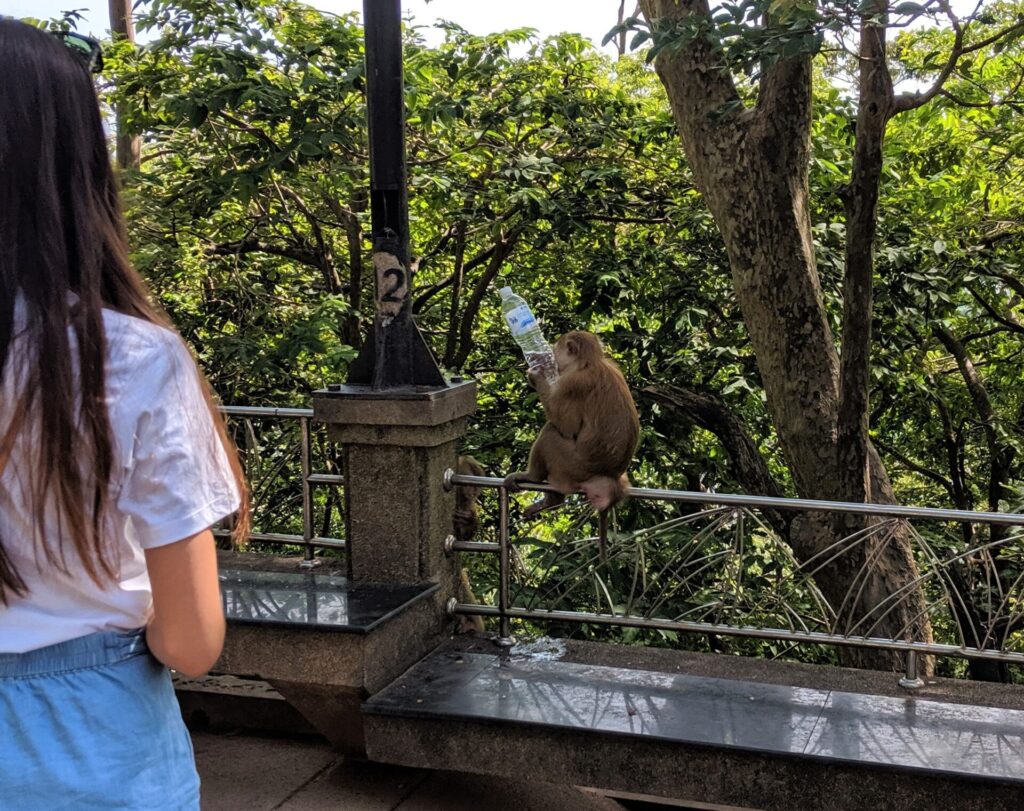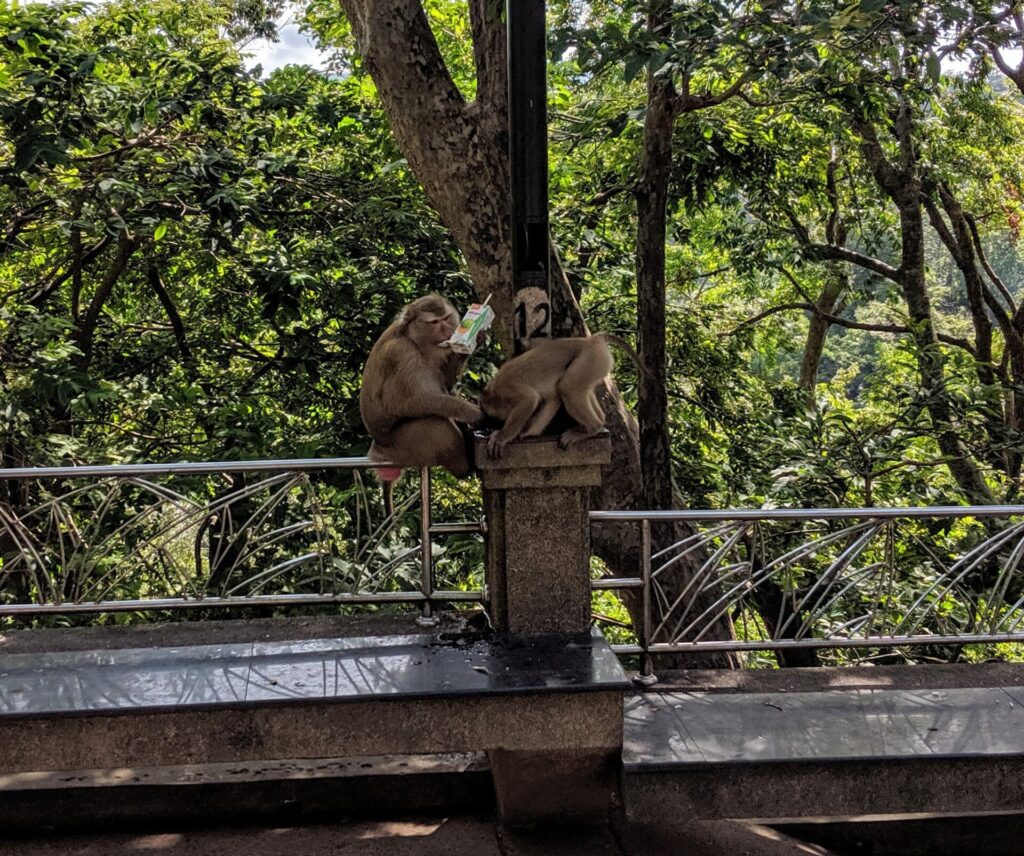 We took our pictures and a couple of videos, but for the most part tried to keep our distance. While it was a fun experience to see them in the wild, it was also a little scary, especially after watching the aggressiveness of the water bottle thief. We didn't want one to come attack us for our water or something else they desired. After all, a monkey bite or scratch is probably followed by a hospital visit and possibly a series of rabies shots, which is something we'd like to avoid.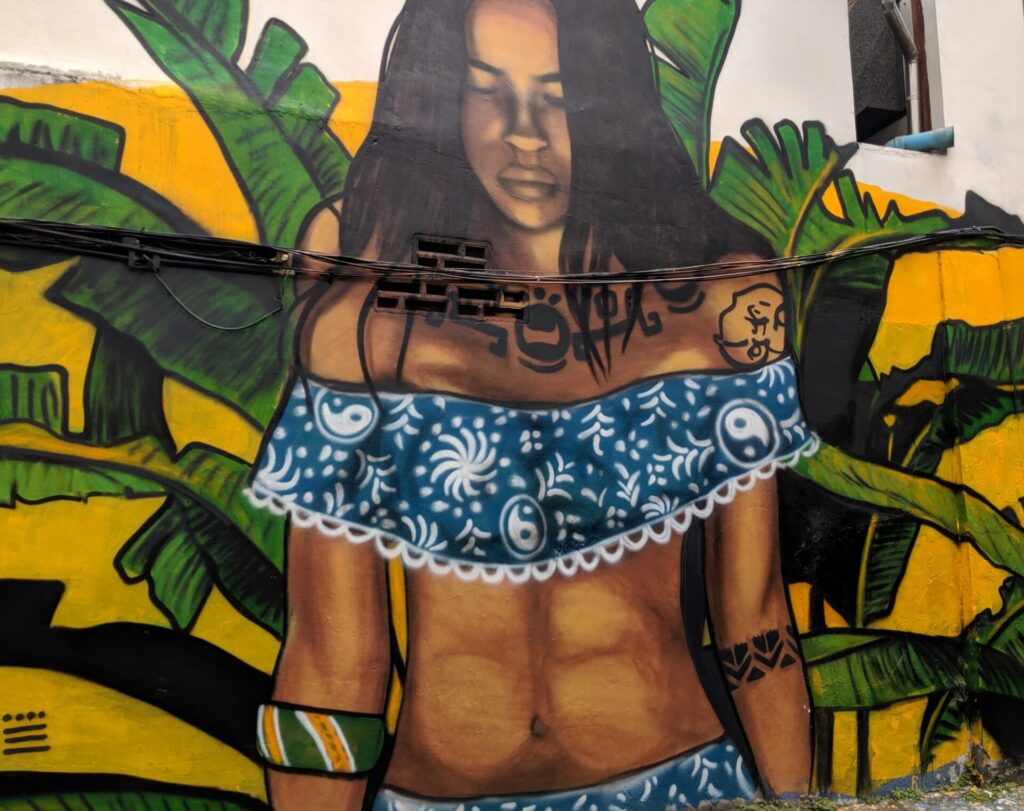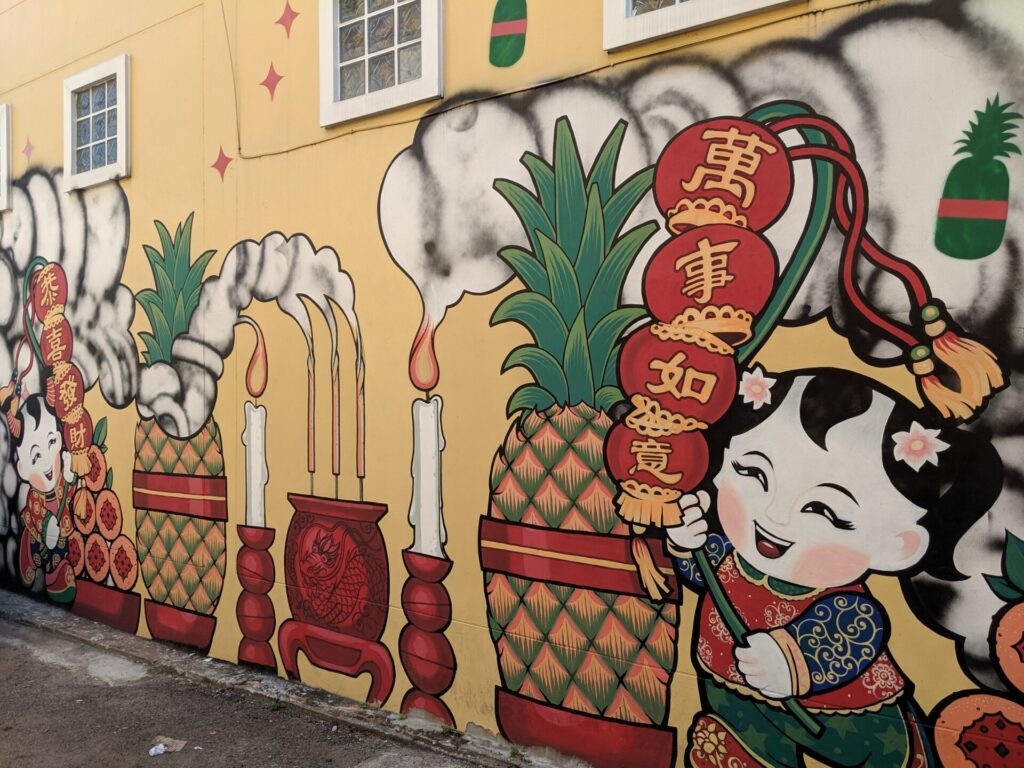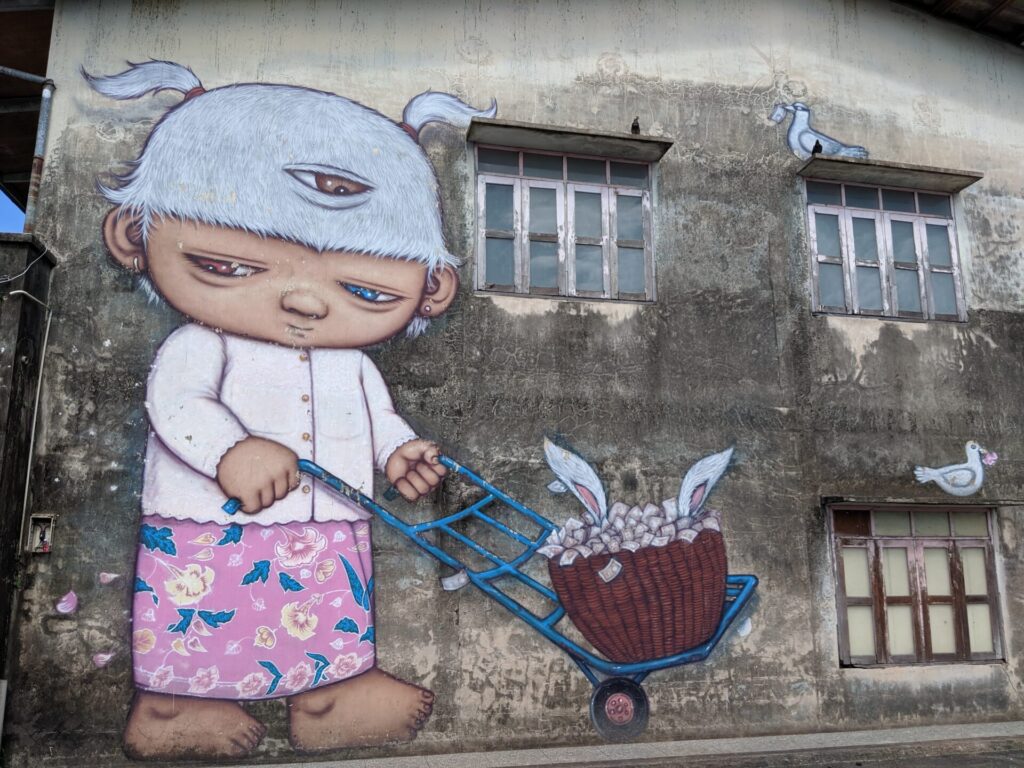 While most tourists only pass through Phuket Town as a transit stop on their way to the island's numerous beaches, we were happy that we spent more time exploring here. The Sunday Night Market was amazing and being able to find wild monkeys was certainly a pleasant surprise. And we still made it to the beach on Phuket, where we spent our last week in Thailand. While there, we spotted even more wild animals that were completely unexpected. Stay tuned…