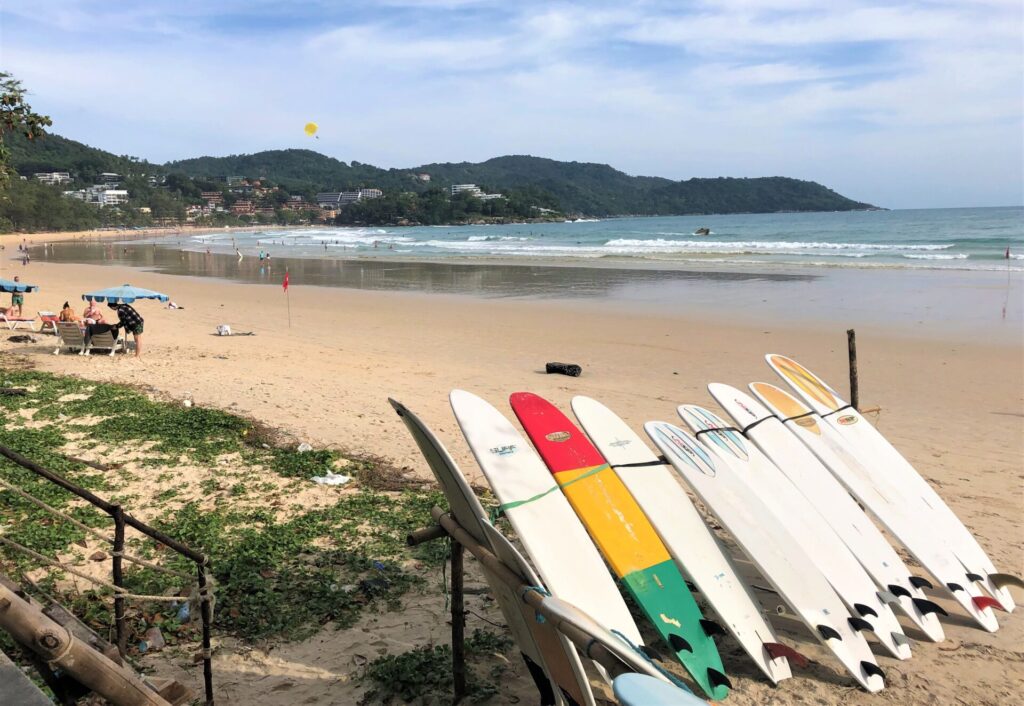 After our week enjoying some non-beach activity in Phuket Town, we spent our last week on Phuket and our final week in Thailand at Kata Beach. If you're counting at home, that's 5 out of the last 6 weeks at a beach. What can I say? There are just a lot of nice beaches throughout this country and Kata Beach was the nicest one yet. Clear water, ample soft sand, great swimming, and gorgeous sunsets are a few of the things that draw tourists like ourselves to the west side of Phuket.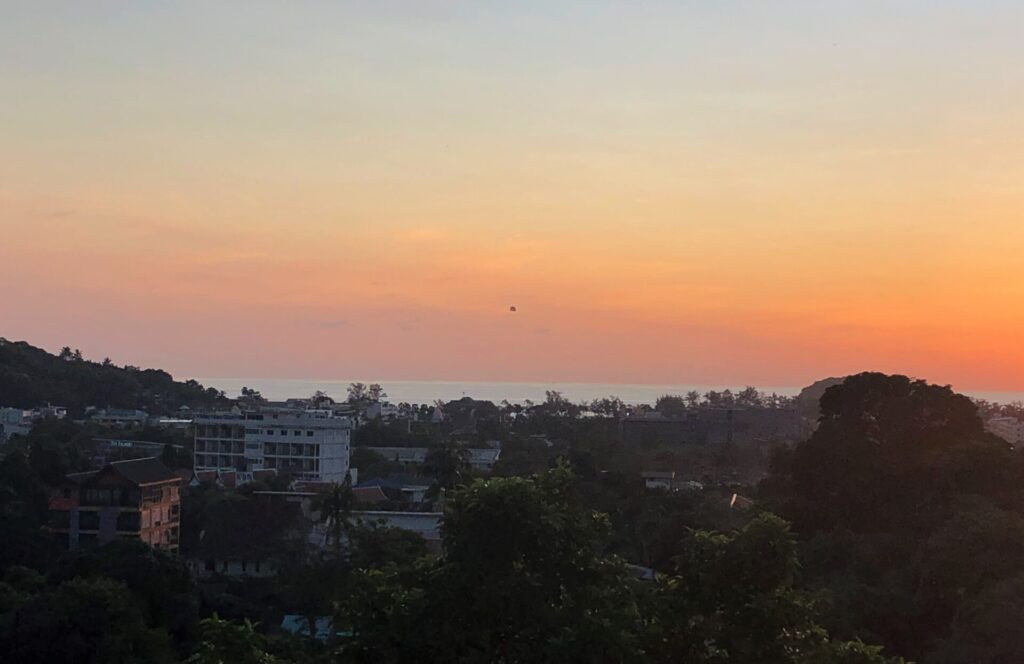 Most people headed to Phuket beaches shell out the cash to take a taxi directly from the airport. Since I'm not pressed for time or trying to grasp every precious ray of sunshine on a two week vacation before heading back to work, I generally try to avoid taxi travel. If I can't walk, I opt for public transit. It's generally cheap and nearly always more interesting than a sterile taxi ride. And public transit in Phuket is no exception.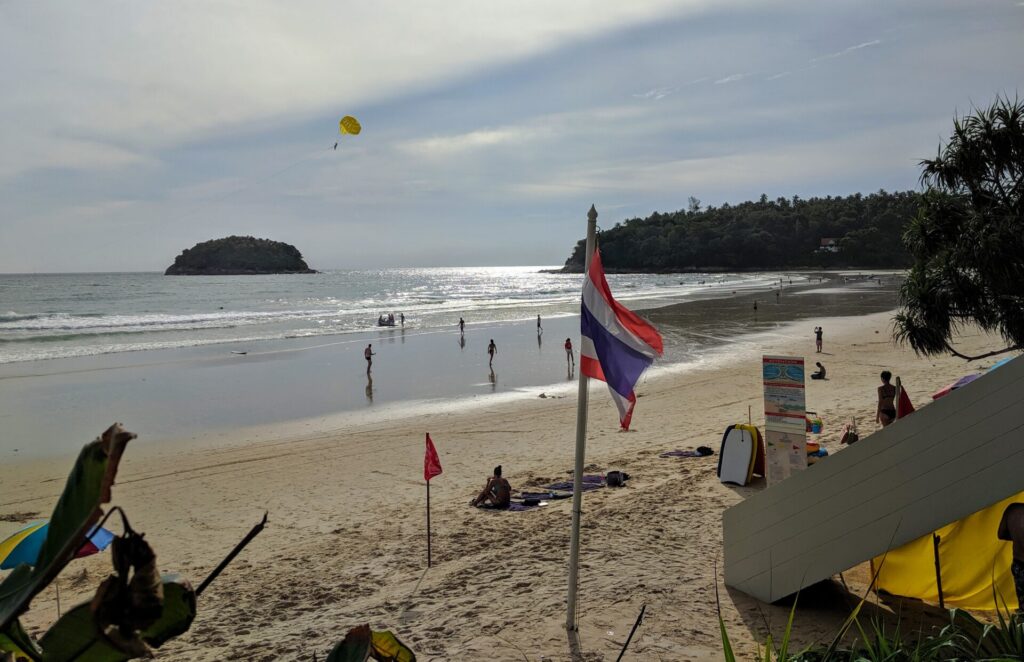 How To Get Around
Before arriving in Phuket, I did some research into transportation options. There isn't a train and the only real bus service is from the airport to Phuket Town. However, there is one alternative public transportation option for the adventurous. Phuket has government sponsored songthaews, which are basically large pickup trucks with benches bolted to the bed and covered with a curved wooden roof. These trucks drive on a set route for a set price, like a bus, but there are no set stops besides the final destination. As such, you can flag one down anywhere along the route or ask to get off anywhere as well. The schedule can vary too, but it's generally 2-3 per hour during daylight hours. Very few if any run at night though, so if you don't arrive during the day, you may be stuck with an expensive taxi as your only option.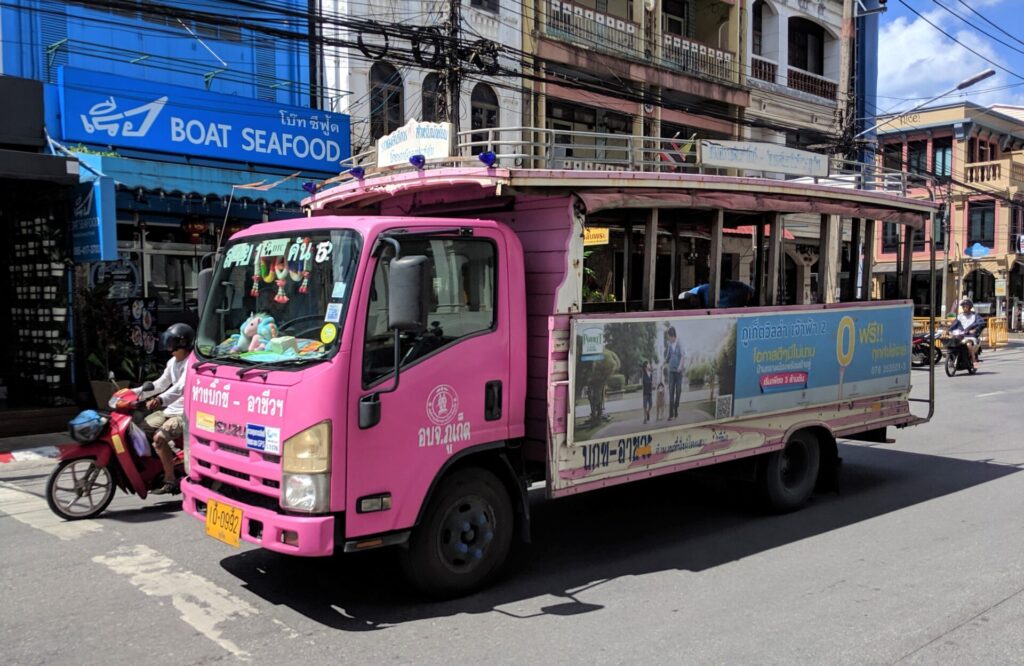 In Phuket, there are 2 types of songthaews. The pink colored ones make a circular route between downtown and the 2 different bus stations, straightforwardly named Bus Station 1 and Bus Station 2. When we arrived in Phuket via coach bus at the outer bus station (Bus Station 2), we just had to fend off the taxi vultures for a bit until the beautiful pink monstrosity arrived. For a few extra minutes of our time, we got to ride in an open air pickup for nearly 4 miles for only 15 baht each ($.50). A taxi ride would've been more than $10 and would not have been nearly as fun.
The second type of songthaew is blue colored and they travel back and forth between downtown Phuket Town and the various beaches around the island. Each blue songthaew has a sign posted showing which beach (or beaches) it goes to. They all leave from downtown, but as mentioned above, if you are not downtown you can still flag one down along the way if you can figure out the route.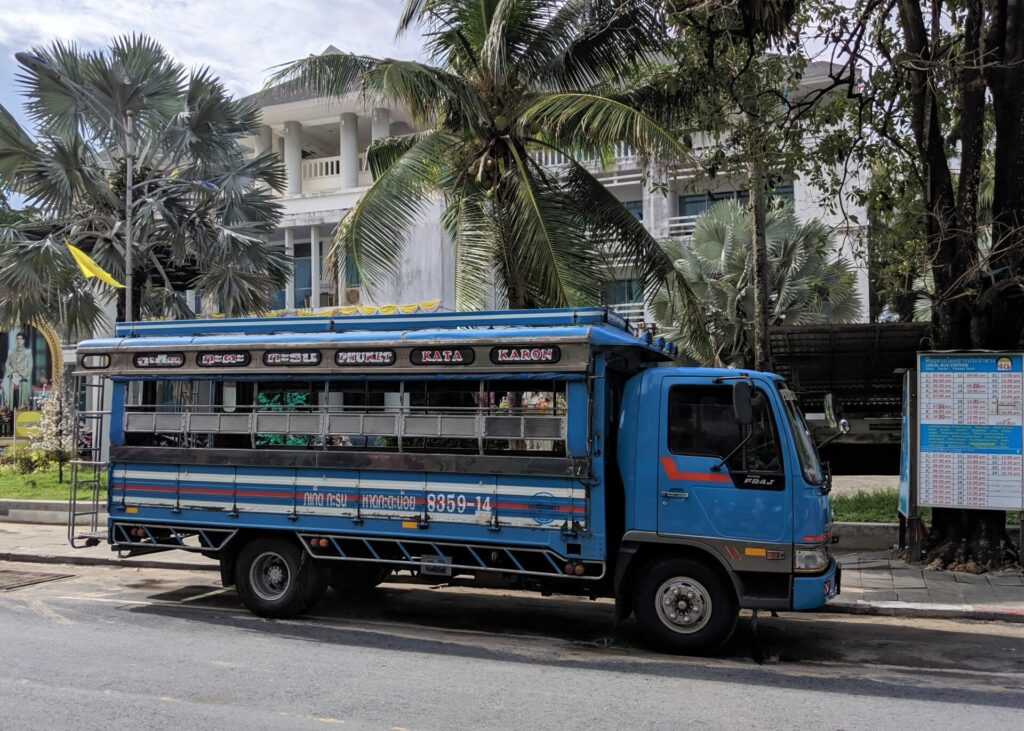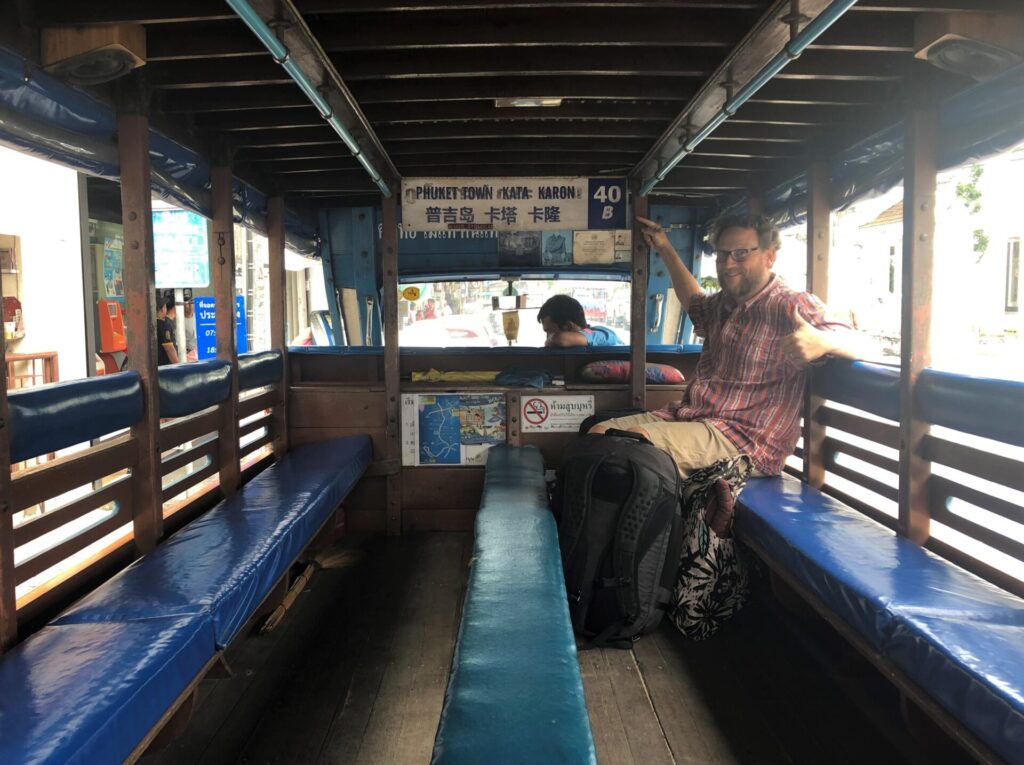 After our week in Phuket Town was up, we rode on our first blue songthaew to take us to Kata Beach. The longer distances mean higher prices than the local pink songthaews, but it's still a bargain. For only 40 baht each ($1.33) we had a 9 mile ride over the hill to the other side of the island. Our timing was super lucky as we were the only passengers making the journey from Phuket Town to Kata Beach at this time. I saw plenty of them driving around during the week we spent in Phuket Town and they were usually pretty full, so it was odd that no one joined us. Not that I'm complaining, since that gave us plenty of room and we could see all the sights, like the dogs riding on scooters.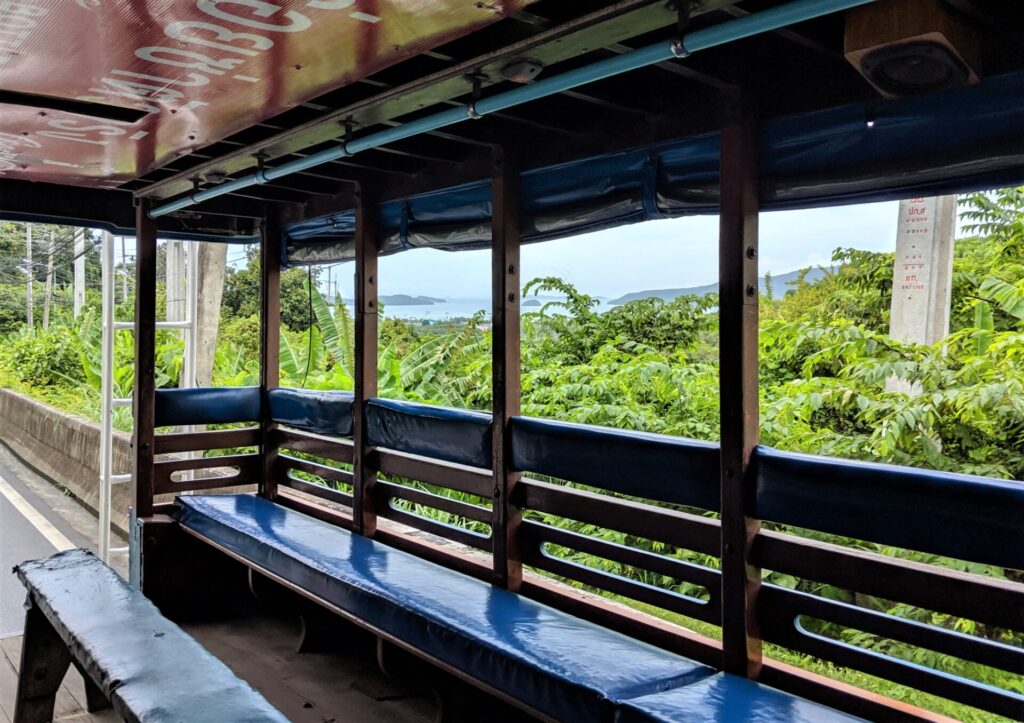 What's Great About Kata Beach
Kata Beach itself is simply amazing. It's in a nice cove and capped by hills to the north and south. There's a long deep beach with fine soft sand that is perfect for sunbathing. The sand even stretches far out into the water, so there's never a point where your feet are unhappy. It's no mystery why it's one of the top beaches on Phuket and very popular with tourists hoping to return home with a better tan than which they left.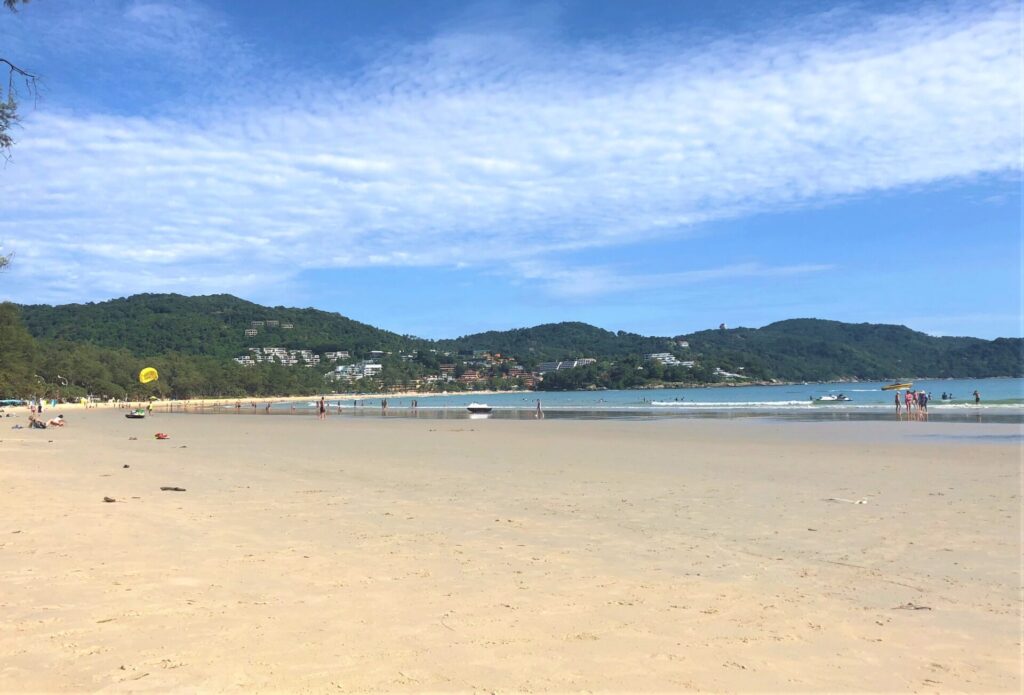 Katie and I were also taking advantage of the tropical sun one day when an older man walked by staring at us. It's common for people to look around of course, but it sure seemed like he was staring right at us. Then I felt something move right behind our heads. My peripheral vision told me it was a dog, as there were numerous ones hanging around the beach. But as I looked closer, I couldn't help but blurt out "Holy shit, there's a pig!", which naturally startled Katie a bit. This was not a cute little mini pig or even a pink farm pig but a full on wild boar style pig that just happened to be ambling by.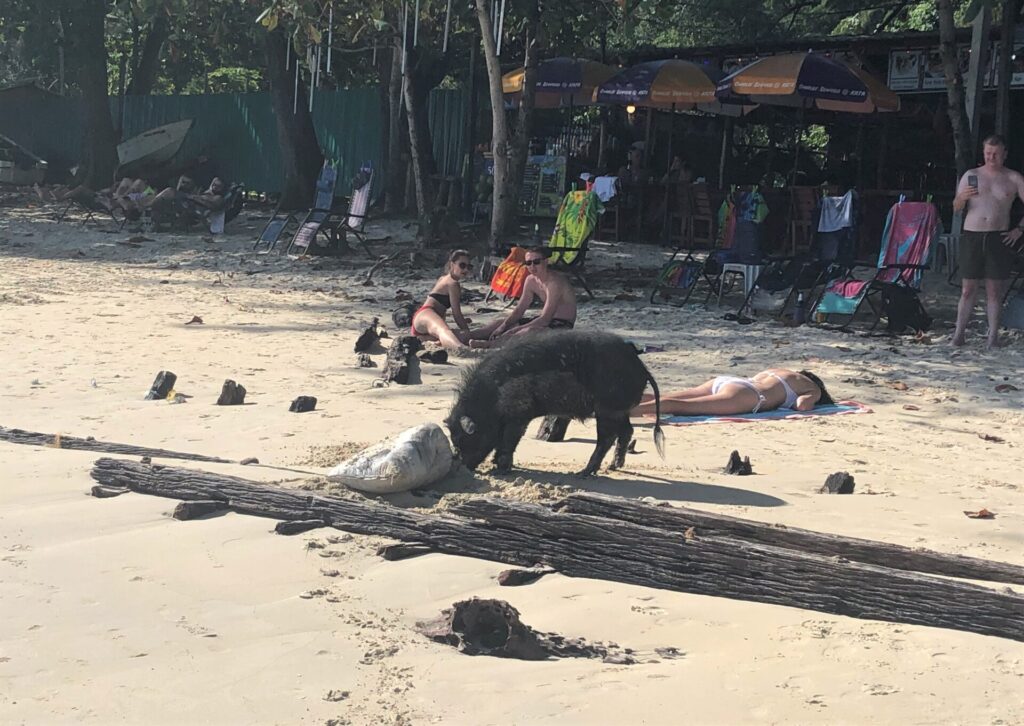 Completely unfazed by the numerous people around, he was very docile and was just sniffing his way down the beach, looking for something delicious to eat. Or maybe he had other intentions. Shortly after passing us, he found a sandbag buried nearby. He proceeded to dig it up and play with it by alternately humping it and flipping it end over end with his snout. It was extremely entertaining to watch.
After he had his fill with the sandbag, he moved close to another sunbather who didn't notice him before. Scared and shocked, she scrambled away up the beach while he nosed her towel and sniffed around. Next, the pig moved along towards a pair of young children who were sitting in front of their sleeping father gaping at it in awe. Their father wasn't asleep for long as the pig decided to stand over the top of him and sniff. He woke up in a panic and snatched his two kids up, one under each arm, and scrambled away. The pig however was undisturbed by the commotion and after sniffing around where the man and his children were sitting, continued up the beach.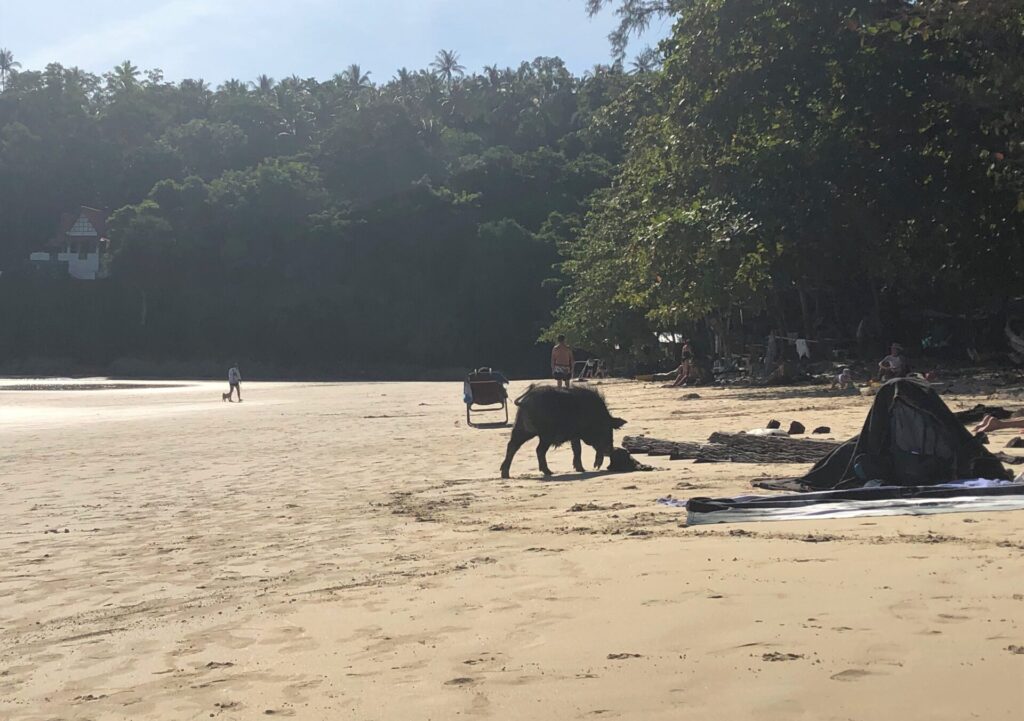 This was not a fluke sighting either, because we saw him come back the next day as well. The second time around wasn't quite as entertaining, as I didn't see him catch anyone off guard and cause them to panic like on the first day, but it was still an interesting sight. I definitely took my time enjoying the pig on a beach spectacle. If you too want to find yourself on the beach with a giant black pig, try the north end of Kata Beach. Even if you miss him, it's still a nice place to hang out and swim or sunbathe for a while.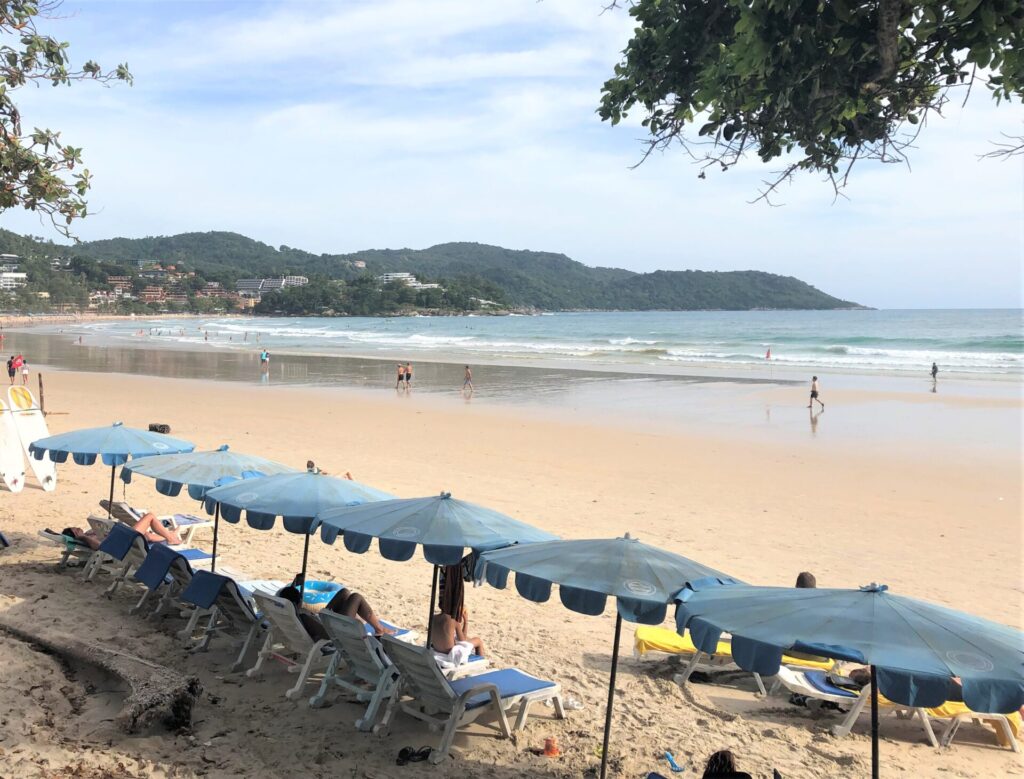 Where We Stayed
For our week in Phuket Town, we stayed in a fifth floor condo that was a 10 to 15 minute walk outside of downtown. It was perfectly adequate and had nice views from the bedroom. The best part was probably the bargain price of $147.98 for 7 nights.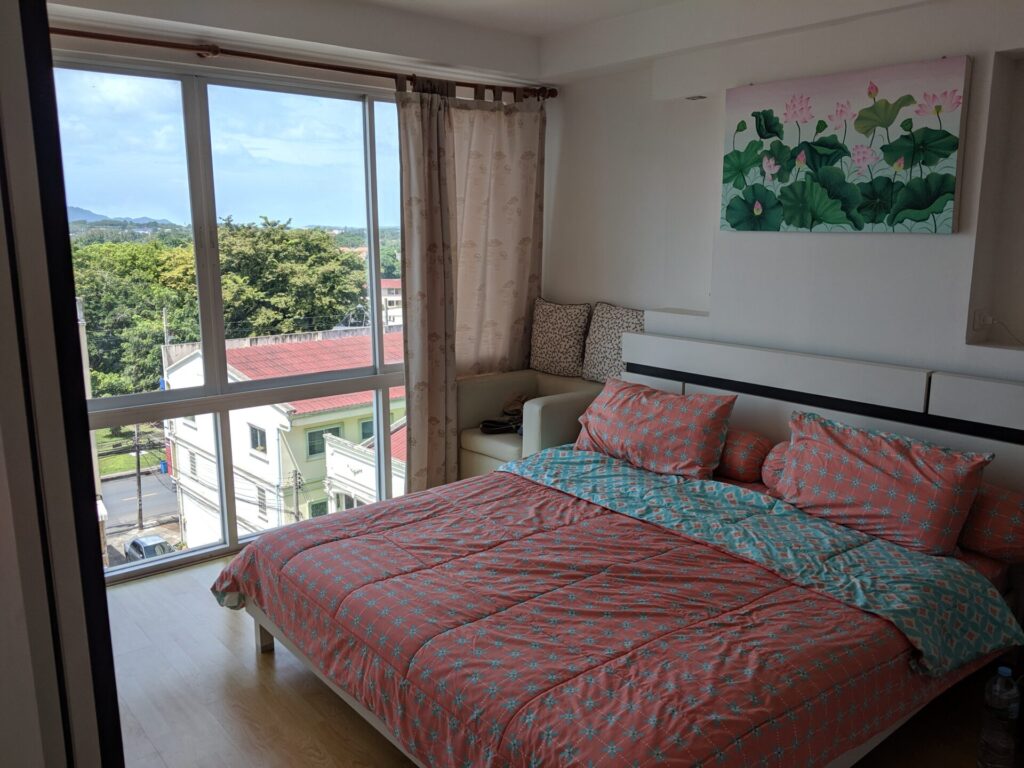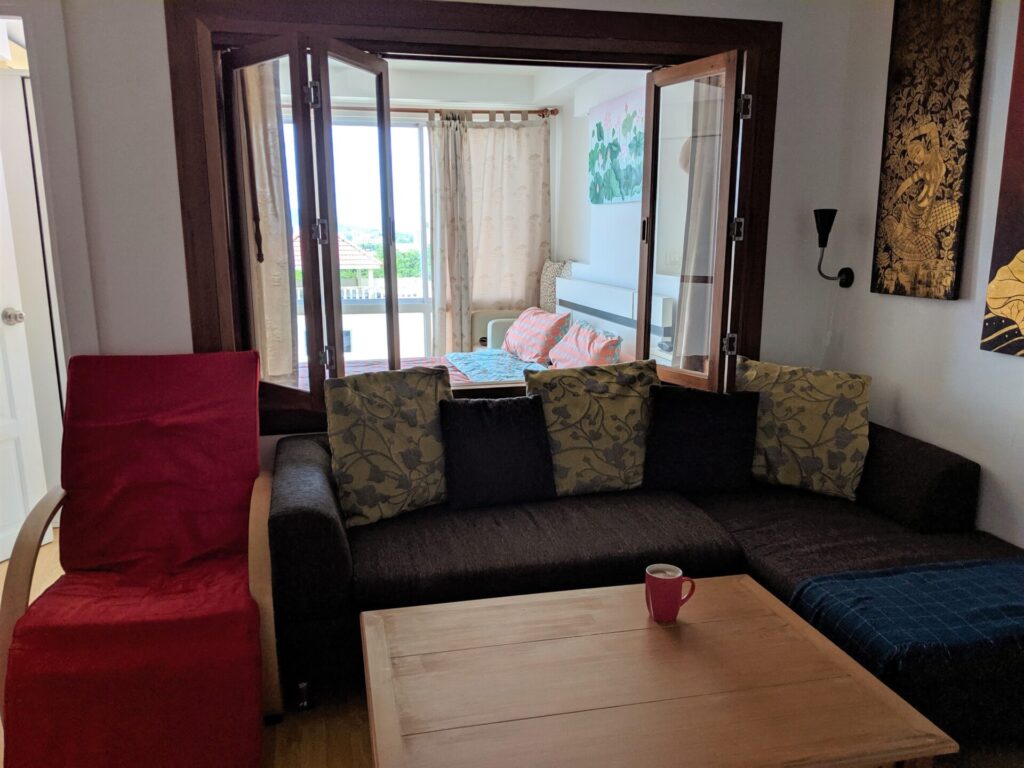 However, the internet sucked, so I didn't get to watch any baseball and we weren't able to Skype or Facetime anyone. That's just part of the risk we run as nomads. Not everything will be perfect at every stay no matter how much due diligence we perform. But if we needed everything to be perfect all the time, we would have stayed at home instead of getting rid of everything we own to travel the world.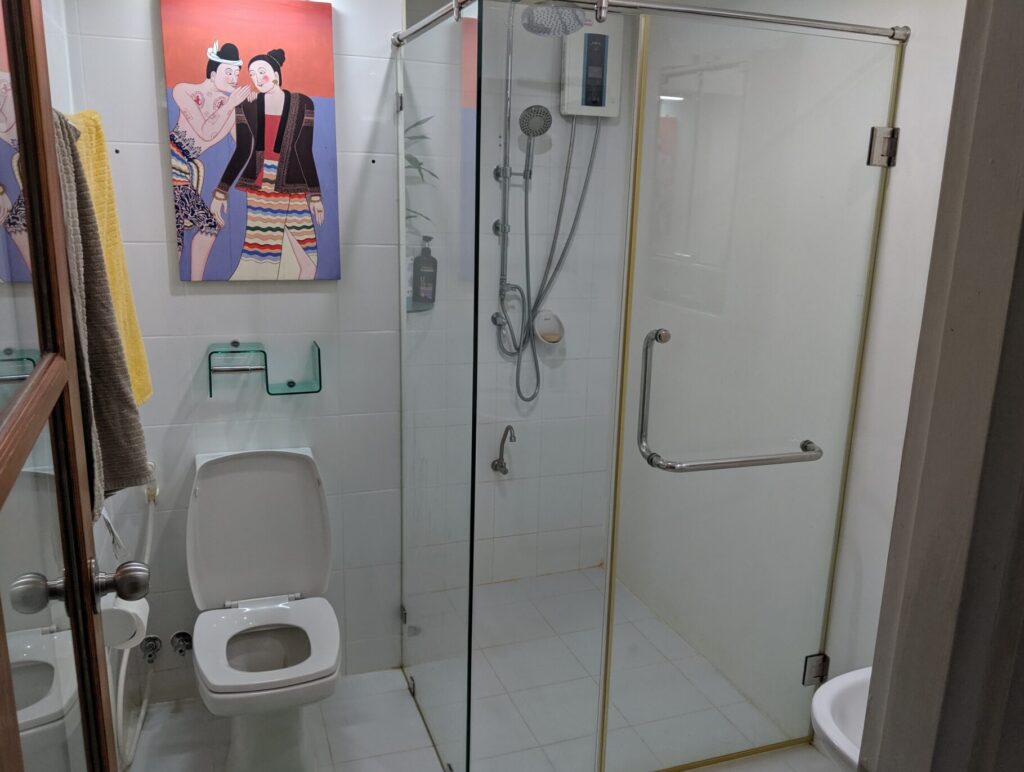 For our week at Kata Beach, we picked a fancy place up away from the tourist crowds with an amazing view. We made it a point to try to catch the sunset from our balcony every night. After all, that's basically what we were paying for, which was still only $209.89 for 7 nights. The rest of the place was really nice too, but the view was the main draw.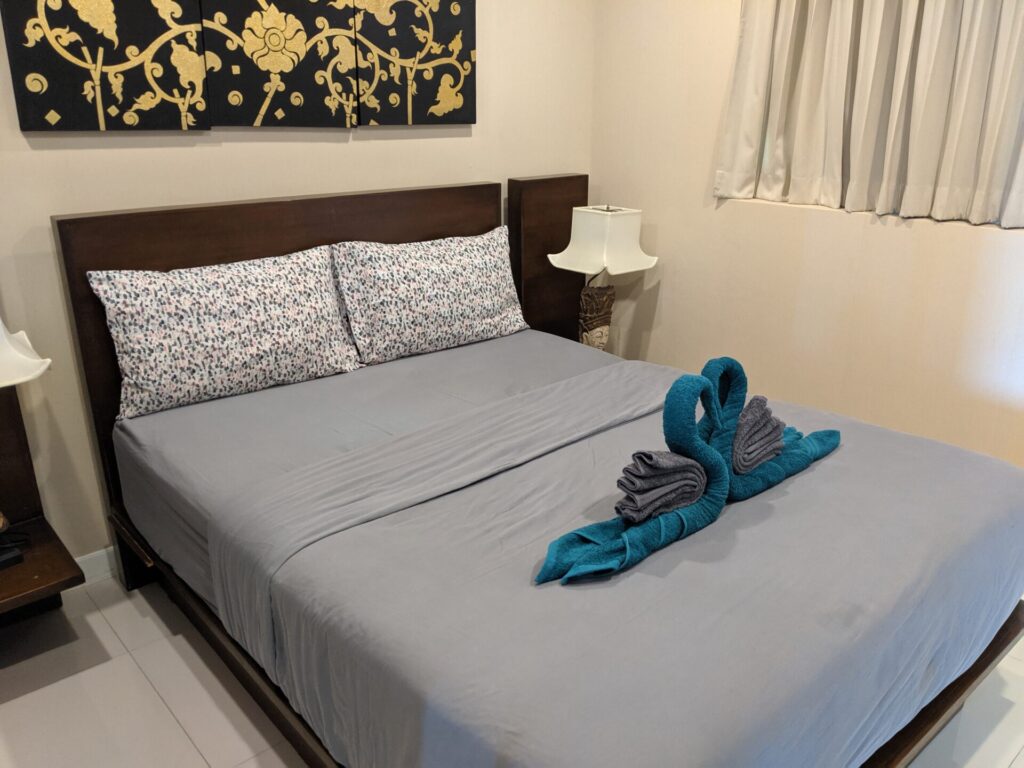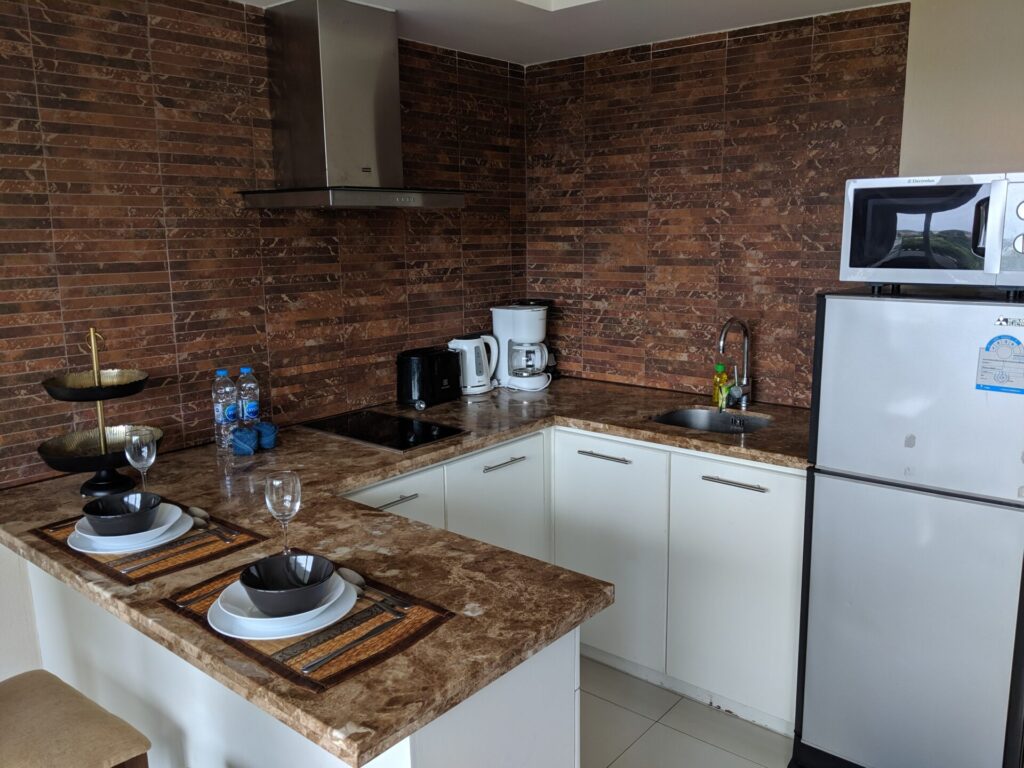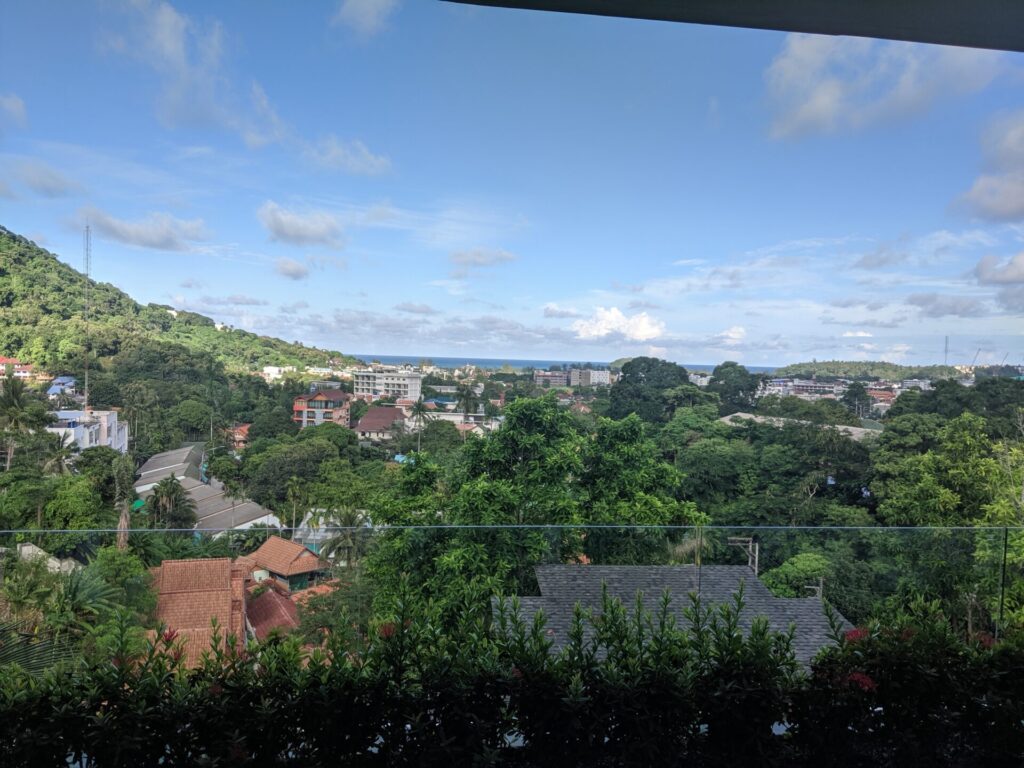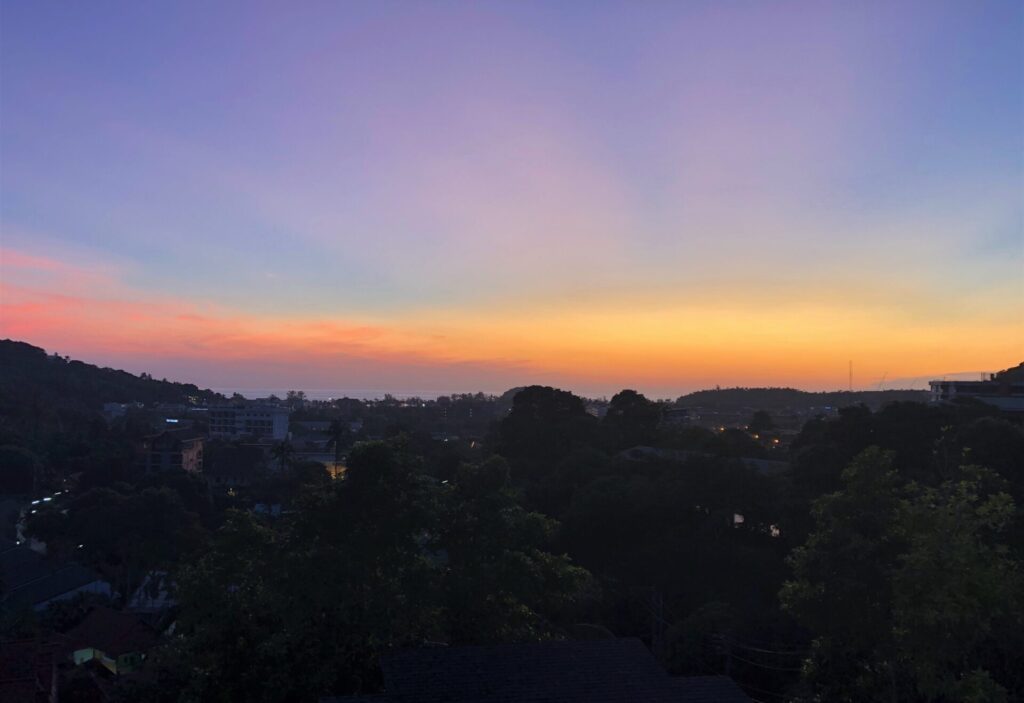 To get that view we had to sacrifice location, as it was nearly 30 minutes of walking downhill along a busy road to get to the beach. And then another 30 minutes back up the hill after we were done. We probably could've rented a scooter, but we're stubborn and decided that the walk would be good for us. I wouldn't have wanted to stay somewhere so far out for an extended time though, so we'll be moving location higher up on our list of priorities moving forward.
What We Spent
All totaled, we spent $759.63 during our 16 nights on Phuket. When we add in our prorated bills like cell phones, insurance, and MLB.tv, that brings the total amount spent to $844.82 or $52.80/day.
It kind of felt like we were spending more on Phuket than previous stops while we were there. We definitely soaked in more of the vacation vibe, especially during our Kata Beach week. But considering that we still mostly cooked at home, what felt like extra spending didn't result in any overall higher totals than our previous stops. It certainly helps when the main attraction is the beach, which only costs a little extra in sunscreen.
We aren't paying too much attention to price tags, but we are paying attention to our own behaviors. We avoid sit down restaurants and taxis, preferring to walk everywhere and cook at home. When we do eat prepared food, it's street food at a market which is only marginally more expensive than doing the cooking ourselves. About the only expensive thing we regularly have been spending on is beer, and that's really something that I don't feel too bad about since a cold beer on a hot day is delicious. This total will certainly drop for the next month while we're in Cambodia, as they have much more reasonable pricing.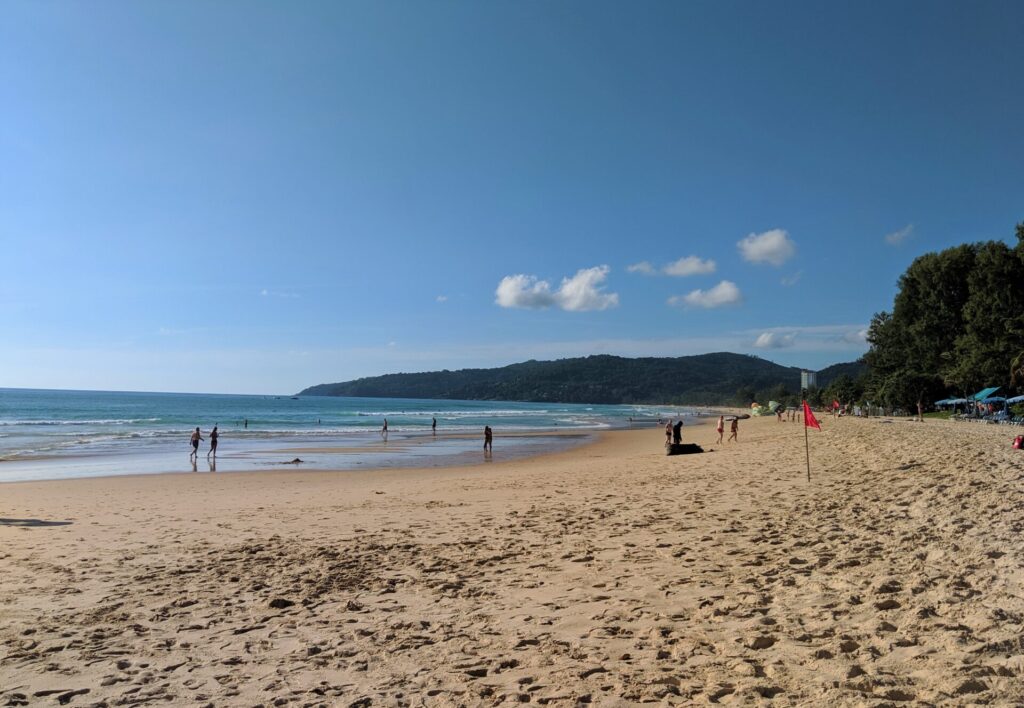 Overall, our two weeks in Phuket were a lot of fun. Phuket is certainly more tourist-centric than our other island stops, but it still retains most of its Thai flavor. Most of the markets are catering only to tourists, but we were still able to find the local markets for fresh produce at rock bottom prices. And we only saw a couple of Starbucks, one of which was in a mall, so it wasn't too bad. Phuket is the largest island in Thailand, so there's something for everyone. If we return, we'll likely try to spend time in Phuket Town again and pick a slightly less trafficked beach, but overall it was a nice stop and a good way to end our time in the Land Of Smiles.