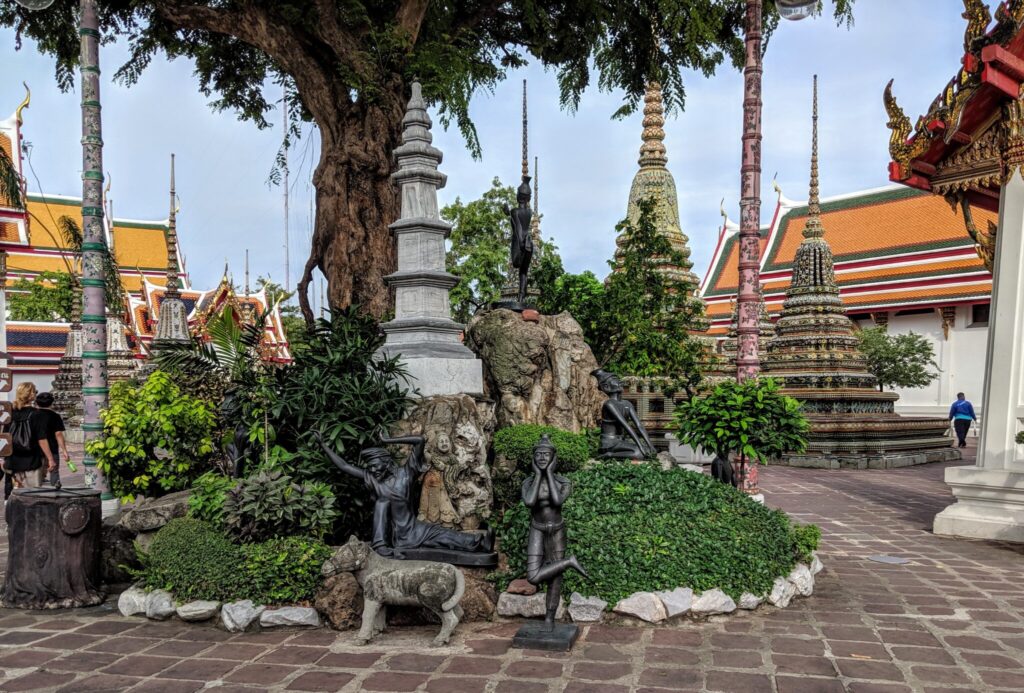 We just spent two weeks in Bangkok, Thailand to kick off our early retirement travels. The plan was to spend 15 nights, but our flights were delayed due to weather in the US, so we arrived a day late. Nevertheless, we did a lot of exploring around the city, including seeing many markets, neighborhoods, temples, and parks. Below I'll share the highlights of our time there, where we stayed, and how much money we spent.
How We Filled Our Time
The first thing we did was allow ourselves time to get over our jet lag. We didn't push it to stay up at regular hours or skip naps. If we were tired, we slept. If we weren't, we didn't. For example, I watched a number of Cubs games that started at 6am and even one that started at 3am. After about a week, our bodies adjusted to a regular schedule anyway. This was a much nicer transition than trying to fight it because we needed to cram in activities to make the most of a limited vacation schedule.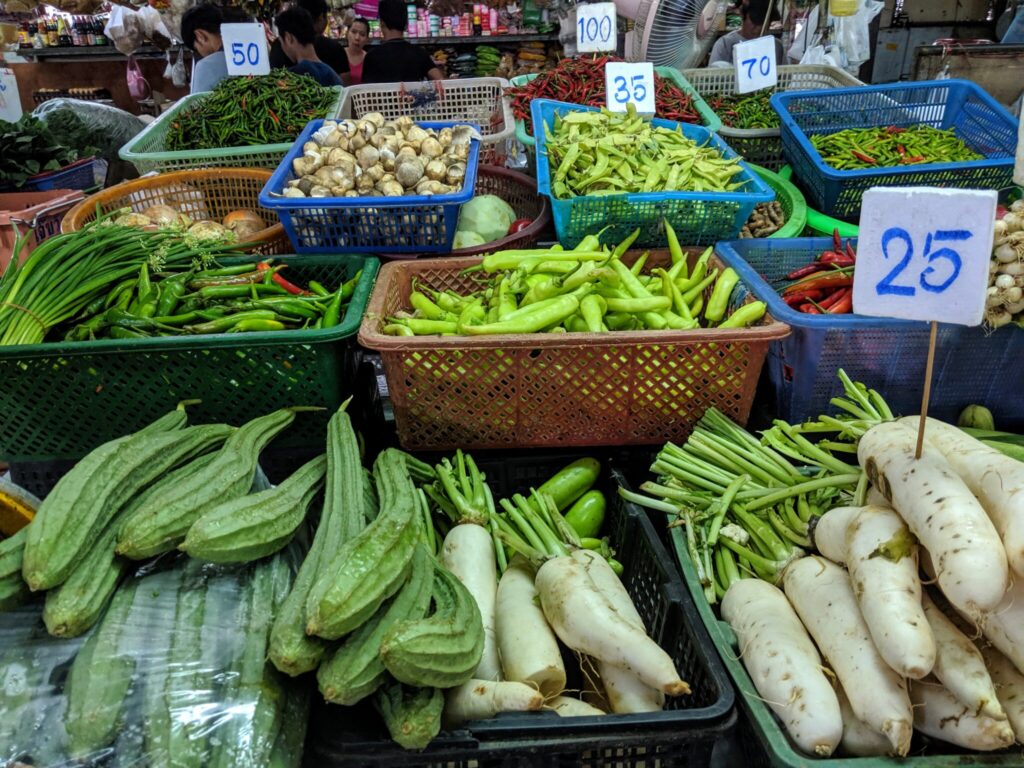 Our main daily activity consisted of visiting markets. It's one of my favorite parts of travel. In fact, I discovered my absolute favorite market in the world when we visited the Chatuchak Market. It was so fun we went three times! We saw lots of other markets as well. The large one near our apartment was the Huai Khwang market. It has tons of awesome cheap produce and we shopped there four or five times. In addition we also visited the Central Market, the Owl Market, the Tao Poon Market, the Chanhunbamphen Market, the Soi Yot Thong Market, the Samyan Market, the Pak Khlong Flower Market (twice), and the Ratchada Rot Fai Train Night Market. There may have been more.
Not all of them were great. Some were what I'd consider busts, either because it wasn't what we were expecting or we showed up at the wrong times. Many of these markets are open very long hours, including some that are officially open 24 hours, but of course showing up at noon to a market that's popular at night means there's not much happening. But there was always another one not too far away if the first one didn't scratch our market itch.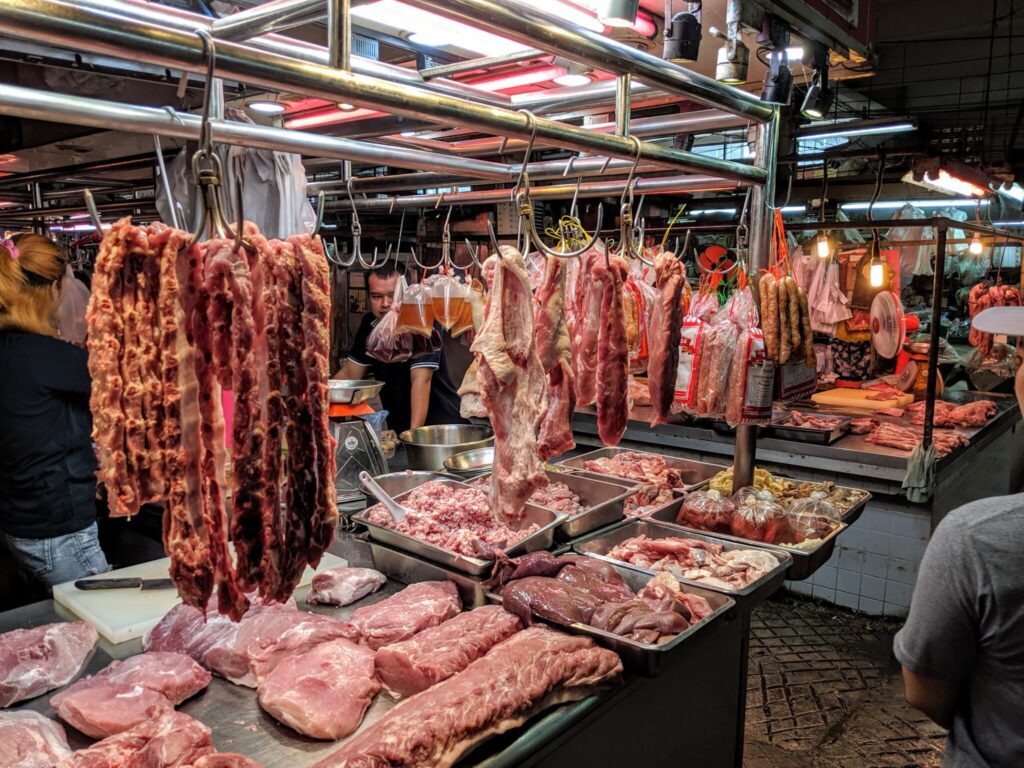 We used all of these market trips to pick up lots of food. Sometimes it was prepared food that we ate on the spot, but most of the time we bought produce to cook at home. In fact, we cooked most of our meals at home, despite having a small Asian-style kitchen with only a hot plate and a microwave. We are not on vacation after all, so while we ate a lot of different food, most of our sustenance came from our own kitchen. We mostly stuck to simple meals and ate a lot of rice. Breakfast was commonly half a dragon fruit followed by half a mango mixed with rice and topped with a couple of eggs. For dinner, we'd saute vegetables with rice and most likely top those with eggs too.
Of course Bangkok has more than just markets. The city is dotted with hundreds of temples too. These Buddhist Wats are some of the most visited and popular spots in the city. According to a worker that was telling us about them, Bangkok has 1452 Wats. I'm not sure how to verify that number, but there are a lot. Our two favorites were the The Golden Buddha Temple Syelendra and Wat Pho.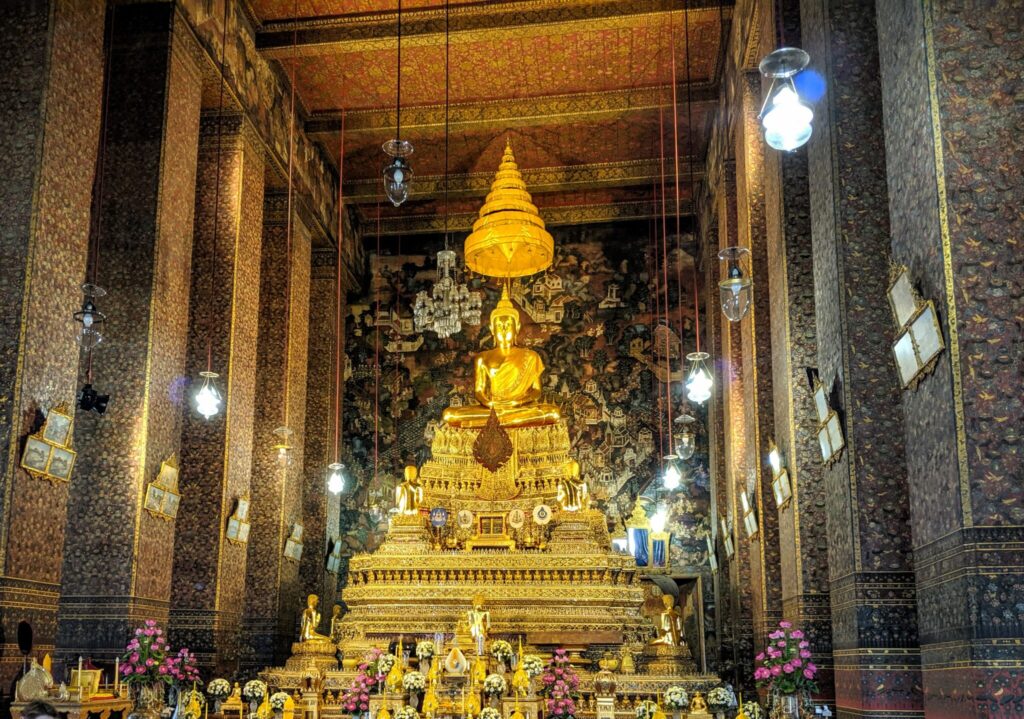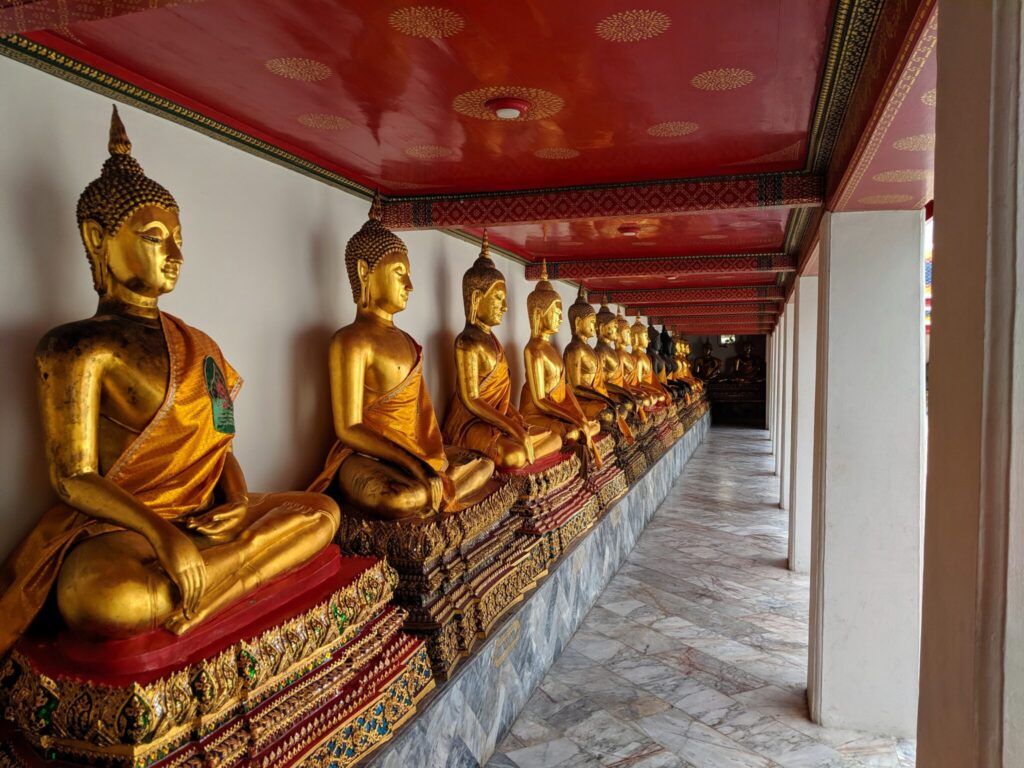 For a few bucks each, we got to see some glorious artwork, architecture, and of course some giant Buddha statues up close. However, we didn't see them all or even all of the most famous ones. We missed Wat Arun and The Grand Palace, which everyone says are must see places. We tried a couple times to get to Wat Arun, but it's a little far from the train station and we happened to get distracted on the way there and never made it. That's retired life for you. And The Grand Palace requires pants, and it's over 90 degrees with high humidity every day, so we mainly skipped that in the name of comfort. But that just gives us another reason to go back in the future.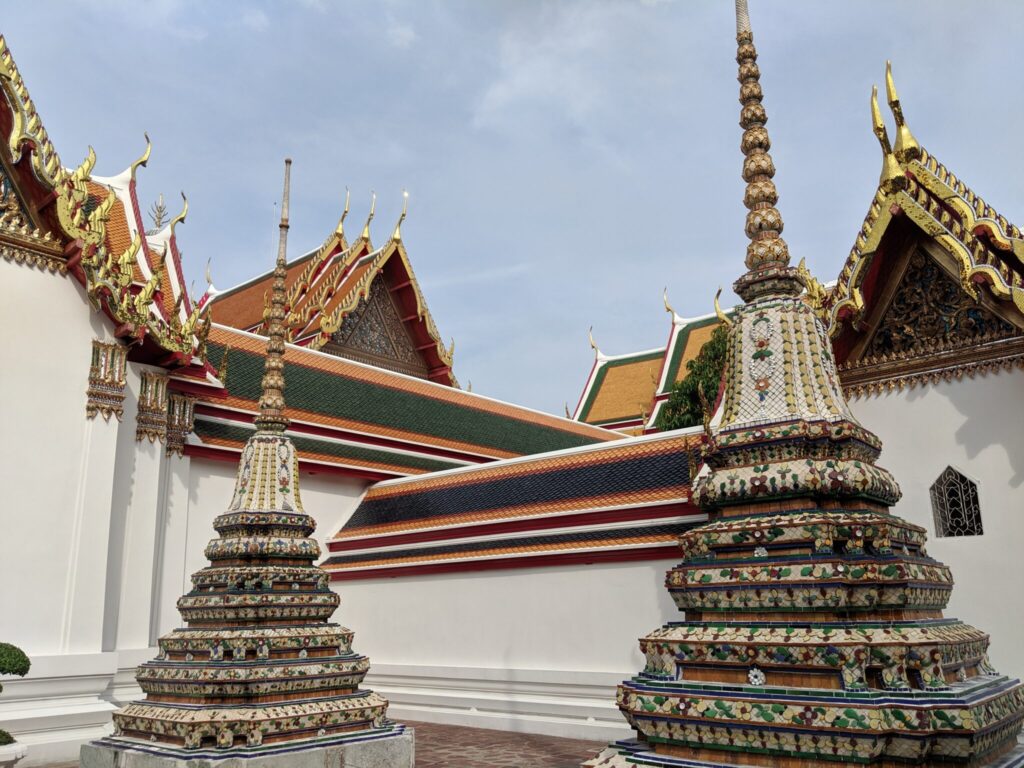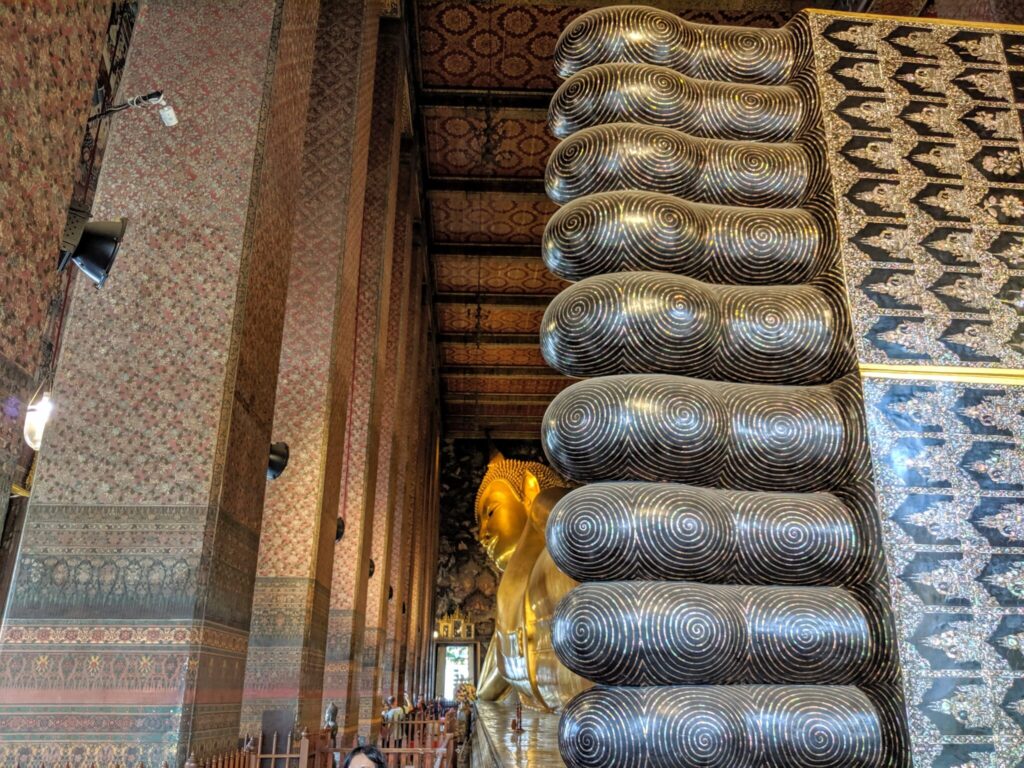 We also explored some of the local parks, looking for places out of the sun to relax or for local wildlife. There aren't a ton of them in Bangkok, but we found a few scattered about. Not all of them have monitor lizards calling them home though. For that, Lumphini Park is the place to go. We had a bunch of fun finding these giant lizards and watching them do their thing.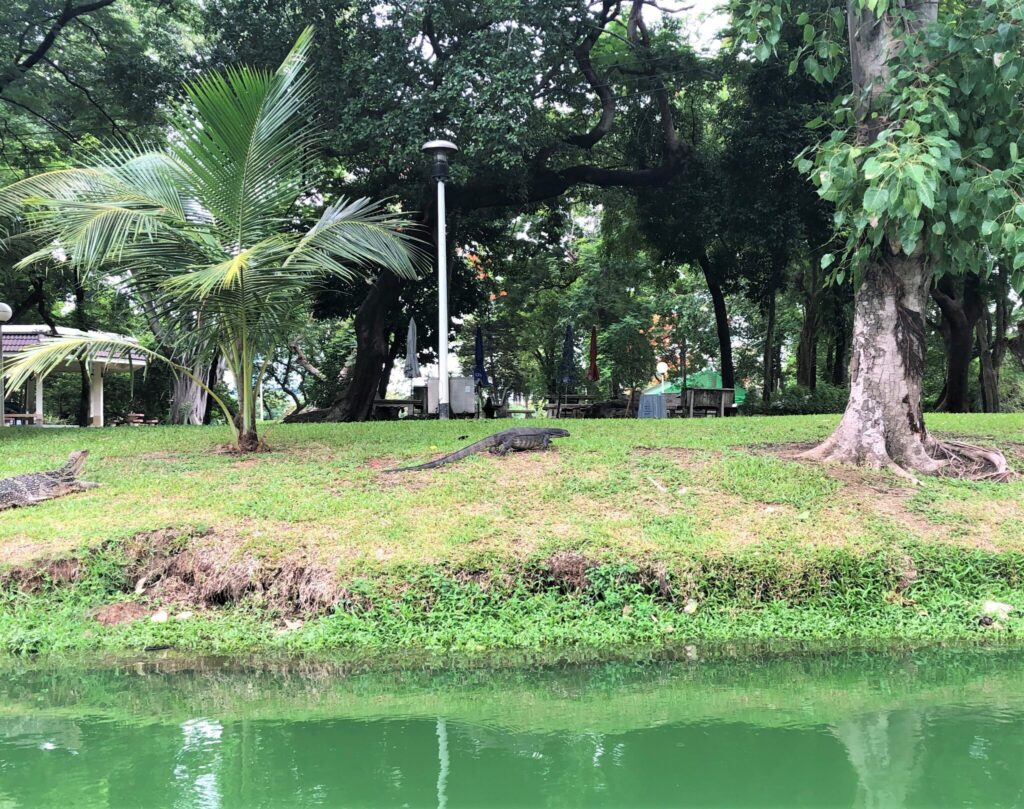 Where We Stayed
We rented an apartment on Airbnb in the Huai Khwang area. The place was in a local neighborhood about 1 mile from the MRT subway line. It had a small kitchen, large bed, a separate living room, a clothes washer, and the mandatory air conditioning. We paid $330.26 for 14 nights, or $23.59 per night. This was in the middle of the price range for options available. We could've paid more to live directly in the center of downtown or rented a place with a gym and rooftop pool, or less to forego the kitchen and living room and just have a hotel-style room. There are myriad options available to fit all needs in this major metropolitan area.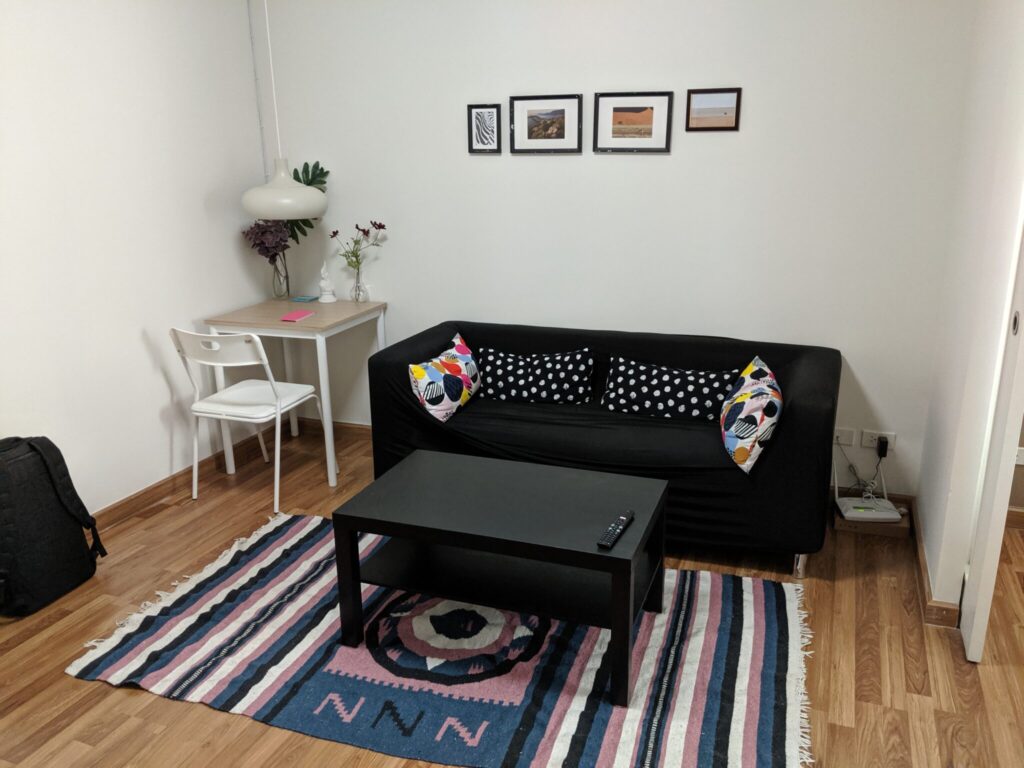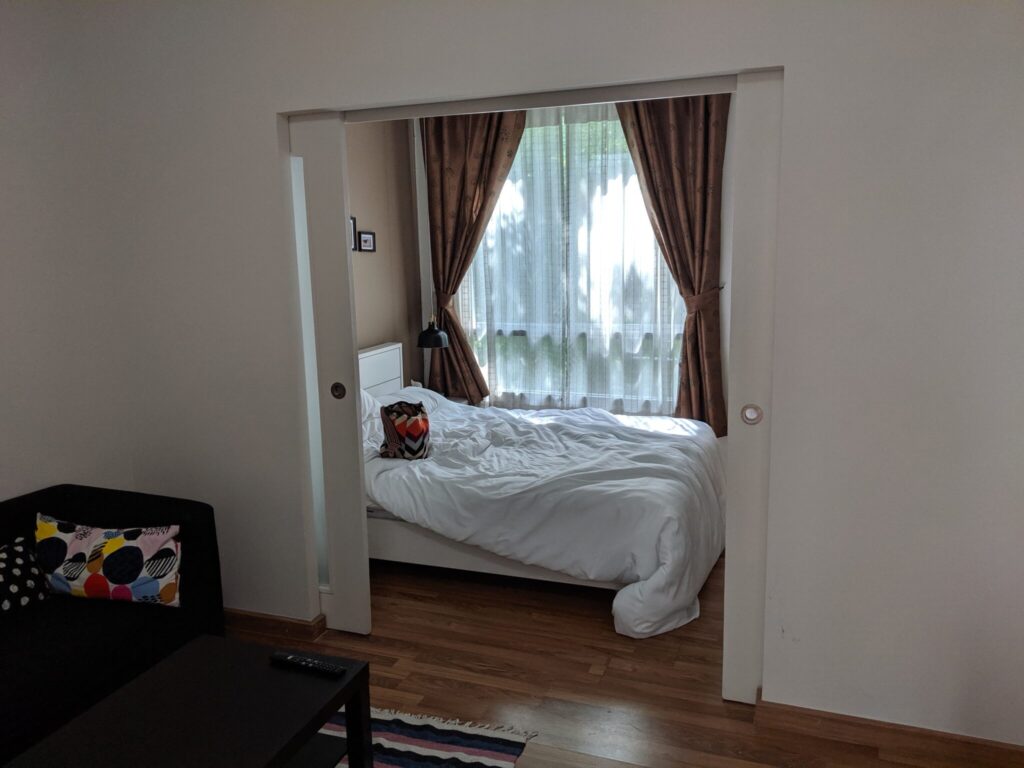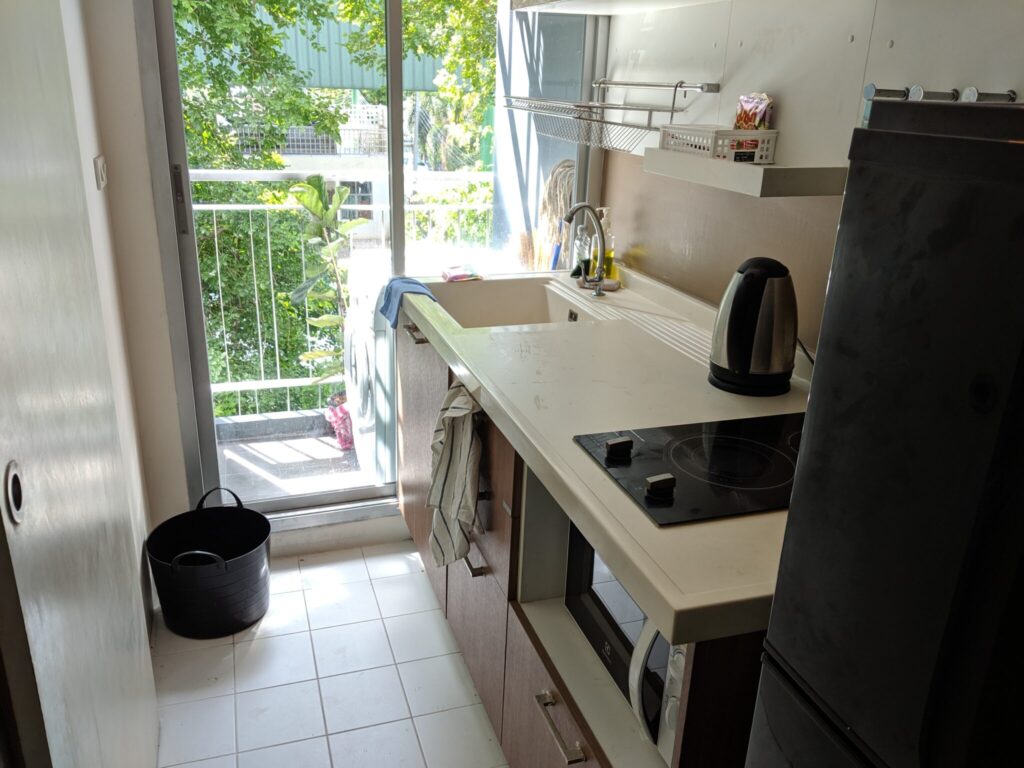 What We Spent
All totaled, we spent $852.36 during our 14 nights in Bangkok. When you add in our prorated bills like cell phones, insurance, and MLB.tv, that brings the total amount to $929.38 or $66.38/day. If we were to spend at this level for the next 50 weeks, we'd spend $24,164 per year. Not too shabby and well under our prospective budget of $36,000.
A couple of notes about this spending. First our housing was inflated by $44.77 as we paid for two nights at a hotel where we only stayed one night, and one night at our Airbnb when we were staying at the hotel. We missed our first hotel night due to flight delays. Our replacement flight had us arriving near midnight. As such, we decided we didn't want to try to navigate our way to our Airbnb in the middle of the night so we paid for a hotel next to the airport that overlapped with the first night of our Airbnb reservation.
Second, our restaurant spending covers all prepared and ready to eat food. This was mostly market food from street vendors or take away food from restaurants, as we didn't actually sit down in a restaurant to eat during our stay. Indulging in full service restaurants would've increased our food bill by a fair amount, but that's probably not a big deal when $75/week filled our bellies.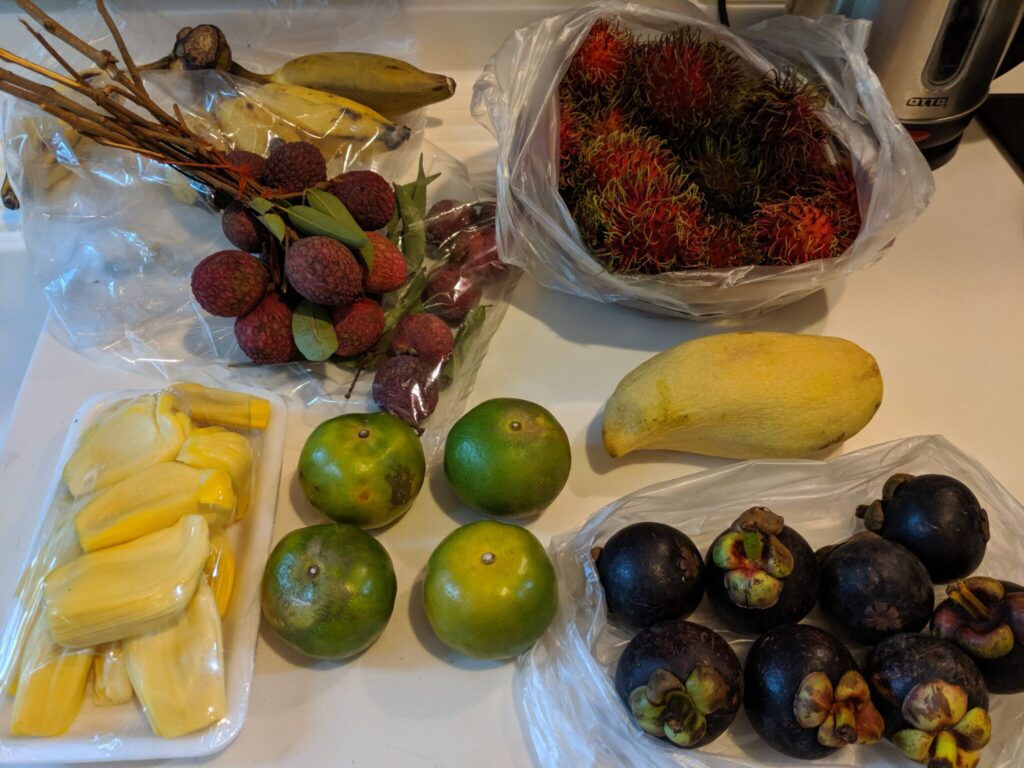 Last, we cashed in 80,000 airline miles to get to Bangkok, so our flights only cost us $45 total. Without those, our flight would've been a fair amount more. But since we're planning to stay in Southeast Asia for a year or so, that full-priced flight amount would be only a few extra dollars a day.
I'm an open book on what we spent. If you have any questions, ask in the comments below.
Random Fun Stats
We ate 8 dragon fruits, 9 mangoes, and believe it or not, 60 eggs. What can I say, eggs are cheap and delicious and easy to make in a small kitchen.
We tried some new produce too. We ate winged beans which were a little sour raw, but good when chopped and sauteed with oil and salt. Unsurprisingly, they mix well with rice. Then we had long beans which taste exactly like a green bean but longer. Last we ate salak, a sweet and astringent fruit with an alcohol-like punch that looks like a garlic bulb (when peeled) with a large seed in the middle. It was decent, but I'm not in a hurry to buy more. In addition we also ate rambutans, jackfruit, lychees, mangosteens, and the aforementioned dragon fruit. None one of those were new to us, but all were delicious.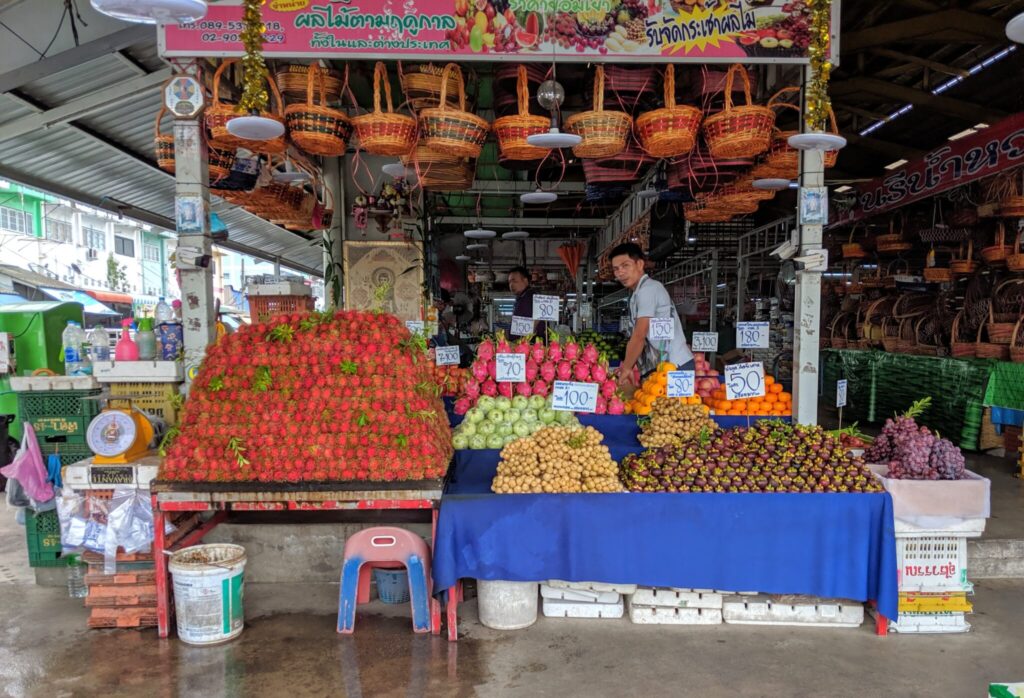 According to Katie's phone app, we walked about 72 miles, or a little over 5 per day. That's not too bad in the Bangkok heat where temperatures were in the 90s every day with high humidity.
We played 13 games of cribbage and I won 8. For this reason alone, I liked Bangkok, as prior to this Katie had been winning more often than not.
We made one trip to Ikea to replace a coffee mug I broke. They didn't have the exact replacement, so we bought two so that the apartment would still have a matching set. If you're not clumsy, you can save yourself ฿158 or about $5.11 plus the similarly priced subway ride there and back. But there was a fun market in the area with a bunch of street food, and I tried my first grilled bananas, so no regrets.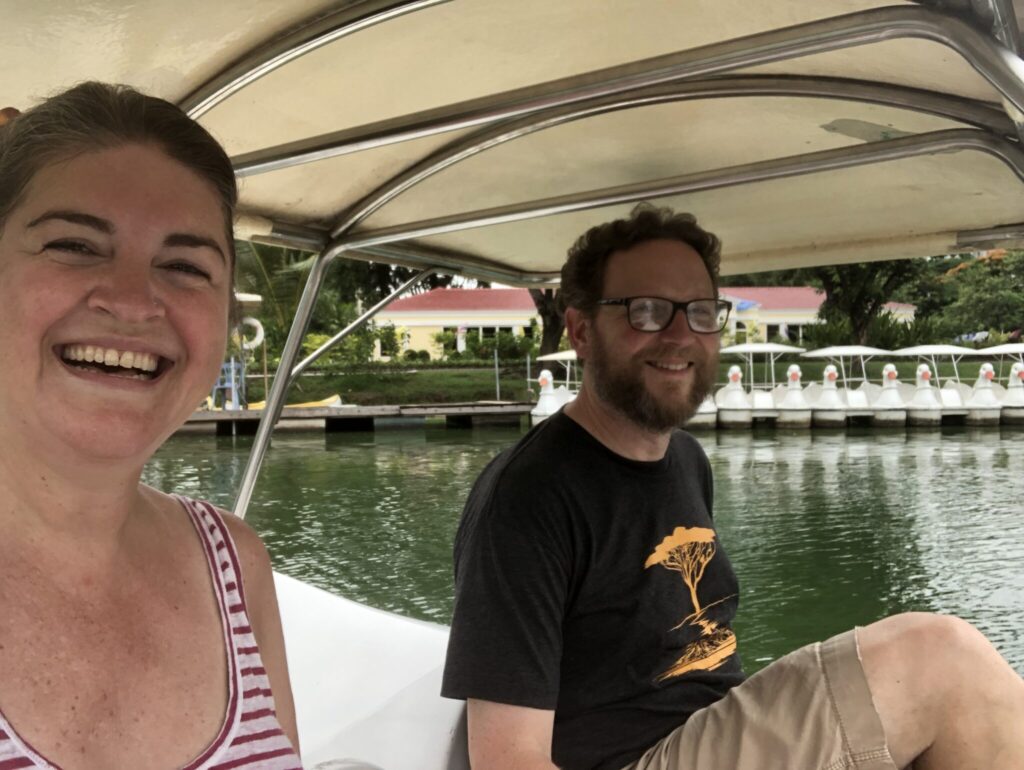 In summary, we had a lot of fun in Bangkok for a very reasonable sum of money. We tried not to waste money, but didn't deny ourselves a temple entrance fee, beer, or delicious baked good if we wanted it. There were things on our list to see that we didn't have time for, but that just means that we'll have something new to look forward to when we return. I'm very happy with our choice to start our retirement travels and we're settling in nicely to a slower-paced and simpler life.