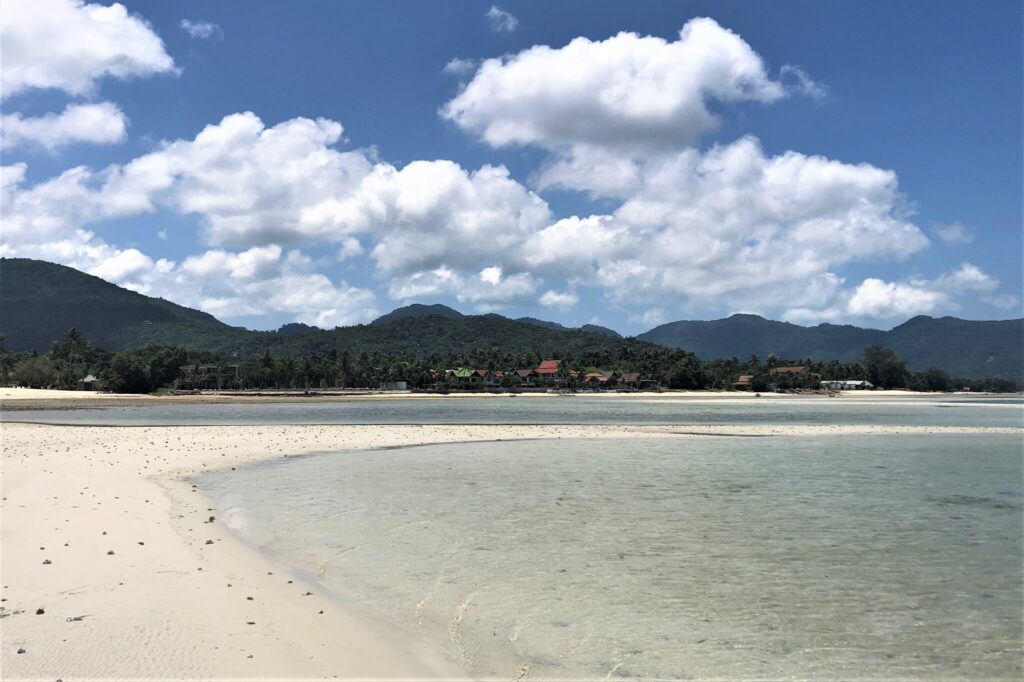 In contrast to our activity packed days in Bangkok, living on Koh Phangan in the Gulf of Thailand was highlighted mostly by relaxation. I might even go so far as to call it a bit boring. Not that I'm bothered by that. I enjoy the idea of having nothing to do nor anyone to answer to. In fact, I'm getting really, really good at the leisurely breakfast. I have been waking up around 8:00am and putting on a baseball game from the night before. (Sometimes this baseball game from the night before is happening live. Time zones are weird.) During the game I drink a few cups of tea and eat some amazing fresh fruit. It's a pretty stellar way to start the day and I highly recommend it.
Around noon or 1:00pm is generally the time I'd finally get ready to venture outdoors and we'd head to the beach. While there, we'd swim and hang out for a couple hours before coming home to shower and cook dinner. Sometimes we'd squeeze a trip to the market in there if needed. The following day, I would (literally) rinse and repeat. Now that I think about it, I guess it's not just a leisurely breakfast. I'm getting pretty good at the leisurely life in general. I probably need to figure out how to get more exercise, but for the time being, I have no complaints. A more laid back and slow-paced existence seems to agree with me.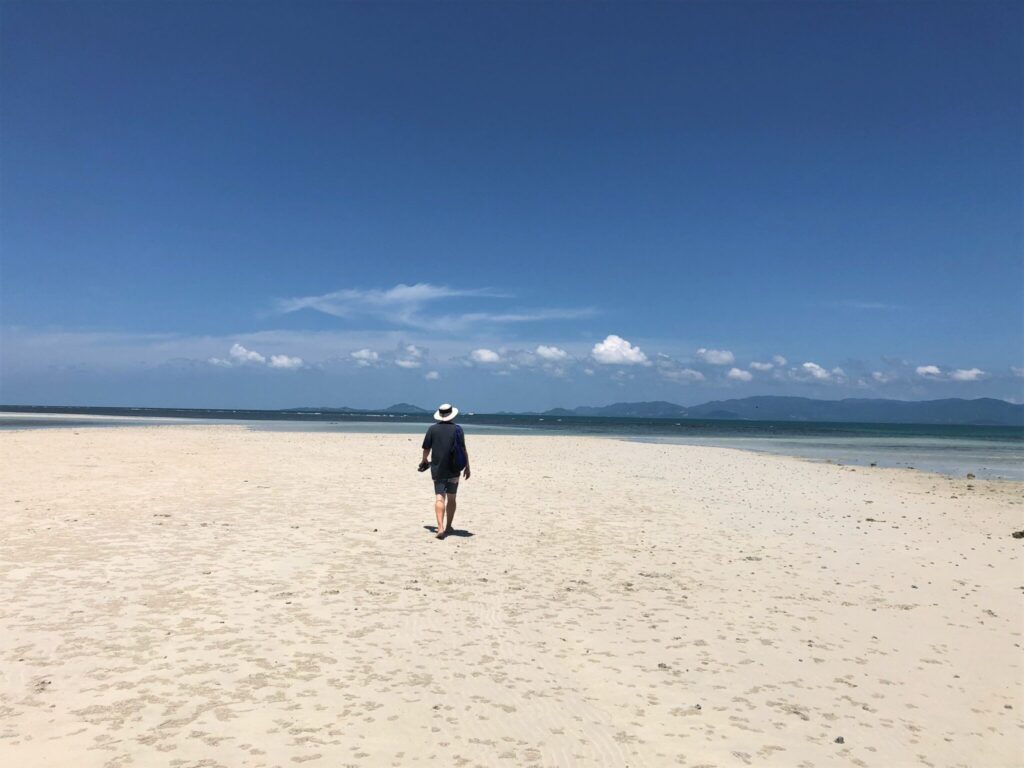 What's Koh Phangan Like?
For most people visiting, Koh Phangan is a party island. It's famous for its monthly Full Moon Party, but there are many other offshoots hoping to take advantage of the popularity of the original. There's the Waterfall Party, the Shiva Moon Party, the Secret Party, the Half Moon Festival, the Jungle Experience party, the OXA Beach Party, and I'm sure I'm missing some. It seems like there was some party most days of the week.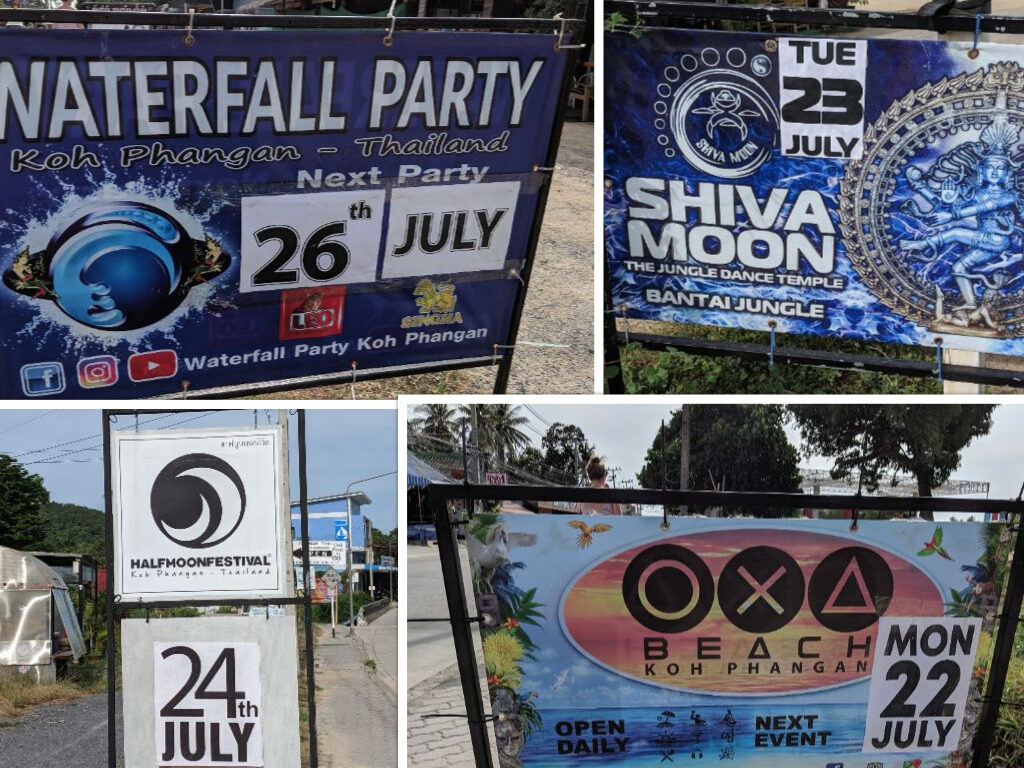 Even if you're not there on one of those dates, you can always stay at one of the party hostels. On our way to the beach, we walked right by the Slumber Party hostel which sports the motto "Eat. Sleep. Rage. Repeat." And they always had music bumping and people drinking by the pool even at 1pm on a Wednesday.
While we enjoyed our time on Koh Phangan, I have to say that the main vibe of the island is not really geared towards us. We are not party people anymore. While I do enjoy a beer or three as you may have noticed if you parse my previous spending report, I like to be in bed around 11pm. Most of these parties don't even start until then. I would bet that's on purpose to weed out us old folks.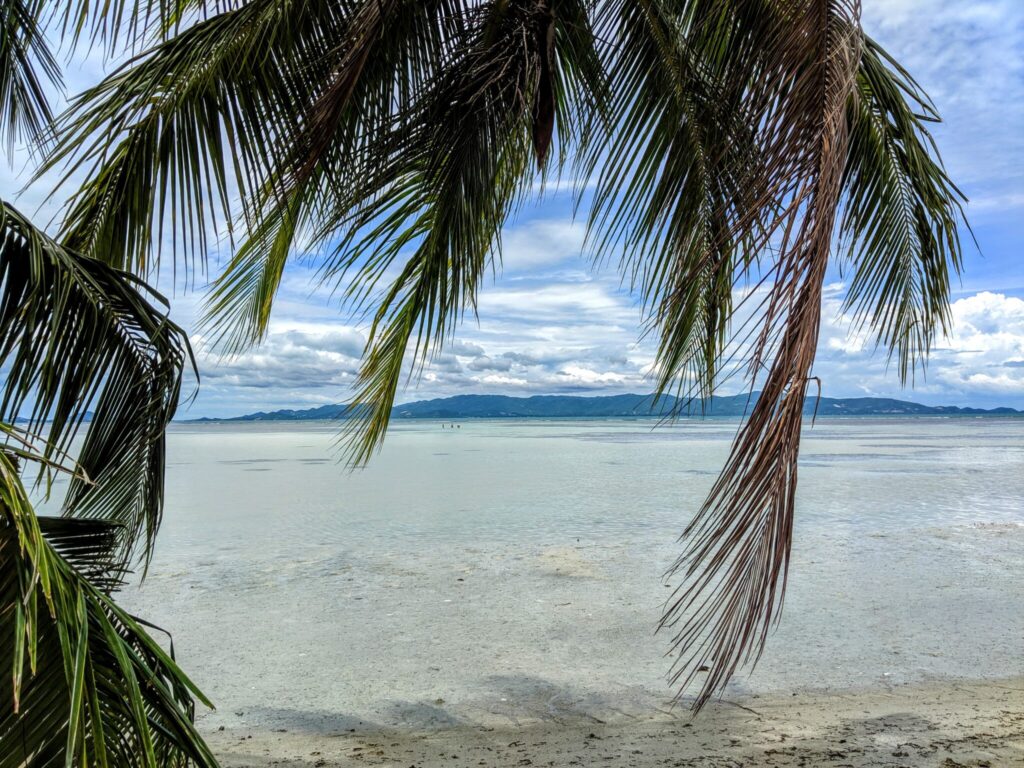 What Else Is There To Do Besides Party?
Within the first hour of being on the island, we saw a tourist limping along the sidewalk with both legs completely bandaged up. We saw another the next day. These injuries were almost certainly from a scooter crash. This coincided with finding a post from Nomadic Matt about Koh Phangan not being the place to learn to drive a scooter due to the hills and poor road conditions. And then another about stupid things tourists do in general while in SE Asia. As such, while we had previously considered renting a scooter and driving around the island, we pretty quickly scratched that idea in favor of enjoying the part of the island close to our Airbnb. No sense in starting our retirement scarred, injured, or dead. We have plenty of time for that.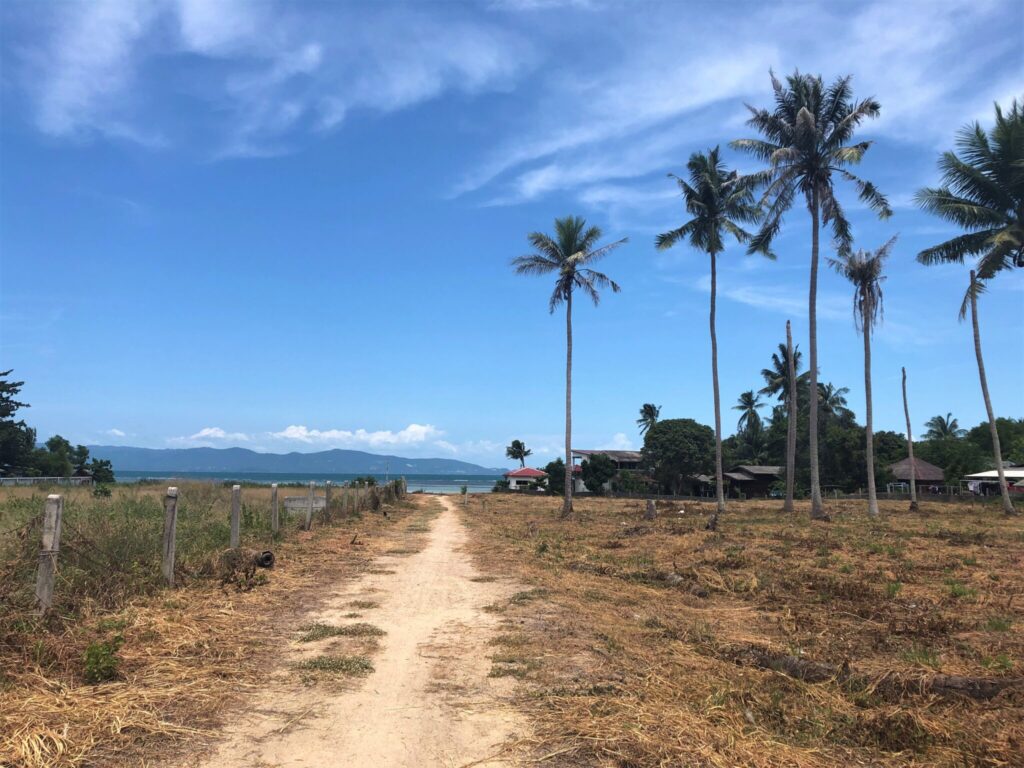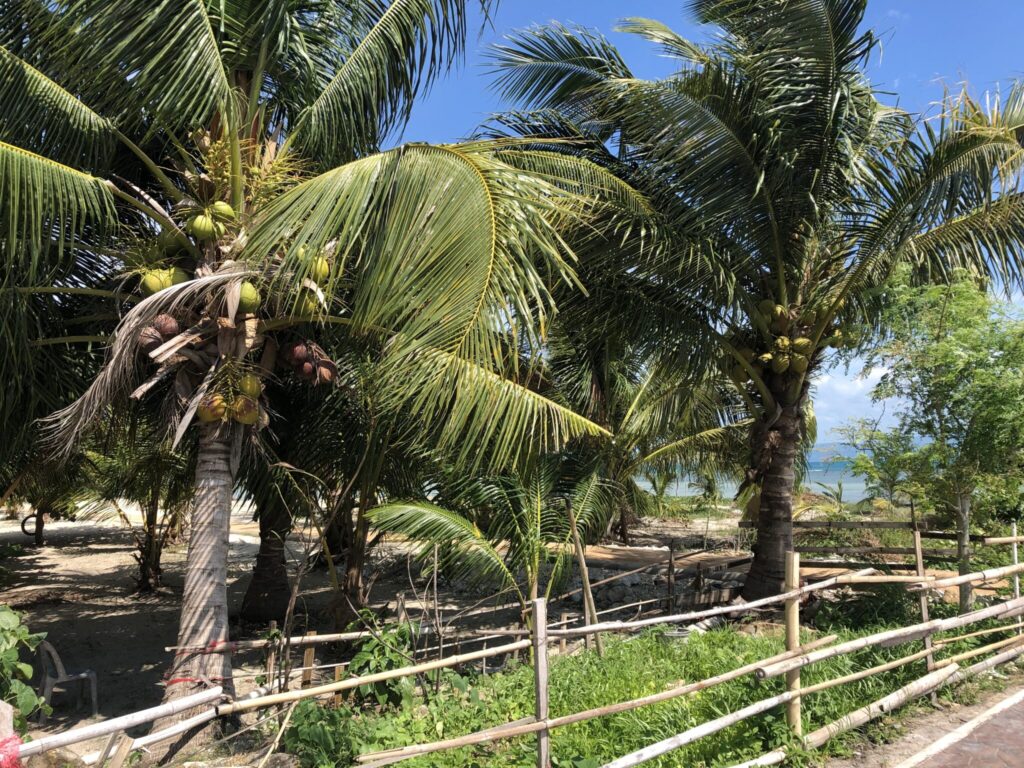 Since we were sticking to foot transportation, we spent a lot of time at the Thongsala beach on the southwest side of the island. We could walk there in about 10 minutes from our house. It was a bit of a mixed bag. The sand was soft and the water was clear, but it's extremely shallow. I could wade 500 yards out into the ocean and only have the water up to my knees. Much further past that was generally dense patches of seaweed or coral, neither of which are too inviting. As such, there wasn't a whole lot of swimming going on. It's more suited to a relaxing float. At least it was a nice respite from the heat.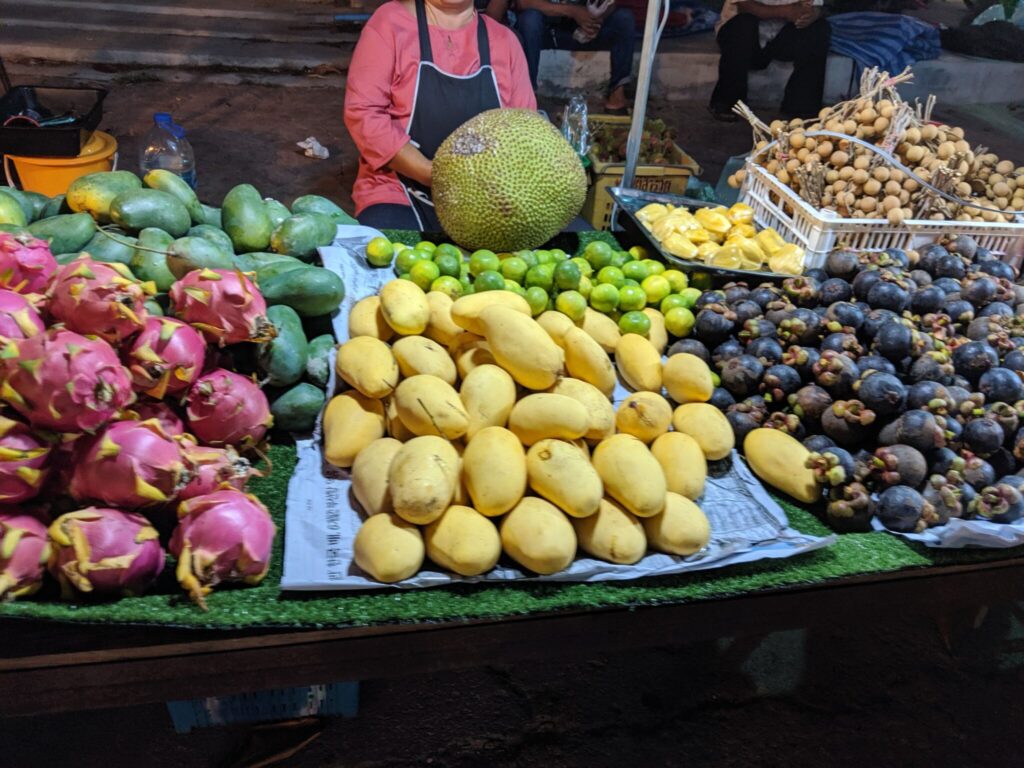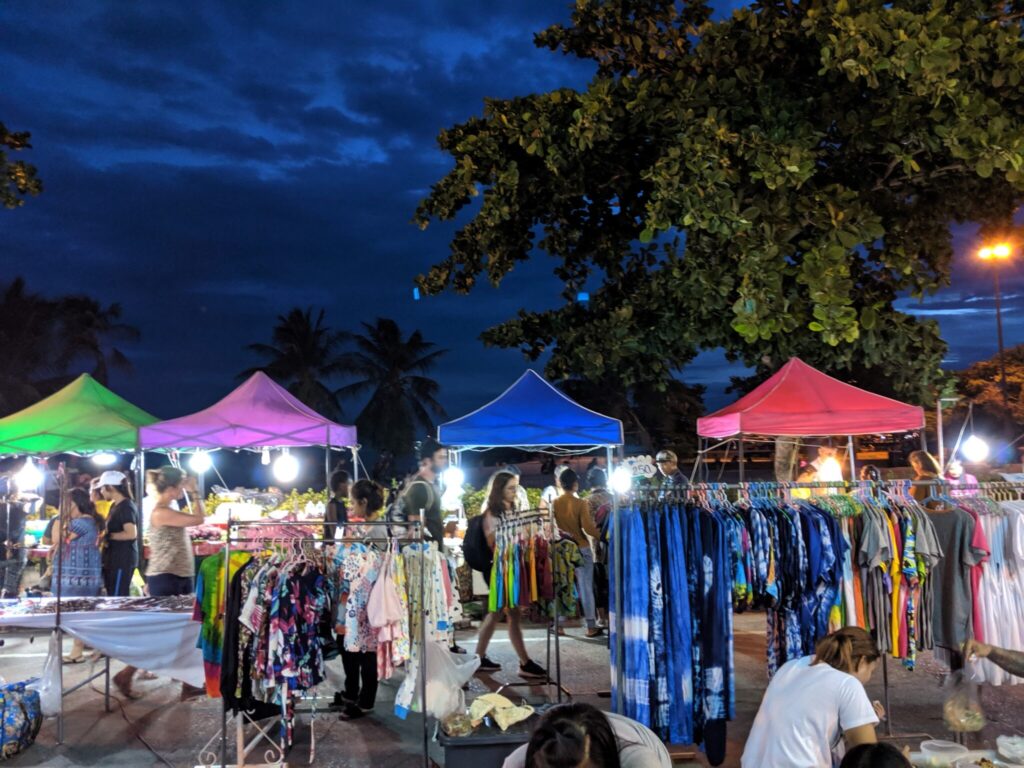 There is a weekly night market that is awesome. It's called the Saturday Walking Street Market and is way bigger than I would've expected for a somewhat rural island. They close off multiple blocks to vehicle traffic and fill them with dozens of vendors selling clothing, jewelry, produce, and prepared food. The food vendors had very diverse specialties and there were hardly any repeats. And of course, it's cheap. For instance, one Saturday Katie and I ate grilled bananas, a coconut waffle, larb, shaved corn with coconut, a curry puff, coconut pudding, and a banana bread muffin for $5.50 total. Well, that's not exactly true. We were so stuffed that we saved the banana bread for Sunday breakfast.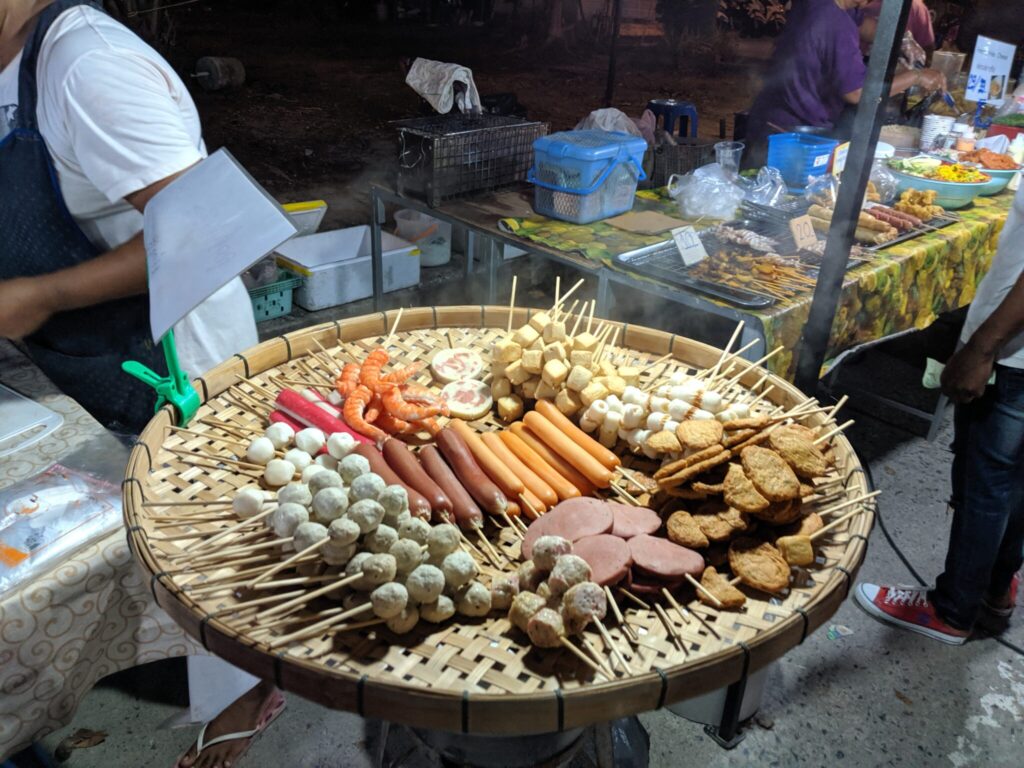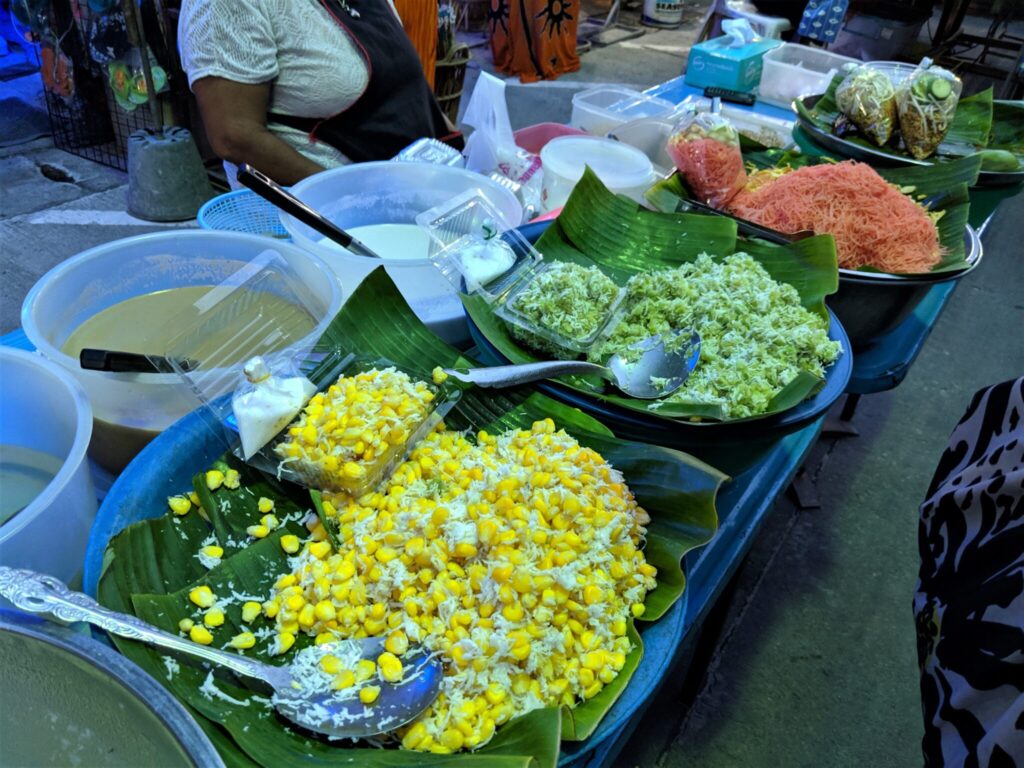 We performed a small community service by doing some trash pickup. While the beaches themselves were pretty clean for the most part, there is always some random piece of plastic floating around. Further away from the shore, there are places on the beach that seem to be de facto garbage piles, including one right by our preferred spot on the beach. We spent a couple of hours on two different days picking up and transporting this trash down the road to the nearest receptacle. I'd say we picked up about 25 grocery-sized bags in total. A cleaner and more beautiful beach was not the only reward for this work either. Not 3 minutes after hauling our last batch of trash bags to the bins, we were walking home and I found a ฿1000 bill on the street. That's like $33 in instant karma! I'd do it anyway, but that sure made it that much sweeter.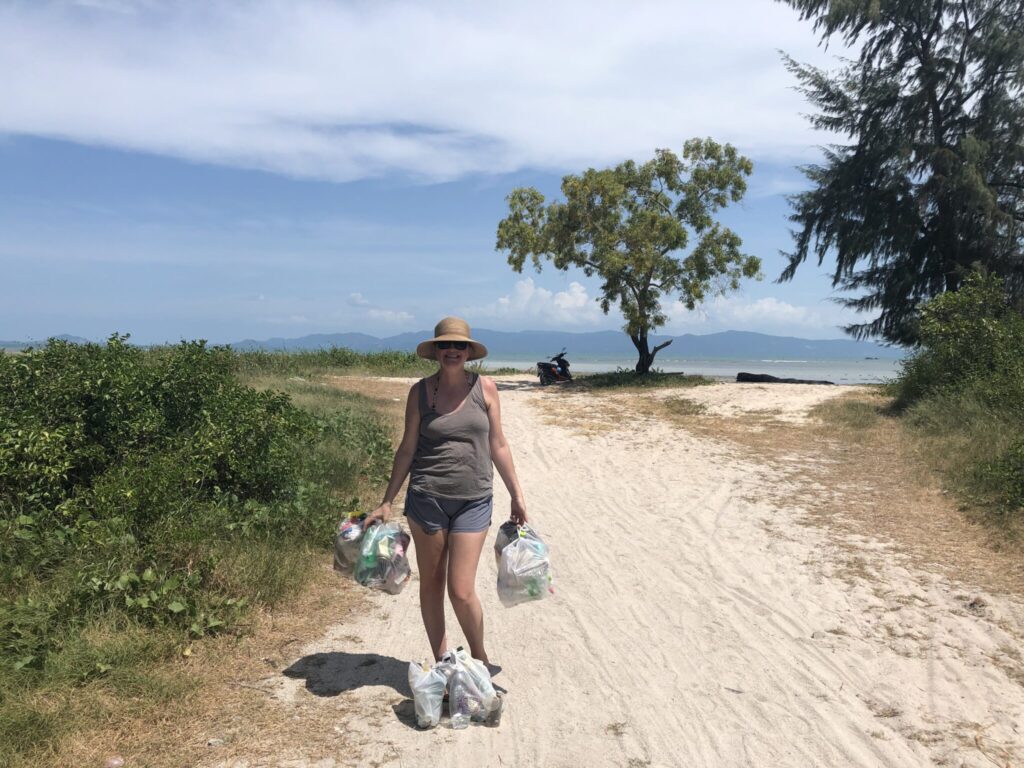 Where We Stayed
We rented a house from Airbnb that was a bit off the main road in a small local neighborhood about a mile east of downtown Thongsala. We paid $314.41 for 14 nights, or $22.46 per night.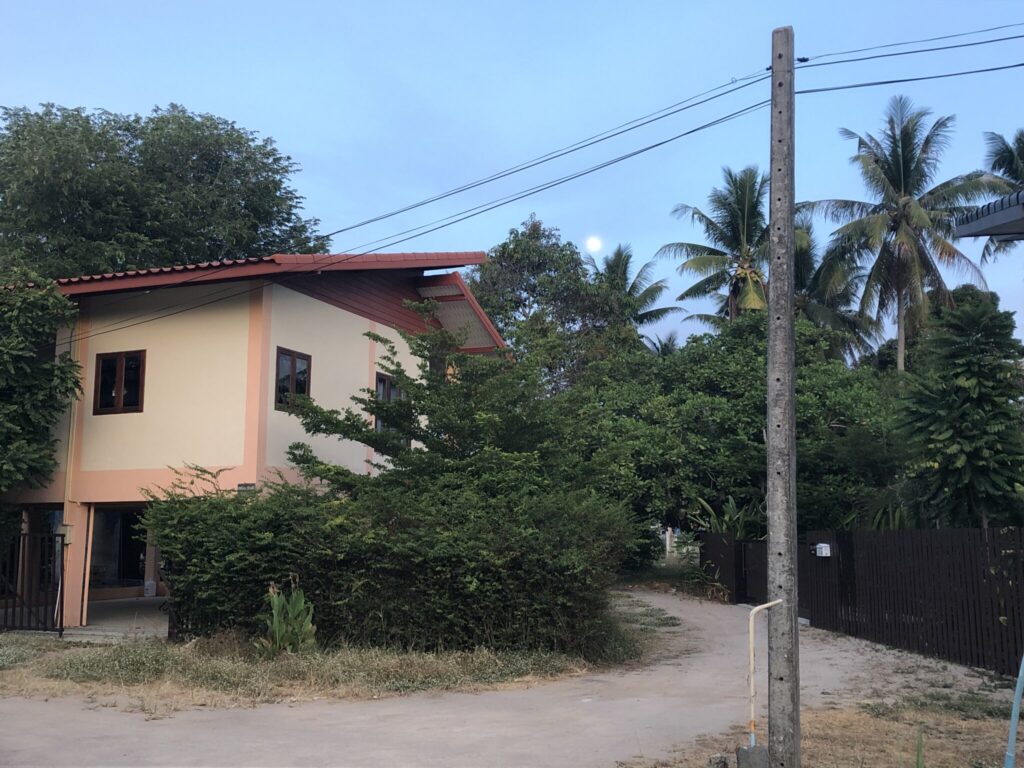 It was bigger than we expected from the pictures, which is always a nice surprise. The one bedroom house is built upon stilts with windows on all sides, so we were able to get a nice cross breeze. As is common in the tropics, we shared our accommodations with the local gecko population. They eat mosquitoes and are super cute, so we were happy to have them.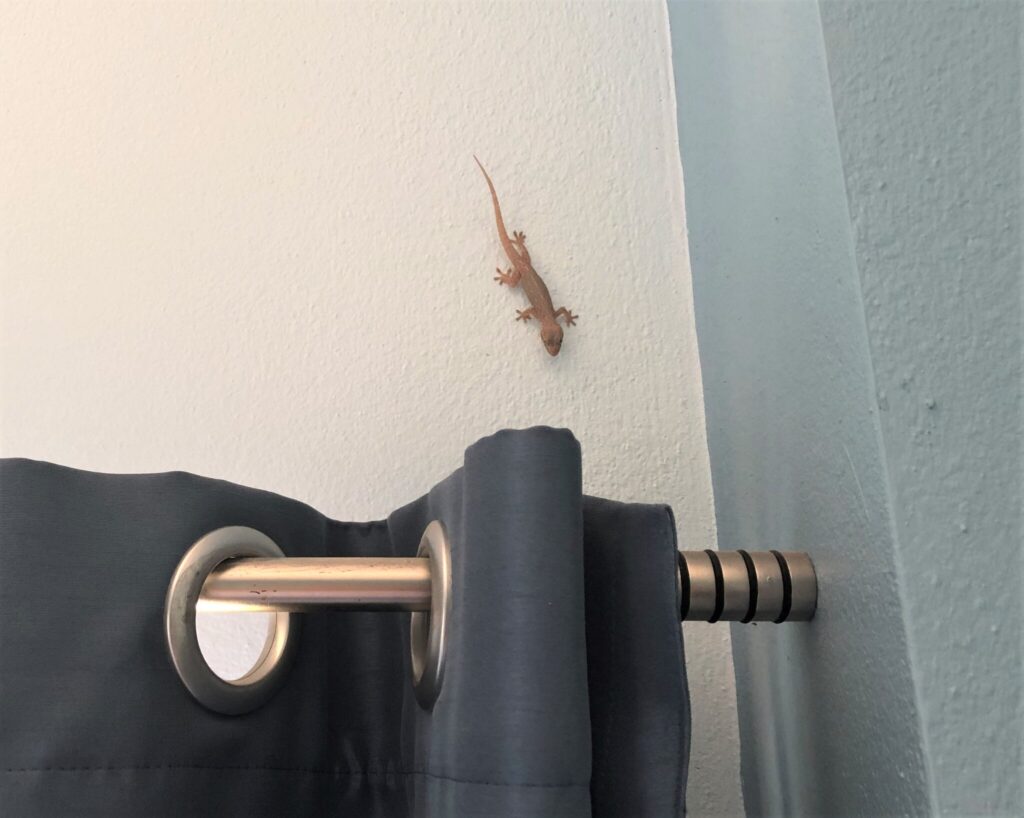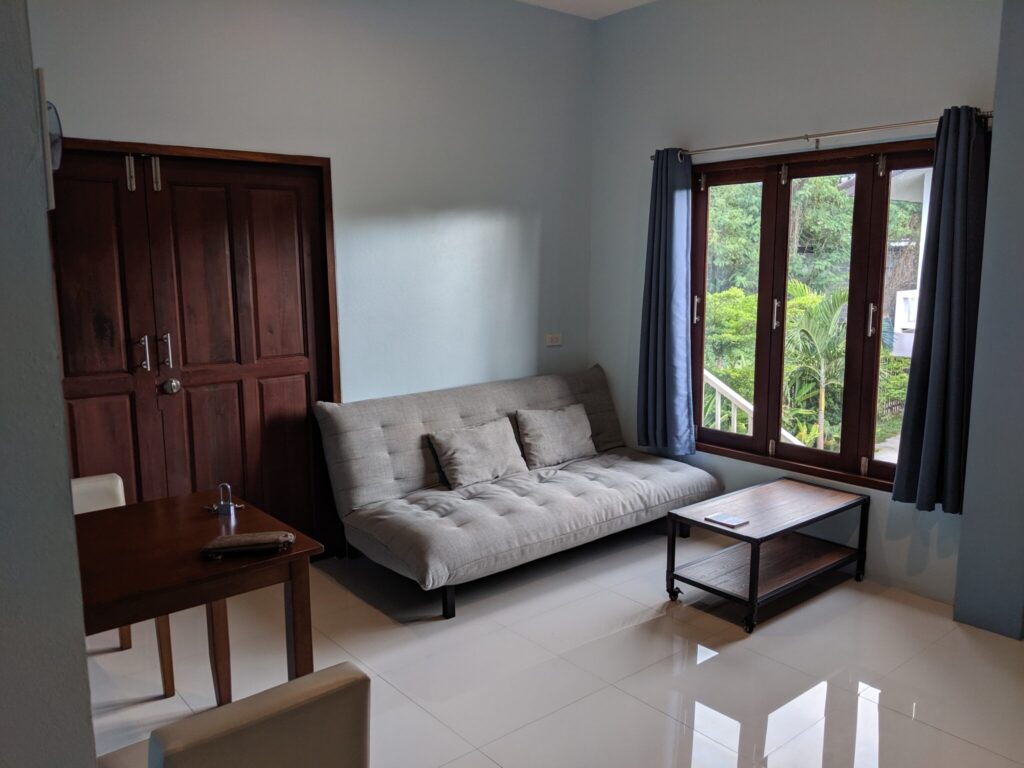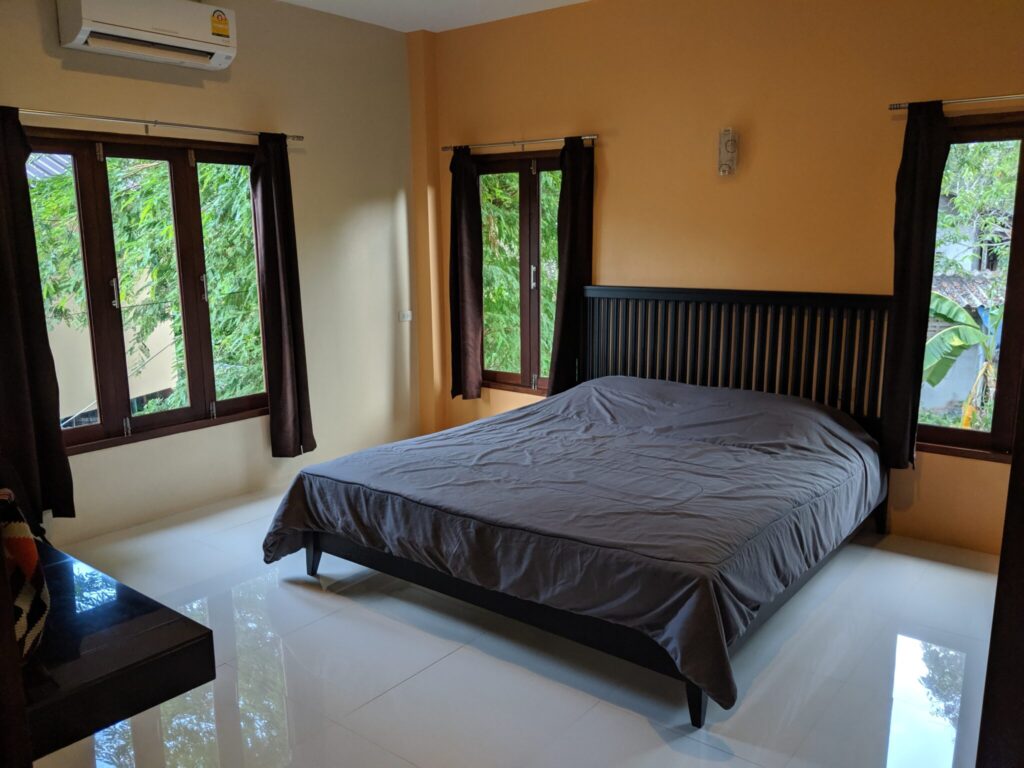 Our neighbors had a couple of roosters and a caged myna bird, so there was always something chirping or crowing. I personally needed ear plugs to be able to sleep past dawn but it didn't seem to bother Katie. Either way, that's just part of the local charm and not really something to complain about as we were very happy with the house itself.
What We Spent
All totaled, we spent $744.27 during our 14 nights on Koh Phangan plus 1 night in transit getting there from Bangkok. When we add in our prorated bills like cell phones, insurance, and MLB.tv, that brings the total amount spent to $840.47 or $56.03/day. Combined with our Bangkok spending, we have spent $1770 during our first 29 days of traveling. That barely covers rent alone in Silicon Valley.
Random Fun Stats
Just like in Bangkok, we again ate 60 eggs in 2 weeks. That probably seems like a ridiculous amount, but it basically equates to one meal a day with 2 eggs each. We could probably make due with a couple less, but they sell them in flats of 30 for only a few dollars. This probably wouldn't be healthy while eating an American diet consisting of meat with most meals, but we're eating a lot less meat than when we had a permanent home with an oven or grill. Instead we are enjoying much more fruit, veggies, and rice.
I lost count of the number of dragon fruits that we ate, but we ate them most days, and sometimes more than one. We definitely ate more of them than in Bangkok. I would guess high teens. They are cheap (around $.40 each), delicious, and ready to eat after a simple chop in half. Tough to beat that.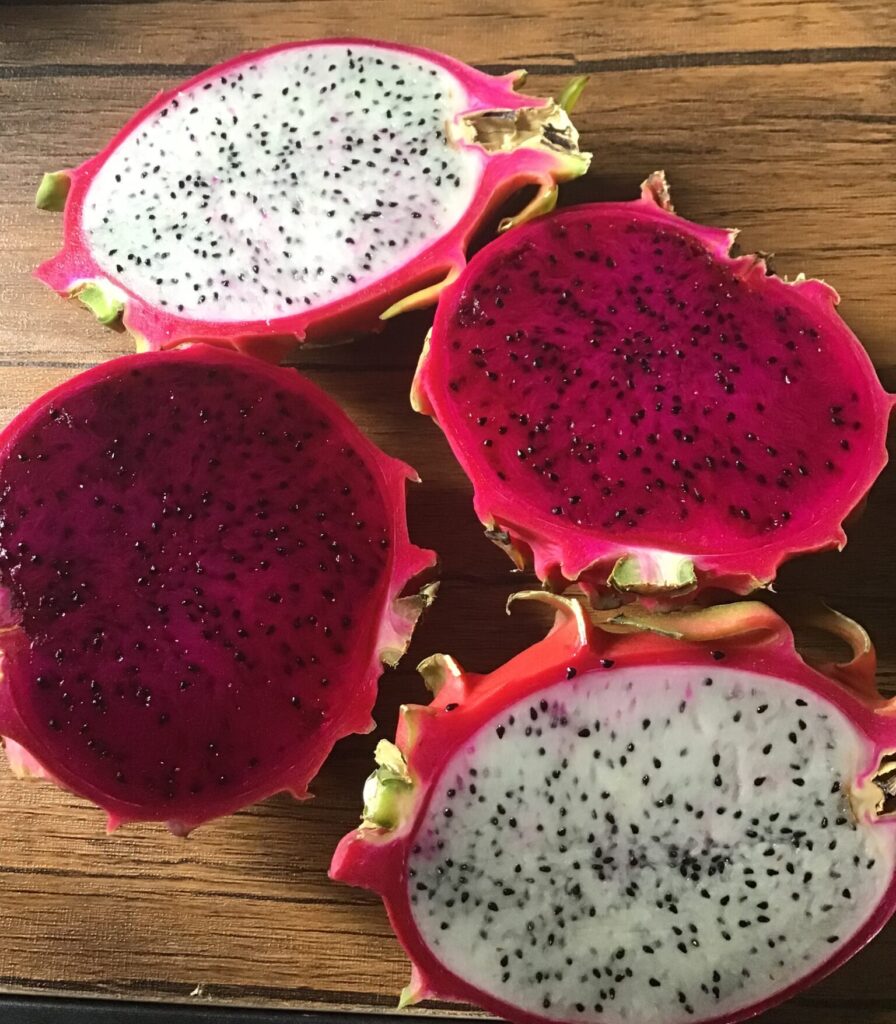 We made it to the beach on 11 out of 13 days during our stay. One day we needed a sun break after getting a bit too much the day before and the other non-beach day was spent exploring town and doing some chores like laundry and getting visas printed for when we leave Thailand and head to Cambodia next month. As you can see, it's not all fun and games. Just 85% of the time.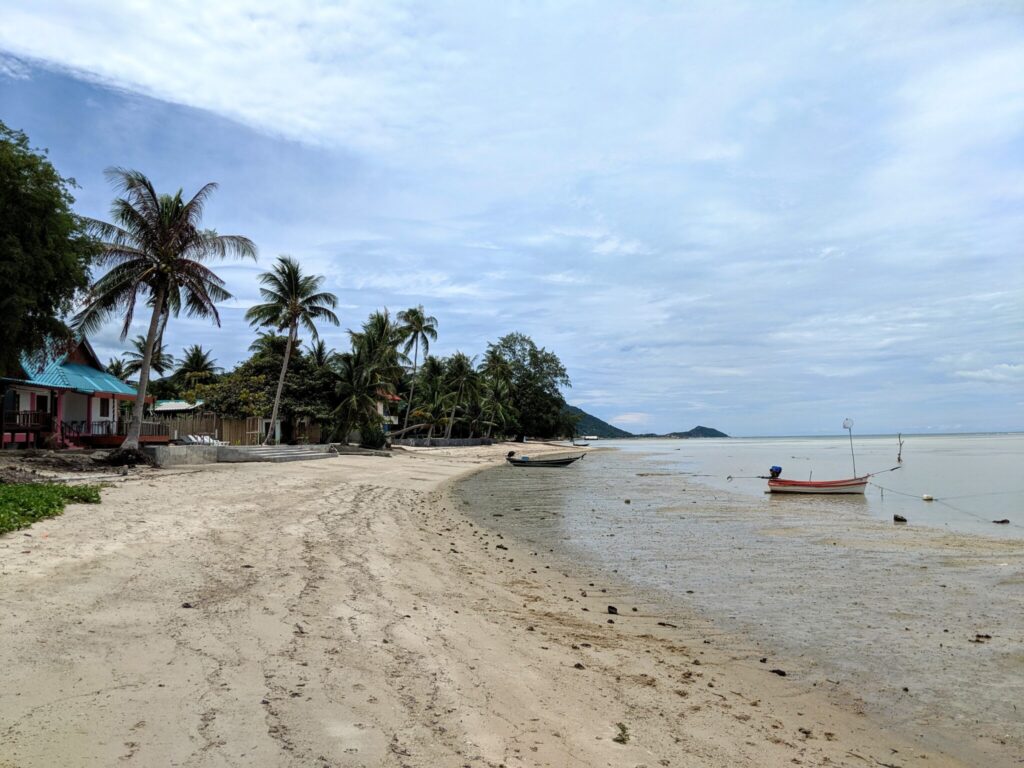 We played 22 games of cribbage and I won 12. My winning percentage was not quite as good as in Bangkok, but I'm enjoying the winning streak it while it lasts.
I don't have walking stats or really even all that many pictures from our stay because we mostly tried to not take anything of value to the beach with us. Our phones and money stayed at home when we were there. That way we didn't have to worry about them getting stolen or damaged when trekking hundreds of yards out to try to find water that would be deeper than knee level.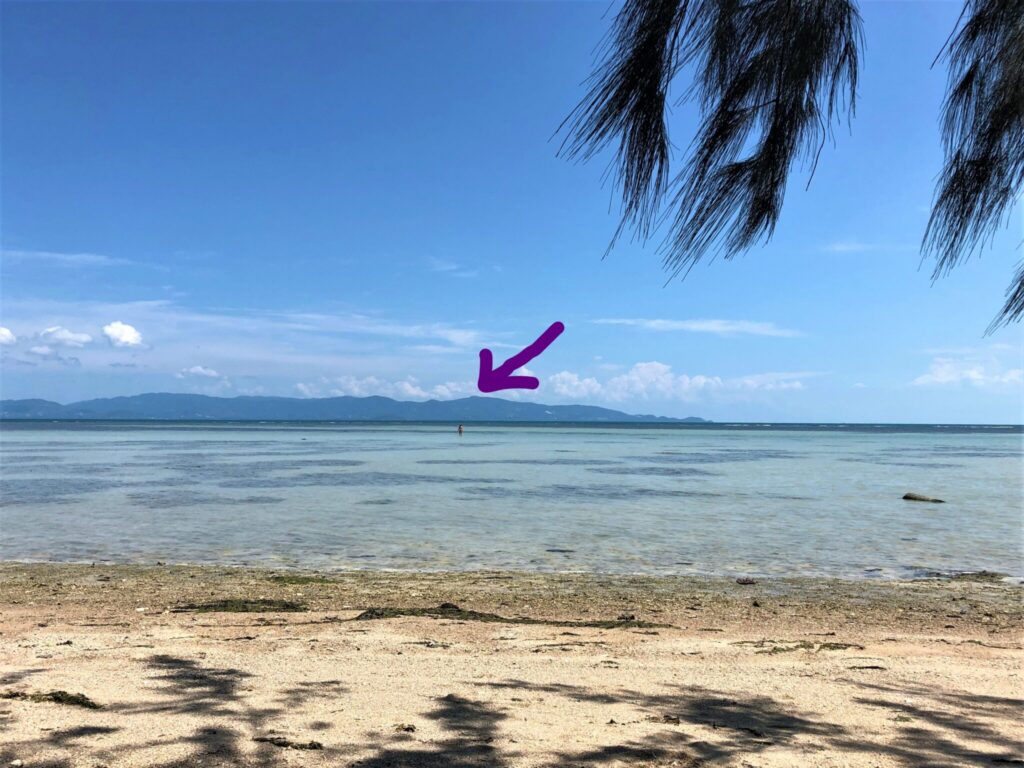 In summary, we were pretty darn lazy during our two weeks on Koh Phangan. While enjoyable, I'm not sure the island is geared for us older people. At least, not towards us timid ones who don't know how to drive scooters yet. We just moved onto neighboring Koh Samui which is more developed and less about providing a place for the party crowd, so we'll see if the laziness follows or if it was just a byproduct of staying in a spot with not a lot going on. Either way, we'll continue eating well for cheap and soaking in the Thai hospitality.
(I had to close the comments section of this post due to spam. Sorry!)