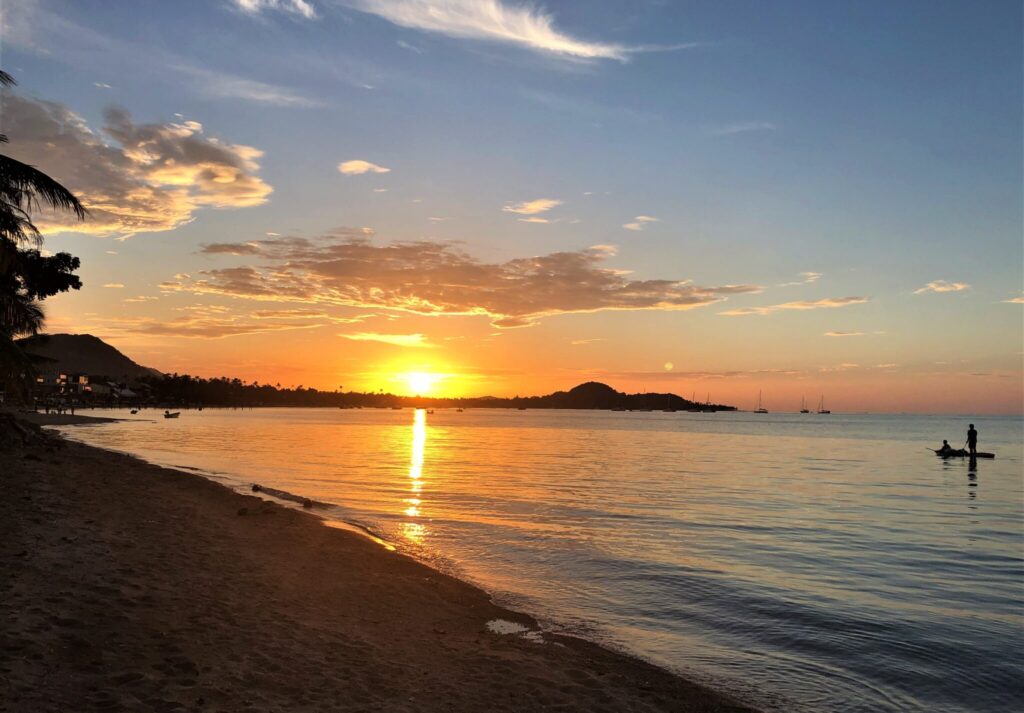 There's a Thai tourist slogan that applies to nearly everything. The catch phrase Same Same But Different can be seen on t-shirts and other items in any souvenir store. We even stayed near a restaurant named after the saying on Koh Phangan. While I haven't actually heard it spoken yet, it's clearly part of the culture, at least in tourist areas. The idea is that they have whatever you're looking for, but it might be just a little different. You want a Louis Vuitton bag? They have those. Is it authentic? Yes, same same but different. (So that means no, but it's a good fake and you can't tell. Plus, it's priced right.)
The slogan also applies to our time on Koh Samui as compared to our previous stop on Koh Phangan. While Koh Samui is bigger and more developed than its northerly neighbor, the beach, weather, markets, and our activities were all pretty much the same. But of course there were many little differences and at least one big one when it came to the ocean.
What Was Koh Samui Like?
We stayed on the north side of the island near Bophut Fisherman's Village, which has a nice (mostly) pedestrian strip of bars and restaurants along the beach. Just past this restaurant row are a handful of fancy resorts next to the nicest beach in the area. The restaurants on the strip are catering to this resort crowd and offer top notch seafood with gorgeous views at a premium price. We just enjoyed the views and displays from a distance though, as the price of one meal at most of these places could feed us for a whole week at the night market.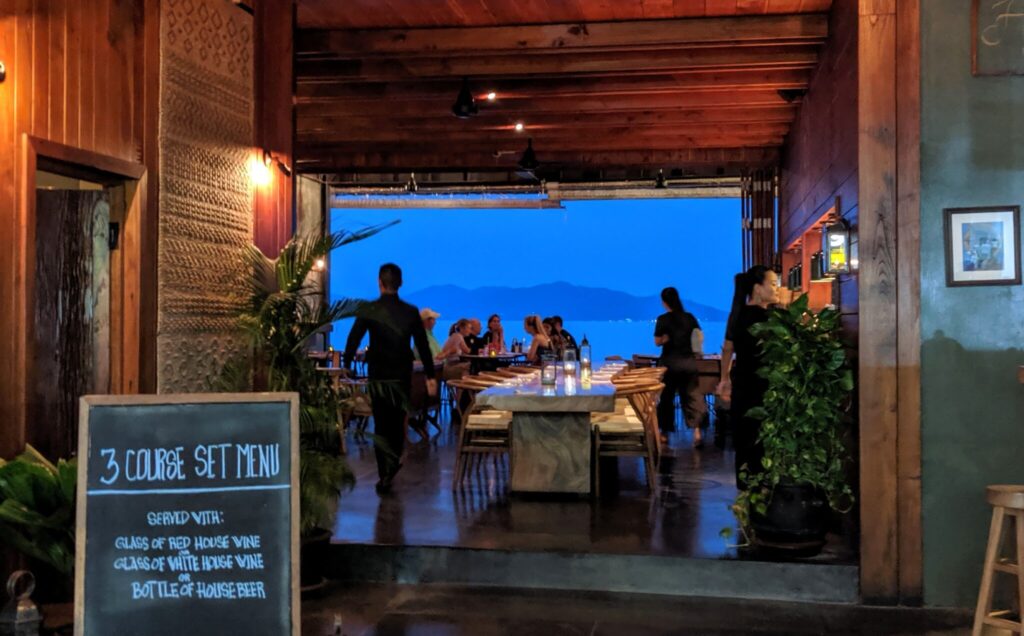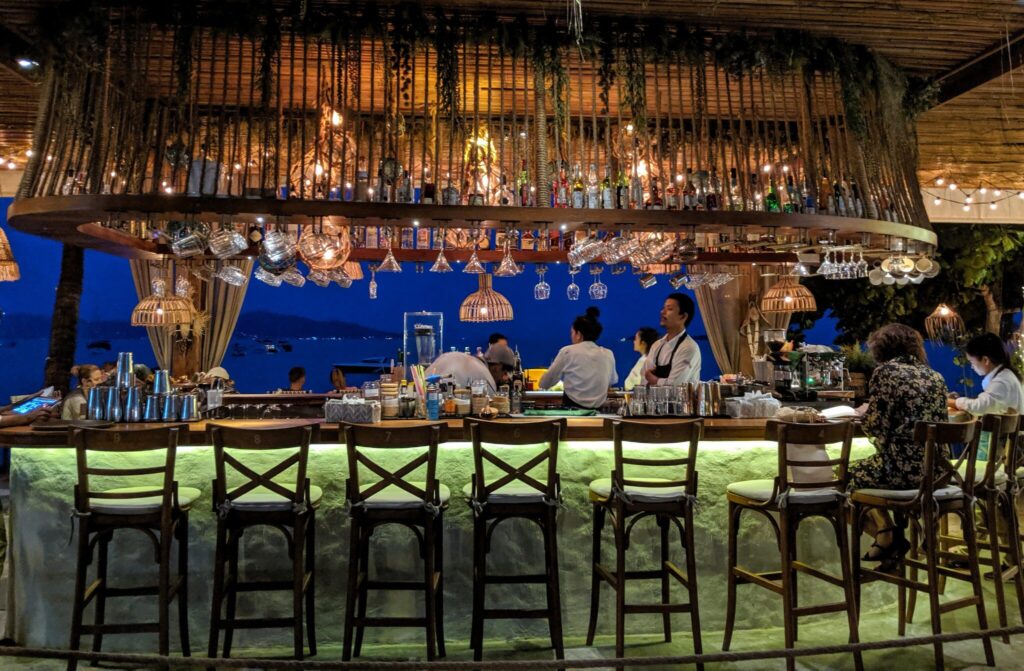 The official night market happens every Friday and is spread out across many streets selling anything and everything you could want. There are lots of professional sellers offering clothing and accessories including many name brand knock offs. The market is big enough that there are multiple vendors carrying the same items, and in this case, they are not even "but different". Since we aren't really buyers of anything that takes up space, the food vendor portion is our favorite section of the market. They had lots of great options.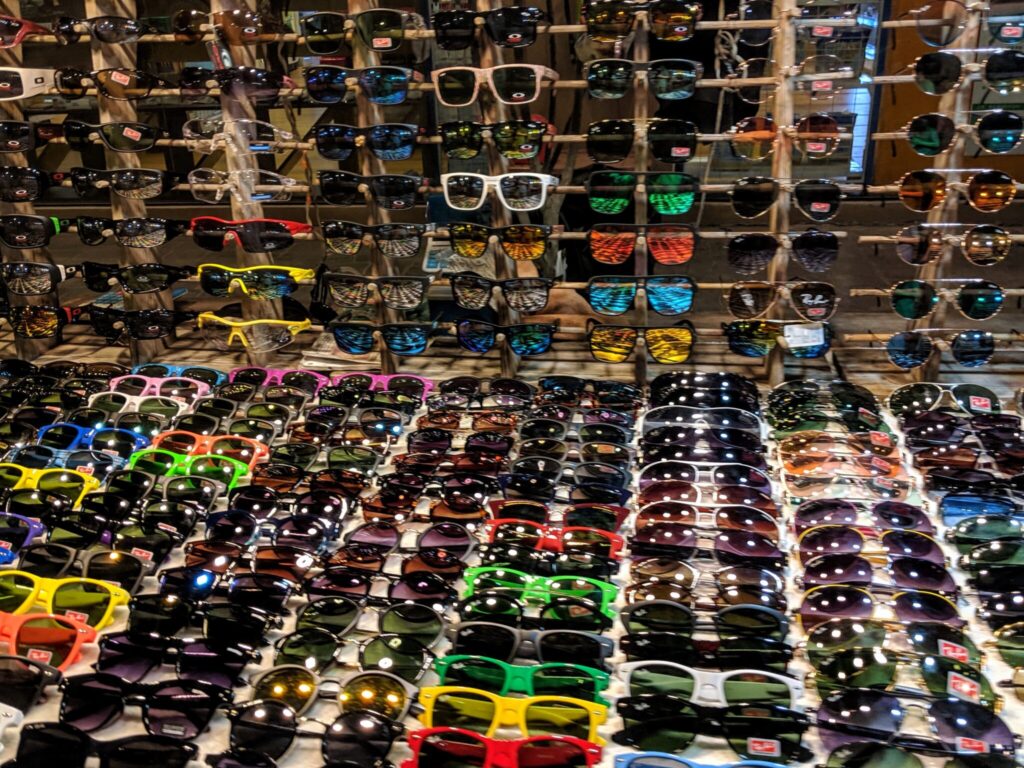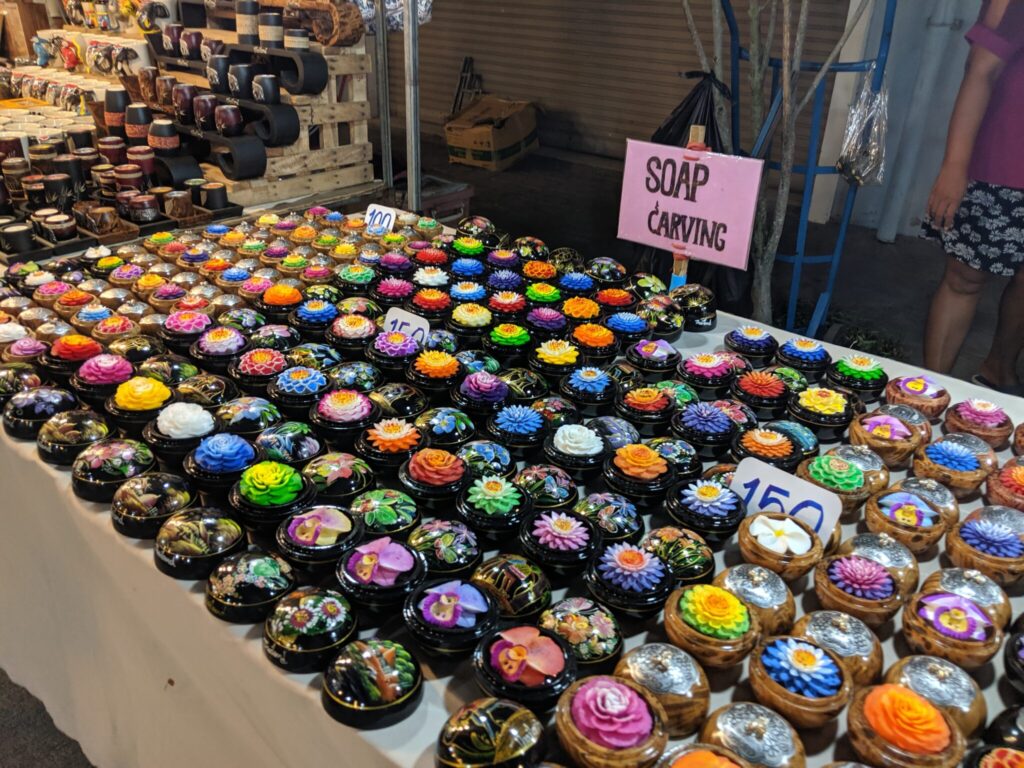 My favorite was a ridiculously tasty Italian-style porchetta sandwich. It may have something to do with the fact that this was the first bread I'd consumed in over a month, but it was easily the highlight to my Western palate. The chunks of roasted and seasoned pork are covered with a vinaigrette and piled onto a fresh roll with lettuce and tomatoes before getting warmed under a panini press. It was so delicious. And luckily for me, the food vendors show up not just on Fridays, but also on Mondays and Wednesdays as well. I had 4 of these sandwiches during our two week stay. Mmmmm, Thai food.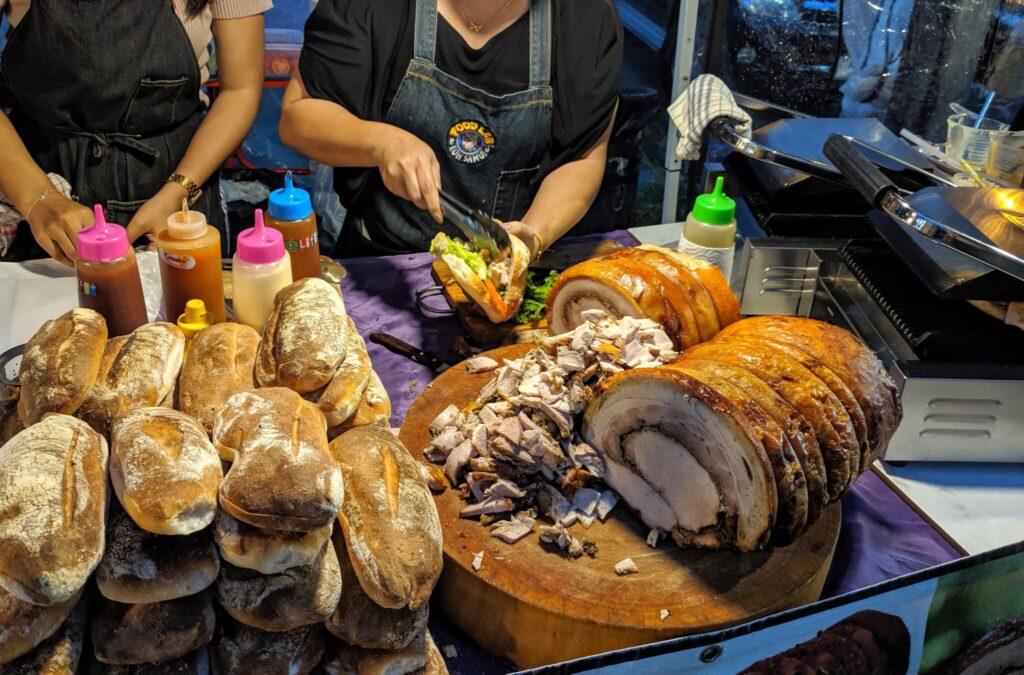 Not everything I ate was familiar though. I've been trying to work up the courage to try durian and I finally took the plunge. This pungent fruit seems to elicit strong reactions of love or hate with little middle ground. The last hotel we stayed at has a policy of no smoking, no pets, and no durian. There are signs in the Bangkok subway banning the smelly fruit. Airports ban it as well. Wikipedia states that "[t]he unusual flavour and odour of the fruit have prompted many people to express diverse and passionate views ranging from deep appreciation to intense disgust." But it's for sale everywhere and much more expensive than other fruits, so some people must really love it to shell out 4-5 times the price. And since I like nearly all fruit, I felt like I needed to try it.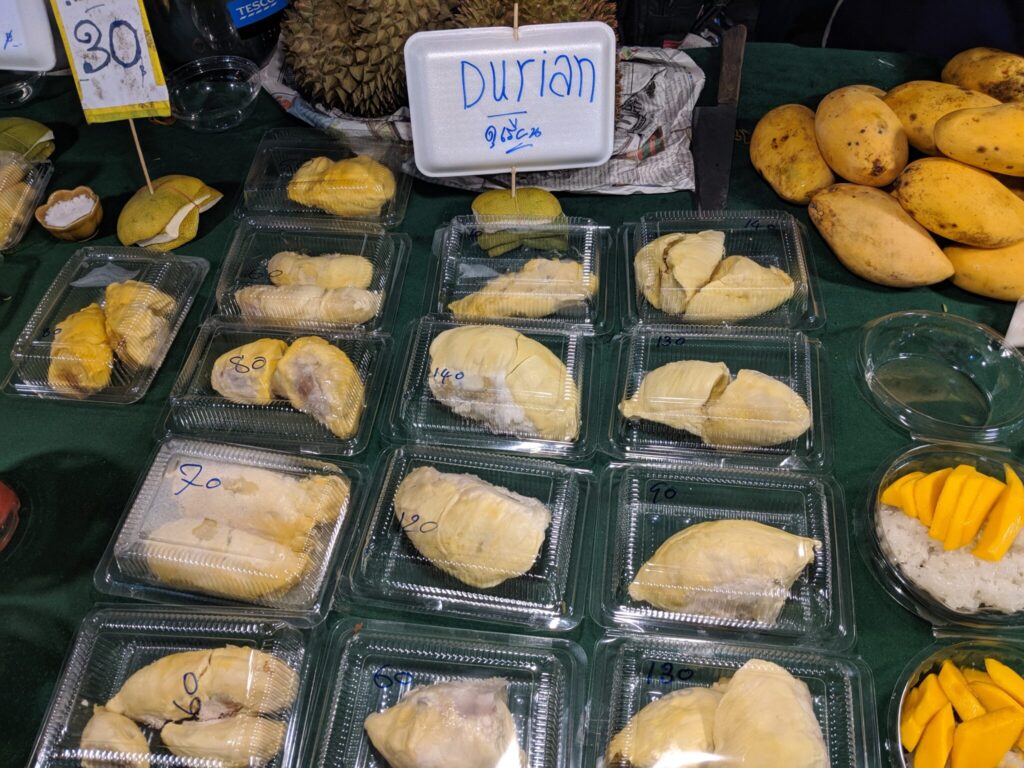 Despite the strong reactions that most people seem to have, I simply thought it was okay. I wasn't put off by the smell, so that was a good start. Unlike most fruit, there's basically no sweetness to the flavor. It's initially sharp, with almost a slight hint of garlic or onion, but then it mellows into a creamy sort of almond flavor. The texture is pretty soft, like a firm custard, and it's wrapped around a large seed. I didn't love it, but I'm glad I tried it. But of course having never had it before, it's hard to know if my sample was representative. Katie says I need to try it again to make sure that I didn't just get a bad one. We'll see. I might wait a few weeks.
Not Everything Was Great
Other than going to the market, most of our activity was focused around the ocean. Despite being able to see Koh Phangan across the water, the swimming was definitely not the same. Instead of being shallow, it got deep almost immediately. Recent storms and more depth meant the water was not clear like the shallow waters of the neighboring island. And within that opaque water were thousands of small jelly-like creatures. While swimming, one would hit our hands every few seconds. It really freaked us out!
It's a very unnerving feeling to be swimming and feel something in the water that you can't see. But they didn't sting, and there were a lot of other people in the water, so that ruled out a jellyfish swarm. We did manage to catch a few in our hands. They were gelatinous blobs about the size of a quarter and were almost entirely translucent. They could've been underdeveloped jellyfish without tentacles, but I actually think they were some kind of salp. I had never heard of salp before furiously researching what in the hell we kept touching in the ocean, but after a few hours of google searching, I'm pretty sure that's what they were. Luckily, whether they were salp or one of their cousins, they were harmless.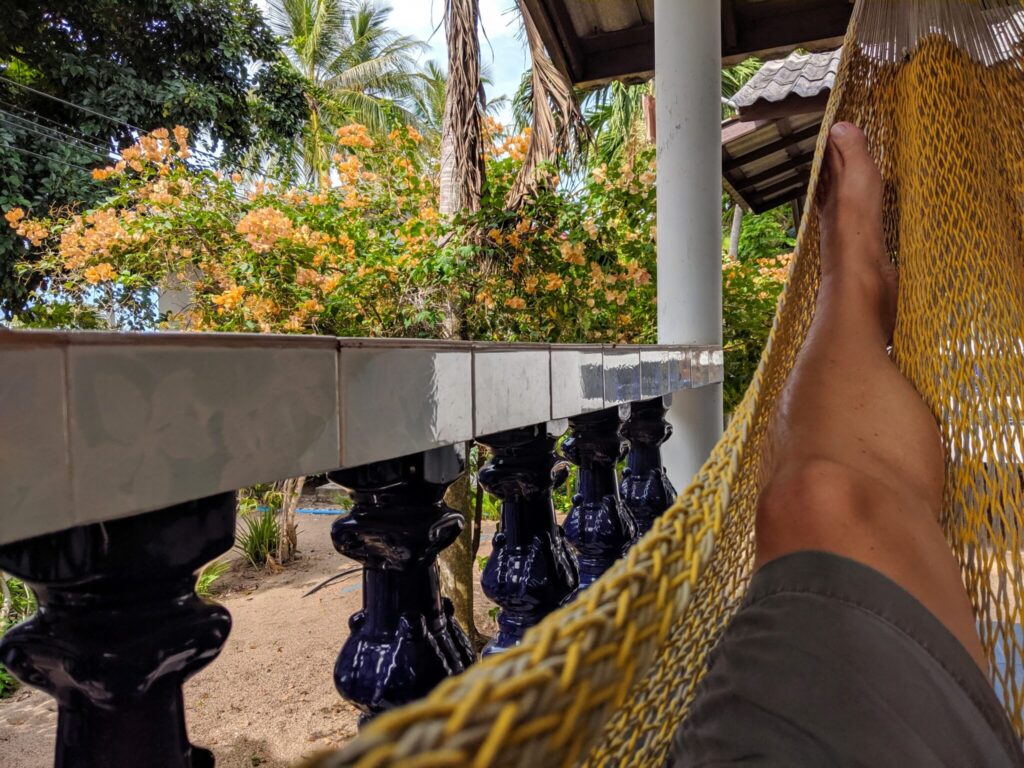 Because of this, it took us a few days to be able to enjoy swimming. We initially stuck to the shallow waters, so that we could bolt to dry land quickly if needed. We had to continually ignore our instinctual reaction of panic when coming into contact with them. As with most things, it became easier with practice. Catching them also helped as we could see what they were. And they started to dissipate after the first few days, so that by the second week, they were more of a rarity than the norm. Simply touching fewer of them was the biggest boost to our ocean enjoyment. We were able to venture out deeper and even became comfortable enough to swim a few laps within the roped off swimming areas in front of the fancy resorts.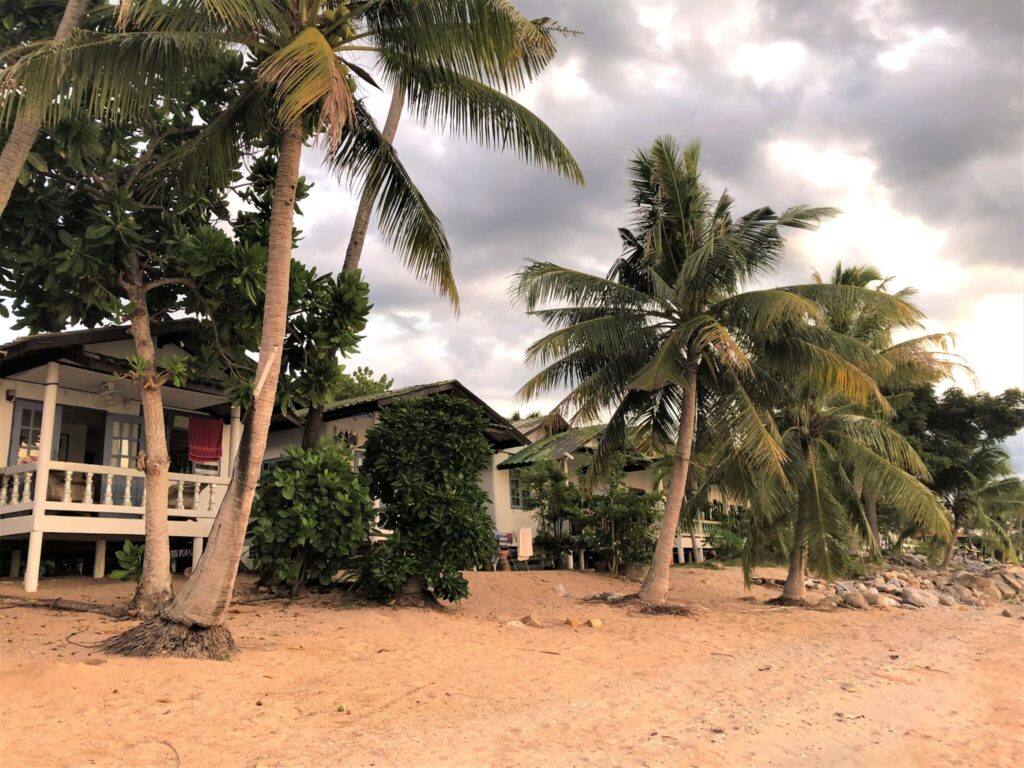 Where We Stayed
Like our previous stop, we again rented a stand alone house, but this time we splurged on one that was right on the beach. Our beach bungalow from Airbnb was steps from the water and cost us $431.89 for 14 nights, or $30.85 per night. The location was amazing! Instead of a 10 minute walk to the ocean, we could be there in 10 steps. We could hear the surf crash 24/7 which was awesome. Unfortunately, we couldn't swim right outside of our front door due to coral and mud, but that wasn't really a problem. So just like in Koh Phangan, we walked 10-15 minutes from where we stayed to swim. Same same, but different. At least this walk was along the beach the whole time.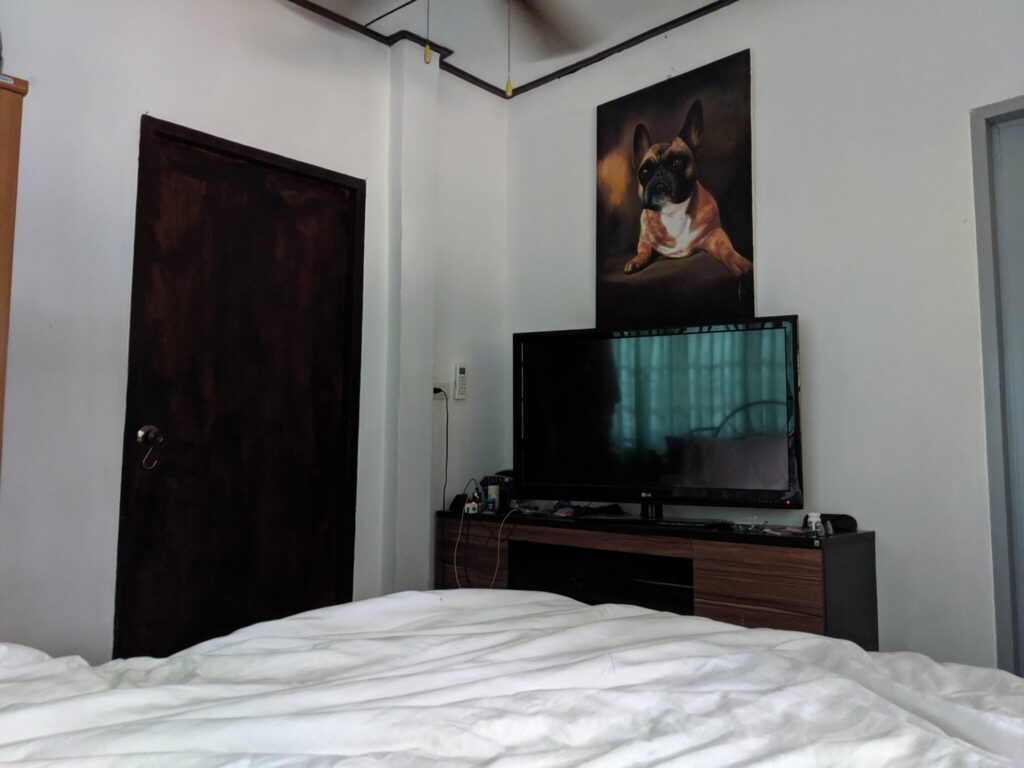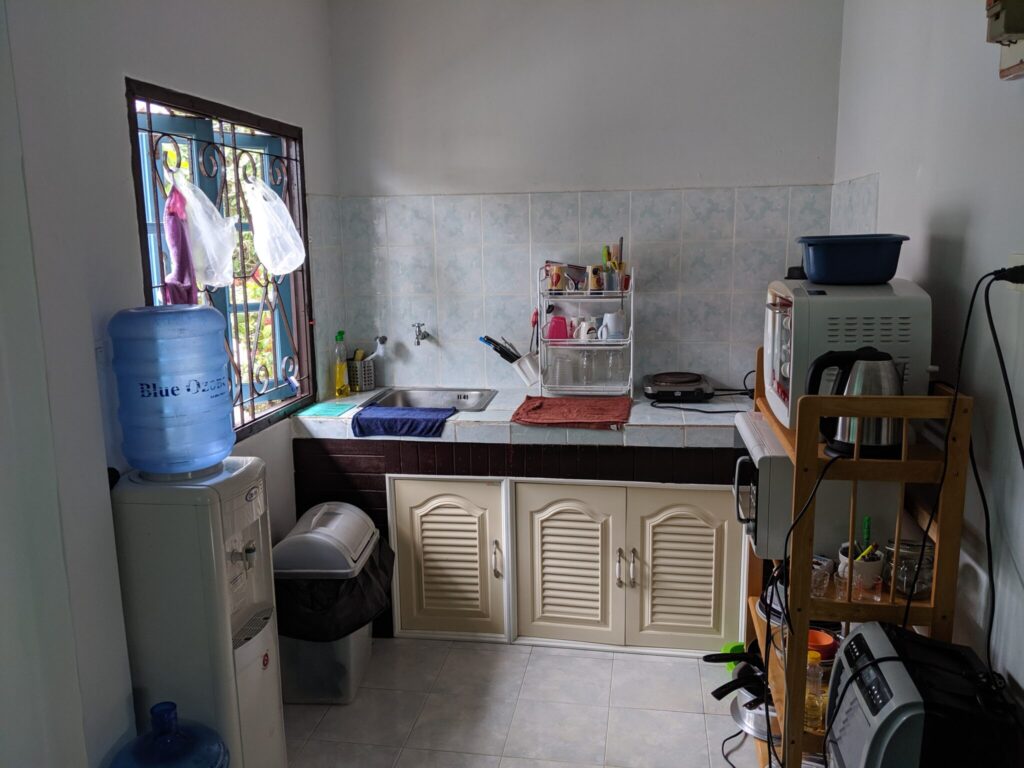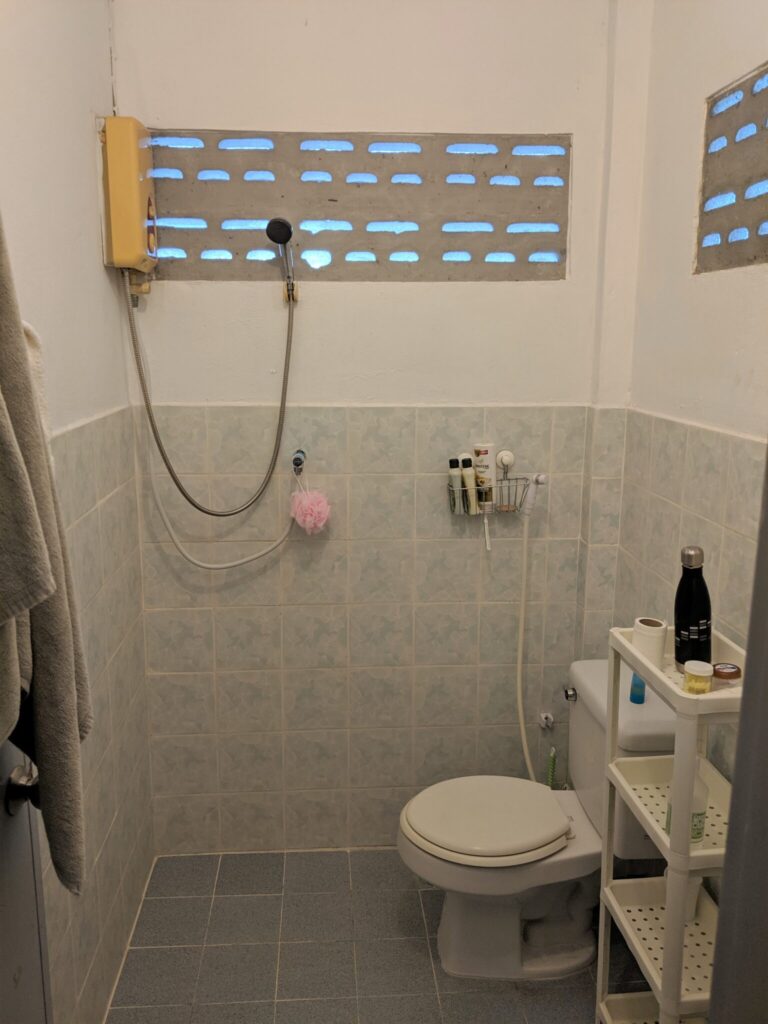 The house itself was both the most expensive and the crappiest of the places we've stayed so far, but we weren't disappointed. Being able to hear the waves crashing and having a front porch with a view of the ocean made up for it. The bungalow also came with a pair of neighborhood dogs that had decided to make our porch their own. Or more accurately, we decided to stay at the house that included their porch. This wasn't mentioned in the Airbnb listing, so it was a nice surprise to us animal lovers. After they realized that we weren't going to kick them out, we quickly made friends.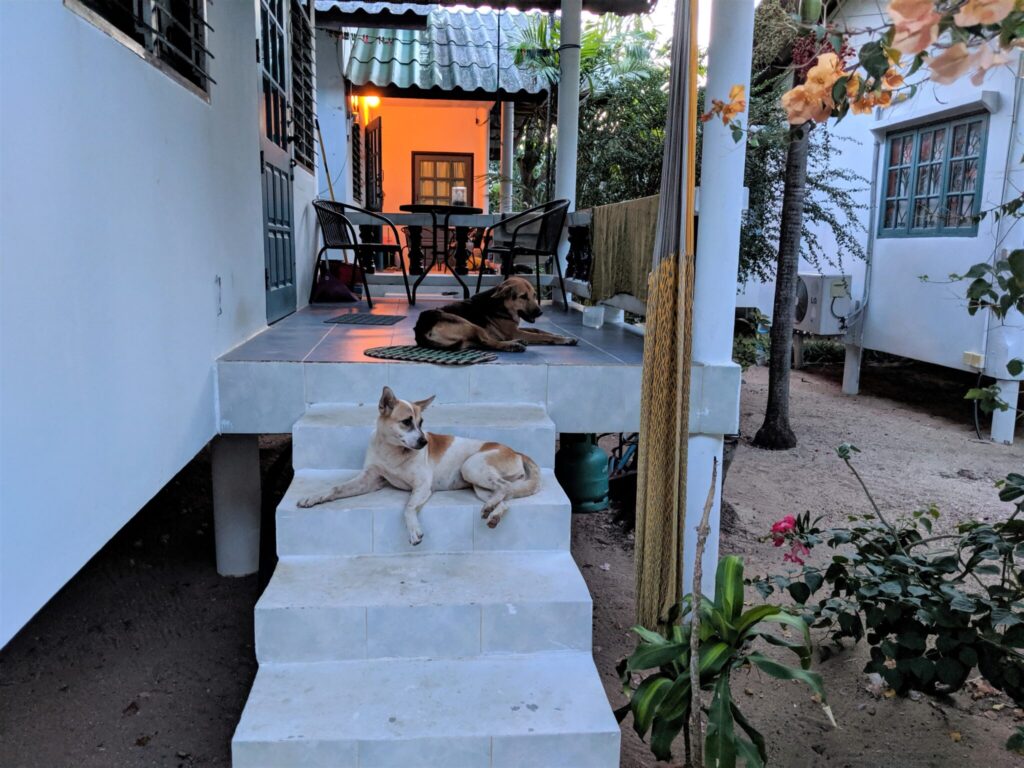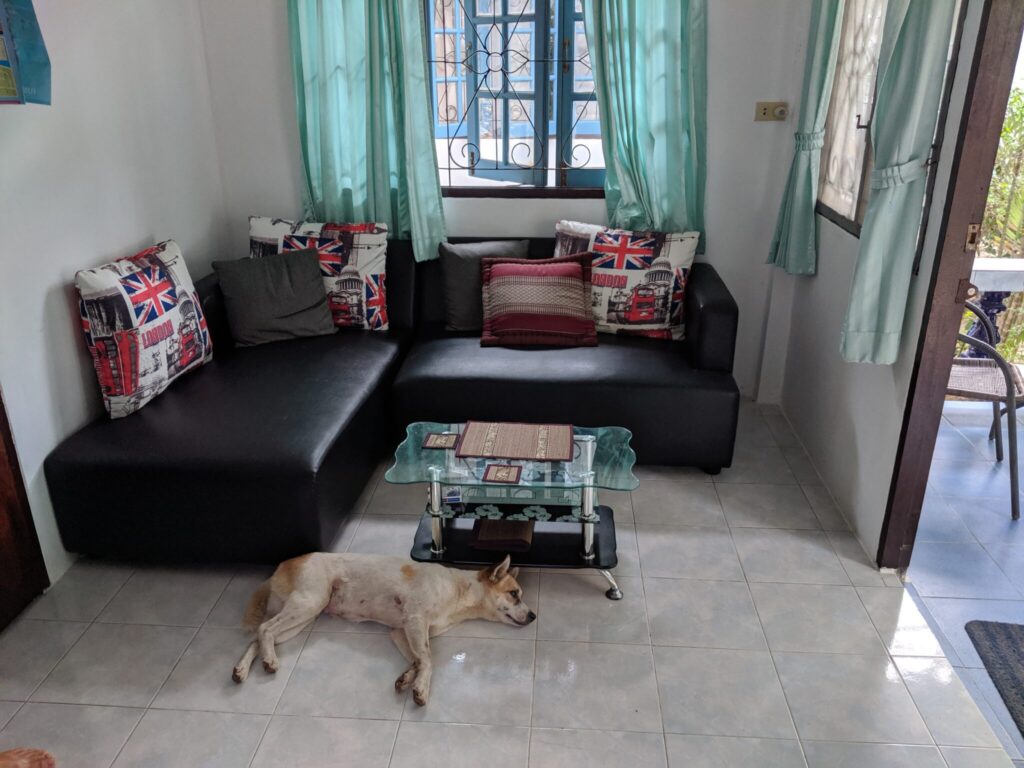 Having dogs around wasn't all positive though. One of them used Katie's Birkenstock sandal as a chew toy one night after we left our shoes out on the porch. It was completely destroyed and she is down a pair of shoes for now. We couldn't pin it on our friends specifically, as there were other dogs in the neighborhood, but it's highly likely. Luckily for them they were sweet otherwise, so it was hard to hold a grudge. And we learned the lesson that even though we're not supposed to be wearing shoes in the house, we need to keep them indoors.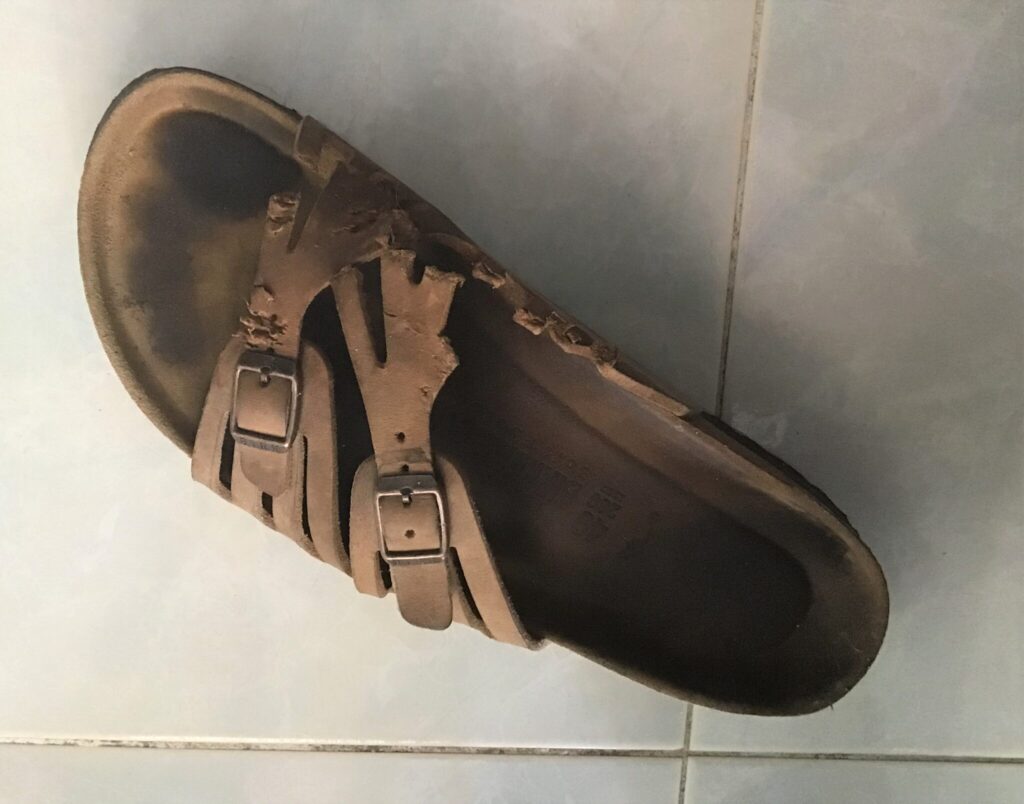 Living on the beach did allow us to catch some great sunsets. We could just stroll off our porch and down to the water around dusk and enjoy the colors. There were a couple really stunning ones during our two weeks there. These were our first real Thailand sunsets and they were great.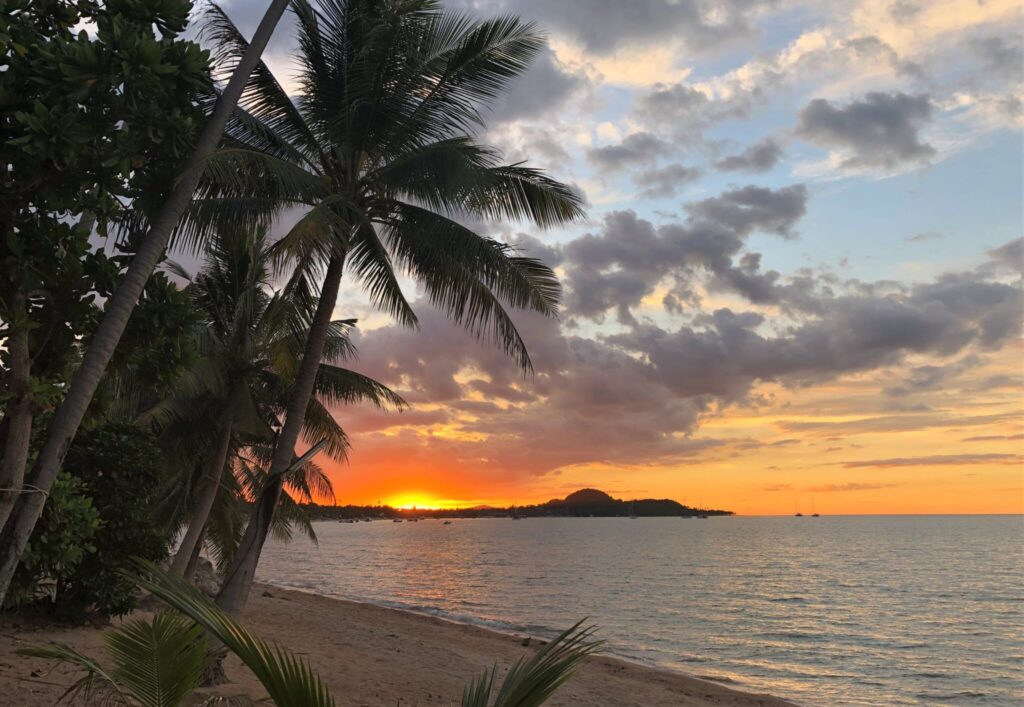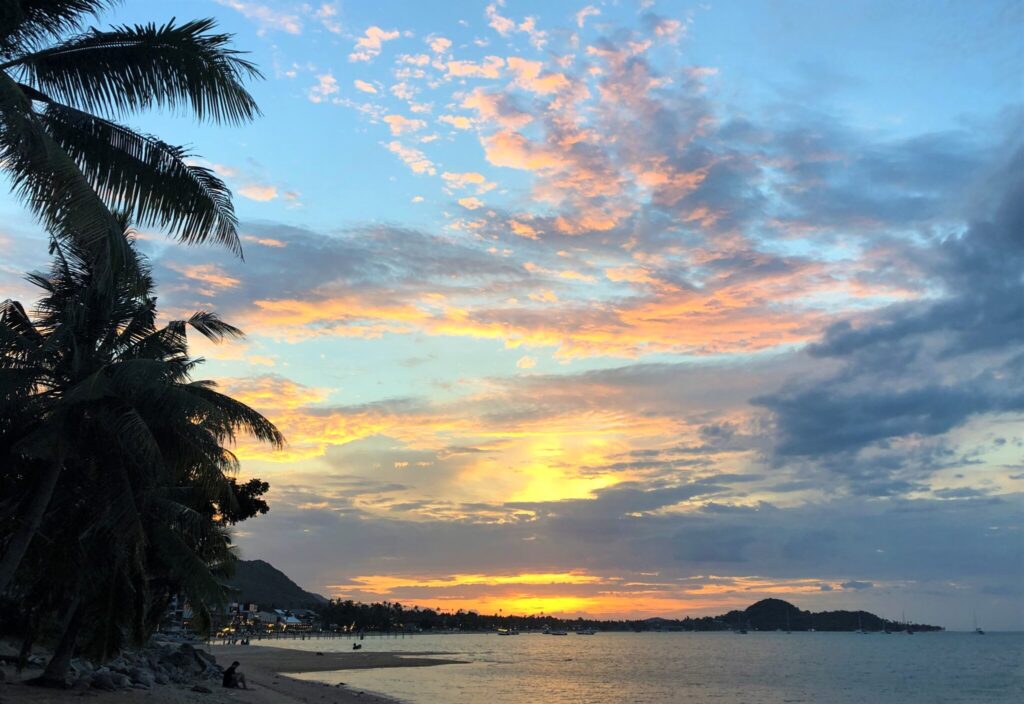 What We Spent
All totaled, we spent $696.17 during our 14 nights on Koh Samui. While our rental was expensive, we had very little in the way of transportation or entertainment costs and therefore spent the least amount for any of our stops yet. When we add in our prorated bills like cell phones, insurance, and MLB.tv, that brings the total amount spent to $774.68 or $55.33/day.
Due to the food market vendors being open three days a week, we ate out more than we had at previous stops. Somewhat surprisingly, eating at food markets is barely more than the cost of eating at home. So while I still like to cook, doing less of that didn't really increase our spending much.
Random Fun Stats
We ate 60 more eggs. If you're scoring at home, that's 60 for each two week stop in Thailand so far, for 180 total. We also continued to eat a bunch of rice, but those delicious sandwiches were a nice break.
Unlike on Koh Phangan, we went to the beach every day that we were there. Of course, it was only 10 steps away, but let's not split hairs.
We played 18 games of Cribbage and I won 9 of them. This is worse than in Bangkok or Koh Phangan, so I'm worried that the tide is turning.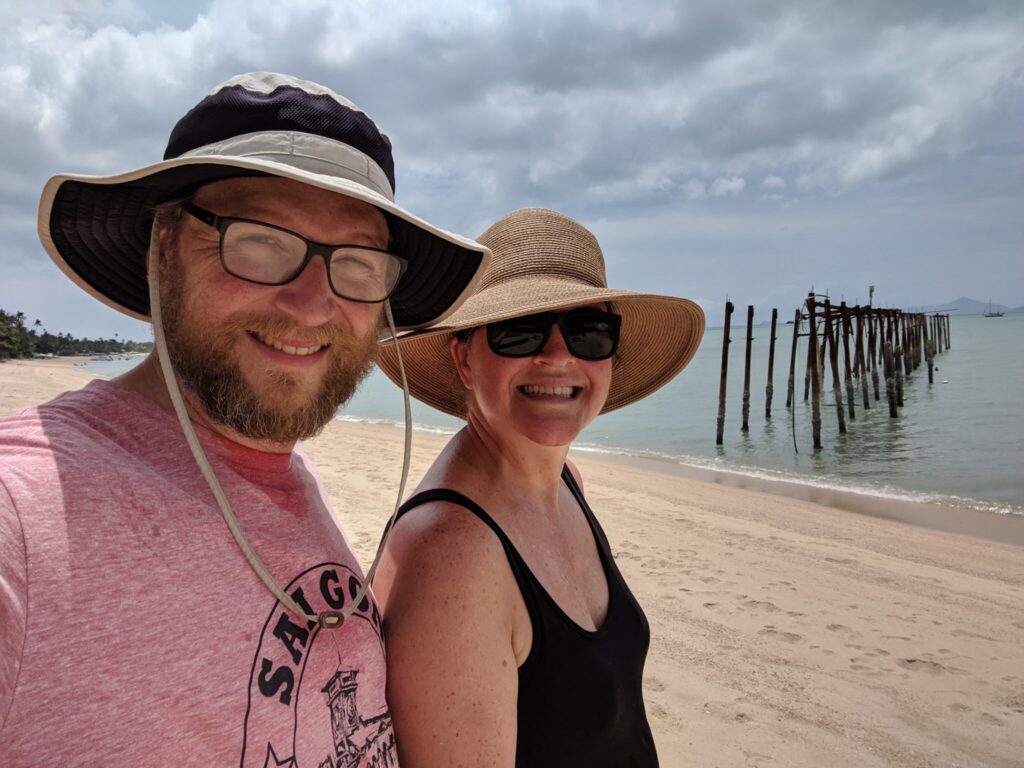 It's hard to pick a favorite between the two islands. Koh Phangan was more laid back and casual, with a party vibe and a great weekly market. We picked a really nice place to stay, so that certainly helped our experience. Koh Samui was busier and more upscale, with a tourist resort vibe and another great weekly market. Our accommodations were not as great, making it harder to cook and sleep (the bed was so hard), but the location was unbeatable. There were differences, but overall most of our experiences on these neighboring islands fit the Thai tourist slogan Same Same, But Different. Both were great in their own way and we're happy that we visited them.