We are still here in Danang as we have been for 14 months now. Okay that's not really an update, but some things have happened since my last post. We made it through the winter rainstorms and higher air pollution, so it's been much more pleasant to live here since the end of January. We moved apartments for the fourth time. COVID showed up again after many months of no community spread. And we booked flights to leave.
Our New Apartment
In March, we decided to shake things up and move to a new apartment in a different neighborhood. We had previously lived in the Son Tra neighborhood for 10 months, so having somewhere else to explore was appealing, even if it's still pretty similar. Three one-way taxi rides later (for about $2 each) and we were fully moved in with all of our stuff. We're now living in the An Thuong neighborhood, about 1.5 miles south, right across the street from the beach.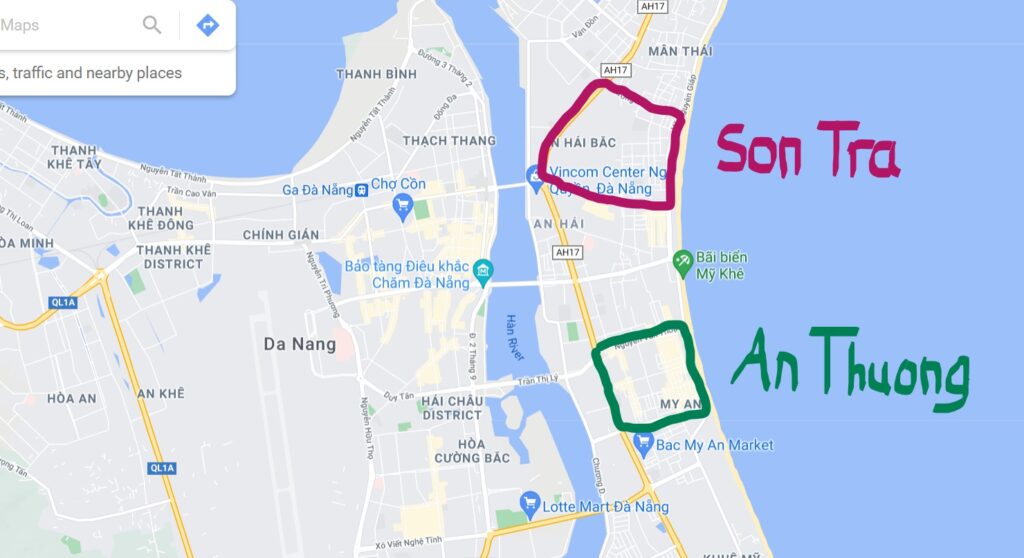 The actual apartment is a nice change as well. It's in the tallest building in the city, on the 35th floor (of 41) in the Muong Thanh high rise. It's a two bedroom two bathroom place with a full balcony. (The full balcony is a rarity as most are too small to actually be of any use.) An apartment at this elevation comes with a great view to the south and near constant ocean breezes. Plus there are no mosquitoes this high up. That means that we can leave our windows open well into the night without worrying that we'll get eaten alive. That's very unique to this area. Oh, and somehow it's a bit cheaper than our last one ($410 vs $430).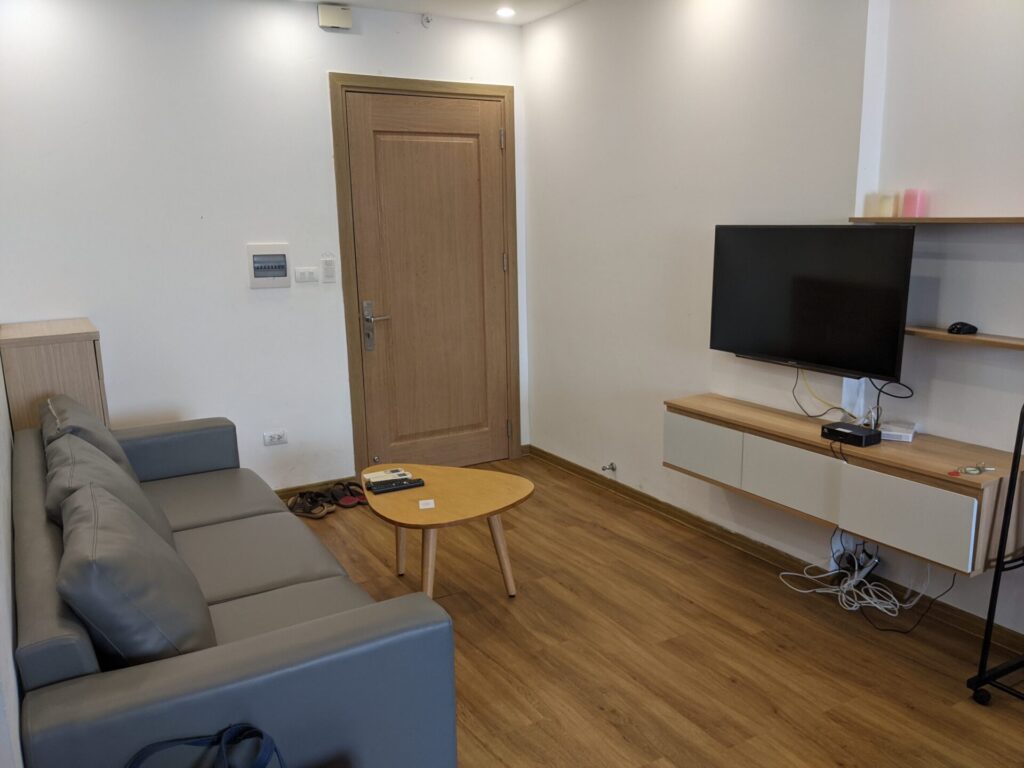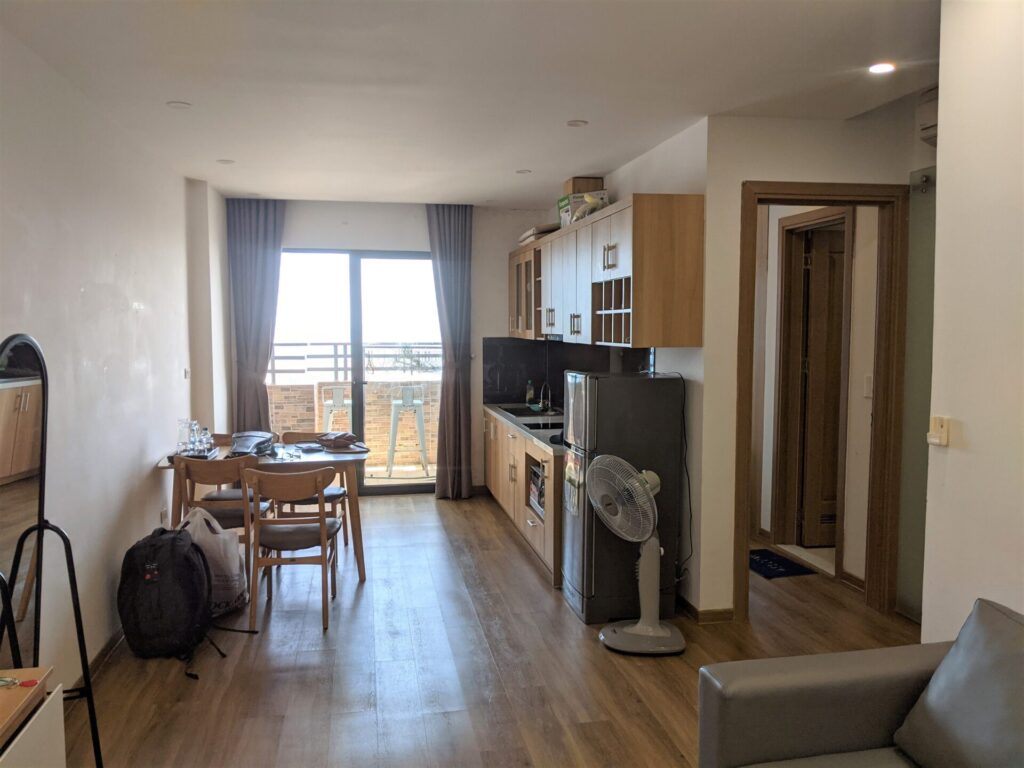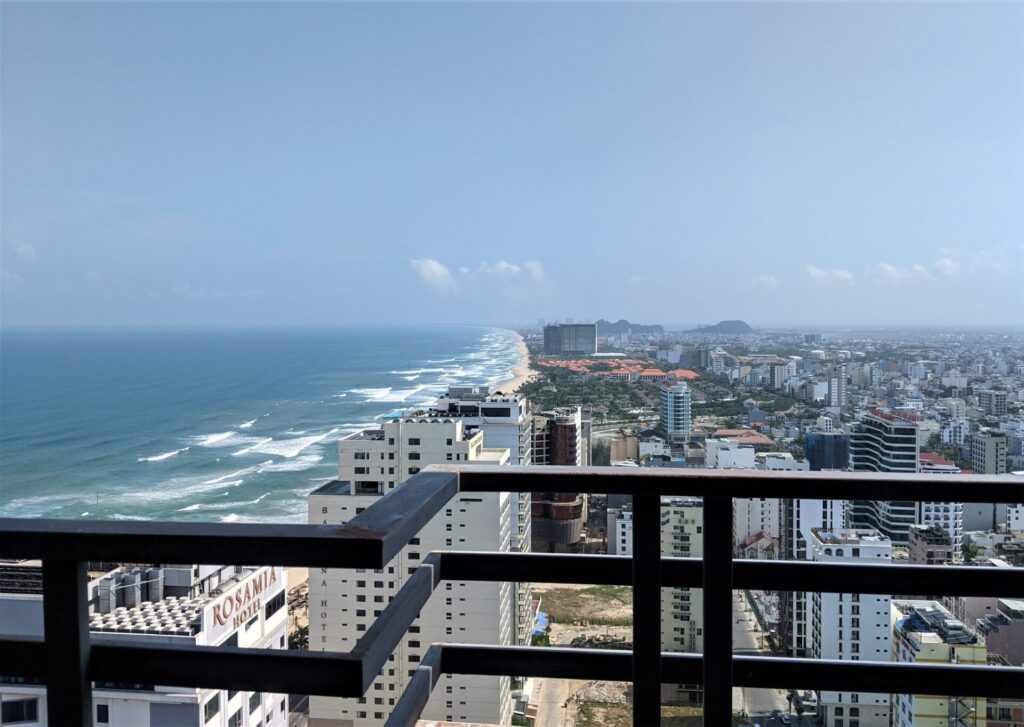 Of course it's not perfect. The bed is smaller and shoved up directly against the wall. The bed frame is a permanent structure, so we can't just move it out. There's also a lot of construction going on, both right outside and on the floor below us. We often get 7:00am involuntary wake up calls when the jackhammers start hammering. It's rarely quiet at any time of the day, but we're kind of used to that. Construction is just a constant way of life in ever-growing Vietnam. That doesn't make getting woken up by jarring construction noise any better though. Why do they have to start so early? Good thing I have time to take naps as needed.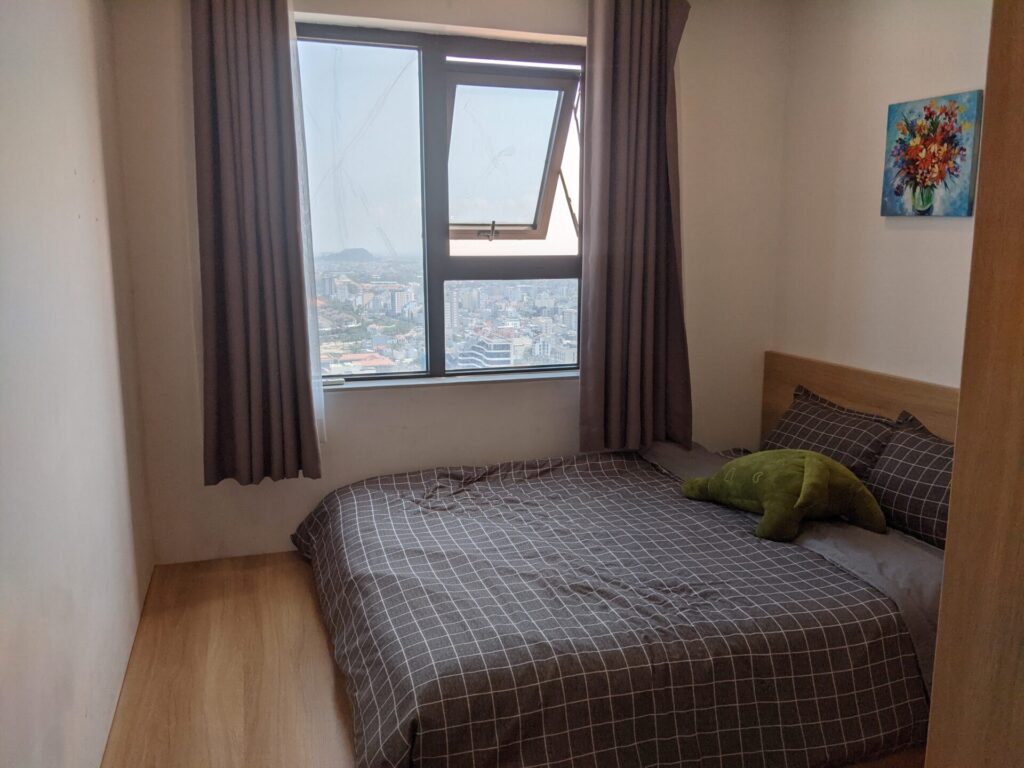 Renewed COVID Restrictions
At the end of April, Vietnam celebrated Liberation Day, a holiday that grants a 4 day weekend for almost everyone. This meant lots of people were planning travel, and since they couldn't leave the country, many from Hanoi and Saigon were headed to Danang to enjoy the beginning of peak beach season. Our neighborhood was hopping. Hotels that had been shuttered due to lack of demand were full again. Restaurant business was booming. The beach and swimming areas were packed. And to the surprise of absolutely no one, COVID came along for the ride.
Our eight month respite was over. One of the new, more potent variants was now spreading throughout Danang. As before, swift action was taken to try to stop the community spread. Beaches were immediately closed. Bars and karaoke parlors have been shuttered as well. Restaurants were limited to carry out or delivery only. Mask requirements were reinstituted for all public spaces, not just the indoor ones.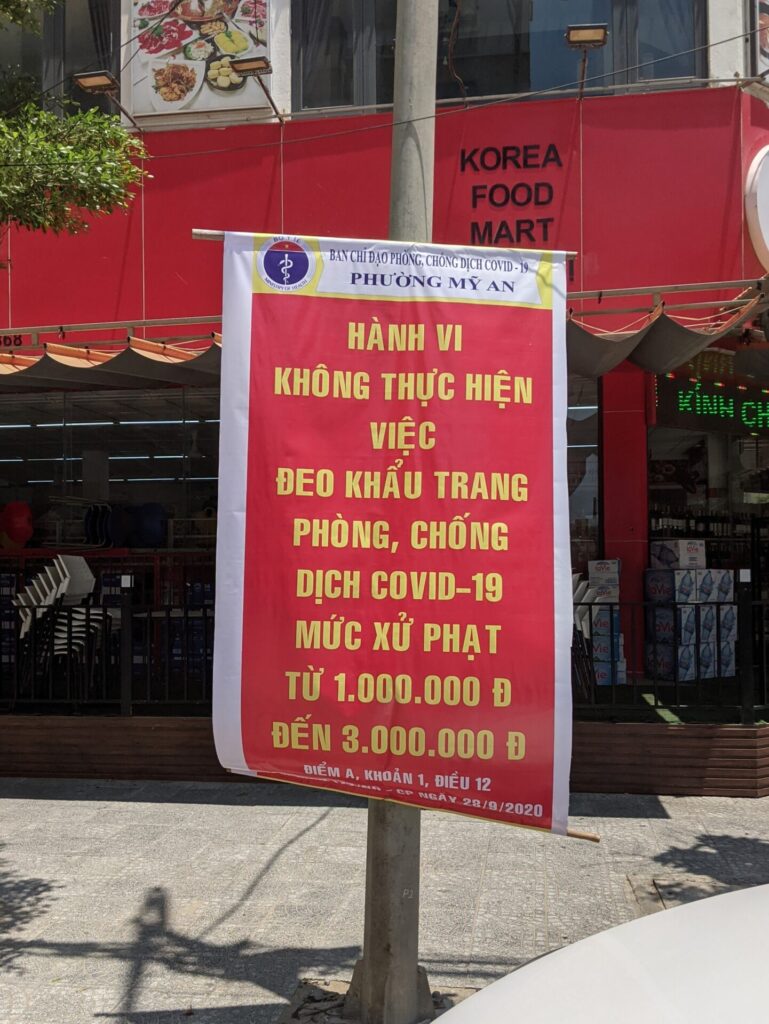 After some contact tracing showed that a taxi driver had spread the virus to a couple different fares, Danang also suspended all taxi service in the city. This includes all ride sharing apps and food delivery services. We're hopeful that this gets resolved within the next month, because otherwise we're going to have some trouble getting to the airport.
Flights Home
That's right, we booked tickets to leave Vietnam. Using some of our accumulated airline miles that have been burning a hole in our pockets, we have a flight. Near the end of June, we fly from Saigon to Tokyo, Tokyo to Dallas, and from Dallas back to the Midwest. We're cramming it all into one sure-to-be absolutely miserable 26 hour travel day. That's if everything goes right.
This isn't the first time we've had flights leaving Vietnam, although it's been a while. We were originally booked to leave April 2020, but that was before the pandemic gripped the world cancelling those. Then we had flights both to Penang and Taipei that also got cancelled as we were attempting to flee to safer pastures while travel was still possible. In addition, we had travel plans to head to Taiwan in December 2020, but we didn't quite get to the flight booking stage after learning Taiwan tightened their quarantine requirements. Maybe this time it will finally work out.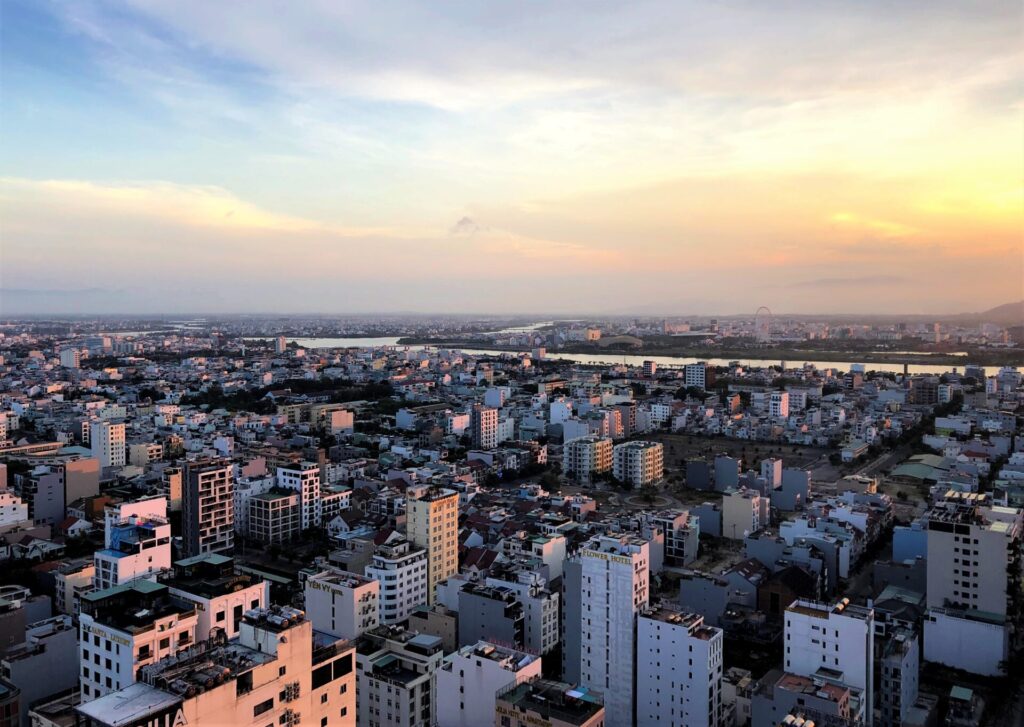 Once we get back, we'll be getting our vaccinations as soon as possible. That will be a big load off our minds for sure. And after a self-quarantine period, we'll get to see all the people that we were scheduled to see more than a year ago. It'll have been over two years since we were last in the US. That's a long time! As of now, we have no plans for our next non-US destination. Things change quickly in the travelscape at the moment, so we won't be planning too far ahead.
Possible Visa Issues
For the last 10 months, we've been extending our tourist visa every month. For a while, we were mailing our passports to Hanoi for visa stamp renewal. After a small mailing mishap in December, we switched over to using a local visa agent, which has greatly simplified the process. A few days before our monthly visas expire, our agent sends someone to come pick up our passports right from our front door. Then after renewal, they are delivered right back to us.
However, in order to keep us on our toes, our visa agent informed us five days before our May visa expired that immigration just decided to stop extending tourist visas. Umm, okay? A little notice would've been nice. She thinks that she can still get us another month, but I'm not exactly clear on how. All I know is that it's going to cost more. That extra money will either be used to get us a different visa type or possibly grease the wheels of the immigration stampers before they fully grind to a halt.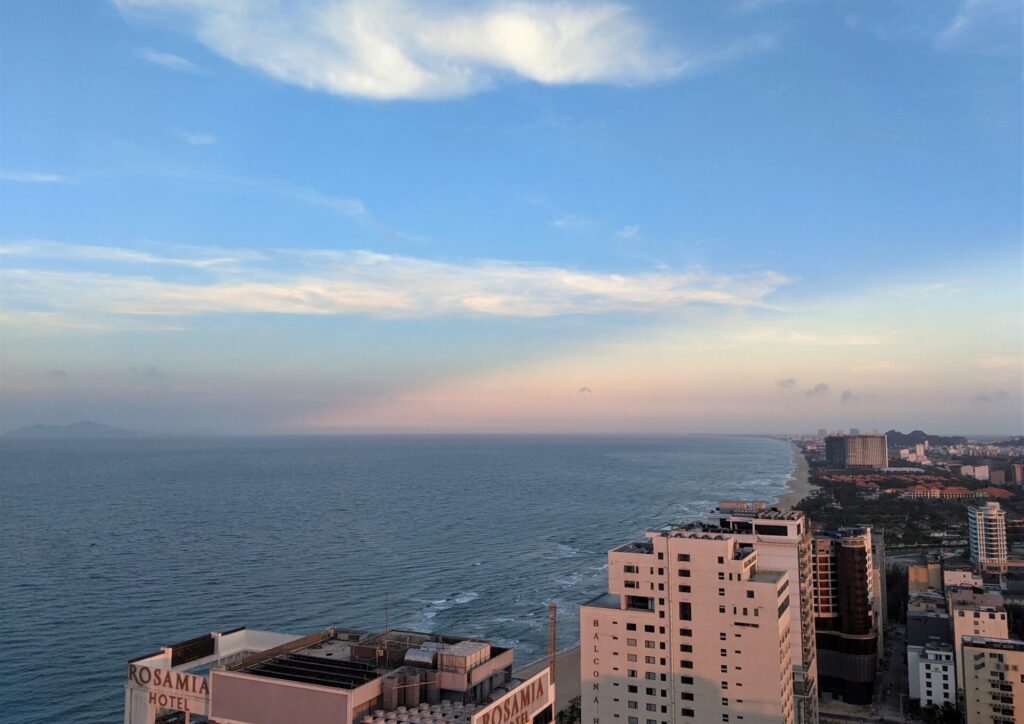 So we handed over $300 instead of our usual $150. And in this case, I fished out some money from my emergency stash and handed over actual US Greenbacks instead of the equivalent in Vietnamese Dong. I figure that everyone likes to (possibly) be bribed in dollars. The Vietnamese government charges their initial visa fee in US Dollars anyways. Maybe that'll help show that we're serious. Or it might not work at all and we'll be official scofflaws of Vietnamese immigration rules.
We could've scrambled to leave early but after thinking about it, decided that we would stick with our original plans since we already had tickets booked. So depending on whether or not our agent is successful, I may be able to post on some first hand experience about what happens when overstaying a Vietnam tourist visa. That could be a good one! I guess we'll see. Either way, chances are that we will finally be leaving Vietnam next month, ending our year and a half involuntary residency.