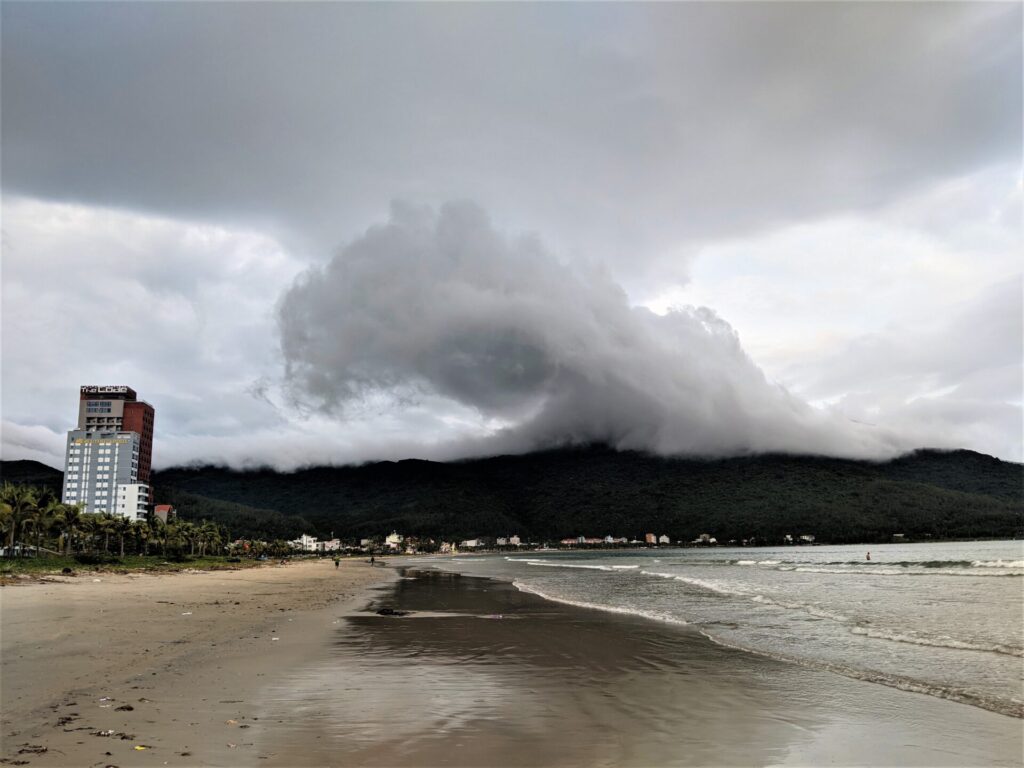 We arrived in central Vietnam way back in mid-February, coinciding with the beginning of the dry season. We started with a wonderful month in Hoi An. The sun and warmth really brightened our moods after coming from the cold and dreary north. When we moved 15 miles (25 km) away to Danang in mid-March, the weather got even better. It was hot and sunny everyday. Even the afternoon thunderstorm that's a common feature in the tropics was a rare event. But that's not the case anymore. Rainy season is here.
Originally we had only planned to stay in Danang for a month. We've now been here for seven due to pandemic-related travel restrictions. Almost every day of the dry season here was hot and sunny. I just call it beach weather. Sometimes during this stretch the beach was closed due to COVID restrictions, but the beach weather persisted. While our COVID restrictions are relatively few at the moment, our weather restrictions have greatly increased as the wet season is in full swing.
For any area we travel to, I always check the average climate forecast on Wikipedia to get a general idea of the weather trends. In normal times, we would use this information to adjust our travel plan accordingly. Currently, this research serves more for mental preparation than travel decisions.
The October entry for Danang is downright scary. The city averages 25 inches (650mm) of rain during this wettest month. That's more than twice as much as other rainy areas like Saigon or Bangkok get in October. For comparison to the rainiest city I know of in the US, Seattle averages a measly 37 inches for the whole year. We were in SE Asia during the rainy season last year, but Danang is on another level when it comes to wet weather. Sometimes it's just rain, but usually it comes with a storm.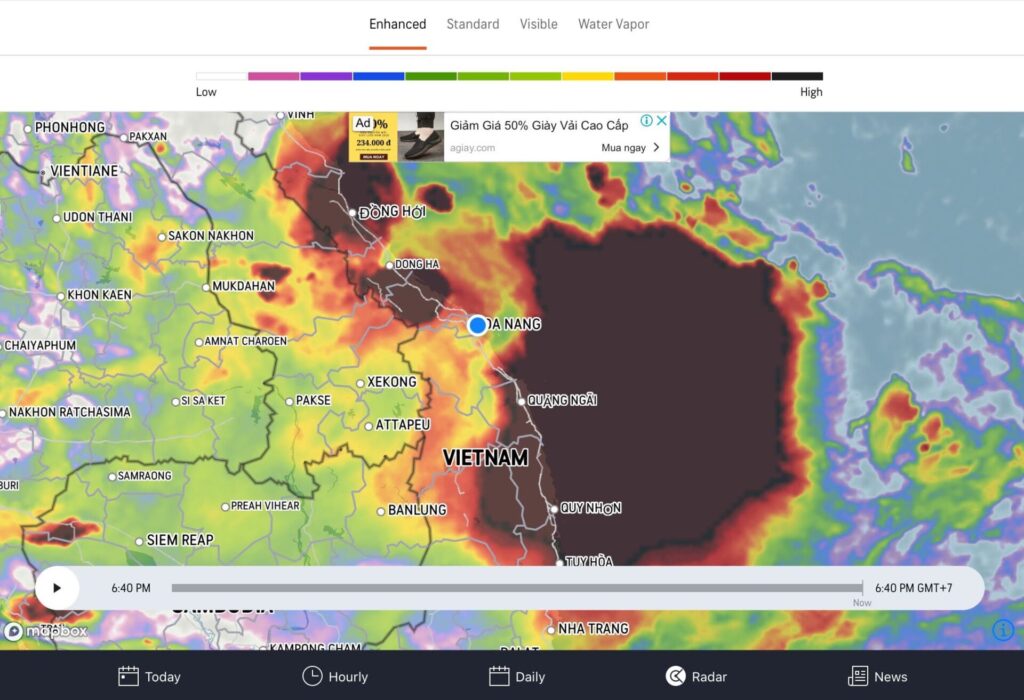 Our rainy season kicked off in mid-September with Typhoon Noul. This was the first typhoon experience of our lives. A day before landfall, city crews swarmed our neighborhood preemptively cutting down tree limbs. Street debris was cleared from gutters. Residents secured their houses and belongings. Katie and I stocked up on food and water and charged the batteries in our headlamp.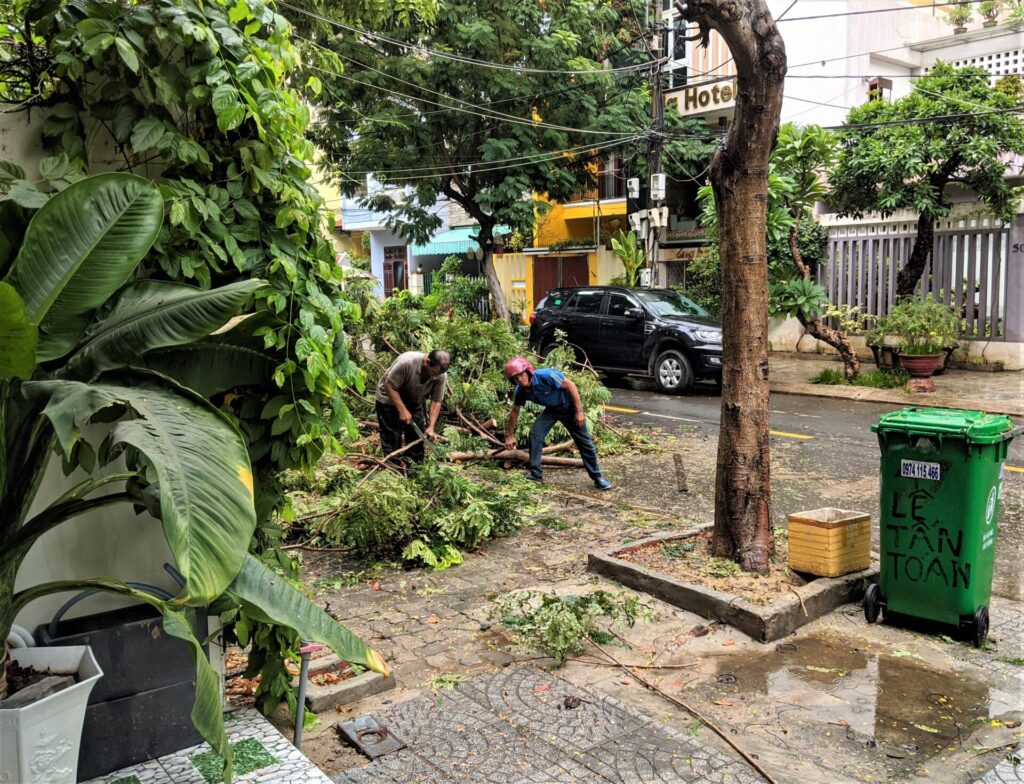 We experienced heavy wind and 12 inches (300mm) of rainfall, but it happened fairly quickly and the whole episode was over in less than 24 hours. There was a huge lightning storm a couple of hours before the end of the storm that was kind of scary, but at no point did we ever lose power. Aside from a handful of downed branches that weren't culled previously, we didn't see much damage in our area. Noul was downgraded from typhoon to tropical storm just before landfall, so we got lucky there. The whole incident was thankfully anticlimactic.
Having the wind gusts from the storm continually rattle our sliding glass door was the most nerve wracking part, but it held and in the end it was no worse for wear. The skies cleared shortly after Noul passed and we were back to having sunny and warm weather. Our beach was hit pretty hard and the storm filled it with debris, but otherwise there was minimal destruction from the winds and minimal flooding from the rains. Vietnam is pretty well prepared to deal with the rainy season.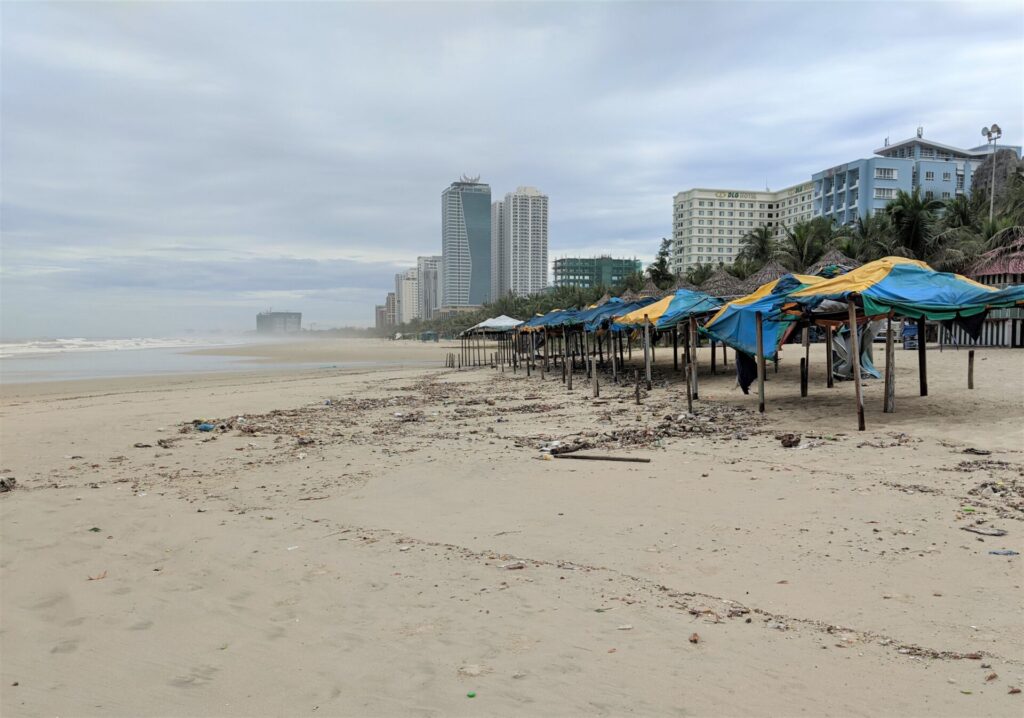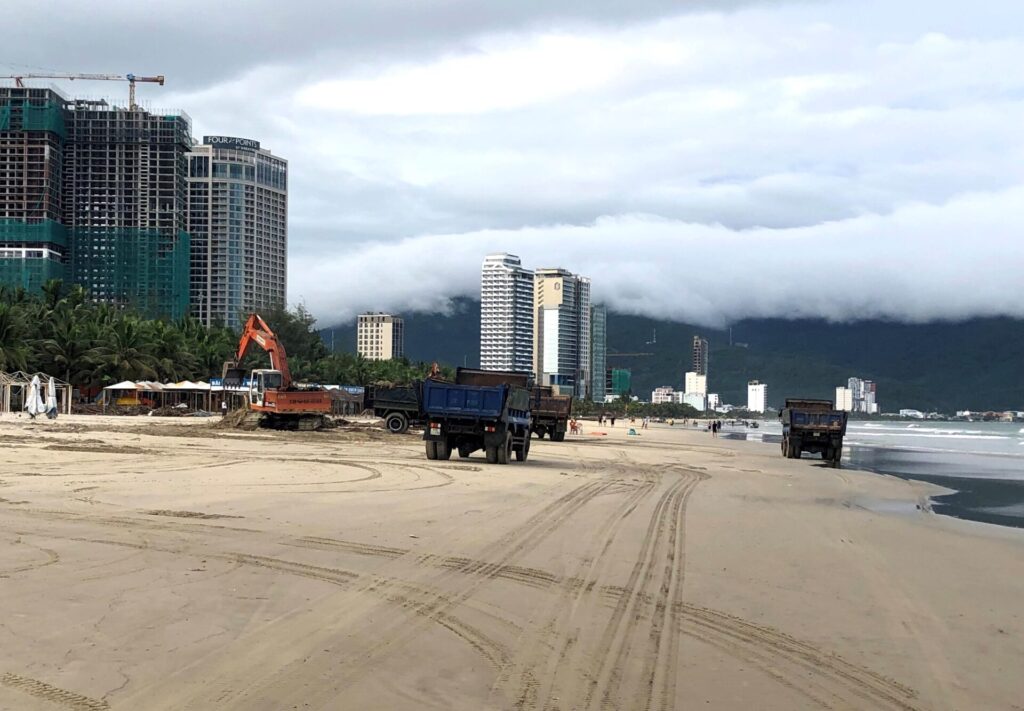 After that, it started raining on October 4th and basically didn't quit until the 12th. There were a handful of minor breaks in the rainfall, providing maybe an hour of respite before it would start up again, but it was nearly nonstop. Everyday brought a minimum of an inch (25mm) of rain. It was a little bit like being back on lockdown since we were basically stuck at home for days on end. This 9 day rainy period culminated with our second storm of the season. Tropical Storm Linfa made landfall on October 11th and while weaker than Noul (it only dropped 7 inches (180mm) of rain instead of 12 inches), we were personally not as lucky with this one.
The storm's path meant that the driving wind and rain was coming in from the north as opposed to the normal easterly direction. As we quickly found out, the north facing windows in our bedroom were either not sealed or not installed properly. When the storm hit late in the evening on October 10th, rain was dripping inside through the windowsill. We put towels down on the window ledge to soak up the excess moisture and went to bed, thinking we did our part.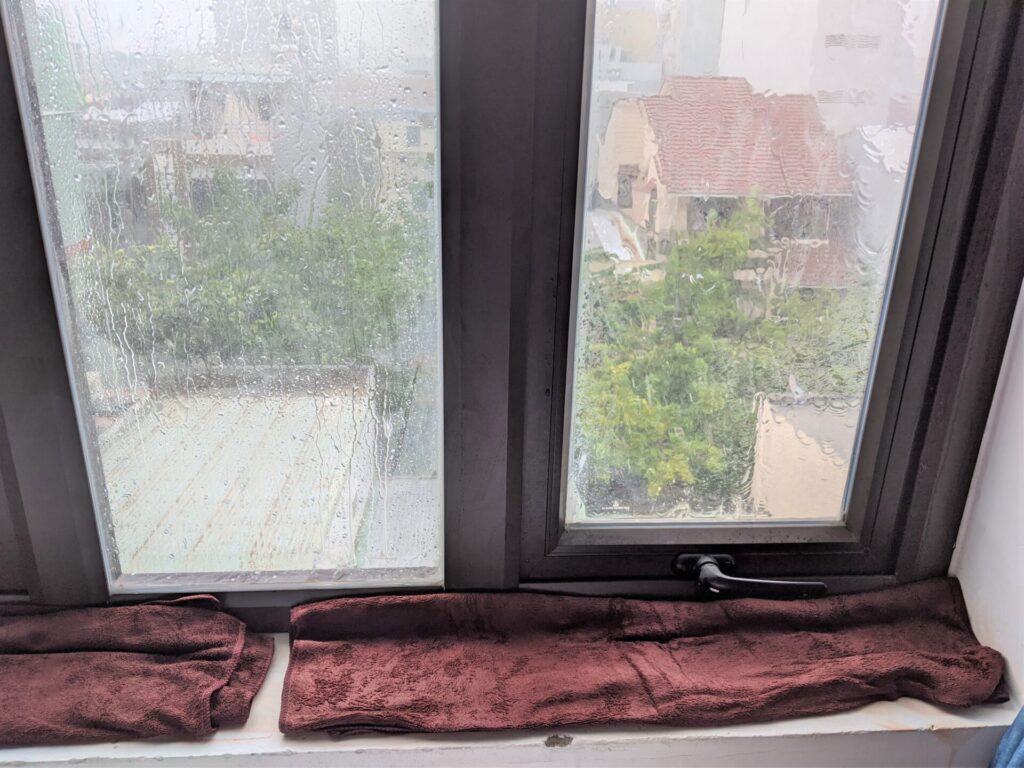 By the time we woke up early on the 11th, it was evident that whatever water resistance the windows had been providing completely eroded overnight. What was a drip was now a steady stream. The floodgates were fully open and water from the strong winds and heavy rain was flowing into our apartment through the windowsill. We were doing our best to mitigate the amount, but it was like sticking a finger into the dyke. Every 5 or 6 minutes we were swapping out drenched towels for drier ones and wringing them out in the sink. I even measured it, and we were collecting and wringing out water at the pace of around 10 liters an hour. This continued for about 5 hours. And that 50 liters is just what we caught. Who knows how much more soaked into the walls and floor before we woke up?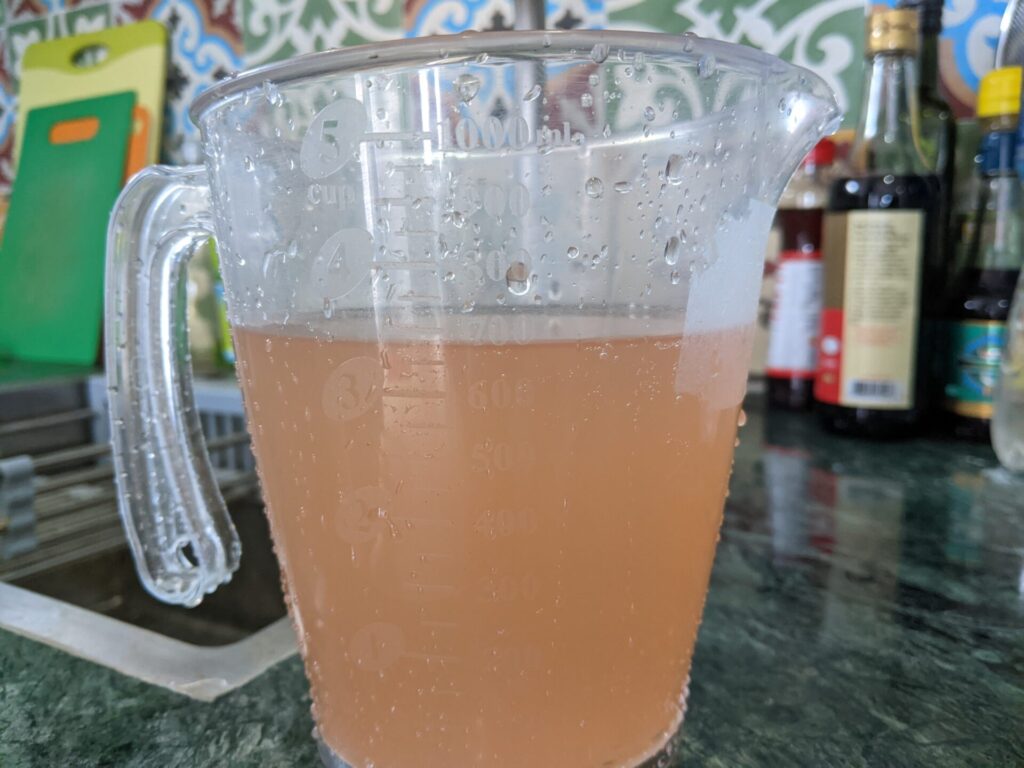 A few hours into this hectic wet morning, there was a commotion outside our front door. I opened it to find a waterfall flowing down the stairwell. I'm not sure whether it was from a clogged drain on the flat roof or the pool overflowing, but it was definitely not a good sight. It brought other residents out of their apartments too, and we learned that their windows were leaking as well. The amount of water damage to this building was going to be staggering. And since it's still the middle of the rainy season, things were not going to dry out. We knew we had to find a new place to live, and fast, as it was only a matter of time before the whole building turned into a giant mold spore.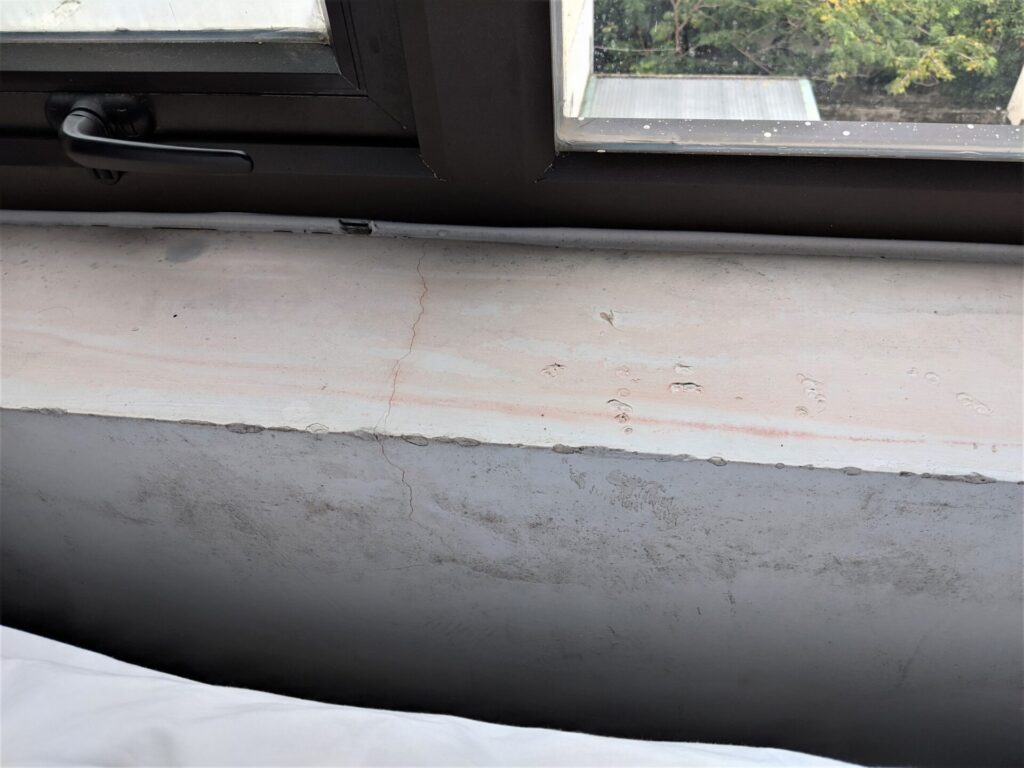 In between wringing out towels, we started searching for new accommodations. We made an appointment the next day to tour one potential candidate. We liked it immediately. It was larger, close by, and most importantly the walls had no signs of water damage despite both north and east facing windows. It was a little more expensive than we had been paying, but still super cheap due to the overall lack of tourist demand in the area. The next day, October 13th, we handed over our $430 monthly rent and moved into our new place.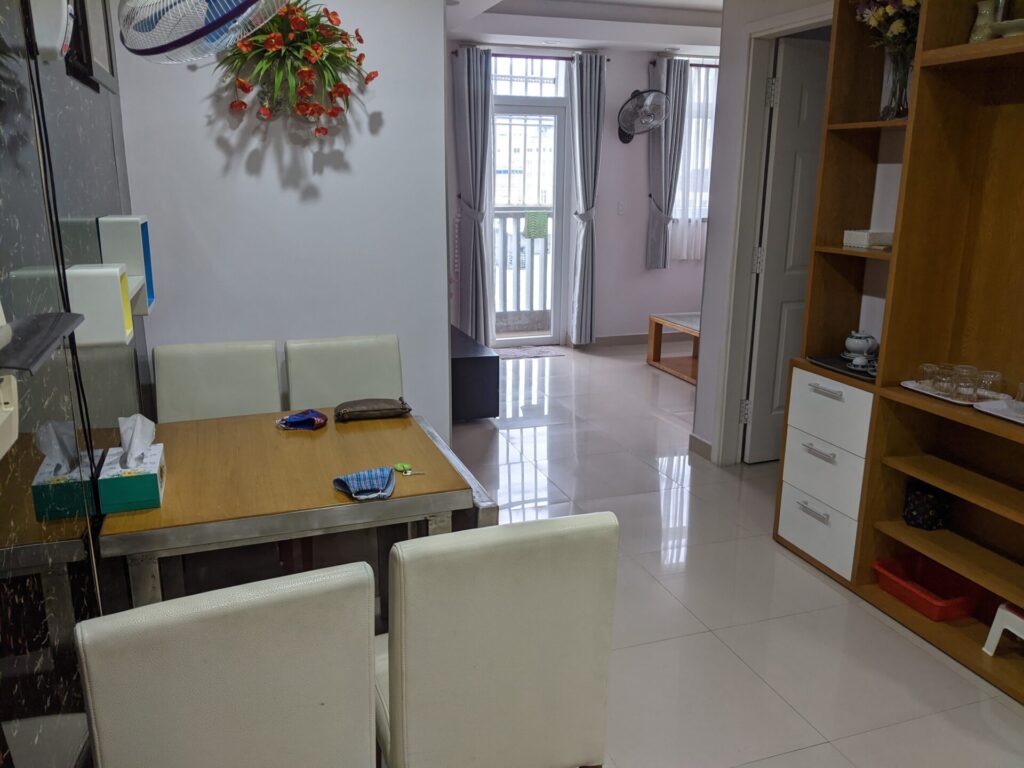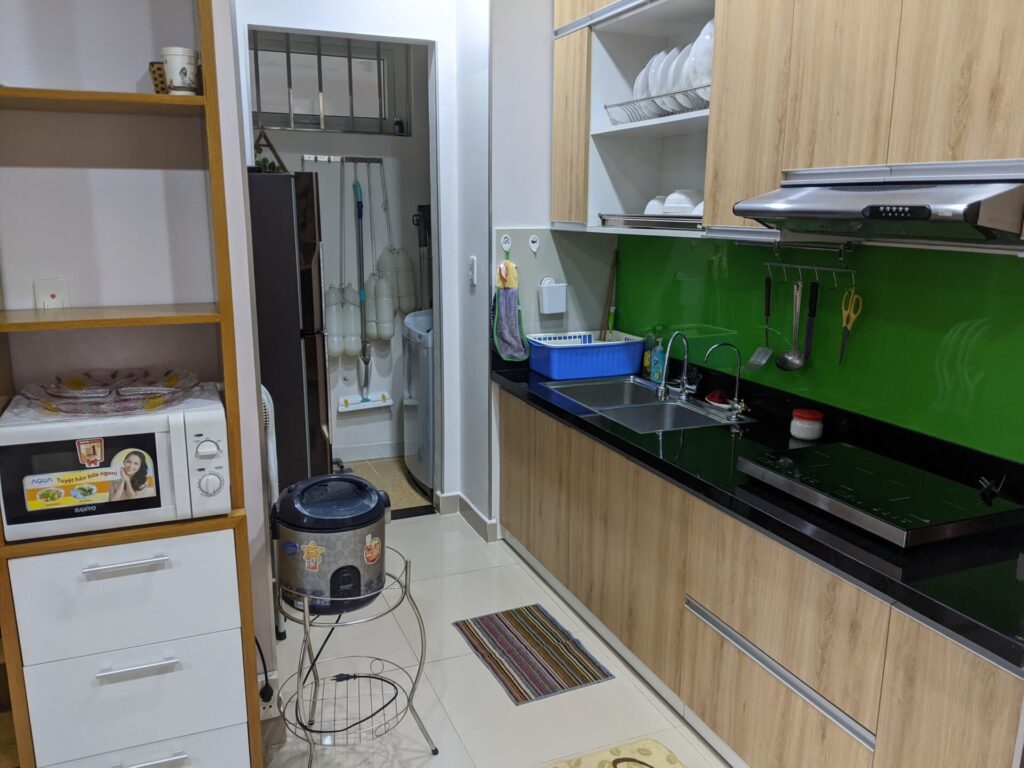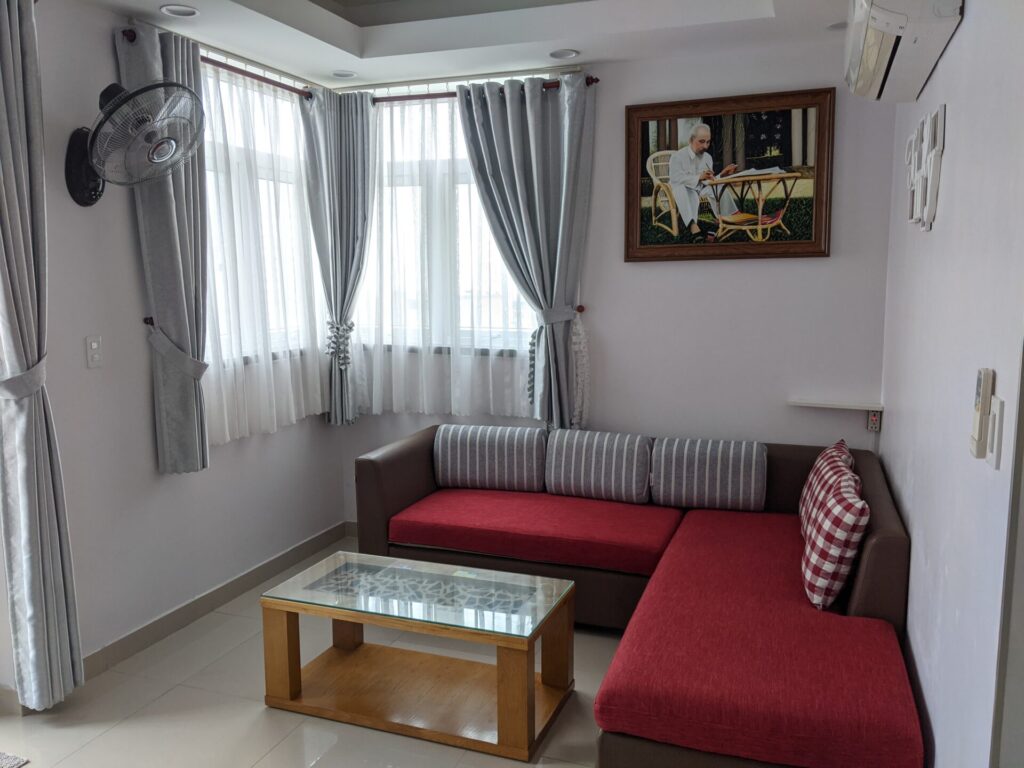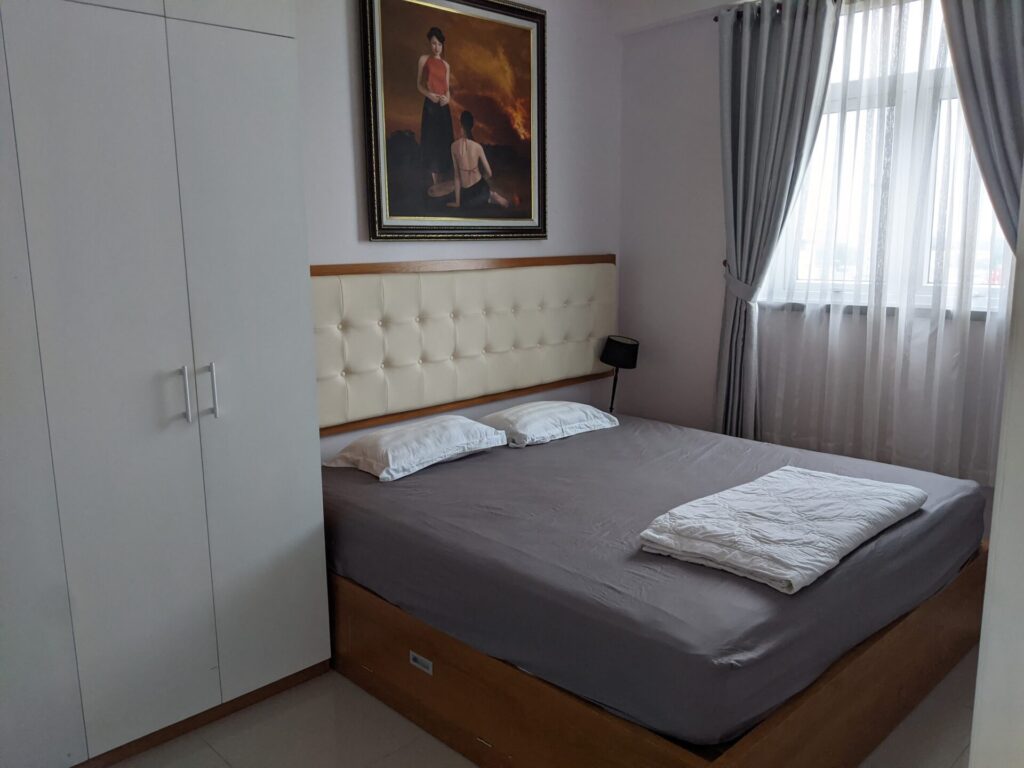 The timing of our flood was actually pretty good. We had paid through October 15th at our old apartment, so it only cost us a couple days of lost rent. And there was hardly any rain on our moving day, so we were able to lug all of our stuff the 4 blocks to our new apartment without it getting wet. We had lived there for 5 months, so it was probably time for a change anyway.
We are now set up in a two bedroom two bathroom apartment in a large high-rise building. It gives us a lot more space to spread out, which is nice since we're spending so much more time indoors at the moment. The windows are well built and installed properly, so we have confidence that when the next storm arrives, we'll be in a much better spot. Instead of wringing out towels until our hands are raw and chapped, we'll be free to just enjoy the rain.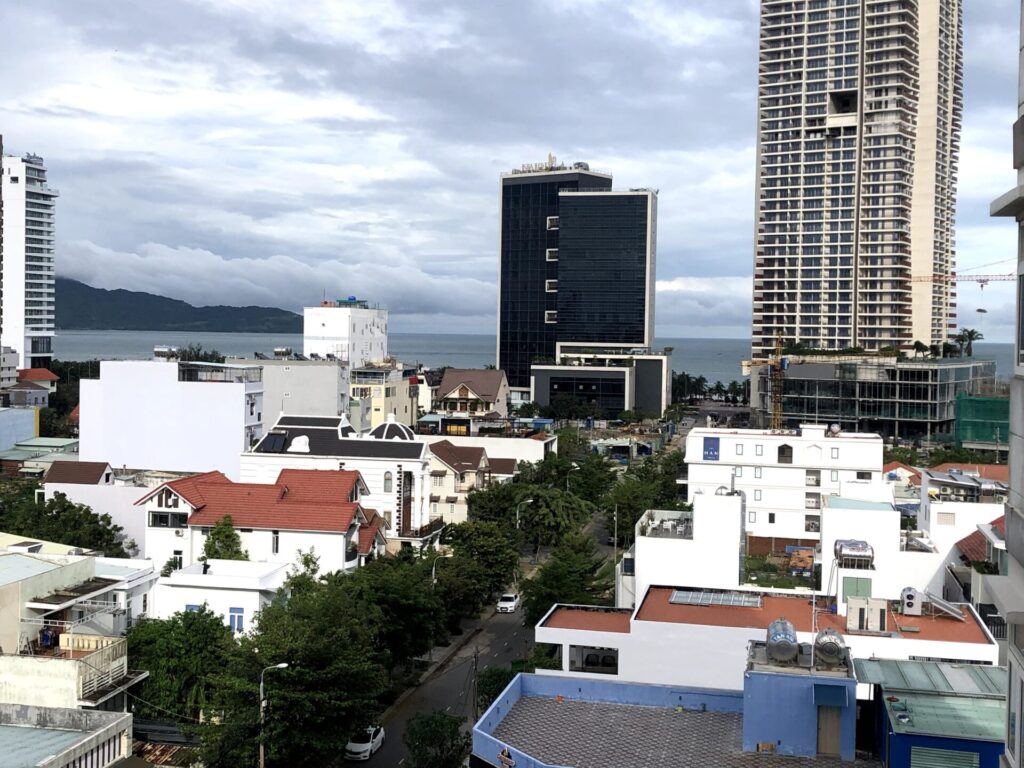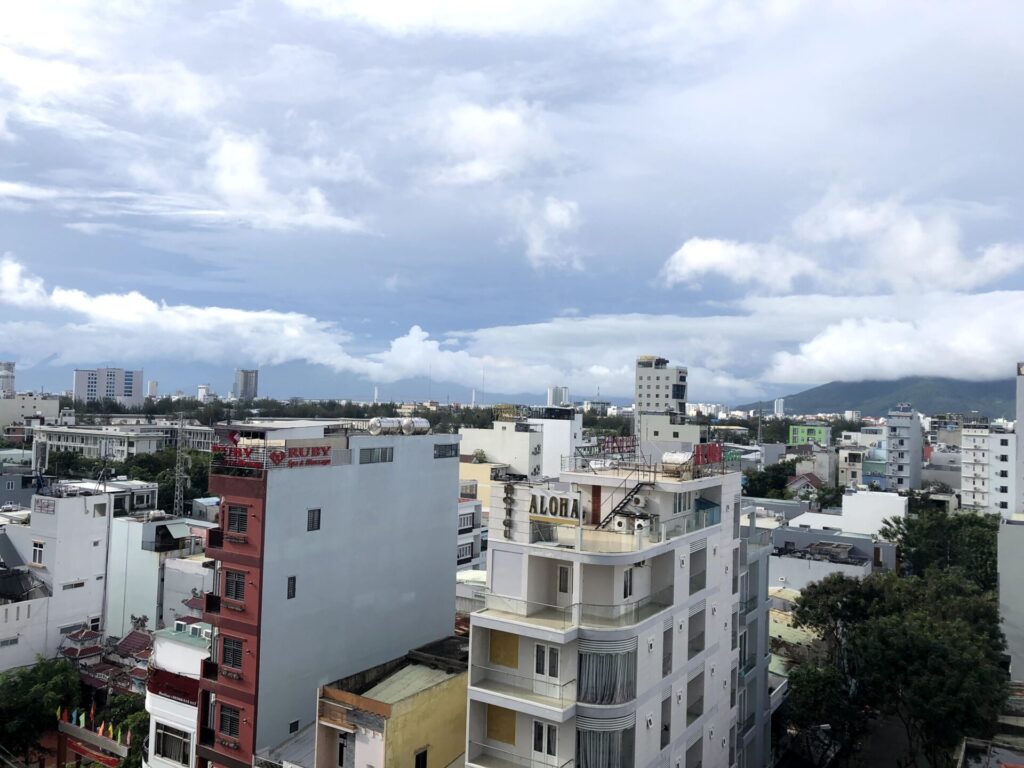 Even though we're not really changing locations right now, changing apartments to one a few blocks away still makes everything feel different. The nature of our lifestyle means that we thrive on change, so in a way I'm thankful to the storm and shoddy construction that jolted us out of our complacency. It's always exciting to move into a new place. Maybe someday, that will even be in a different city. Until then, we're hunkered down waiting for both the literal and figurative clouds to clear.