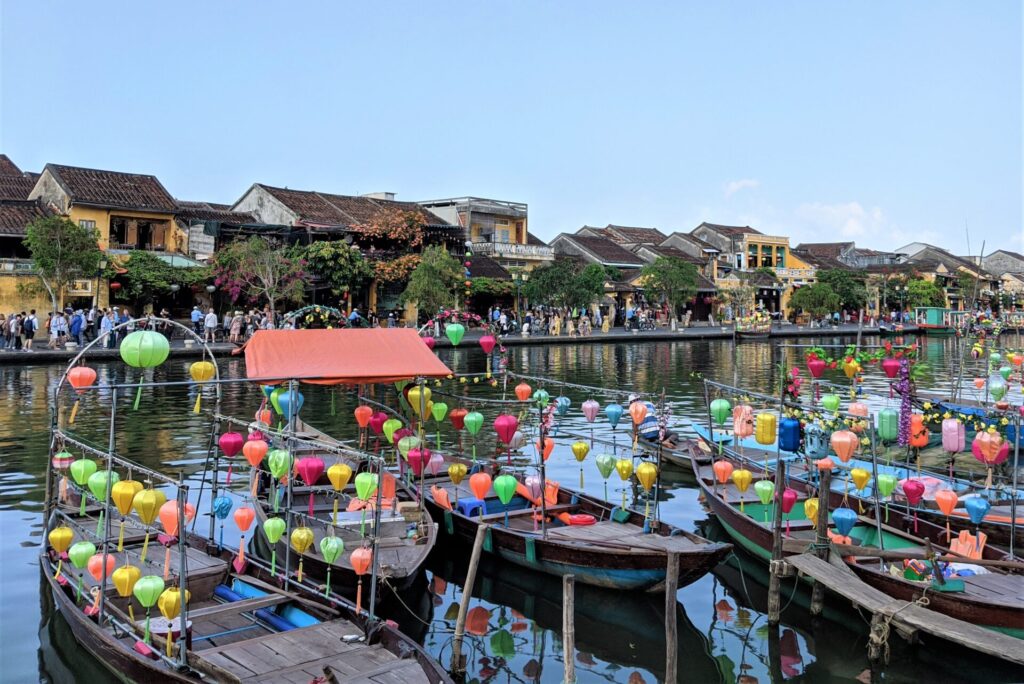 After spending four weeks in Hoi An, I can confidently state that it's one of the prettiest cities we've been to. The tropical climate allows flowering plants to thrive and the pastel colored buildings and vivid lanterns hanging everywhere are simply gorgeous. Earlier this month I published two pictorial posts, Hoi An during the daytime and Hoi An after the sun goes down. If you saw those posts, you can tell that it's supremely easy to get good pictures here. The main downtown area, the Ancient Town, is car- and scooter-free so it's wonderfully peaceful compared to most of Vietnam. The beauty and pedestrian friendly spaces draw scores of tourists from all over the world. It's become one of the most visited places in Vietnam.
The timing of our visit could not have been better, as we arrived in mid-February for the beginning of the dry season. This meant that we had warm sunny weather for our entire stay. After freezing in Hanoi, and not getting much reprieve in Ha Long either, the sunny days and mid-80s weather (~30 C) was a welcome change. The air quality also improved dramatically, so our lungs were much happier too.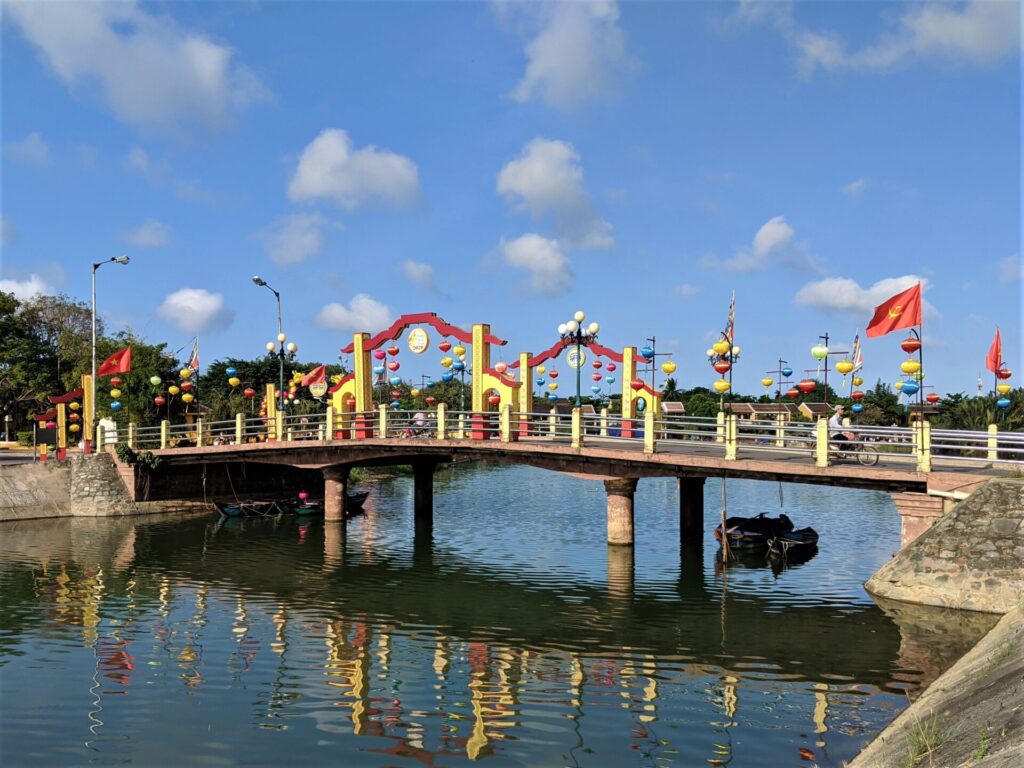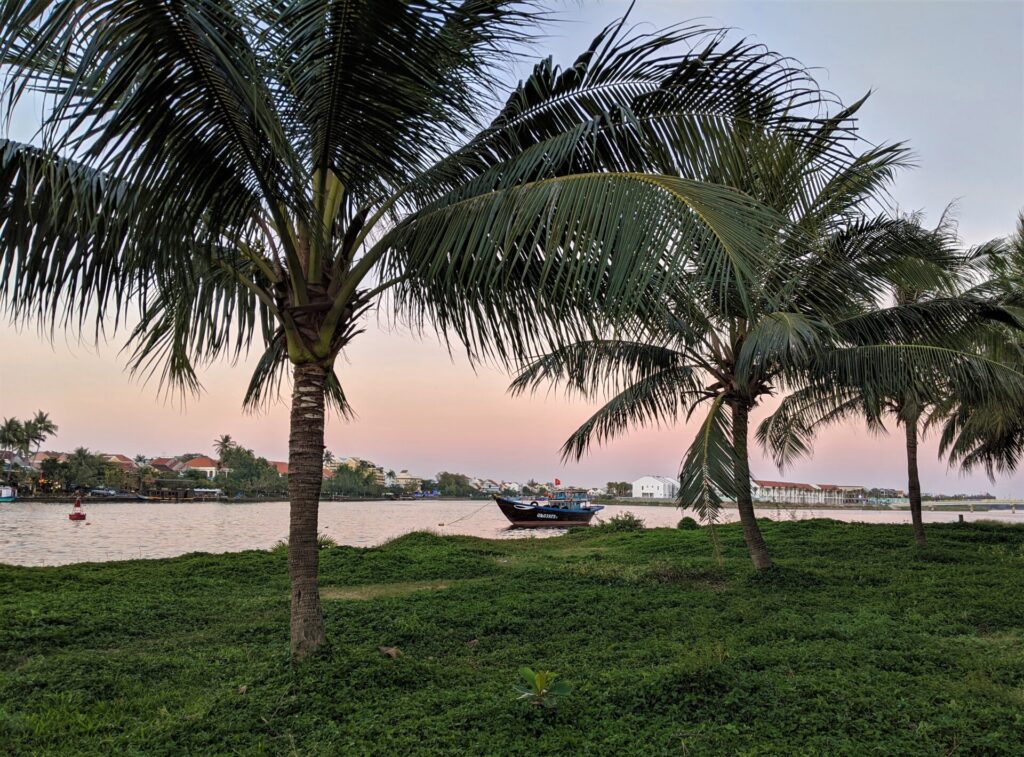 The general attitudes of the local people were also different. No one was panicking about COVID-19. Hand sanitizer was being offered upon entering restaurants and shops, but otherwise most things seemed to be business as usual based on what I could tell. We didn't see a bunch of signs asking people to wear masks, nor did we see anything discriminatory like at the hotel where we stayed for one night during our travel adventure getting to Hoi An.
The absence of virus panic, the warm weather, and the lack of pollution was truly a breath of fresh air. However, that attitude certainly has changed recently, as the first confirmed case of COVID-19 in Hoi An was announced on the day we left (March 11) and they've since quarantined two dozen tourists who were on the same flight as the person that tested positive. On March 16th, they closed the Ancient Town completely.
Delicious Local Food
The food was also incredible. We ate out a ridiculous amount. At least three to four times more than we have at any other stop. They have a local specialty here called Cao Lau that I fell in love with. The base is a thick chewy rice noodle that's made only with the water from one specific well in town. Other sources of water just don't create the same texture. As such, the limited supply means that Hoi An is the only place in the world that these specific noodles are produced. And they're delicious.
In addition to the rice noodles, the dish comes with a lot of fresh herbs and a couple slices of roasted pork. Then it's doused in just enough slightly sweet soy broth to coat everything. We tried Cau Lao at 5 different places, but none of them were as good as Cafe Cao Lau. Or that's what I called it based on the sign. The actual name is Không Gian Xanh. I think we ate there 8 times. Not only is their Cao Lau delicious, it's also dirt cheap. Two bowls of Cao Lau and two beers cost us 120,000 VND, or about $5.20 total. Hard to beat that.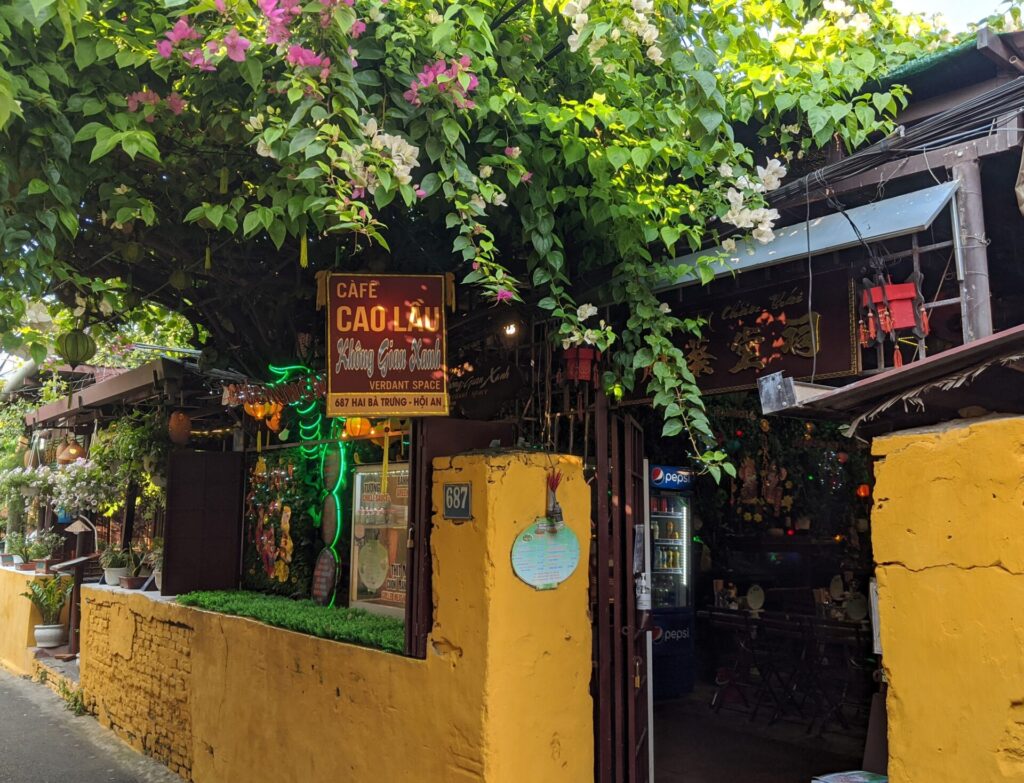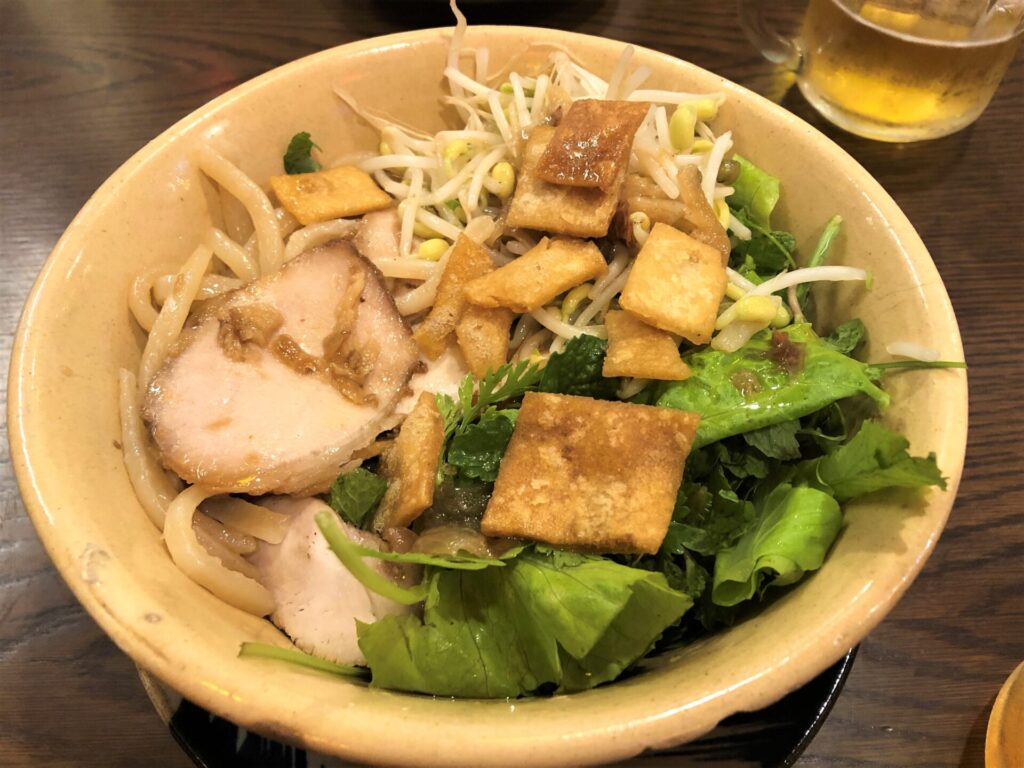 Katie and I also happened to find the best banh mi sandwich that we've ever had. There are multiple famous spots in Hoi An, like the one that Anthony Bourdain ate at or the self-titled Banh Mi Queen, but for my money, nothing beat Banh Mi Sum. Serving sandwiches out of a small cart in front of their house, this family makes the best banh mi we've ever had. It's simply bursting with flavor of fresh herbs, pate, and pickled veggies.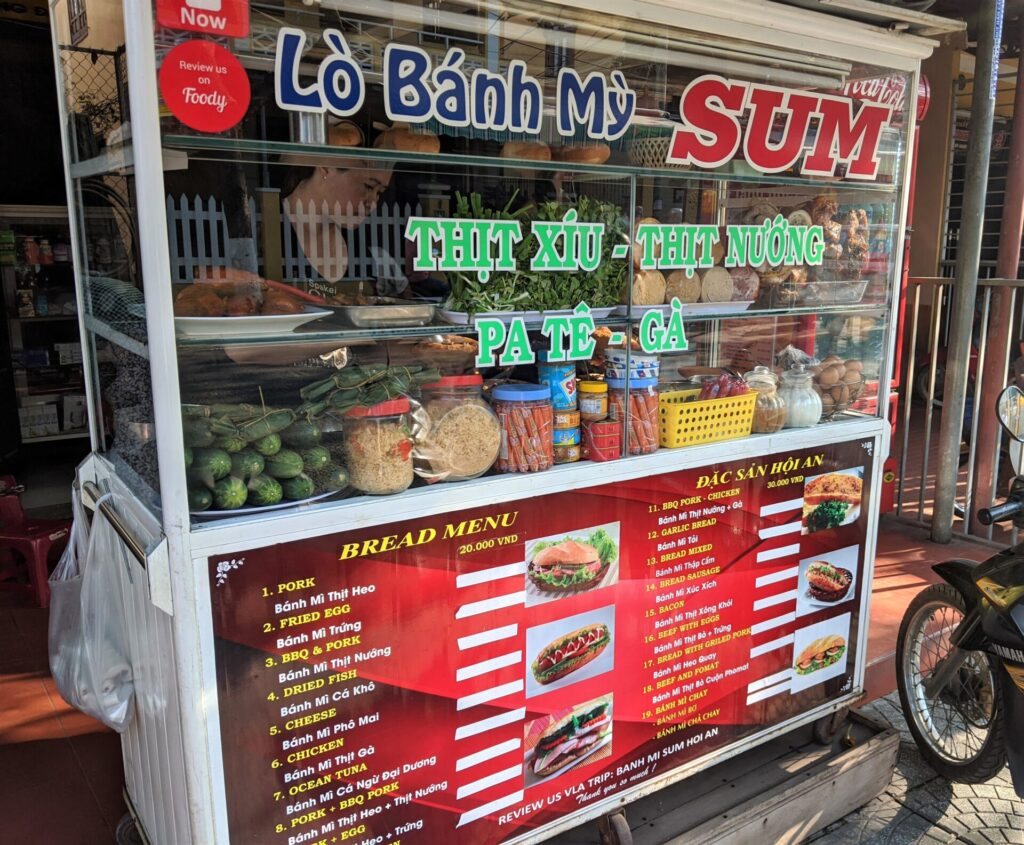 The flavors in the sandwiches at Banh Mi Sum were actually very similar to the Banh Mi Queen (where we ate 3 times), but Banh Mi Sum's bread was consistently better. We were completely addicted to this place. I think we must've purchased 30 banh mi from them over our 4 weeks. A few of those were for other people, but still. We ate there a lot! The cost for the two incredible banh mi sandwiches that Katie and I kept ordering was 55,000 VND, or about $2.40 total. That certainly made the addiction less painful.
The Downsides Of Tourism
While we loved the food, weather, and overall beauty, our stay wasn't all positive. The downside of Hoi An's popularity is that the town is extremely touristy. This means that it's very rare to see local residents in the historic district that aren't trying to sell you something. It also causes the vibe to be a bit fake, like the town only exists for tourists. They even play classical music from outdoor speakers throughout the old town. It felt a bit like we were at Disney.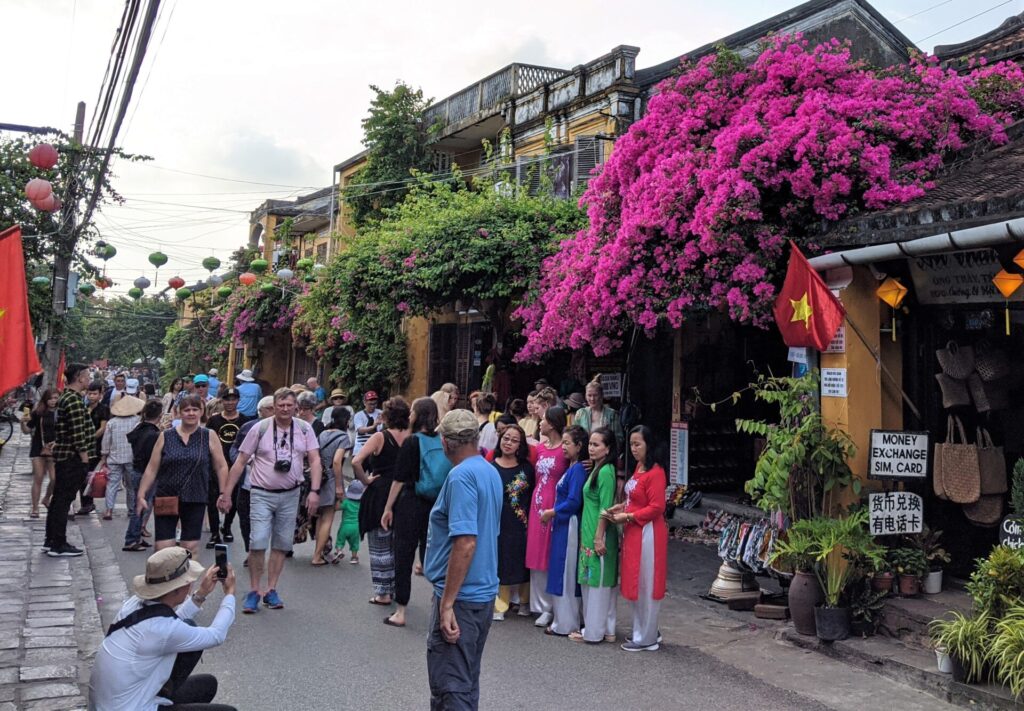 Due to the constant stream of visitors, it seems that everyone wants a piece of that alluring tourist dollar. Especially along the river in the historic old town, I couldn't walk 5 feet without someone offering me something. Solicitations for boat rides, massages, menus for restaurants, floating candle lanterns, peanuts, mango cakes, light up toys, massages, and boat rides. That's not a typo. There were *a lot* of offers of massages and boat rides.
The vendors will try many tactics to get a sale. No matter what they are selling, one of the most common methods is claiming that it's happy hour. In Hoi An, happy hour is not just reserved for bars and restaurants. Nearly every one of these vendors has co-opted the term. There are happy hour boat rides, happy hour spa services, happy hour snack sellers, happy hour everything. I'm not sure that it actually means anything at all, because there are no listed prices anyway, so it's just a way to try to convince everyone that there's a sale. And who doesn't love a good sale?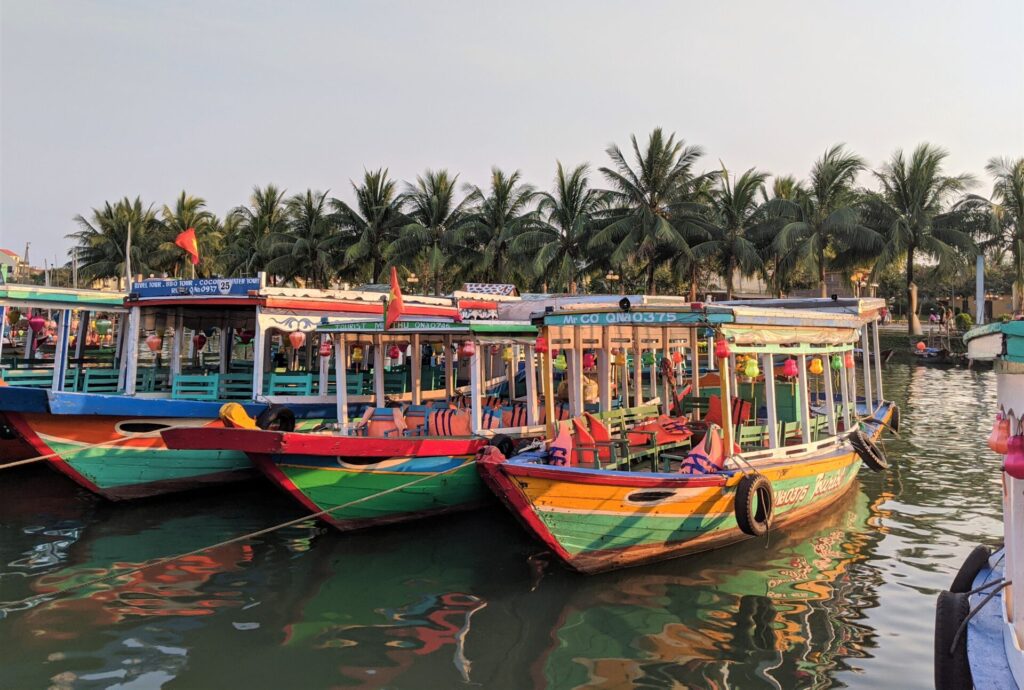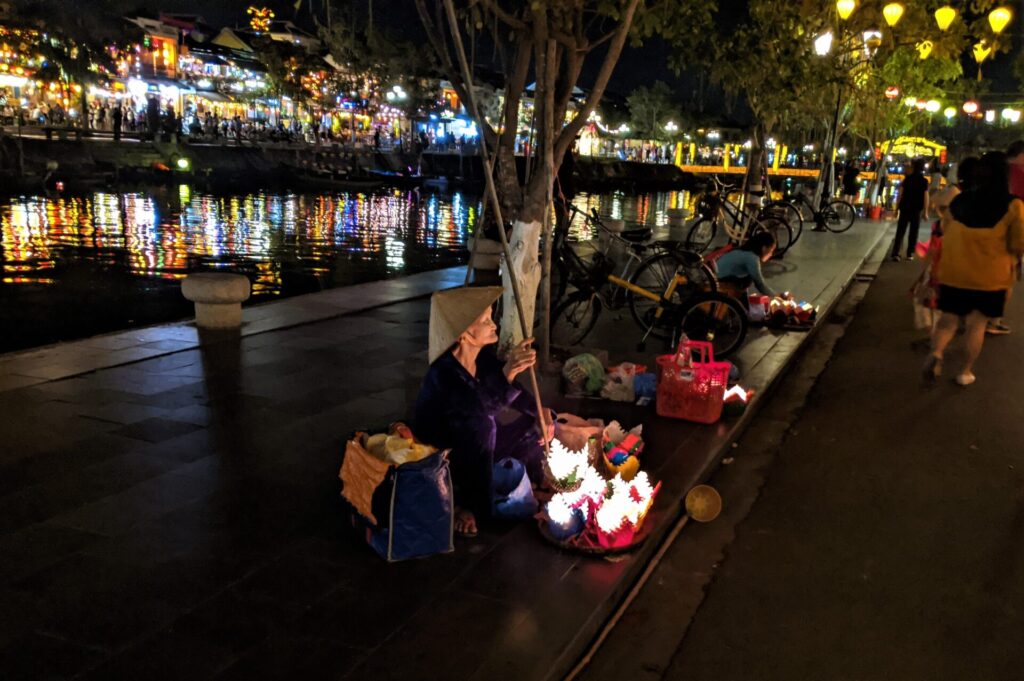 Some of these sellers are really funny though. Because the competition is high, they will do or say just about anything to get noticed. One particularly entertaining encounter was with a young Vietnamese woman trying to offer me a massage. "It's happy hour! Buy one get one free foot massage. Full body massage. Have a look." After I politely declined and continued past her, I heard her shout "Come on mate!" in full Aussie accent. I'm still chuckling about this young local woman calling me mate.
The sales pitches are not limited to walking around either. Anyone who chooses an outdoor table along any of the main walking streets will be subject to numerous vendors offering trinkets, greeting cards, snack food, and more. This frequent interruption can make it hard to enjoy your food or drinks in peace. Most of the vendors have a sales pitch, as this is their livelihood. Nearly all of them try to make friends first, so it's more of a drawn out process to decline. They know they have a captive audience, since you can't just walk away.
We had one lady selling coconut crisps (along with peanuts and dried ginger) tell us that she made them in her kitchen "right over there" as she pointed towards the more local part of the city. Later on in our stay, after encountering dozens of other vendors selling the same thing, we found her "kitchen". It consisted of a downtown curb where boxes of factory packaged coconut crisps were being opened and re-packaged in order to pass them off as homemade.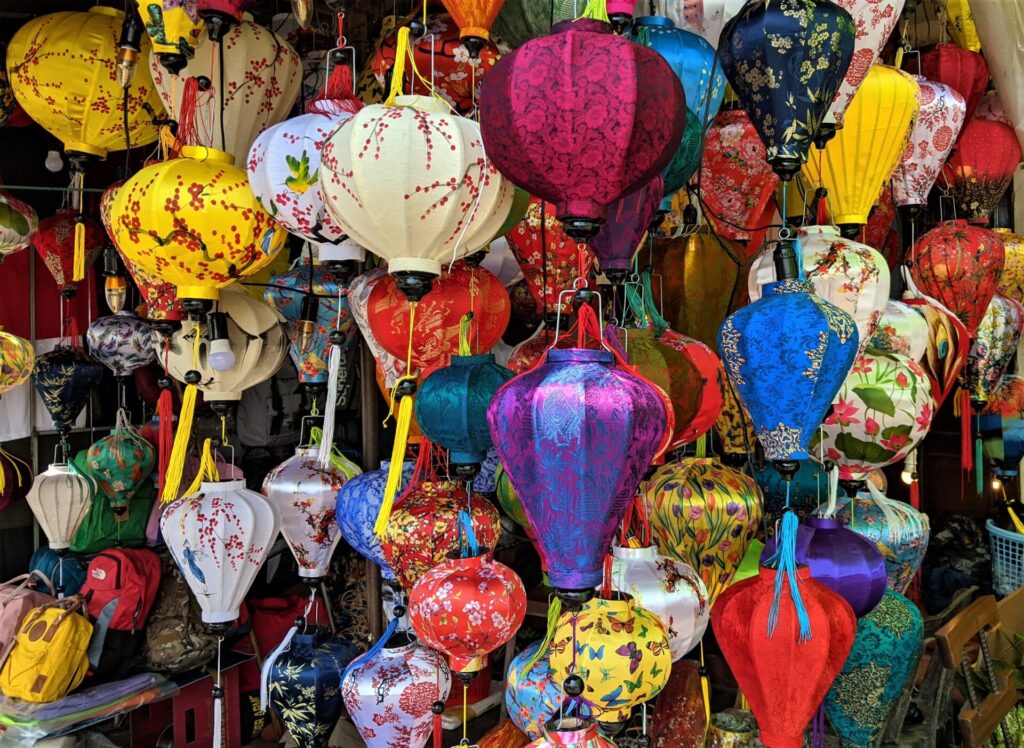 We Got Scammed
Sadly for the first time in our travels, we were short-changed on purpose. Not once, but twice. I've read plenty of accounts online over the years about this, but it was the first time either of us (knowingly) experienced it. Katie bought a rice paper snack that kind of looks like a mini pizza that they sell from little carts all over the old town. The cost was 30,000 VND and we paid with a 100,000 bill. The change we got was only 66,000, or 4000 VND short. The 6000 portion consisted of three 2000 bills. When we showed the lady, she apologized, took the three 2000 bills back, and then handed us a pre-measured stack of 1000 bills instead. There were only nine of them in this replacement stack, leaving us short again, although only 1000 VND this time. That's like $.04, so we let it go and walked away, but it still left a bad taste in our mouths.
The vendor deliberately gave us tons of small bills in an attempt to get us confused. And even when we caught it, she still had the audacity to do it again. Things like that are just unnecessarily annoying. If you want to sell your product for more money, then just charge us more money from the beginning. Don't try to steal it from us and pretend that it's an honest mistake. That's just ridiculous. The rice paper pizza wasn't that great either. Feel free to skip this one and just eat more banh mi or cao lau.
Fluctuating Prices
We also had issues with fluctuating prices at the market, which I can't remember happening to us anywhere else. After a few days of market shopping, we generally pick our favorite vendors and become regular customers. In this way, we learn what things should normally cost. That wasn't really true in Hoi An though. For example, we'd often buy eggs from the same lady. Some days they were 40,000, other days 50,000, and still others 55,000. I don't think it was a size thing either, as prices seemed to increase as egg size decreased. It just seemed like we got charged whatever she thought she could get away with charging that day. That happened to us when buying vegetables as well. These floating prices were just confusing. Despite the bargaining culture on most things, food is not normally a place where people expect to bargain.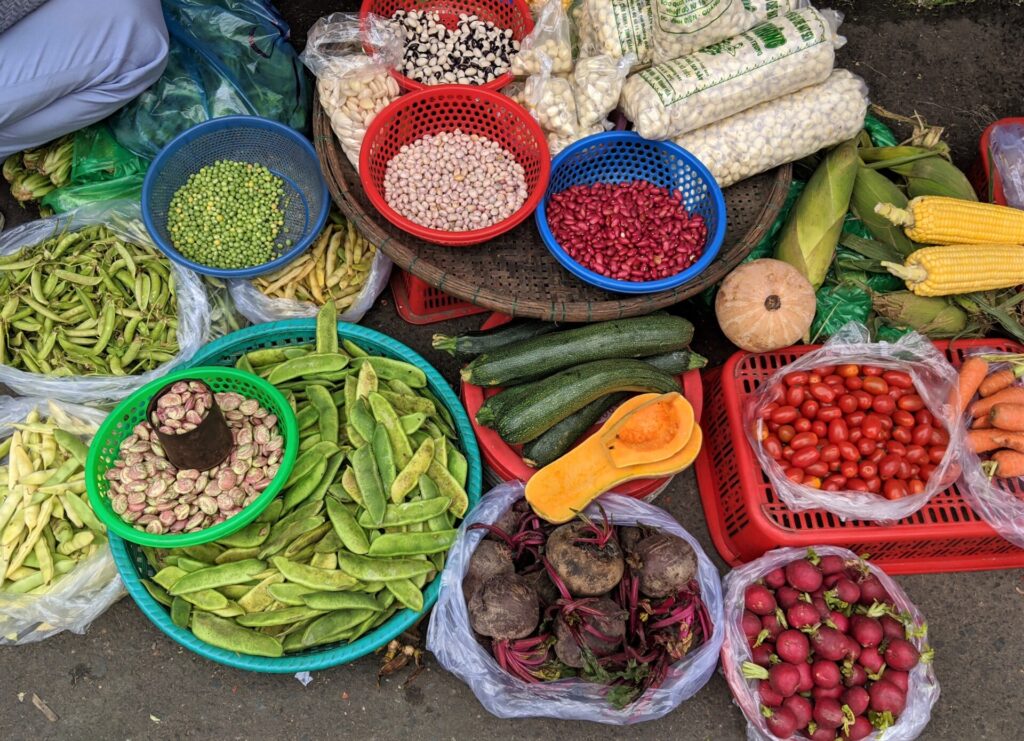 With few exceptions, prices seemed to be fluid on just about everything. One evening we asked about bike rentals and were quoted 35,000 VND/day. When we went back the next day, it was then quoted at 40,000 VND. It felt like almost nothing had a fixed price in this town. I guess that's good if you are willing to put in the effort to negotiate, but after a while it really just wore us down. While none of it is much money, it just left me with a feeling that I was constantly being ripped off, or at least needing to be on guard against it.
What We Did
Most of our days were spent in the downtown area, taking in the beauty and eating the mouthwatering cuisine. However, we did explore outside of the city center too. On multiple days, we rode those aforementioned rented bikes to the beach. The ride was about 3 miles (5 km). There's a direct route along a busy road that's a bit shorter, but we opted for the slightly more scenic route. Our less busy route passed through multiple rice paddies and was as beautiful as anything we witnessed in town. I'm not sure if these pictures do it justice, but the bright green colors were simply breathtaking.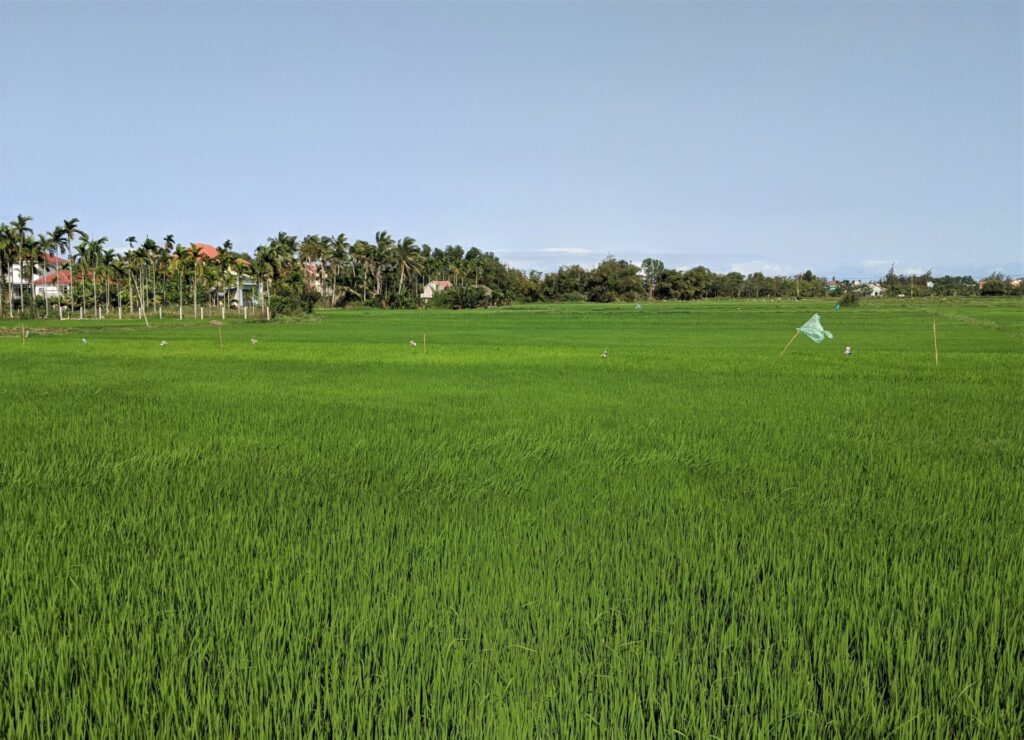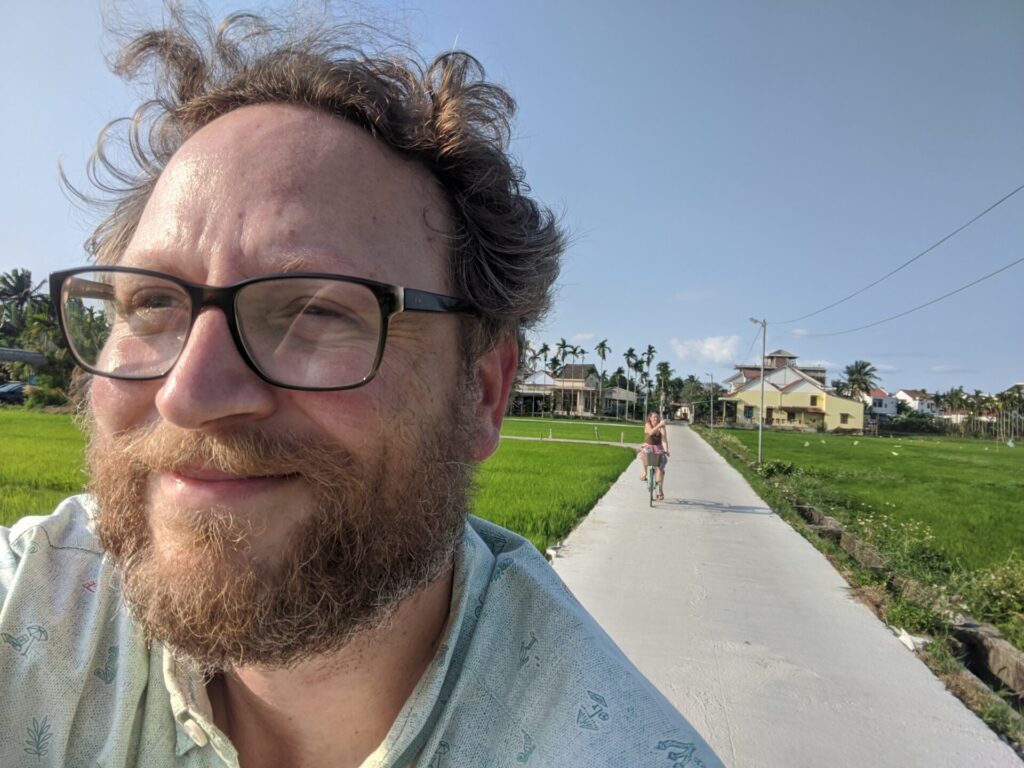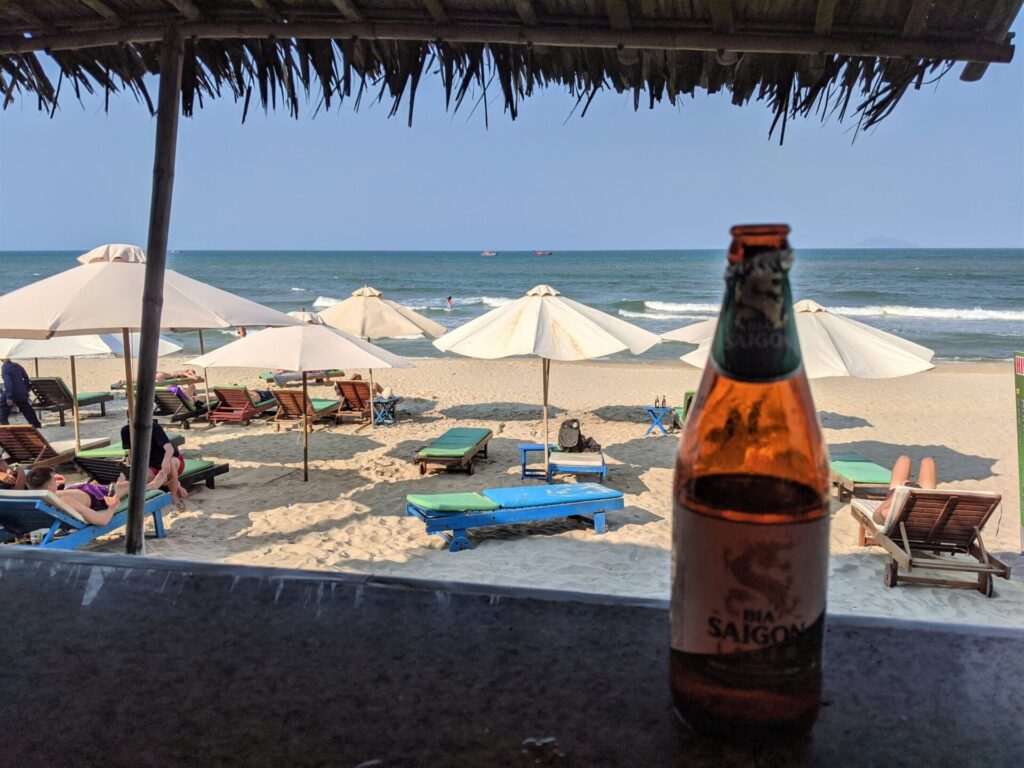 The destination beach consisted of soft fine sand that stretched for miles. There were multiple access points that were free. Both the ride and the shore are just another example of how everything in the whole Hoi An area is incredibly beautiful. In fact, one bike ride back to town allowed us to catch a couple of water buffalo hanging out in the river doing their thing. Even after 9 months of continuous travel, this was a "wow moment" for us. We both just watched them in silence from only a few feet away for a good long time. This is why we do what we do.
Day Trip To My Son
About an hour from Hoi An by car are the My Son (pronounced mee san) temple ruins. The site itself can be covered in 3 or 4 hours, meaning that this is the perfect day trip. Our Airbnb host organized a private taxi to pick us up and take us back afterwards for about $30. But there were tons of places around town offering the same service if you don't have a helpful Airbnb host. This ancient area consists of about a half dozen religious sites that were built by the Cham people between the 4th and 14th centuries. My Son has a similar feel to many of the ancient temples in Cambodia. It's like a poor man's Angkor Wat.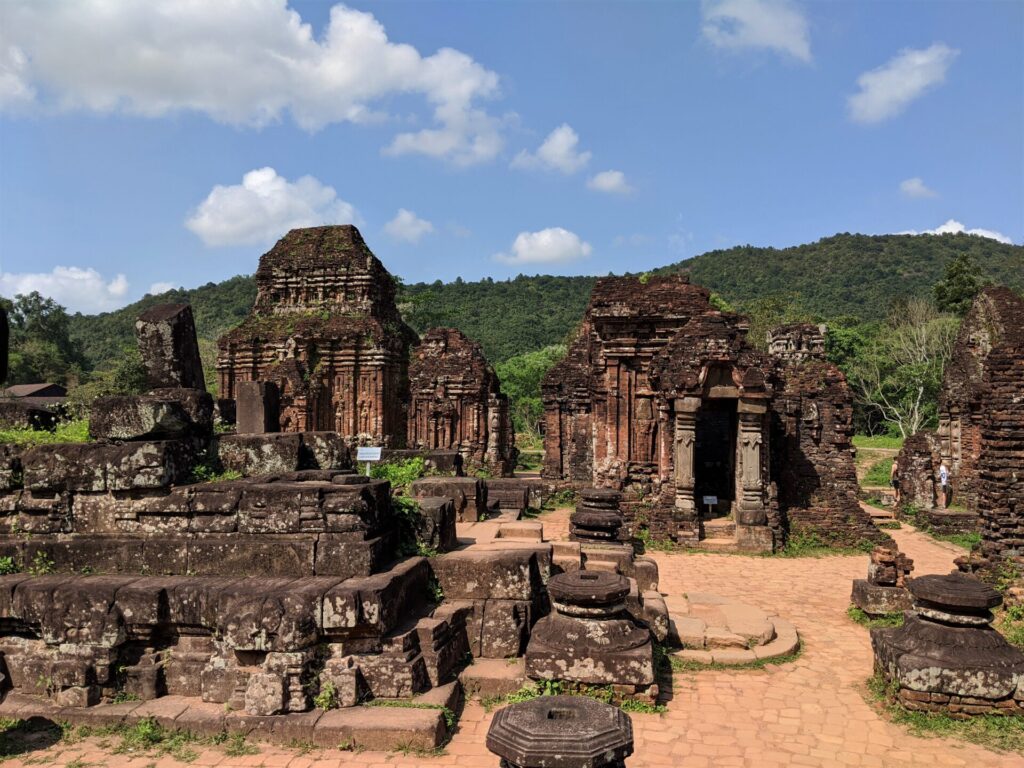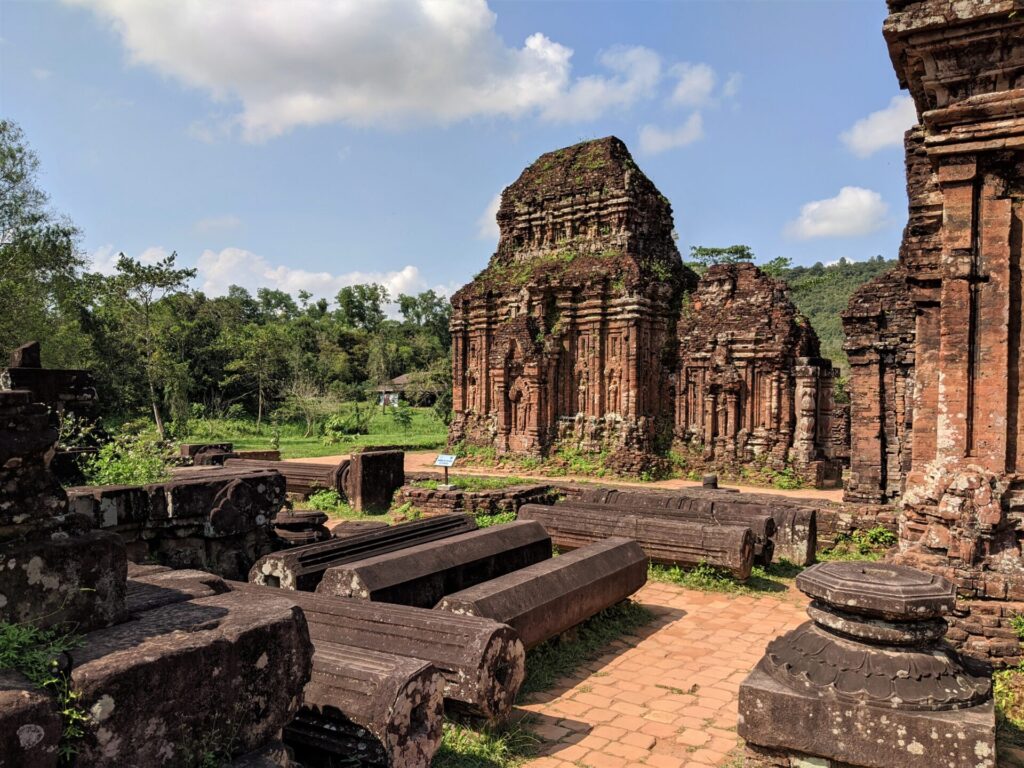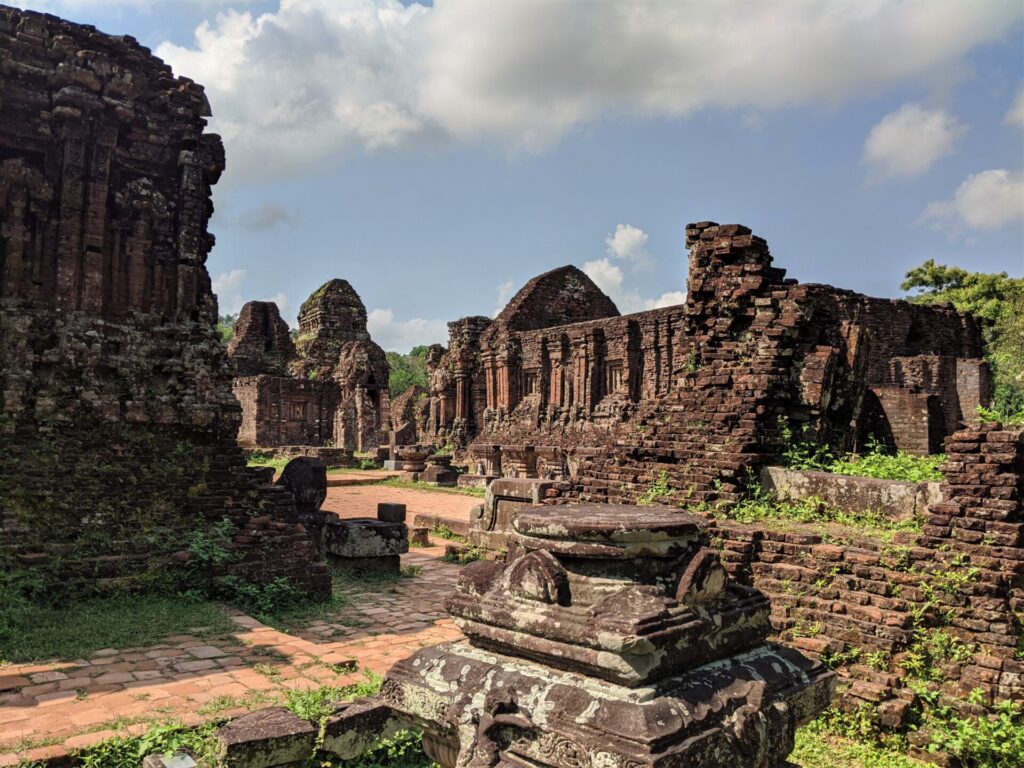 That's not to say that it's unworthy of a visit. It absolutely is. It's actually even older than most of the temples in Angkor. To give you an idea of how old it is, the river that runs through the valley where the temples were built no longer follows its original course. Today, it flows hundreds of meters away. For some reason, that fact really accentuates the age for me.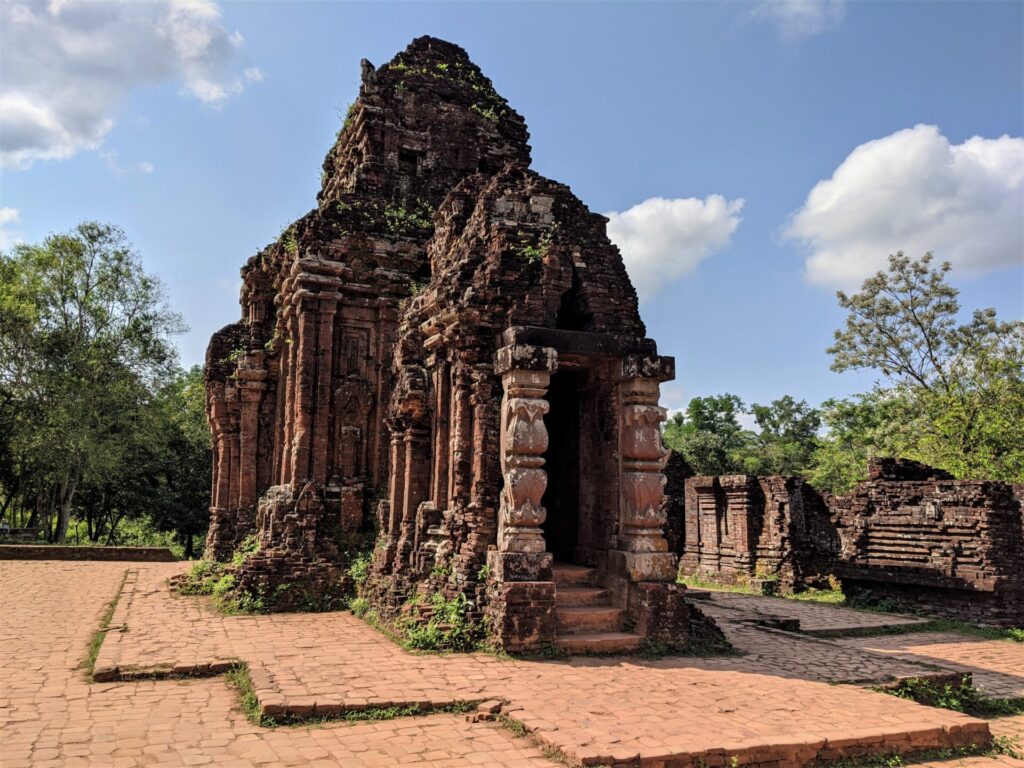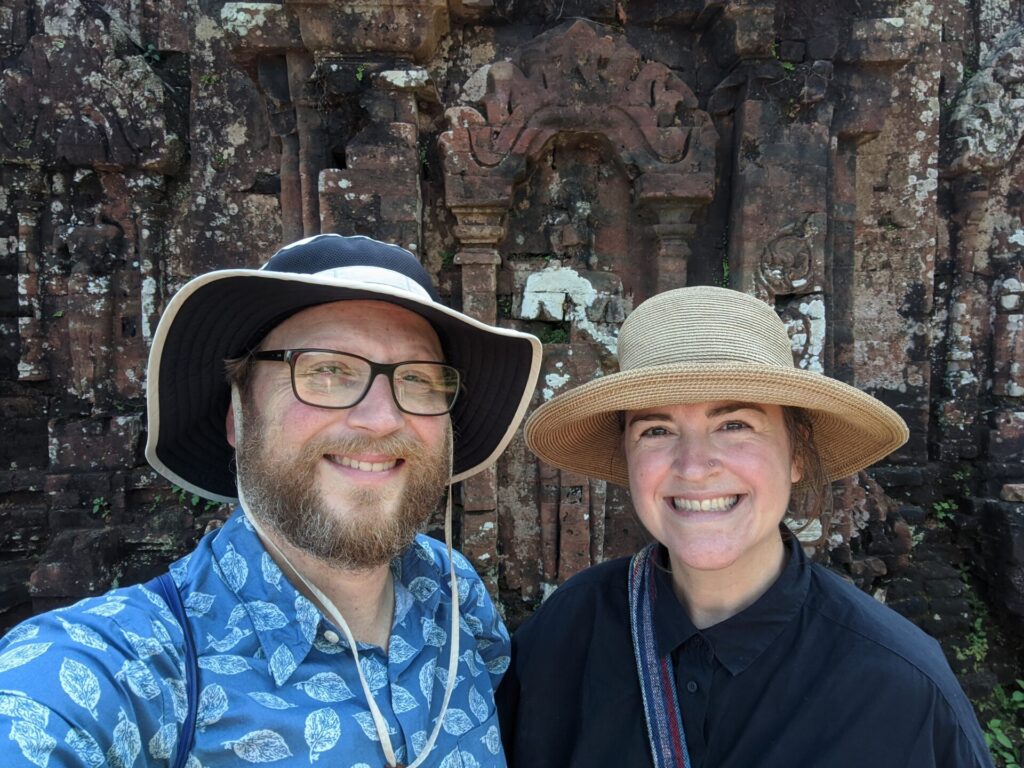 As such, its old age means that many of the buildings are decaying. Sadly, many others were destroyed by the US bombing campaign during the American War (as the Vietnamese call it). We saw numerous bomb craters throughout the site. Luckily, parts of My Son are still remarkably preserved. There is one well preserved section that is truly incredible. It has a dozen buildings and temples that have survived decades of wars and centuries of nature. It's like being transported back in time.
Where We Stayed
We rented a large 3 bedroom, 3 bathroom house located in a local neighborhood. The area was great. It was far enough outside of the constant sales pitches to be peaceful, but still only a short 10 minute walk to the Hoi An historic old town. While we picked this place to stay thinking it would only be the two of us, we were delighted and somewhat surprised to host our first visitors during our travels so far. Katie's mom and sister flew all the way from the US to stay with us for 2 weeks. Well, they were scheduled for 2 weeks. Their return flights scheduled through Seoul were cancelled due to coronavirus travel restrictions. All of the flight cancellations meant that they had to scramble a bit to make sure that they could get another flight back to the US. As such, they had to leave us a few days earlier than scheduled. We still made sure to stuff them full of banh mi and cao lau during their time in Hoi An.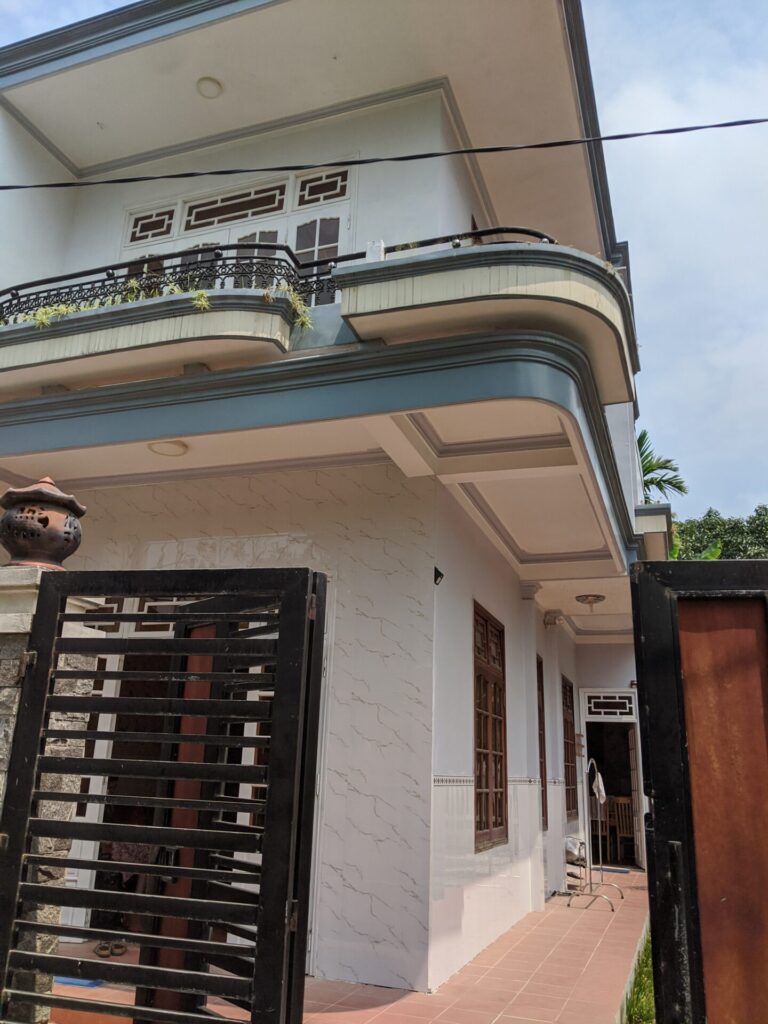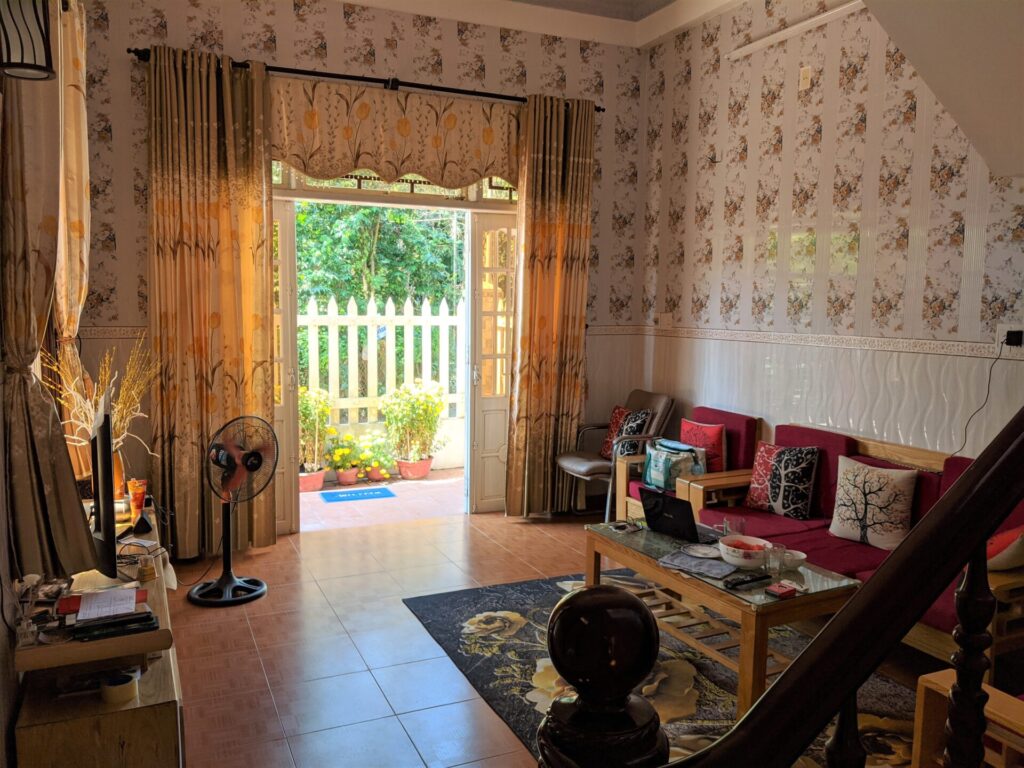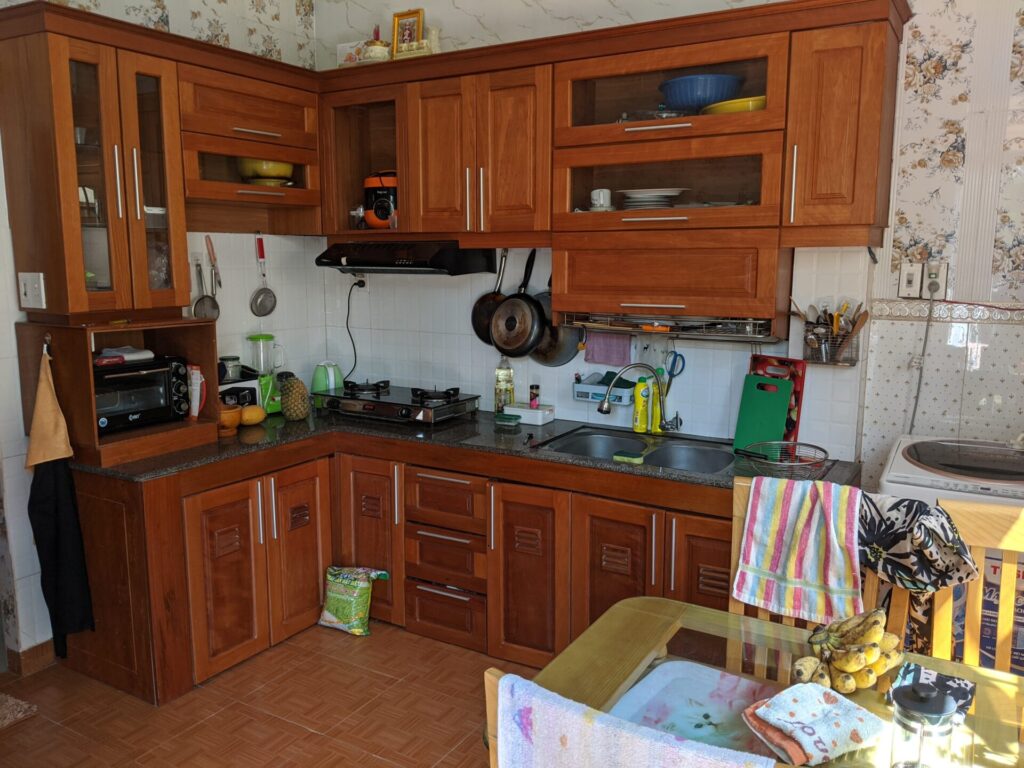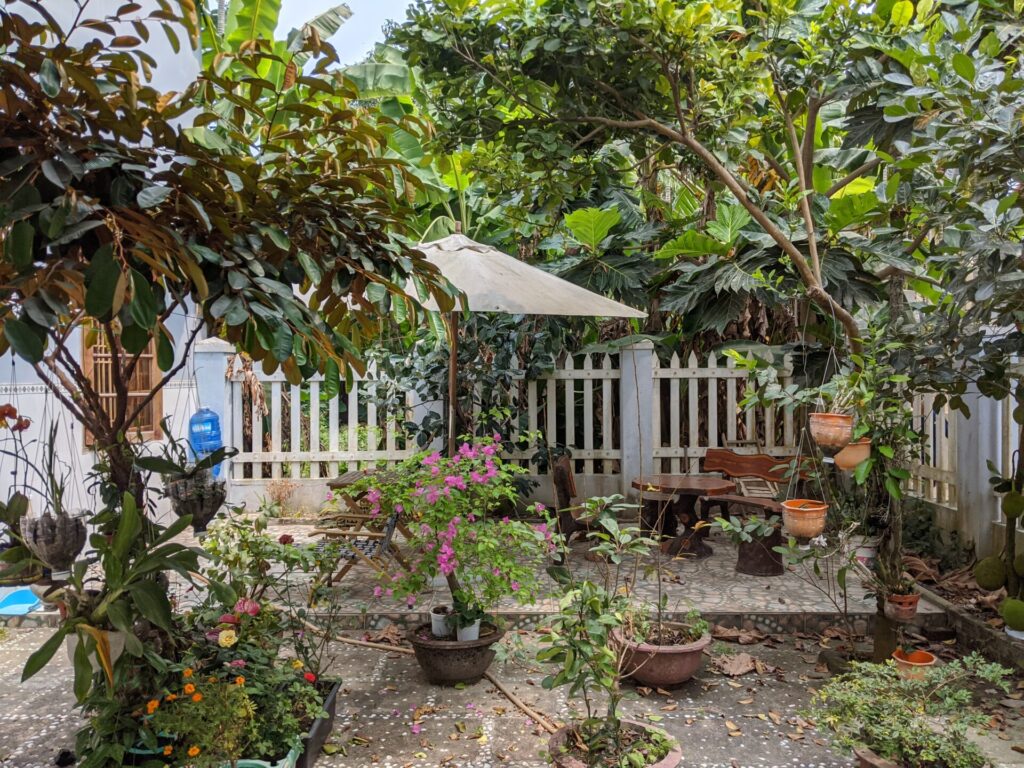 What We Spent
Despite eating out way more often and imbibing more than usual owing to hosting visitors on vacation, we still kept our spending to $1506 during our 4 weeks in Hoi An. Granted, most of our eating out was closer to street food than full service restaurants, but we had a few of those meals too. Overall, everything was quite cheap, and we didn't really have any one off expenses this month to drive up the costs. While Hoi An has dozens of tailor shops, we didn't buy any clothes except for a pair of shoes for less than $20. When you add in our recurring expenses like Netflix and insurance, our total spending for the 27 days we spent in Hoi An was $1633.
Overall, we definitely enjoyed our time in Hoi An. The weather and air quality were outstanding. I'm pretty sure that I gained multiple pounds from all of the awesome food. If you can ignore the constant buzz of "buy my thing" from the never ending parade of vendors, the downtown area is amazing. The very touristic vibe does somewhat detract from the overall experience, but not enough to spoil a visit. Katie and I definitely enjoyed our stay and it helped redeem our faith in the choice to spend 90 days in Vietnam.