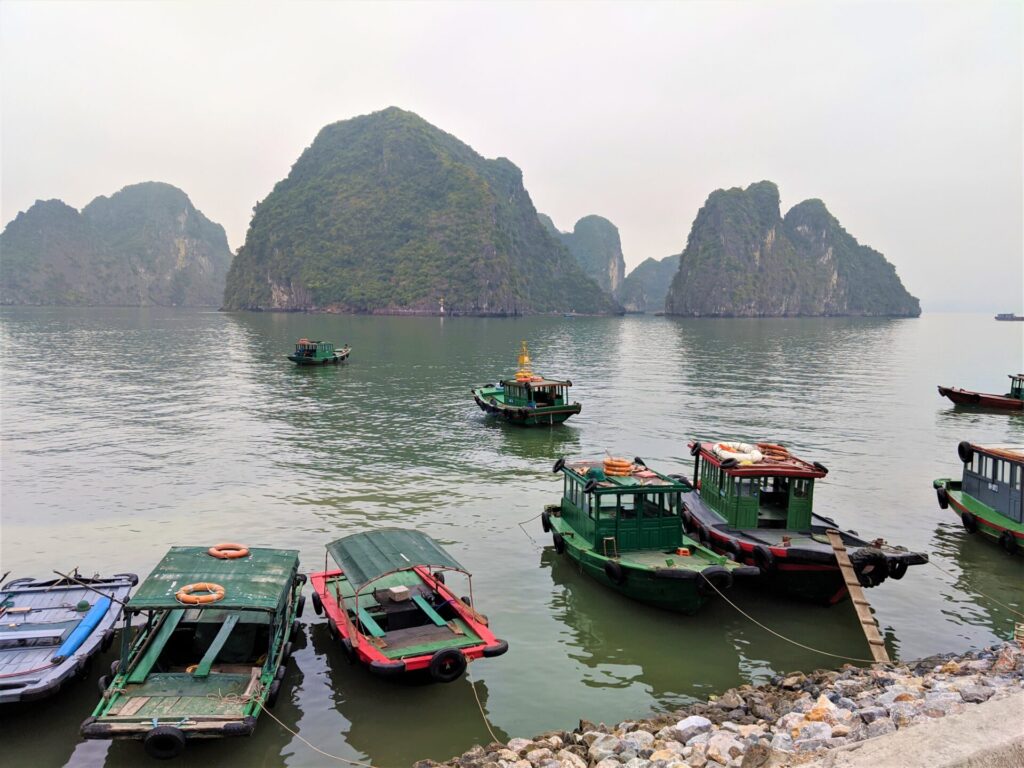 Initially, I was only planning on making this a short informational post. Van Don Airport is a relatively new airport that opened for business in December 2018. It was specifically built to help facilitate extra tourist travel to Ha Long Bay. In order to help promote it and encourage travel through Van Don, the airport offers a free shuttle from the city of Ha Long and back. There isn't a lot of information in English on how to take this shuttle, so since Katie and I took it, I thought I would add a quick post to the world wide web on how to do it in order to help future travelers. But our travel day turned into a travel adventure, so now I have a story. (scroll down to "Our Travel Adventure" if you want skip the logistics)
At this point in time, flights to and from Van Don airport are still relatively rare (like 4 per day). As such, the free shuttle runs on a coordinated schedule timed to these flights. The buses are timed to leave Ha Long 3.5 hours before your airplane departure, allowing 1.5 hours on the bus and 2 hours at the airport. While it is free, reservations have to be made in advance to ensure that the bus will run. If no one reserves a seat, they won't risk running an empty bus. Complicating matters a bit is the reservation website is only in Vietnamese.
We were lucky enough to have a bilingual Airbnb host that was willing to help us. If you're not that fortunate, you can probably figure it out in conjunction with Google Translate. There is also a phone number, and although I didn't test it out, it would be worth a quick call to see if you can find someone who speaks enough English to complete the booking process for you. As far as I can tell, the only information you need to provide is your flight and your phone number.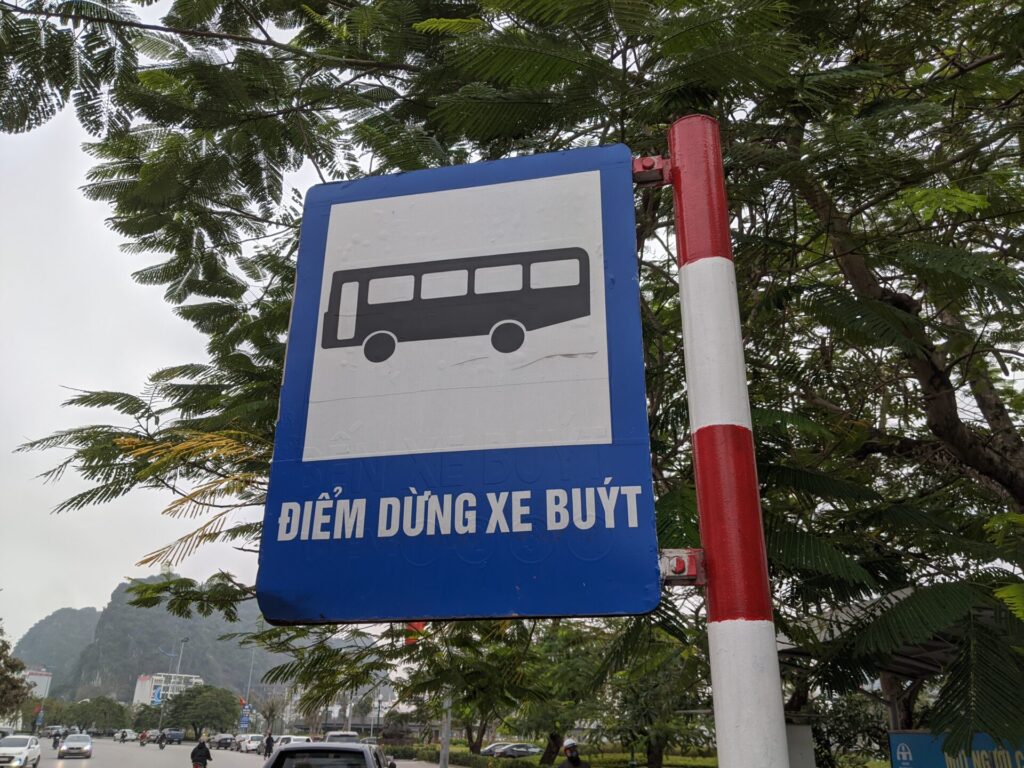 Even after you have the reservation, it's hard to know exactly where to go based on the information provided. This website has a map of the route, but we found that it's not quite exact. The free shuttle leaves from in front of the huge Ha Long Flower Park. The specific bus stop is located here. According to the route map, there are many possible stops on the way to the airport, but our shuttle driver never made another one. Apparently there were no other reservations and we were his only passengers for the trip. We realized that there wouldn't be walk on passengers when we left 15 minutes prior to our scheduled departure time. Not that he would've left without us, but since Katie and I were there early, he had us board and then hit the road. So don't expect to show up and get a ride without a reservation.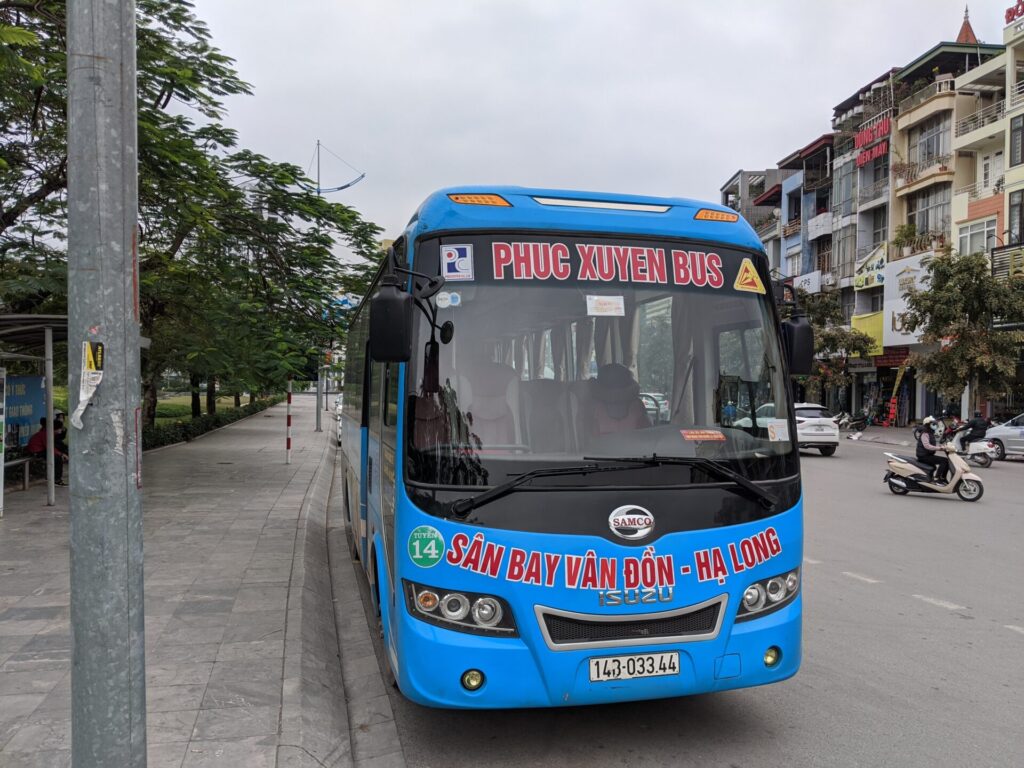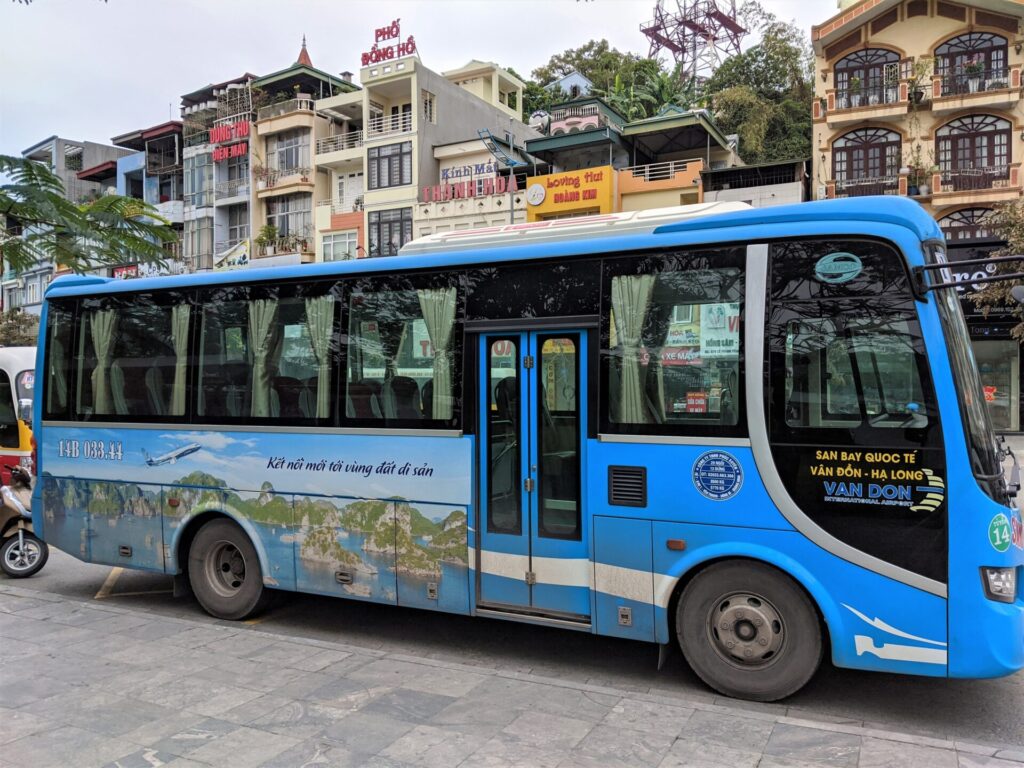 The total travel time was just barely over an hour instead of the scheduled 1.5 hours. The bus itself was new and clean. And considering that it was our own private shuttle, it was a pretty good experience. But that was the end of the travel fun on this day. This is also the end of the informational part of the post. What follows is our travel adventure. If you are a regular reader, you know that I normally include lots of pictures along with my stories. In this post however, you'll have to excuse the lack of a visual guide as we had many more important things to deal with than taking pictures.
Our Travel Adventure
As soon as we stepped off the airport shuttle around 1:00pm, we saw many people, too many, congregating outside of the terminal doors. It became obvious as to why they were there as soon as we walked into the departure hall. Our flight had been cancelled, along with others. It was foggy along the coast that day, and the incoming planes could not get to Van Don airport.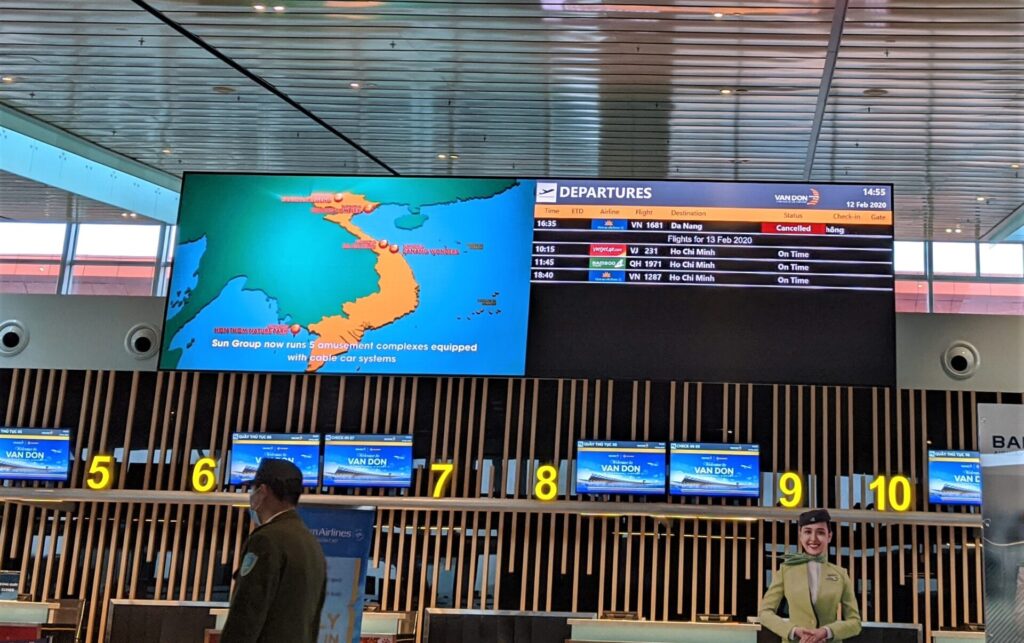 We found the Vietnam Airlines counter and queued up. After standing in line for a half hour or so, we made it to the front and were able to discuss our options. Unfortunately, our options were few as the next flight from Van Don to Da Nang wasn't for two days. This highlights one of the downsides of flying into or out of a less popular airport.
The Vietnam Airlines employees were helpful, even if they could only offer us limited options. We were given the choice to be on an outbound flight from either Hanoi or Hai Phong the following day. Initially we chose Hanoi because we figured we knew how to get there, and honestly, we had never heard of Hai Phong. We could take the free shuttle back to Ha Long and then go to the bus station. From there, we could catch a bus back to Hanoi which is how we arrived in Ha Long to begin with.
However, as we stood there checking our maps, we realized that Hai Phong was only half the distance compared to Hanoi and right along the path to Hanoi anyway. We could still take the shuttle back to Ha Long and then instead of going all the way to Hanoi, we could just splurge to take a Grab taxi right to Hai Phong. The Grab app said it would cost us about 500,000 VND, or around $22. It wouldn't be the cheapest option, but it's not that much money and it would certainly be easy. We had the reservation agent rebook our ticket to be Hai Phong to Da Nang for the next day.
Getting Back To Ha Long
Since there were dozens of other people ahead of us in line to catch the shuttle, we had time to find a hotel room near the airport in Hai Phong. We sat around for an hour or so until we saw four large shuttles pull up out front. Grabbing our luggage, we walked out of the terminal to learn that all of the shuttles were going directly to Hanoi. Oh, and the free shuttle that goes back to Ha Long was also finished running for the day. Super! The Grab app had no drivers near our rural airport location either, so that left us with only one option. We piled into the lone waiting official taxi and took a metered ride back to Ha Long.
I did ask for a cost estimate before getting into the cab. Not that we had much choice, but I wanted to be prepared. I was told it would be around 800,000 VND or about $35. That's more than I would've liked to pay, but we didn't have too many options and Ha Long was the closest major city. As we cruised through the countryside in the back of this brand new car traversing on a brand new highway, we watched the meter tick well past 800,000 VND. By the time we got there, it cost us a full 50% more. I handed the driver 1,200,000 VND ($52.5) and we got out of the cab.
Back Where We Started
Of course now we've only made it back to our starting point for the day. We still needed to get to Hai Phong. We could've called up the Grab taxi, but we were feeling pretty ripped off at this point. Instead, we walked into the bus station's ticket building and asked about options to Hai Phong. The lady working told us to go wait on the curb right outside along the main road and we'd see a bus come by. We'd just need to flag it down. Easy! Having just spent a week in Ha Long, I was at least familiar with the buses and had an idea of what I was looking for.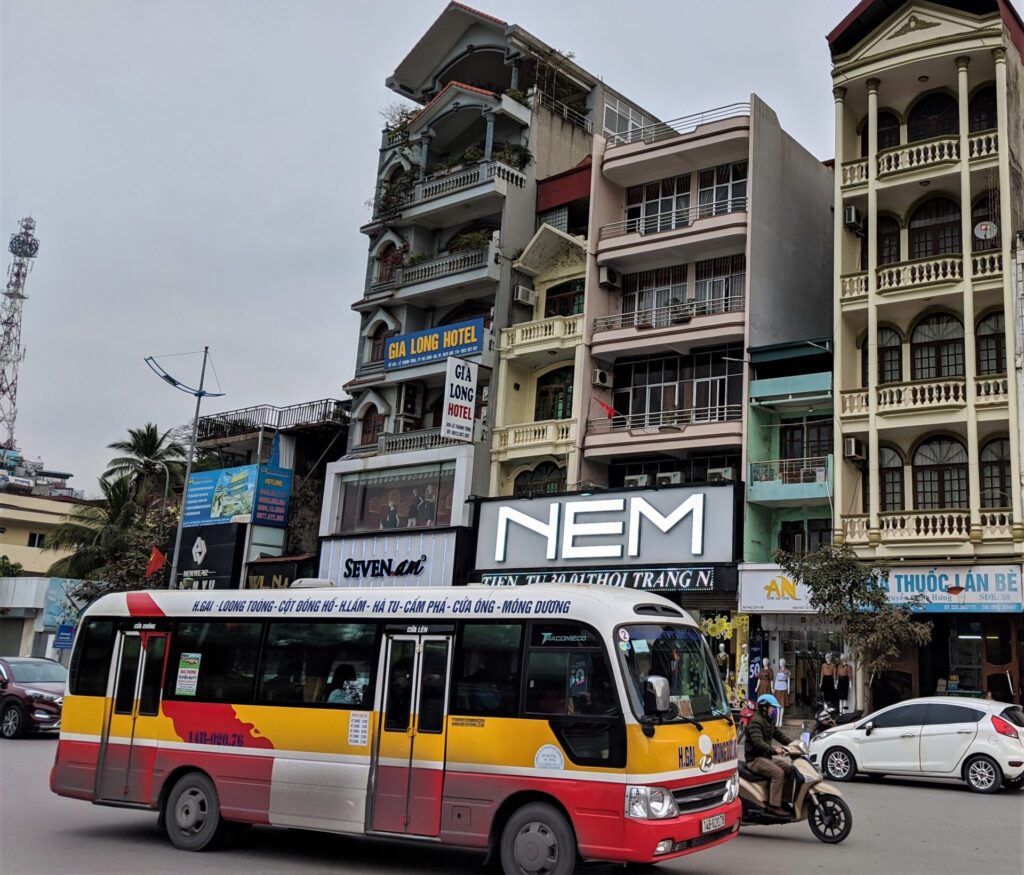 If you've traveled anywhere internationally, you know that areas in and around transit centers are full of opportunistic people looking to make an extra buck off of tourists. In fact, standing there by the side of the road with our luggage was akin to us having a blinking sign above our heads that said "Take Our Money". While waiting for this public bus, we were approached no less than once every few minutes. "Where are you going?" is a common opener. Not that your answer matters much, because whatever destination you say, the helpful person is willing to get you there. And you probably will get there, but just at 5-10x the normal price.
But as we waited, and waited, it didn't appear that any bus was going to come by. Every bus we saw turned into the bus parking lot just prior to getting to us and then left heading the opposite direction. After 45 minutes and fending off over a dozen helpful suitors, some of them not super willing to take no for an answer, we still had not seen the public bus. While it wasn't dark yet, it was getting closer. One of our previous offers was to get in a private transit van going from our Ha Long bus station to the Hai Phong bus station. We gave it a close look, but it felt weird at the time so we declined in favor of waiting for the public bus. However, nearly an hour later and much less certain that the public bus was going to show up, we decided that maybe this wasn't such a bad option.
The second private van that we inquired about quoted us the same price as the first ($100,000 VND each or about $4.25), so that was a good sign. We were told that it would drop us at the Hai Phong bus station, and although we were having trouble finding the exact location of that bus station on our maps, it was at least in the correct city. This Ford transit van had 4 rows of bench seats, and the first three were filled with Vietnamese locals. We agreed to the price and our backpacks were whisked into the back and Katie and I squeezed past the other seated passengers to the back row.
As soon as we sat down, the driver took off like he was shot out of a cannon. We were roaring down the highway, weaving in and out of traffic, our horn constantly honking as a warning to other drivers. The backseat of this van that we squeezed into had been raised to accommodate extra storage. The luggage of the passengers was shoved underneath the seat far enough that we barely had room to put our feet. The raised seat also meant that even though we were slinking down in our seats, Katie and I would hit our heads on the ceiling each time the van hit a big enough bump.
So here we are, smooshed into the backseat of a private transit van speeding down the highway in Vietnam hoping not to die in a fiery wreck. We couldn't really see out much, as our eyes were above the window level. Every time we hit a big bump, we knocked our heads on the ceiling. And we were wearing our masks to protect against the coronavirus (or at least placate the locals), meaning that our feelings of claustrophobia of being jammed into the back of this van were multiplied by our lack of fresh air. It was not a lot of fun.
We Made It To Hai Phong
After about an hour though, we successfully arrived in Hai Phong. Naturally, there were even more "helpful" opportunists at this transit station. In fact, before we were even able to fully exit the van, we had a taxi driver in our face offering a ride. Holy shit people! Give us a chance to rip these masks off and take a breath!
But there was not much time for that. While we were close, we still weren't where we needed to be. We had to get from the bus station to our hotel that we booked near the airport. We hurriedly collected our bags from the back of the van and took off 50 yards down the street. There we took a breath and pulled out our phone. We booked a Grab taxi, and laughably, it turned out to be the taxi driver who first offered us the ride. But hey, at least we had a set price. After the first taxi ride, we were totally done with meters for the day.
After a half hour ride through Hai Phong, which looked like a pretty nice city from what I was able to see of it, we finally arrived at our airport hotel on the outskirts of town. We reserved the deluxe room for $18 ($1 more than the standard), which included a queen bed and a nice view. It was a pretty nice room for $18. We could've stayed there for 3 nights for the cost of the taxi rides to get there.
Like our previous accommodations in Ha Long, this Hai Phong hotel was also on heightened alert from the coronavirus. In fact, they had a sign posted that they weren't accepting Chinese travelers due to the outbreak. Ironically, one of these signs was posted right next to a giant smiling rat honoring the Chinese Zodiac symbol of the new year. While I definitely find it ridiculous that a business would ban all travelers of a single nationality, I was just happy that the ban didn't apply to me and I was able to go to bed.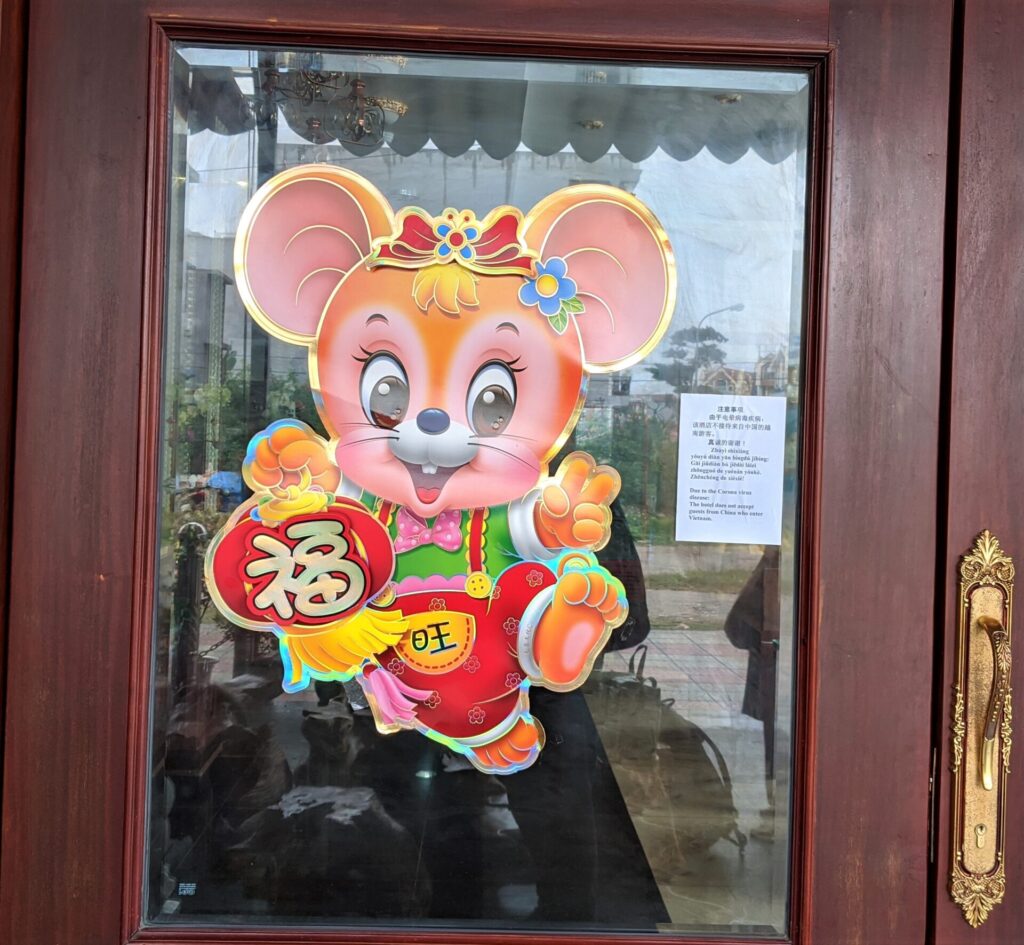 The next day was thankfully uneventful as we took a short taxi ride to the airport, our amended booking was honored, and we arrived in Da Nang without incident. Overall, the flight cancellation cost us 1,580,000 VND (~$68) in taxi and bus fare and another 412,355 VND (~$18) for a hotel room. We also lost a pre-paid night at our Airbnb in Hoi An, costing us $28. Luckily for us, an extra $116 is not that big of deal in the grand scheme of things. However, it does seem a bit perverse considering that we only paid about half that amount for the flights themselves. In the end, we only lost a day and we made it safely. I'm sure this won't be our last transit adventure, but it was the most interesting so far.