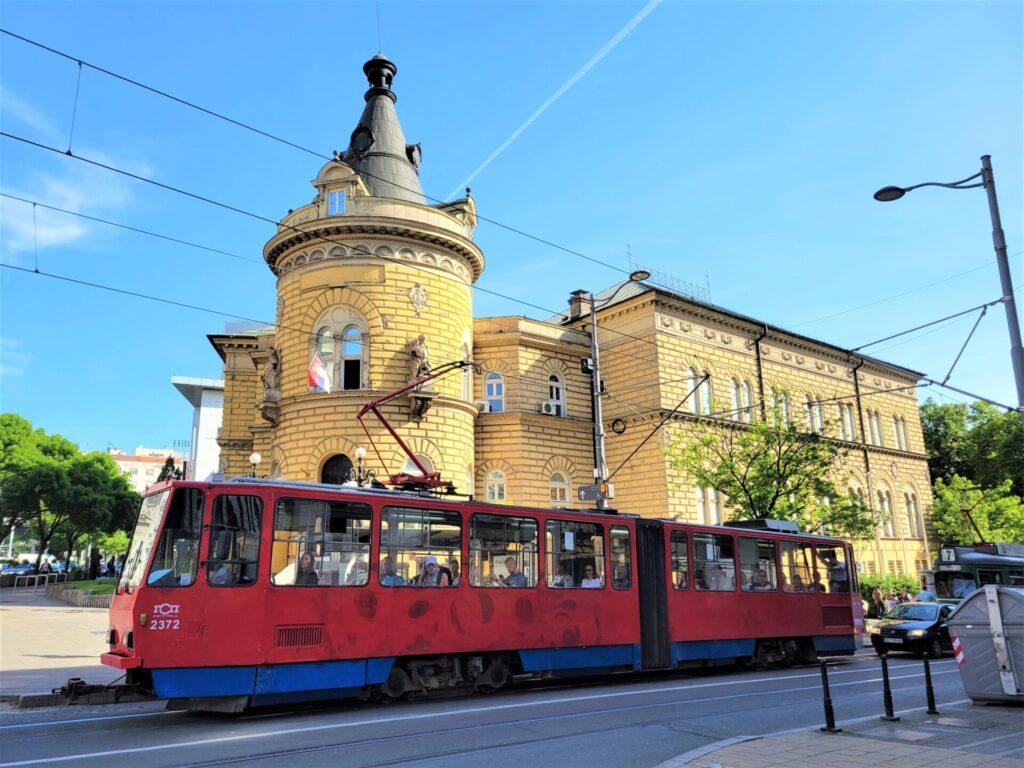 After a month in Belgrade, I can confidently say that Serbia's capital is a great stop. I expected it would be a busy, dirty city full of ugly buildings. Instead, what we found was a very livable place filled with friendly people and dotted with beautiful parks. While exploring, we walked down numerous shaded streets lined with cute cafes. There were spring flowers planted everywhere. We even got our "pet fix" from the neighborhood cats, many of whom were happy to be on the receiving end of our love.
We almost skipped the former Yugoslav capital entirely and that would've been a mistake. In planning, we had read mixed reviews. It's not as visually appealing as other European capitals. There are only a handful of typical tourist attractions. Belgrade also has a reputation as a party city, which doesn't appeal much to us old folks. But since we were already going to be in Serbia, and it was such an easy trip from Novi Sad, we figured we had to try it. Plus, it was the continuation of our Danube tour that started in Budapest. We booked for a month, but to be honest, going into our stay we weren't necessarily excited about it.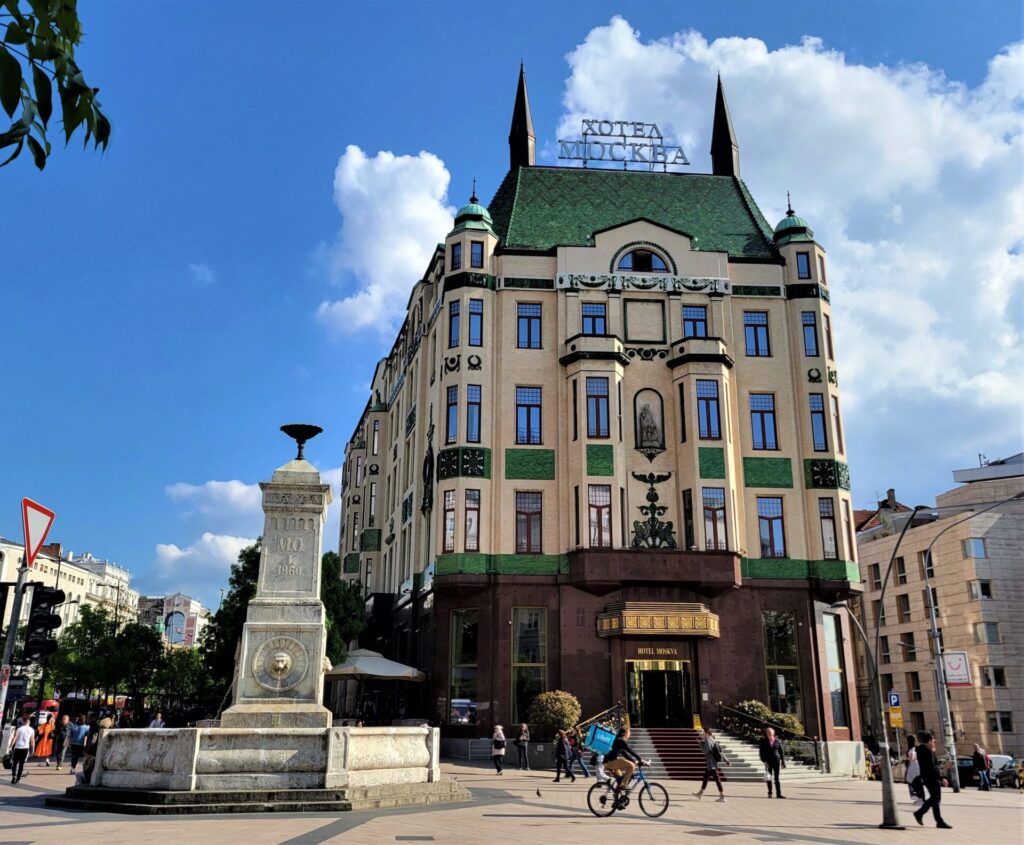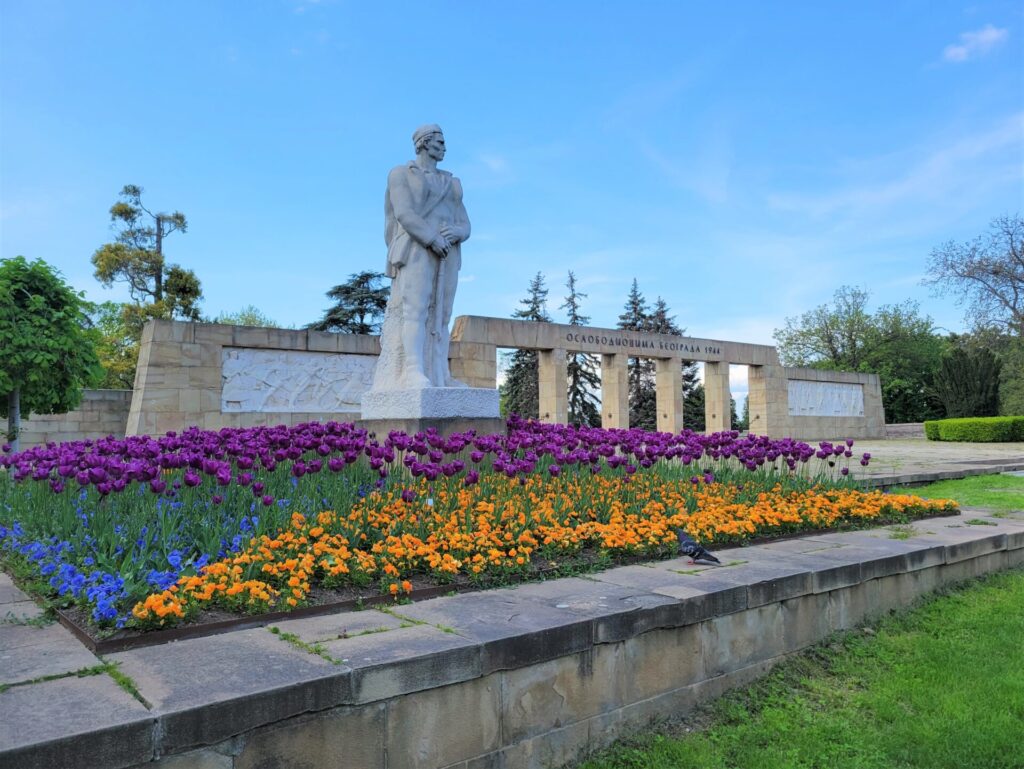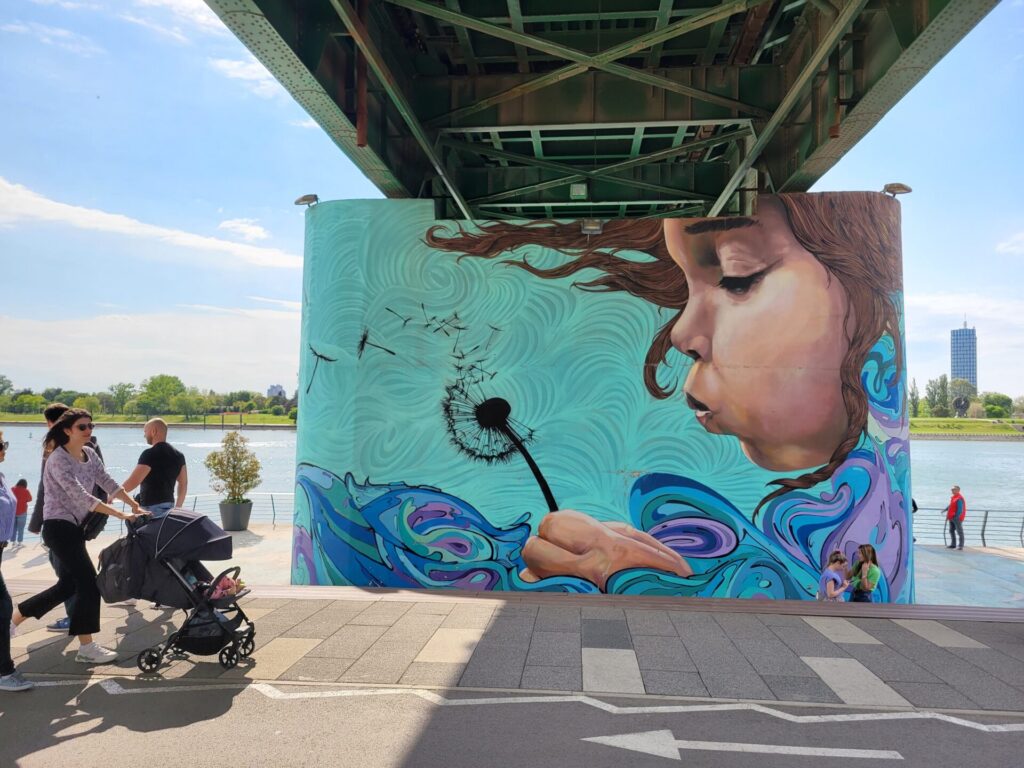 It turns out that we enjoyed almost everything about our time in Belgrade. None of those expected drawbacks seemed to matter at all. Despite having about 1.7 million people, it felt much friendlier than other similar-sized cities. There's a laid back vibe, as opposed to the hurried feeling many cities exude. (Aside from the taxi drivers, of course.) That relaxed attitude is reflected in a strong cafe culture, as we found the sidewalk tables often filled with locals enjoying coffee or beer even during the normal working hours mid-week. The local parks were always full of kids playing and off-leash dogs who all seemed to get along.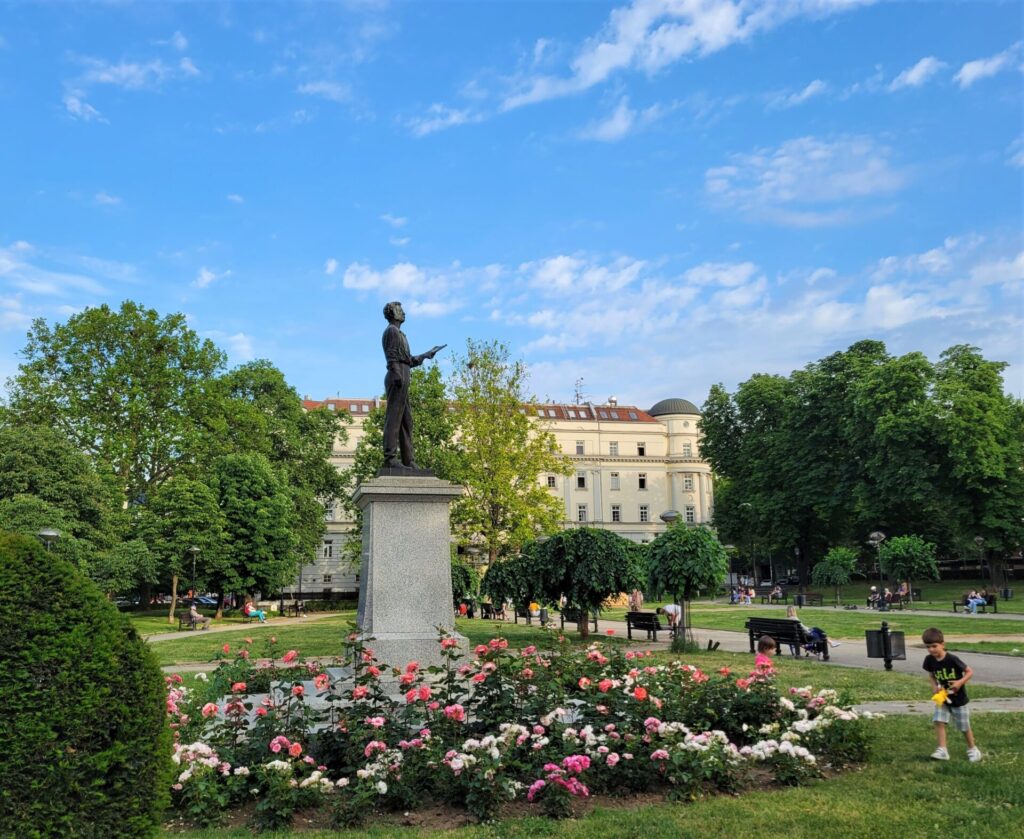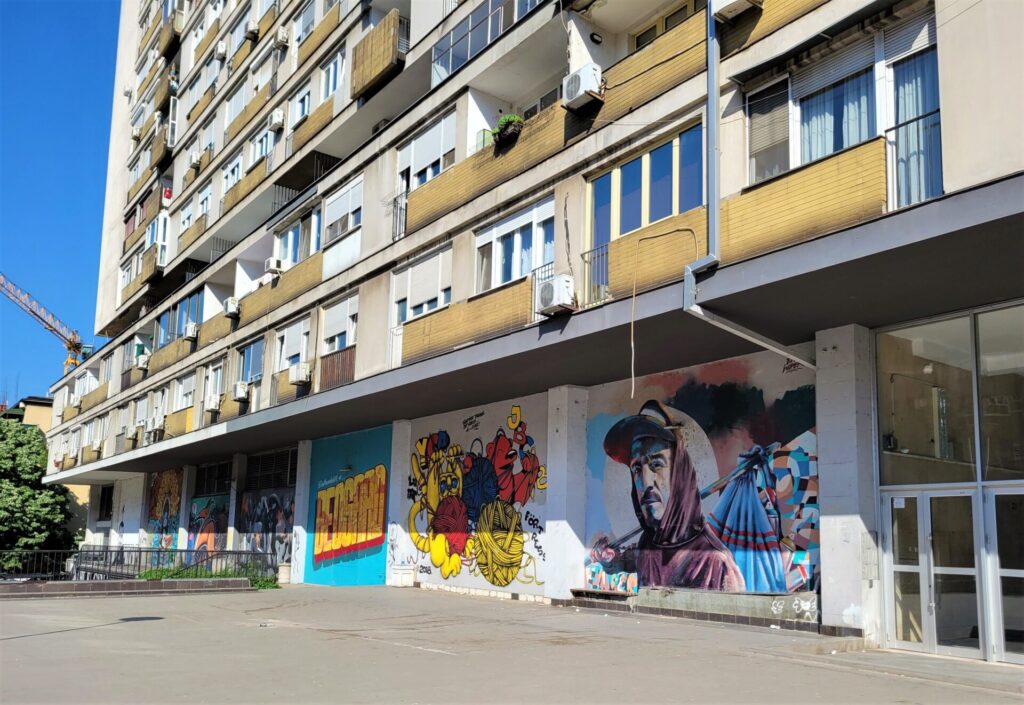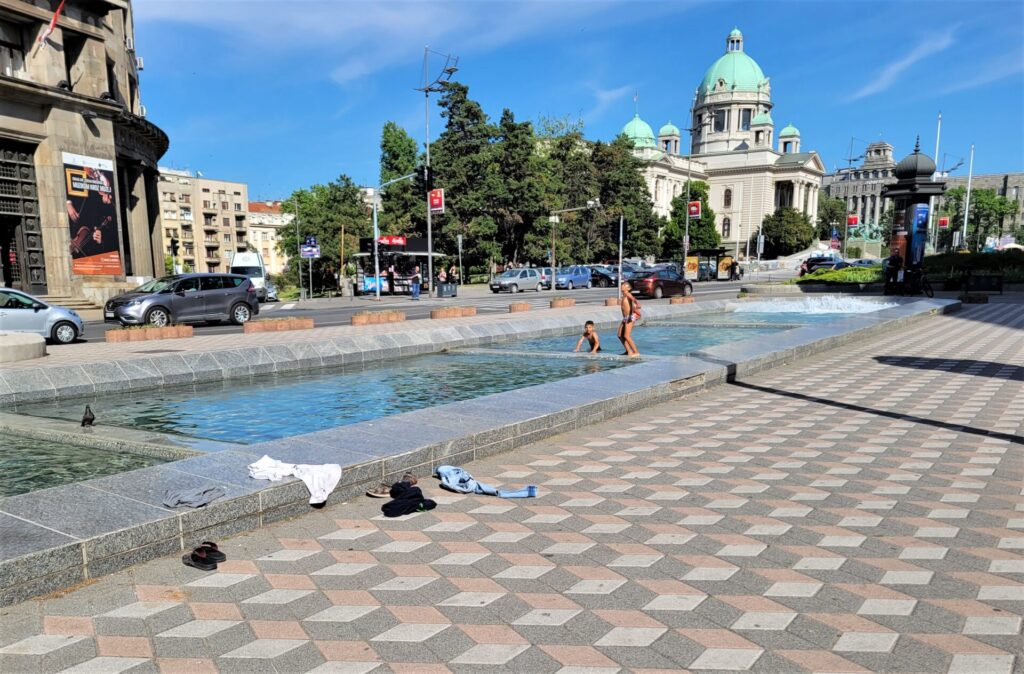 No place is perfect, of course, and Belgrade is not the exception. My main complaint would be all of the smoking. Serbians have a very high percentage of tobacco users and as a result there are fewer restrictions on smoking than in other parts of the world. Even inside restaurants there are often ashtrays adorning each table like something from a bygone era. Outdoor seating fixes some of that, especially if you can find an upwind spot, but I imagine it would be very unfriendly to the lungs during the colder months. Being around many smokers also means being around a lot of coughing. I don't know about you, but I still get some COVID anxiety when I see some maskless person hacking their lungs out.
Museums
Continuing the trend that began in Novi Sad, museum entry was extremely affordable. Listed entry fees at each museum we visited were in the $2-$3 range. And yet, we didn't pay a single dime. For whatever reason, every single museum we entered told us "it's free today". It became a bit of a running joke between Katie and I, and yet every time we entered a new museum, the punchline still delivered. We weren't touring the Louvre or anything, but to get enjoyable museum days for absolutely nothing almost feels wrong. Here were some of the highlights.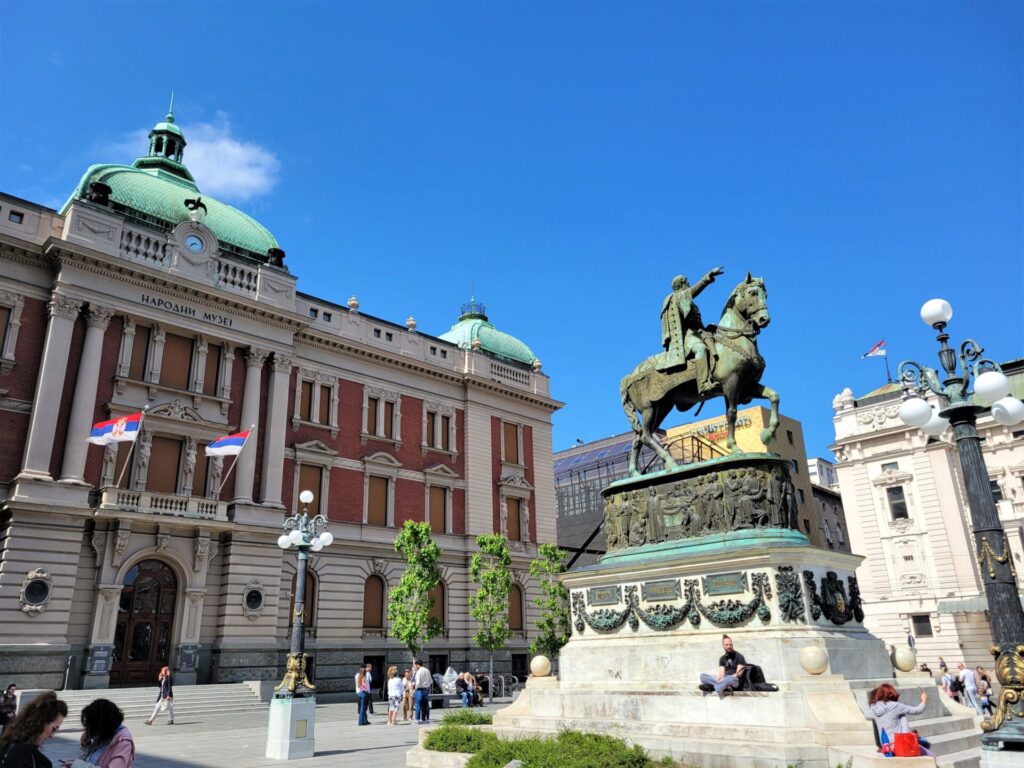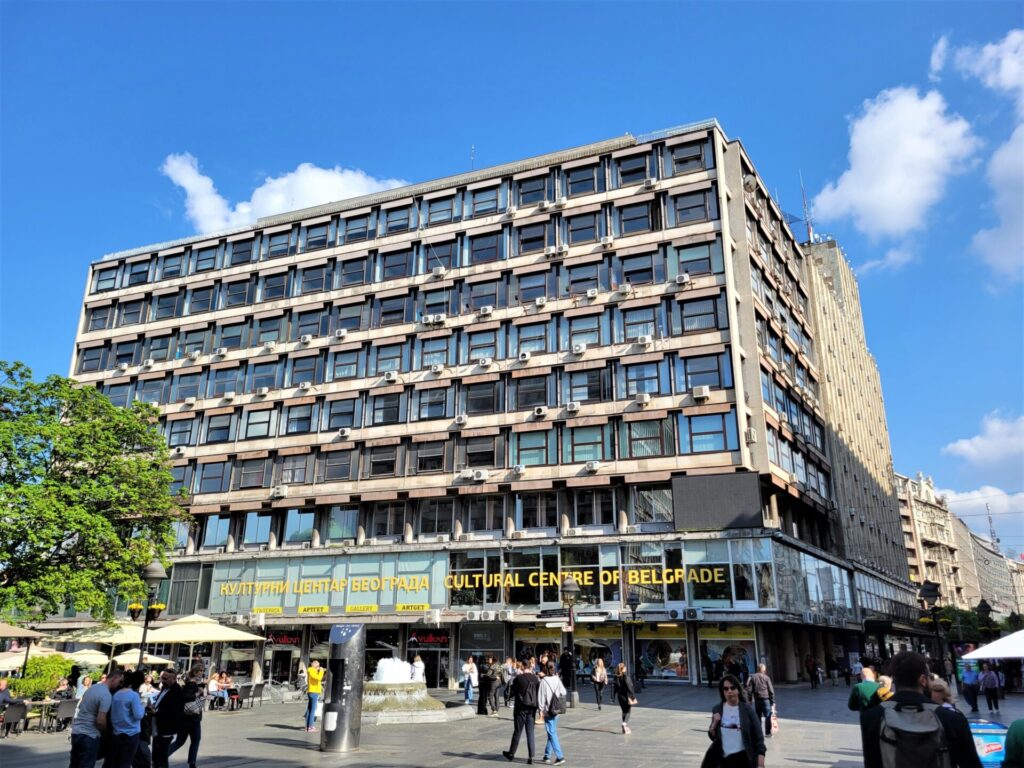 Our favorite was the National Museum. Located right on the popular Republic Square in downtown Belgrade, it's a must see. There were multiple floors featuring stunning art from mostly Serbian artists. They also had many well-preserved artifacts that ranged from tools to jewelry to statues to coins.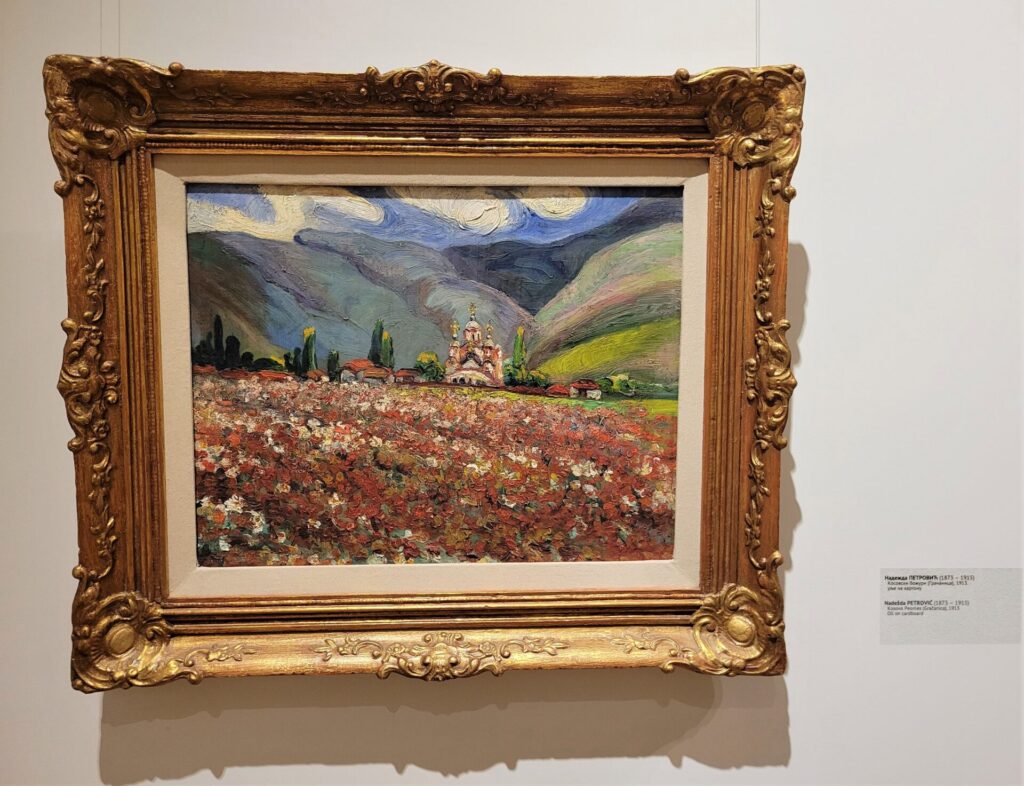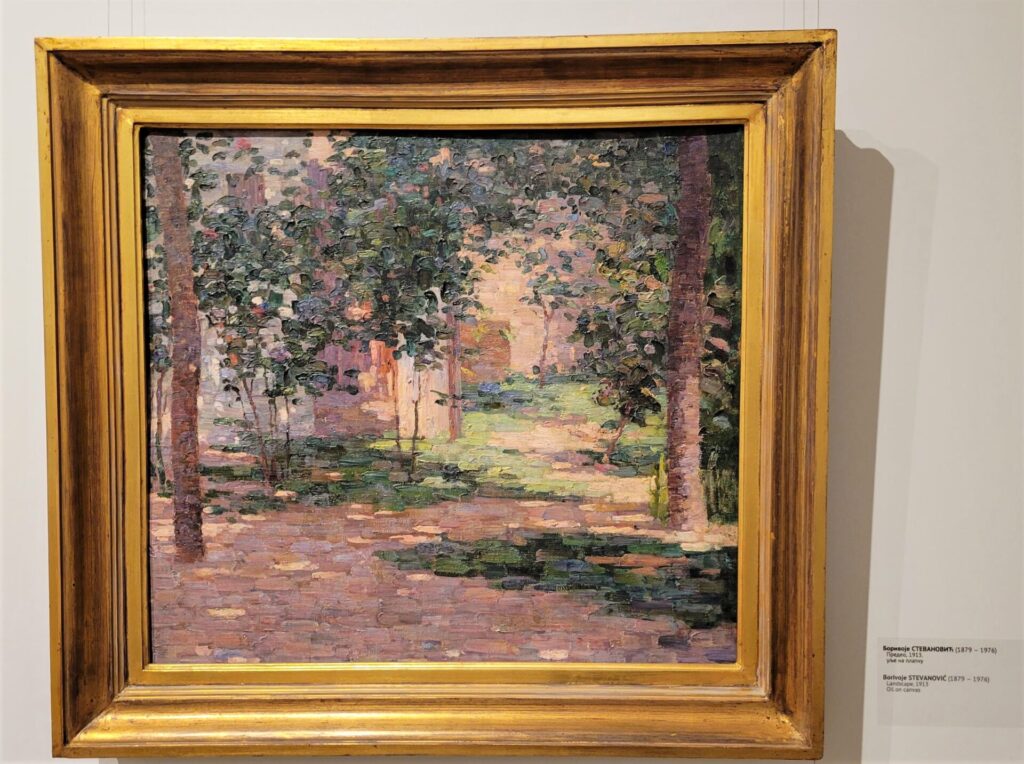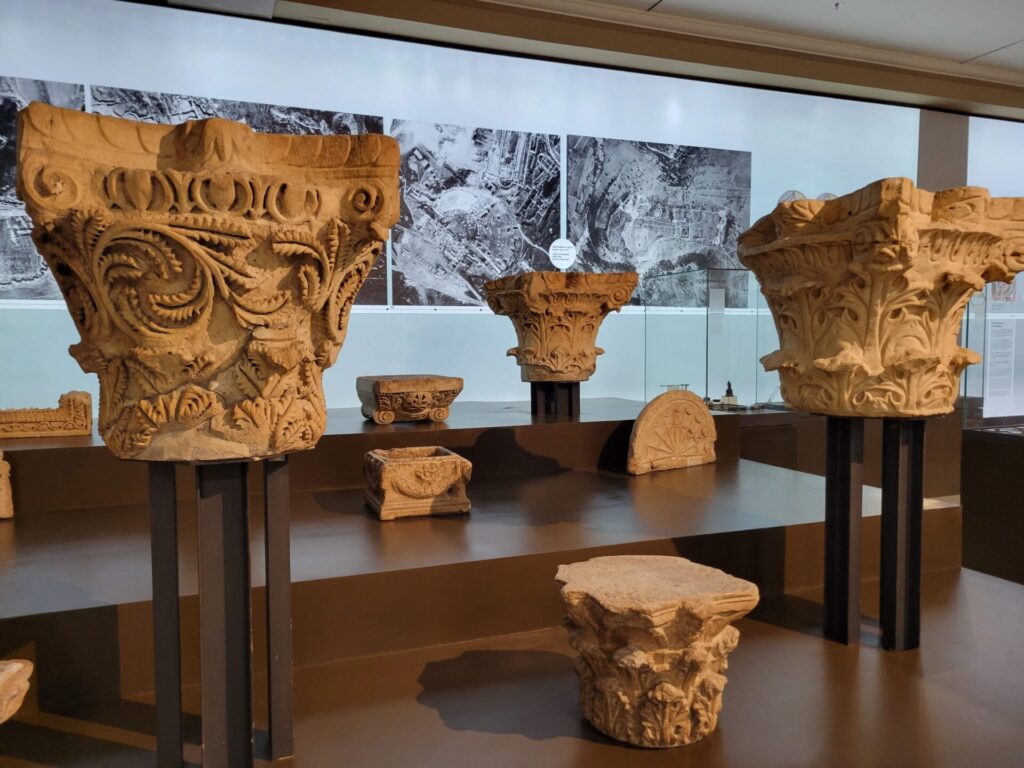 Across the Sava River from the old town is the Museum of Contemporary Art. This was unique in that it featured no permanent exhibition, but was entirely set up as a temporary display of the work of Austrian artist Erwin Wurm. Luckily for us, we enjoyed much of Wurm's work. Many pieces were interactive and there were definitely some comedic overtones.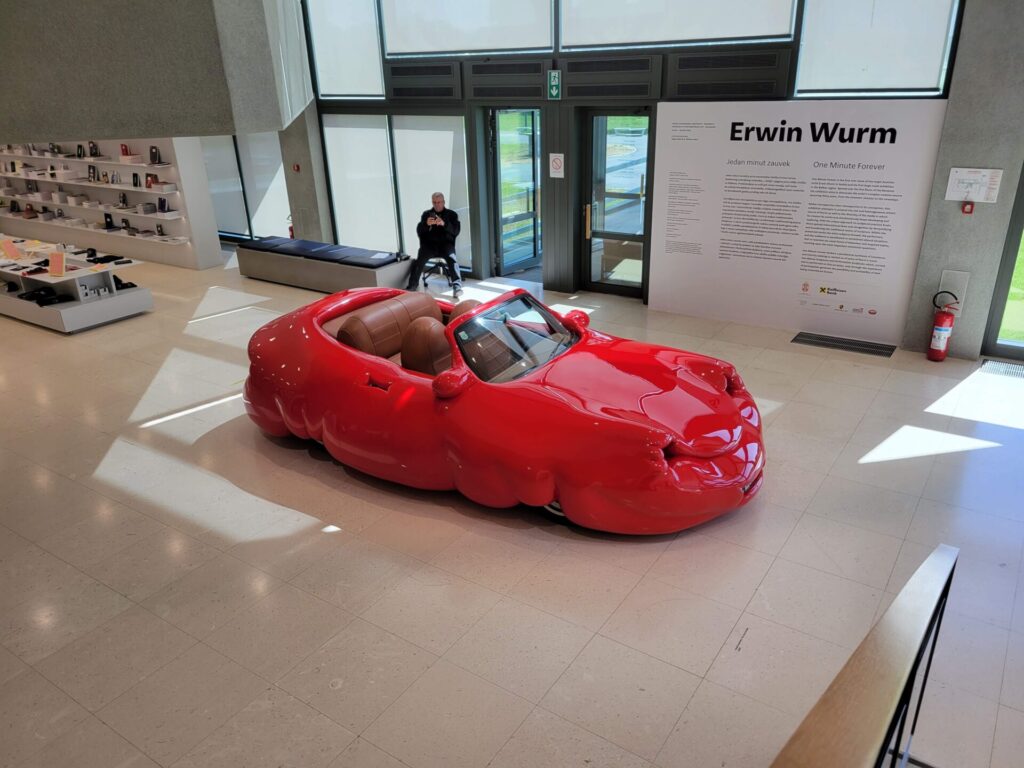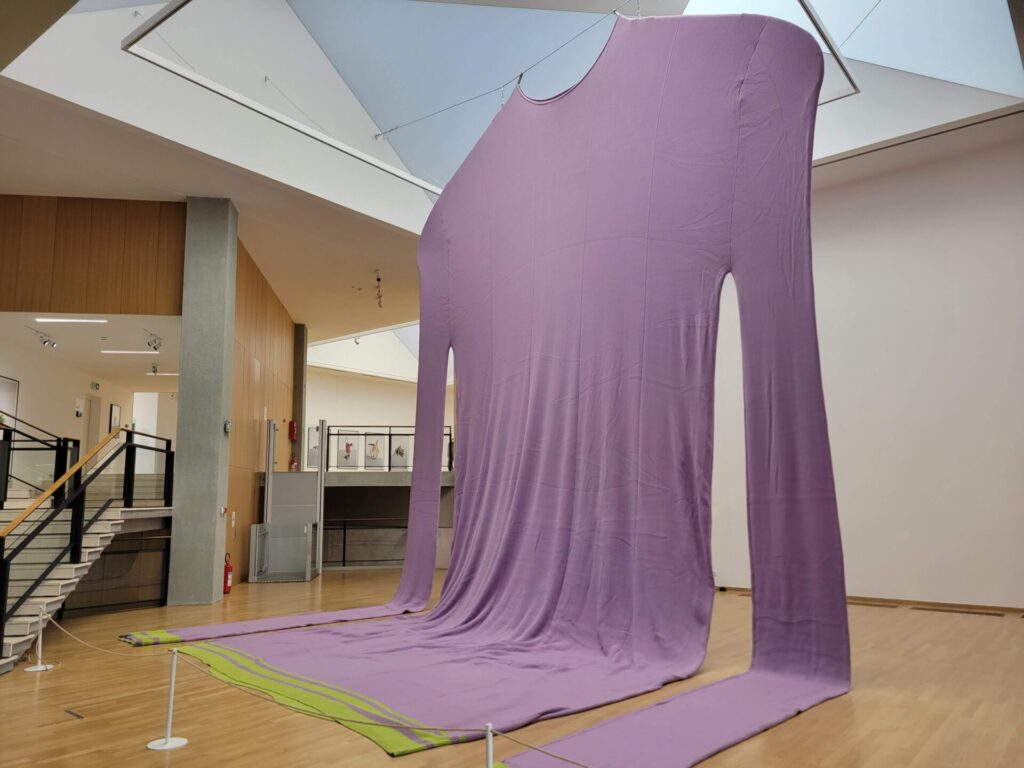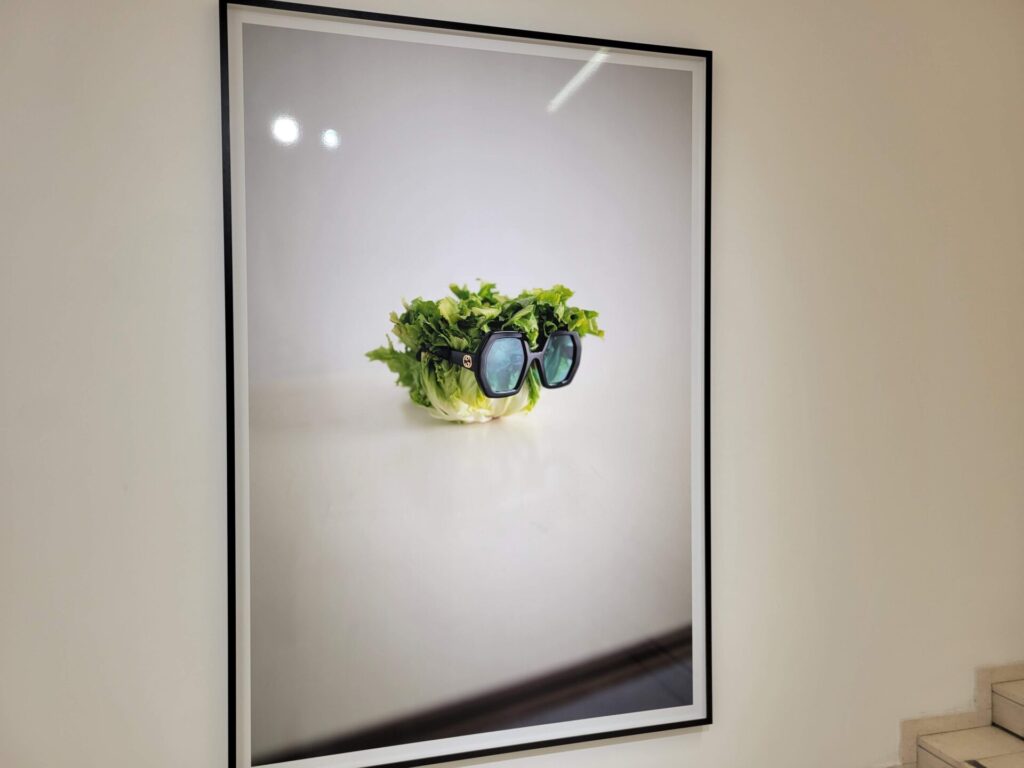 We also visited the Zepter Museum, which is another contemporary gallery. It's located right in the heart of the main pedestrian district and the art is showcased in a converted bank. The artwork here was more experimental in nature, but many of the pieces were thought provoking or provided interesting perspectives. And like the other galleries, it was hard to beat the price.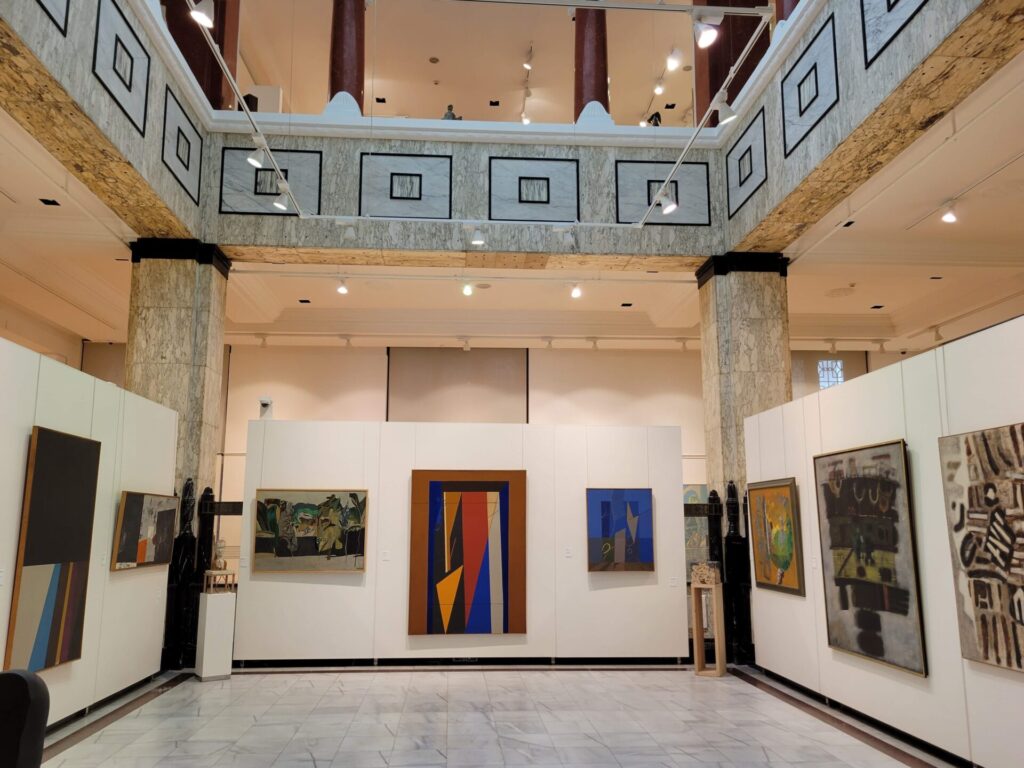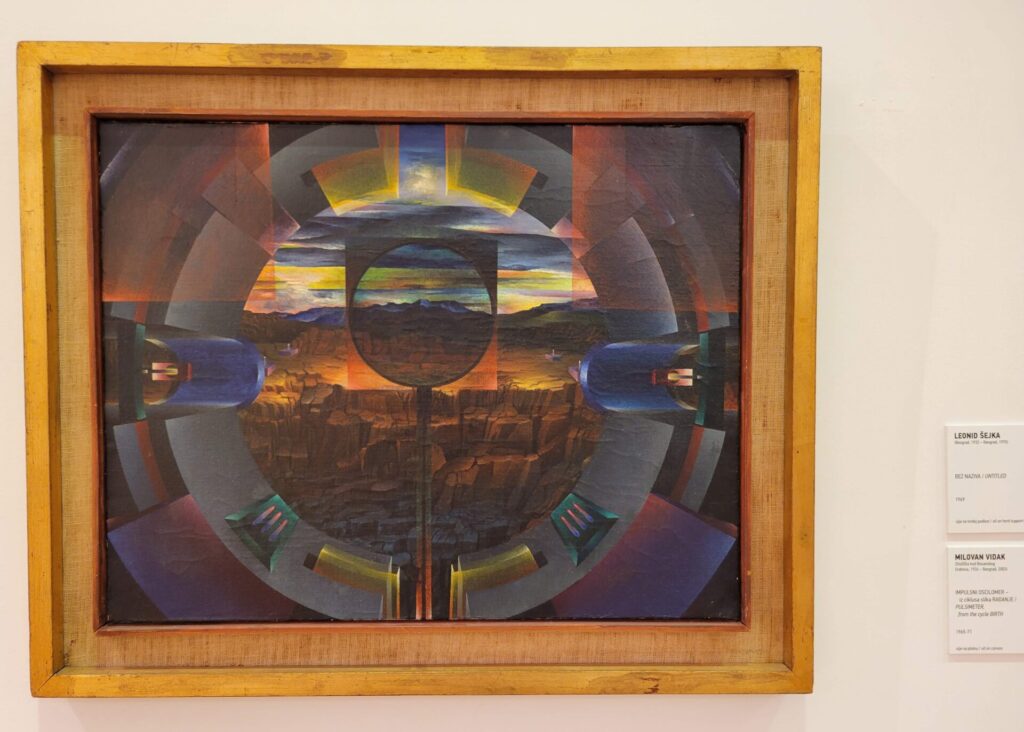 Churches
Belgrade is home to a couple of massive churches, the largest one being Saint Sava. This mega structure features a 70 meter high dome (230 ft) and all of the walls and ceiling are covered in impressive mosaics. Interestingly, when we visited the entire ground floor was bare without a pew or chair to be found. The cost? Free of course.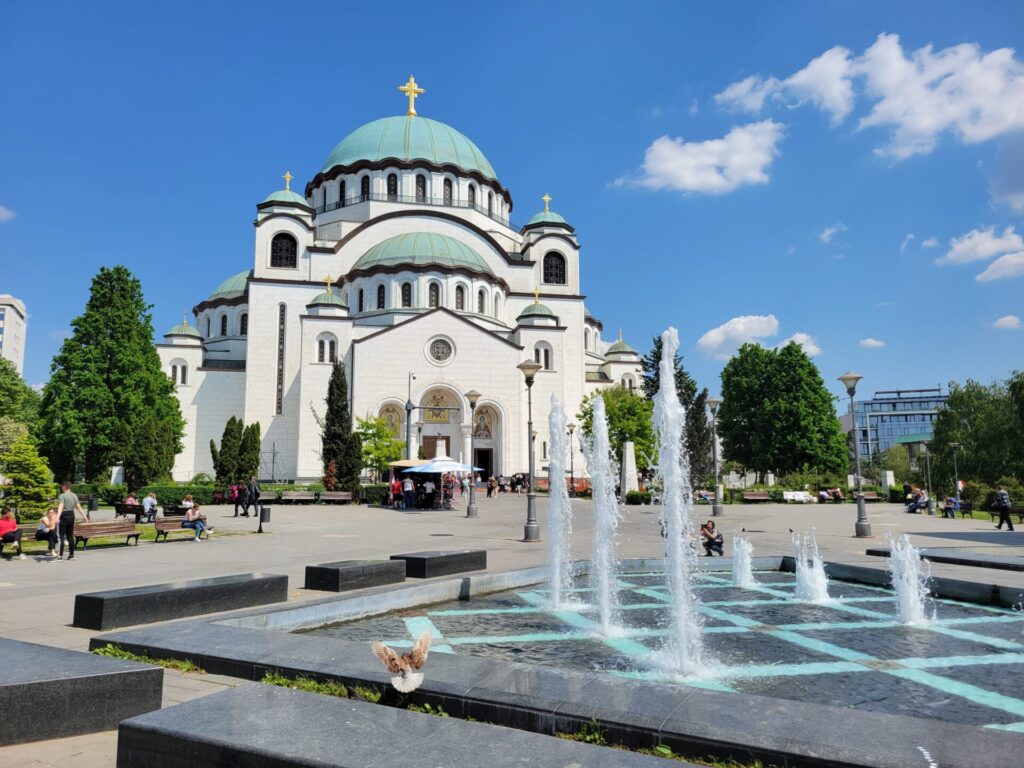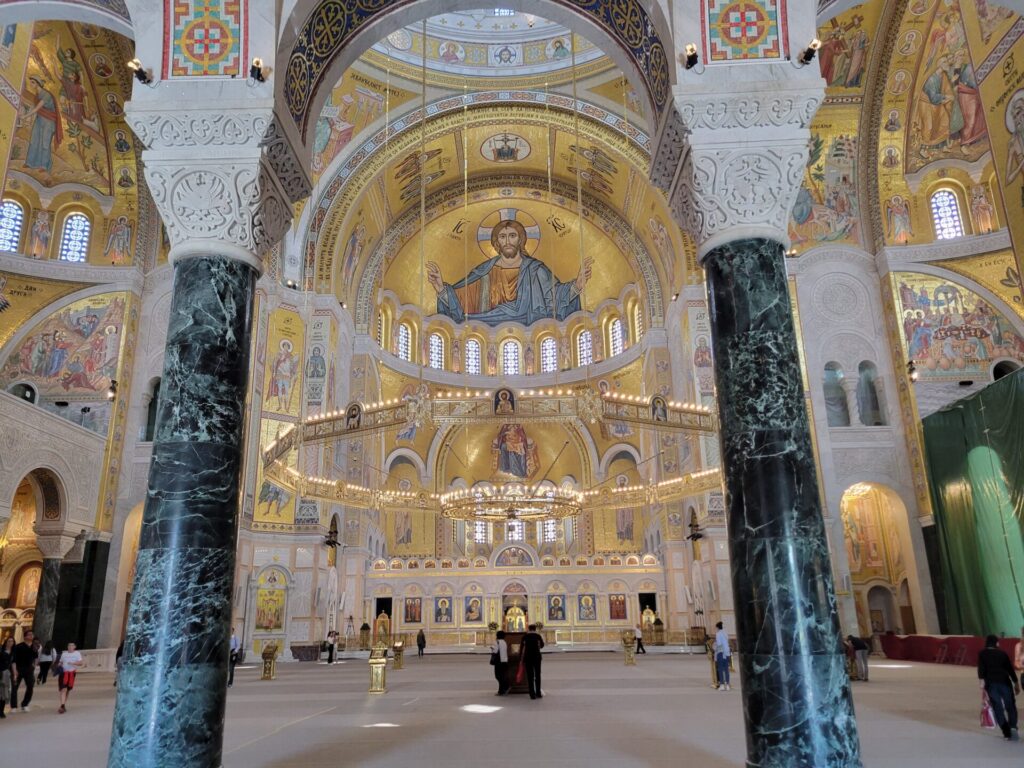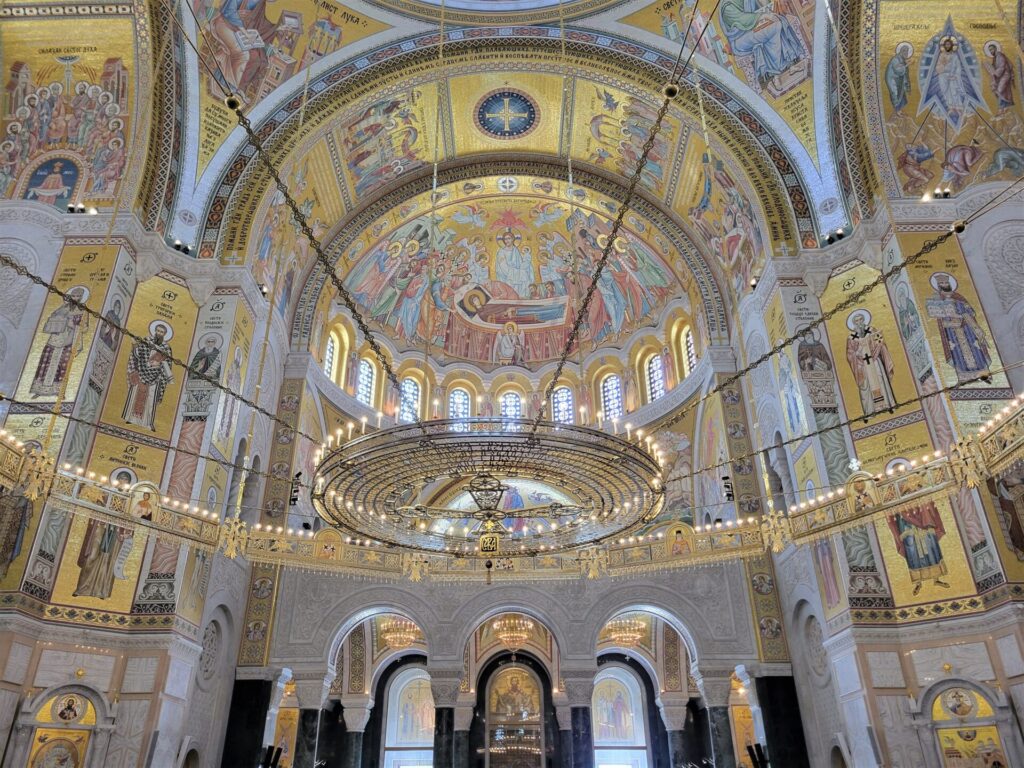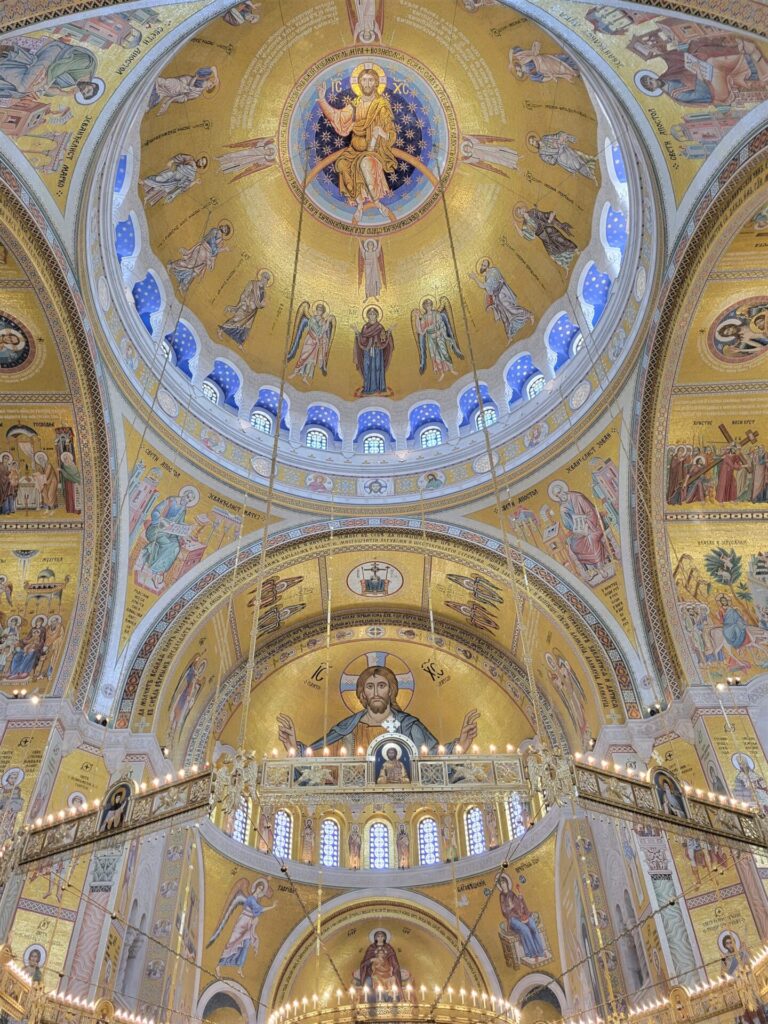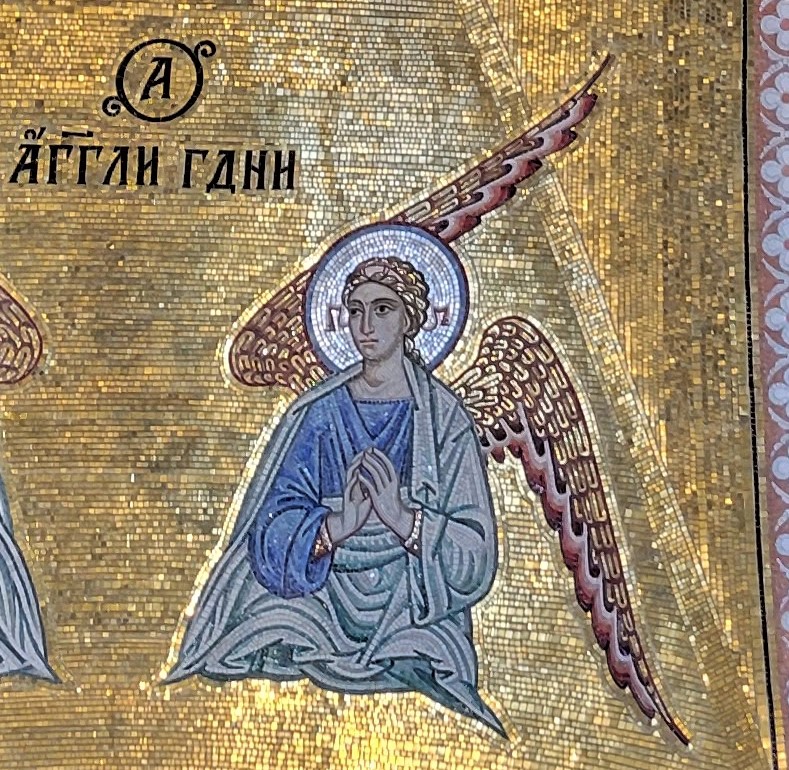 The other major cathedral is Saint Mark's. A bit smaller and older than the Saint Sava, this church is located on the edge of our favorite park. It also features some of the same impressive mosaic religious art, but it's definitely overshadowed by its larger counterpart. It also features no permanent seating.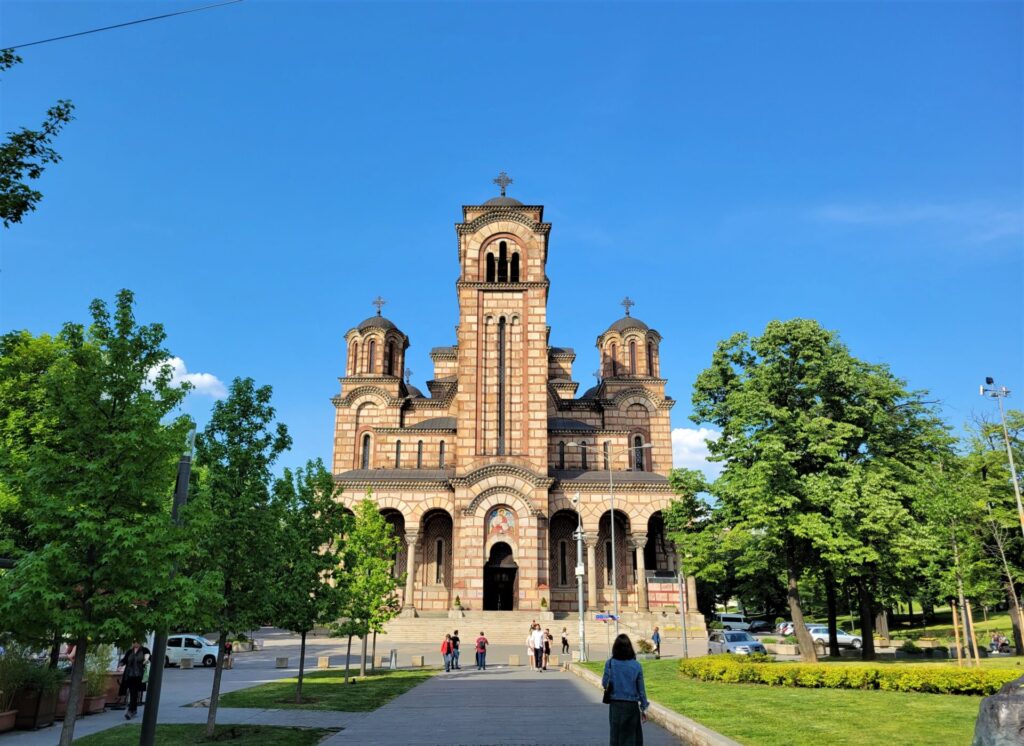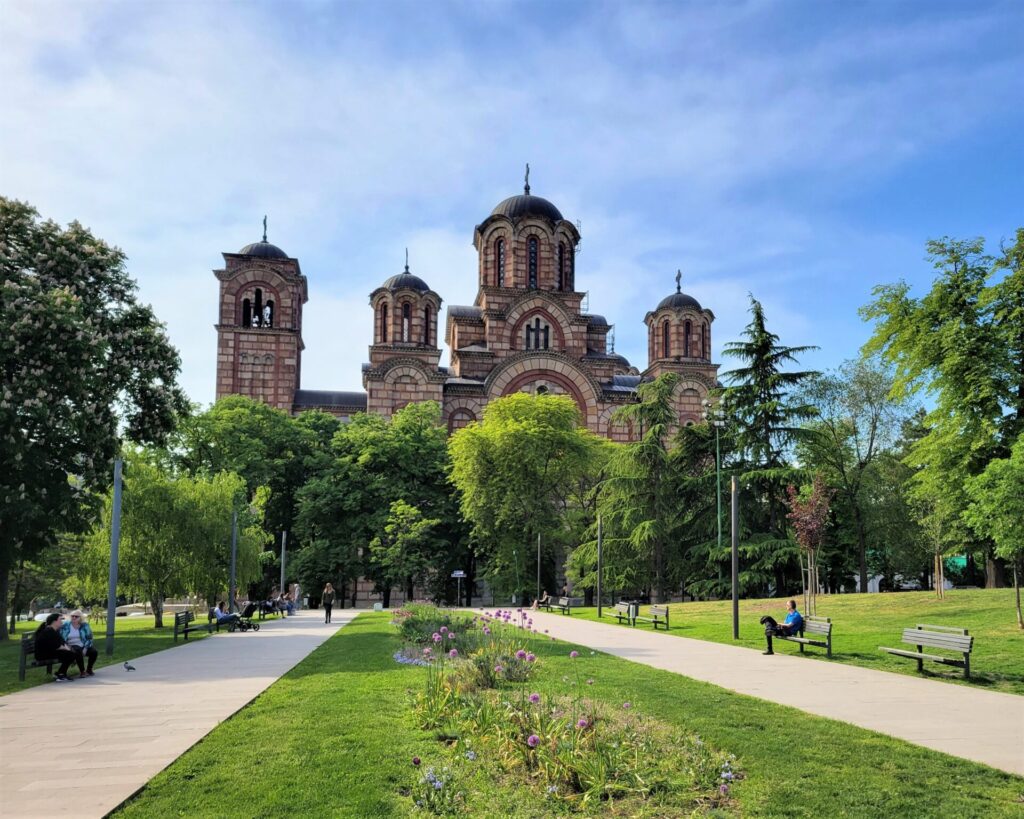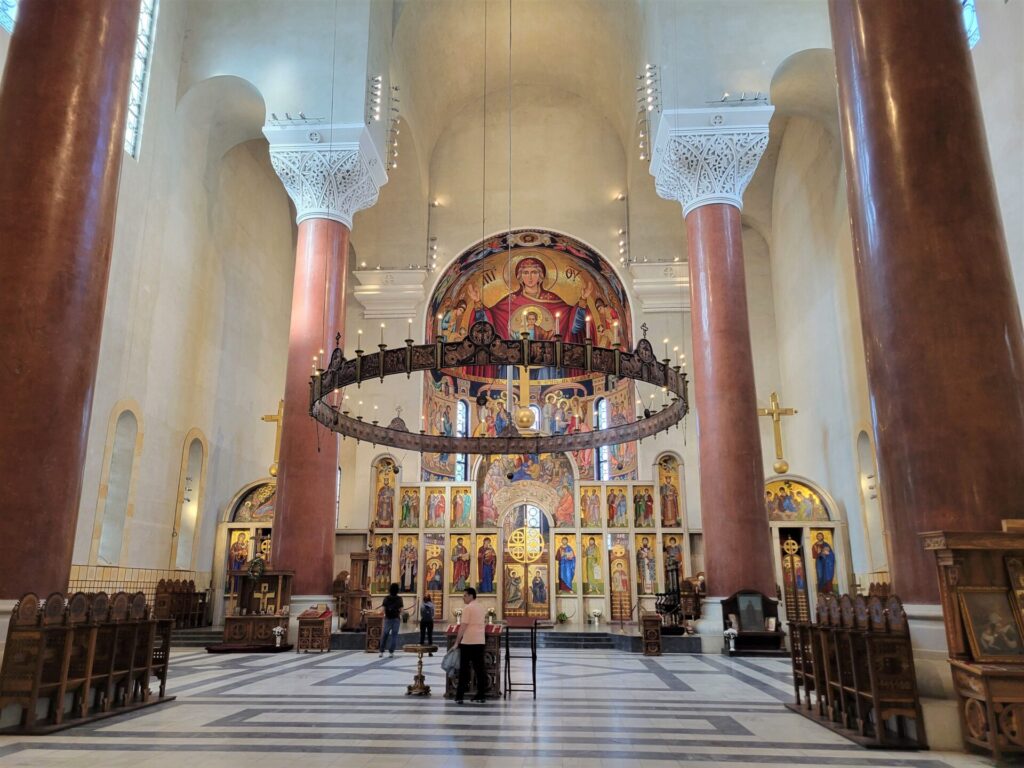 Parks
We spent a lot of time enjoying the warm spring weather by chilling in many of the city's parks. Most of them have drinking fountains and some even have public restrooms, which is nice after being out all day. They are all a great place for dog watching from a shady bench. The busier ones have popcorn vendors where a personal sized bag can be had for about $1. This is the good stuff too, not that fake yellow US movie theater kind. Kids of all ages and pigeons love it so.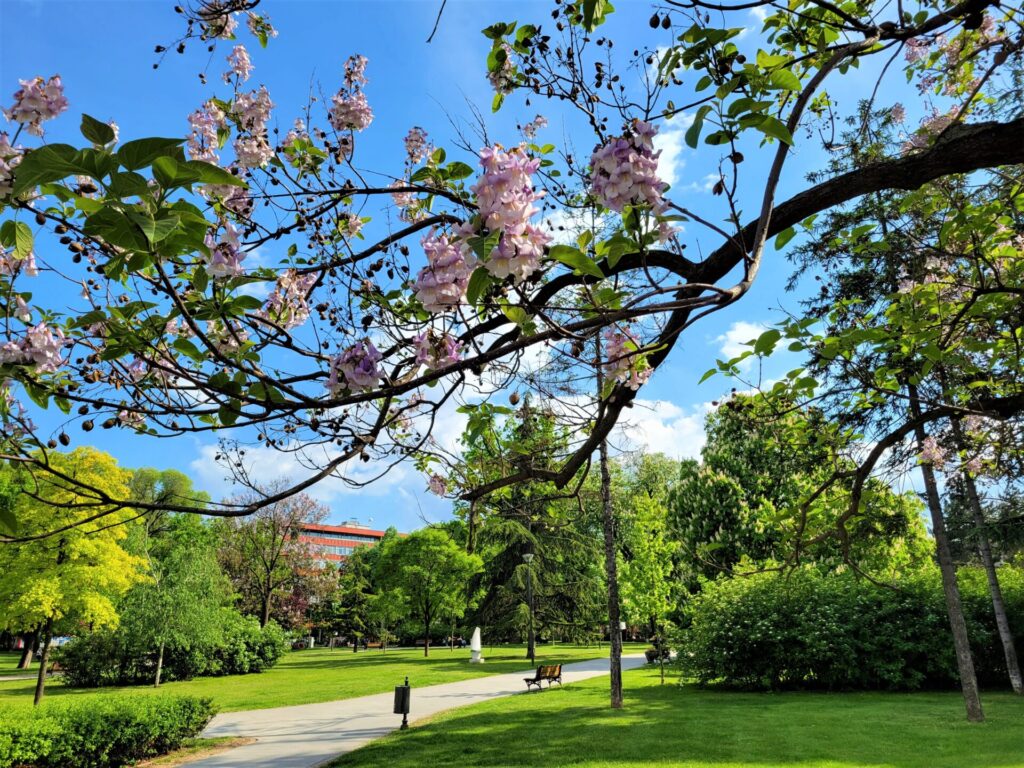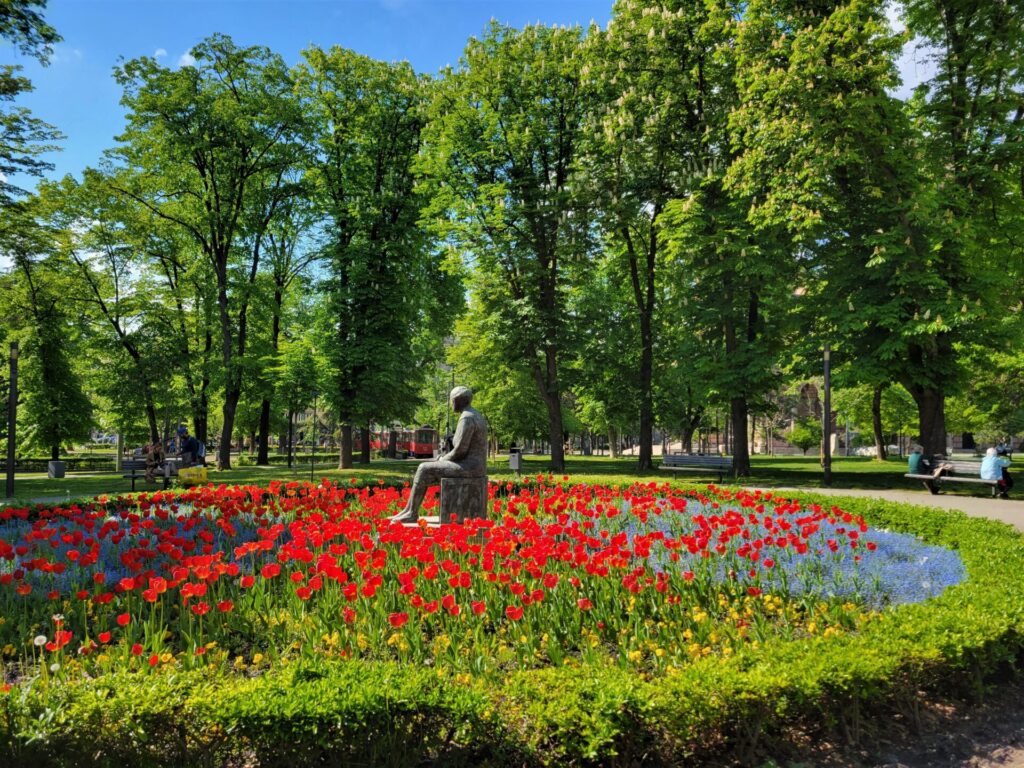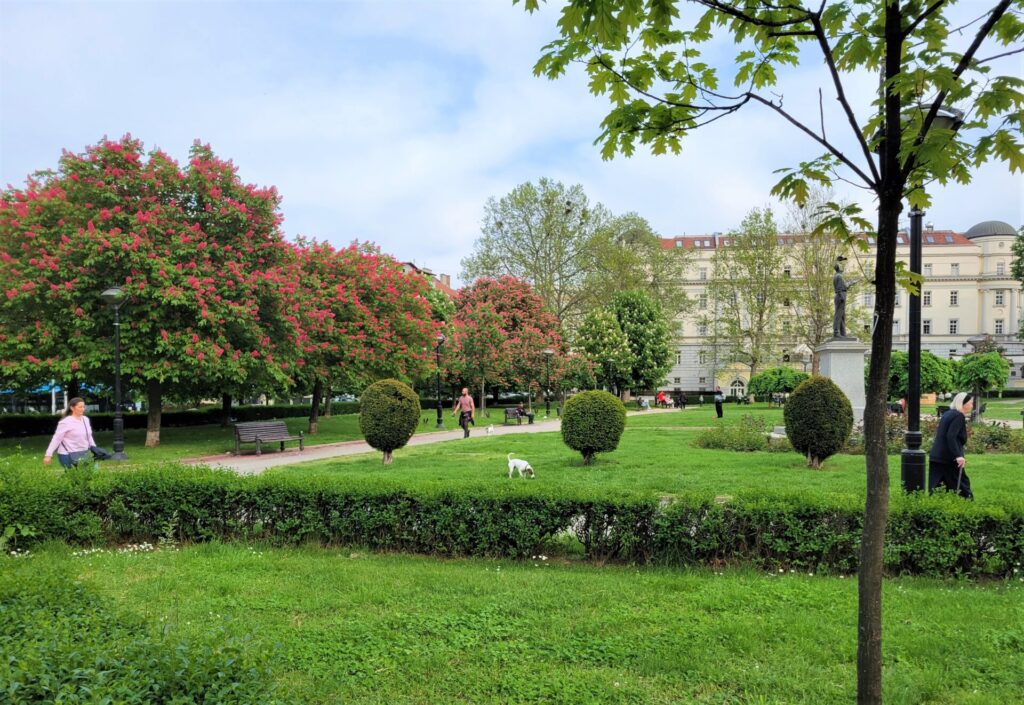 Cemetery
Having been inhabited for centuries, Belgrade has a very interesting cemetery. Simply called The New Cemetery, it features crowded gravesites and an uncountable number of unique burial stones. Despite being built on a grid, there's a certain maze-like quality. We spent a nice afternoon there and enjoyed soaking up all of the history.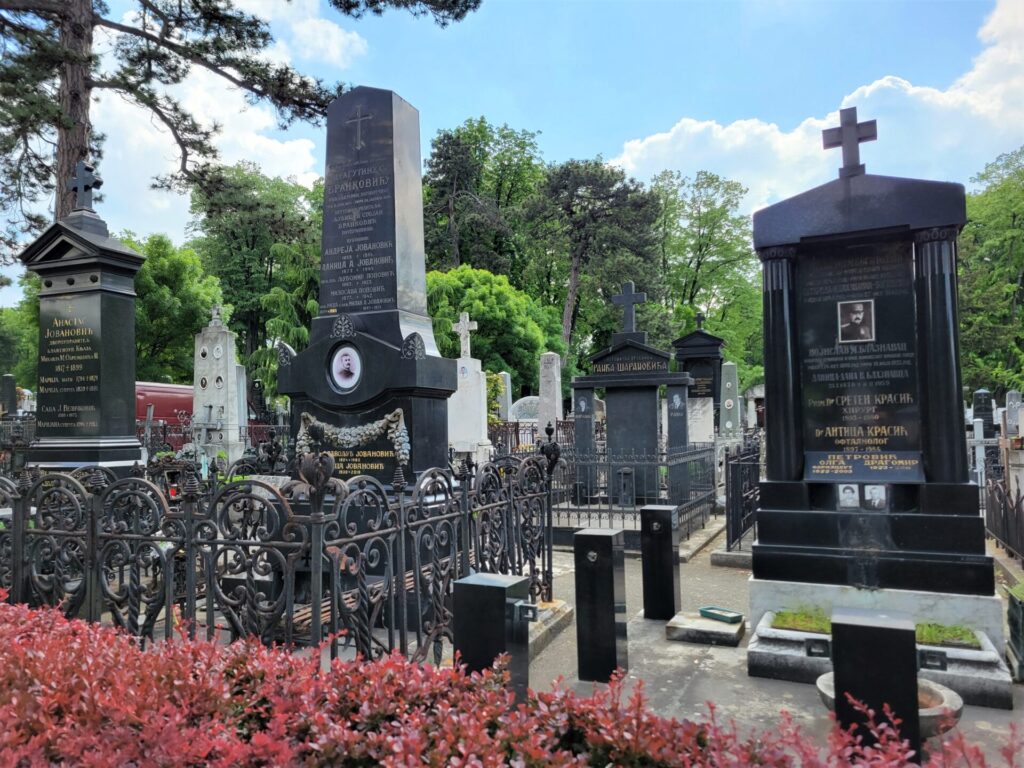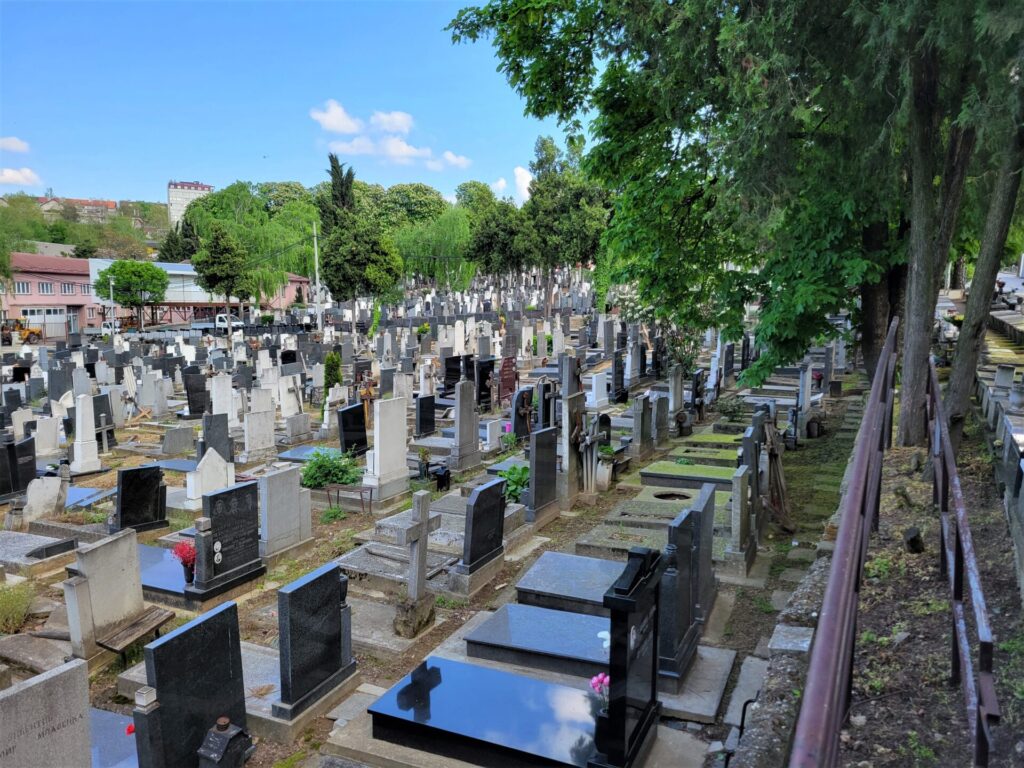 Fortress
At the confluence of the Danube and Sava Rivers is the Belgrade Fortress. This area is very popular with locals and tourists alike as there's tons of green space with family friendly attractions spread amongst it. Great views abound on clear days. It's also free.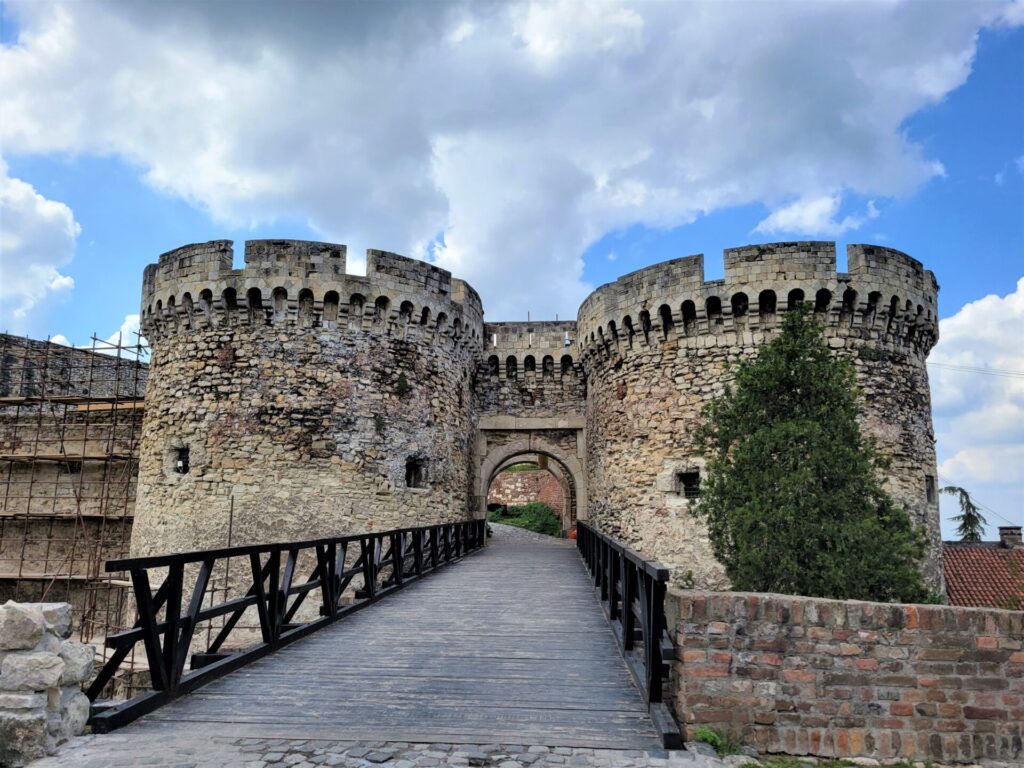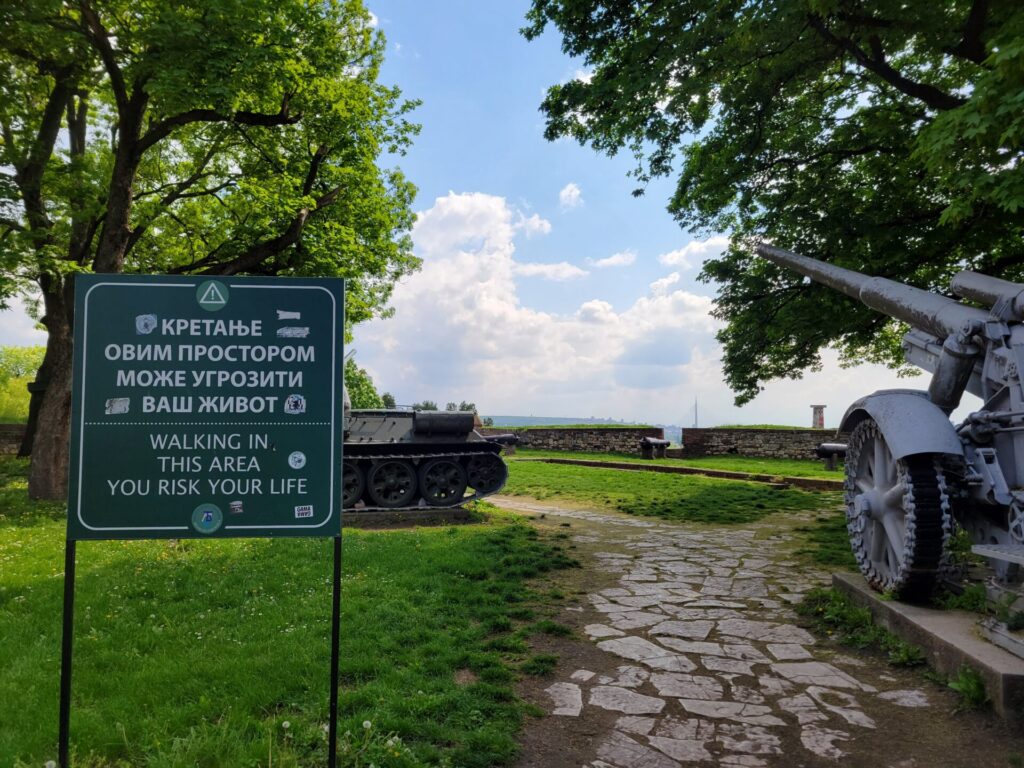 Botanical Garden
Belgrade also has a small botanical garden in the middle of the city. It seems to be the only place in town that charges for admission, about $3 each. We stopped by on a nice day and while the majority of the garden is underwhelming, the large greenhouse in the center is worth seeing. It houses a combination of tropical plants and succulents and has some unique specimens.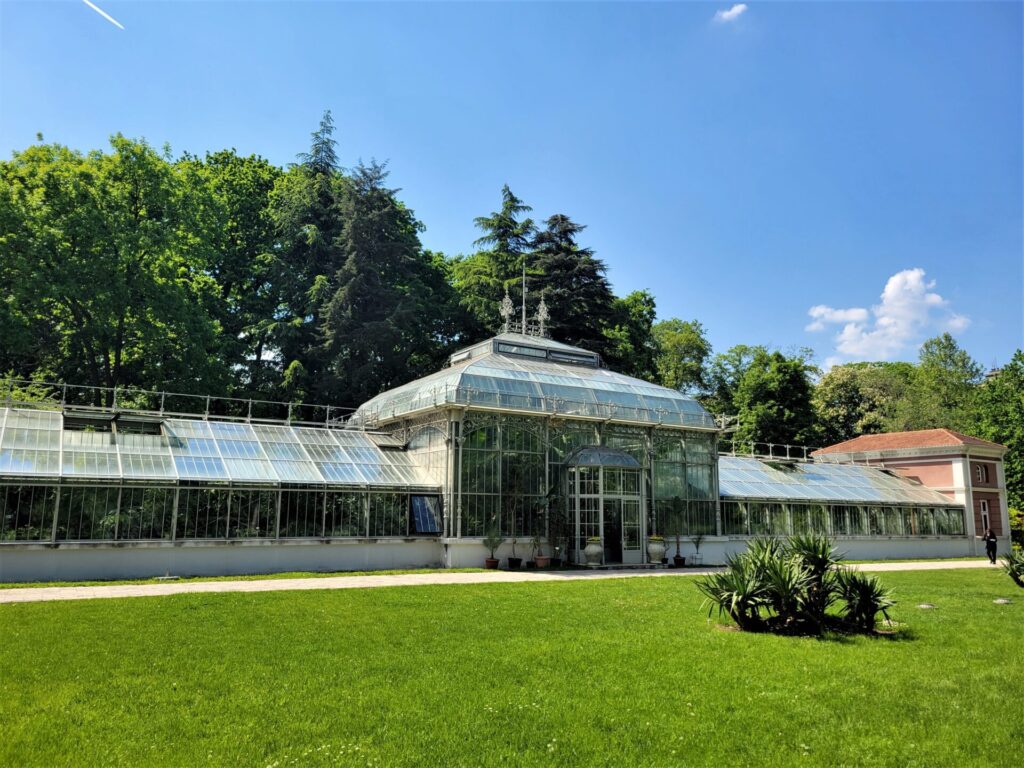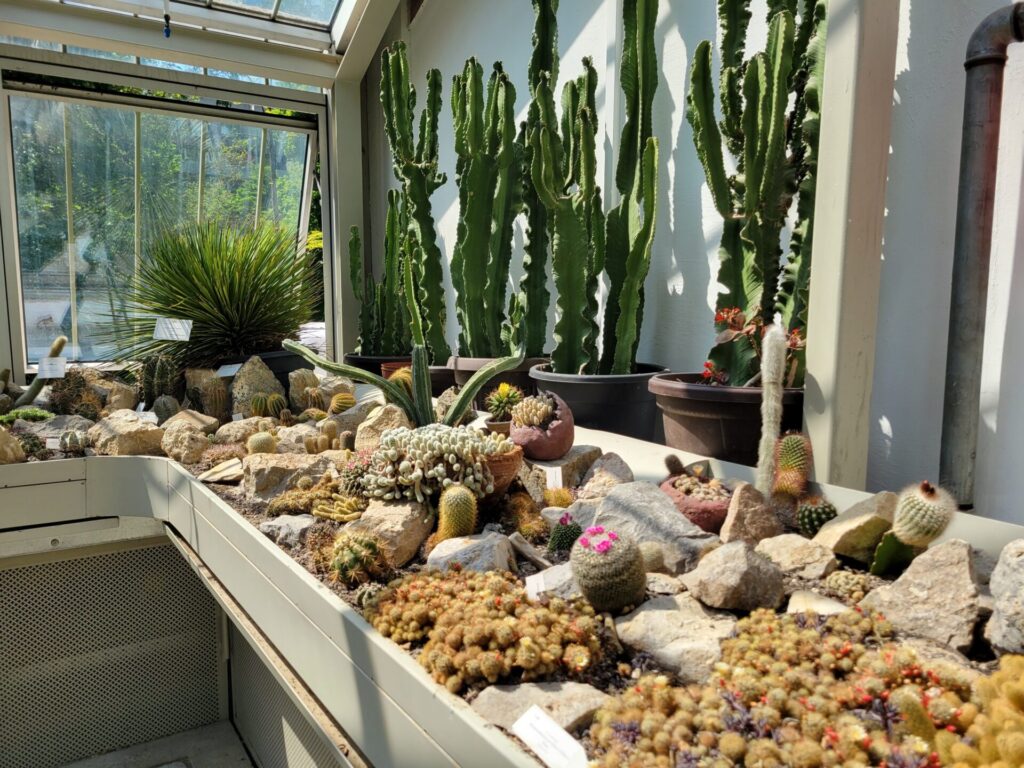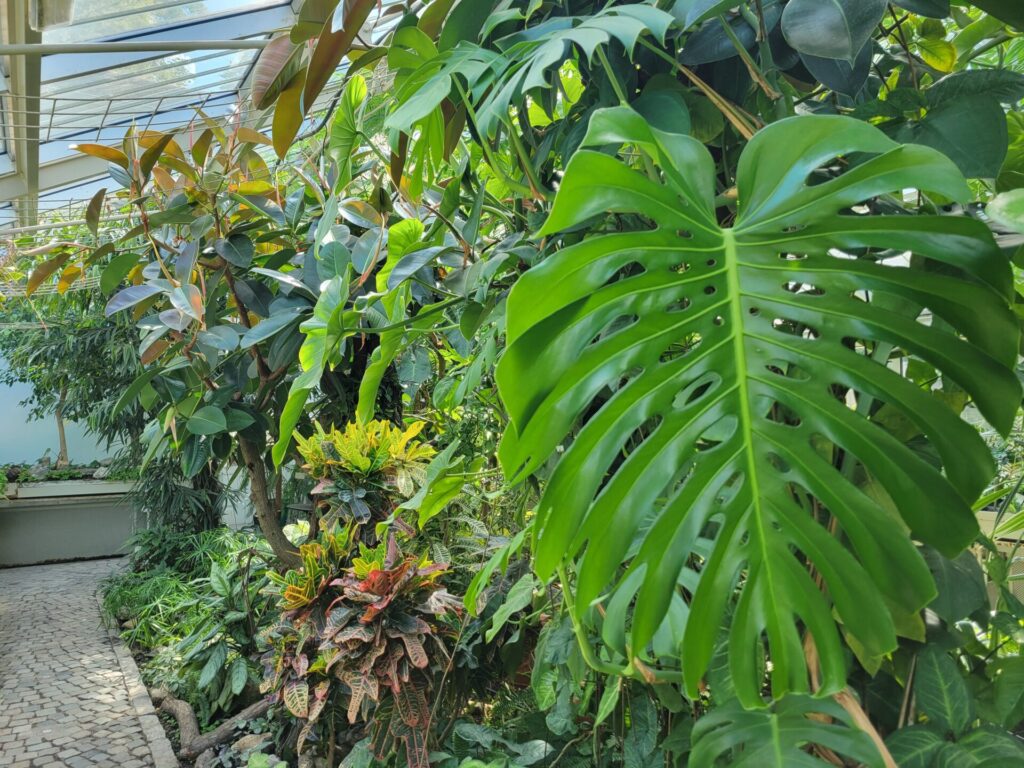 Pedestrian Zone
Like many European cities, Belgrade features car-free pedestrian streets in the downtown. Along with the numerous cafes and restaurants, we found vendors selling artwork and buskers playing for tips. It's part of the main shopping district, and right next to the Fortress, so it can get quite crowded, especially on the weekends.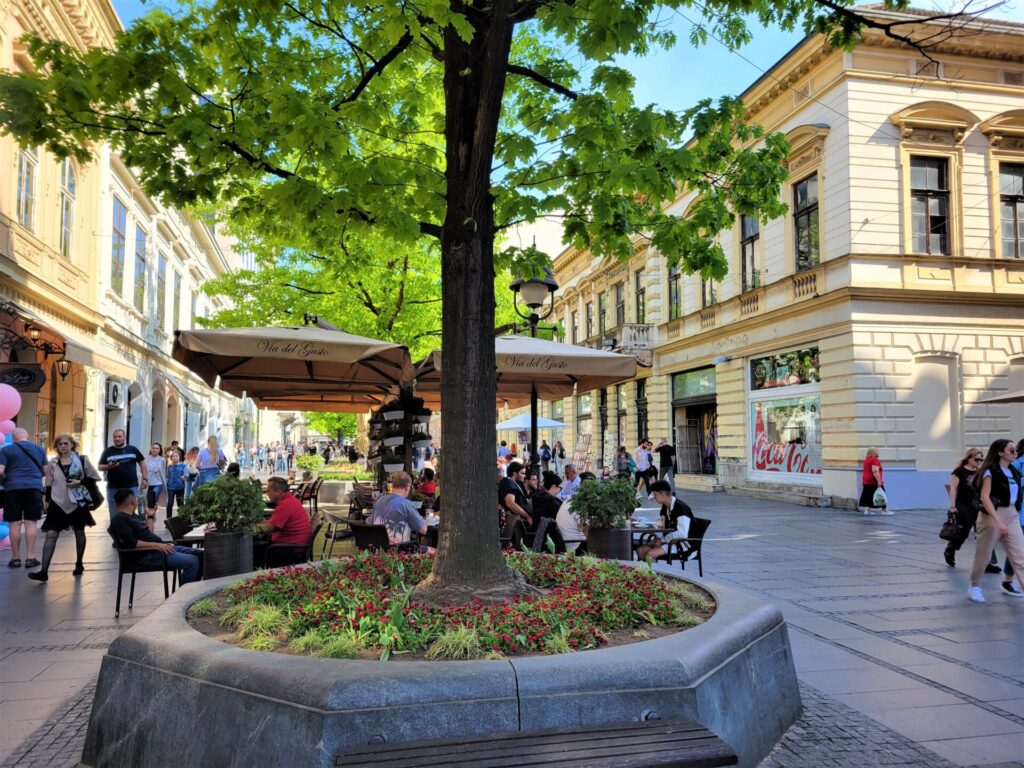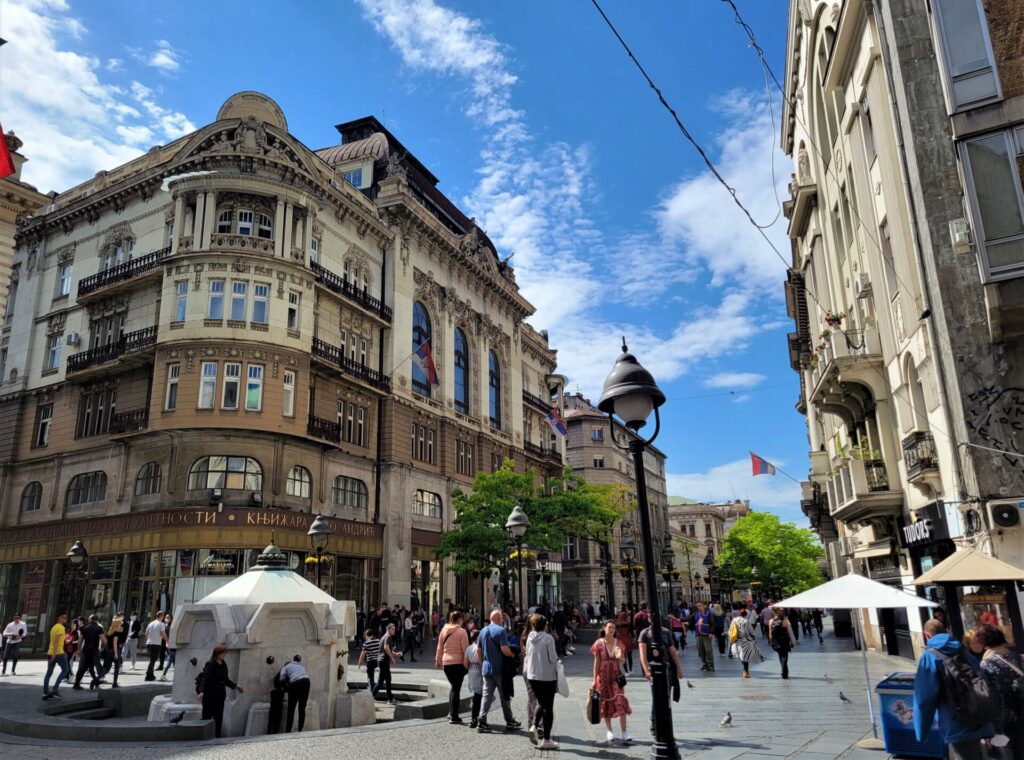 Cats
Our neighborhood featured many friendly cats that were roaming around. Every time we'd leave the house, we'd run into one of them coming or going. All we had to do was bend down and call them over and they'd be rubbing against our legs. One ambitious lady decided to immediately jump up on our laps while we were sitting on a park bench. We became close friends.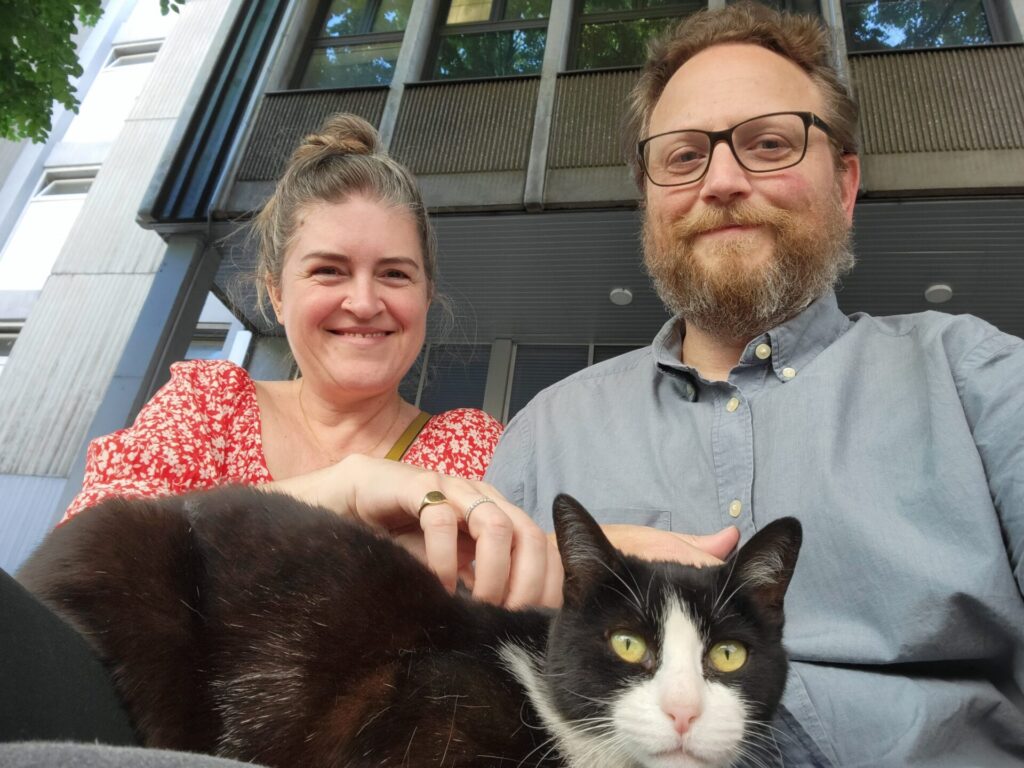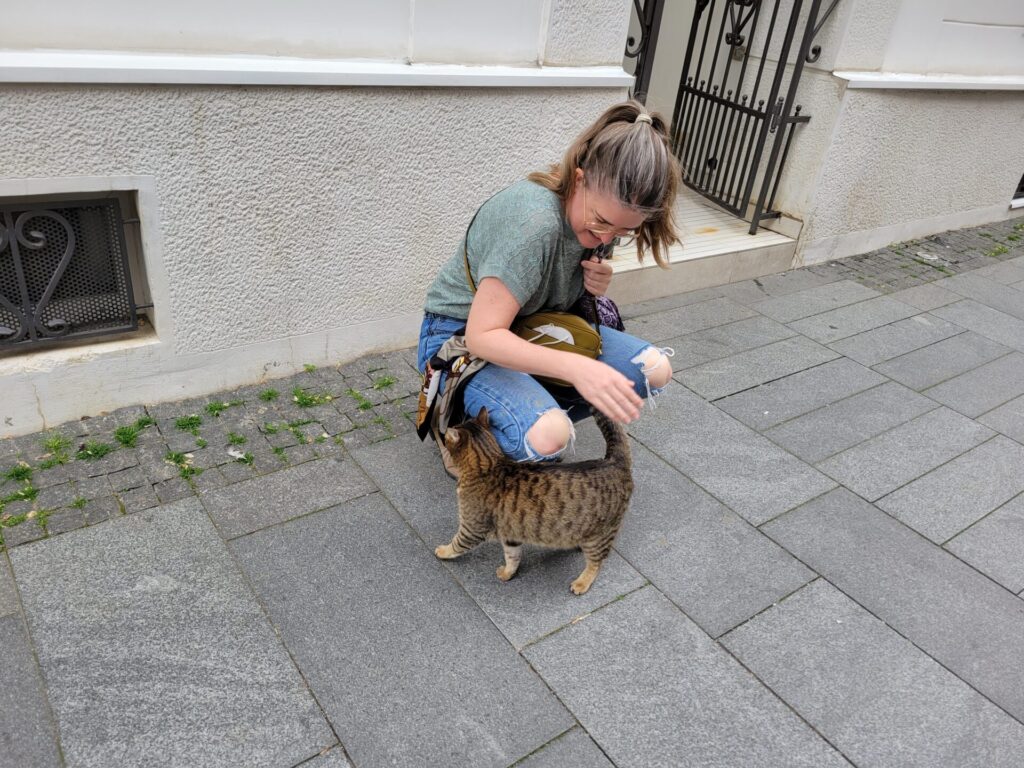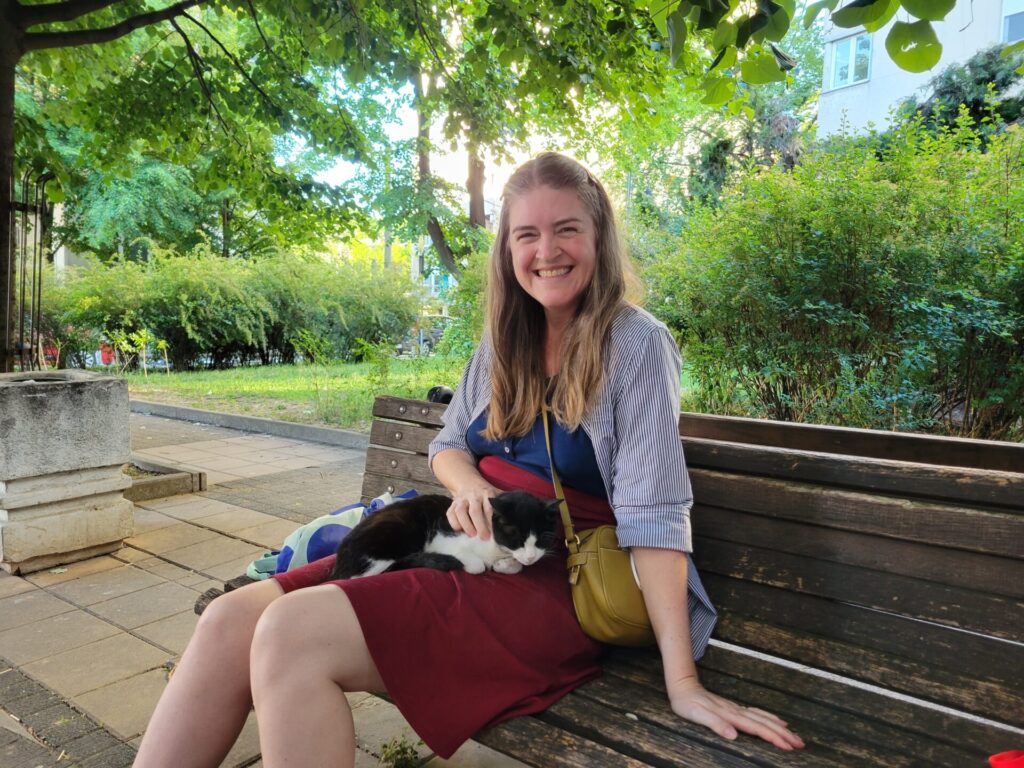 Where We Stayed
We picked an apartment that was about 1.5 miles southeast of the city center. It was in a local neighborhood in an older building and was billed as "vintage". It kind of felt like visiting grandma's house, including old dishes and other knickknacks displayed in glass cabinets. So naturally, we liked it. It wasn't fancy or anything, but everything was functional, it was clean, and we got a killer deal. Only $628 for 4 weeks!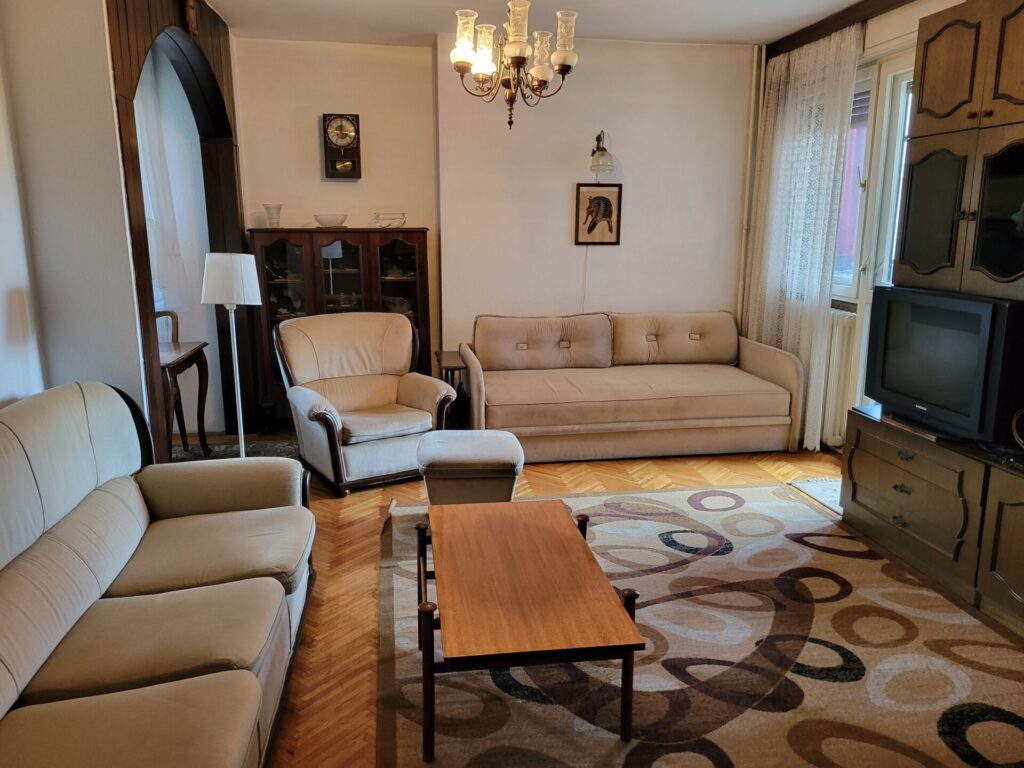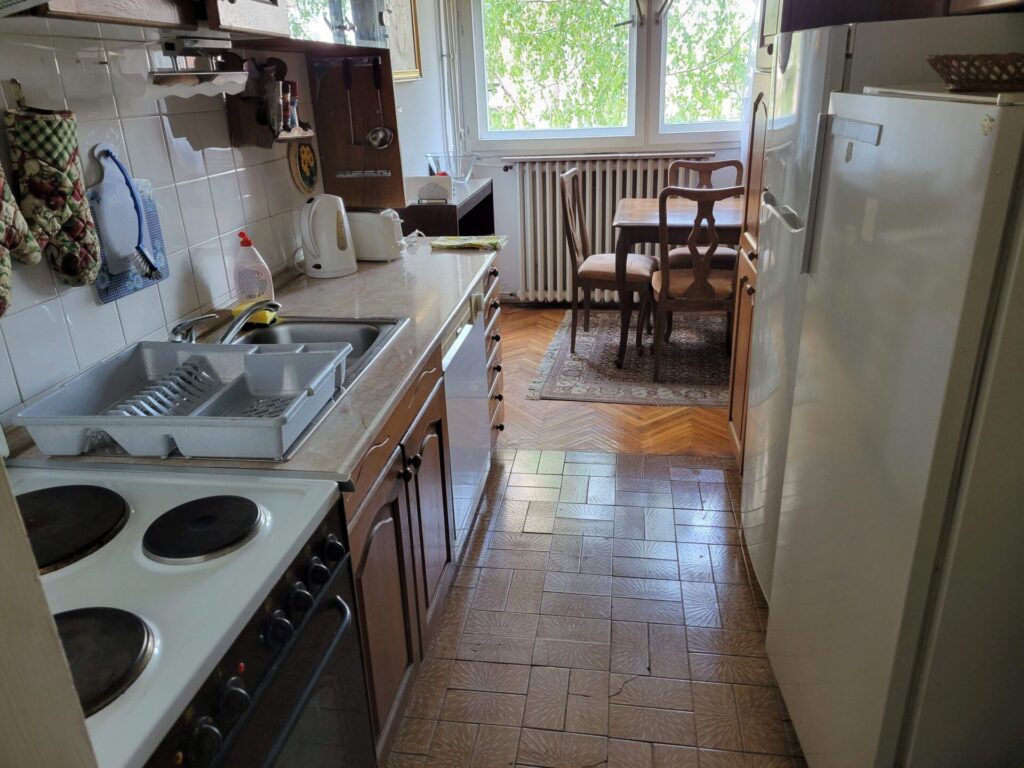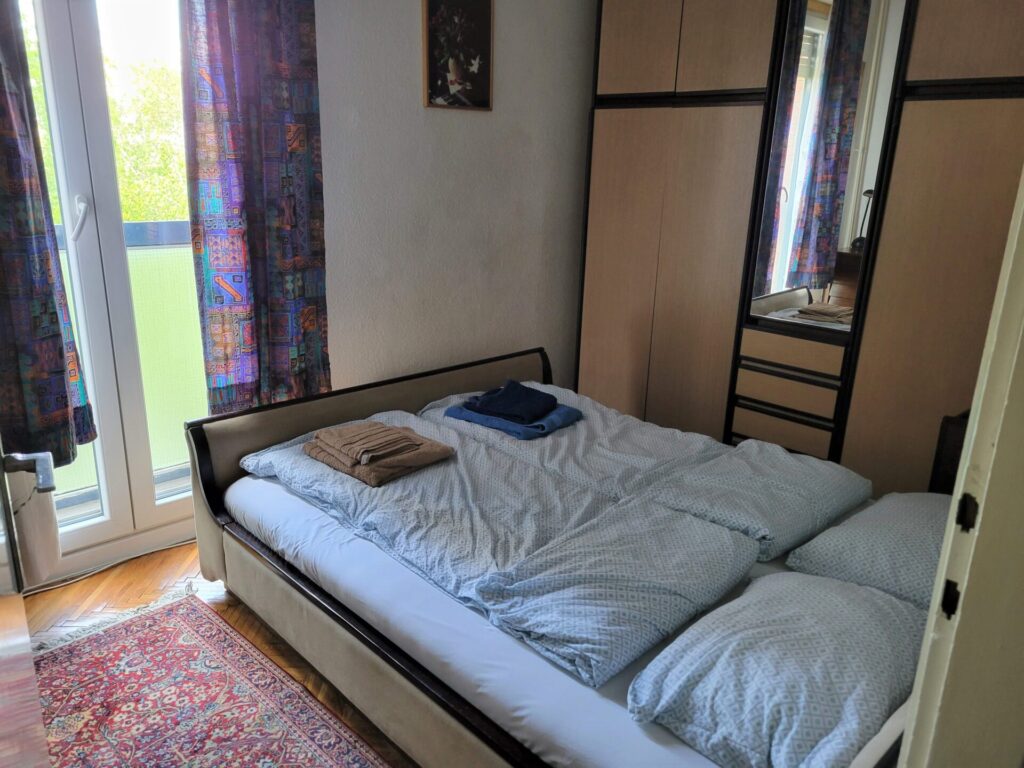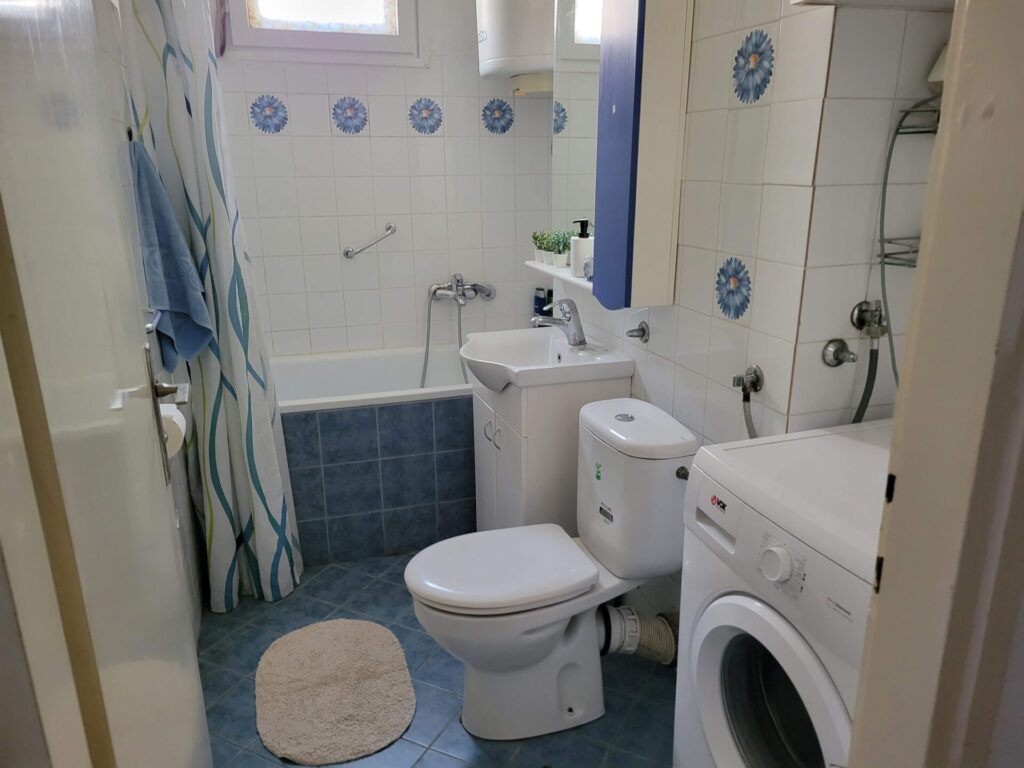 What We Spent
Keeping our rent cost down meant that Belgrade was quite the bargain for us. To get there, we took the bullet train from Novi Sad where at some points in the 35 minute ride we were going 200 km/h (125mph). That cost $3 each. The rest of our spending was pretty normal, but with almost no transportation cost and very cheap housing, we didn't burn much cash to have such an enjoyable stay.
After having lived there for 4 weeks, I think it's fair to call Belgrade a Jack Of All Trades location. It might not be the best at anything, but it's good at everything. I wasn't expecting a whole lot when we showed up, but it turned out to be quite enjoyable. It's very livable for a big city. We loved the parks and the friendliness of the residents; both people and animals. The smoking thing can be a bit bothersome at times, but since we don't eat out much, it's not a deal breaker by any means. Given that Belgrade is a transportation hub just outside of the Schengen Zone, I'm almost certain that we'll return again someday. But next time, we'll expect to thoroughly enjoy it instead of just being pleasantly surprised.