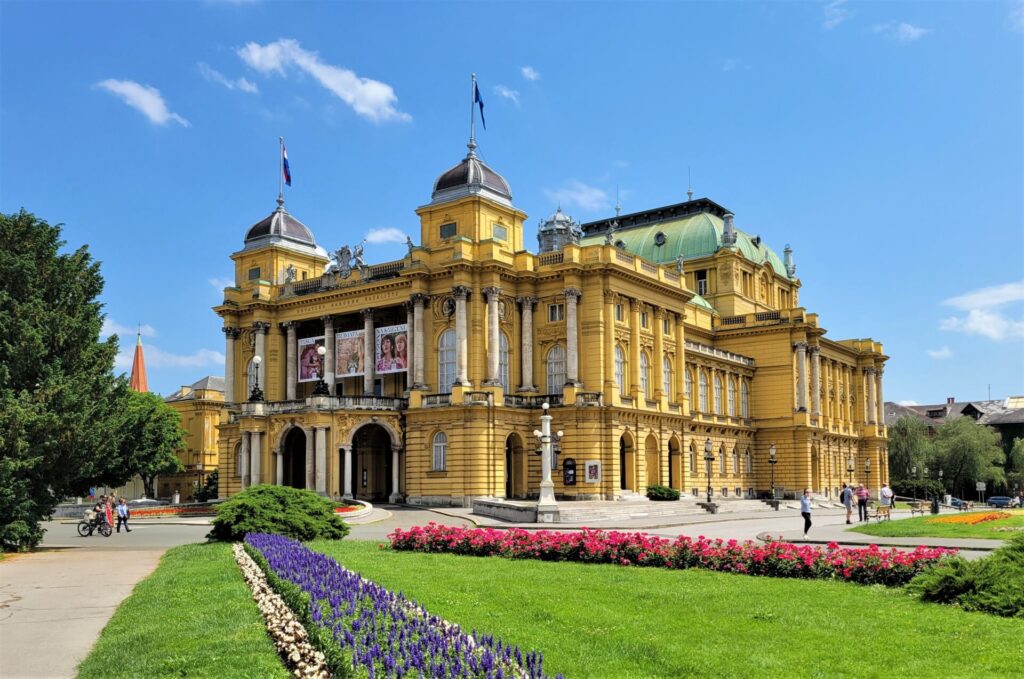 Zagreb is a lively place for a city of fewer than a million people. Not just a stopover for those trying to get to the beach, Croatia's capital offers numerous attractions. The downtown pedestrian zones were busy with shoppers, strolling tourists, and cafe goers of all sorts. We enjoyed the large daily farmers market, detailed architecture, multiple parks, and sweeping views from the hills above the city.
Zagreb is also a city of contrasts, which serves to give it some character but also hides some of its charms. Along with the shaded parks are wide open squares that bake in the sun. The architecture can be either outstanding or unsightly depending on which way you turn. The popular parts are busy with tourists, but just a few blocks away there are deserted wooded hiking paths heading into the hills. In short, it can take some time to find the best parts, but Zagreb provides plenty of options.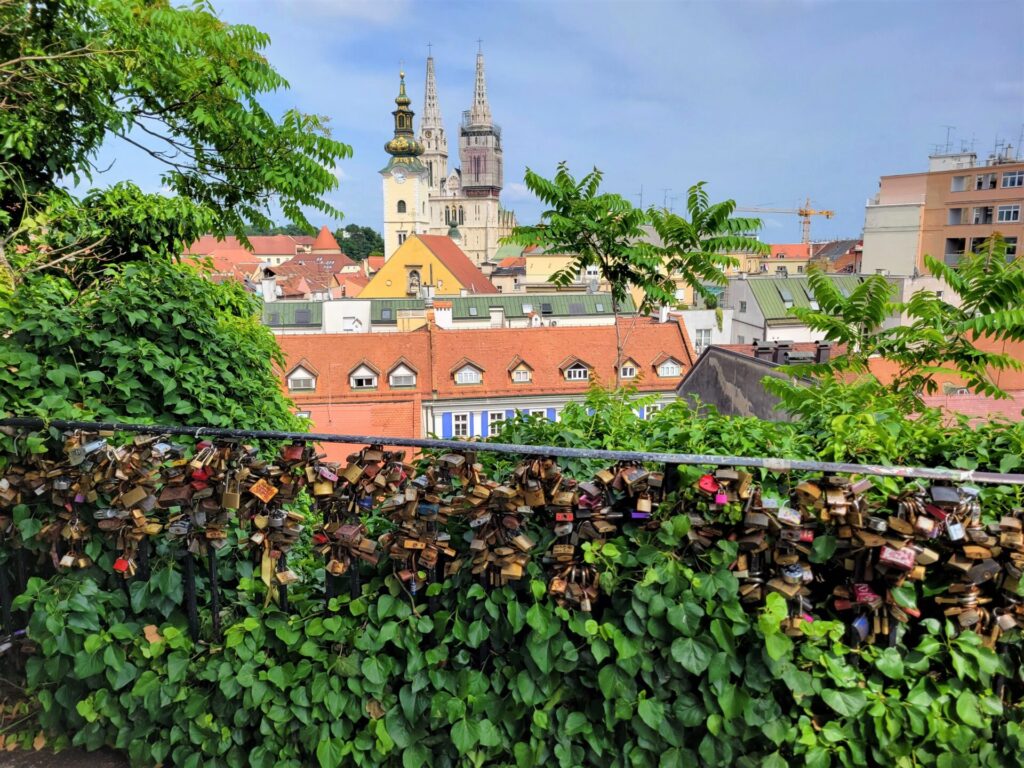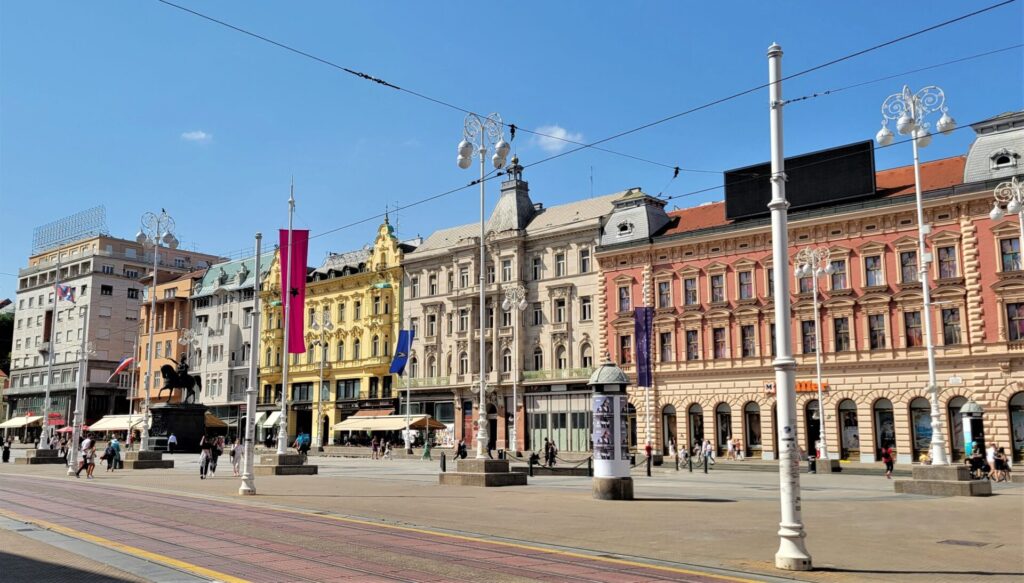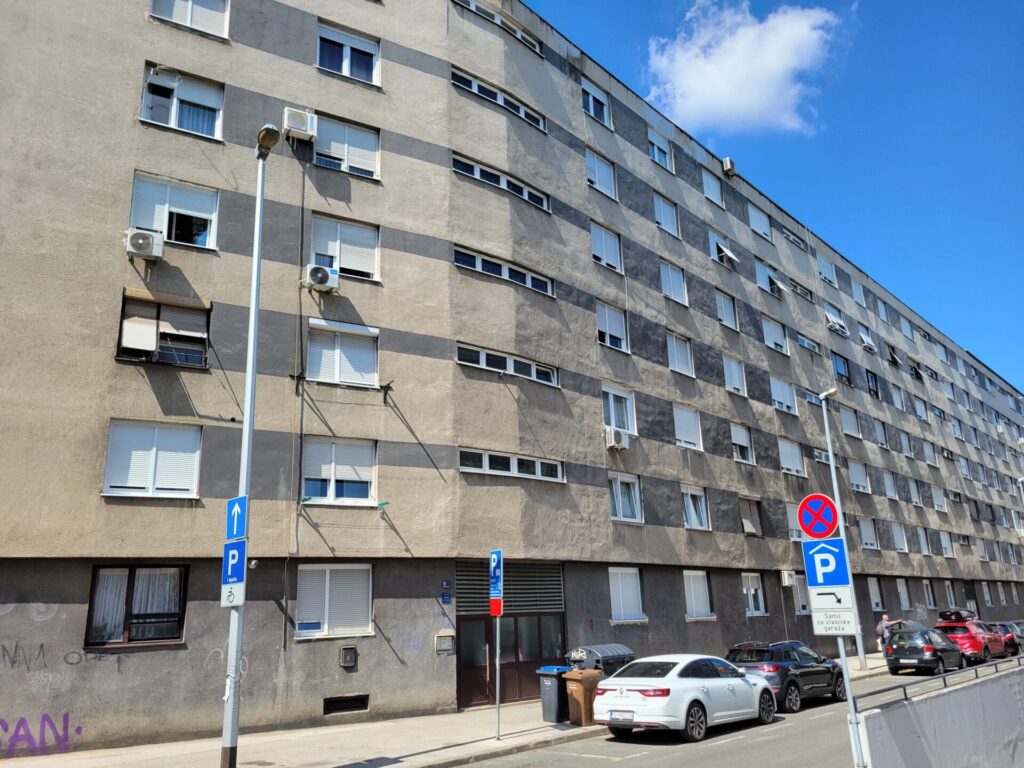 The city is still recovering from a major earthquake that struck in March of 2020. This natural disaster resulted in extensive damage to many of the city's historic buildings. To date, much of this damage is still in the process of being fixed. The tremors caused one of the two spires on the Zagreb Cathedral to break completely off and tumble to the square below. It was still closed to visitors during our visit. Also shuttered for repairs were the Mimara Museum and the Art Pavilion, two of the largest art museums. Luckily the collections were undamaged, but the buildings remain unsafe for visitors at this time.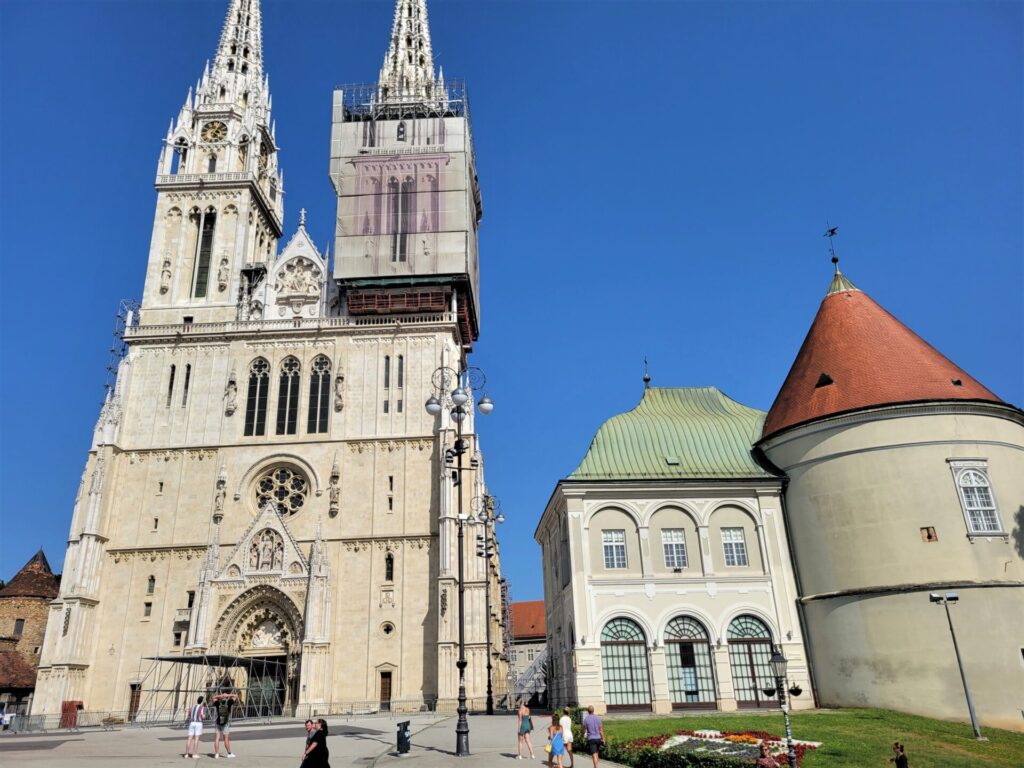 These closures put a little bit of a damper on our Zagreb stay, but we still found lots of things to do. There are numerous options, but some are pretty gimmicky, like the Museum of Hangovers or the Museum of Illusions. Those seem to exist solely to separate tourists from their money. We tried to pick the best remaining art museums and then spent a lot of time outdoors. Here are my picks for the top things to see and do that are currently open.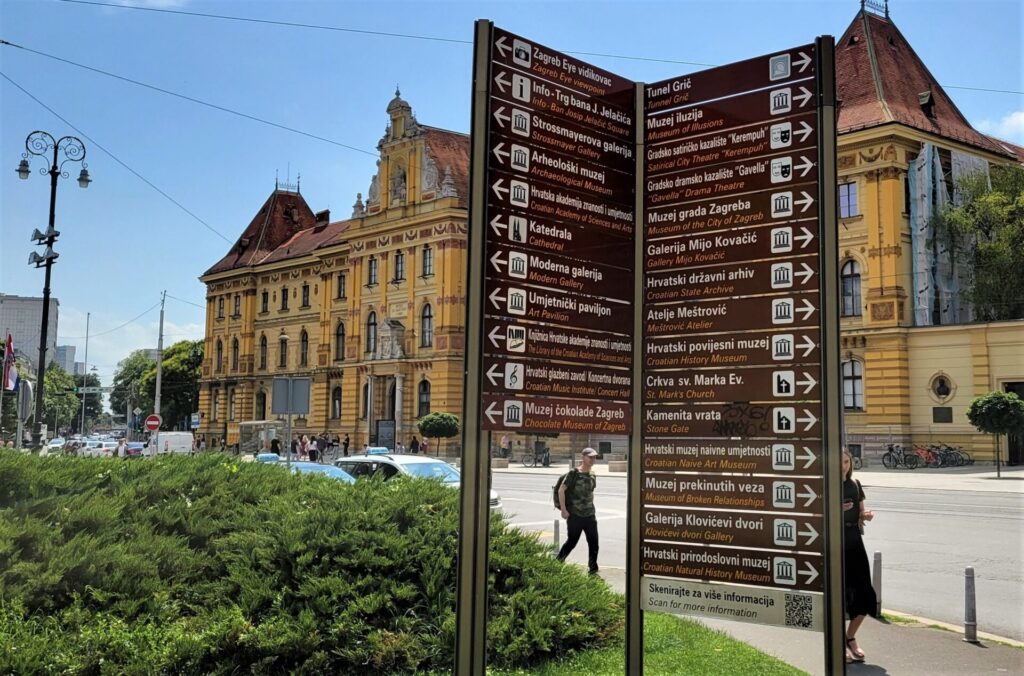 Naive Art Museum
We enjoyed the Naive Art Museum. At first I thought it was a typo and they meant Native Art. Nope. Naive is a style of art that isn't widespread, which I'd never heard of before if that wasn't obvious. But it's an interesting style. Many of the works were made of oil painted on glass, which is unique in itself. The museum is a small one and it costs about $5.50 to enter. The display consists of about 5 rooms and less than 100 paintings, although the leaflet handout mentioned that the entire collection is over 1000 pieces. So it makes me wonder if they rotate the paintings with some regularity.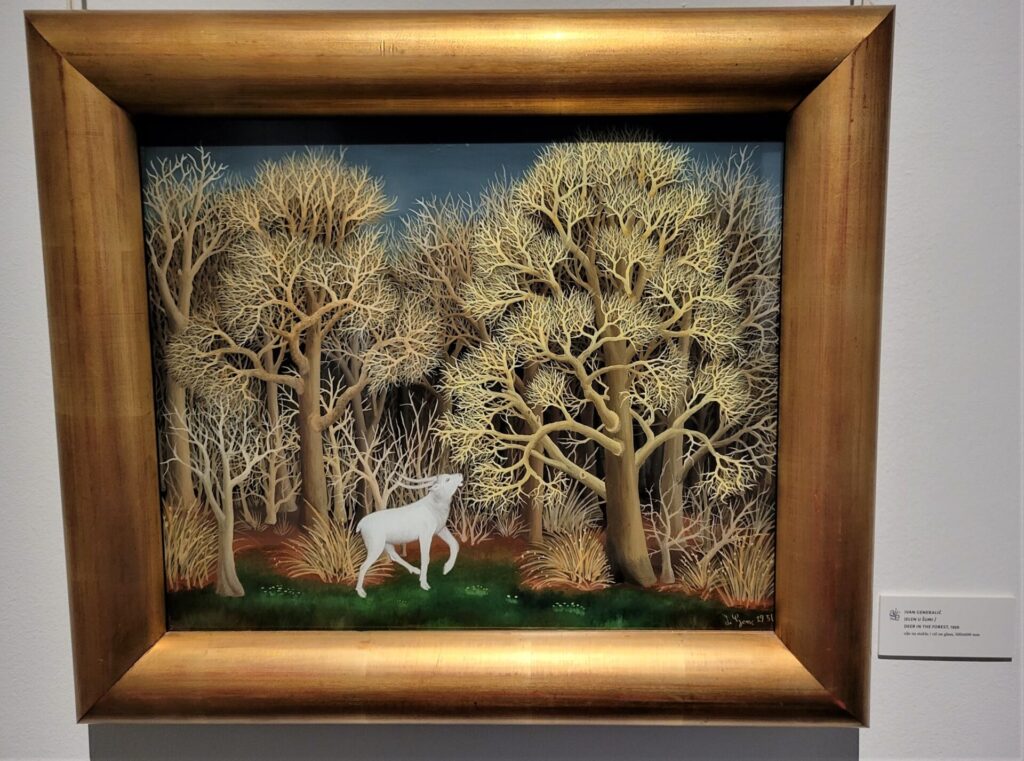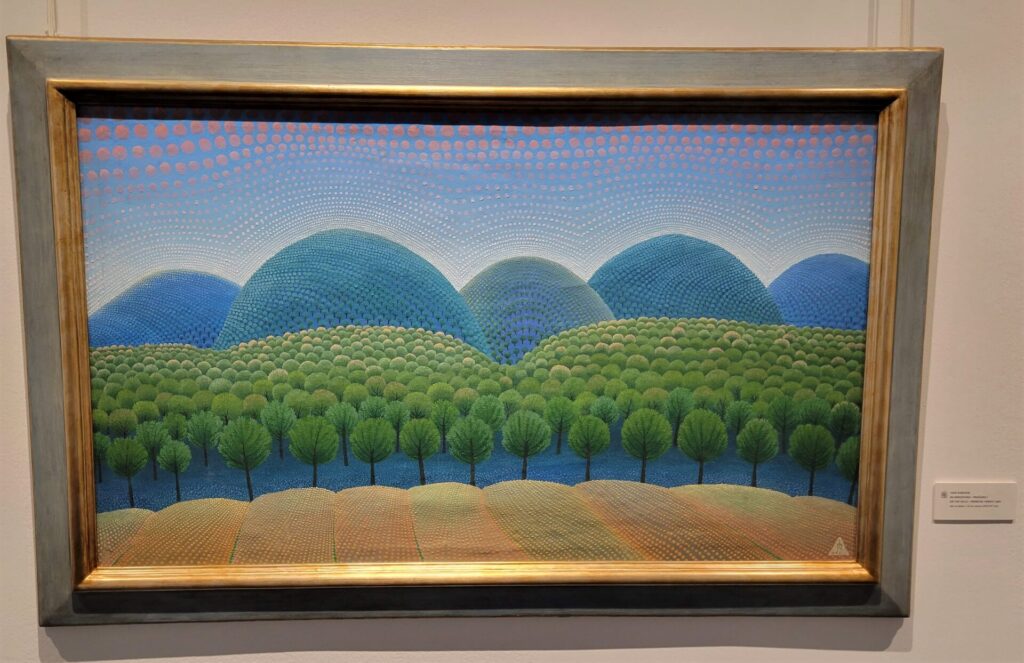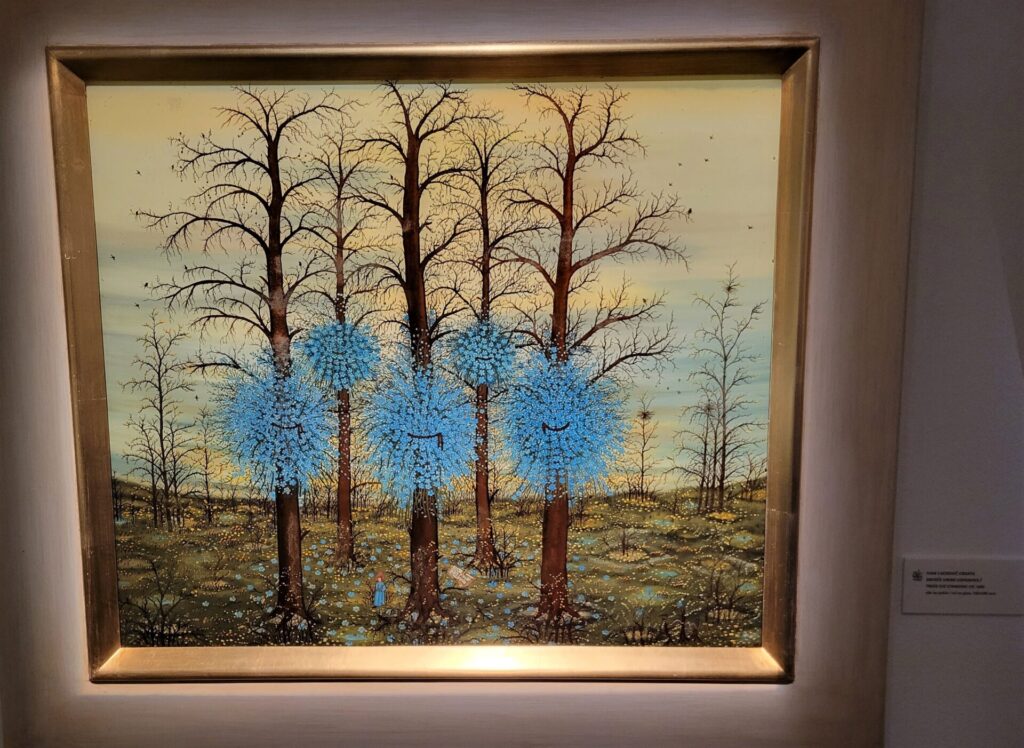 Modern Art Museum
The Modern Art Museum was quite enjoyable, especially their permanent collection. They had many works by Croatian artists previously unknown to me. Unlike some museums labeled as "modern", this one has plenty of traditional landscapes and portraits to go with the experimental boundary-pushing type of modern art. Also about $5.50 to enter, this one is much bigger with two full floors in an historic building and a good way to spend a couple of hours.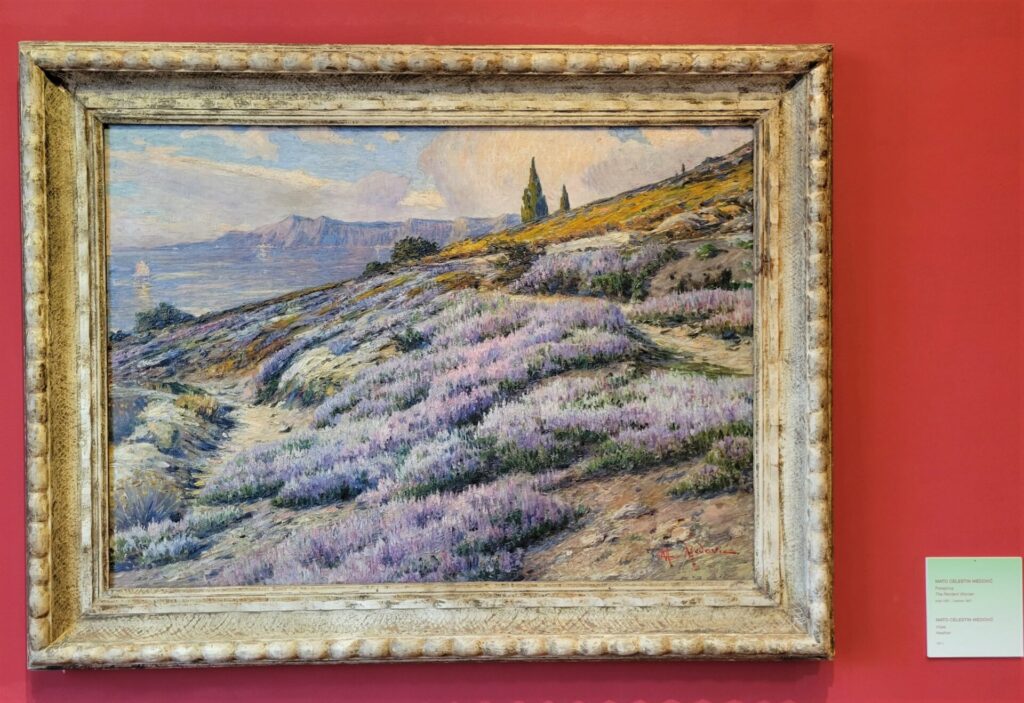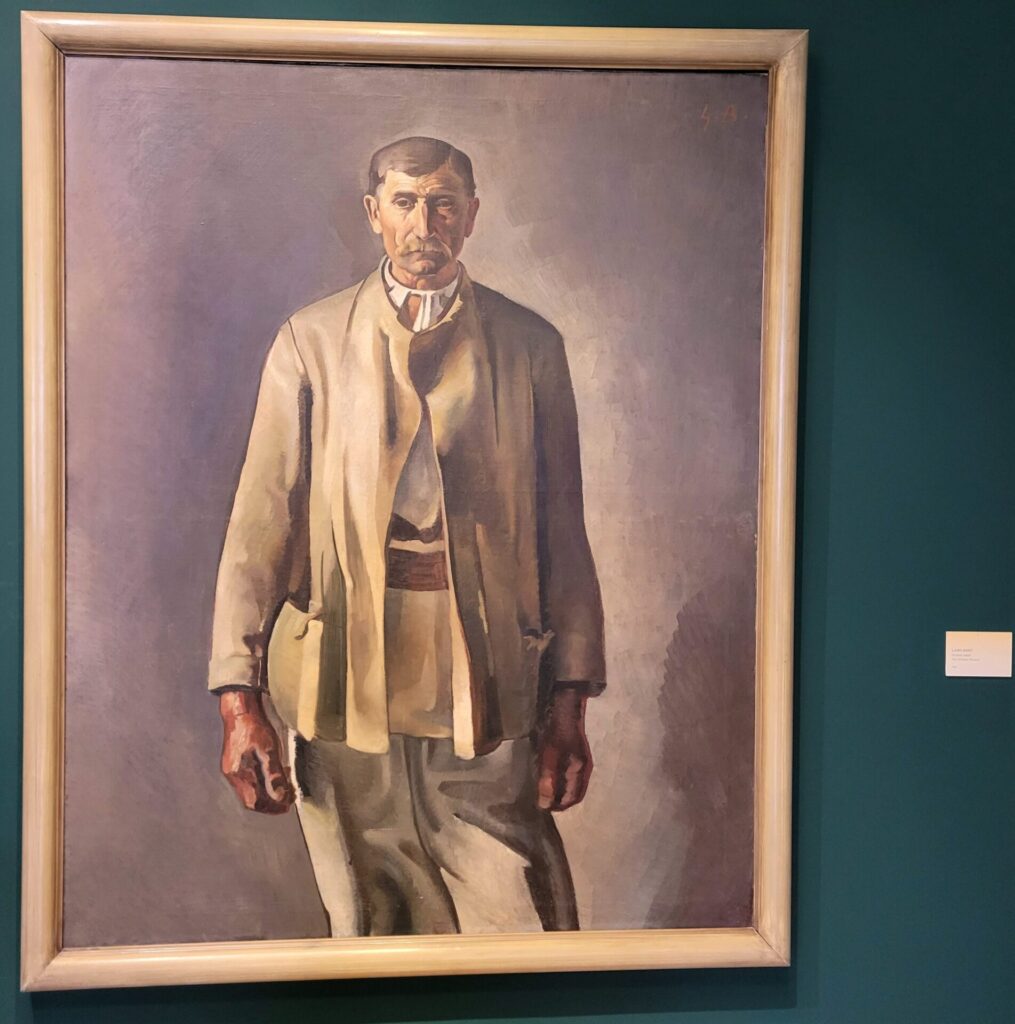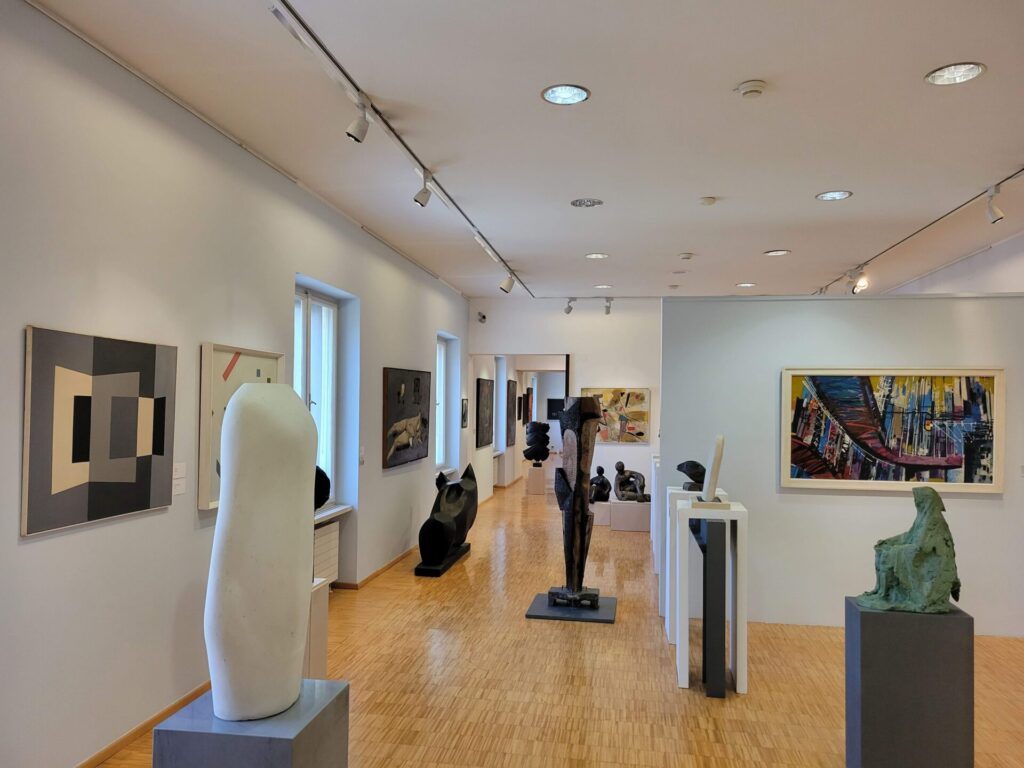 Mushroom Museum
Of course not all museums have to take themselves as seriously as the art museums. The charming Mushroom Museum was absolutely worth a visit. Open only 3 days a week and hidden on the third floor of a dark downtown apartment building, hunting for the Mushroom Museum is half the fun. Climbing the stairs to the entrance felt a bit like trespassing, but it's worth it.
For $3 you can see displays with hundreds upon hundreds of different mushrooms, each with their Latin name and an English description ranging from deadly to poisonous to edible to delicious. If you time it right (we didn't), the curator will apparently talk your ear off and is happy to answer any and all questions. He was just finishing up with a previous group when we got there, so we were left mostly on our own. Nevertheless, it was still a pretty fascinating short stop for a couple of amateur fungi spotters.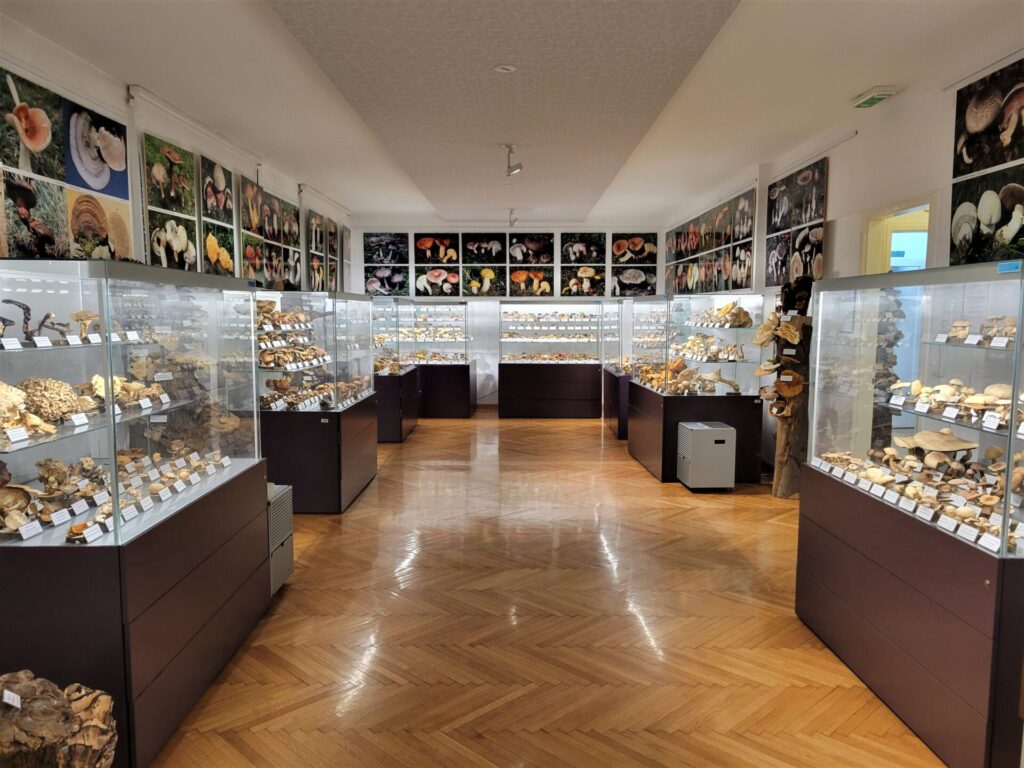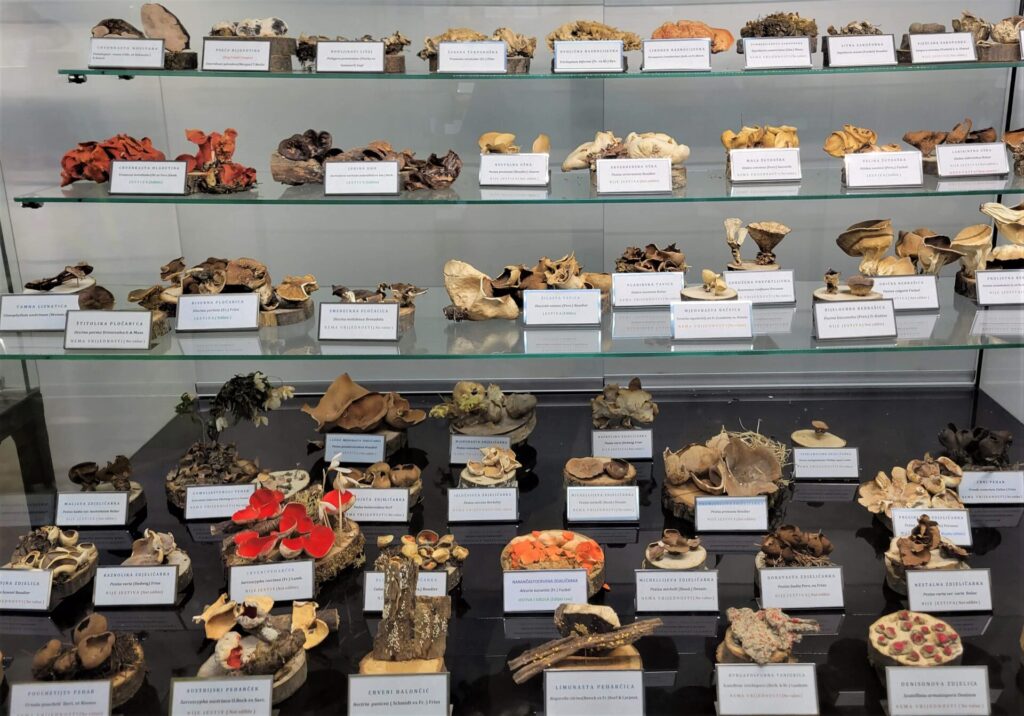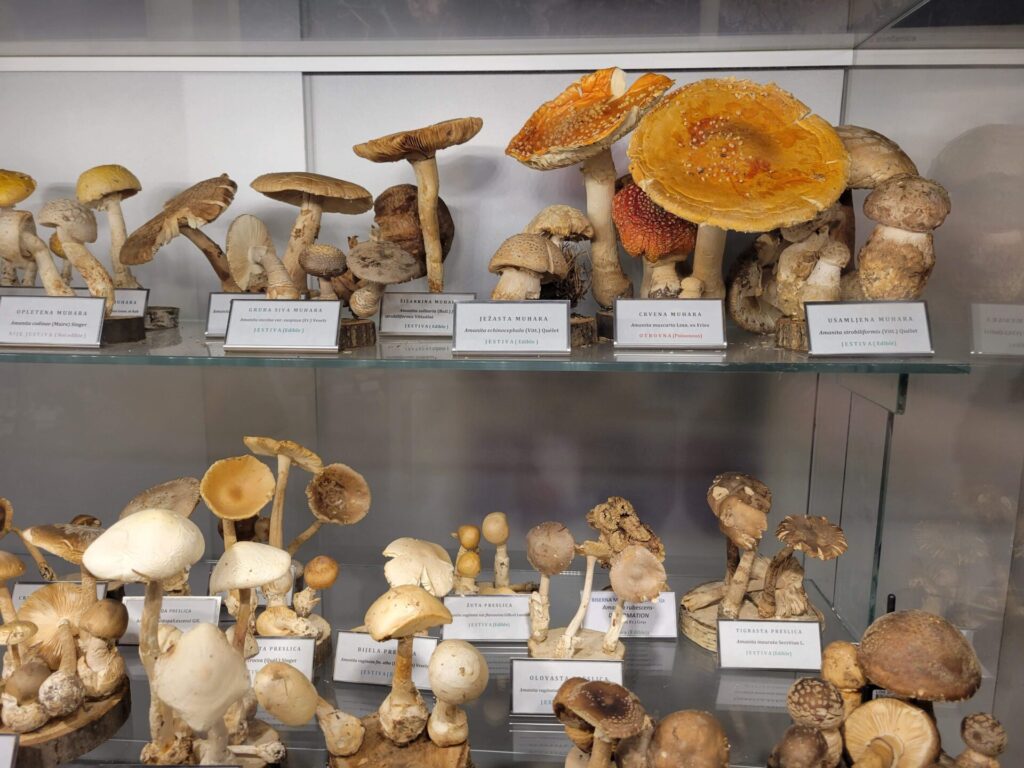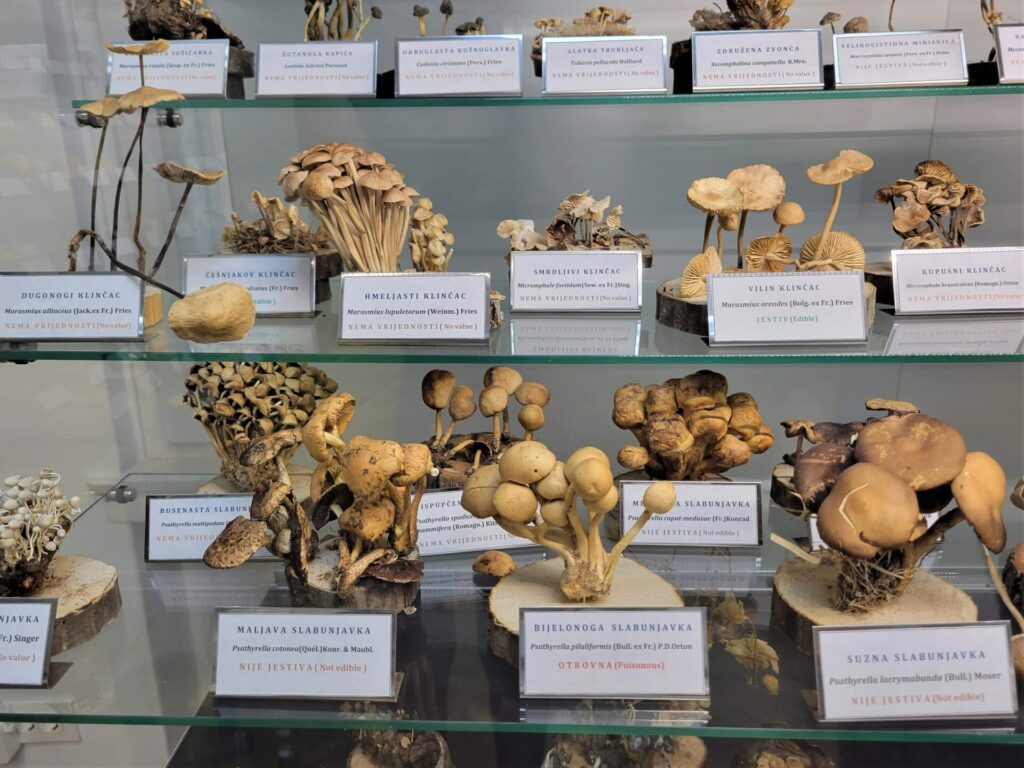 Downtown Parks
The south end of downtown Zagreb is bracketed by what's dubbed Lenuci's Horseshoe. It's a U-shaped string of various parks, including the Botanical Garden. Some of the parks are shaded, some are wide open, but they are all pleasant in their own way. There are playgrounds, fountains, places where they set up stages for free concerts, popcorn vendors, green grass, and tons of flowers. The one we spent the most time in was in the upper right corner as it had the best shade.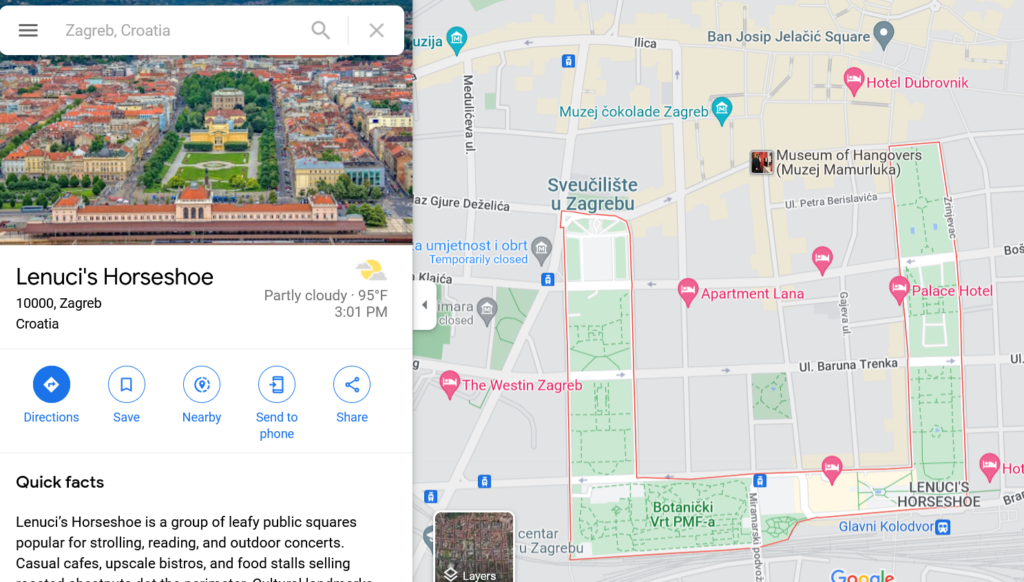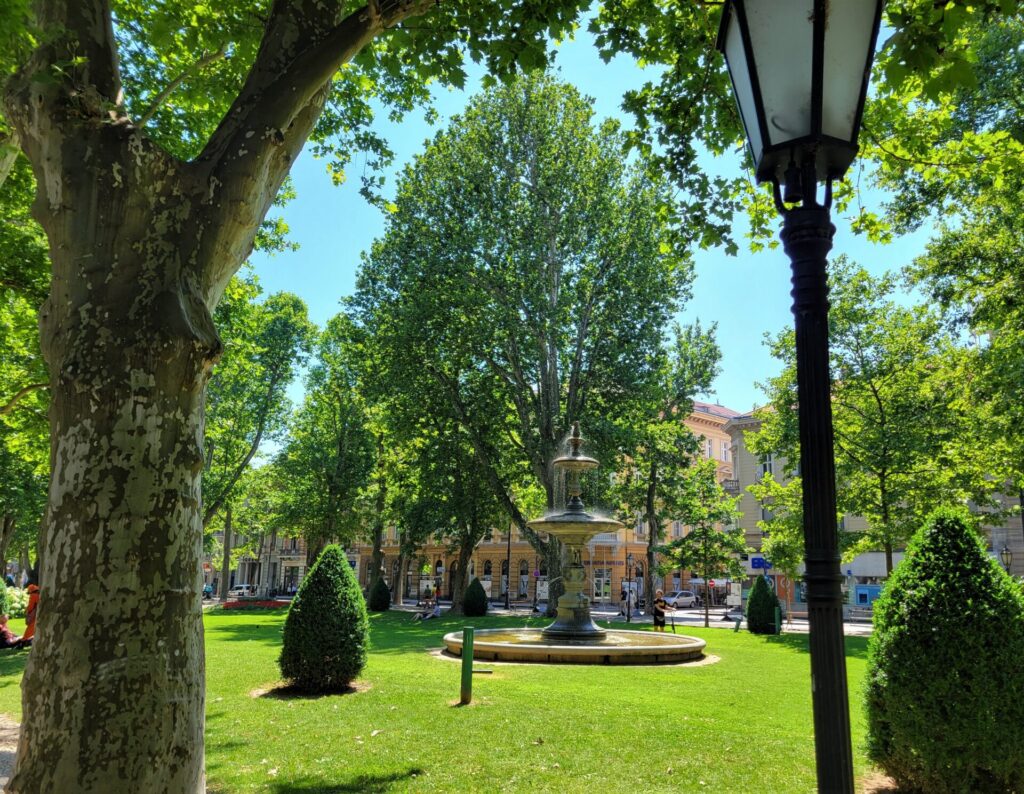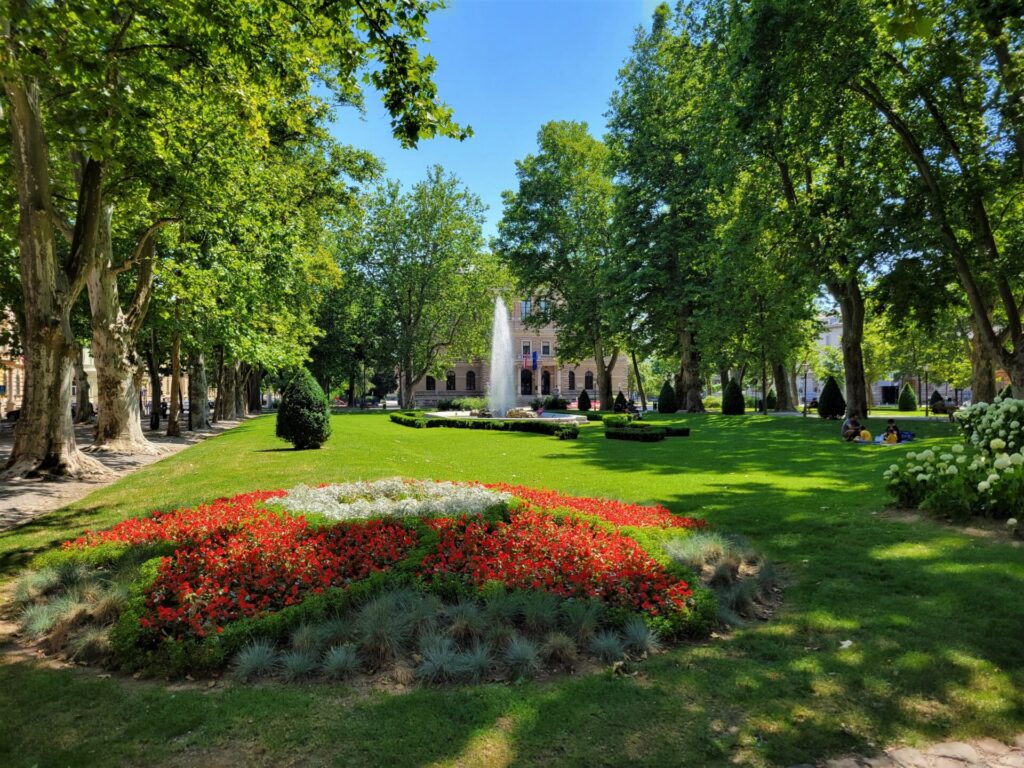 Botanical Garden
Zagreb's botanical garden is packed full of gorgeous plant life. Despite covering only 3 square blocks, it has multiple different sections that provide a distinct feel. There are semi-secluded paths, a fountain, a turtle pond, and multiple planters filled with all types of flowers. The entry fee is normally small (about $2) but we were waived in for free during our visit on a late Friday afternoon.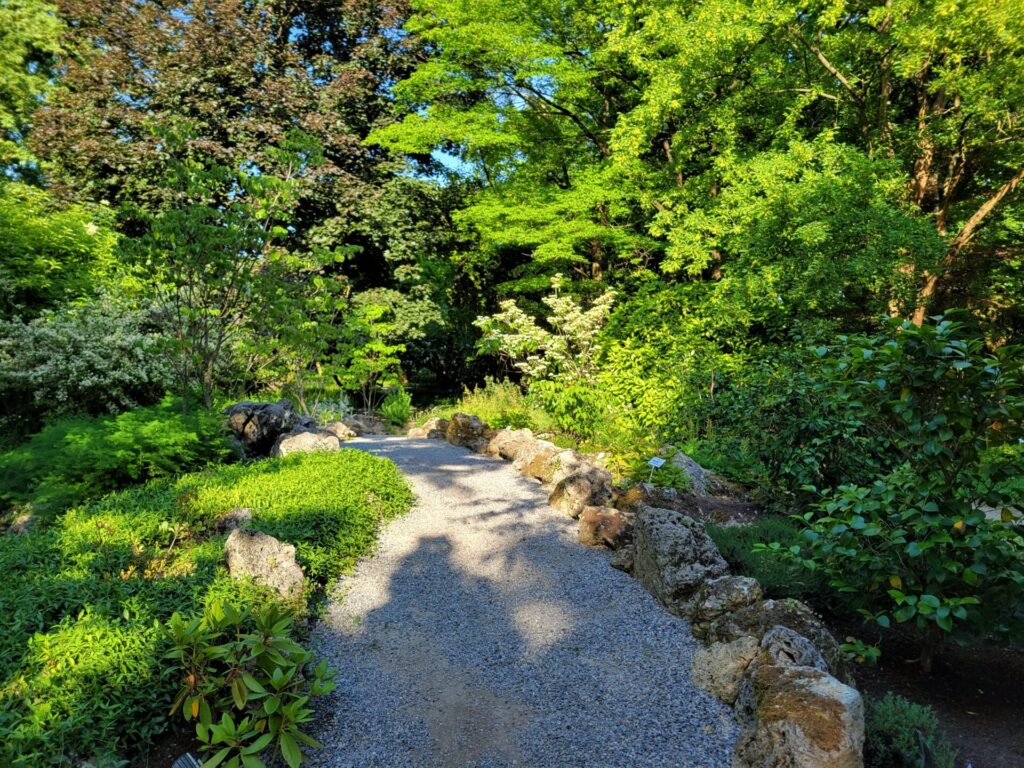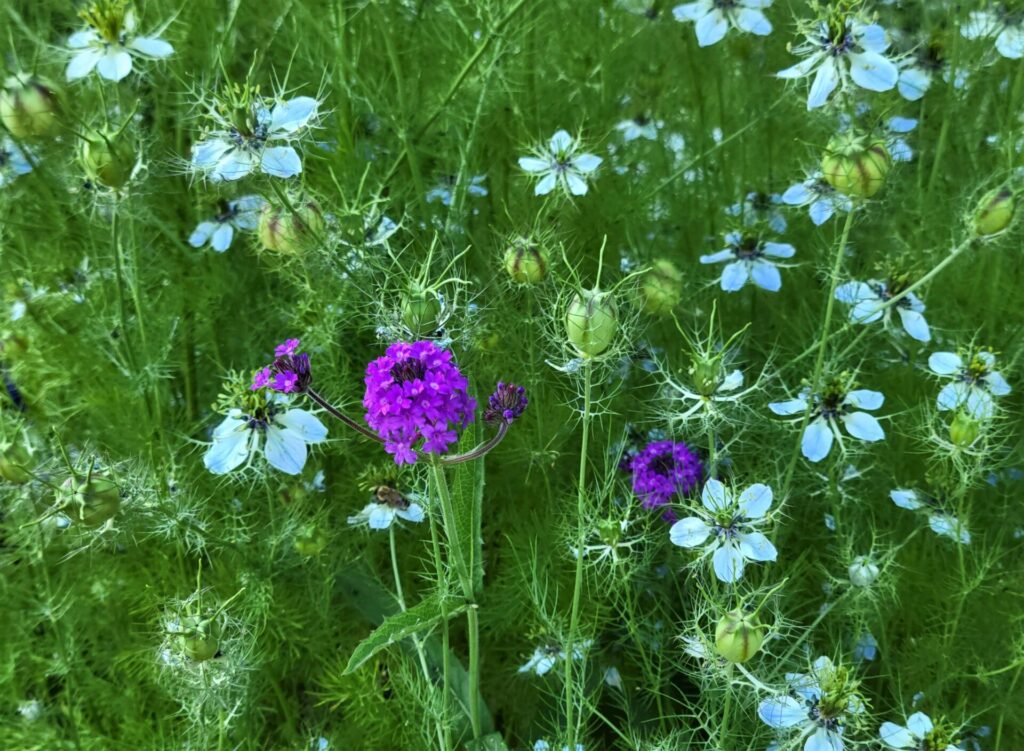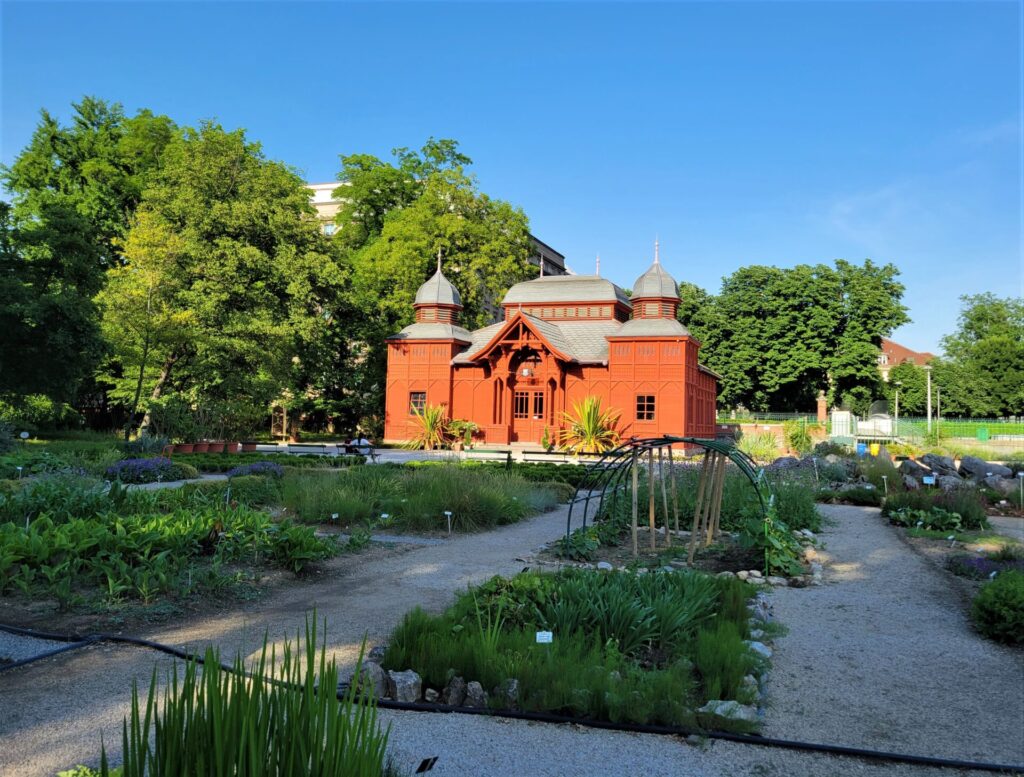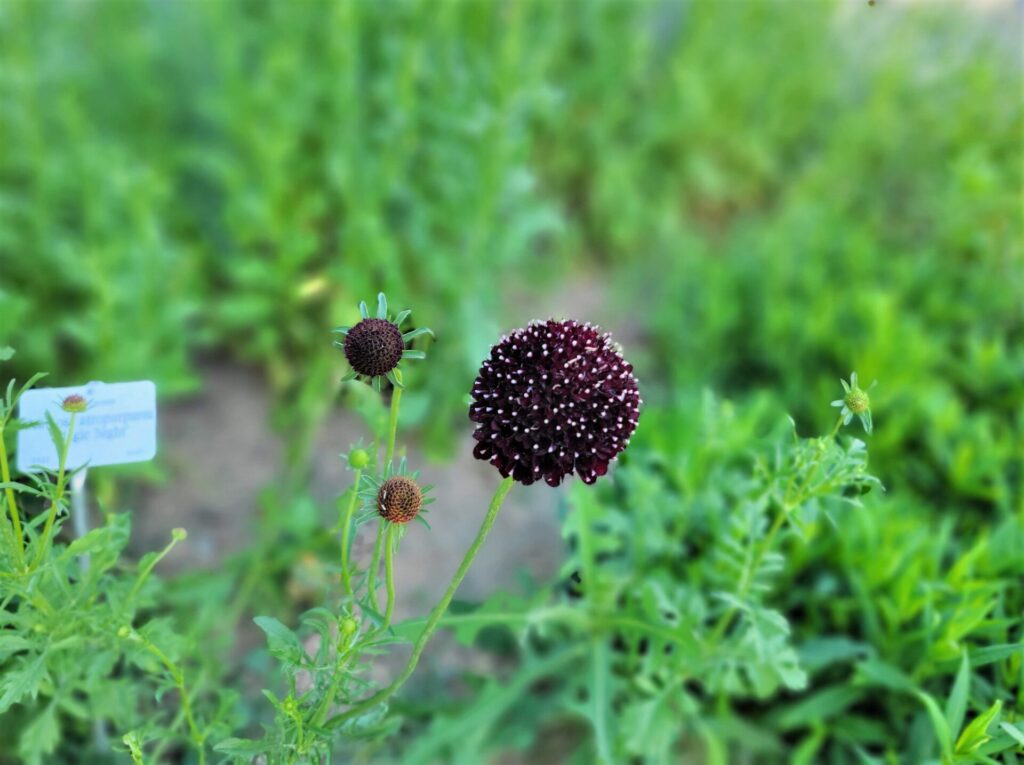 Zoo Park
Outside of the downtown area is the Park Maksimir. We called it the Zoo Park, since, you guessed it, that's where the zoo is located. But there's much more than that. This gigantic urban park has multiple lakes and countless hiking trails crisscrossing through the woods. Most of the area is just old forest filled with underbrush, so it really does feel like being on a rural hiking trail and it's easy to forget that you're only a few hundred yards from civilization. There are also a number of manicured areas with large open lawns allowing plenty of spots to explore, both in the woods and outside.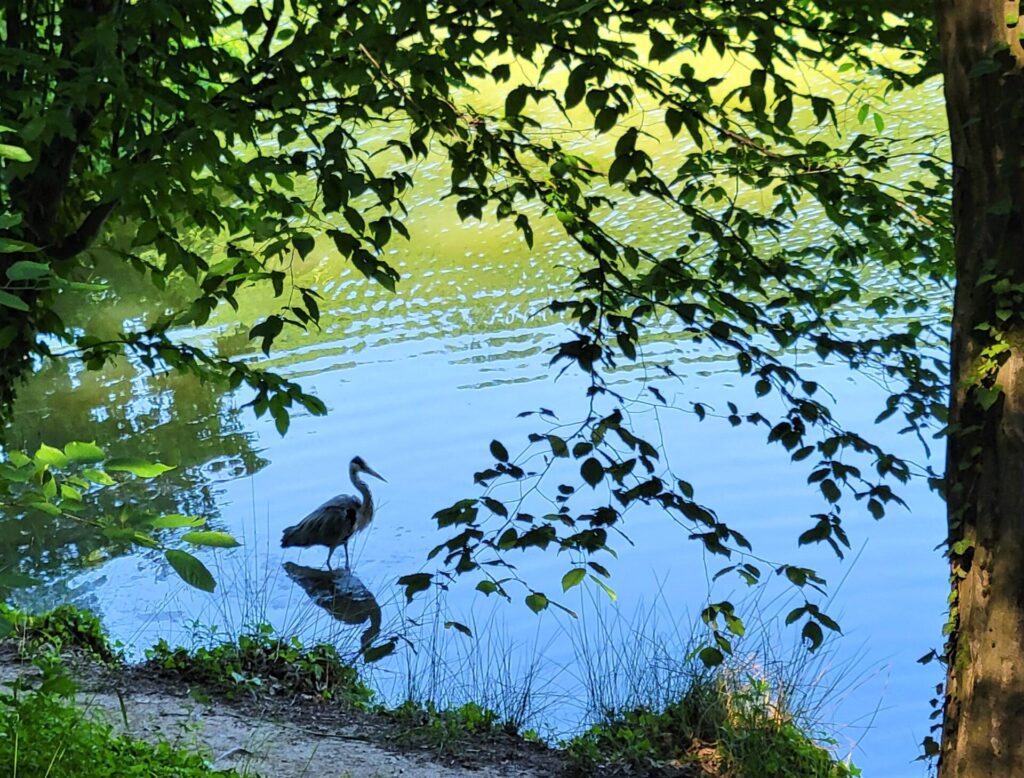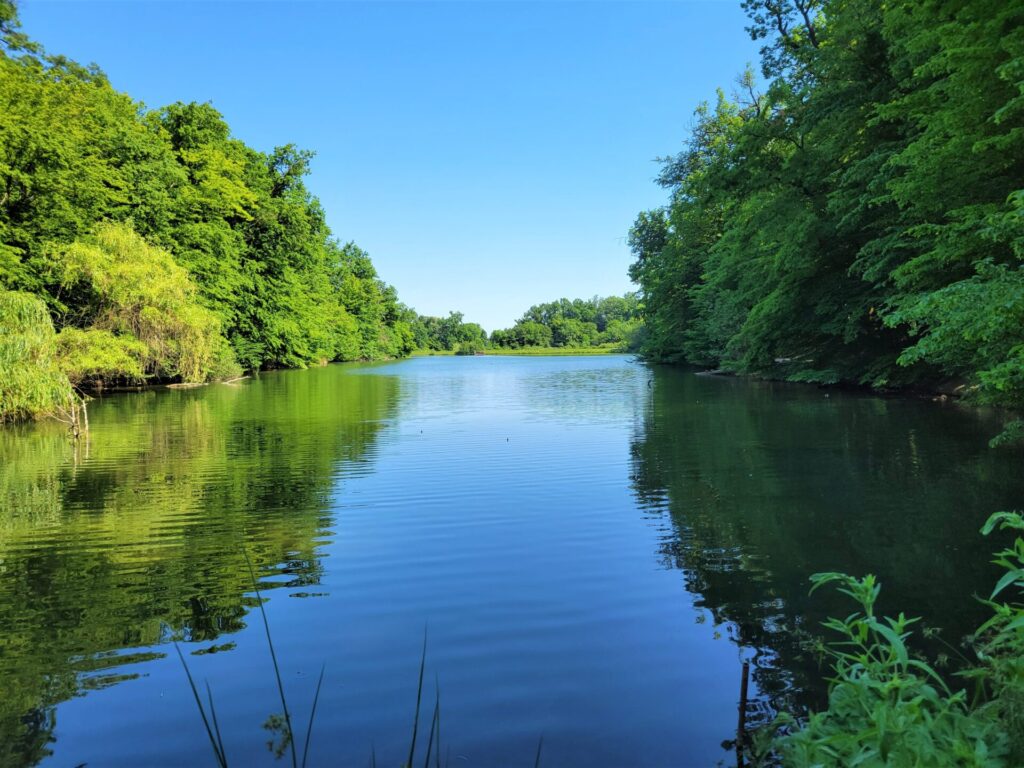 Cemetery
My favorite outdoor spot in Zagreb was the Mirogoj Cemetery. Located in the hills north of downtown, this enormous cemetery houses countless interesting gravestones, expansive views, and some really gorgeous architecture along its main barrier wall. We've been exploring a number of European cemeteries, including Budapest and Belgrade, and this one was the best so far. Many of the buildings and walls were damaged by the same 2020 earthquake, but it didn't diminish the experience at all.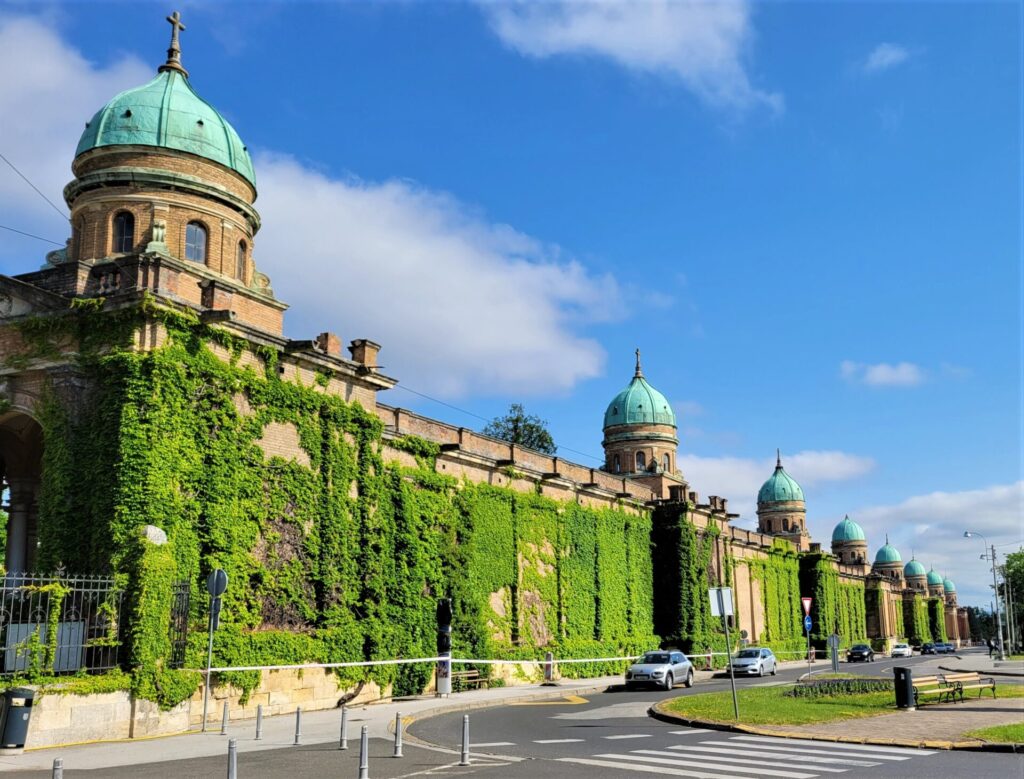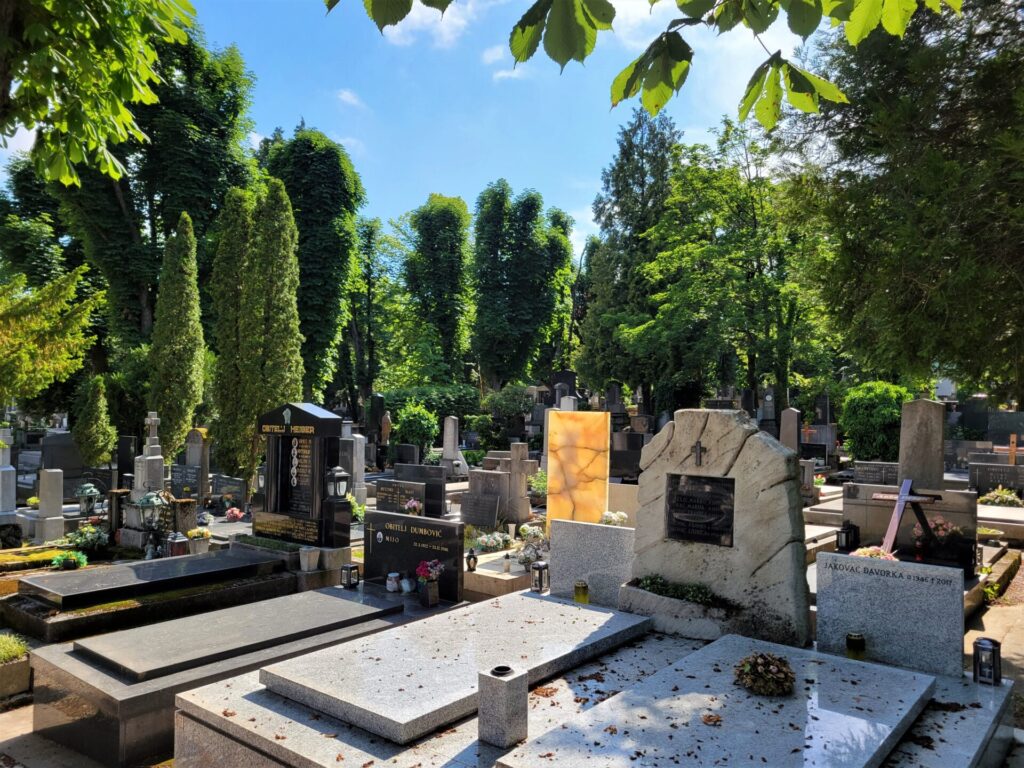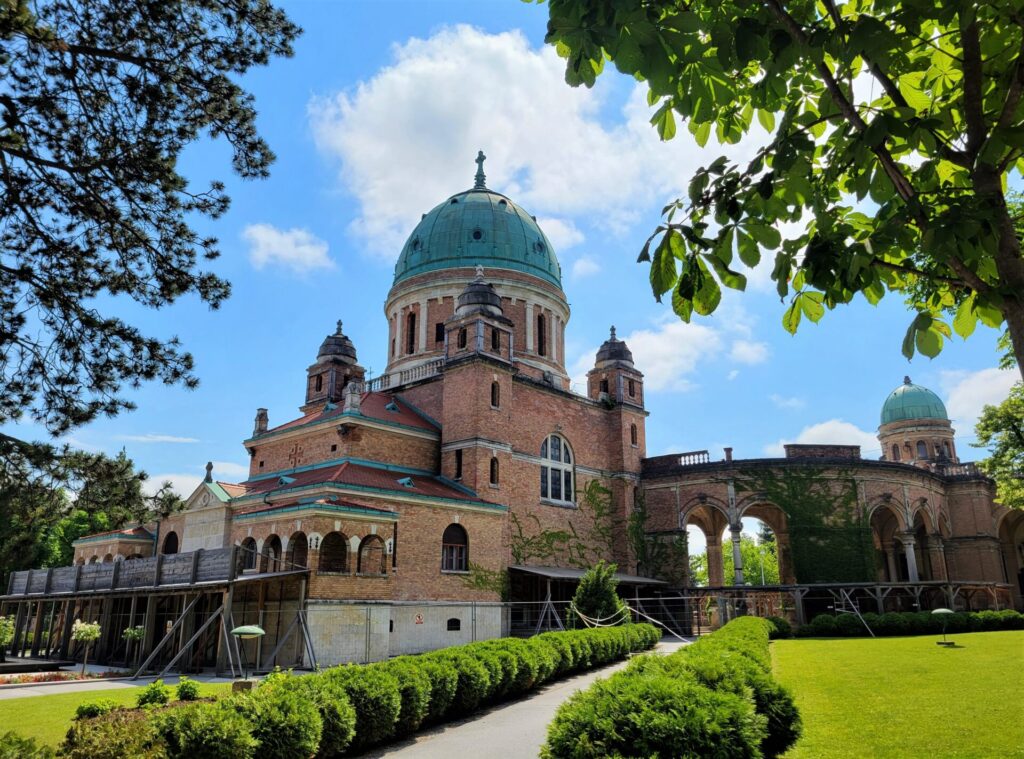 Farmers Market
With summer crops coming into season, we spent a lot of time at Zagreb's downtown farmers market. It's open 7 days per week, but Fridays and Saturdays are definitely the busiest with the most vendors. Any day we showed up though, we found plenty of farm stands overflowing with local produce like cherries, melons, peaches, lettuces, cabbages, potatoes, and much more. It's been a while since we've done any serious market shopping, so it was nice to get back into the swing of things in that regard.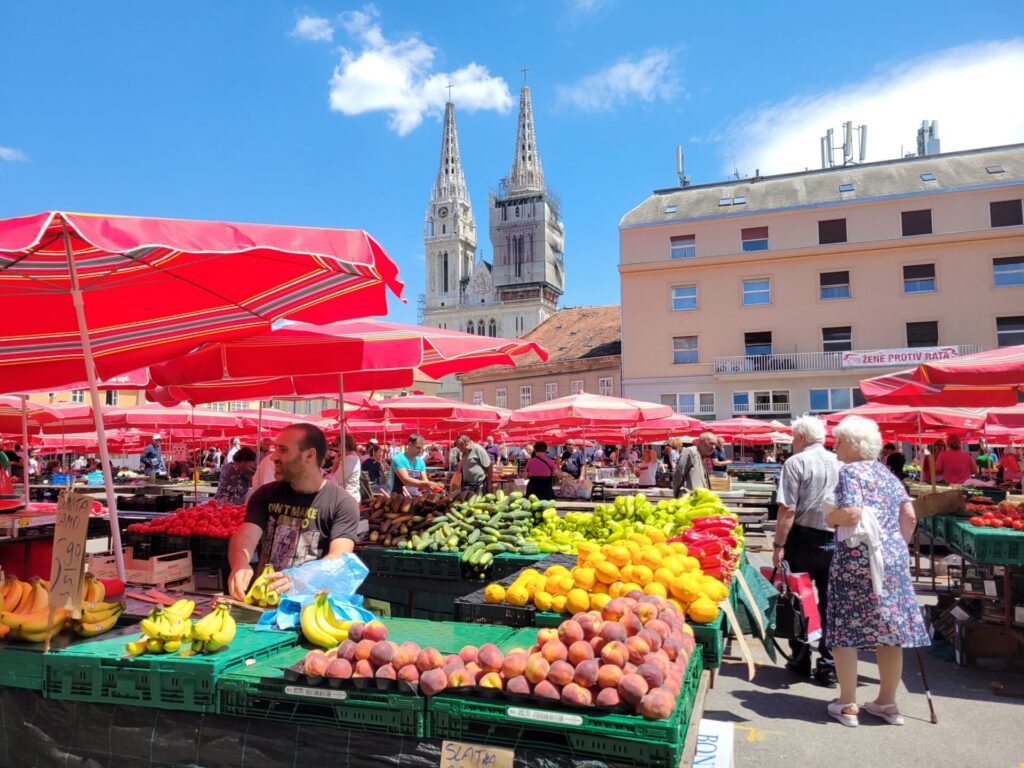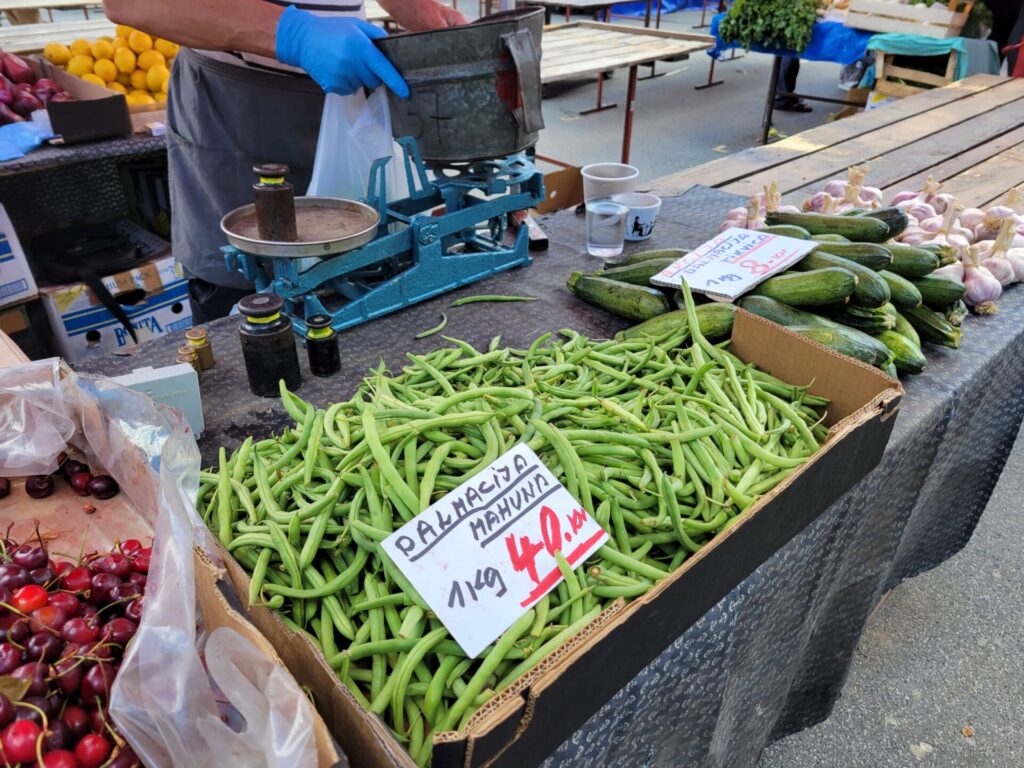 Where We Stayed
We rented a refurbished apartment in an older building near the bus station on the southeast side of town. We really liked our choice as it had a comfortable bed, a newer kitchen, and windows on opposite sides for a nice cross breeze. The neighborhood was pleasant and it was about a 20 minute walk to the downtown pedestrian zone area.
While looking at apartments, we almost picked one outside of the train tracks that run along the southern edge of downtown. Luckily we didn't, as we found out during our city exploration that crossing them on foot is generally unpleasant. There are very few paths and the ones that exist are right on the sides of busy roads, with some of them passing through short underpasses that are not well ventilated. If you are considering a visit to Zagreb, I would strongly recommend staying north of the railroad tracks that run along the south edge of downtown.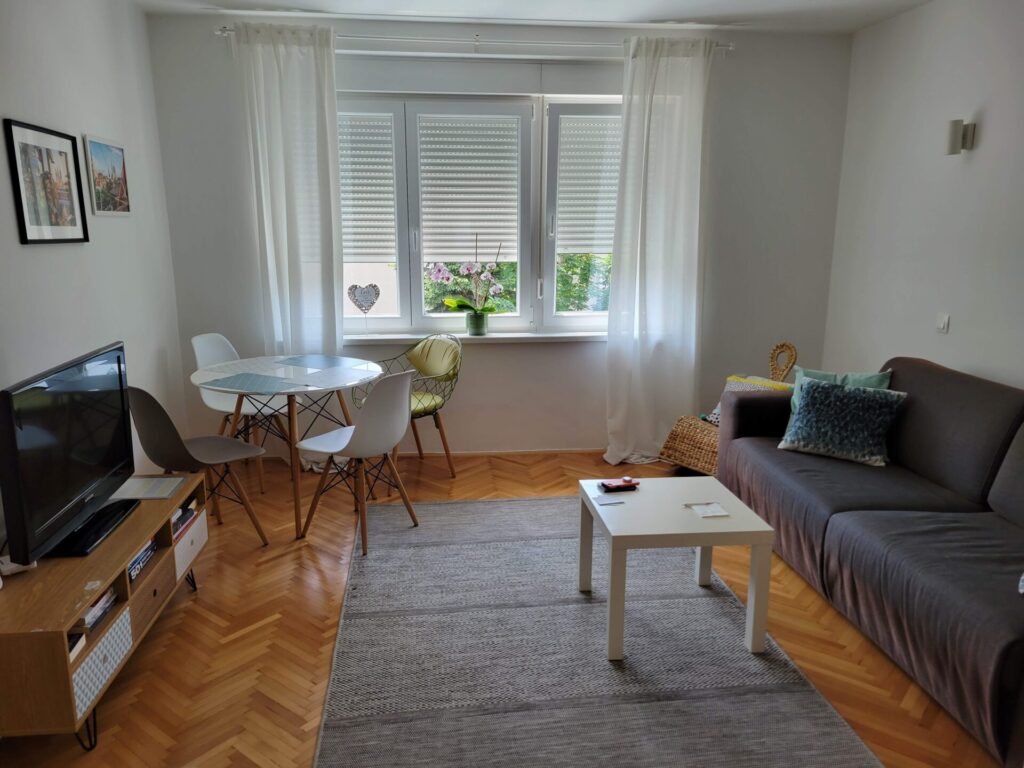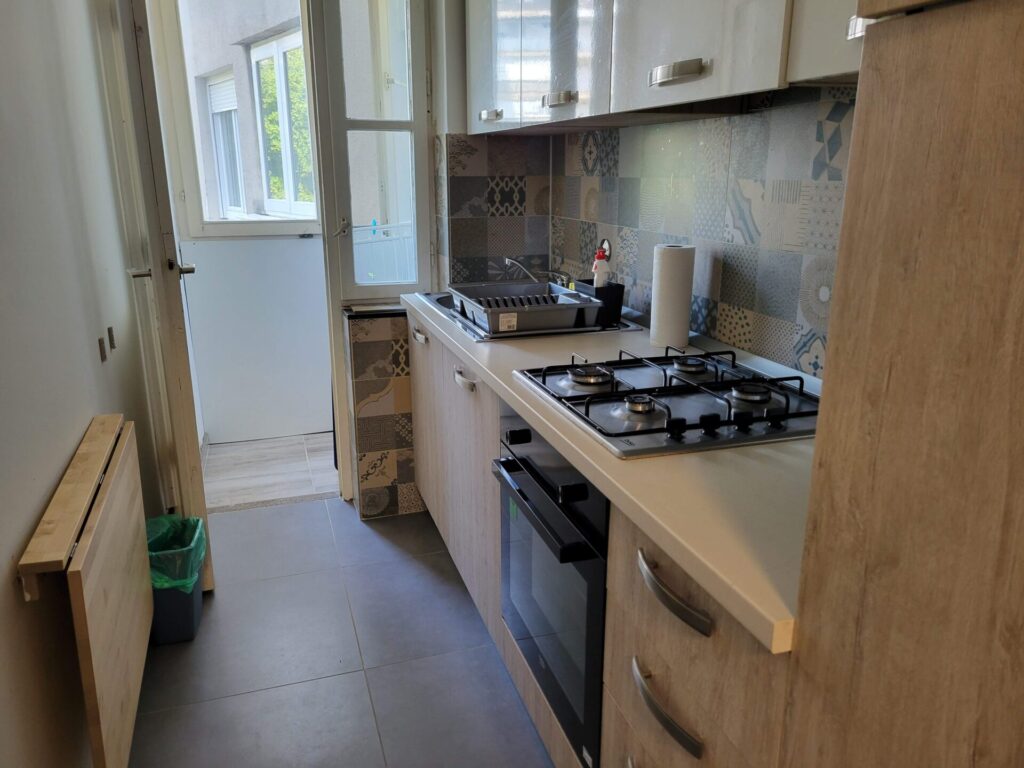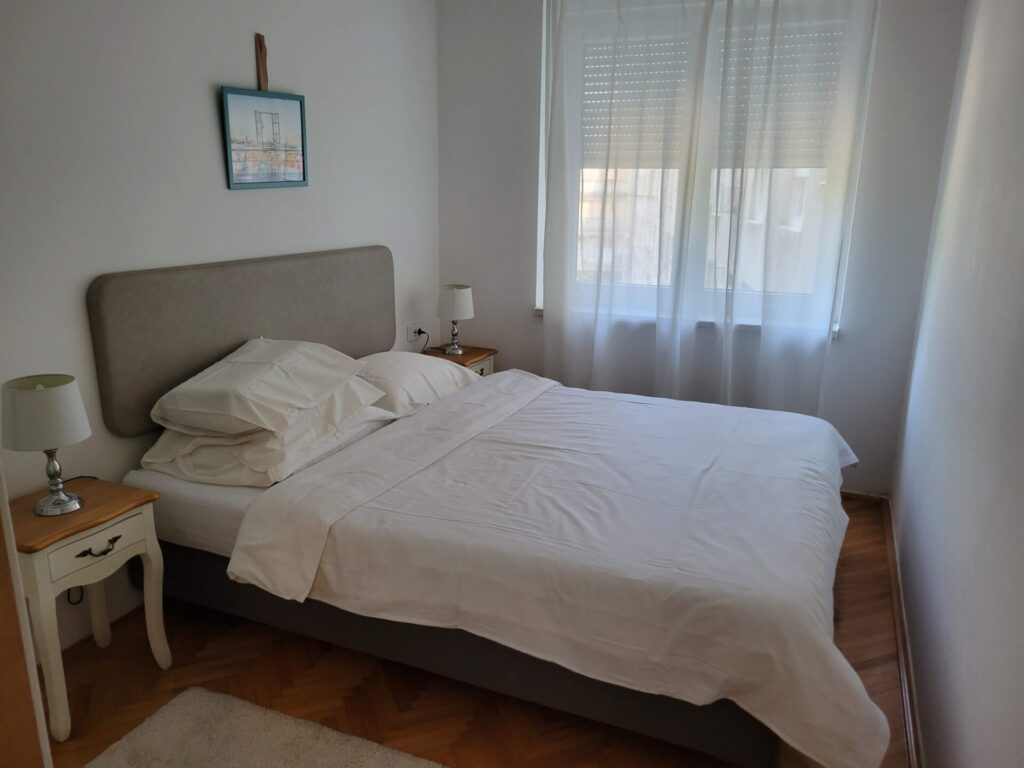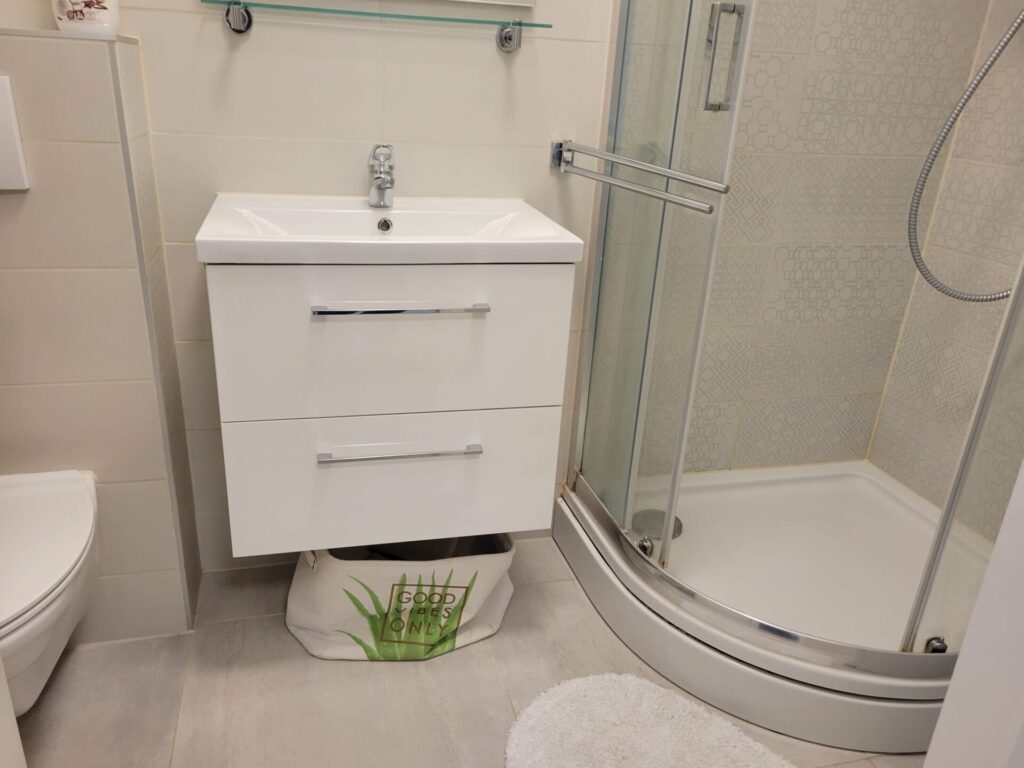 What We Spent
Overall, we spent $2409 for our 33 nights in Zagreb. Adding in our regular monthly bills of $224 for insurance and Netflix, among other important things, brings our grand total spending amount to $2633. We found costs were similar to Budapest (excluding broken wrist treatment) if not slightly more expensive. Some of that was luxury spending, like constantly buying fresh asparagus at $3-$4 a bundle when available and paying a premium to buy from the local farmers market instead of the grocery store. But for the most part, it was still very easy to stay within a reasonable budget when visiting Zagreb.
It took us a while to warm to Zagreb. Compared to our previous stop in Belgrade, there was a bit of initial sticker shock and we found ourselves among many more tourists. We were also quite disappointed to learn that the best art wouldn't be viewable. Because of this, our first impression was not great. But as our month went on, we began to appreciate it more. We really liked our choice of apartment and the farmers market is glorious. Some of the lesser known sites turned out to be more enjoyable than expected. The cemetery was quite impressive. And we appreciated having so much nature so close to the city. Overall, our stay was a good one. I would guess that the next time we're in Croatia we'll be along the coast, but it was nice to get a taste of the capital.