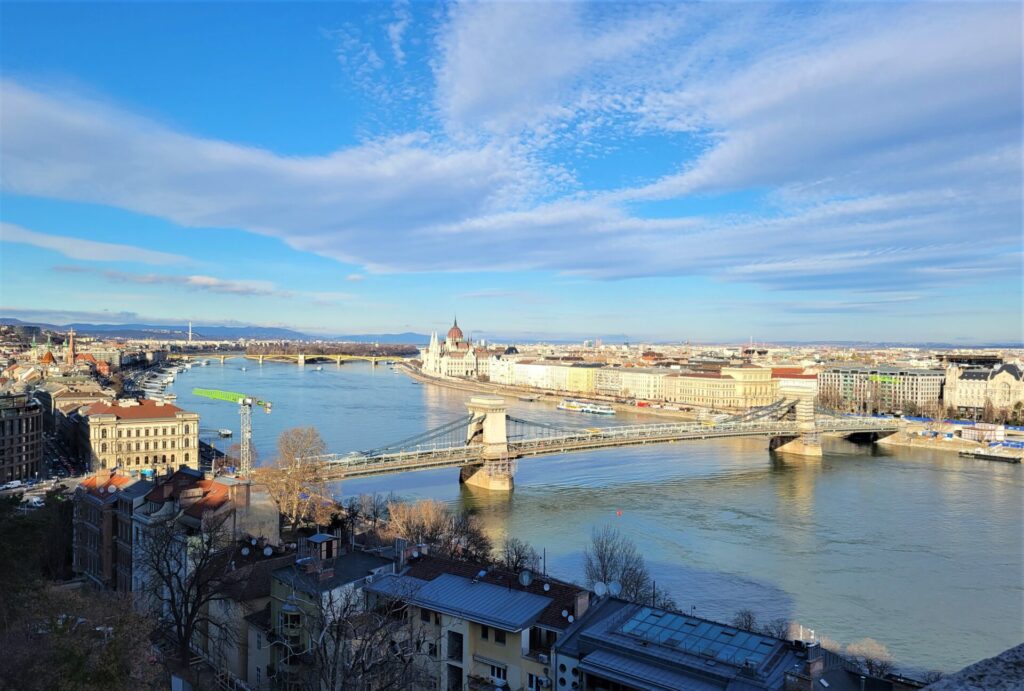 We just finished a great 3 month stay in Budapest. The city is quite charming and has many of the things we look for in a place to live. There is lots of green space, plenty of museums, interesting architecture, and street art galore. Even the day-to-day living costs were much lower than we expected. Budapest is an easy city to fall in love with.
We didn't really plan to stay 3 months when we arrived, but Katie broke her wrist while we were ice skating at the end of our first month. So we decided that continuity of care from the same doctor was important. That and her ability to do physical things with only one functioning arm was greatly diminished. Moving across town wasn't much fun, so I can only imagine how much harder switching cities or countries would've been.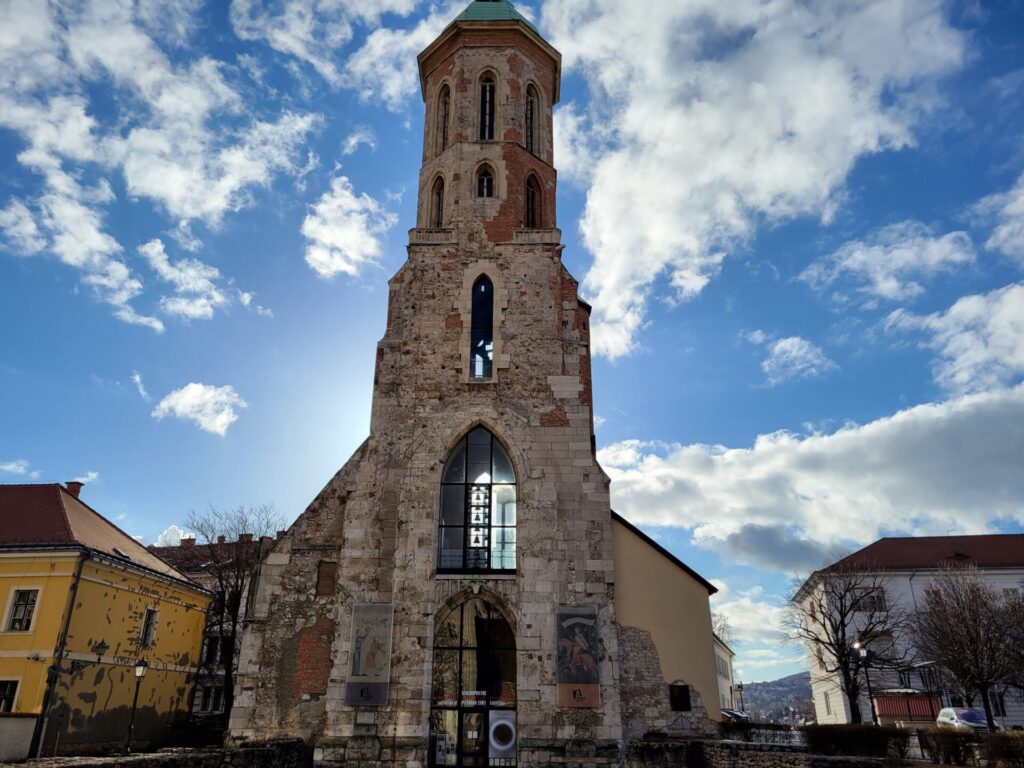 I wrote about the things we did and saw during the first month in my previous post, so this one covers our activities from months 2 and 3. Needless to say, we weren't quite as active with Katie being broken for 6 of these 8 weeks. Nevertheless, we still managed to enjoy ourselves. Here's what we did and saw.
Museums
We visited a number of museums during the first month, like the unique Vasarely Museum, but we saved some of the more popular ones for later in our stay. St Stephen's Basilica is the largest and grandest cathedral in town. The polished marble and high ceilings make it quite the spectacle. It's every bit as awe-inspiring as any famous Italian church like St Mark's in Venice or St Peter's in Vatican City. The entry fee is a donation of about $1, so it's probably the best value in the city too. You can pay extra to go to the top of the dome, but the views are better from Gellert Hill, so we skipped that part.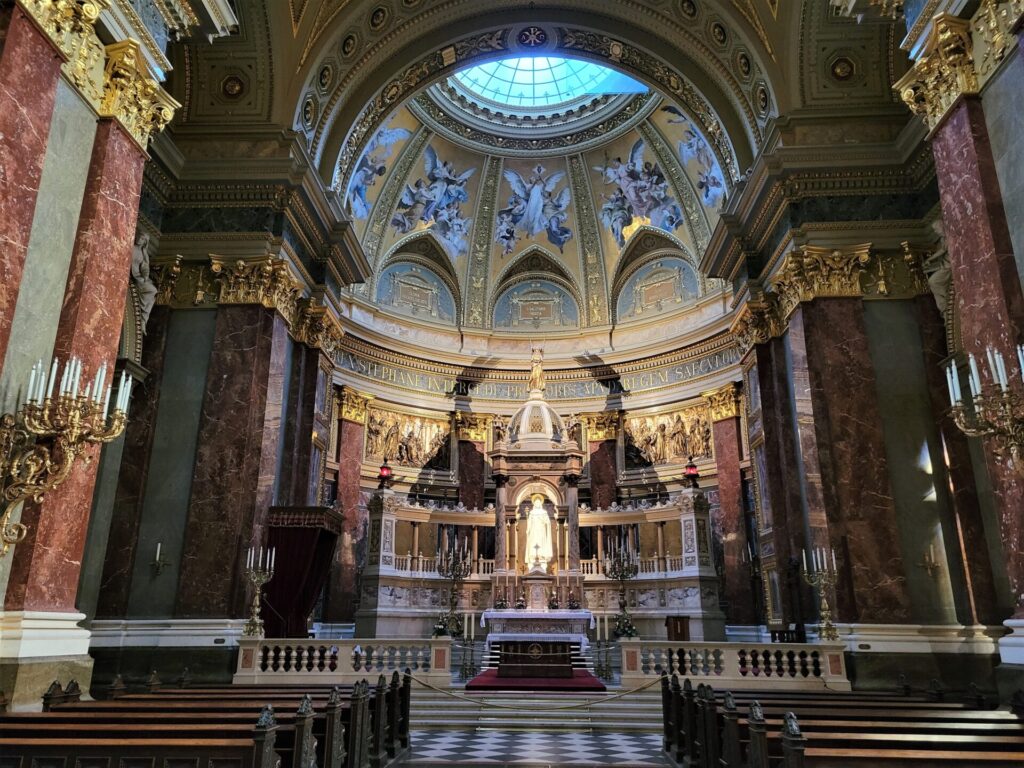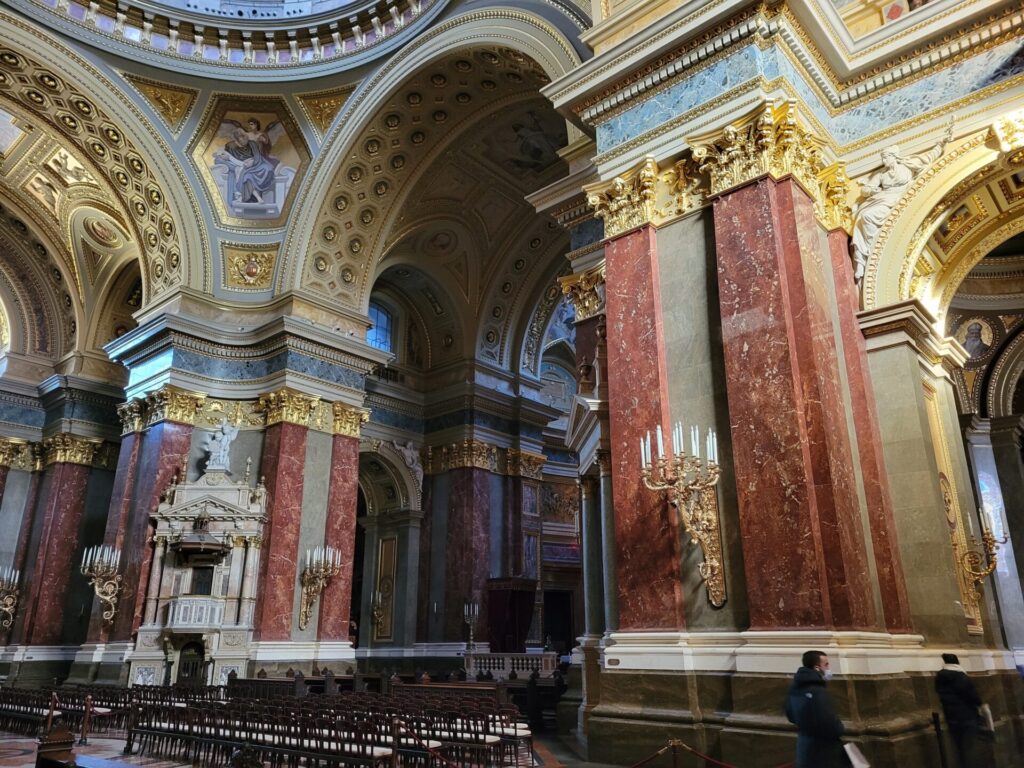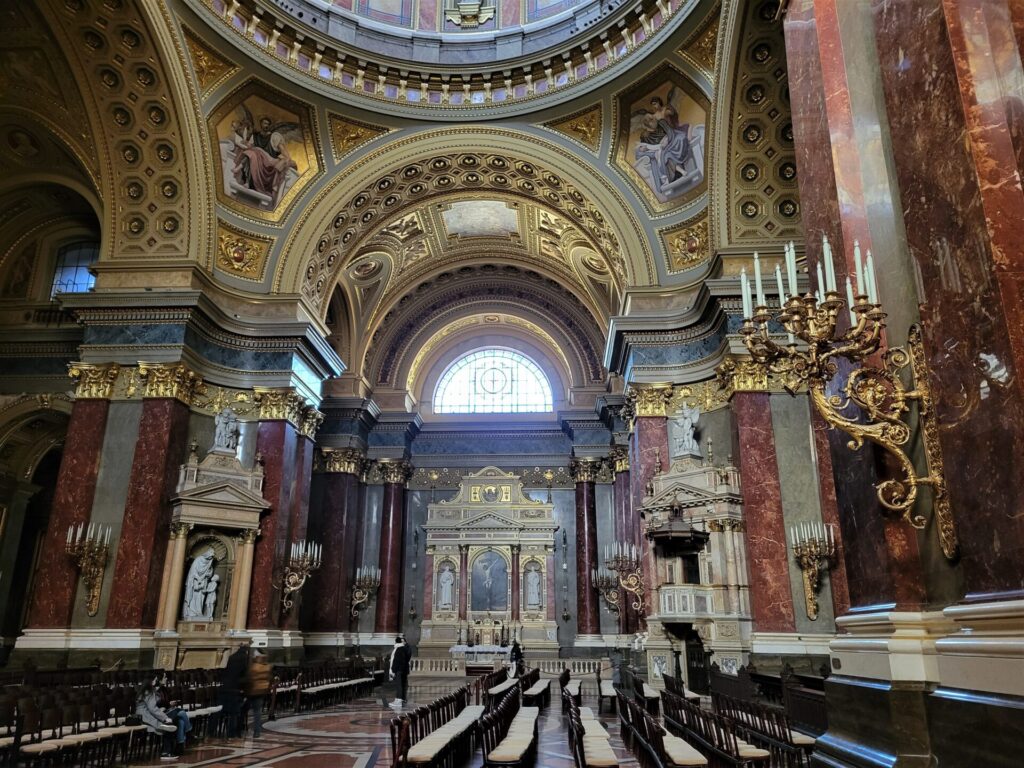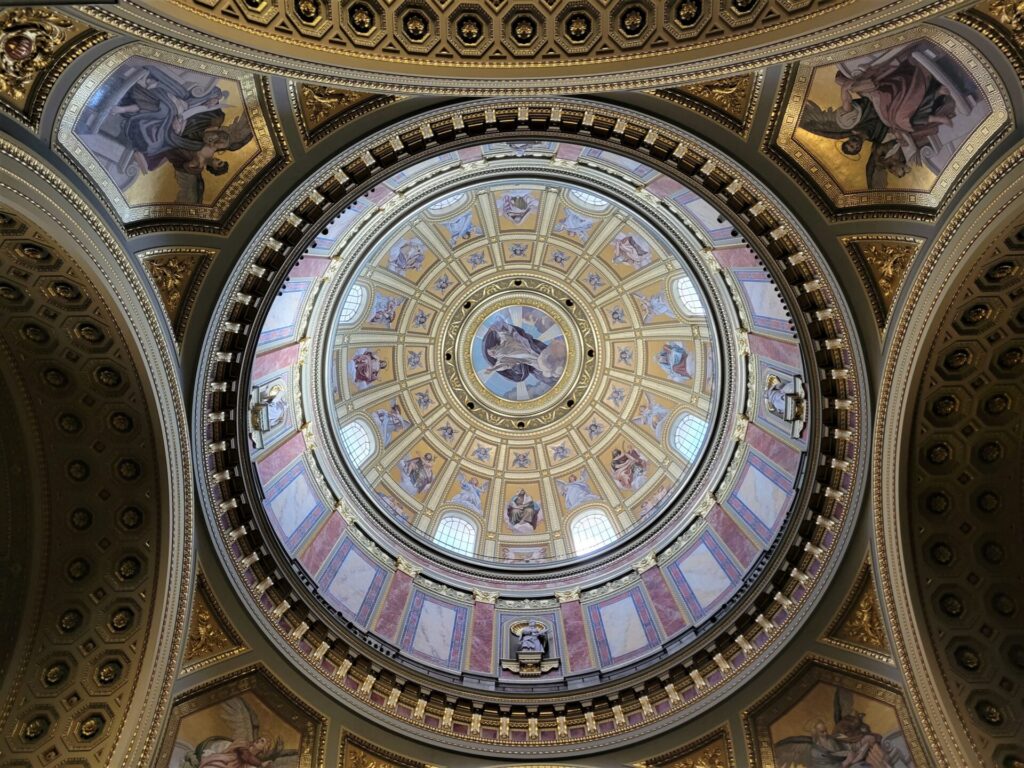 The House of Terror is probably the most visited attraction in the city. It's a well laid out museum with many themed rooms. The display is in the actual building that was used to torture and kill prisoners during the fascist era. It's not an uplifting place, but shows the grim reality of life under fascism that plagued the population following the Second World War until 1989. If you visit the House of Terror, the audio guide is a must. It would be much harder to follow the flow when only having the paper handouts to read.
But the best art museum that we saw during our 3 month stay was the Hungarian National Gallery. Both of us agreed that it was our favorite. This art museum is vast and full of hidden gems painted in every historical style. It features Hungarian artists only, none of which you've probably ever heard of, but the talent on display is undeniable. They are on par with any of the other European masters. We were blown away by the temporary exhibit showcasing Pál Szinyei Merse, but the permanent collection is incredible as well. We spent over 4 hours there and didn't see it all. It's also housed in an amazingly restored old building on top of the hill in the Castle District. There's just so much to love and I'd recommend this stop to anyone interested in art.
City Parks
There are a number of parks throughout the city, many of them quite big. Even during our winter visit, they were very popular. Margaret Island was probably our favorite. It's a mile long park located on an island in the middle of the Danube. It's a great place to find off-leash dogs playing and has tons of walking and biking paths. If you're lucky, you may even spot a dreadlocked Komondor, also known as a Hungarian Sheepdog.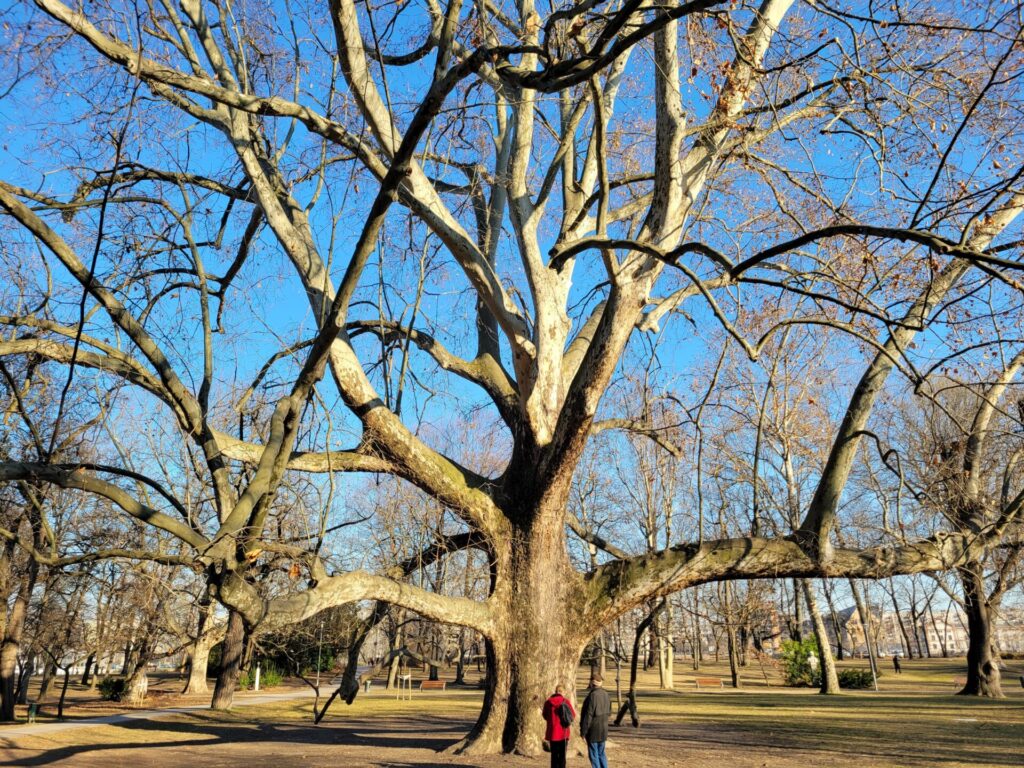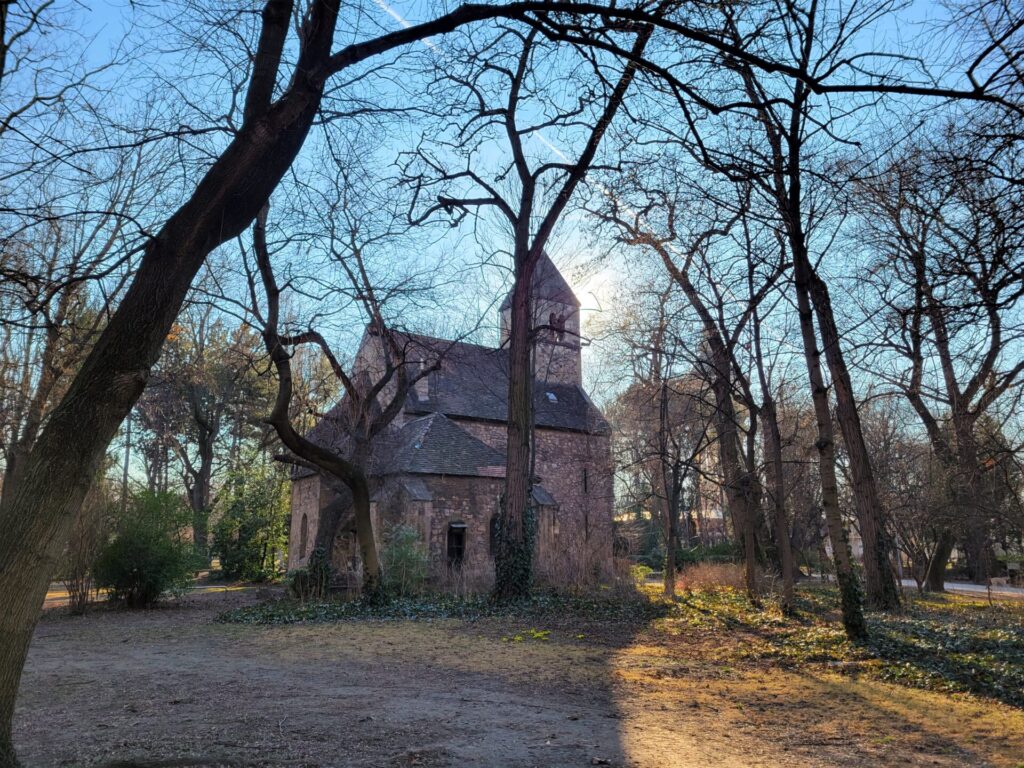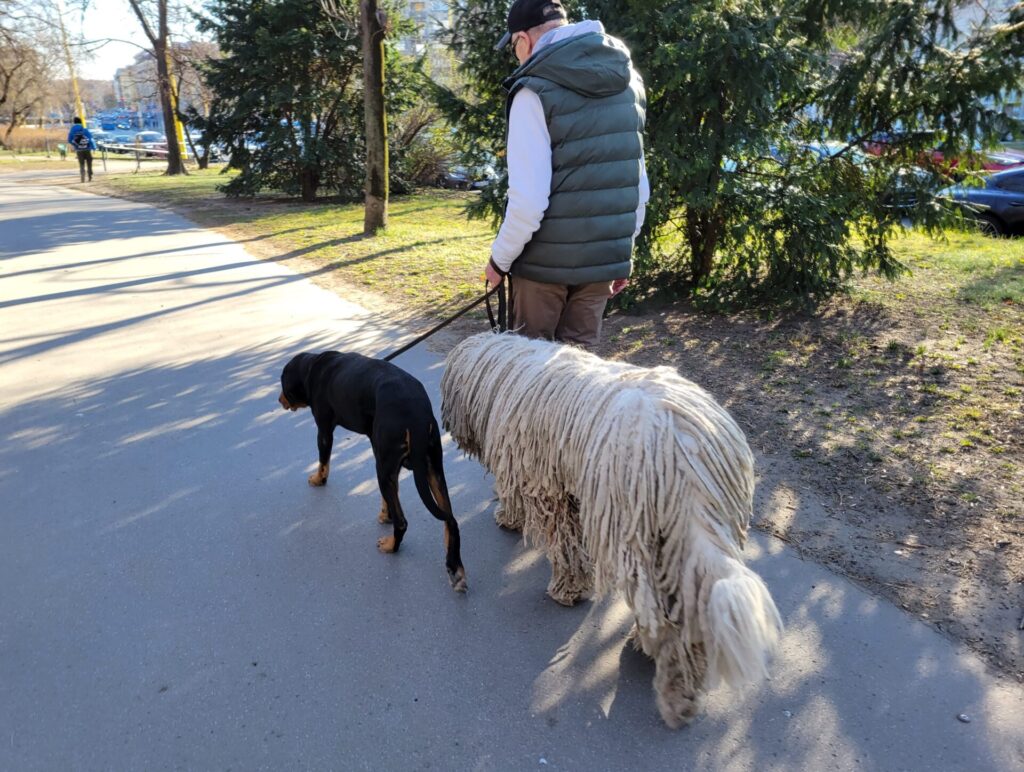 Also great was the large City Park, which has extensive kids playgrounds along with formal sites like the new House of Music. On one edge is a really nice ice skating rink that holds a lot of bad luck. Other large parks, like People's Park, offer good bird watching opportunities or just a nice respite from the city.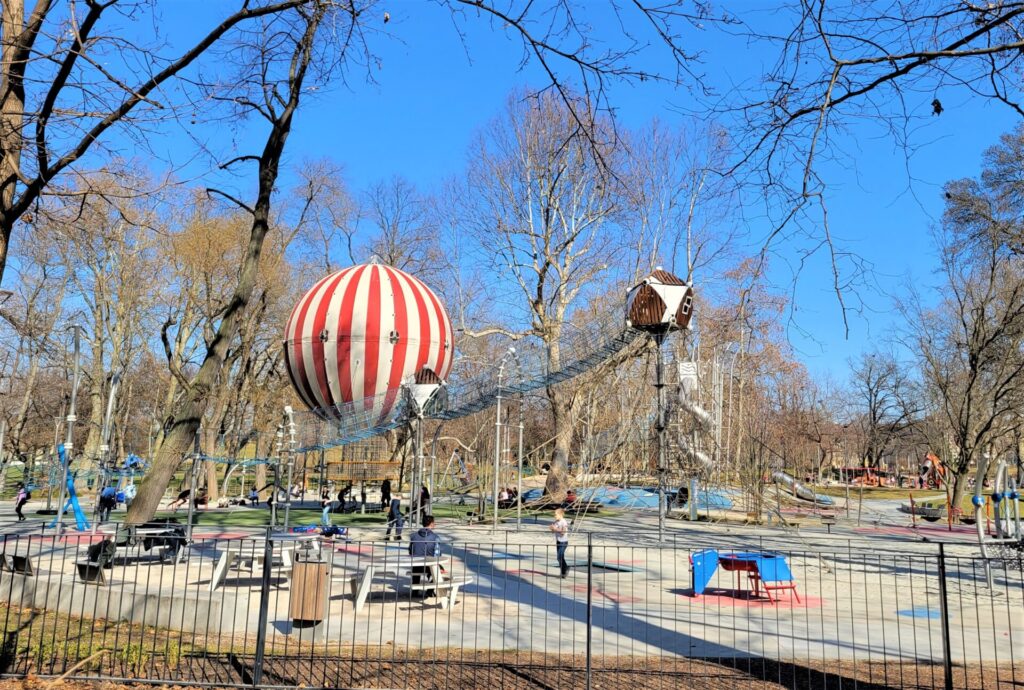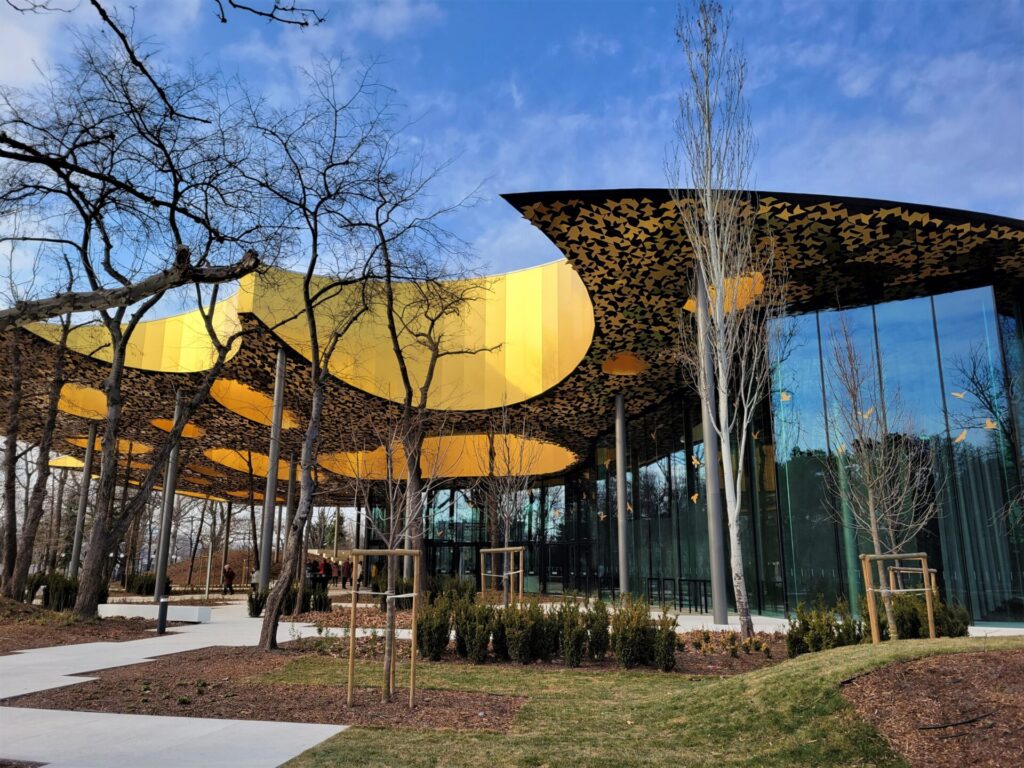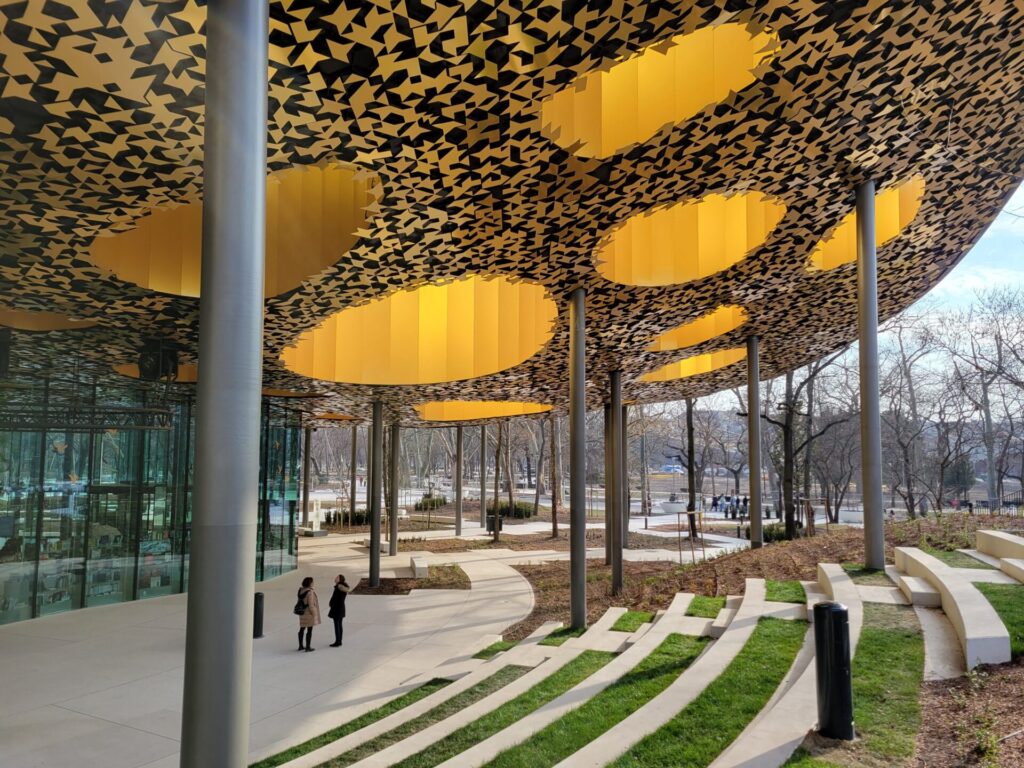 No visit to Budapest would be complete without climbing to the top of Gellért Hill. A couple different times we chose a nice sunny day and trekked up to the top for sweeping views of Pest and the Danube. It's a popular spot, but there are enough viewpoints that it doesn't seem overly jammed with people even on the nicest Spring days.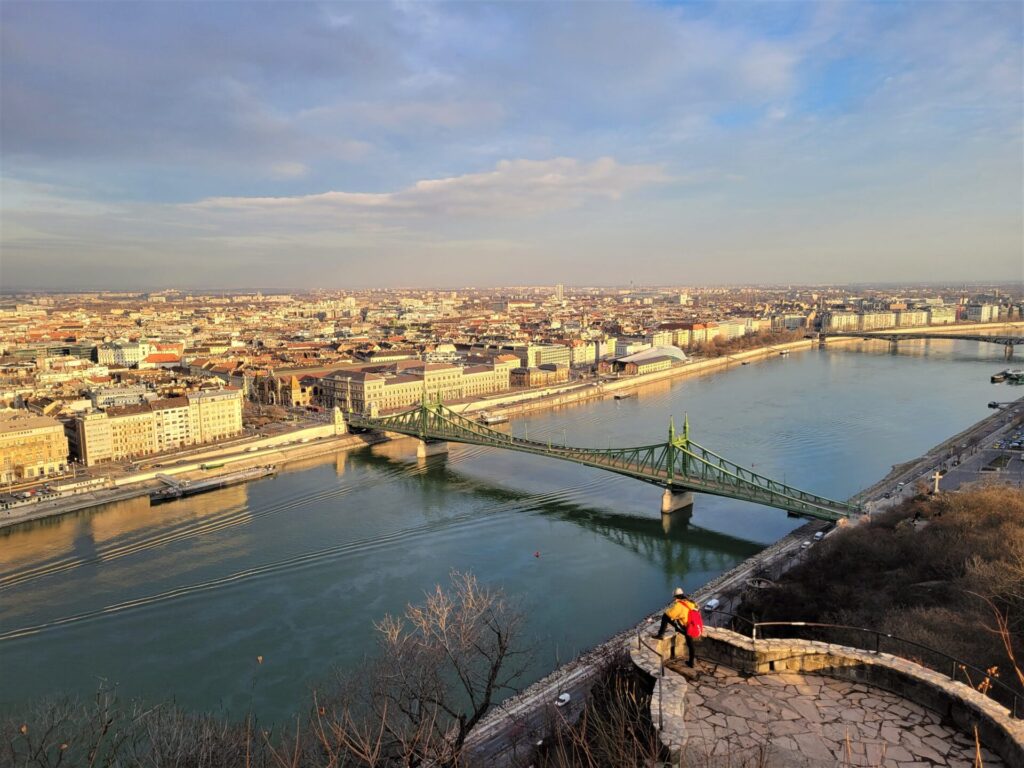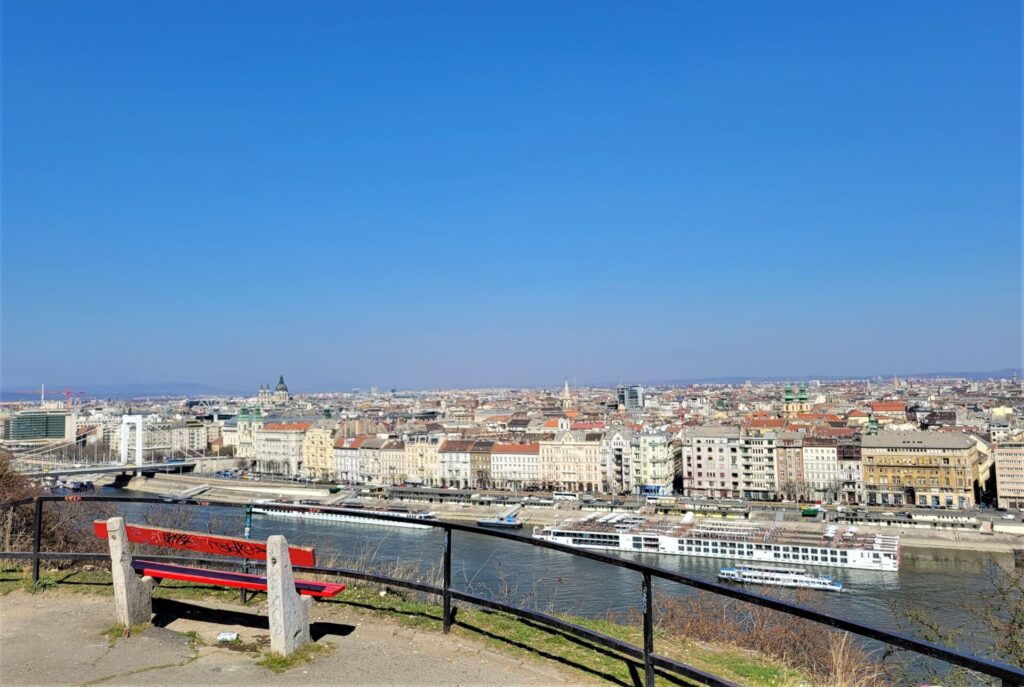 Castle District
Speaking of climbs, the Castle District area around the Buda Castle is an enjoyable spot with many views too. There are plenty of ways up to the top, but unless you're paying for the funicular, they all involve stairs at some point. It's a little touristy, but there are a lot of attractions. It's home to the Hungarian National Gallery and the Matthius Church, along with a handful of other minor museums. It has stout walls, highlighted by the Fisherman's Bastion lookout tower.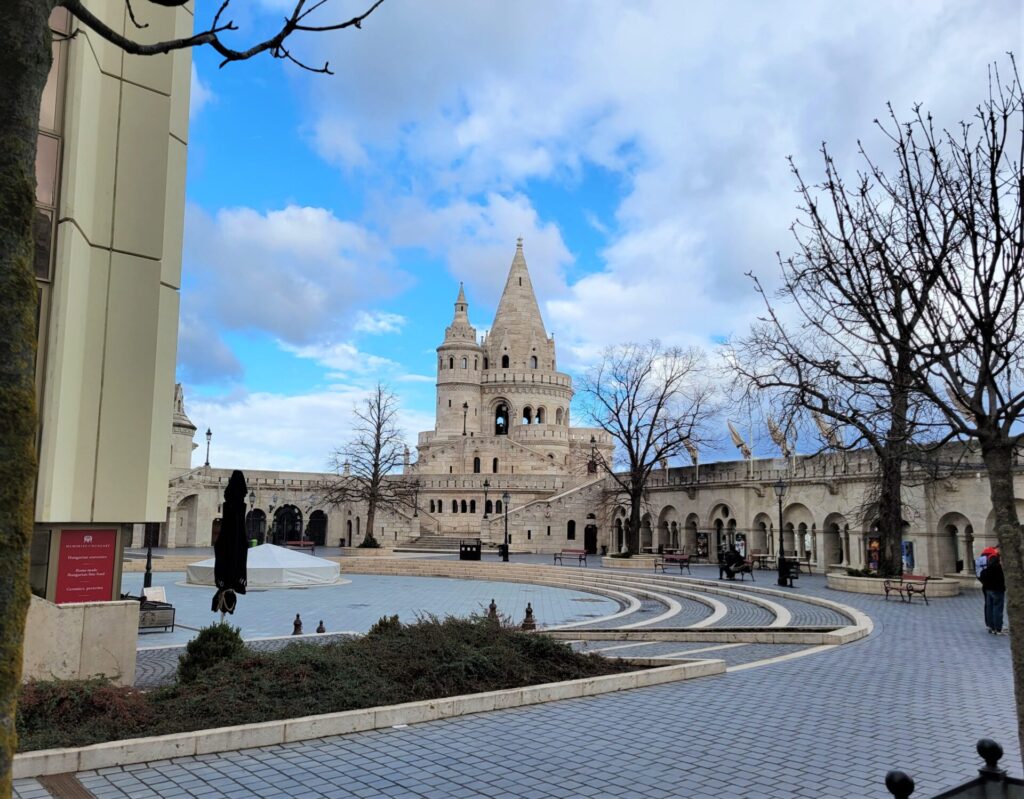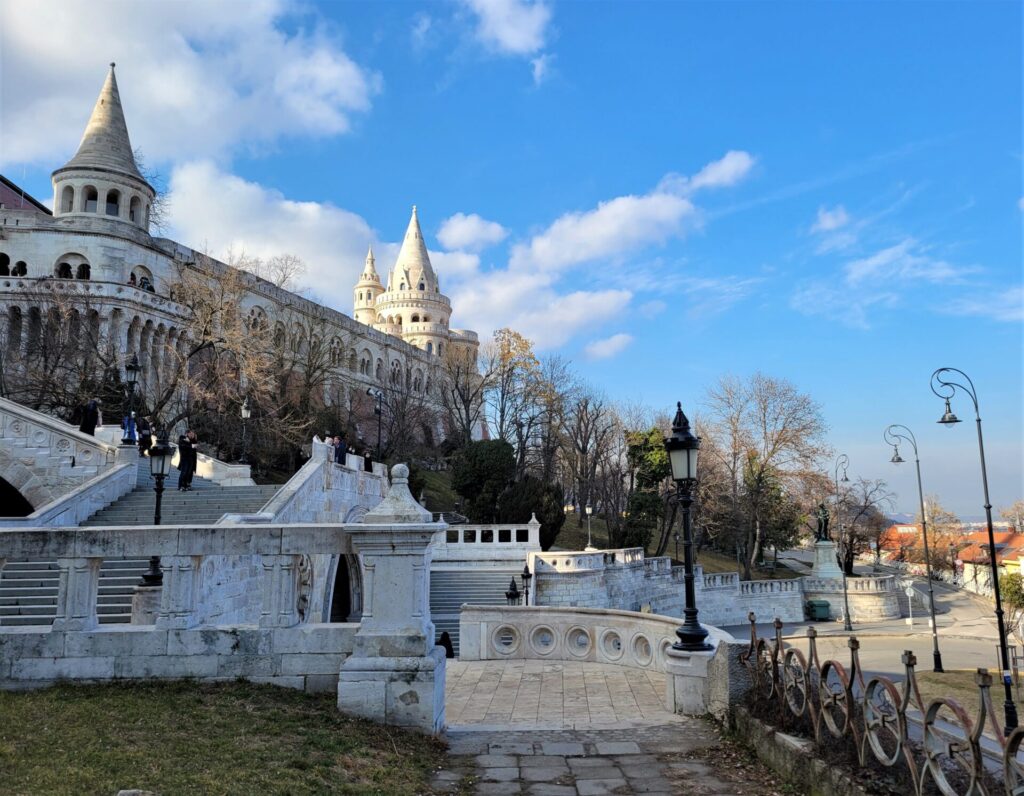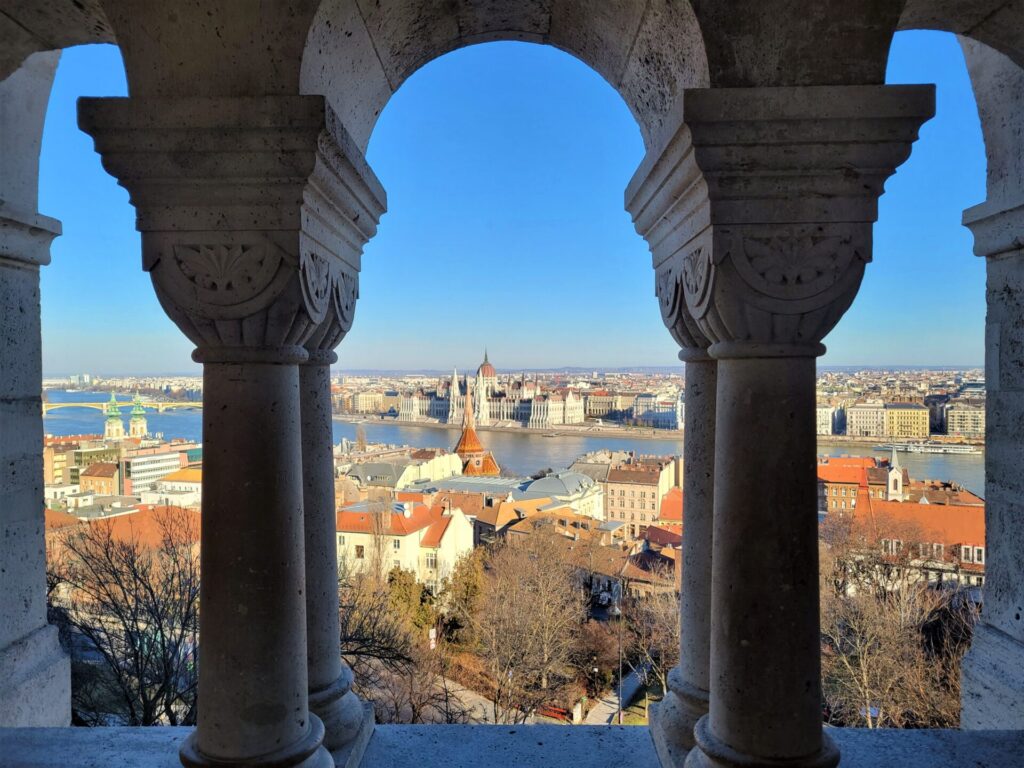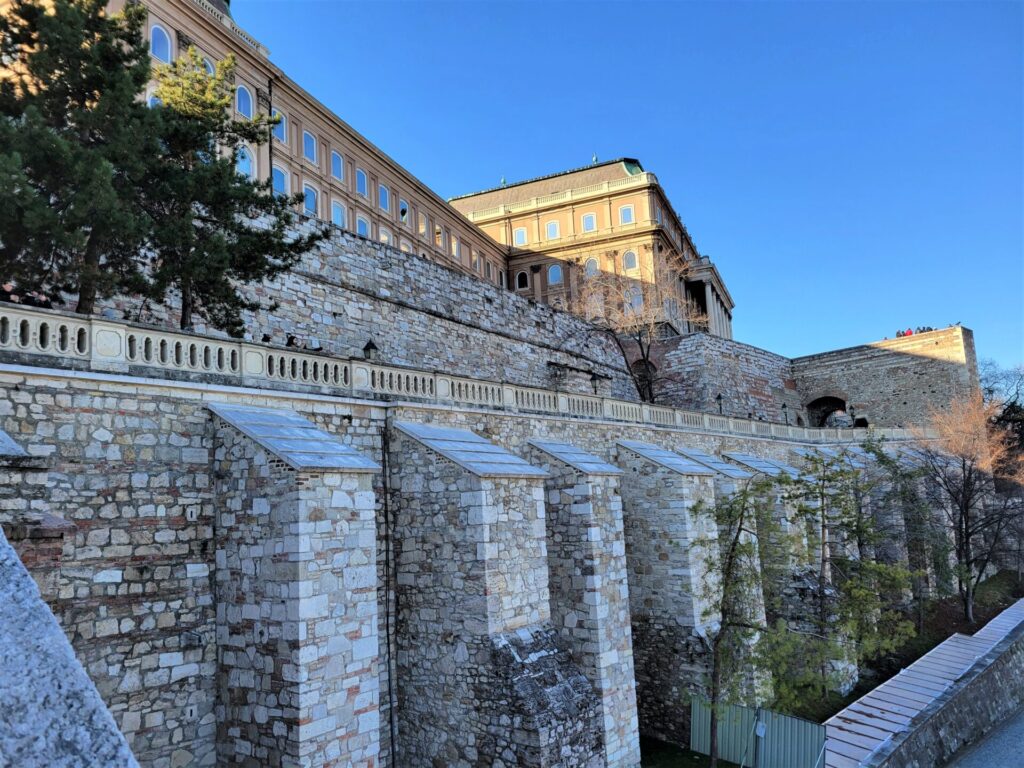 Construction
There was a lot of construction happening during our stay. The iconic Chain Bridge was completely closed down for major repairs. The citadel at the top of Gellért Hill was closed too. There were multiple buildings being built or rebuilt and walls being restored in the Castle District. The funicular that runs from the base of the hill to the top of the Castle District was also out of order when we arrived, but we stayed long enough that they were able to fix whatever the issue was and re-open. None of this affected us much, but it would've been nice to walk across the Danube on the famous Chain Bridge.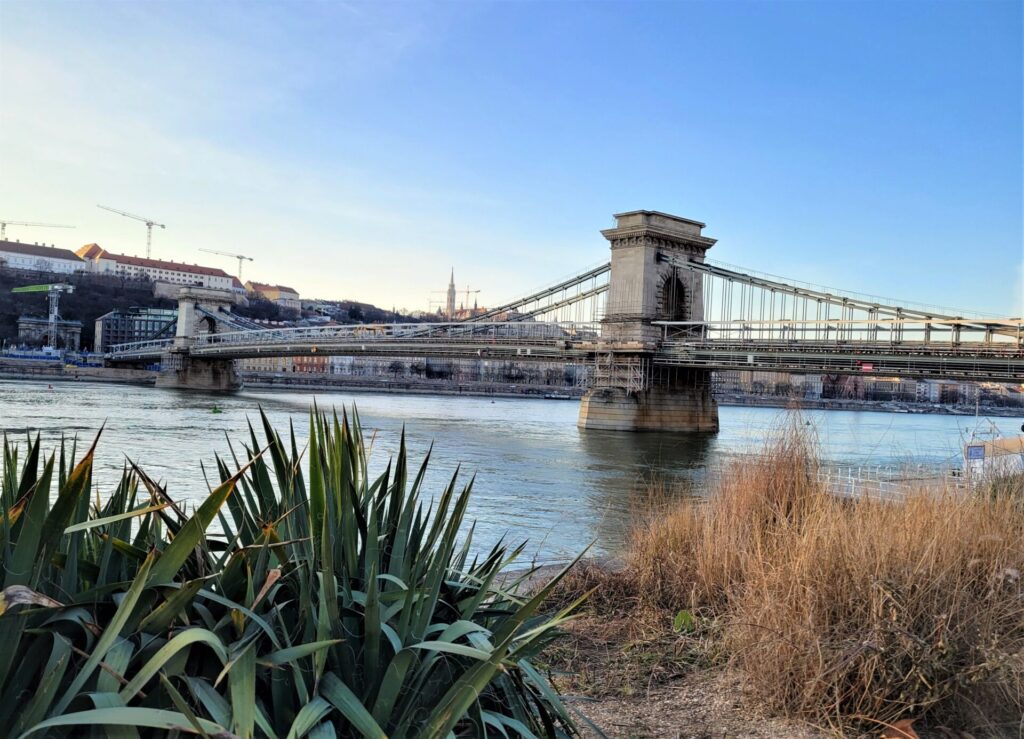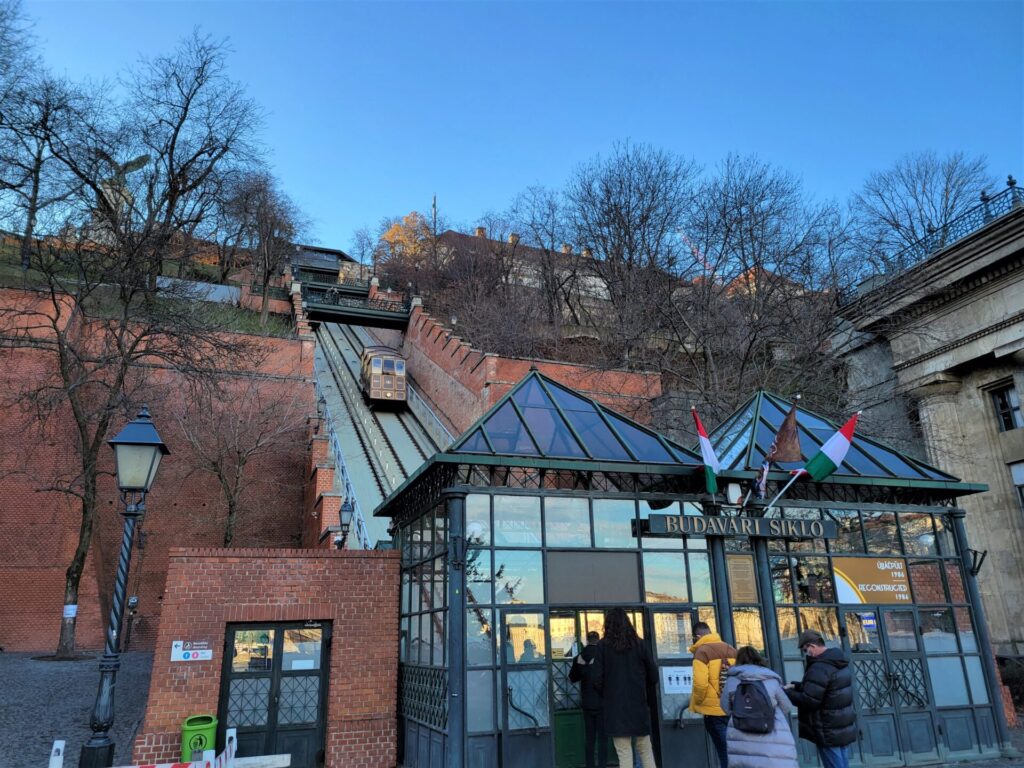 Pastries
We continued to binge on delicious Hungarian baked goods throughout our 3 months. With so many bakeries around, it was hard not to stop every time we were out of the house. I think I may have even settled on a favorite one – the Diós Kalács. Diós is a type of cinnamon and ground walnut mixture. This is layered into the Kalács pastry, which is more chewy than most, especially the outer layer, offering a great texture contrast. So good!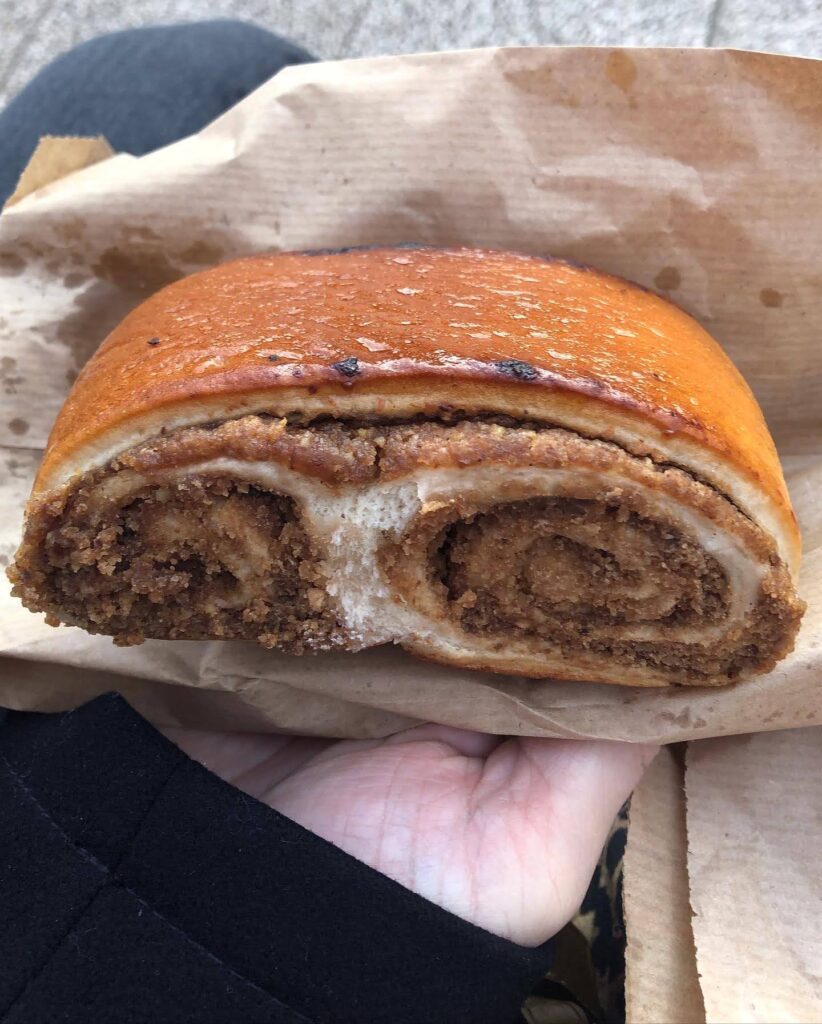 Where We Stayed
We ended up staying in 3 different apartments for a month each. Our first apartment was on the Pest side, and I included pictures and pricing (a whopping $1537!) in my first month summary post. For month 2, we moved into a wonderful 5th floor walk up on the west side of the Danube in Buda. I think being on the 5th floor with no elevator must help keep the price down or something, because I feel like we got an incredible bargain. For $1334, we stayed for an entire month at $200 less than our first apartment.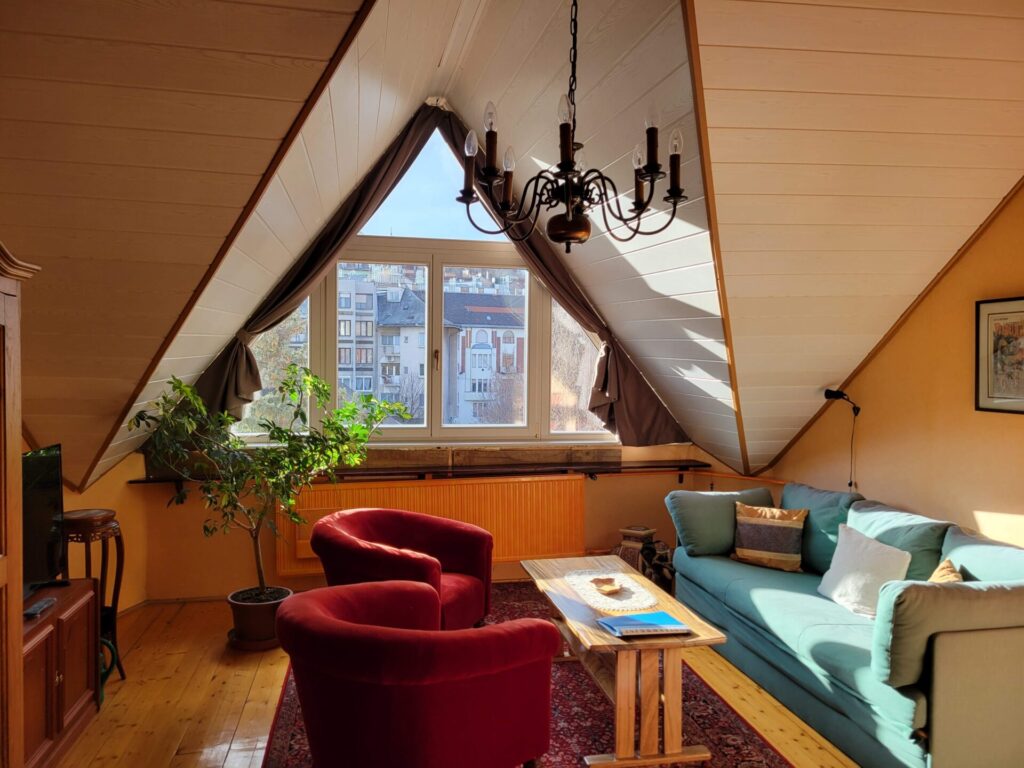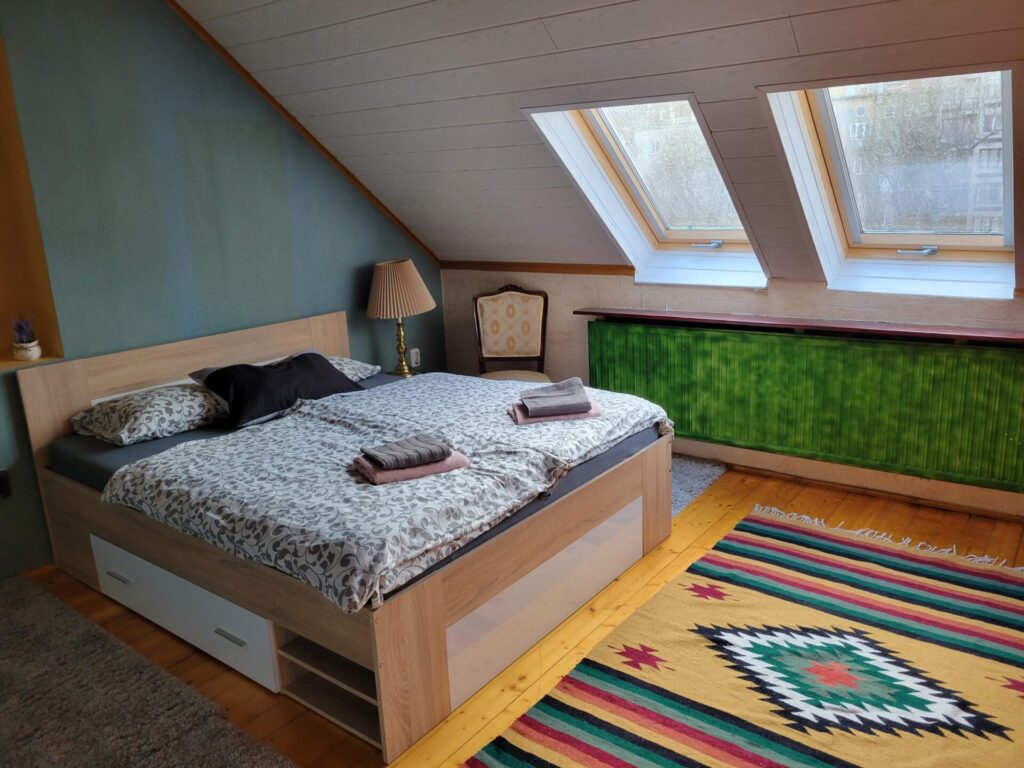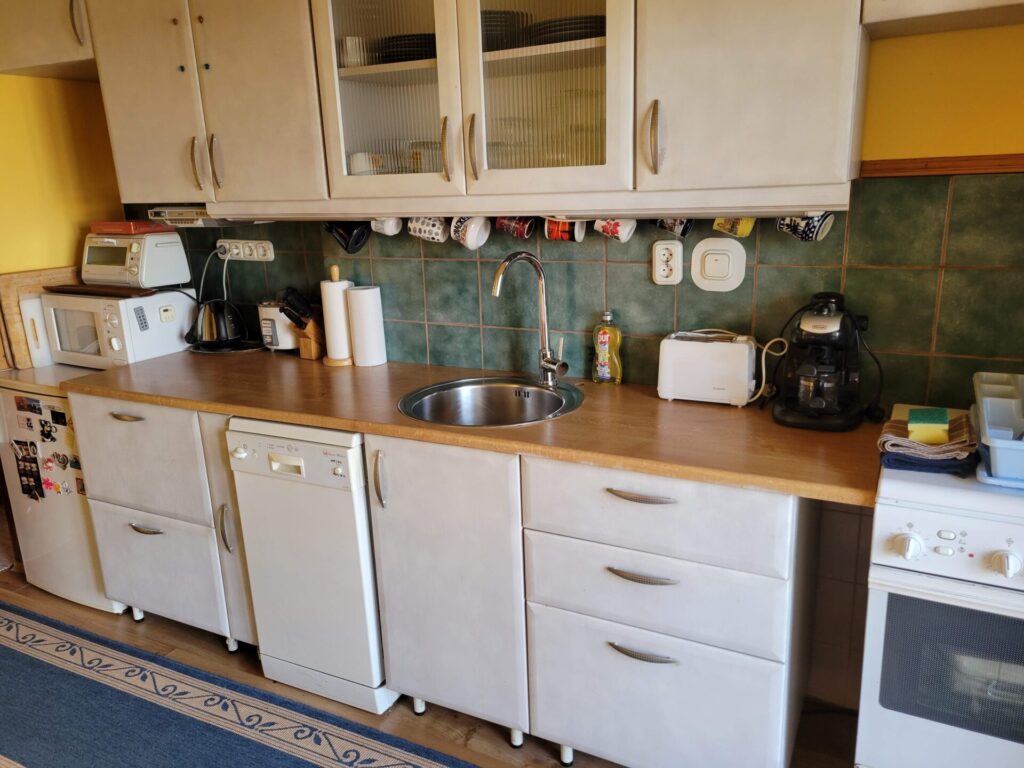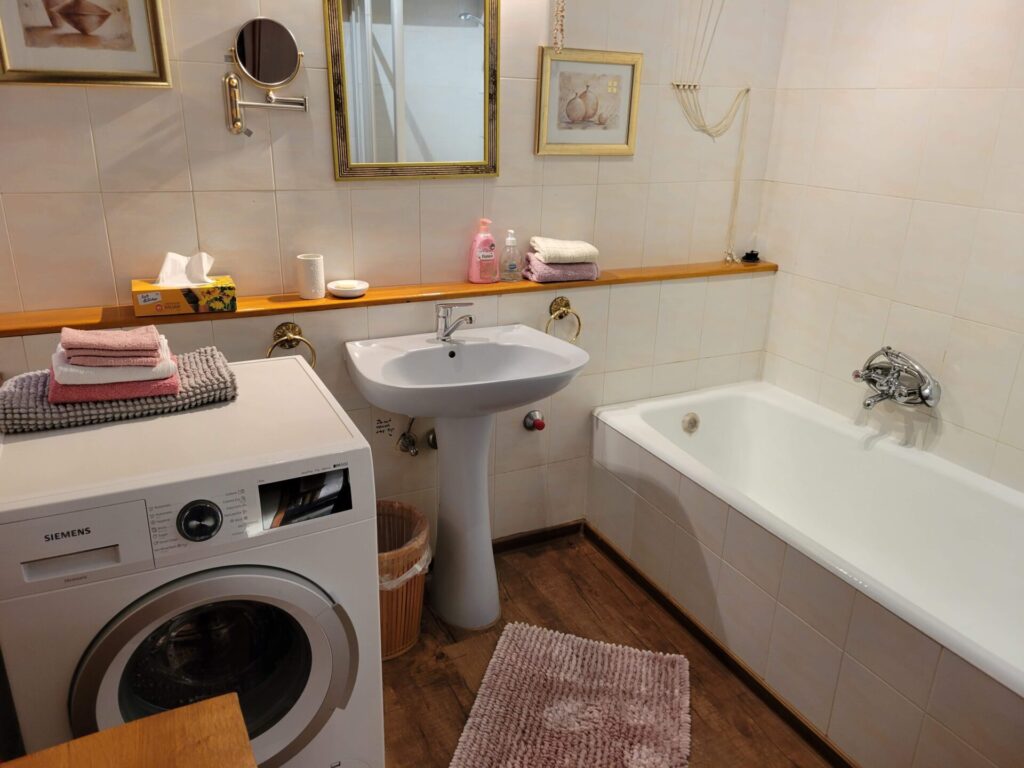 This top floor apartment had a lot of character and amazing views. It had actual art on the walls, something that's rare in an Airbnb. There were even multiple chandeliers. It wasn't just the walls and fixtures that were pretty though. We could see the glorious Parliament building from our kitchen! And our living room looked up the hill towards Fisherman's Bastion and the Castle District. We both decided that this was our favorite Airbnb from all of our travels so far.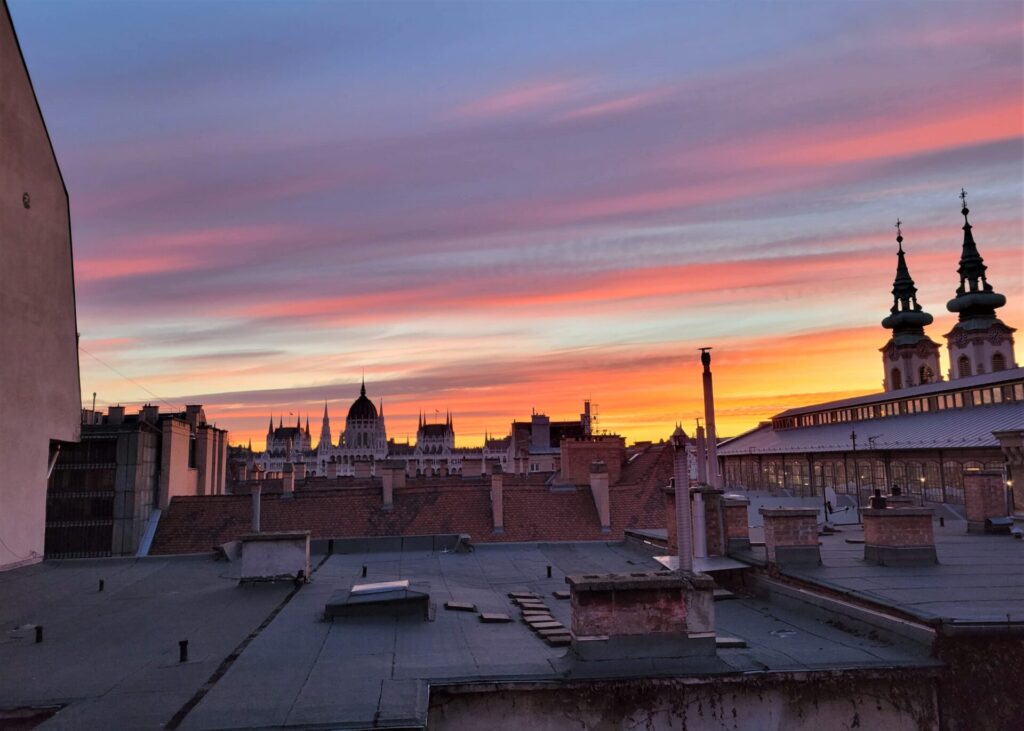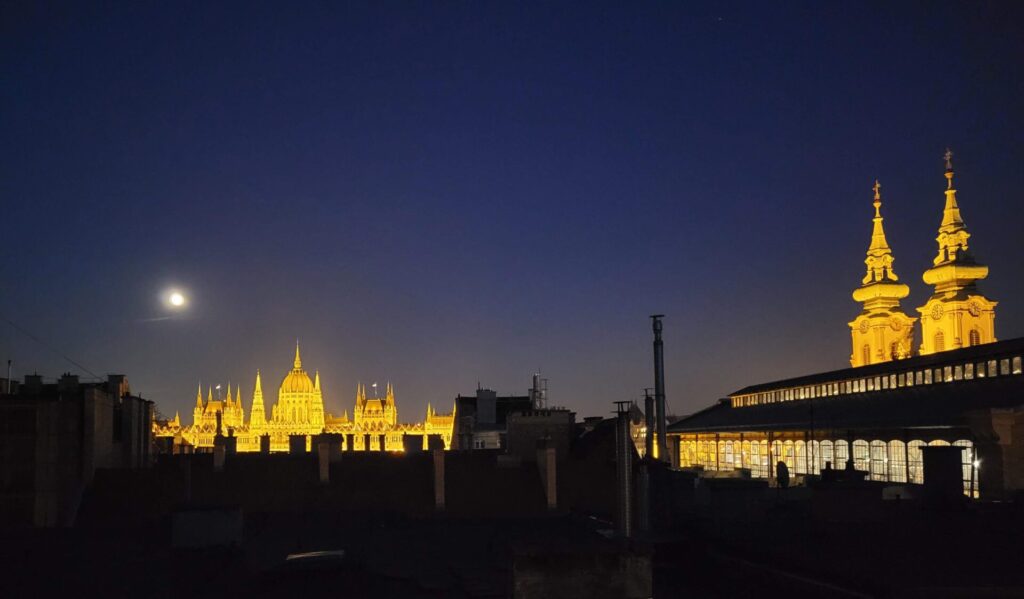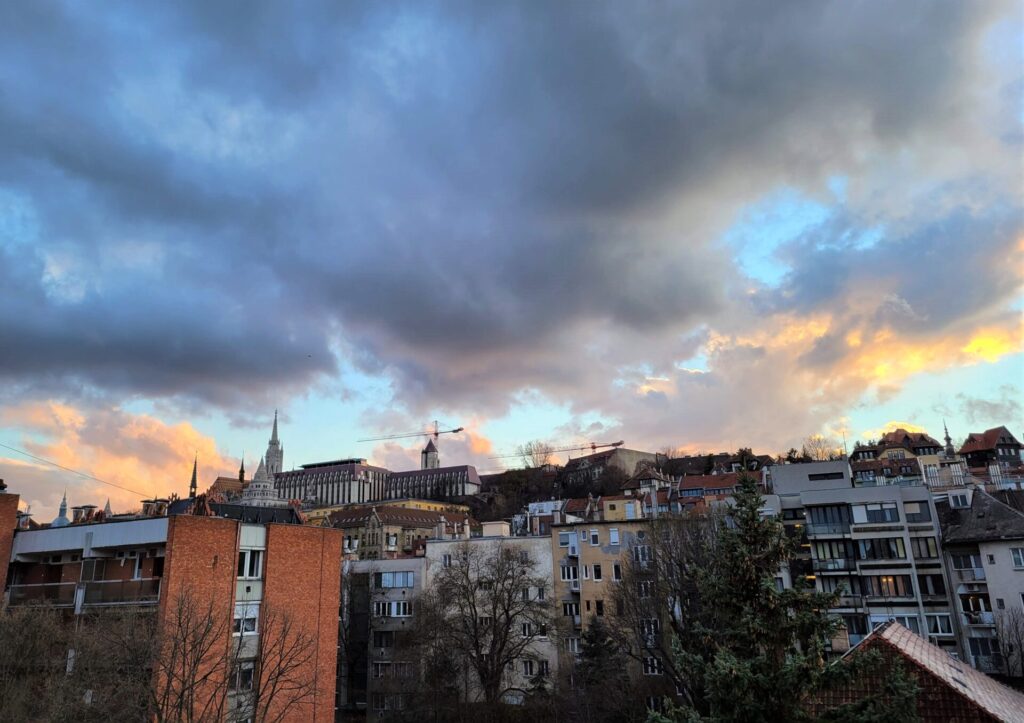 For month 3, we moved back to the Pest side. We got a screaming deal on a place not too far from where we stayed for month 1. This apartment wasn't fancy like the previous one, but it was perfectly functional and met all of our needs. Well, except for one vexing issue that the curtains in the bedroom didn't block out enough of the morning light from the east-facing windows. But I think wherever we stayed after that Buda apartment was bound to feel like a let down. And since we only paid $1026, we couldn't complain too much.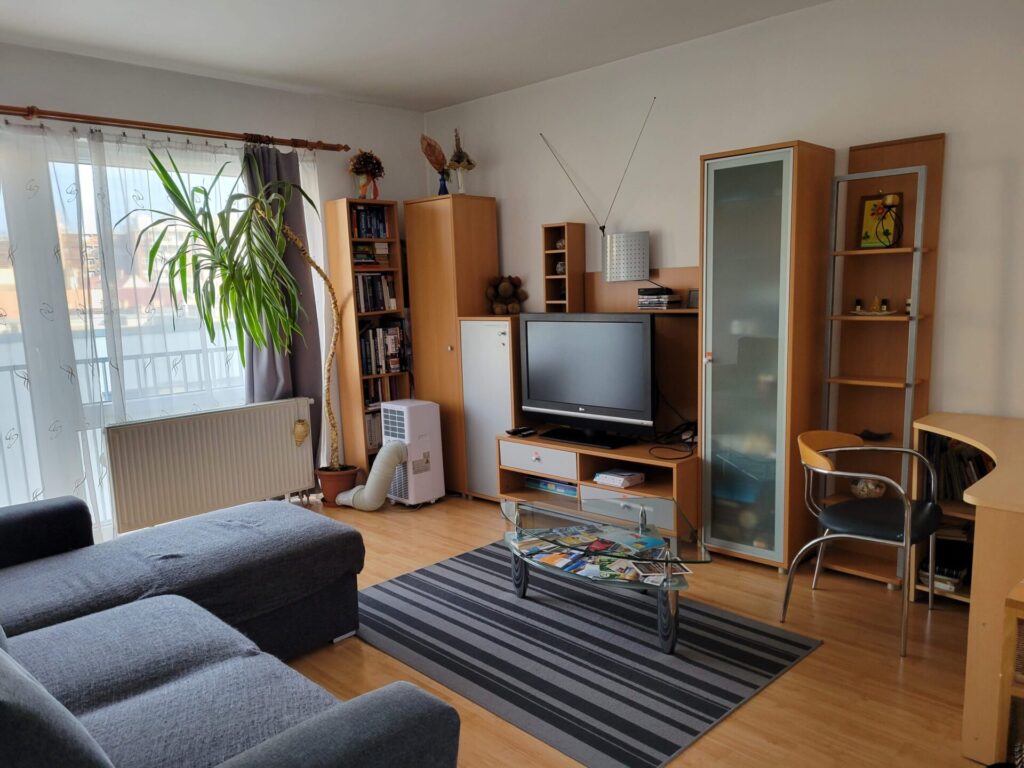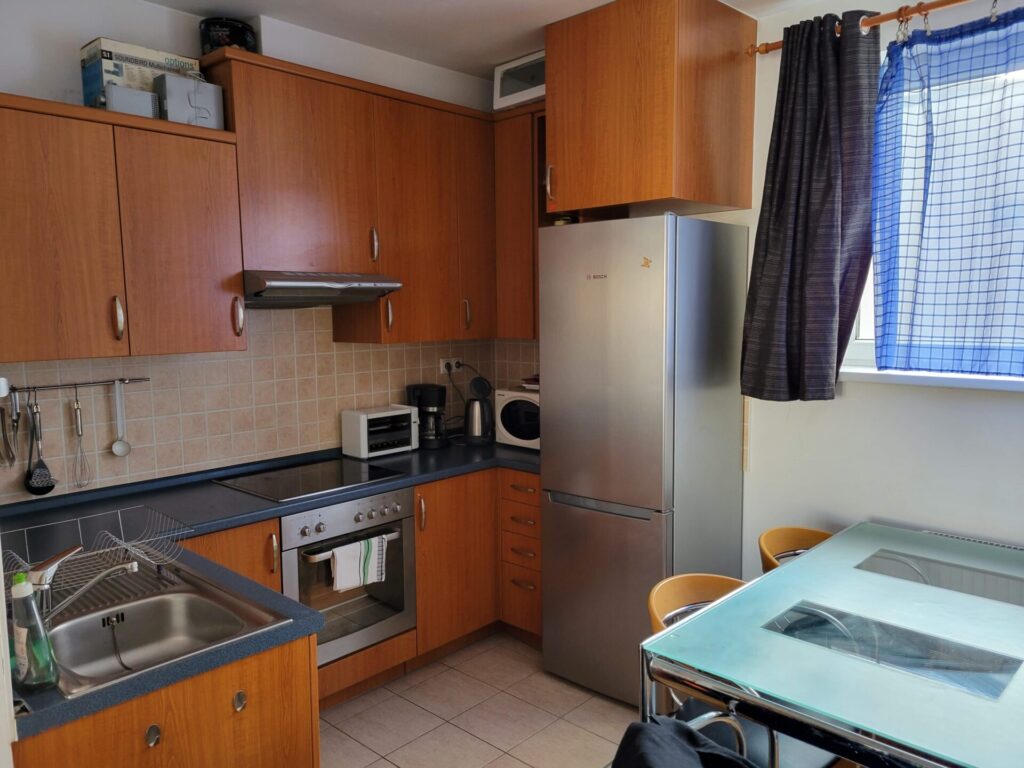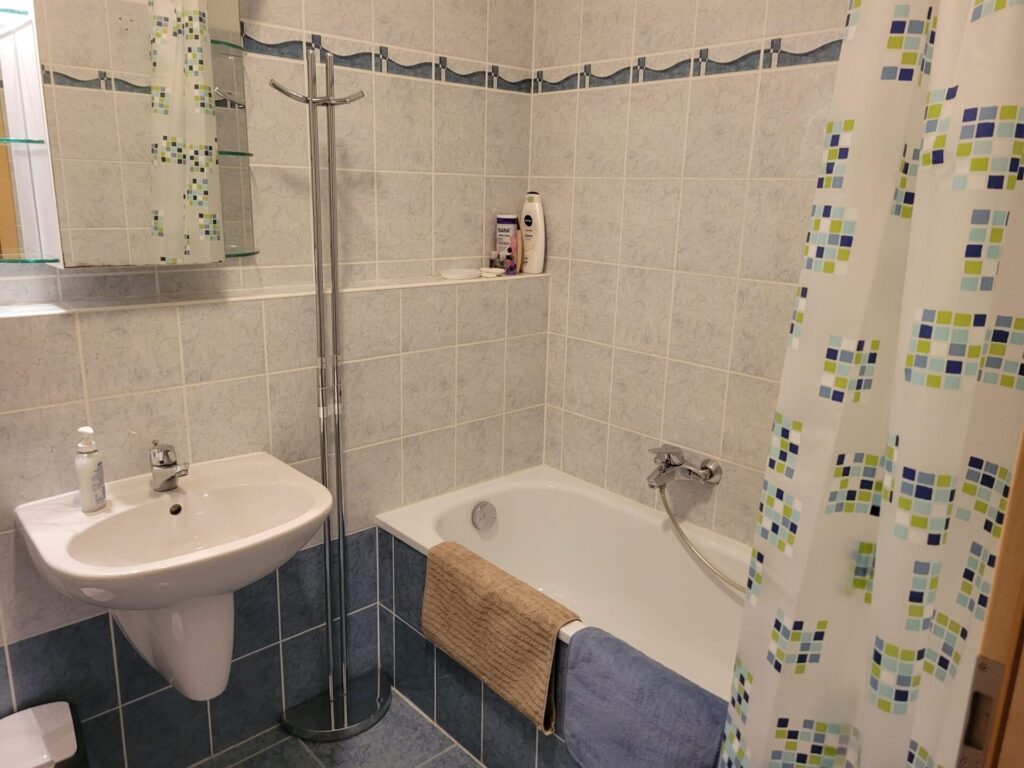 If we were to return to Budapest, I think we'd focus on staying on the Buda side. Buda is a little calmer and more residential. It just has so many great views from multiple vantage points. Since we are people who generally stay a long time, we don't need to be right in the middle of the action. Or maybe our preference for Buda is simply skewed by that great apartment. It's hard to know for sure.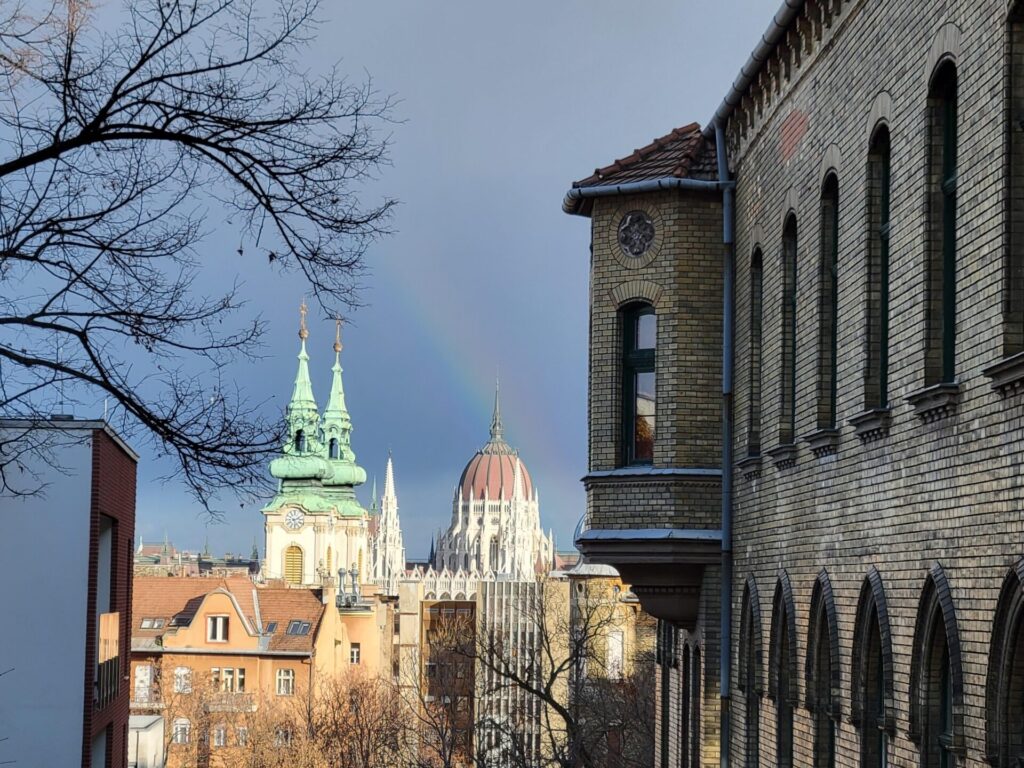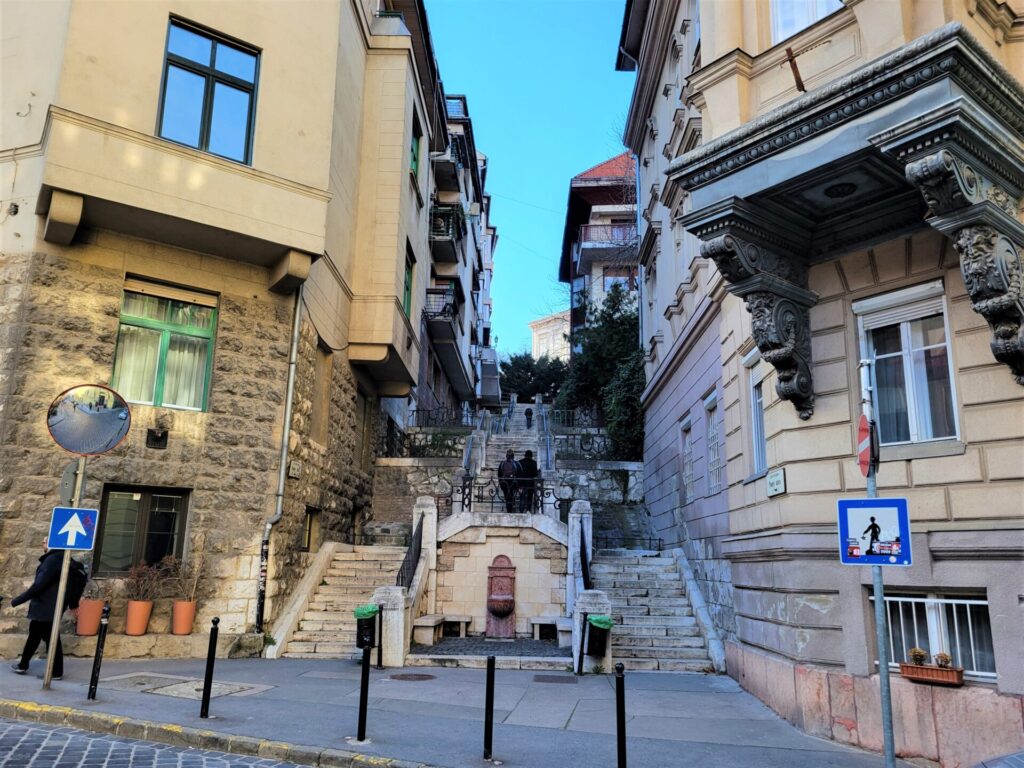 What We Spent
I was continually surprised at how cheap things were. This is a major European capital. I expected it to cost a lot more. While our rent costs weren't all that low, everything else was very affordable. Groceries felt dirt cheap. Potatoes were basically free. Baked goods like pastries were $1 or less and loaves of great bread always less than $2. A can (.5L or 17oz) of decent beer was about $.75. Transit rides were $1.50. Almost every museum was less than $10.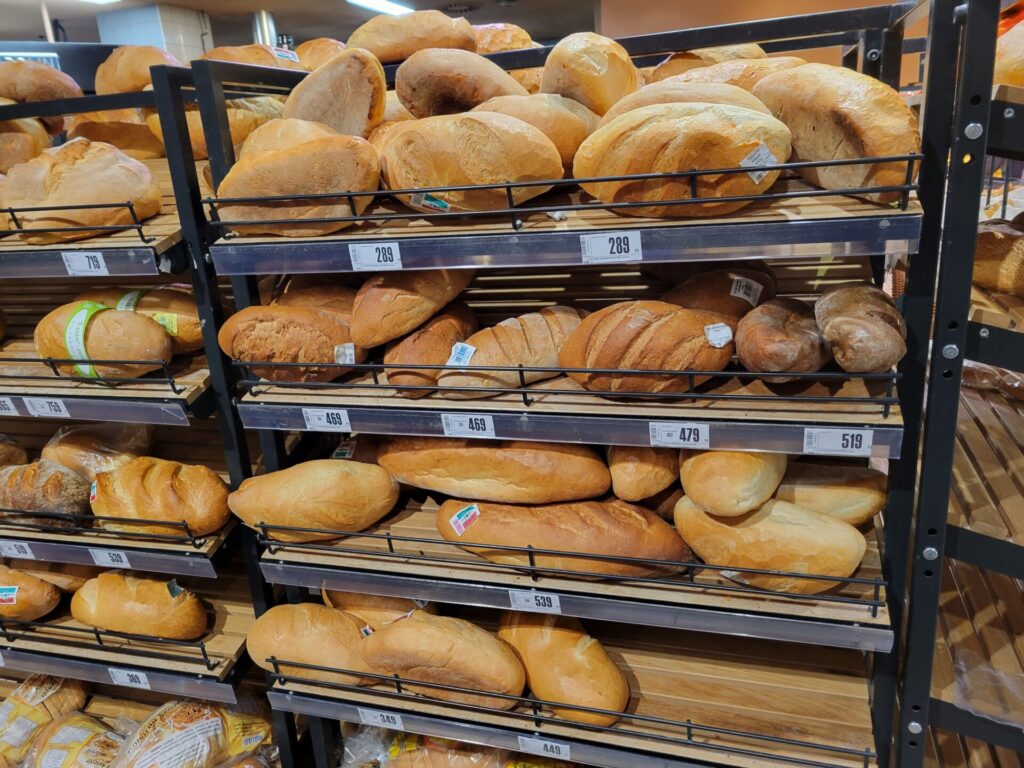 In total, we stayed for 88 nights and left on the 89th day. That gave us a one day buffer in case we had transportation or other problems to make sure that we weren't going to overstay our allowed 90 days in the Schengen Zone. We want to return, and soon, so we need to ensure we stay in their good graces.
For those 88 nights, we spent a total of $7467. As expected, our largest expense was rent at $3899. This was followed by food and drink at $1385. Third on the list was doctor expenses for Katie's broken wrist, but those came in at a very reasonable $831. That $831 covers 5 different visits, 4 x-rays, and 2 casts. Most amazingly, I don't think we waited more than 5 minutes to see the doctor during any of those 5 visits. So not only was the price something Americans only dream about, the service was top notch too.
If I remove those one time doctor expenses, we could've lived in Budapest for an entire year spending only $27,524! That is an incredible value for a world class European capital city. I knew the costs weren't going to be on par with London or Paris, but it really shocked me at how little we spent and how far our money went.
Russian Invasion Of Ukraine
Russia decided to invade Ukraine during our Budapest stay. Hungary shares a small border region with Ukraine, so we had multiple people reach out to us to ask if the Russian invasion was putting us in danger. Luckily, the Ukrainian border is 200 miles away from Budapest, and the closest fighting was still another 500 miles. Hungary was the destination of some Ukrainian refugees fleeing the fighting, but we didn't see any effects in Budapest during our stay. It was horrifying to see what was (and still is) happening, but we were much too far away to be in any personal danger.
Summary
Overall, we really enjoyed our time in Budapest. The weather was all that we could ask for during our January to March stay. It was sunny almost everyday and there were only a couple of times that the high wasn't above freezing. The air quality was quite good for winter. That allowed us to do lots of exploring among the interesting architecture. We also found new art and artists to love. And it all came with a really attractive price tag. While 3 months is still a long time to be in one destination, we're certainly glad that Budapest was the place we chose.