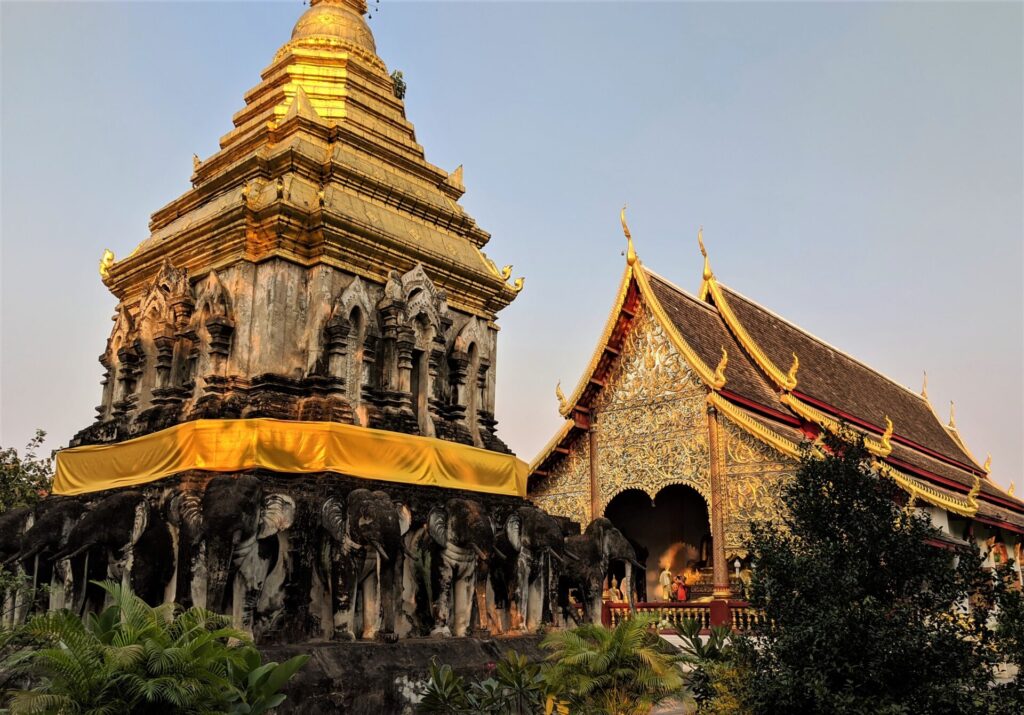 A little over six months ago, Katie and I kicked off our nomadic early retirement by taking the long flight from the US to Thailand. That initial visit had us starting in Bangkok and moving south to explore three gorgeous Thai islands. Tourist visa restrictions meant that our visit had to end within 60 days, but the Thai people and their awesome food made a lasting impression. After spending four months traveling through Cambodia and Malaysia, we decided to make a return trip to Thailand. This time we headed north to spend a month in Chiang Mai.
We arrived in Chiang Mai in mid-December and were greeted with some amazing weather. The extended forecast was basically a high of 90F (32C), a low of 60F (16C), while being sunny every day with 0% chance of rain. In fact, it only rained one single time during our four weeks. The local meteorologist aced that test! And for the first time since we've been in SE Asia, there was also a distinct lack of humidity. Having it actually cool off each evening after the sun went down was a real treat. We only turned on our air conditioner 3 times during our entire stay. This was the best weather we've encountered in our travels so far.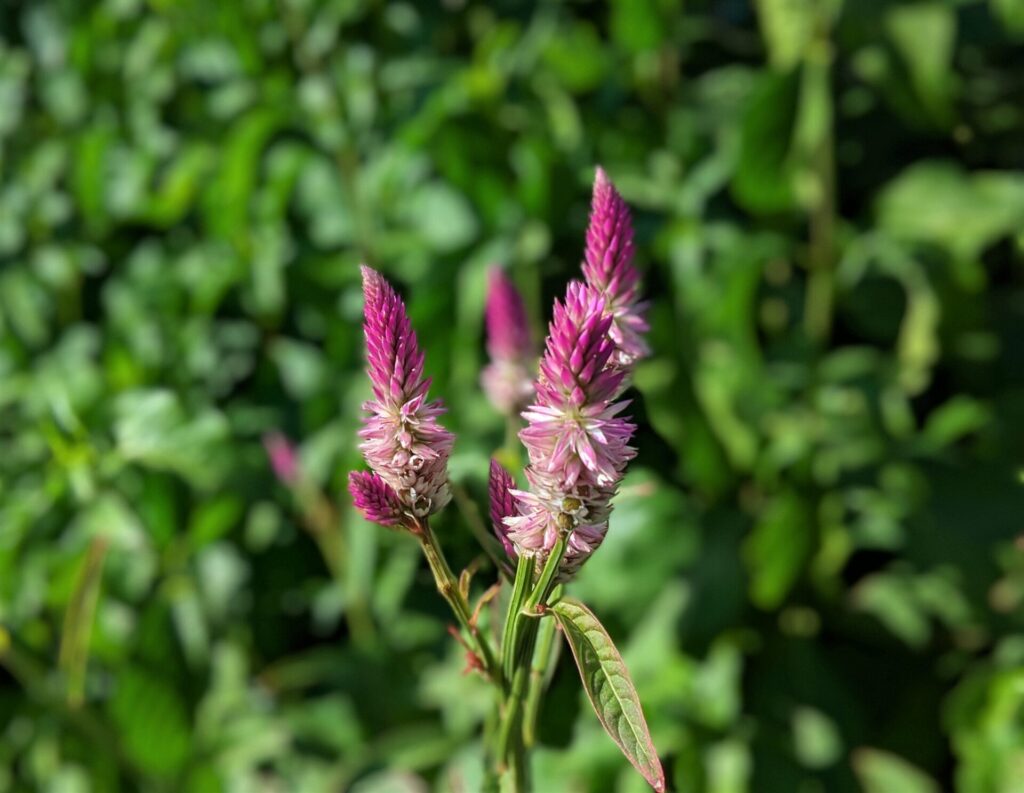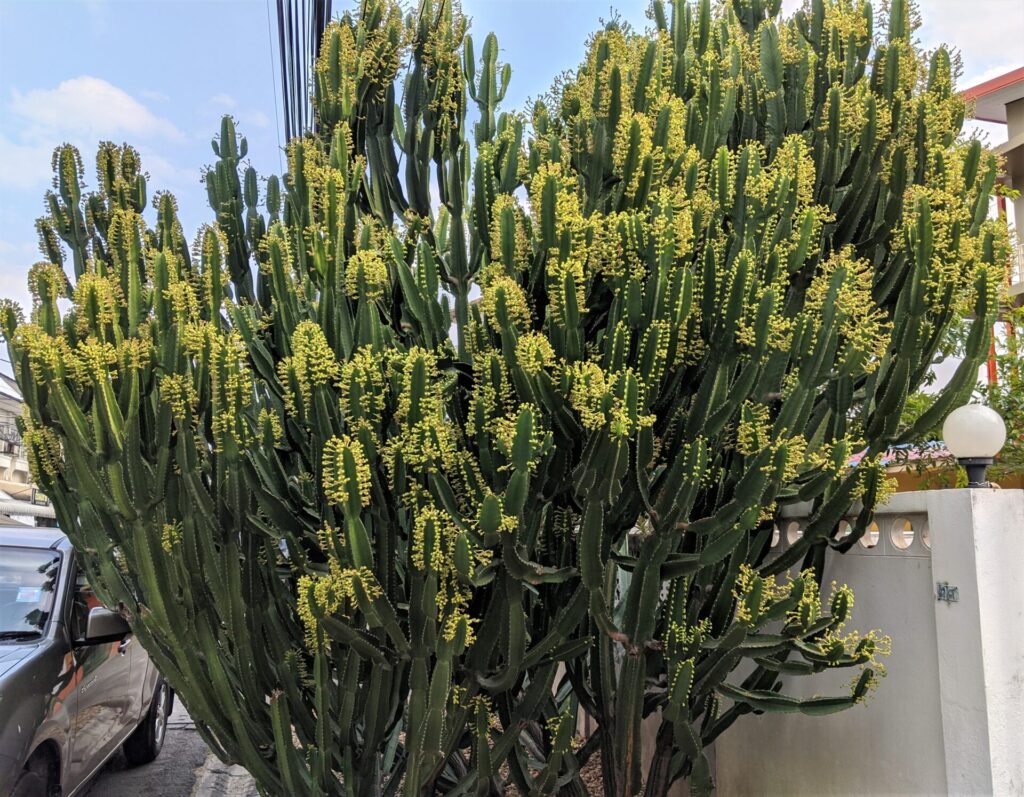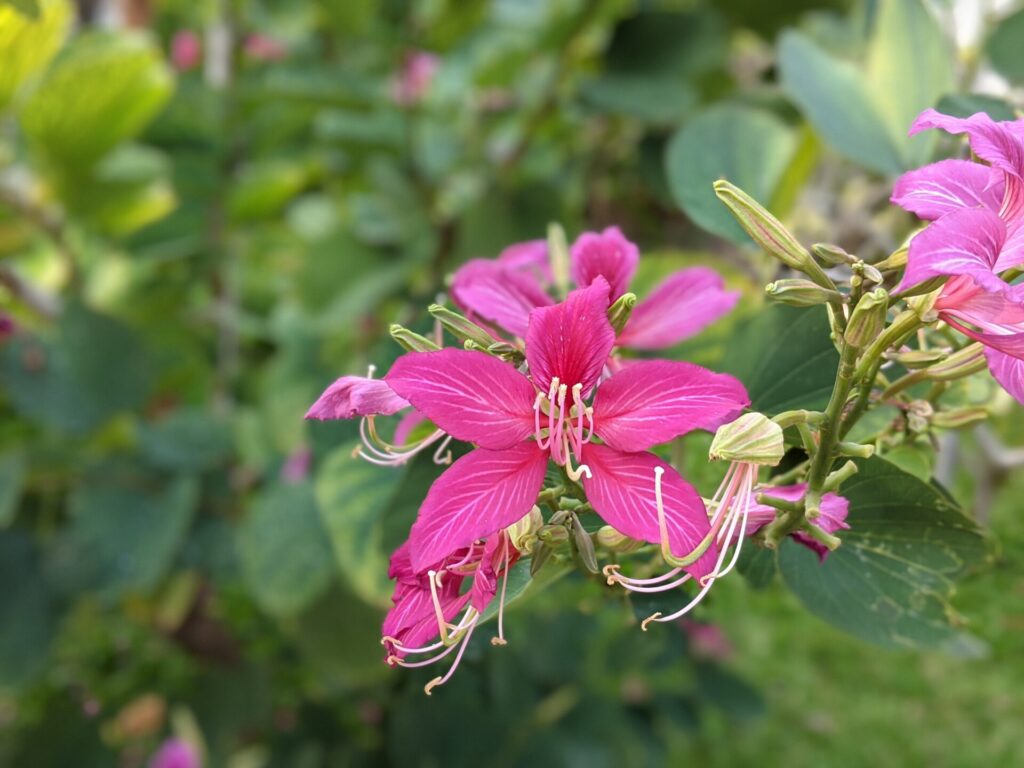 While we loved the temperatures, it turns out that this weather pattern was not great for the air quality. The lack of rain meant that the air always had at least a slight dusty exhaust mixture to it. A few days at both the start and end of our stay were particularly bad as a thick cloud of smoky fumes settled over the city. The AQI reading was around 200. That made it hard to breathe and resulted in itchy eyes, unhappy lungs, and a curbing of our normal outside activities. I think I was more affected by the air quality than Katie was, but we definitely both felt it on the worst days.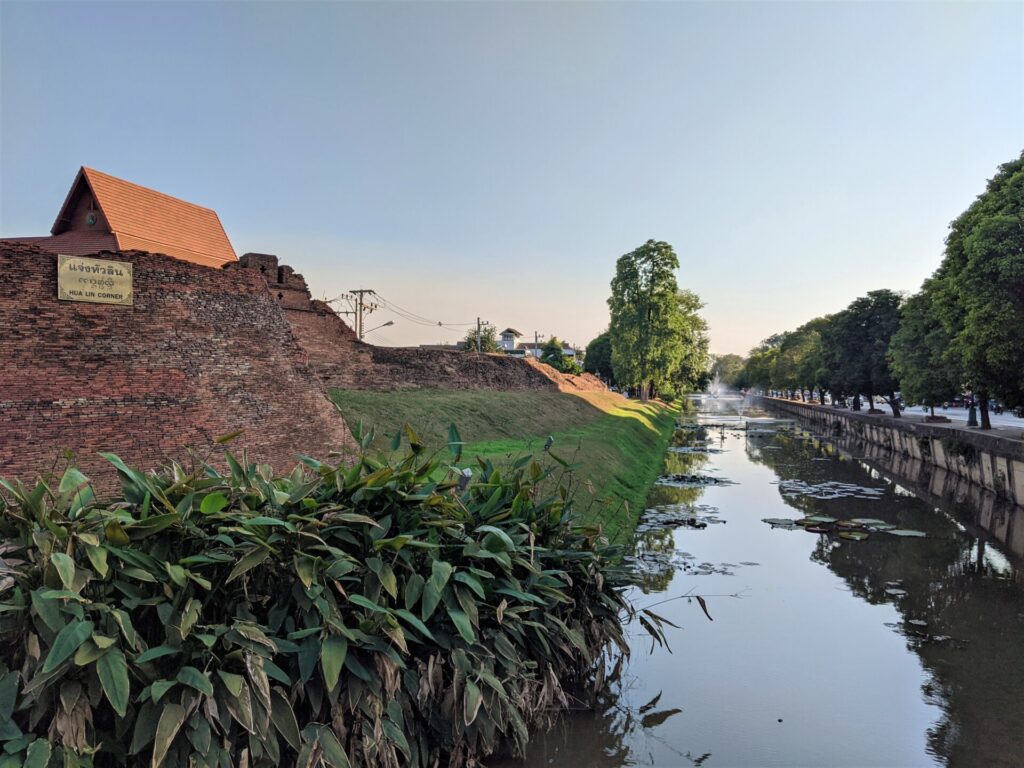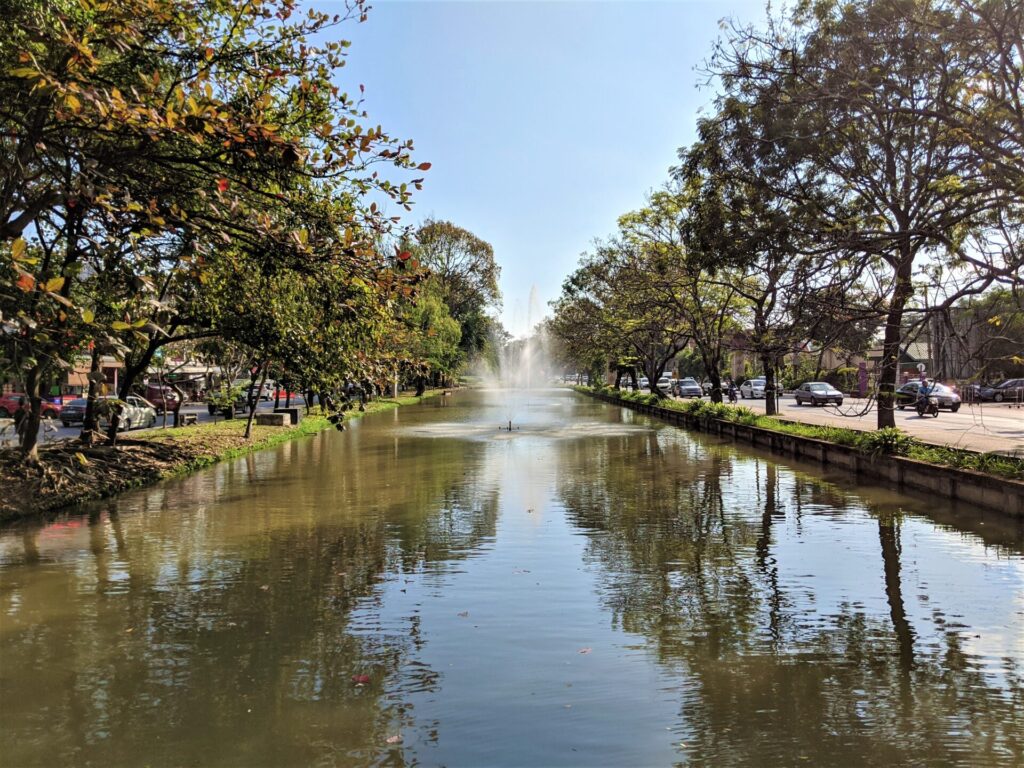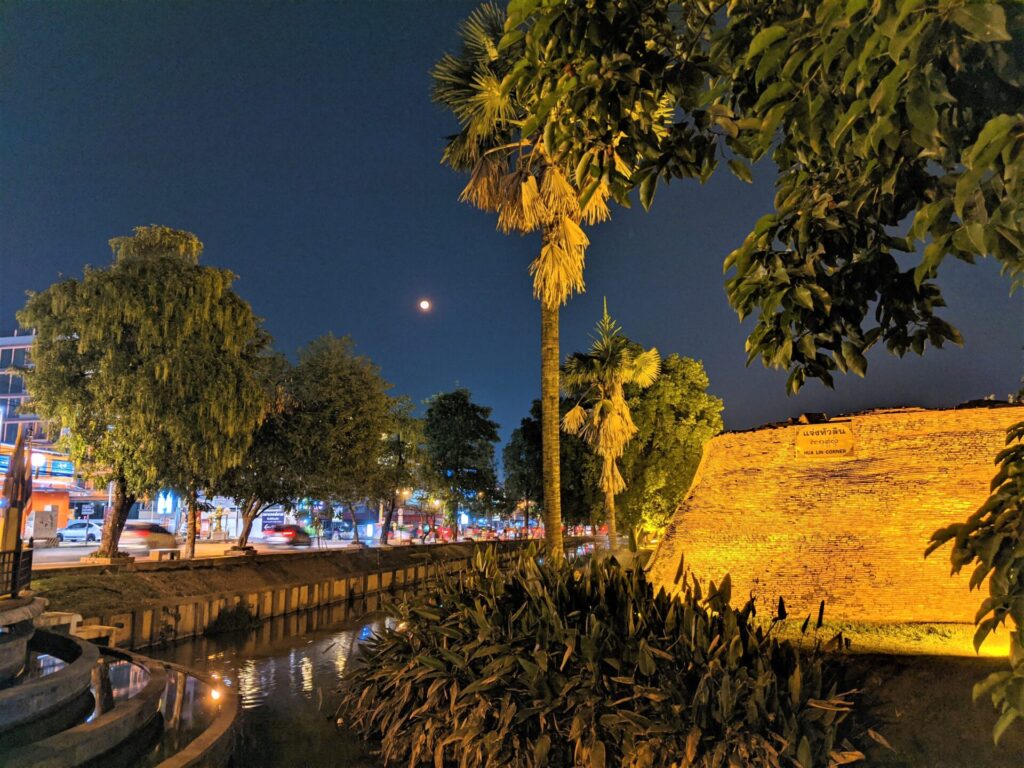 The layout of the city doesn't help with the air quality either. The Old Town area is the heart of the city and it's surrounded by ancient crumbling city walls and a moat. While charming, it also means that there are only a handful of entry and exit points. This creates a lot of traffic choke points resulting in constant jams along the main routes heading to and from the historic core. Traffic jams are worse here in Chiang Mai because many engines on the abundant tuk tuks and songthaews are not tuned properly. Way too many of them spew noxious dark clouds of exhaust smoke with every acceleration, so stop and go traffic is somewhat of a breathing nightmare when the air is stagnant.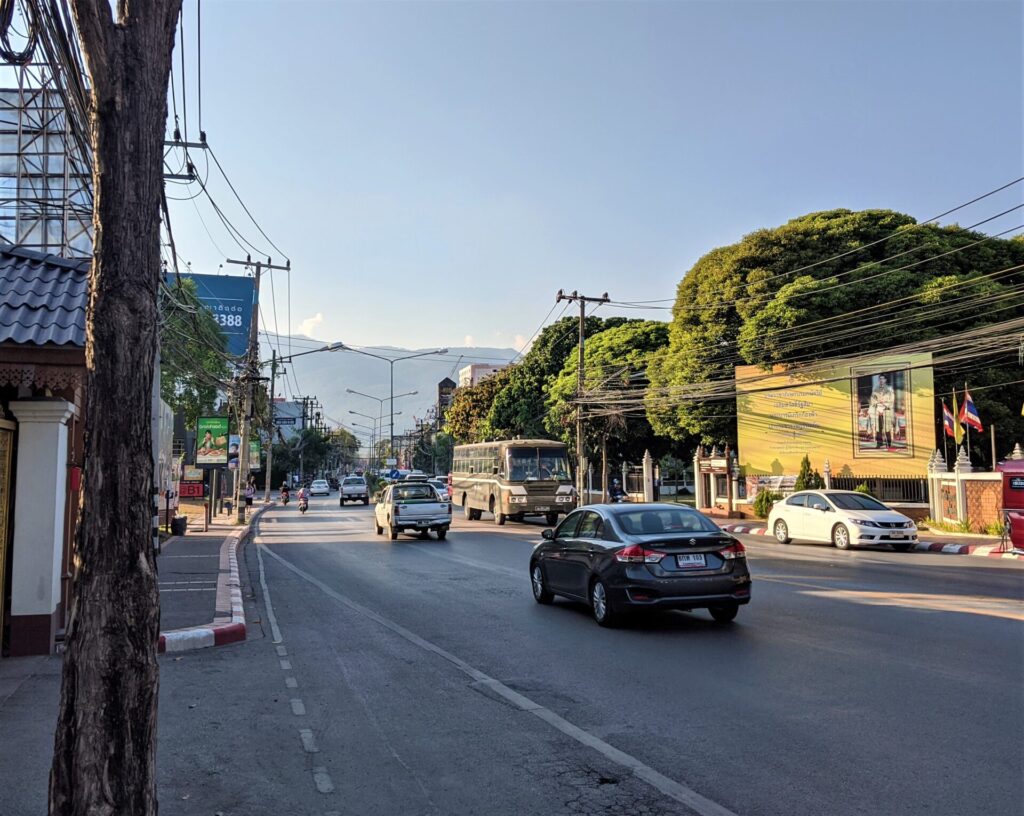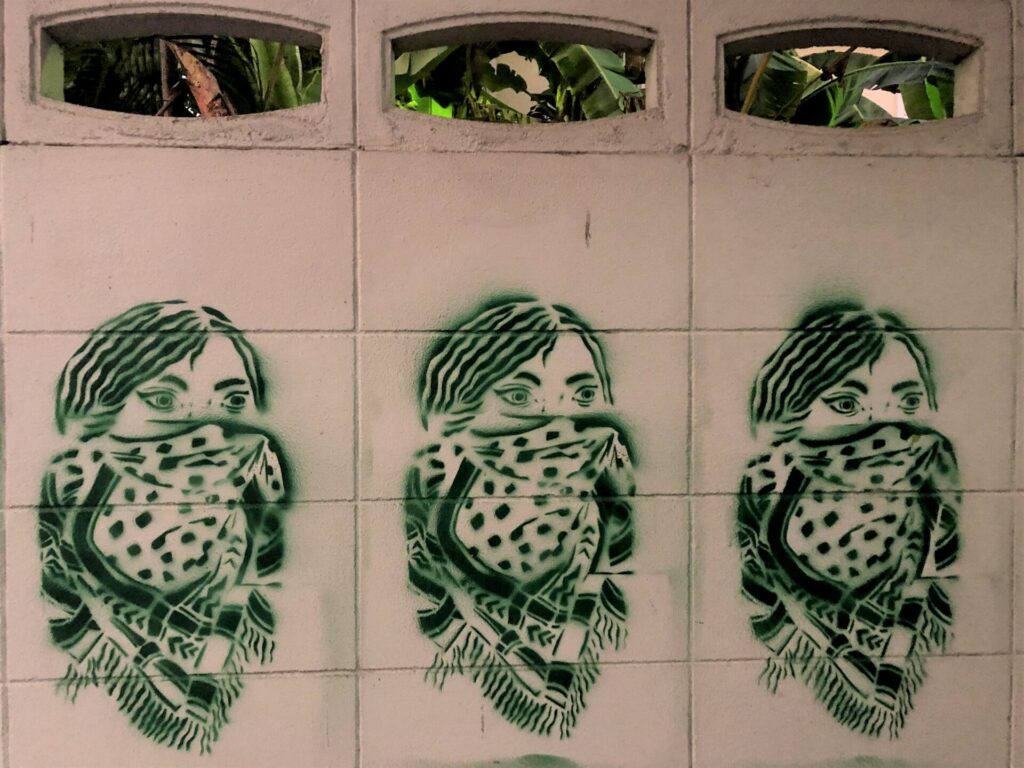 Luckily, once inside the Old Town area the traffic volume is much lower. More people are walking and fewer are relying on motorized transport. Most days we had a breeze too, which helped a lot. So the air problem was mostly limited to those couple of days at the start and end of our stay and the 30 minutes we had to spend walking between the Old Town and our apartment. If we go back, I'd make it a priority to stay within the walls, or at least much closer.
So Many Wats
Despite being a relatively small city, Chiang Mai has a large number of Buddhist temples. We visited at least a dozen of them over the course of our stay and barely scratched the surface. Anytime we passed a new wat (and were dressed appropriately) we would stop in. While they do somewhat blend together after a while, these wats almost universally provide a calm space away from the traffic. All of them have incredibly ornate architecture and most have gardens with gorgeous trees and flowering plants. A sense of peace and tranquility hits almost immediately upon stepping inside their walls.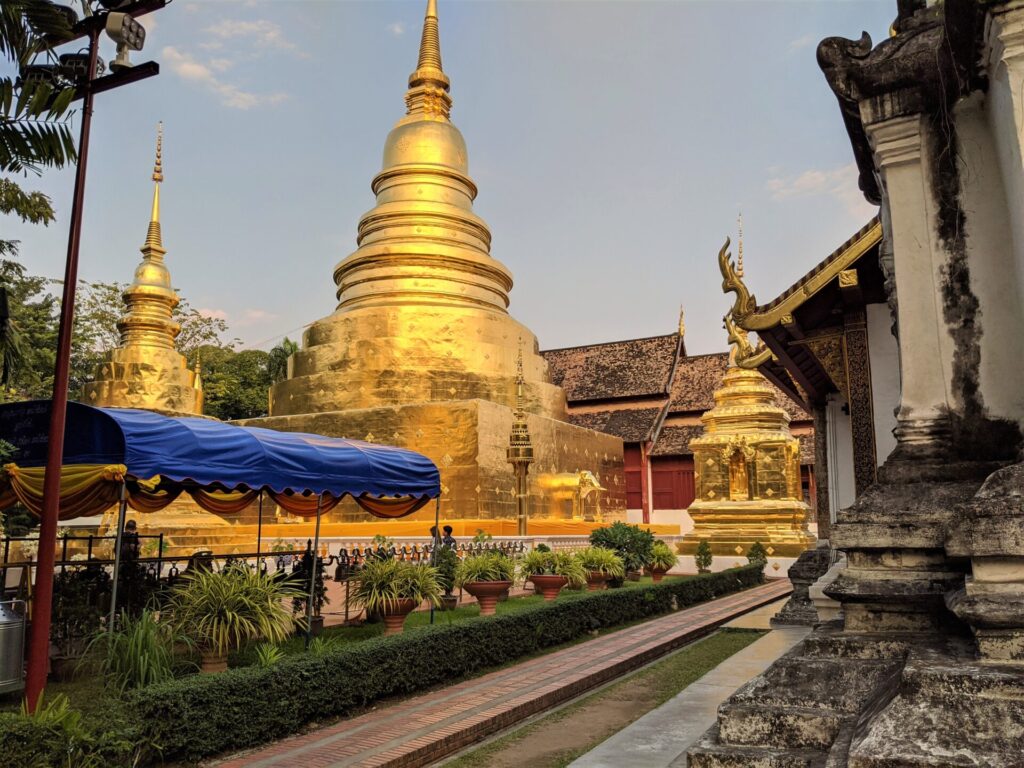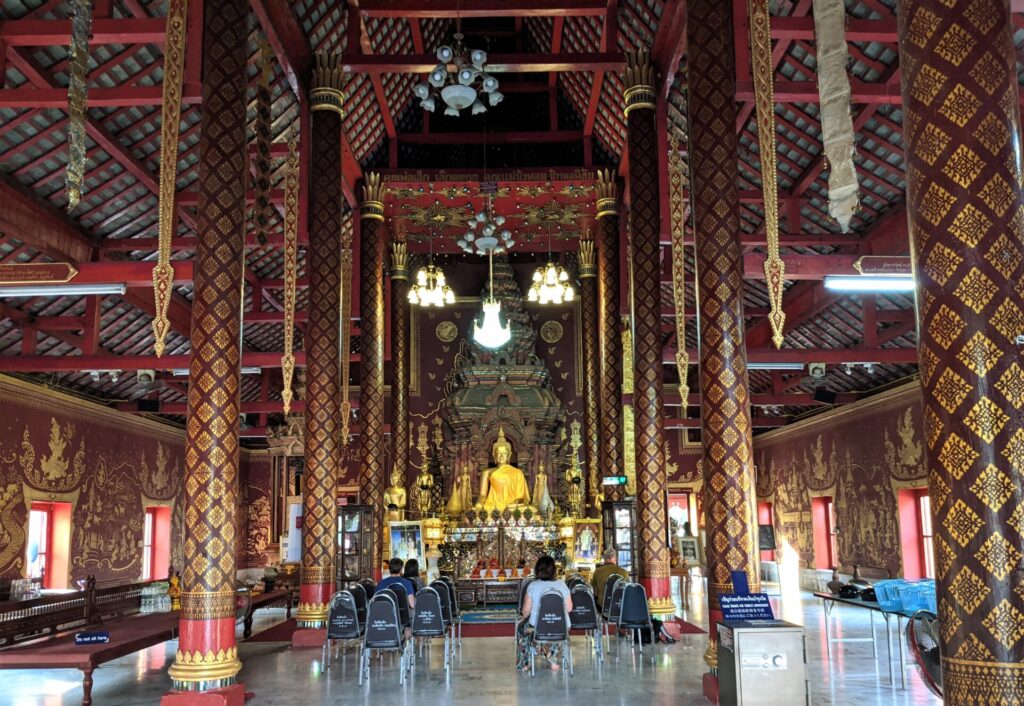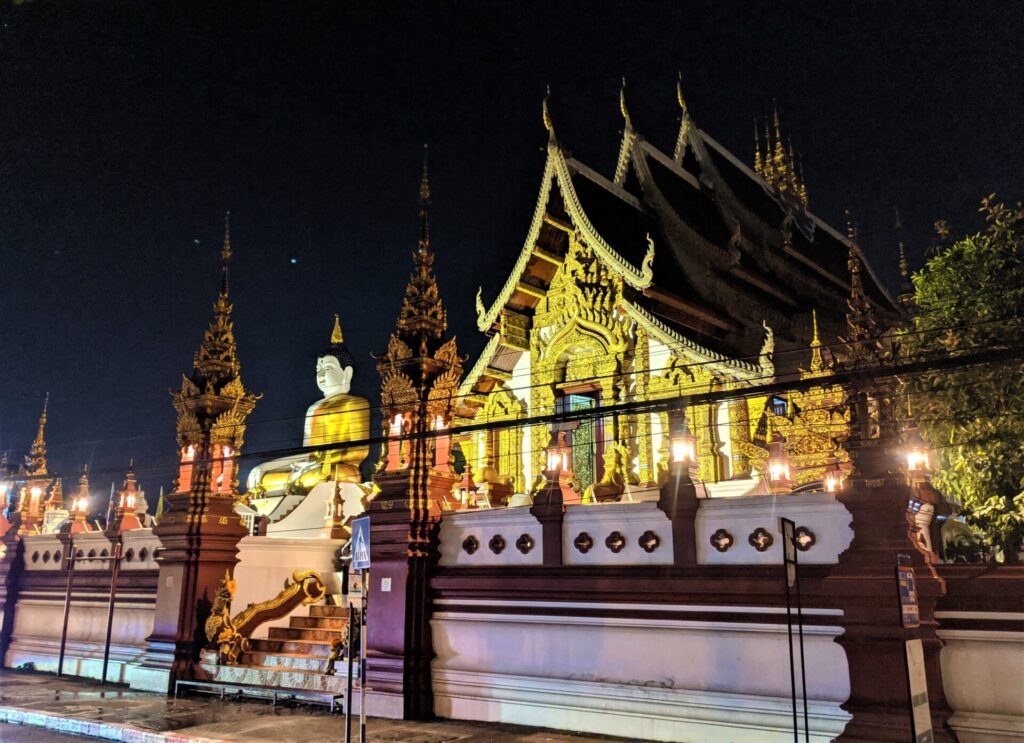 Nearly all of them are free, but there are dress codes that should be followed. Women should have covered shoulders and knees. Men should too in theory, but it's largely ignored for them because all of the monks are men and they don't care about looking at other men. I was fine in shorts a little above my knees, but the same would not have been true for Katie.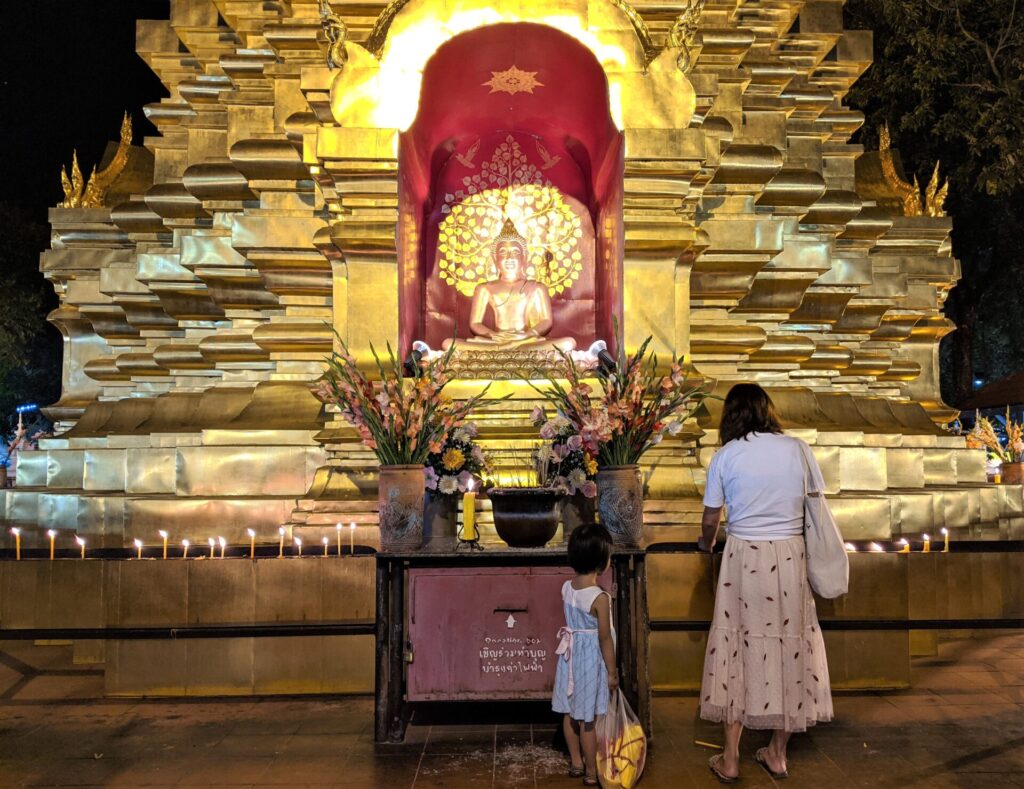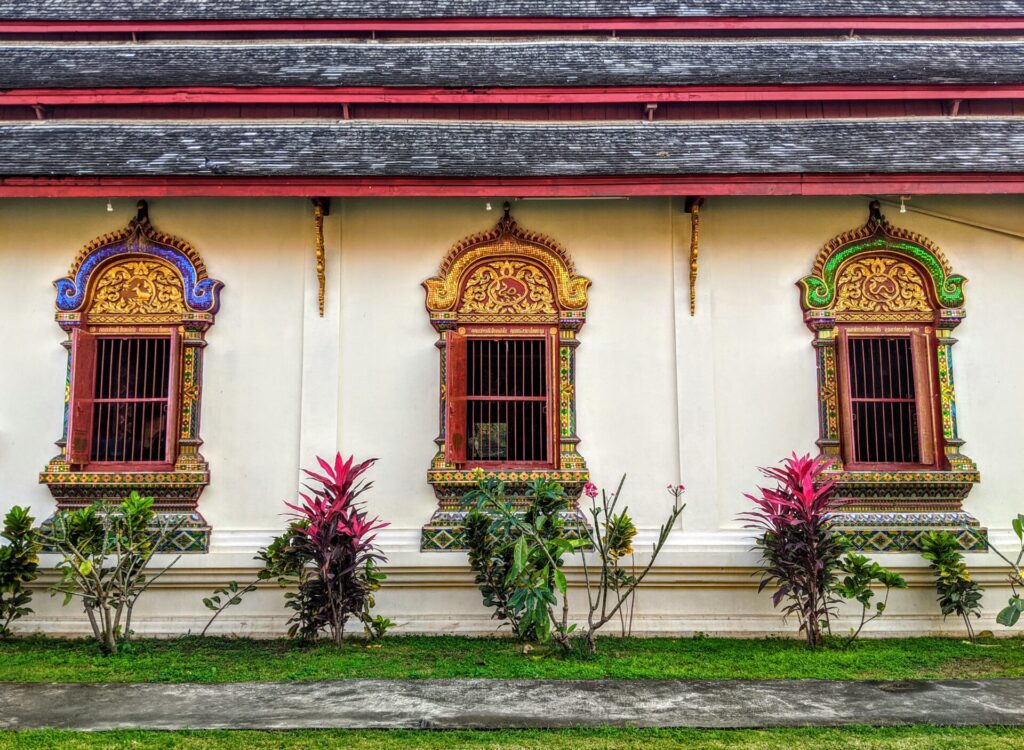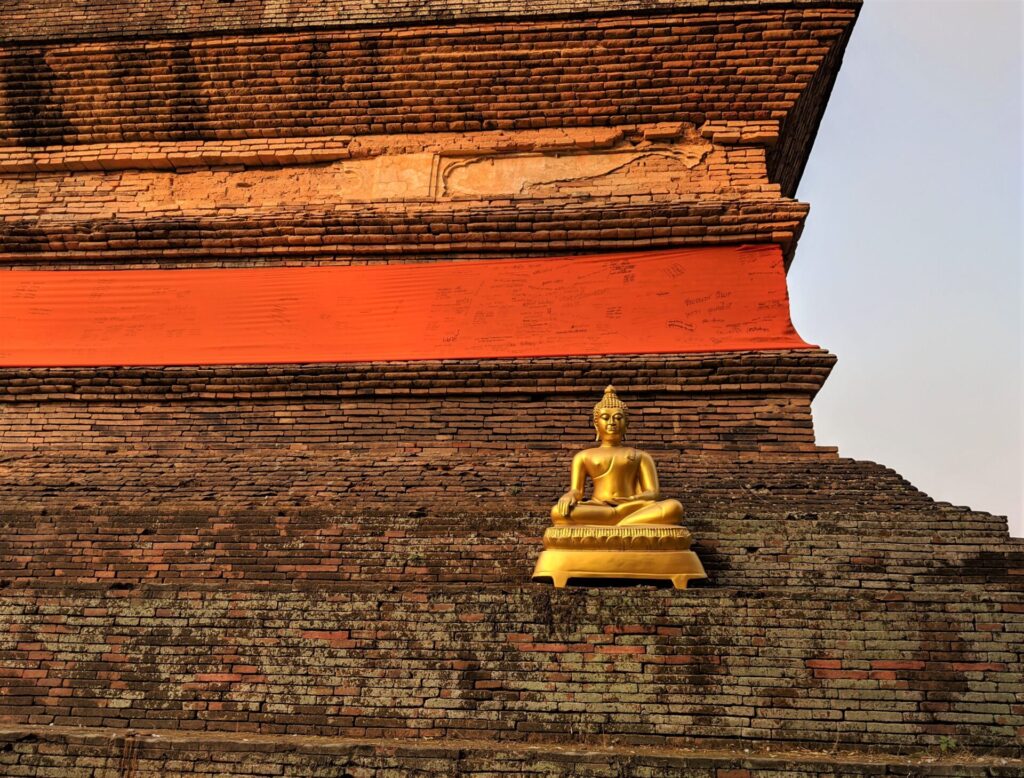 Markets and Food
Great markets abound throughout the city. The best night markets are the Saturday and Sunday Walking Street markets, but there were plenty of others both in the Old Town and outside of it. Most of them are much smaller, but they take place every evening. These multiple night markets still offer a good selection of food and goods (especially clothing) if you don't get your fill during the weekend markets. There is also a nice day market (Tha Nin) that's about 50/50 produce and prepared foods. We spent a lot of time here during the week to get produce, and then mostly ate street food at the markets on the weekends.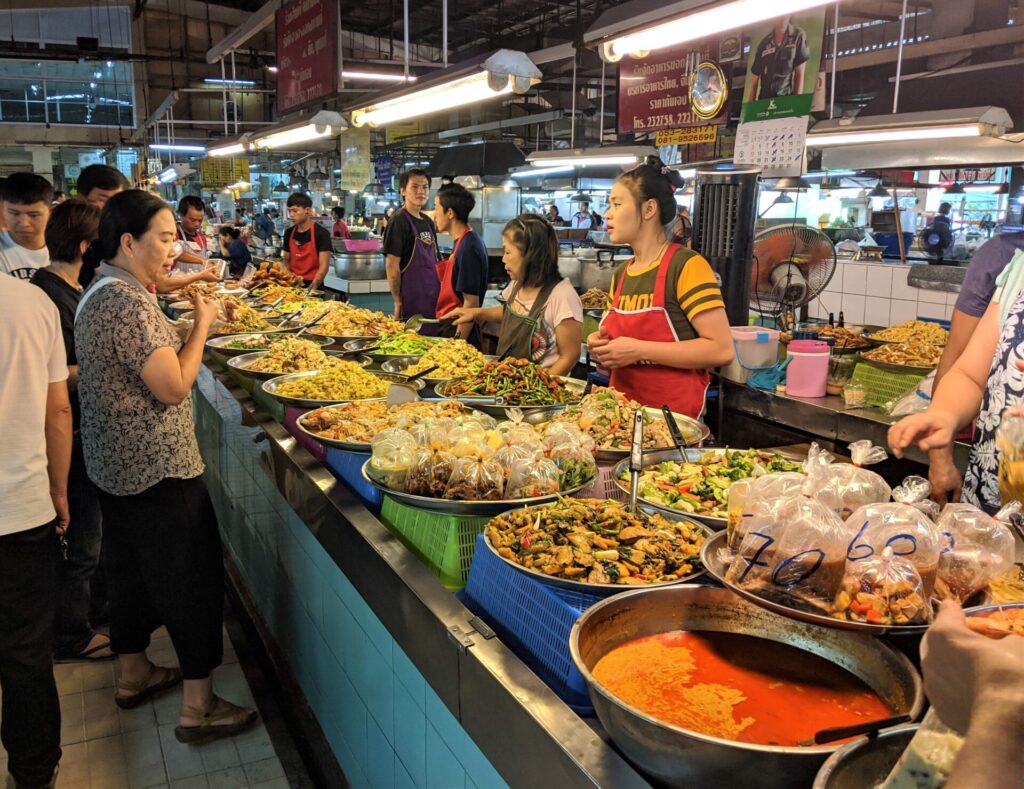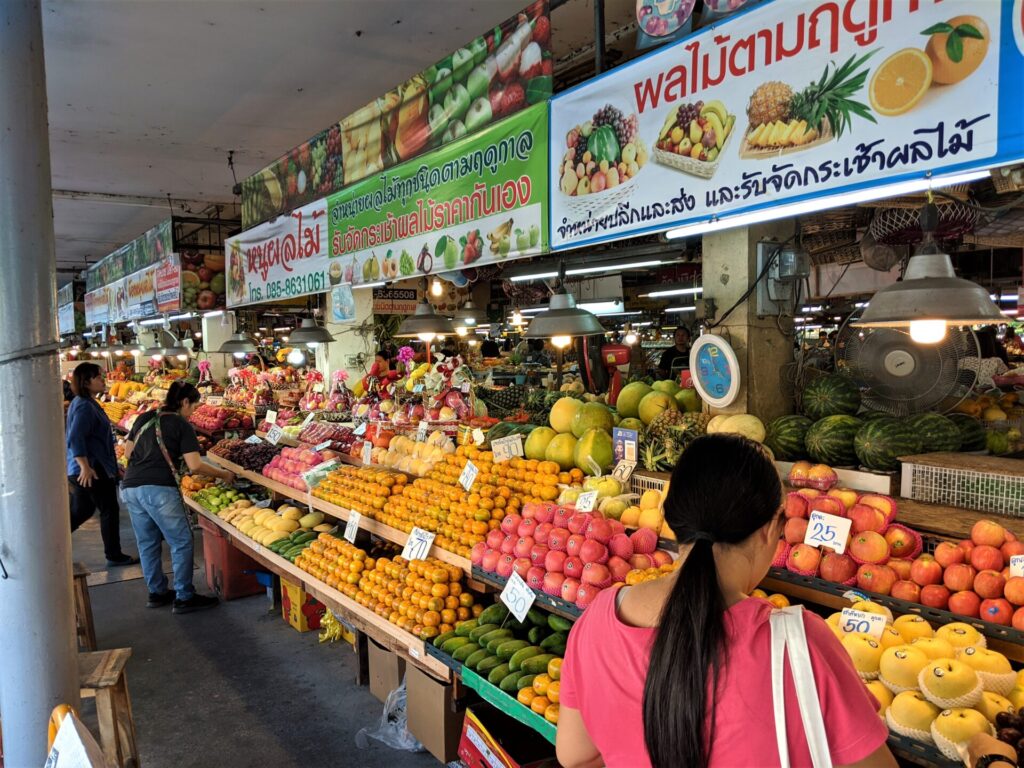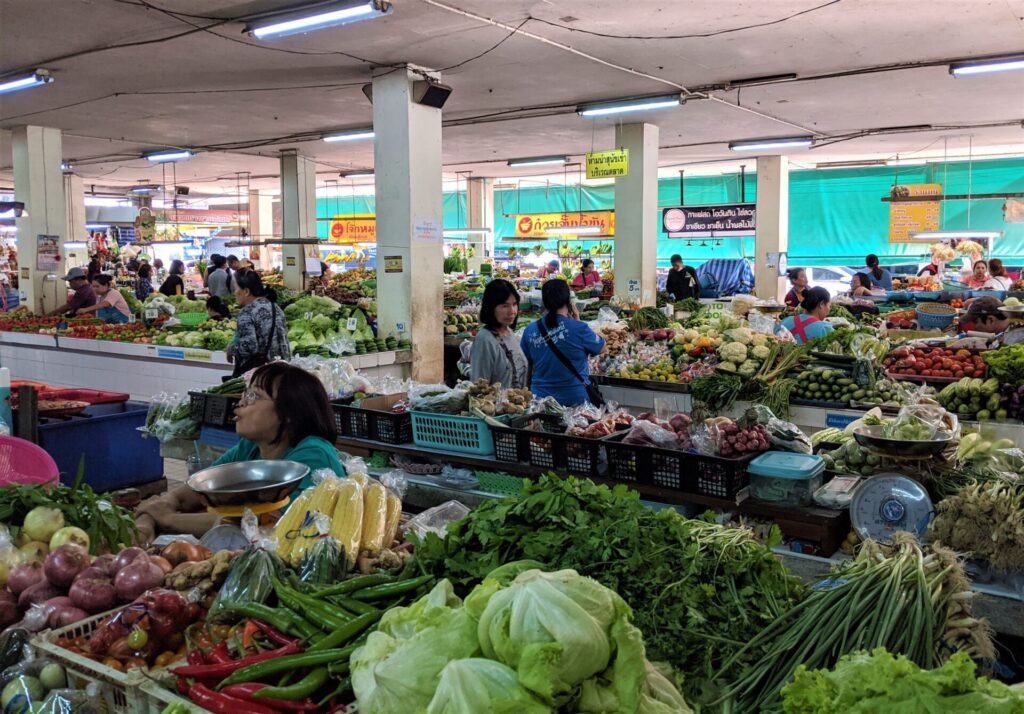 With few exceptions, the food we ate was outstanding. We took advantage of the weekend night markets and ate out much more than we had previously. There was so much good stuff to choose from. My favorite was the stewed pork leg with pickled greens over rice. Katie fell in love with a seafood omelette. We also ate plenty of delicious noodle dishes, soups, curries, and flavorful fruit. While our lungs may not have been the happiest, our stomachs were loving life.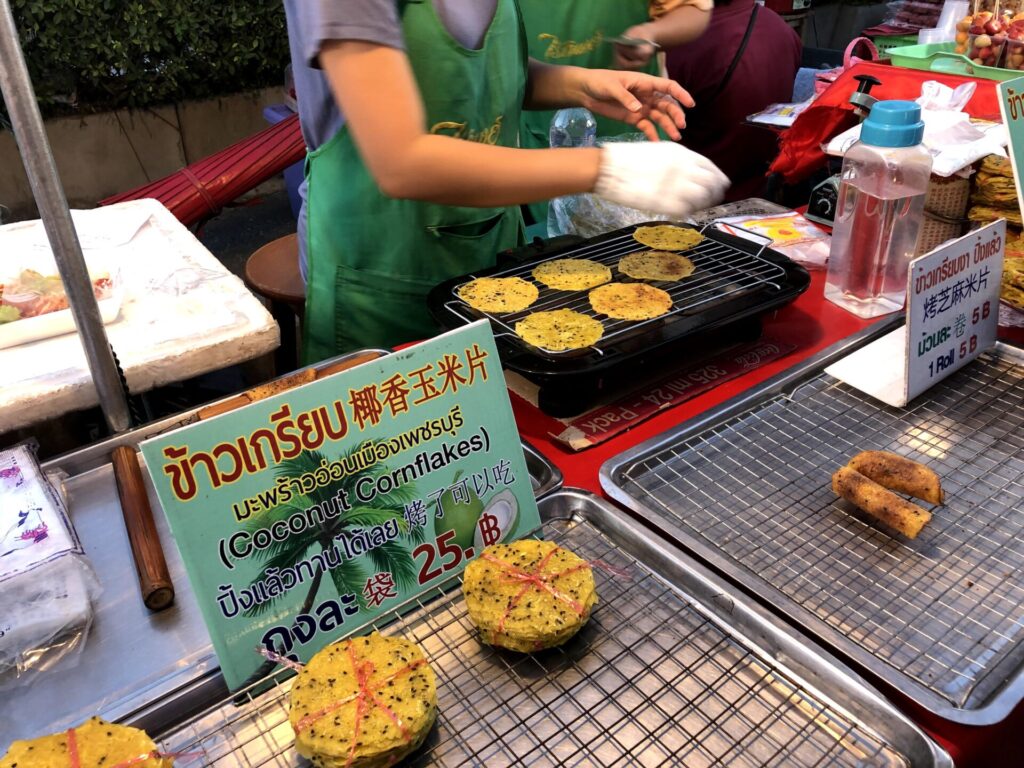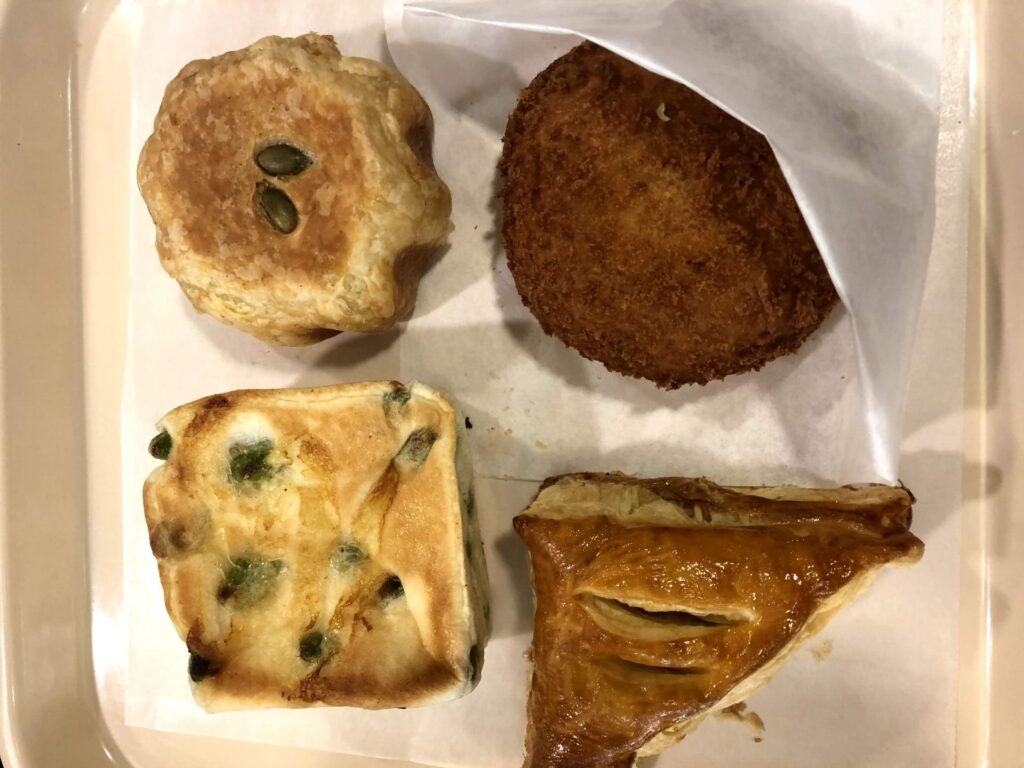 Massage Adventure
As mentioned above, we only encountered rain once during our four week stay. This one instance of wet weather happened to occur on a Sunday evening. The incredible weather we experienced before this had lulled us into a sense of complacency and we had stopped checking the forecast. Because of that, we found ourselves at the Sunday Walking Street market with no rain gear. It started slowly, but then the skies opened up and it down poured for close to 2 hours. In an attempt to find cover, we ducked under the corrugated metal roof of a low budget massage parlor just off the main market strip. The proprietors were nice enough to offer us seats even though we made it clear we didn't want a massage. However, as we sat there for 45 minutes staring at their posted price lists and waiting for the rain to stop, we gave into temptation and decided to try a foot massage. This one charged about $4/hr and since we had time to kill anyway, we took the plunge.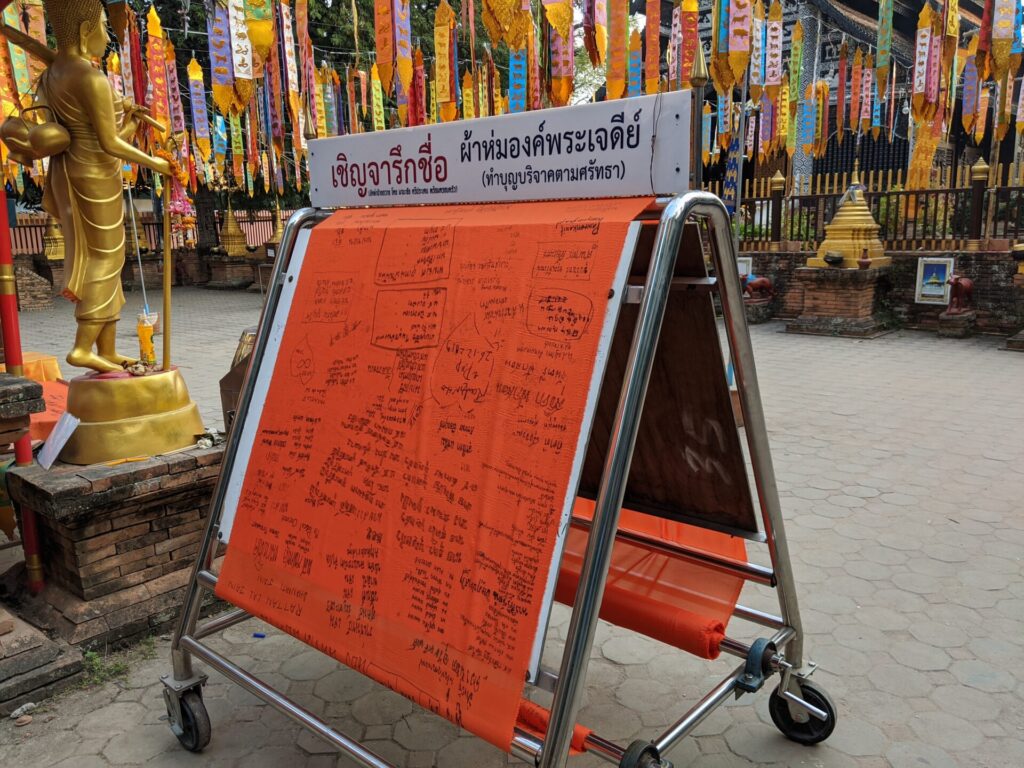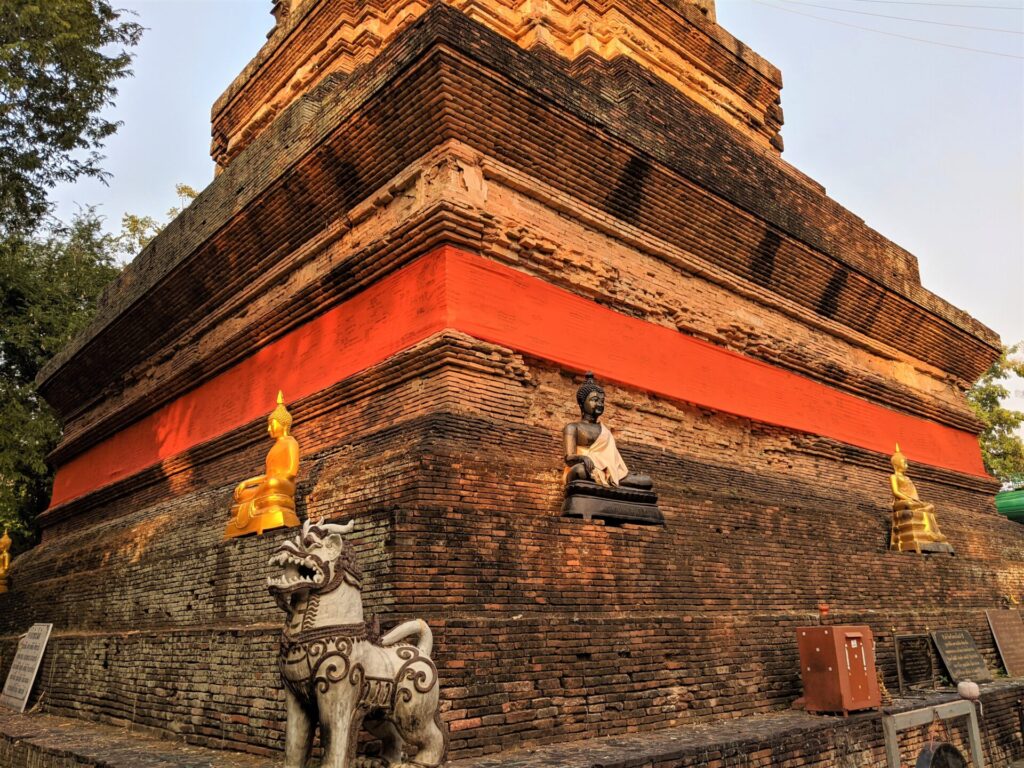 After all, Thailand is famous for its massage parlors and they are everywhere in Chiang Mai. Many people travel here primarily to take advantage of the cheap massages and will go multiple times during a stay. I learned quickly that I am not one of those people. Naively, I assumed a foot massage would be someone rubbing my feet. It turns out that's not really how they work. Apparently my foot extends all the way up to my knee, and most of the massage was a deep tissue massage that was not pleasant. Even the actual foot massage part that I was expecting involved a lot of poking and rubbing with a wooden rod that didn't feel great to me either. Overall I'd say it was about 95% pain and 5% pleasure. Katie had a similar experience and didn't enjoy hers as much as expected either. I felt somewhat better after it was done, but it was short lived and certainly not enough to offset the discomfort of the actual massage. I'm honestly baffled as to how these places were always busy.
Nature In The City
We took a day to explore a couple of the parks nearby. There's a small arboretum that's surprisingly close to the popular Nimman neighborhood where we stayed. A quick 1.6 mile (2.6 km) walk put us on a shaded walking path among many tall trees. This place is popular with locals getting some exercise. There are also lots of cute touches for kids like giant spider web nets strung between trees or animals painted onto concrete stools.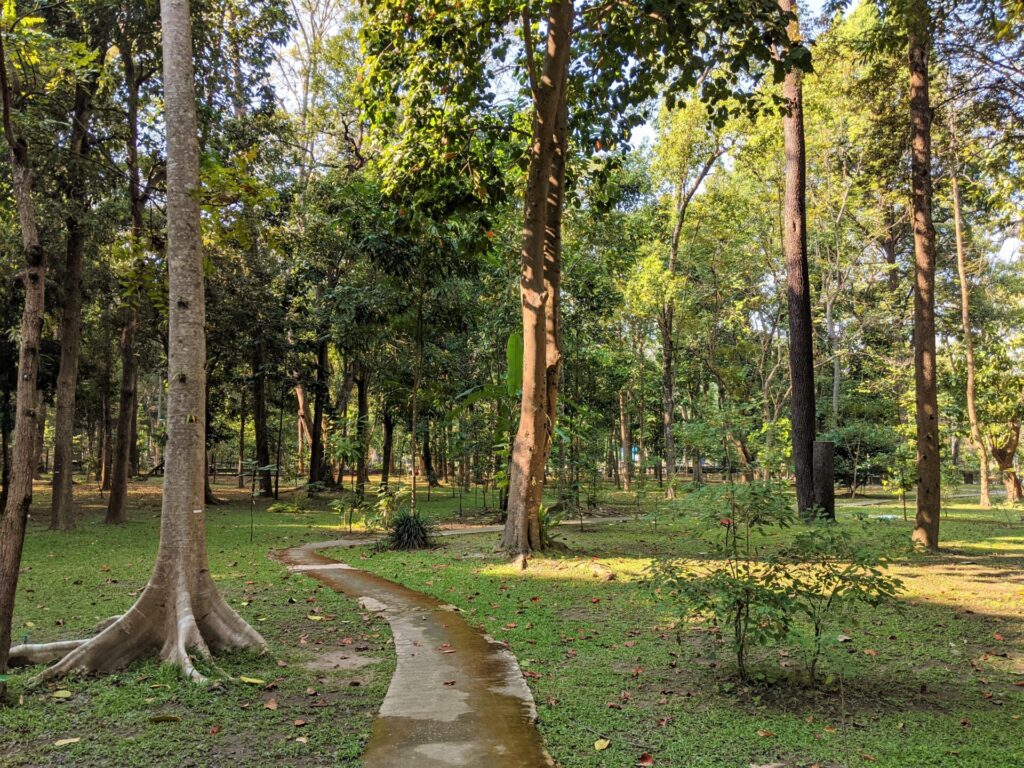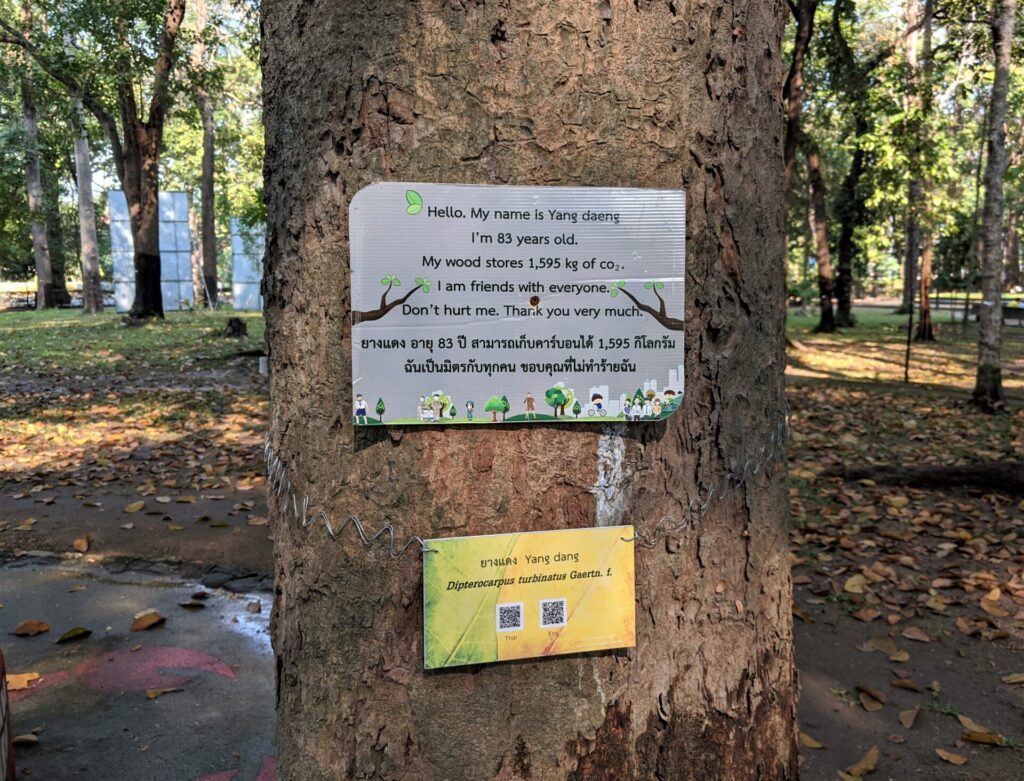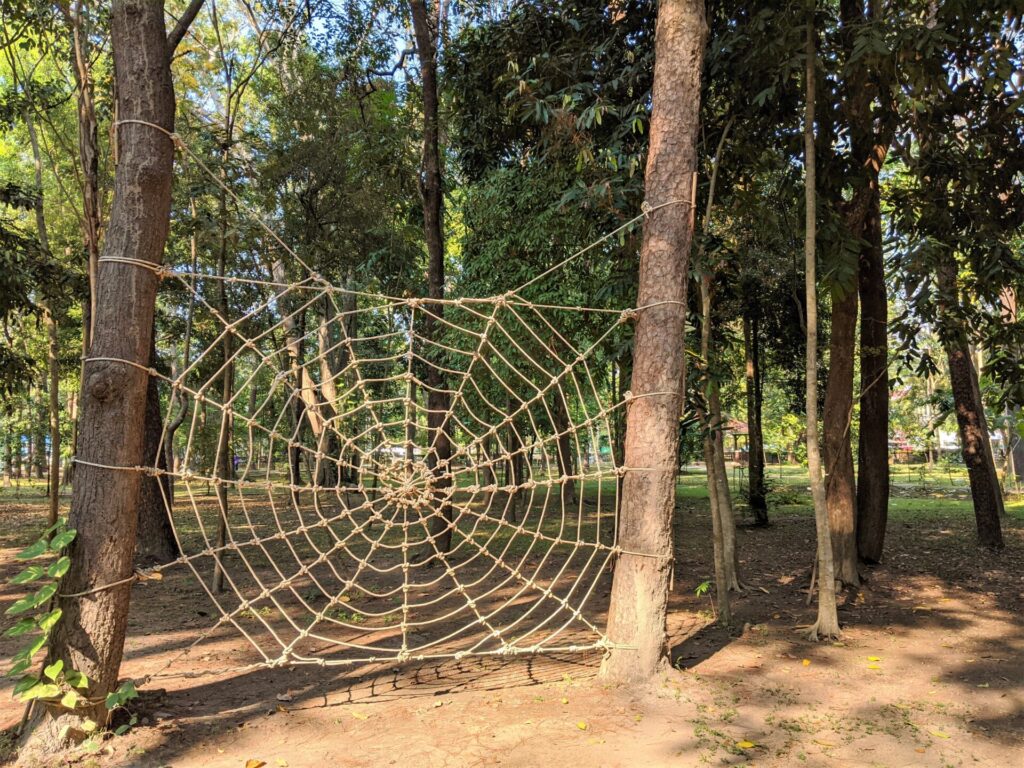 From there we walked just another kilometer farther to the Huay Kaew waterfall. It's actually only a bit uphill and really easy to get to. As you can tell from the weather report above, we visited during dry season so there wasn't a ton of water flowing. It was still very pretty though. We also undertook a short hike further up the mountain to another small waterfall (Wang Bua Ban Pha Ngoep) and swimming hole. Our timing was perfect for this hike, as we got to witness about a dozen young monks running, jumping, and playing in the water. It was a pretty entertaining sight.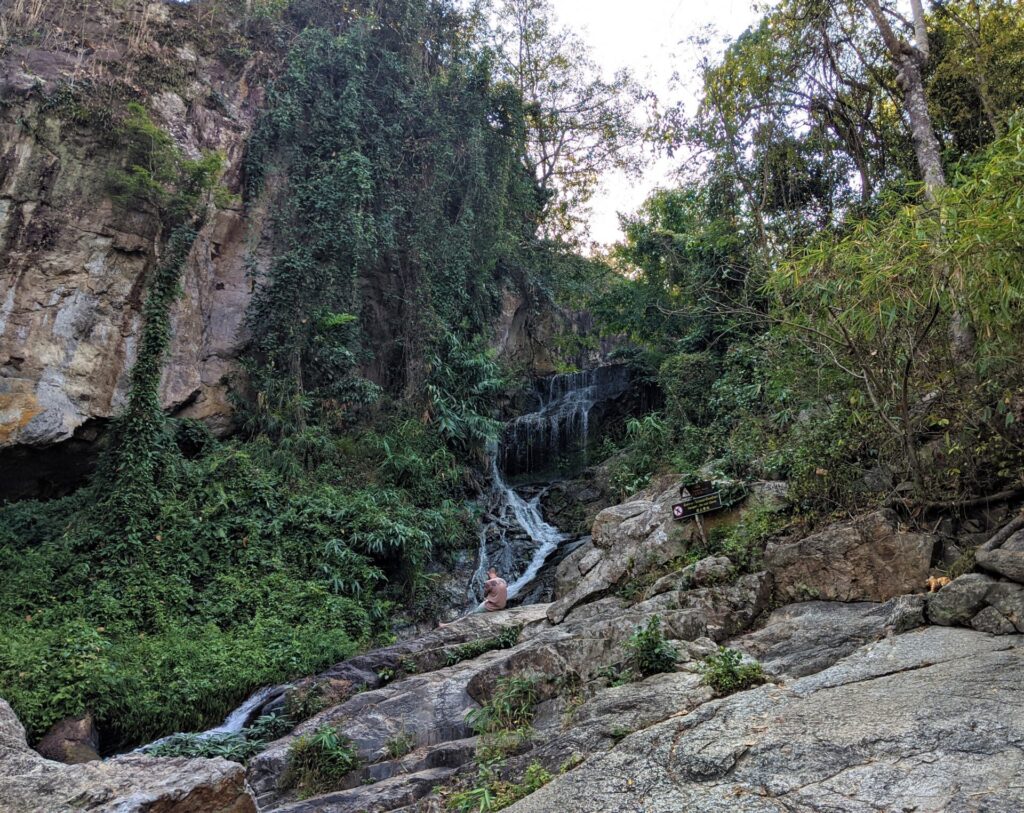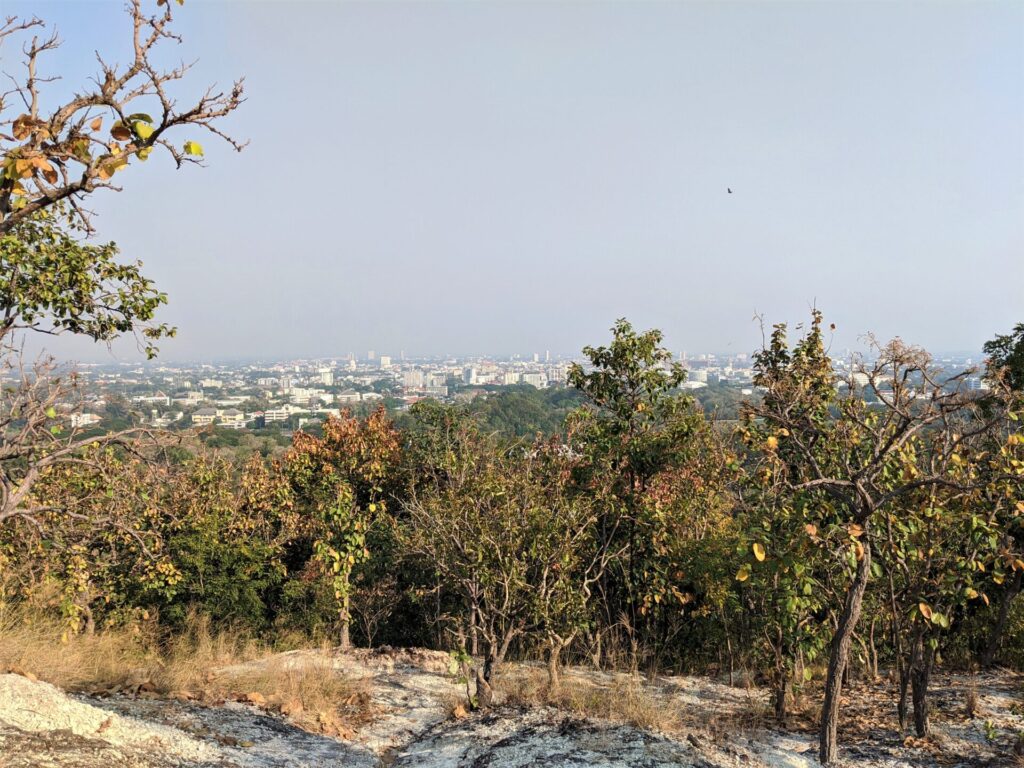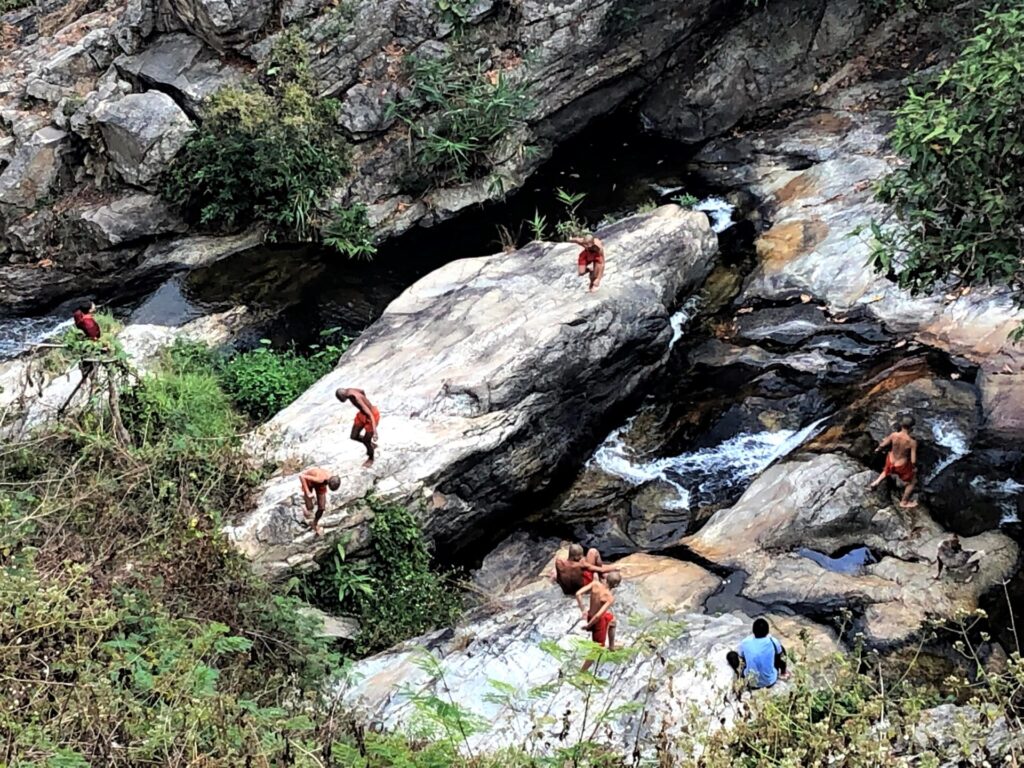 Where We Stayed
We stayed in a large studio apartment a little northwest of Old Town in the Nimman neighborhood. It was pretty simple, but worked out well. It was a serviced apartment, which is like a cross between a hotel and a regular apartment. They would come and replace our towels twice a week and do a more thorough cleaning once a week. I think we only had to take our own trash out once. It was a very clean place. There were also screens on the windows, which is a rarity in SE Asia. This allowed us to keep the windows open and enjoy the cool evenings without worrying about mosquitoes getting in to feast on us. That was a nice touch.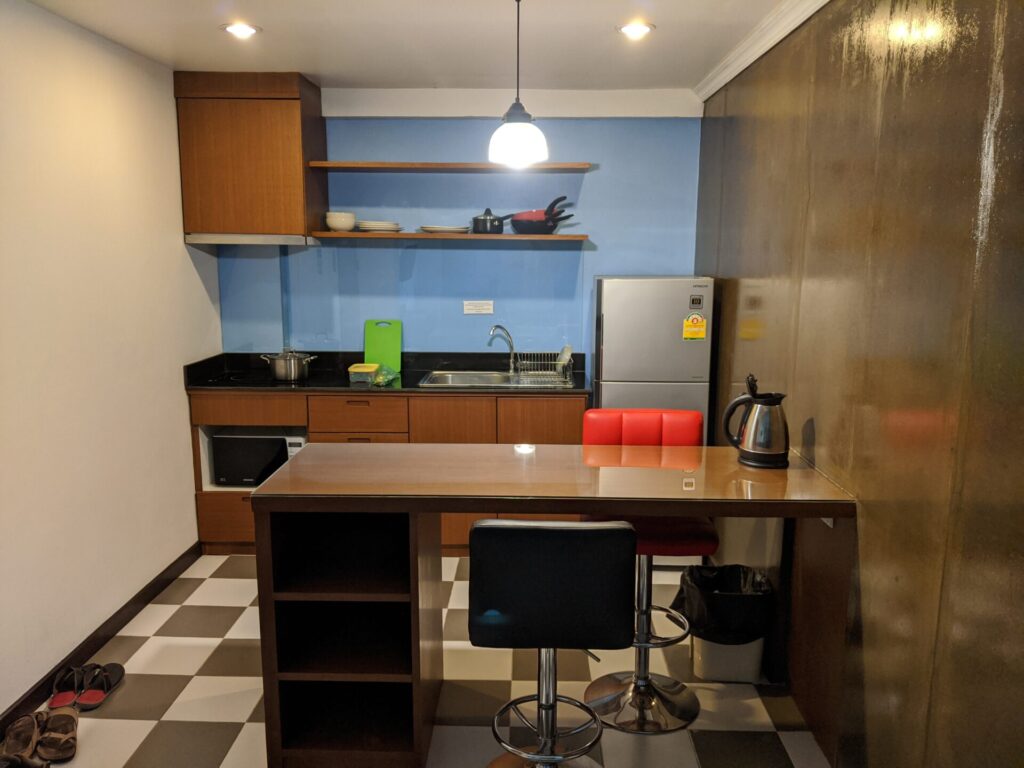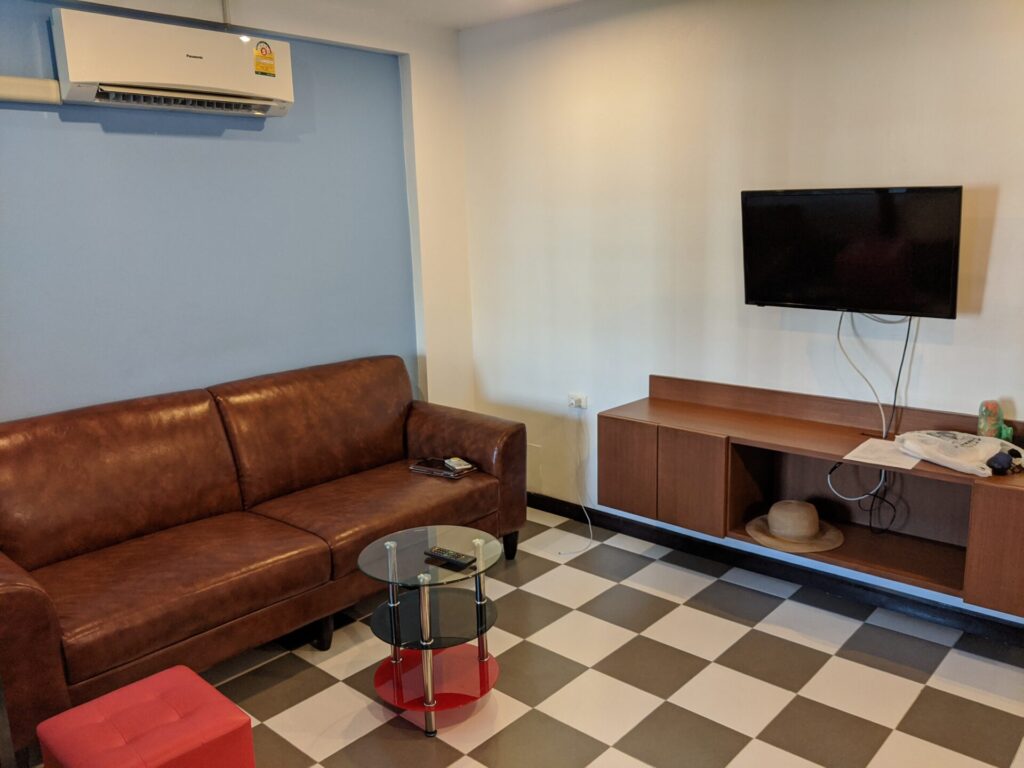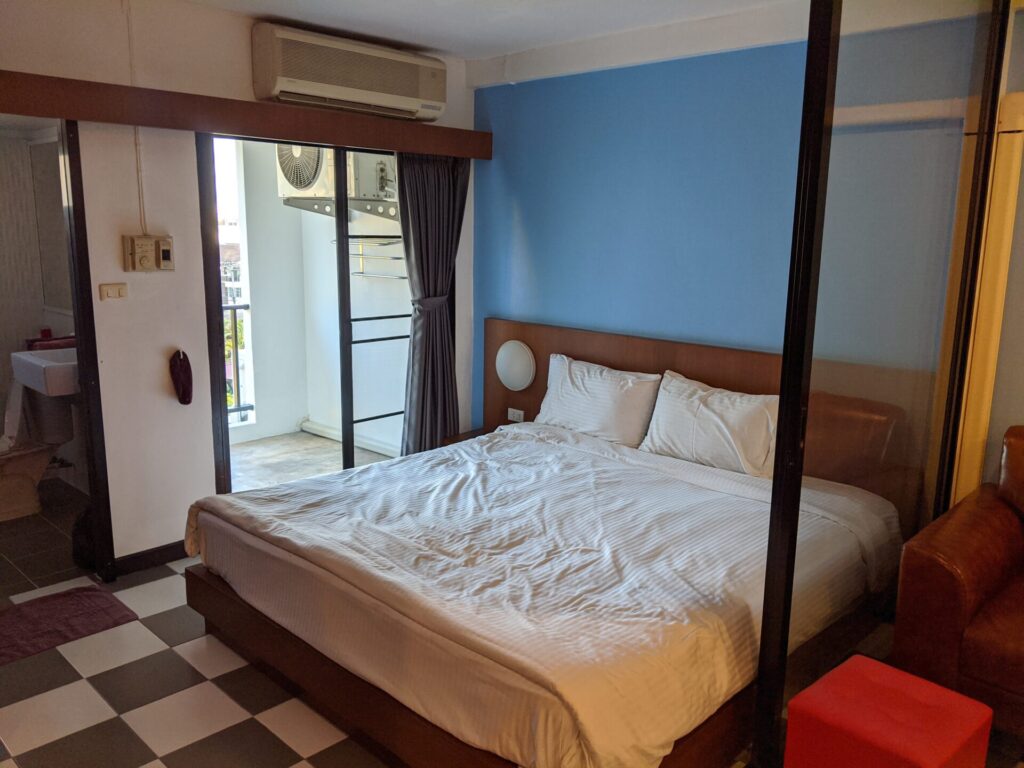 What We Spent
It kind of felt like we went a little hog wild on our spending here, but the overall numbers don't really reflect that too much. Most things were just really cheap. We ate out all the time. We spent more on beer, including at a really nice bar that had some delicious Belgian brews on draught. We spent Christmas and New Years in Chiang Mai so we splurged a little extra. We bought some clothes at the markets and even some Christmas lights to make our apartment more festive. And despite all this extra extravagance, including an expensive flight to get there (for Asia), we still spent less than $1900 for our four weeks. Adding in our regular bills brings our grand total to just over $2000. While this is more than we've spent at other stops, it still feels like a good value as we didn't hold back.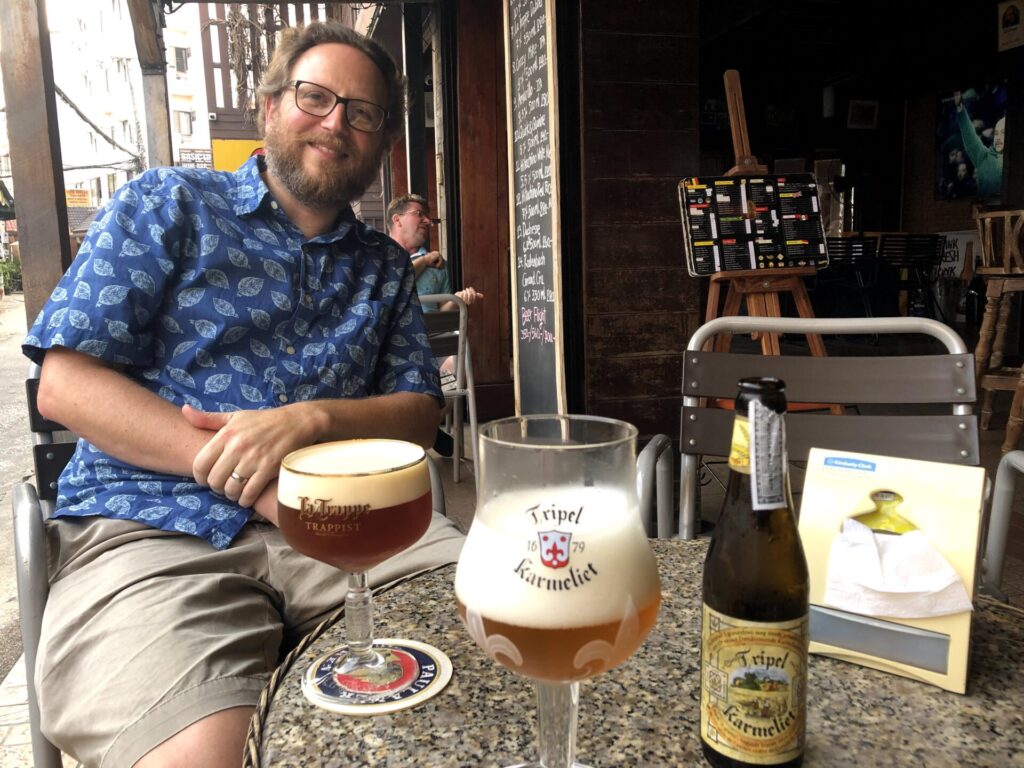 Overall, our time in Chiang Mai was mostly excellent, but marred a bit by the handful of days where we couldn't breathe well. The constant sunshine and lack of humidity made us very happy. We both loved the food and the markets. Visiting at a different time of the year would've definitely improved air quality, but it would've also made it more hot and humid. So it's hard to say if that would've been better. Either way, Chiang Mai was a nice stop and while not perfect, the good parts definitely outweighed the bad. It's easy to see why it's so popular.