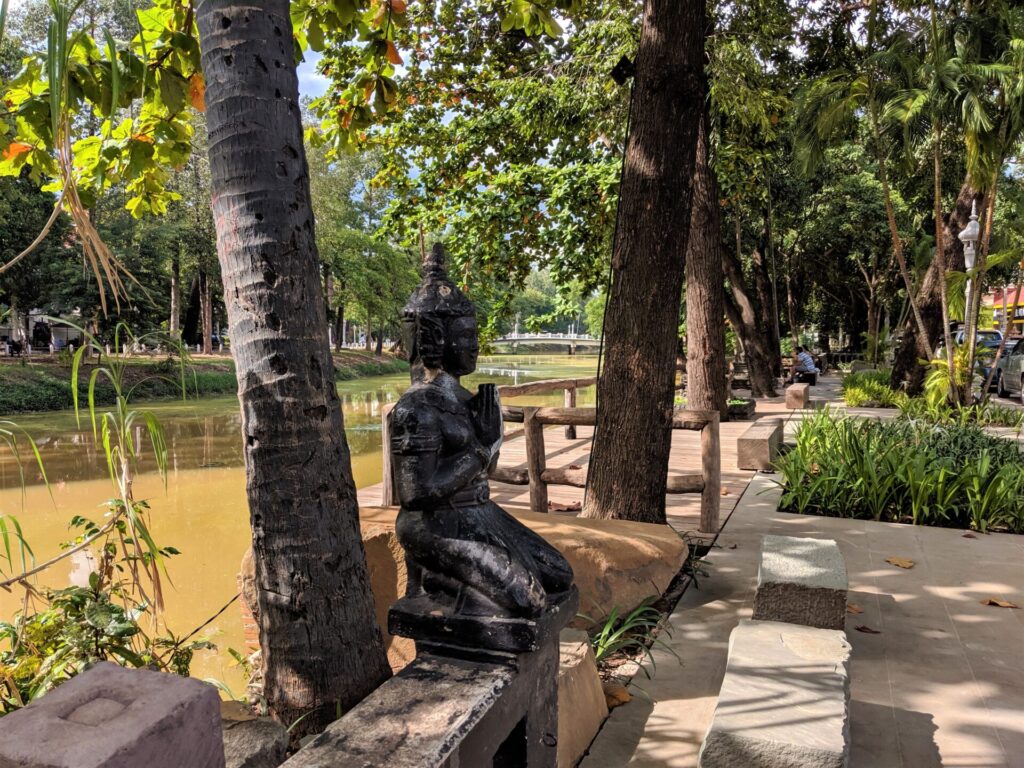 The reason that Siem Reap, Cambodia exists as a tourist destination is because of the sprawling Angkor Temple complex and the world famous Angkor Wat. That's why everyone travels there, and we were no exception. We had so much fun during our three days at Angkor that I couldn't even squeeze it all into one post. But there were many other things to see and do, and we had no trouble filling the two weeks we spent there.
We stayed in a great location right next to the Siem Reap River that runs through the center of town. There are large trees that line both sides of the river providing shade and scenery, making it a nice place to stroll. Coming from Phuket where we walked alongside an exposed highway to get to and from our apartment, this was a very nice change. We chose to follow the river every time we left the house when practical.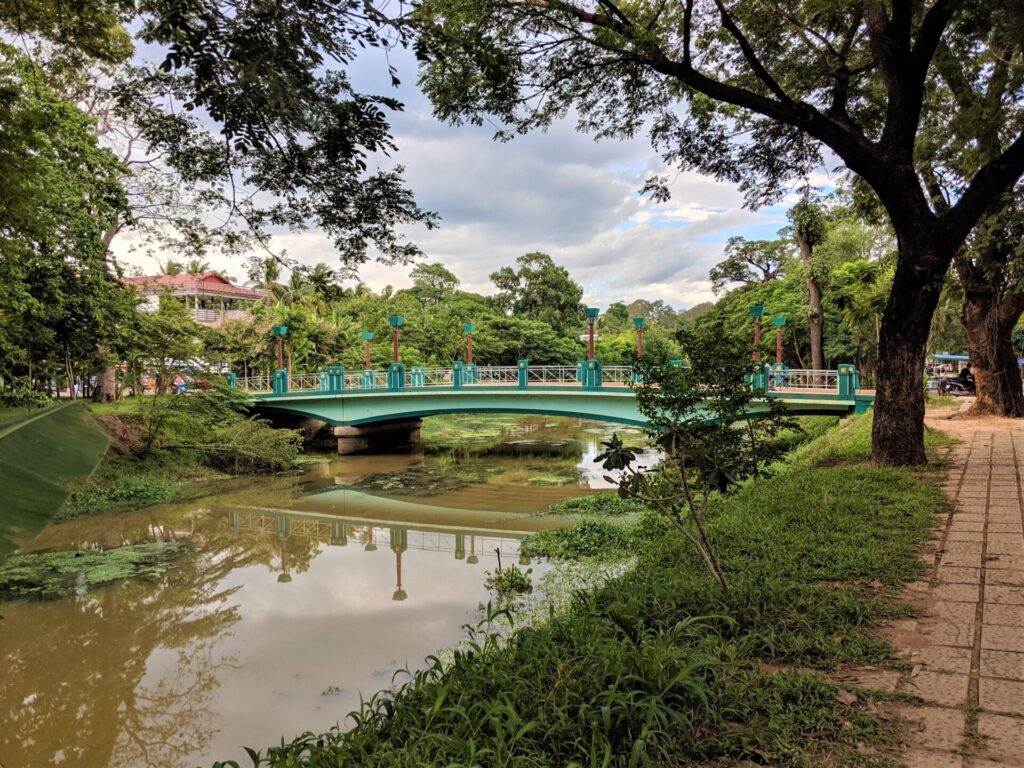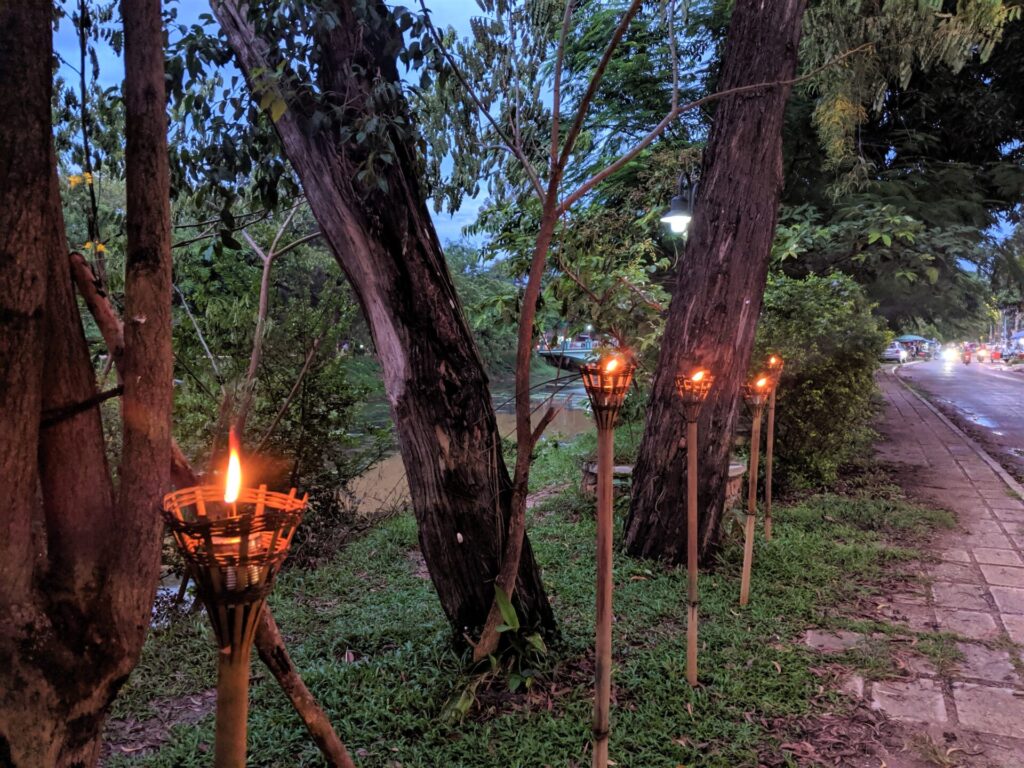 The river runs right next to the Royal Residence park, which is home to a massive colony of fruit bats. There must be a thousand of them. During the day they are relatively dormant, with a few of them periodically chirping or readjusting their position from one branch to another between the handful of trees that they roost in. Once evening arrives though, they become much more active. All of the bats start chattering with each other which creates enough sound that having a conversation at normal volume is impossible. It's like attending a bat symphony.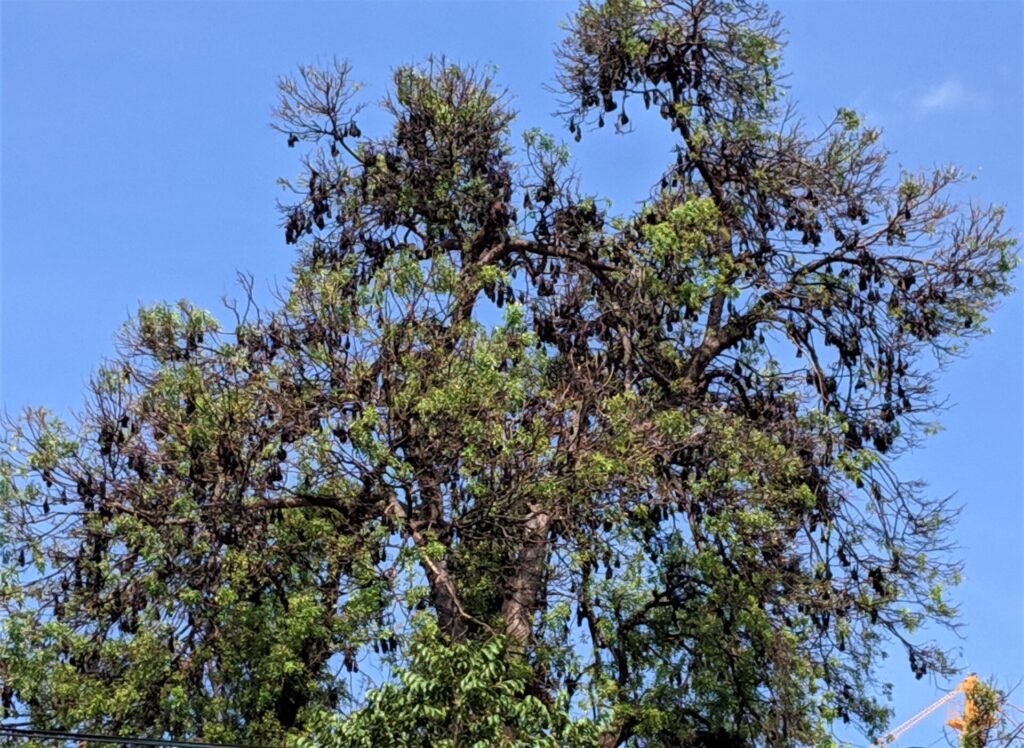 In between chirps, or maybe simultaneously, they start flying around. This is quite a sight, as fruit bats are not small creatures. Their wing spans can be two feet wide. They do not flutter around like swallows, but flap their wings in big long strokes like birds of prey. Between the flying and the chirping, there is a lot of action. At some point near dark, large groups of them fly off together into the night. Even when not near the park, we would glimpse their silhouettes as they flew above various parts of the city just before dark. (Thanks for the tip on these bats Mary!)
Aside from enjoying the local wildlife, we spent time at the various markets around town. And there are a lot of them for a town of only 140,000 people. We stayed only a couple blocks from Psar Chas, also called the Old Market, and did most of our shopping there. This large sprawling market is mostly occupied with shops trying to sell tourists t-shirts, scarves, paintings, Buddha statues, jewelry, and other goods.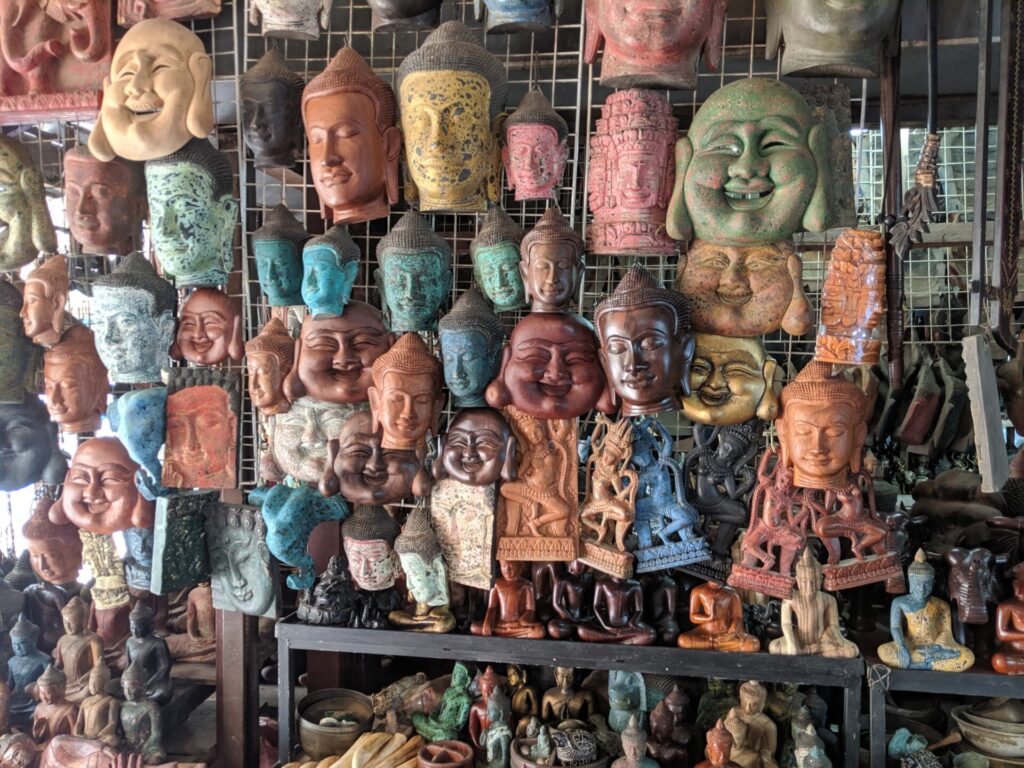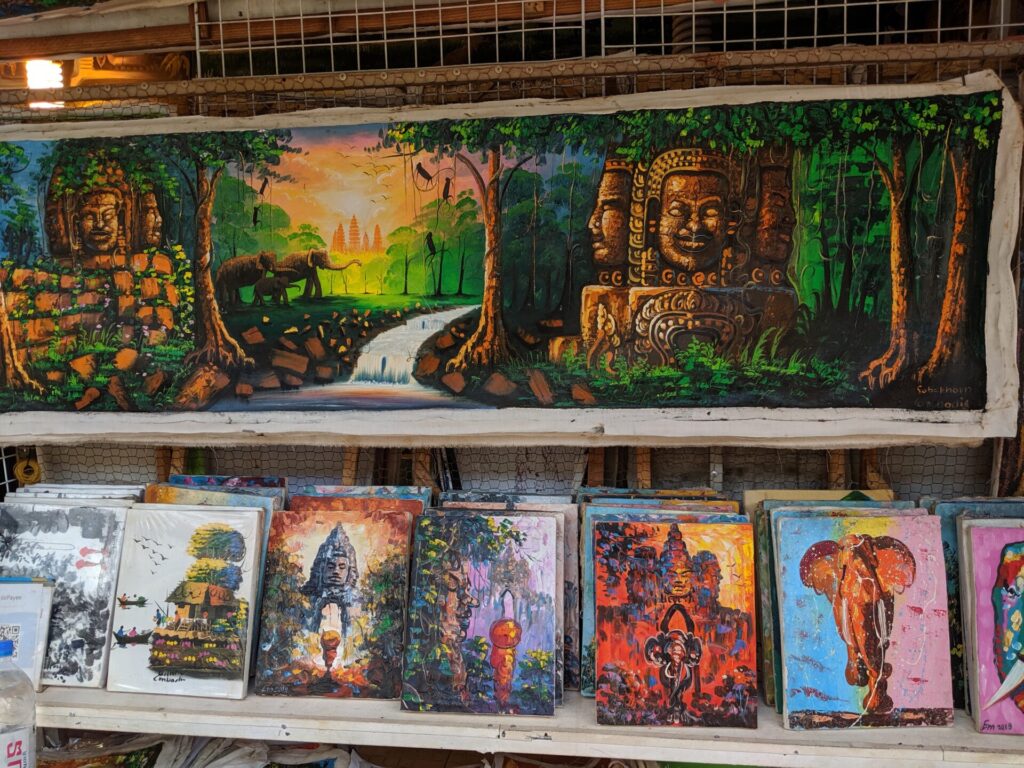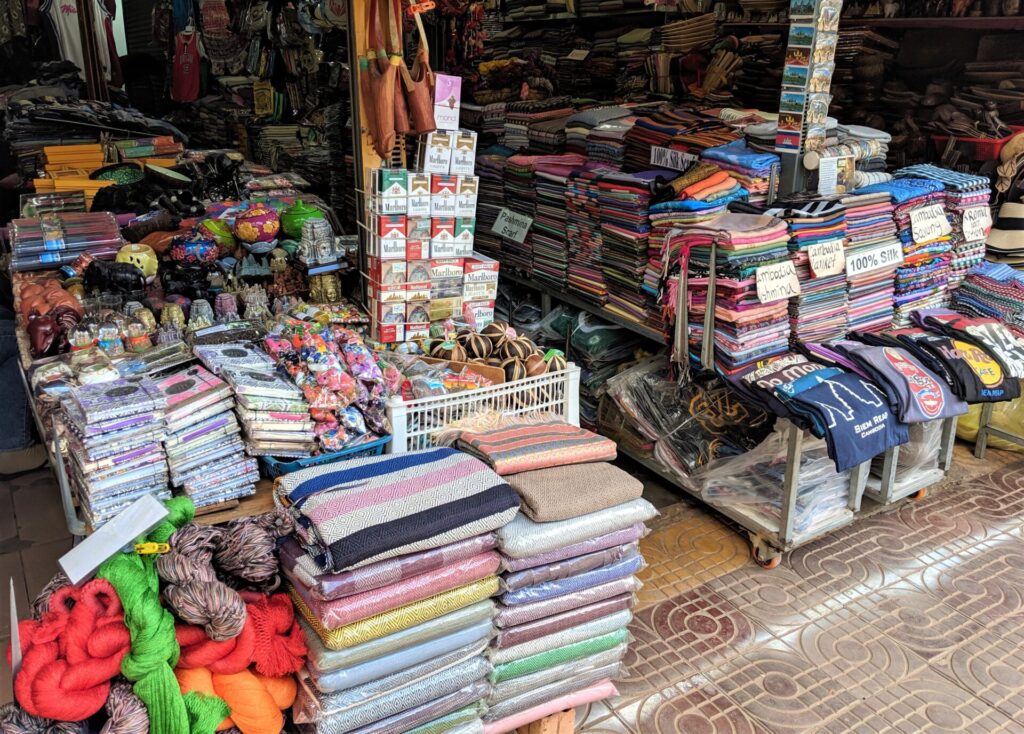 Tucked behind these is a well-stocked produce market where multiple vendors sell fruits, vegetables, meat, fish, eggs, and rice among other things. This is where we did most of our food shopping since it was only a couple blocks from our apartment. We went often enough to become regular customers with a few vendors during our two week stay. Near the end, some of them would recognize us and smile or wave before we got to their stand. It was cute.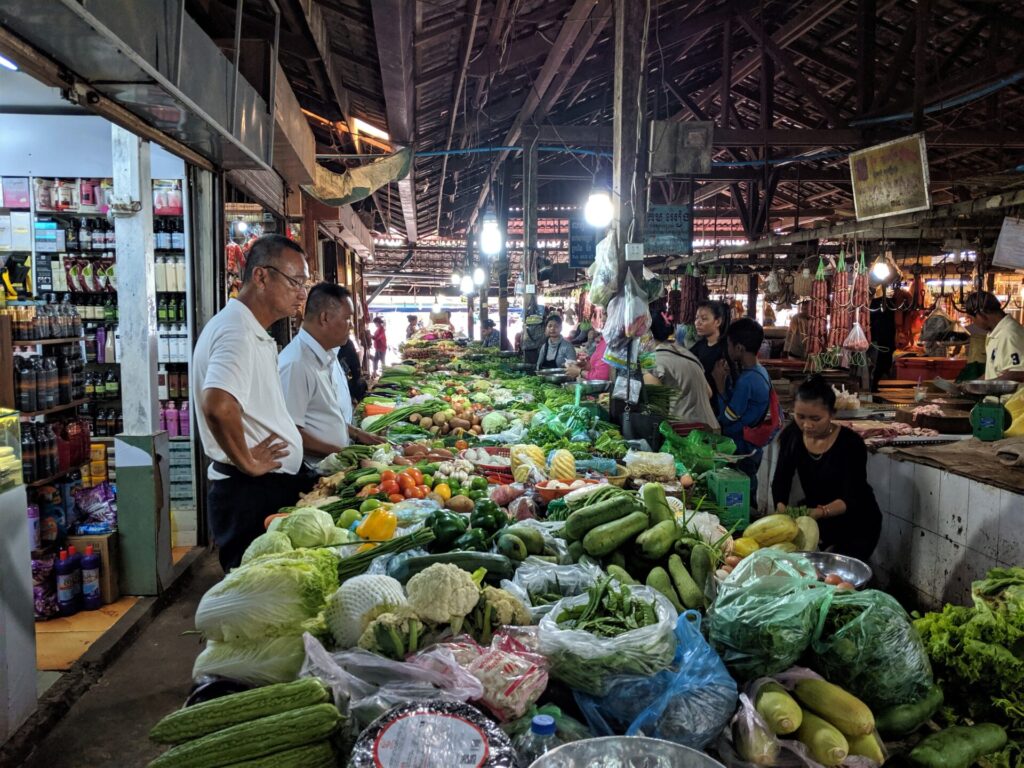 The Old Market is one of several markets in the downtown area, but it was the only one not entirely geared towards tourists. It is also unique because it opens early, whereas the other markets are all night markets. What I discovered was that no matter which market we visited, the time of day that we went really impacted our experience. Going during the day presented what I would describe as a "normal" shopping experience. I could walk along at my own pace and look at things with no intention of buying. The vendors might greet you, or ask you to buy something, but it was fairly low pressure.
In contrast, going to a market at night felt like their livelihood was on the line. The vendors would constantly call out asking me to buy stuff, even when I was just walking by barely looking. If I happened to pause or slow down, they took that as an invitation to start showing me item after item, begging to sell me something, anything. It made me feel a bit like a walking dollar sign. This may have been exacerbated by the fact that we visited during the low season, meaning there were just as many sellers but fewer tourists to sell to, but it didn't make it any less annoying. This sales technique was particularly irritating when walking near Pub Street, which is a popular spot catering to tourists with bars and restaurants selling $.50 draft beers. In the evening they close off the area to vehicle traffic, which would be pretty nice if you could walk unaccosted, but that isn't the case.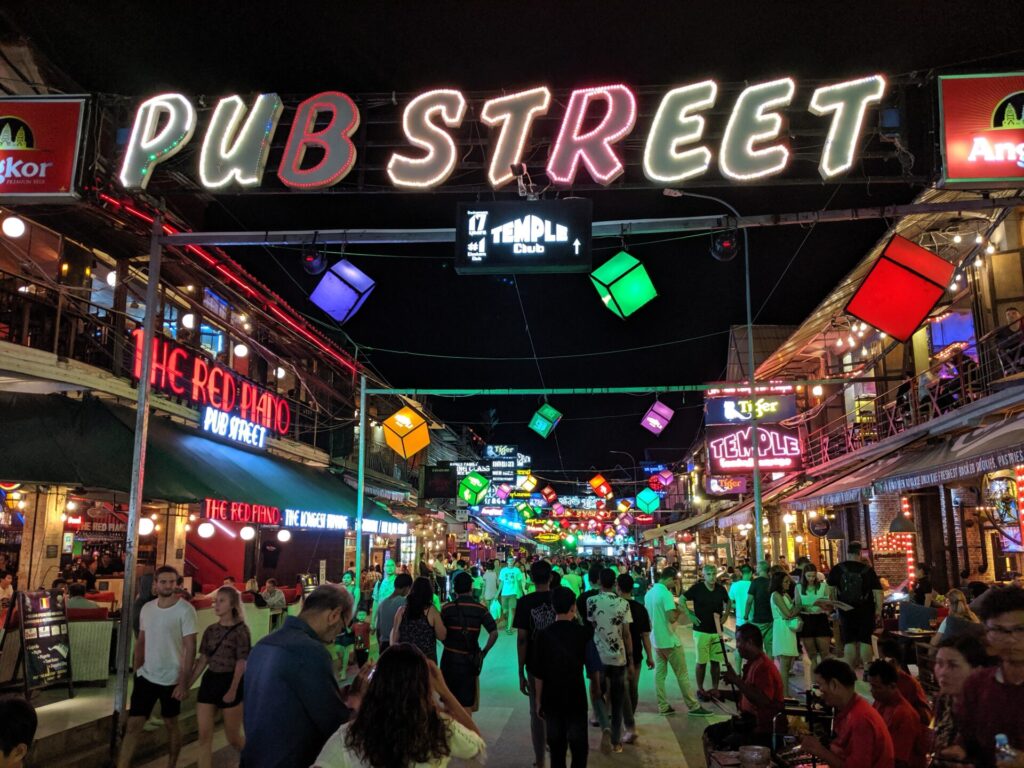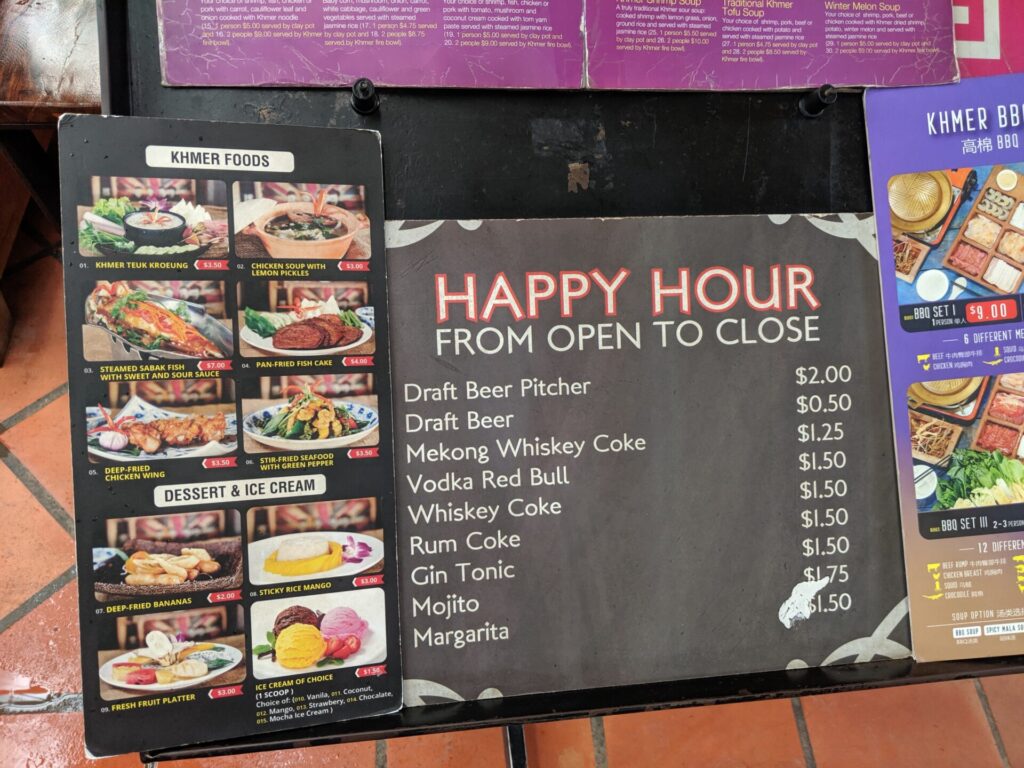 Outside of the restaurants and bars are vendors selling street food. In particular, ice cream roll carts are everywhere. It's basically like Cold Stone Creamery, but on a smaller more portable scale. Somewhere along the pedestrian street there were five of these lined up, each less than 20 feet from the next. They all have a hawker with a laminated picture menu who thinks the best sales technique is to shove it right in your face while asking "Ice cream, sir? Ice cream?" Except it felt less like a question and more like a demand. Did I mention there were five of them in a row? After turning down the first four identical requests for identical products, you'd think the fifth would realize that you're not interested in any ice cream. But no, here comes another menu being shoved right toward your face and another request that you buy ice cream. Needless to say we didn't stay there very long.
Luckily, this kind of thing is pretty easy to avoid by shopping during the day or choosing different places to go at night. Not all of the night markets were as bad as above, but most have a higher pressure sales technique than Thailand, where the pressure to buy was basically non-existent. I don't want to give the impression that Siem Reap was unfriendly, because that was certainly not the case. Most every interaction we had aside from these couple of night markets was really great. But having come from Thailand where the night market is king, this part of Siem Reap suffered by comparison.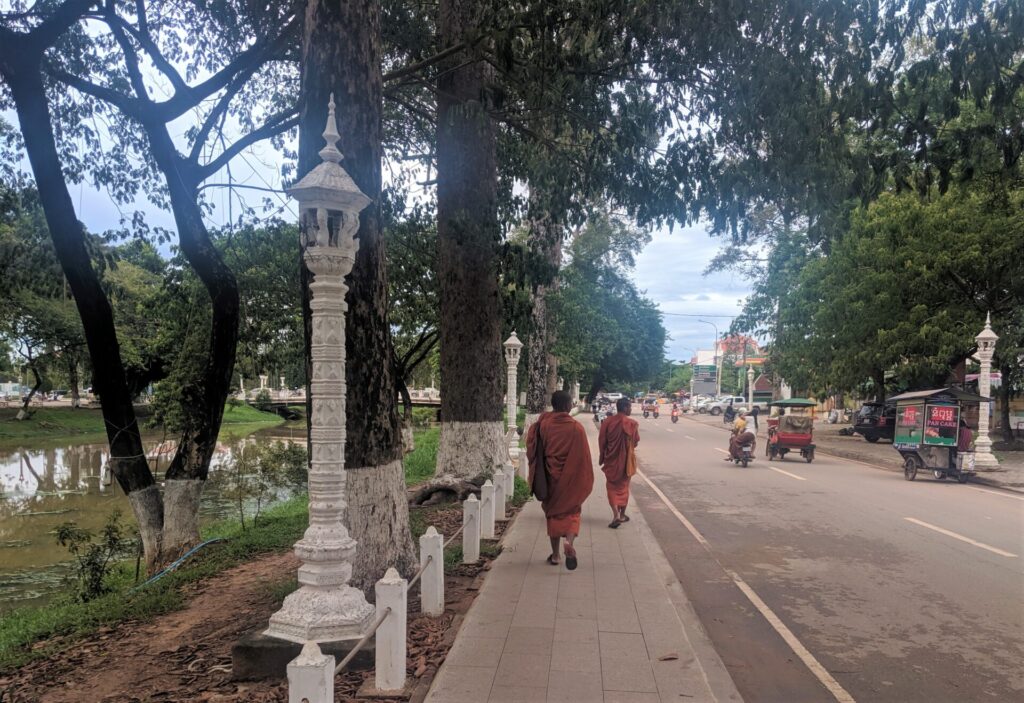 Simply walking around the city was also pleasant. The day before we visited the Angkor Temple complex we decided to walk the 3 miles to the ticket office to buy our tickets in advance. From downtown, this walk follows the river before turning to go by the Fair Trade Market and the Palm Container Night Market. On our way there, we passed some cattle being herded down the street. After buying our tickets and waiting out a brief thunderstorm, we started our walk back. We passed by a couple of kids having a blast playing in the mud created by that rain. It couldn't have been more endearing.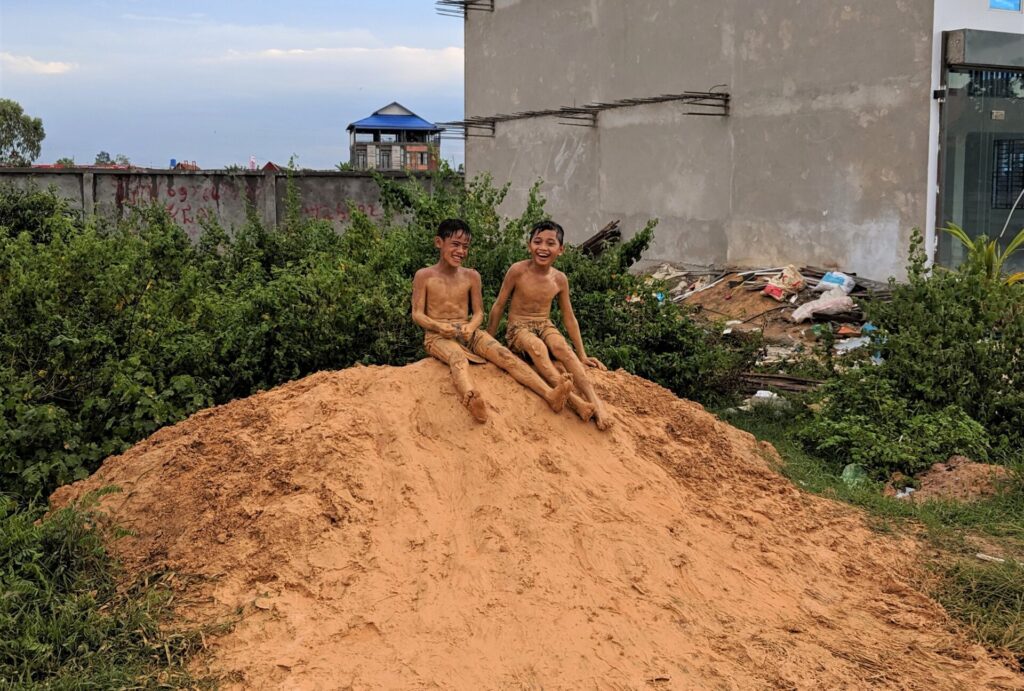 There are also a number of options for things to do in the surrounding area. We took a tuk tuk to the Landmine Museum, which is about a 45 minute ride outside of town. This small museum showcases the life's work of a man named Aki Ra, who single-handedly cleared hundreds of thousands of landmines left over from the two Vietnam Wars. Later, he worked with a team to clear a million more. He's a former child soldier who planted landmines in his youth and therefore felt responsible for clearing them as his perspective shifted with age and peace was restored to Cambodia.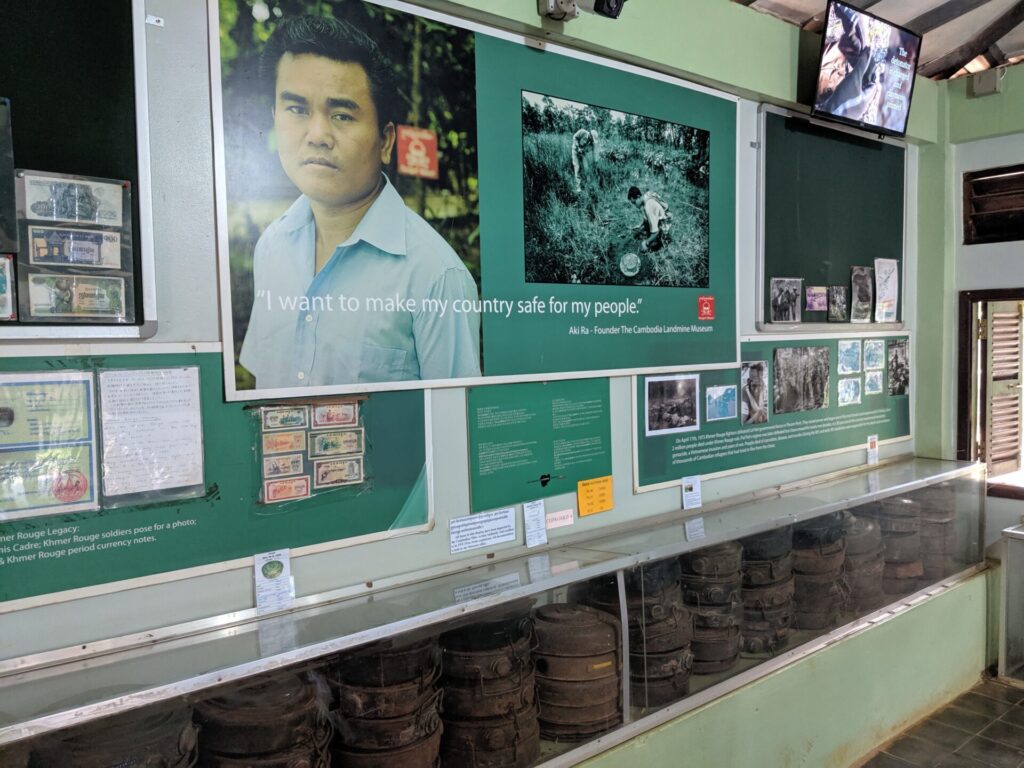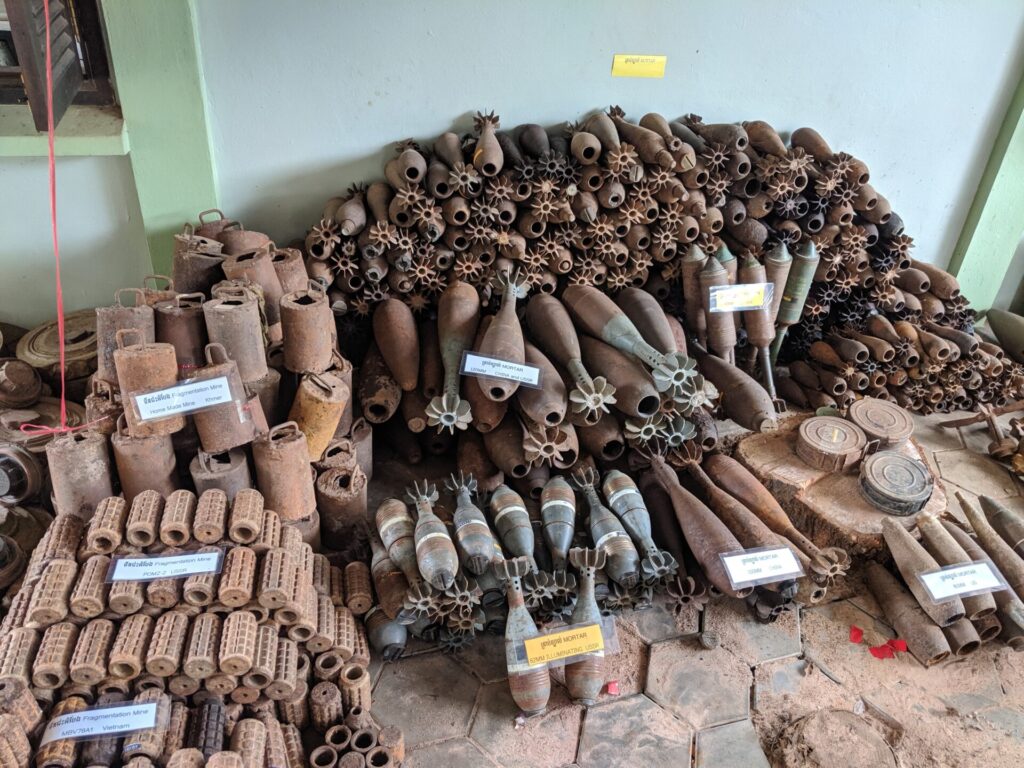 The museum was interesting and sobering. It came with an audio guide that narrated descriptions of how the Cambodian people have been affected over the decades and still continue to suffer from mines to this day. At one time, the museum even housed children who were victims of landmines, offering education and therapy. Luckily, this was discontinued a couple of years ago due to a lack of need.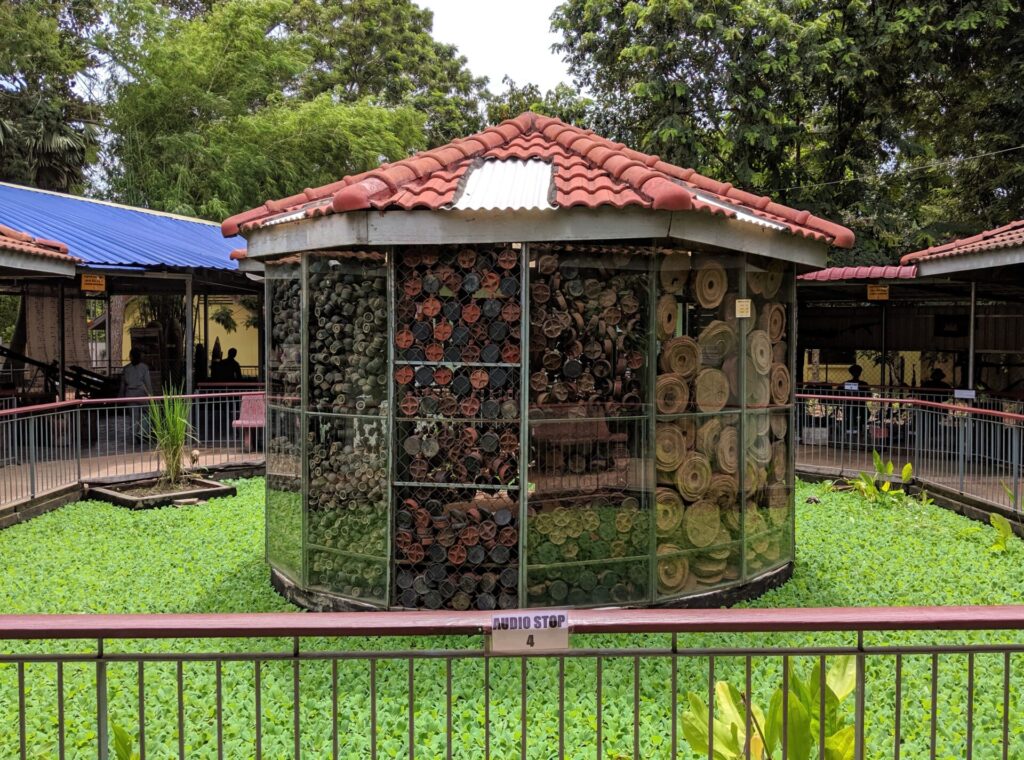 On the way back, we stopped at the Banteay Srey Butterfly Centre, named after the temple further up the road. Here, we were able to shake off our somber mood and enjoy a guided tour and many unique species. We learned that butterflies only live for about a week, so a year round butterfly center like this one needs to keep a constant supply of larva in order to be continually stocked with butterflies. For this, the center enlists the help of local farmers allowing them to make a consistent living.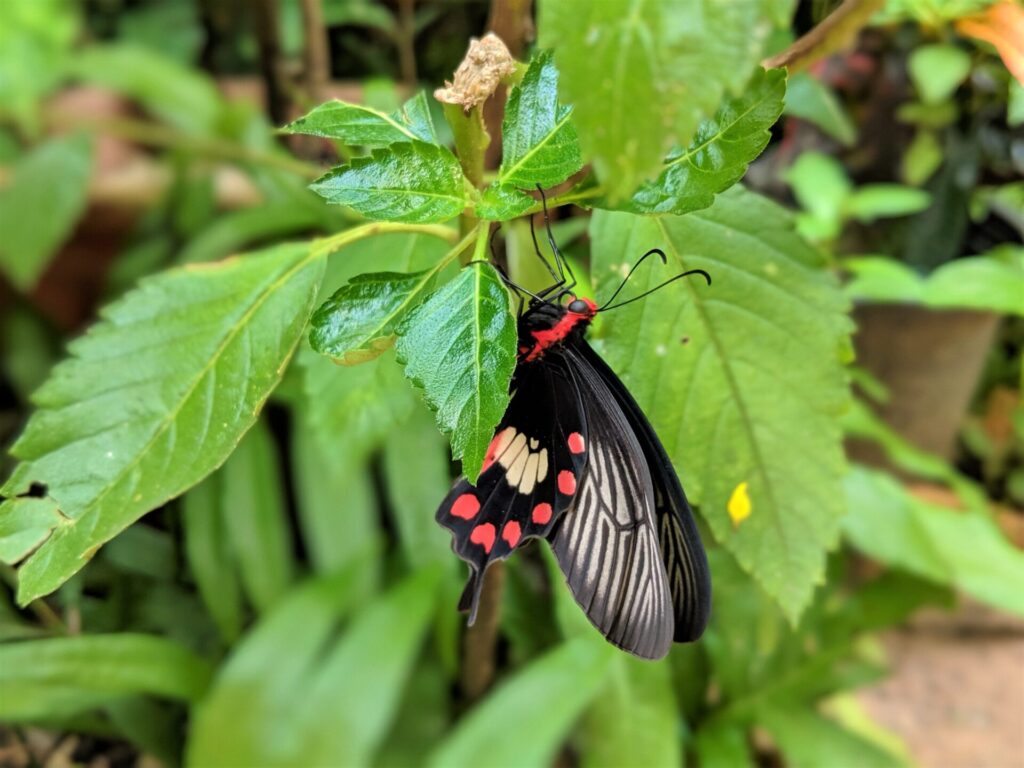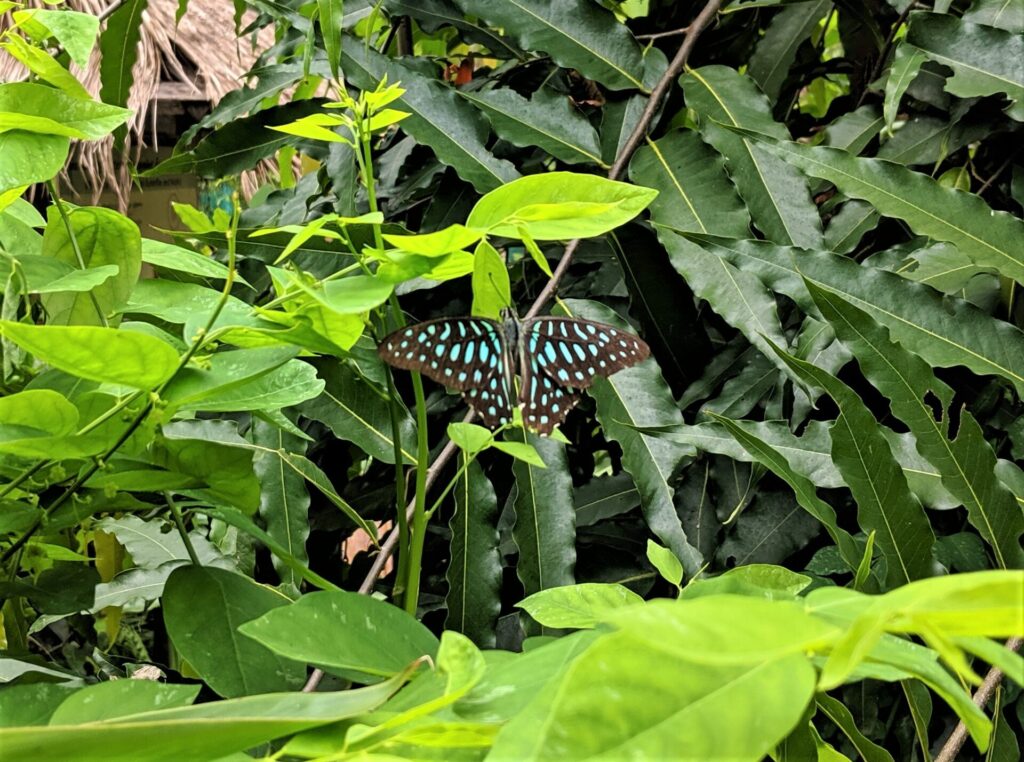 One note about visiting the Banteay Srey Butterfly Centre is that it needs to be experienced with good weather. Visits on rainy days wouldn't be worth it as the butterflies will hide during the rain. We had an overcast day, which meant that the butterflies were out and about, but not as active as if it was a sunny day. Judging from reviews we read before visiting, we thought it would be a decent stop after a somewhat depressing museum, but it was way better than decent. We thoroughly enjoyed our stop at the butterfly centre.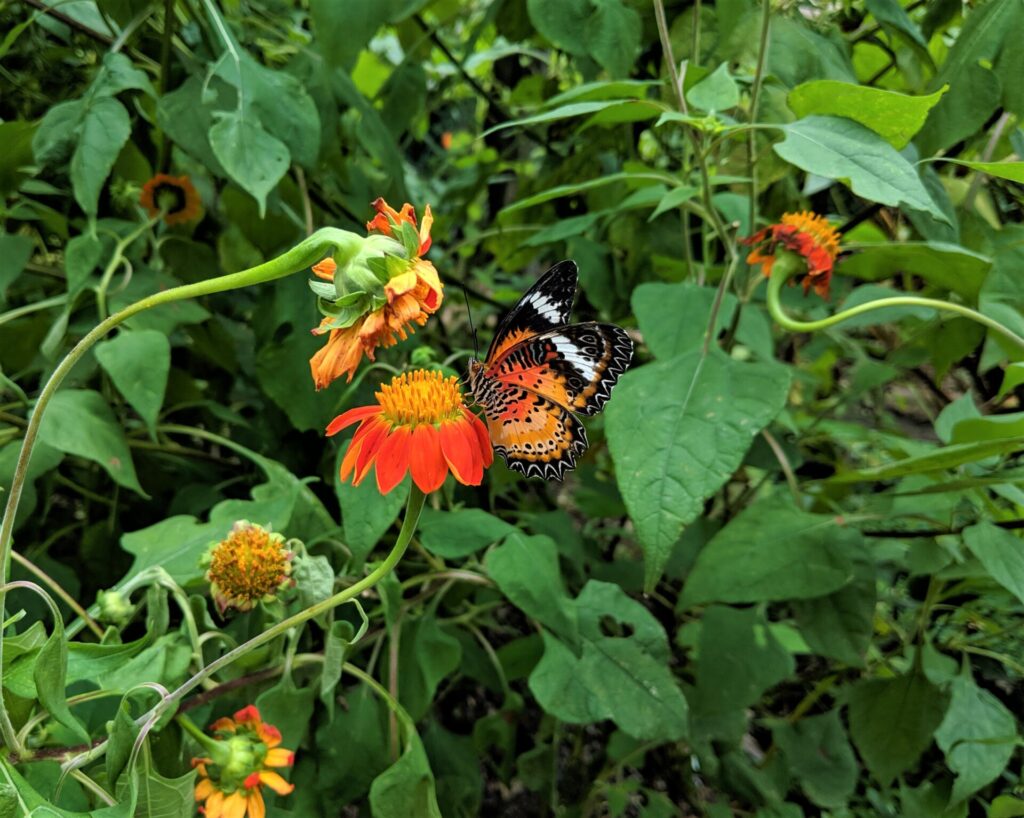 Overall, we liked Siem Reap a lot. There is a very high level of English spoken throughout the city, making for very easy communication. Cambodia has their own currency, but it's used in combination with the US Dollar, so the money was familiar. The ATM even spits out Ben Franklins, which I was not expecting. But we didn't need too many of those because aside from the Angkor Pass, everything is super cheap. While the interactions with overzealous sellers were a little annoying, they can be avoided, and of course, nowhere is perfect. Siem Reap is a pleasant small city filled with lots of trees and green spaces and I'm certain we'll return again at some point in the future.