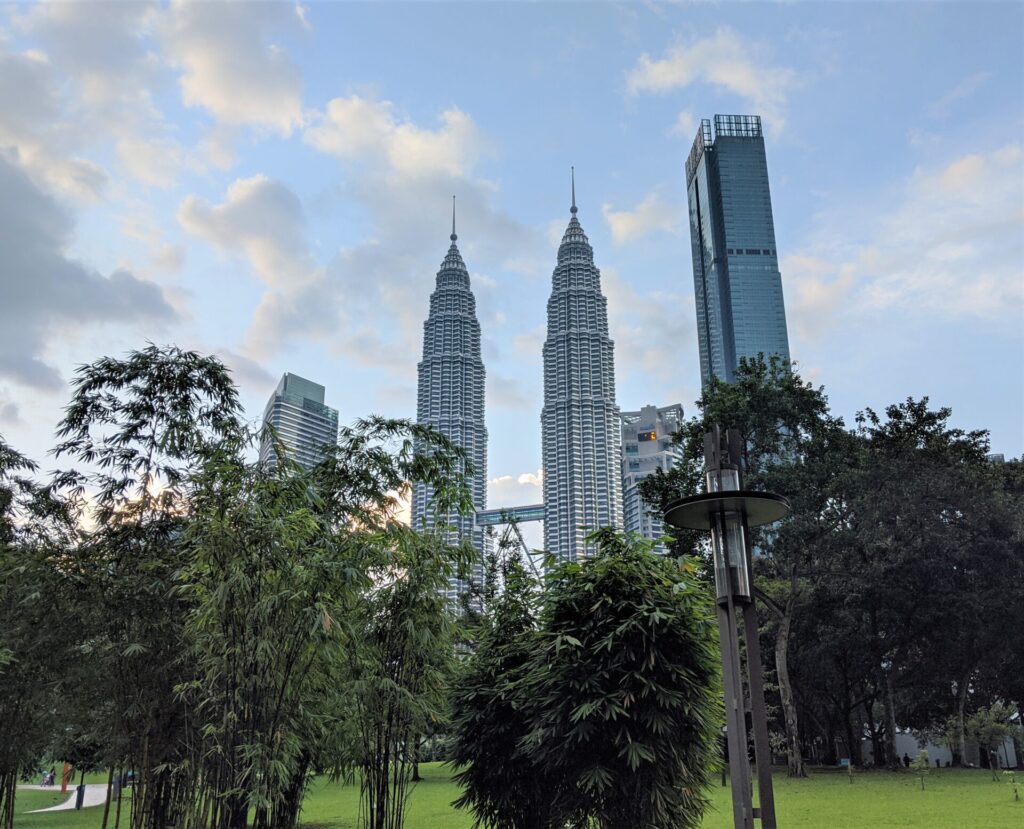 Kuala Lumpur is a cosmopolitan city with a green twist. The downtown area could be mistaken for Chicago or New York at first glance. It's full of tall buildings, trendy shopping, and plenty of traffic. Yet despite the gigantic skyscrapers of glass and steel, nature still exists here. The sidewalks often pass by huge trees that were here before there was concrete or asphalt surrounding them. The tropical climate means that everything grows fast while frequent rains keep things clean and green. It's a city that was literally carved out of the middle of the jungle and it shows.
Katie and I just spent a month here staying only two blocks from the Petronas Twin Towers, which are right in the heart of the city. It felt great to be back in a major metropolitan city. Large cities almost always have an energetic feeling to them and Kuala Lumpur was no exception. But they also do a nice job of mixing in green spaces to help combat the busyness and provide a spot for some downtime. We were more than happy to take advantage of these too.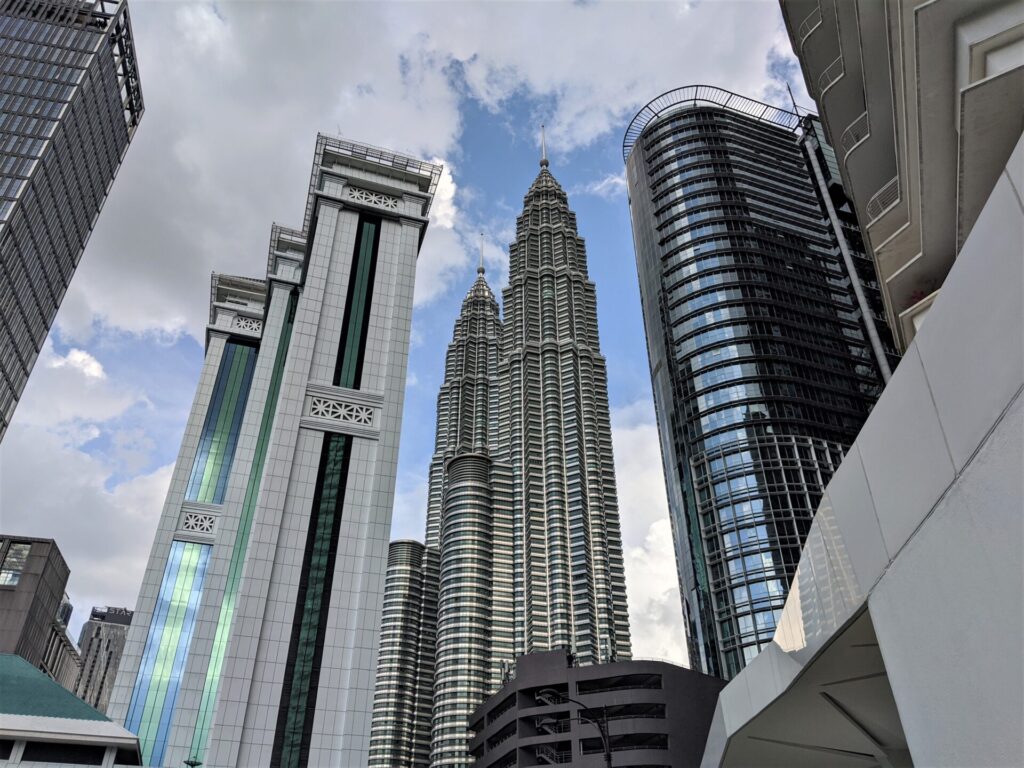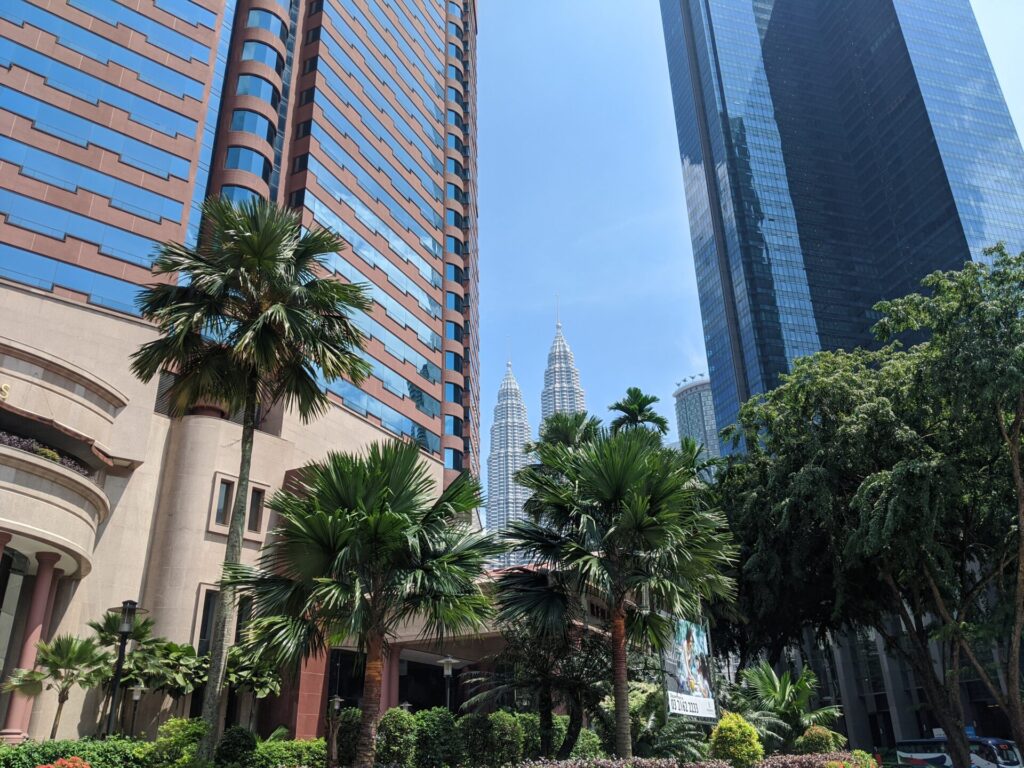 The largest green space in Kuala Lumpur is the Perdana Botanical Garden. This large park spans over 200 acres right in the middle of the city and is full of walking paths through interesting plants and trees. For reference, that's about 5 times the size of the wonderful botanical garden we used to enjoy in San Francisco's Golden Gate Park. We visited this park multiple times during our stay and enjoyed each one. It's also home to the KL Bird Park, which is a giant free-flight aviary that we loved.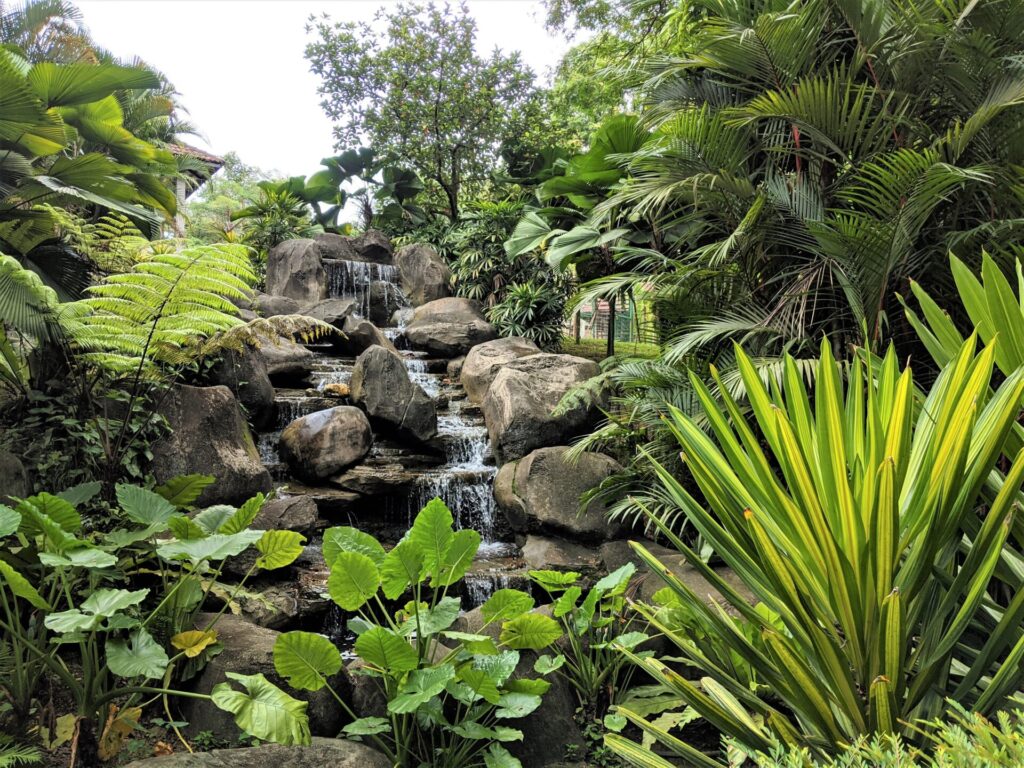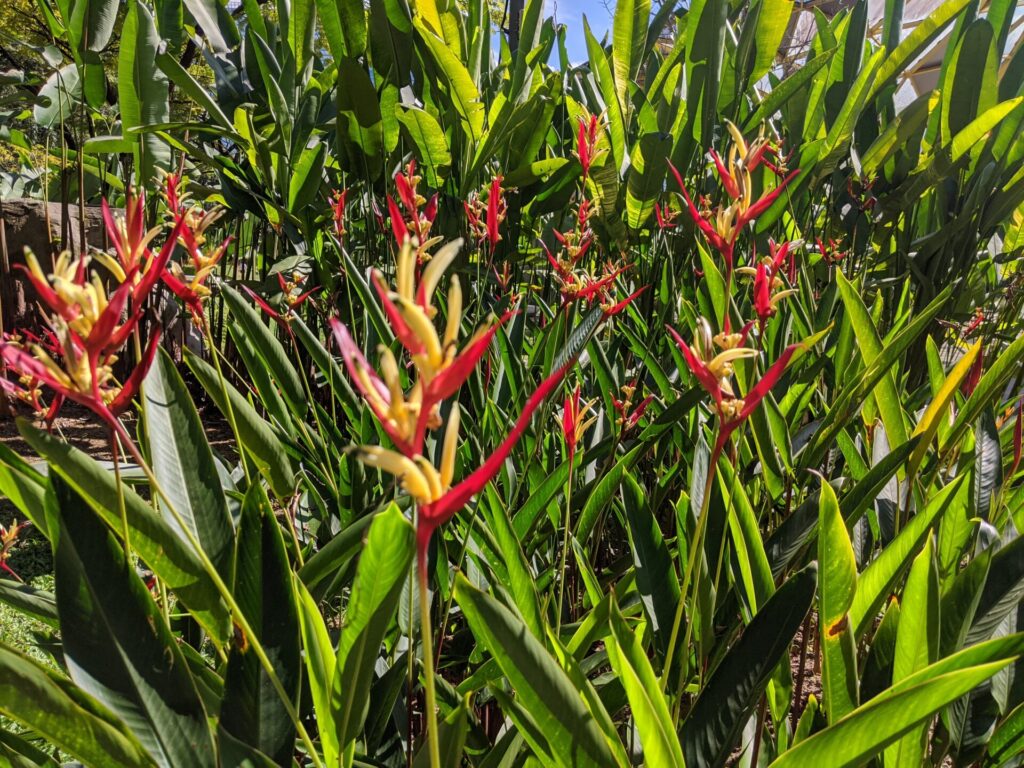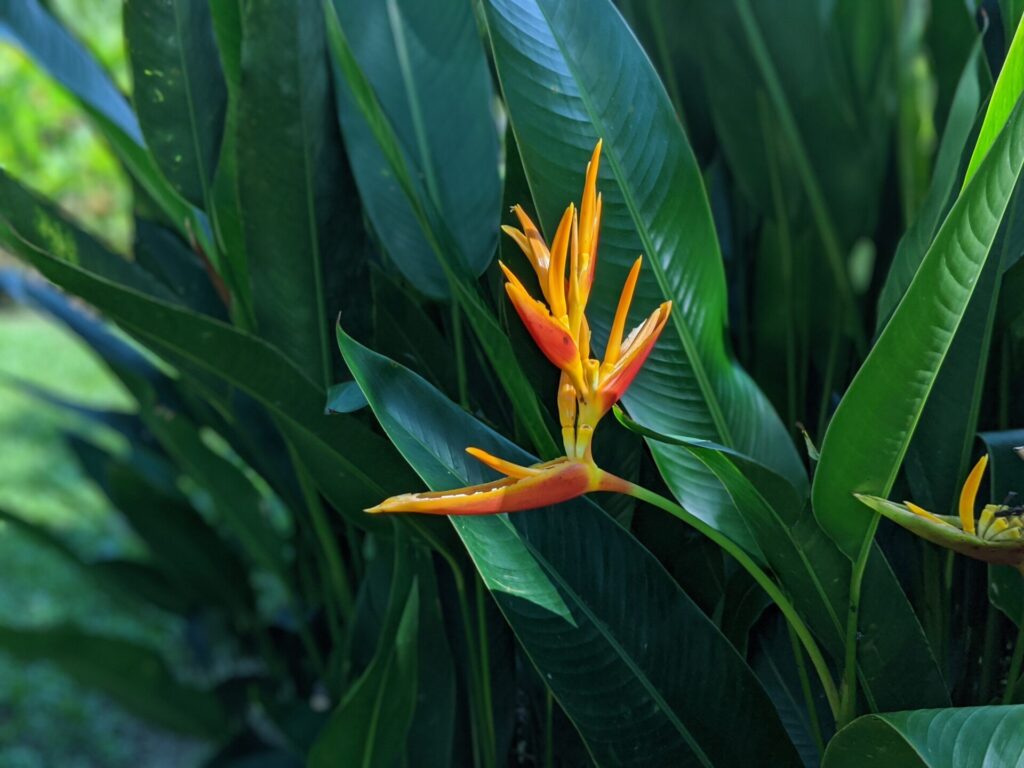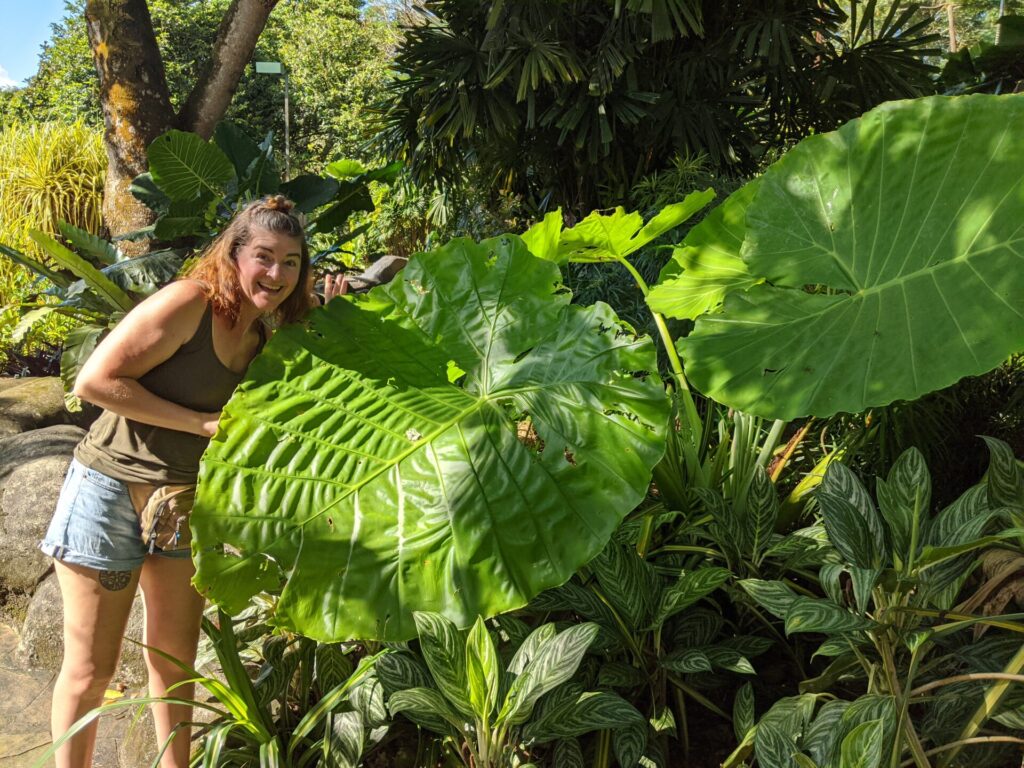 On the south side of the botanical garden is a large lake. This provides some nice viewpoints to appreciate the contrast between the green park and the city surrounding it. The lake has a few paddle boats for rent as well, although we didn't venture out on the water like during our time in Bangkok. On our first visit, we thought we saw one of these orange paddle boats capsized near the water's edge, but as we got closer it turned out to be a school of fish instead. That was a pleasant surprise! We saw lots of other wildlife here too, including a few monitor lizards, some turtles, lots of birds, and a couple of monkeys from a distance.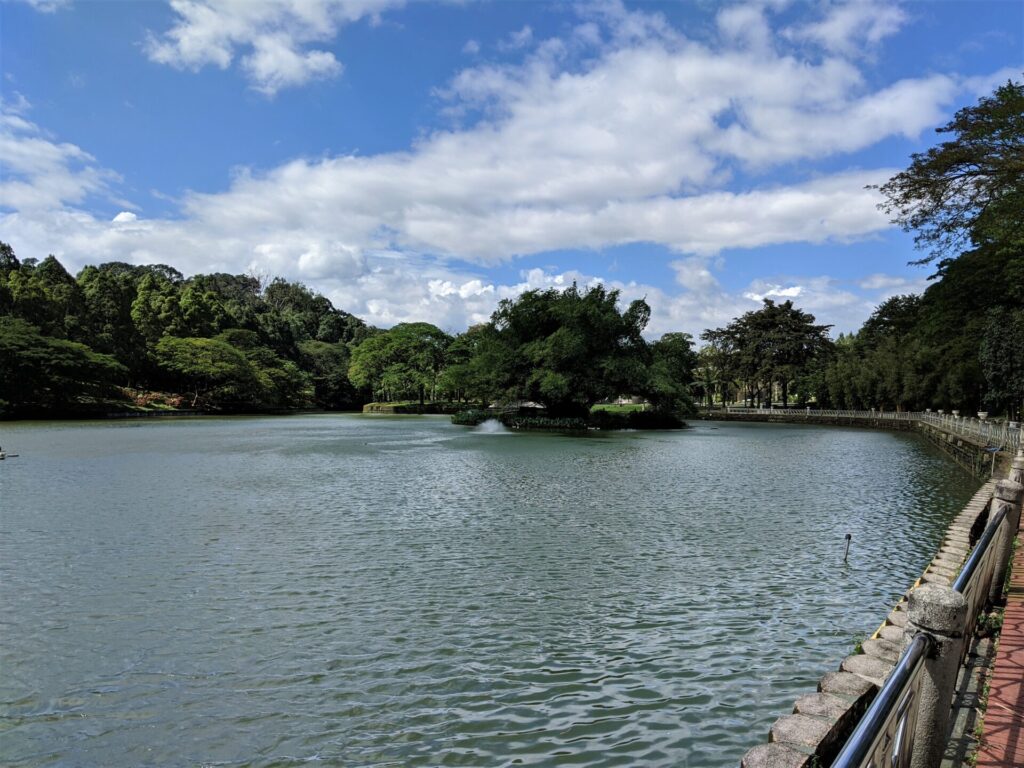 There are a number of themed areas of the botanical garden to explore as well. The sunken garden looked quite cool. They have a bamboo playhouse that's fun for kids of all ages. There is an herb garden featuring numerous medicinal plants. And even though half of it was closed for maintenance, the section named The Conservatory had lots of interesting plants and trees. Wandering through the park is a great way to spend a day.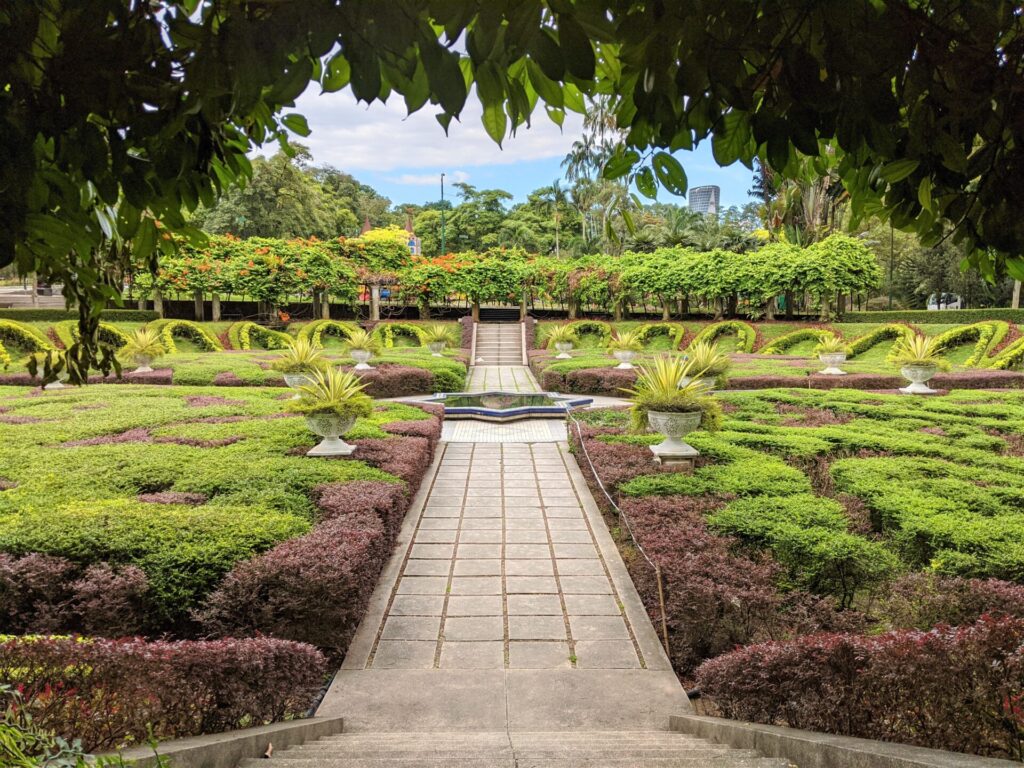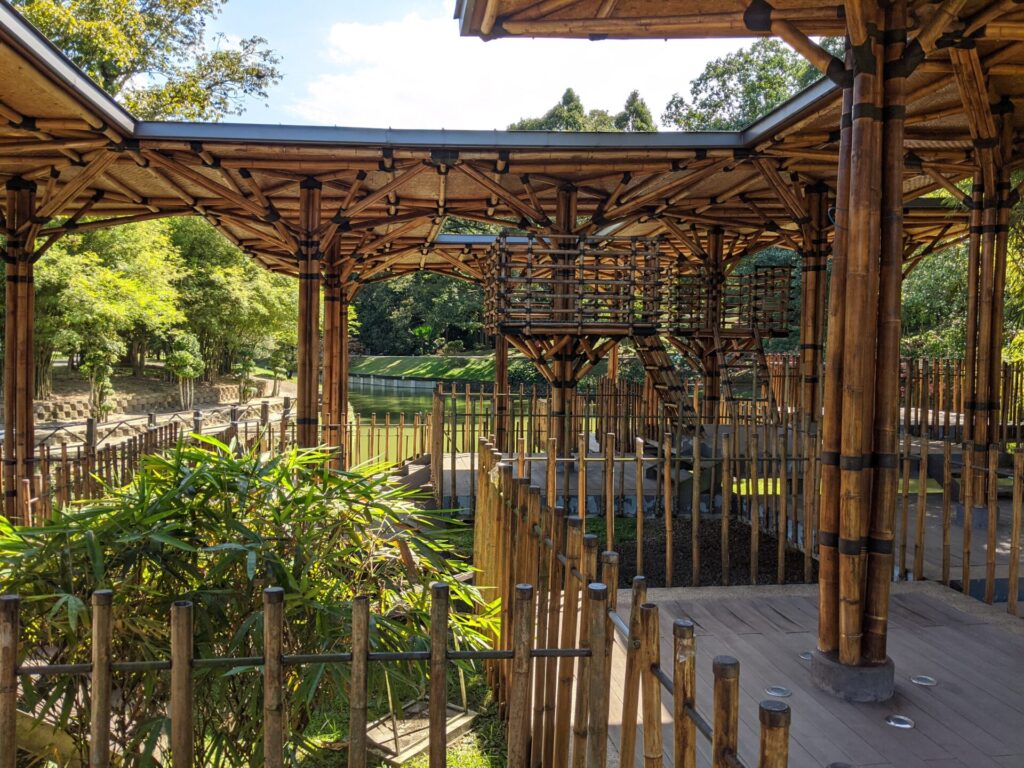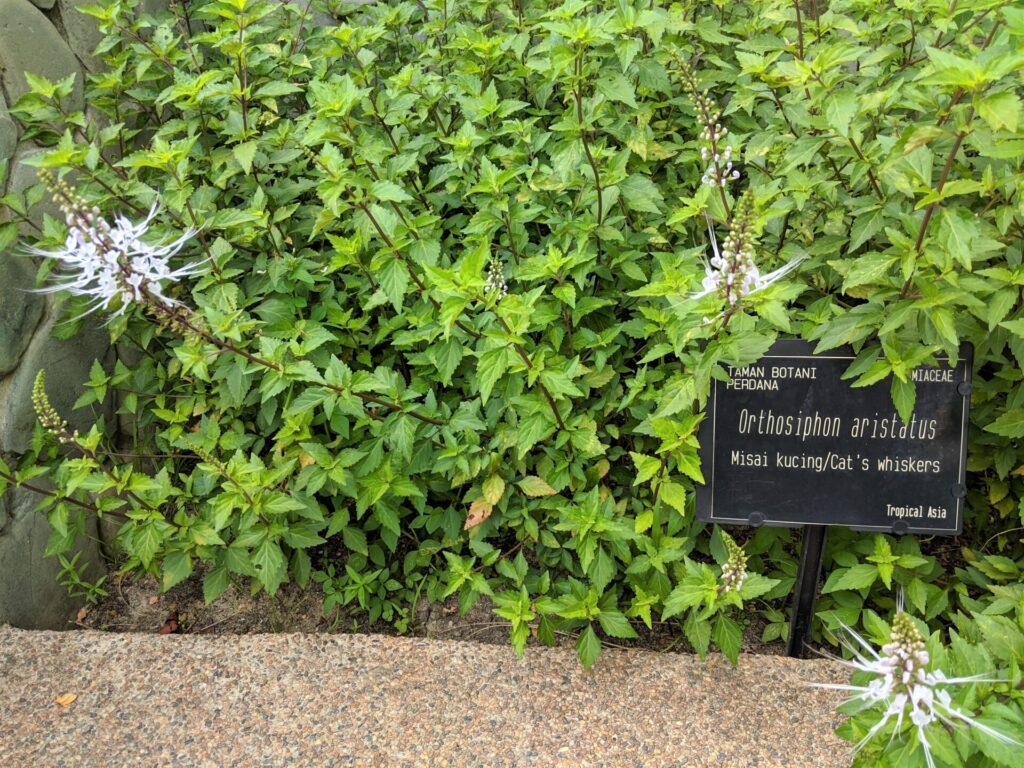 Across the street from the north edge of the botanical garden is a sculpture garden and war memorial. There are a dozen or so sculptures from different artists that represent themes like peace or prosperity. On the hill above the sculptures is a giant war memorial dedicated to Malaysians who fought the British in 1945. It's a spot that tour buses like to stop, so it can get pretty crowded at times. But it's still a nice view.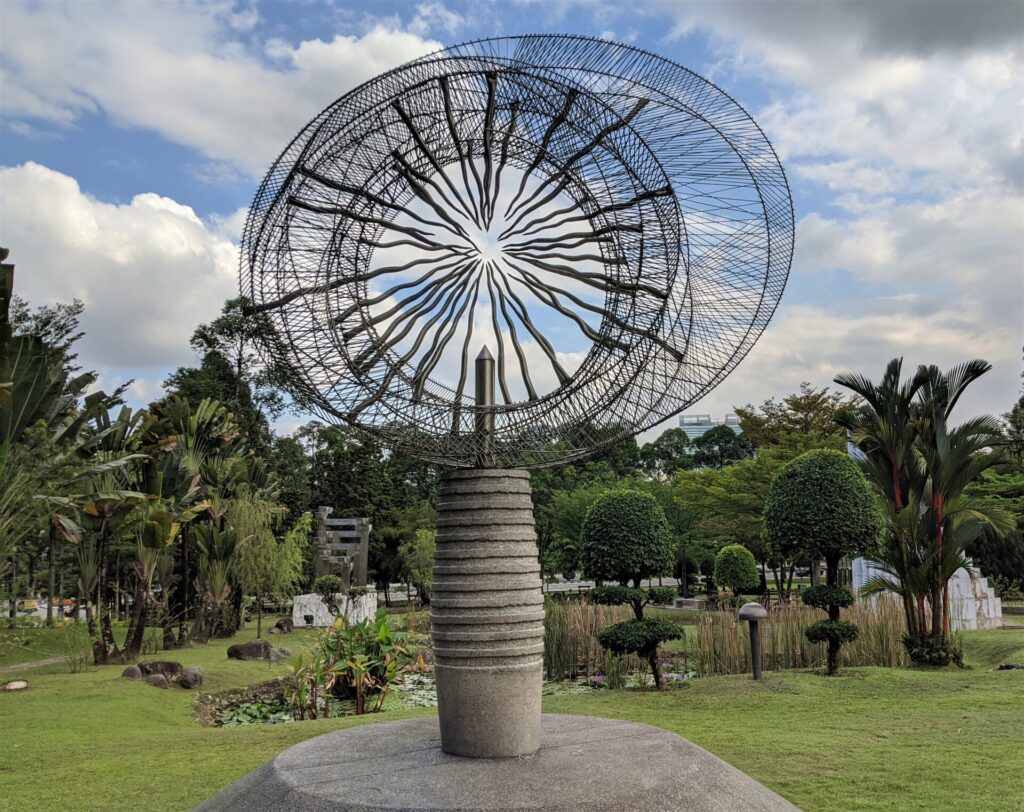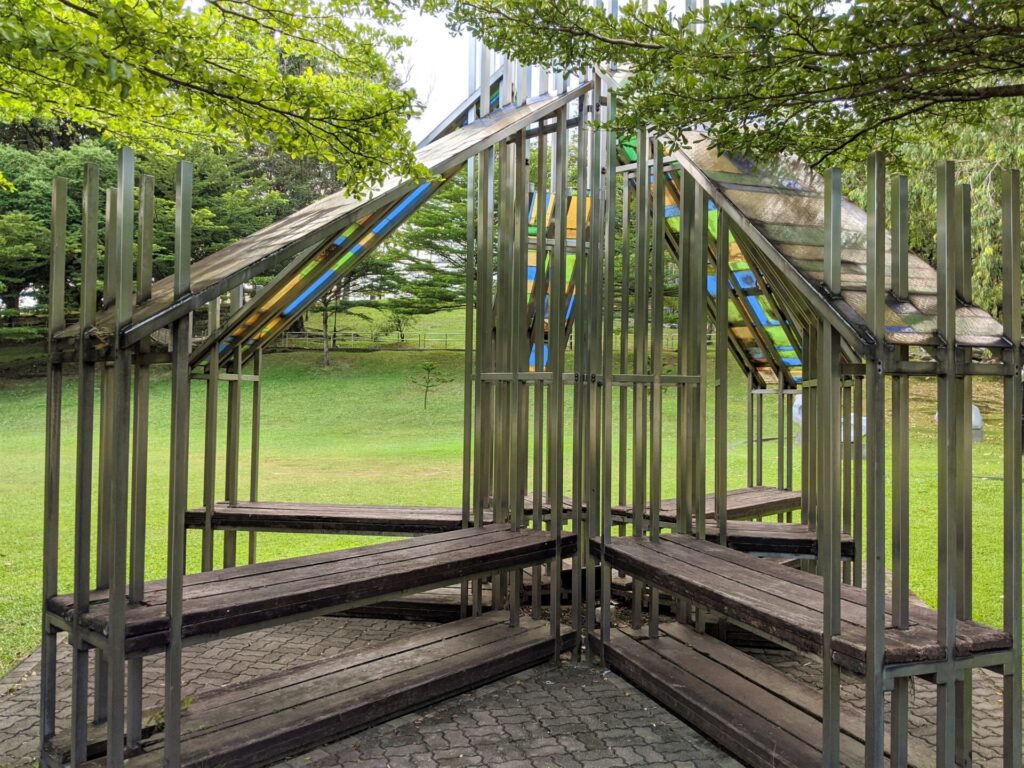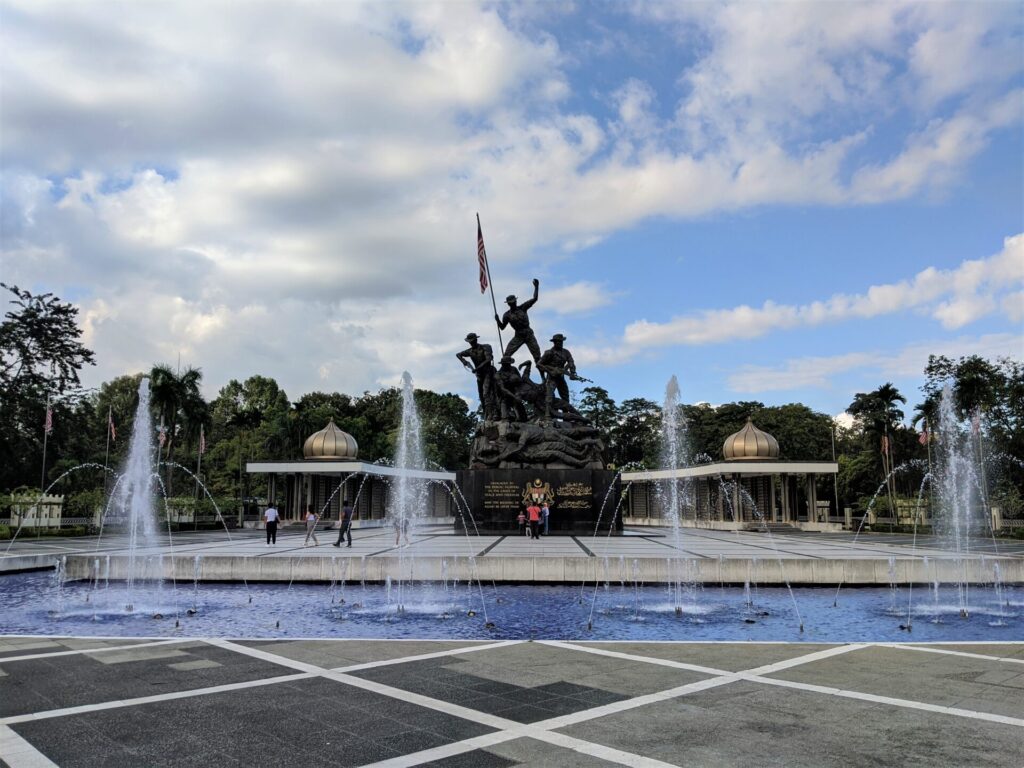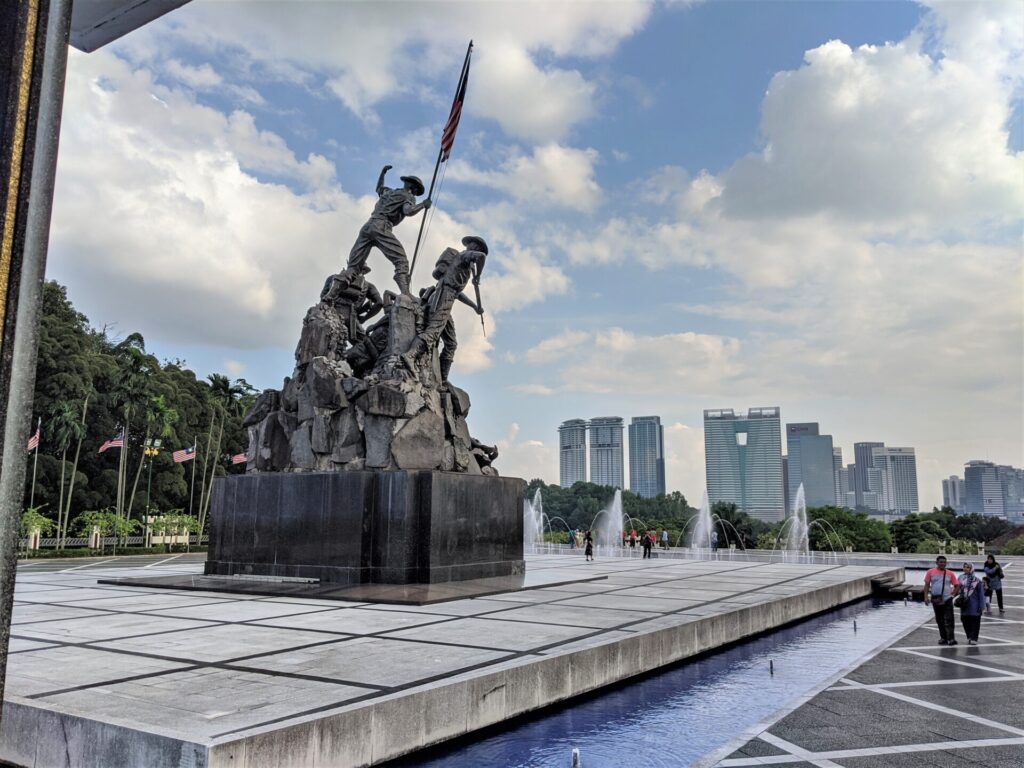 Closer to home, we also went to the KLCC park. While the botanical garden is more of a natural space, the KLCC park is more of a city park. There are children's play areas, man-made rivers, jogging paths, and it's all surrounded by skyscrapers. This provides a lot of nice views, especially of the twin towers. It feels like a mini Central Park. There's also a large fountain with a light show each evening around dusk. This attracts lots of people, and while pretty, we found it a bit underwhelming and left after about 10 minutes. I think it needed music or something to jazz it up a bit.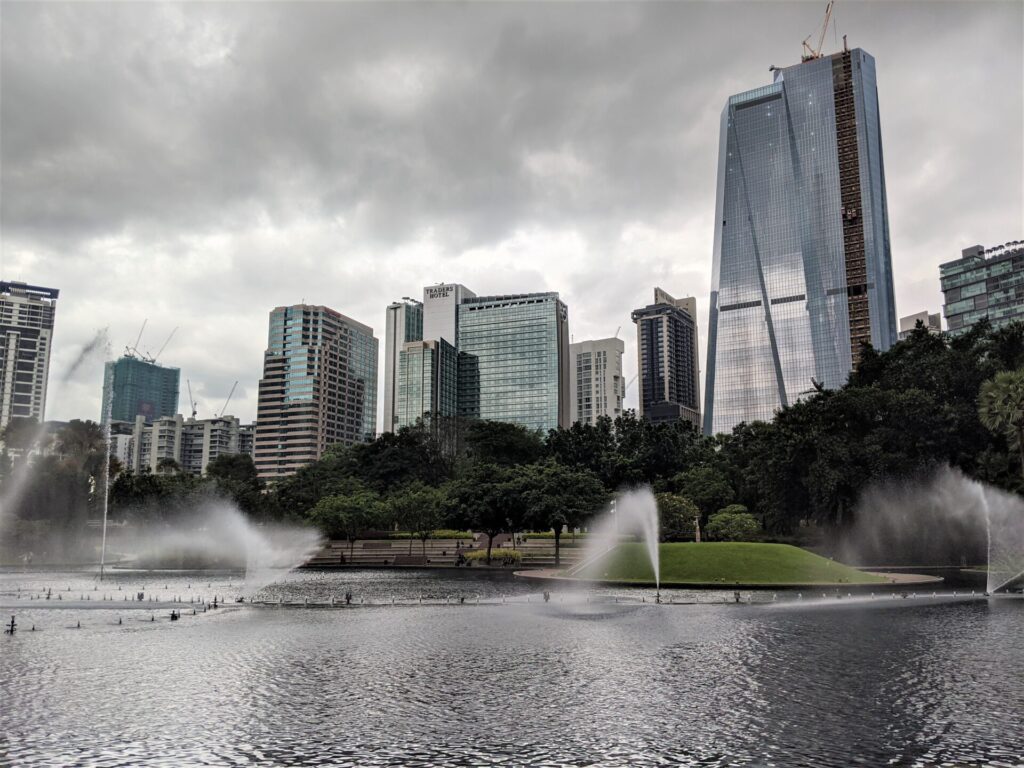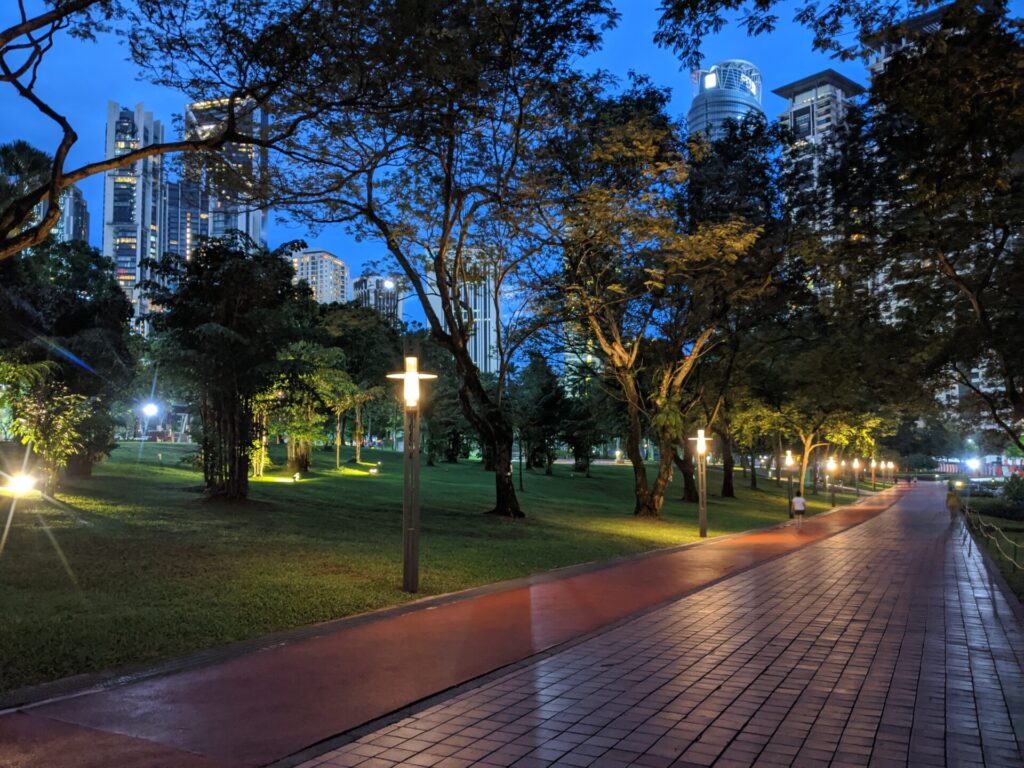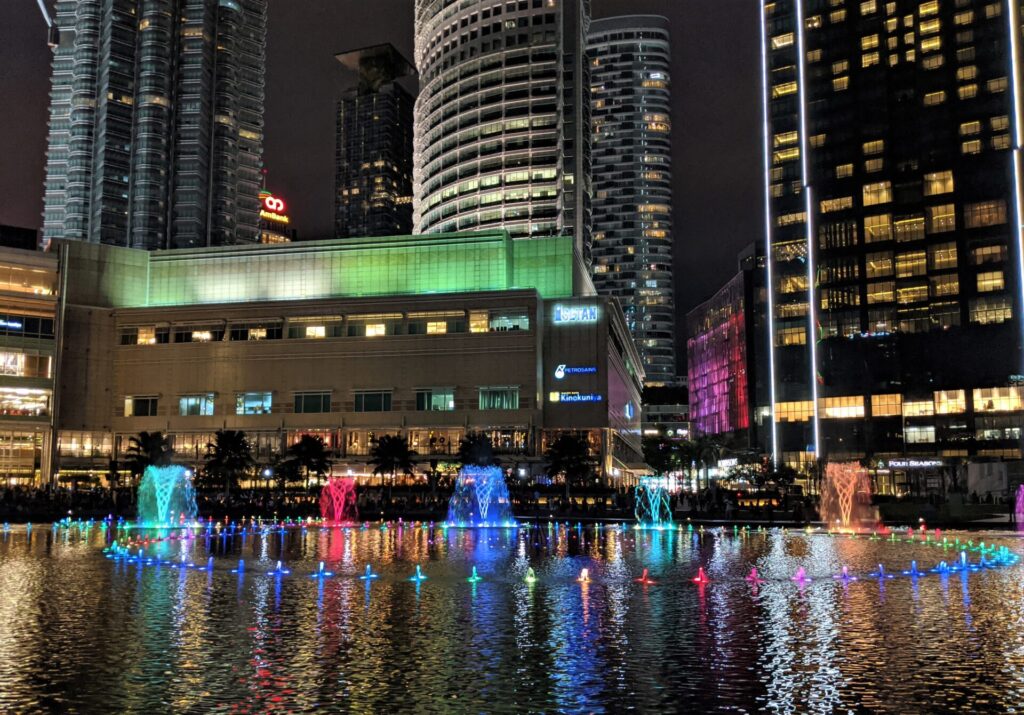 It wasn't just parks where we found beautiful green things. We found an enormous produce market that we visited often. The Chow Kit market is filled with hundreds of vendors selling meat, fish, fruits, vegetables, and spices. I think it's the largest one I've ever been to. We enjoyed shopping here so much, that we didn't eat at a restaurant until our last day. I think maybe the universe was making up for the lack of market at our previous stop in Malacca. And boy did it ever.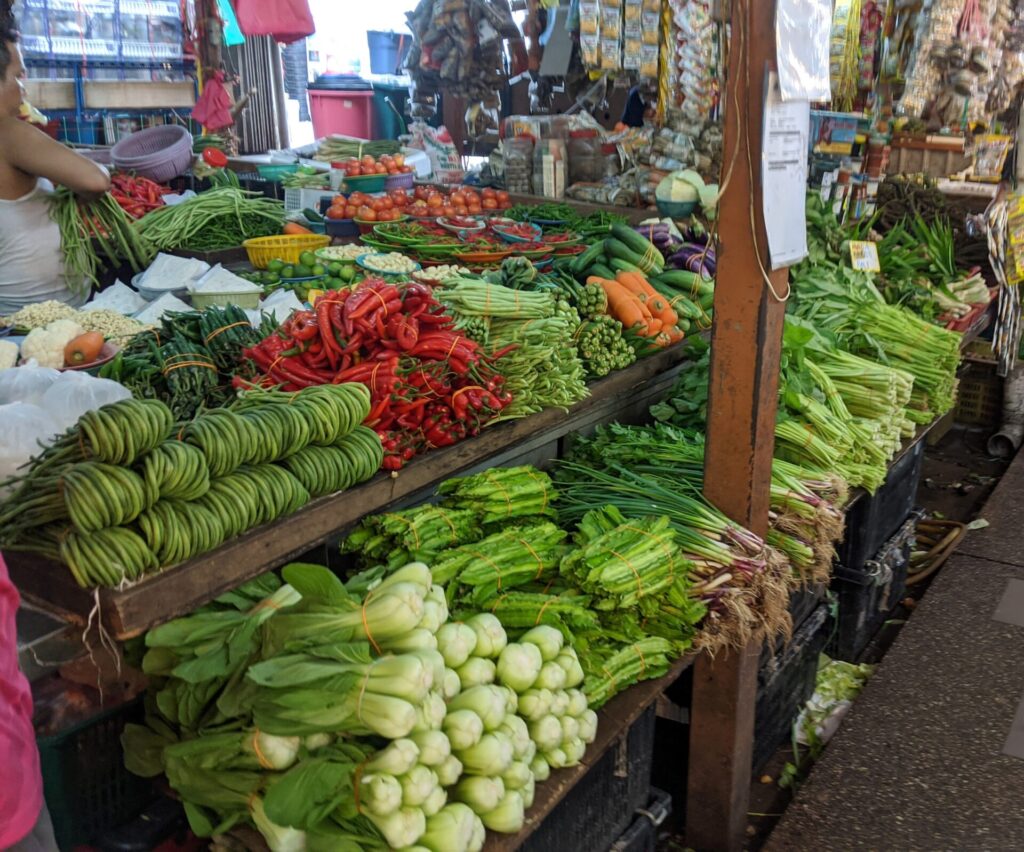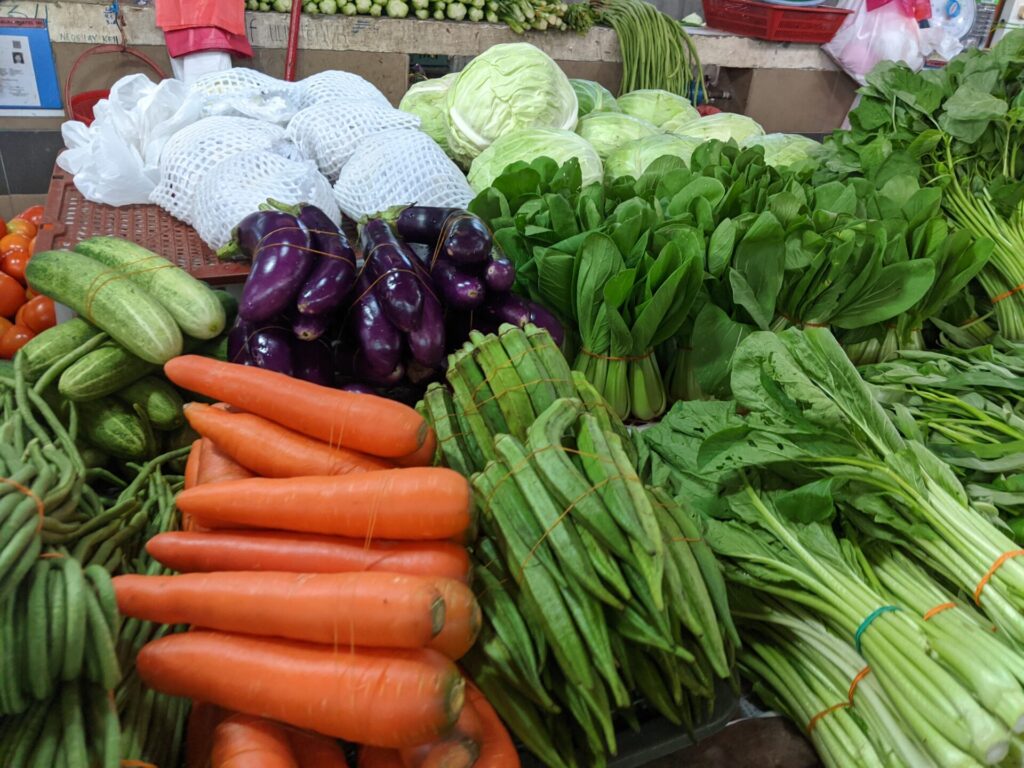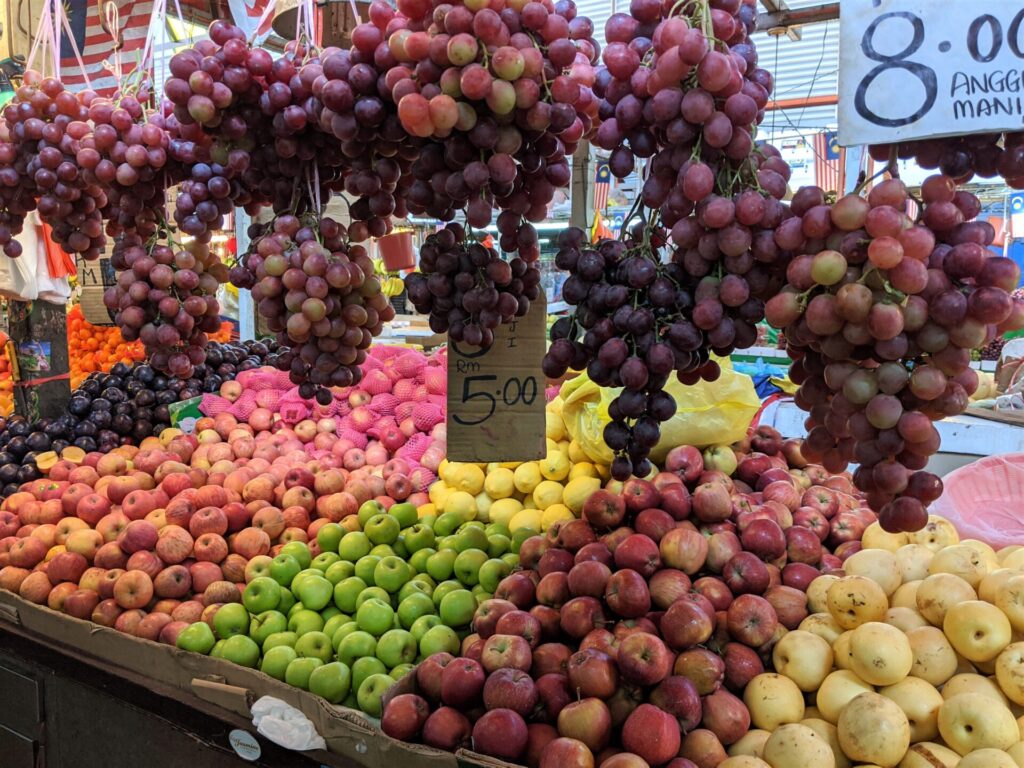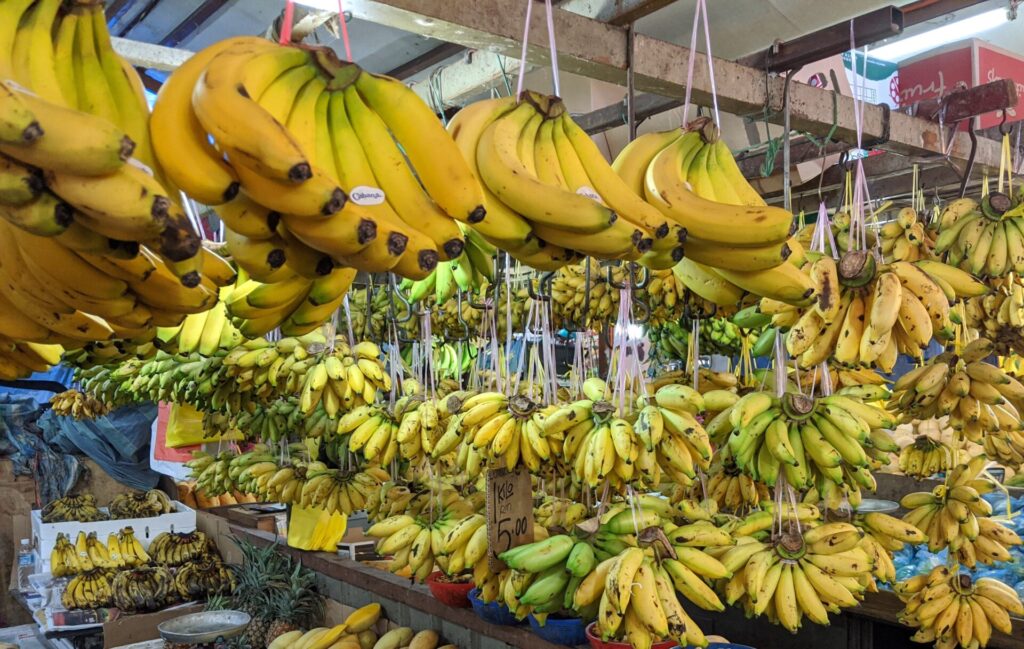 Our stay coincided with the beginning of harvest season for mango and longan. In the blink of an eye we went from seeing a mango or two periodically to seeing overflowing piles of them. Mango rice was back on the menu as we bought a dozen or more. We also ate a ridiculous amount of longan, which I hadn't really had much until KL. They are similar to lychees, with white juicy flesh surrounding a smooth brown pit, but not as perfumey or delicate. Multiple vendors had huge piles of freshly trimmed branches overflowing with these luscious pods. In fact, we bought and consumed 7 kilograms during our stay. That's over 15 pounds! About half of those were eaten immediately after purchase while strolling back from the market. It was certainly a tasty way to lighten the load during the walk home.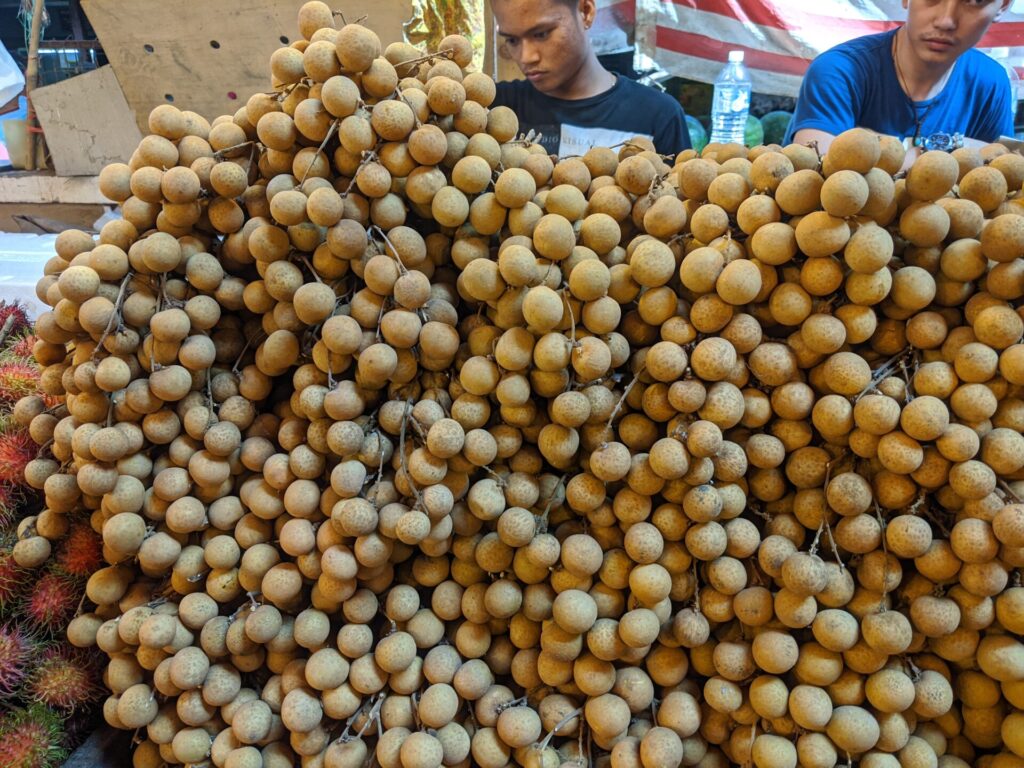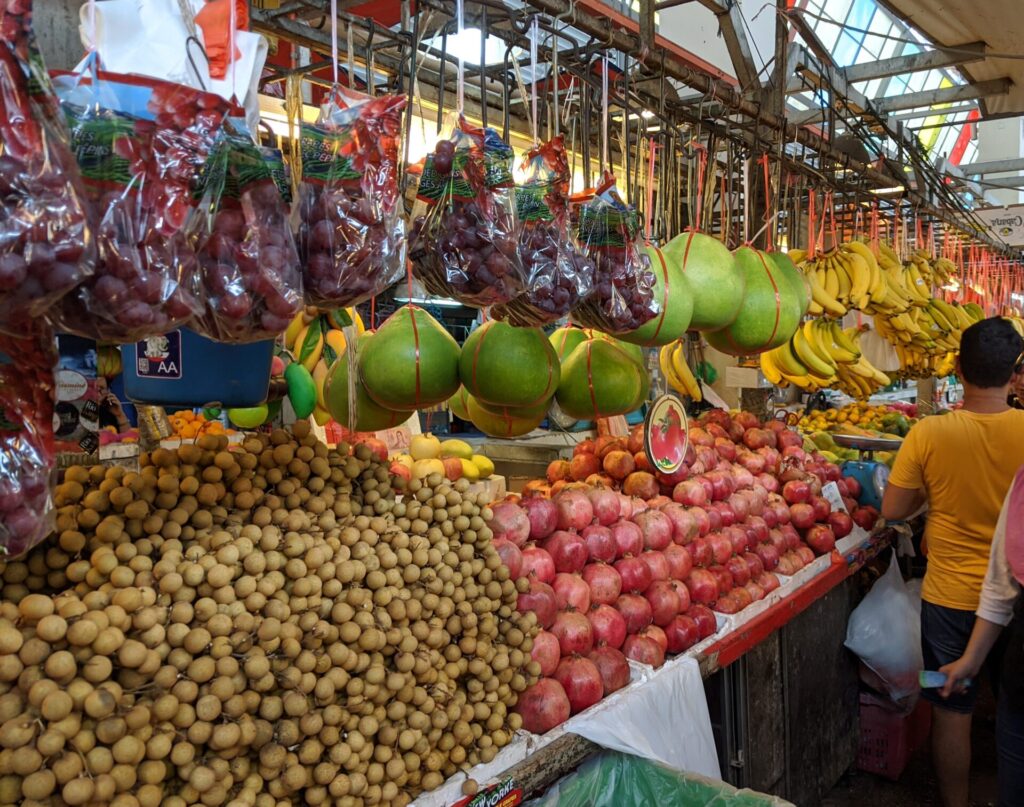 National Textile Museum And (A Lack Of) Batu Caves
We've been enthralled with all of the gorgeous batik fabrics that are abundant throughout Malaysia since we landed in Penang almost three months ago. We loved their Batik Painting Museum and spent a lot of time just browsing textile markets and viewing all of the wonderful patterns. Kuala Lumpur has a National Textile Museum that explores this even further, displaying the steps needed to create these beautiful fabrics. Our visit also coincided with a special exhibit that highlighted part of a personal collection from an arts professor who had dedicated his life to the study and propagation of the batik style. It was quite stunning and the best part of the visit.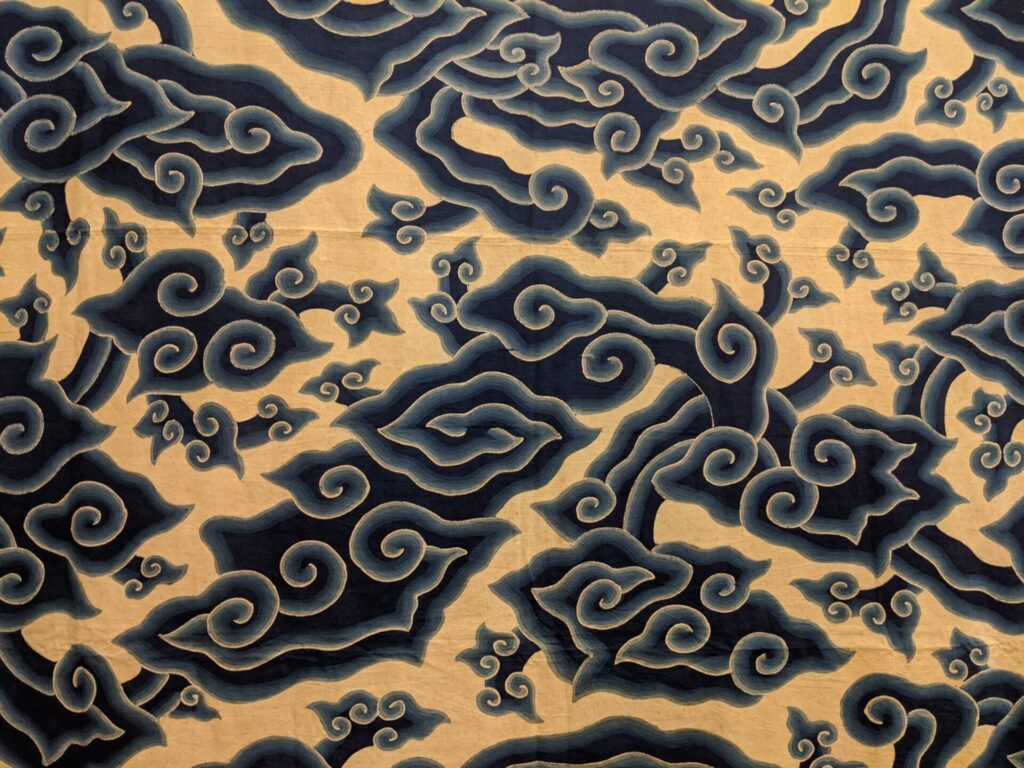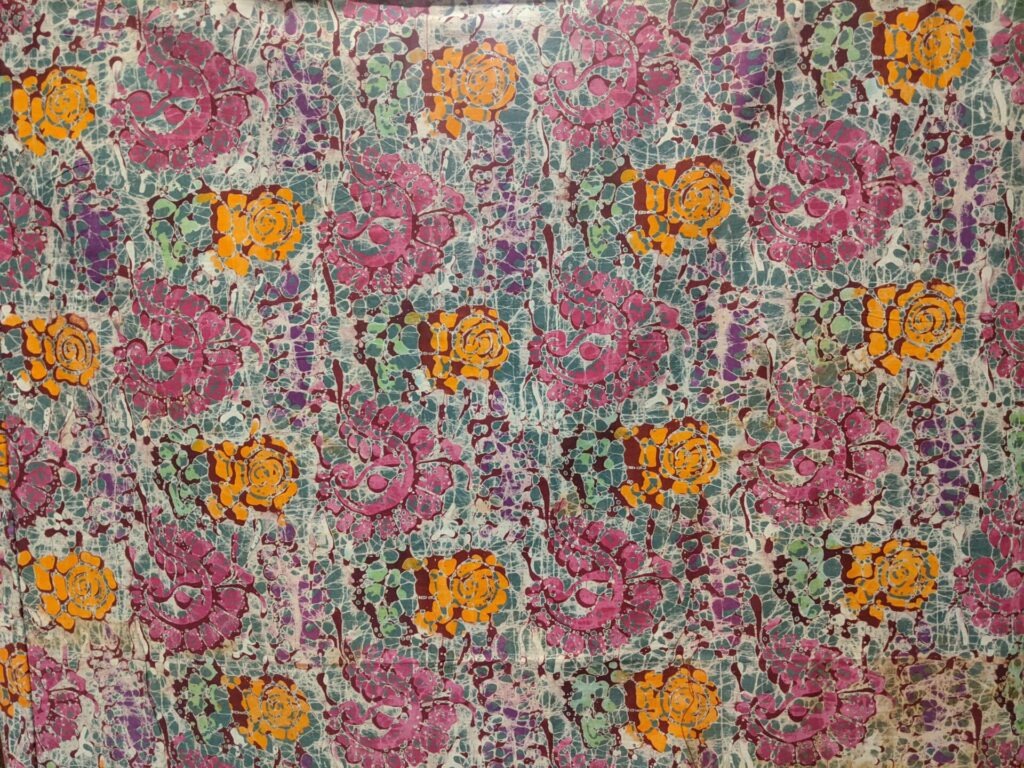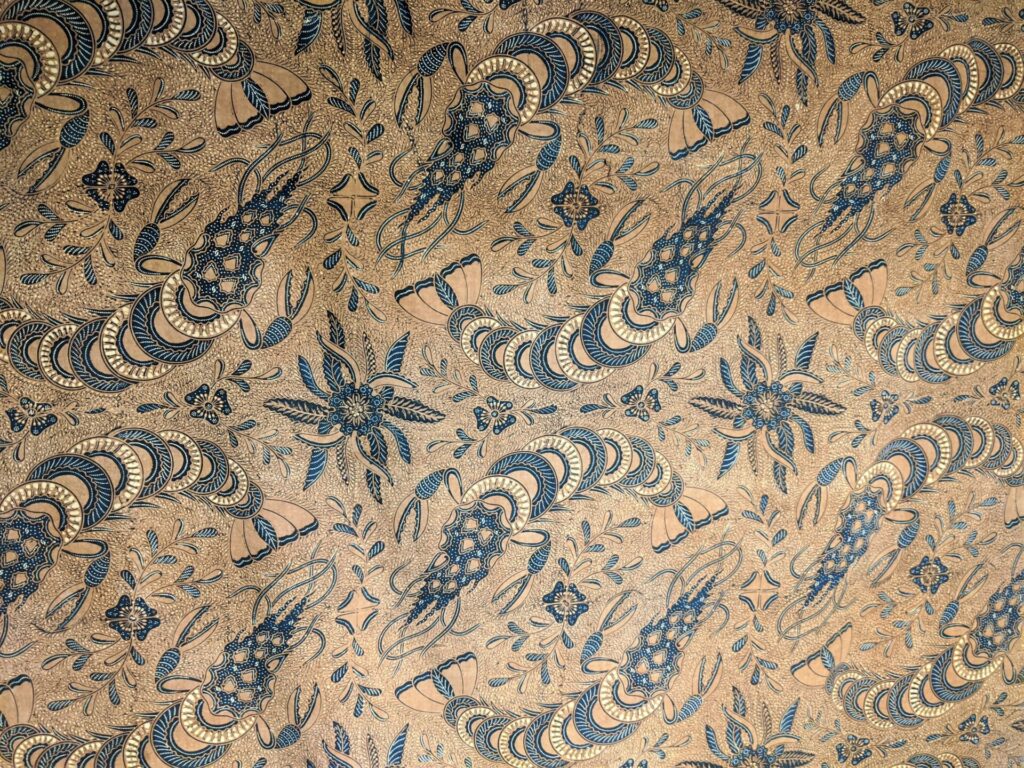 Despite staying for a whole month, we somehow missed seeing the Batu Caves, which is probably the main tourist attraction. It consists of 272 colorful steps that ascend into a large mouthed cave that has a temple inside. There are other statues and temples in the immediate area as well. Sometimes I think we are the only people that could spend 30 days in a place and still miss the top thing to see. It's entirely possible that we are the most boring globetrotters in the history of the world.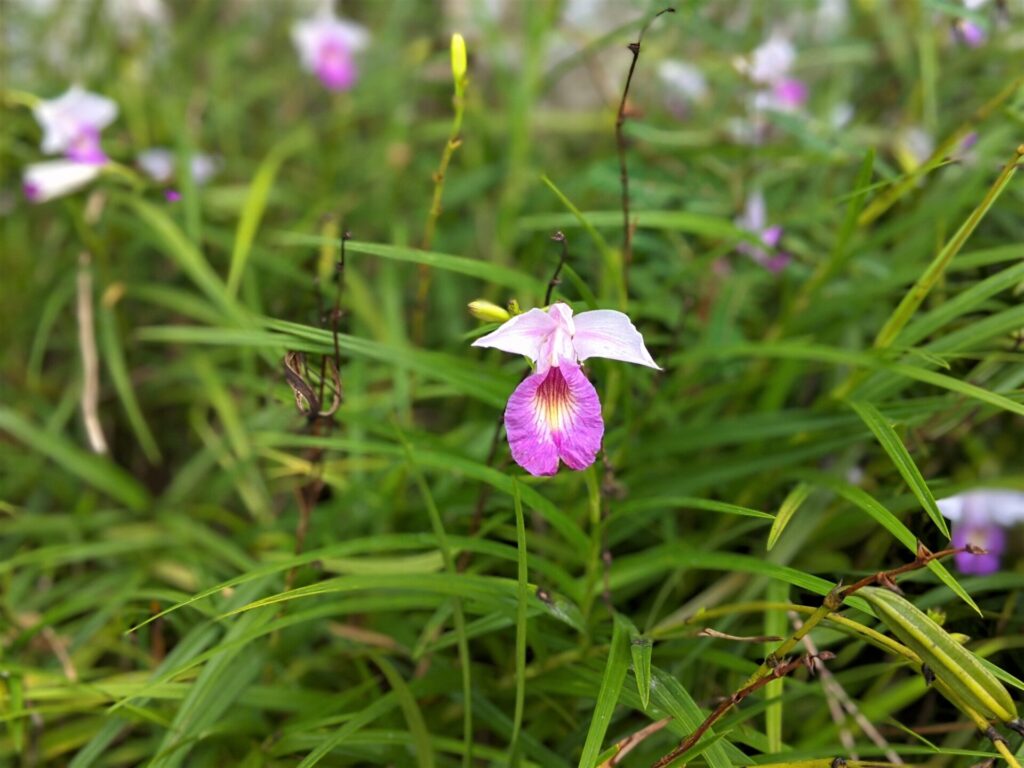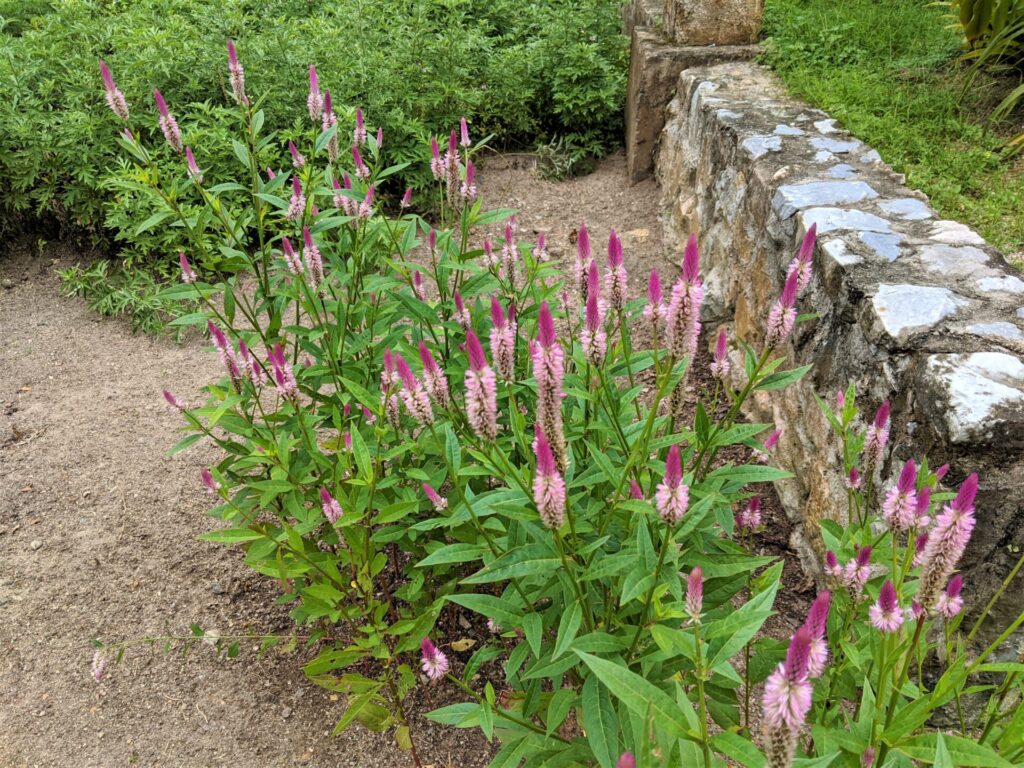 Early in our stay, we had other priorities like exploring the city neighborhoods by foot and visiting the botanical garden and KL Bird Park. Those took precedence over taking two trains to the outskirts of the city. It always felt like we had plenty of time to make it up there. But we were lulled into a false sense of security by the wonderful weather we had for the first three weeks. It only rained all day one time. We would often get afternoon showers, but they were scattered and easy to work around. And then for our last week, it rained all day most days. It doesn't seem like a place to visit in the rain because of all the steps that must be climbed to get there. Oh well! There's always next time. At least we went to the parks.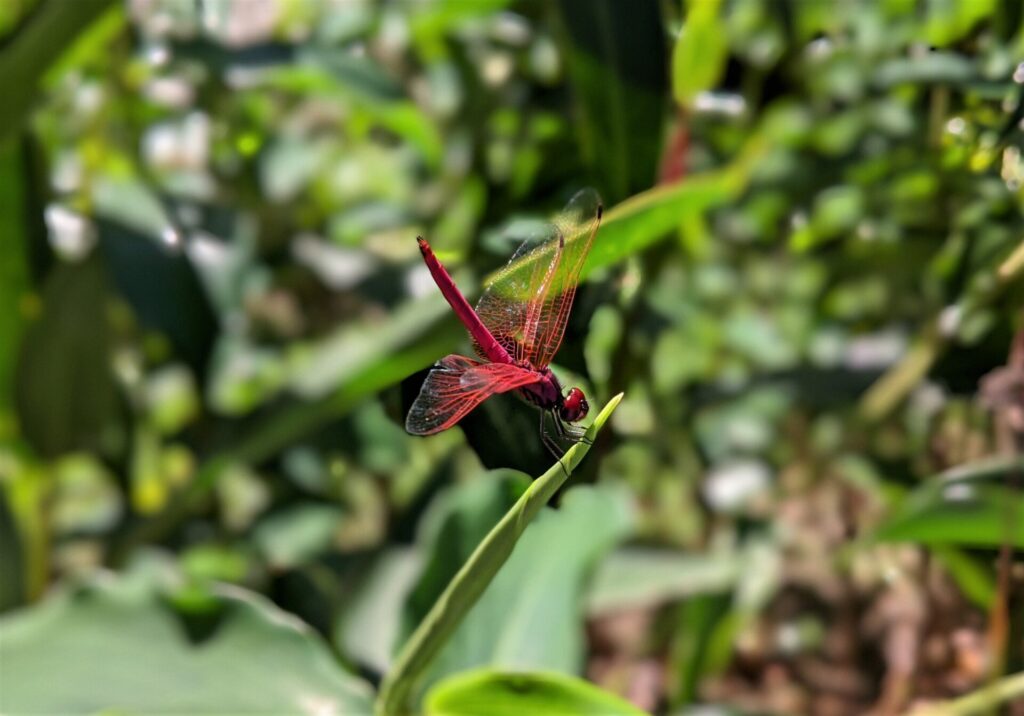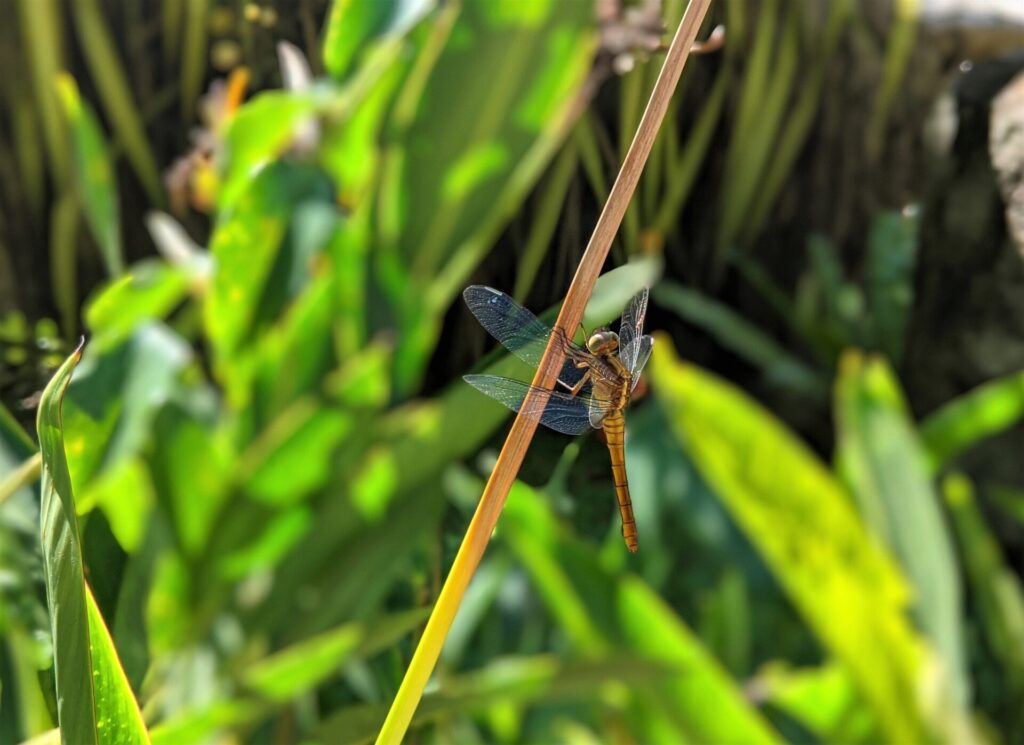 Where We Stayed
We rented an excellent apartment in a high rise building only two blocks from the Twin Towers and the KLCC park. It had nice city views but we were high enough up that the traffic noise was muted. And the bed was one of the best we've had yet, so we slept well. Being located in the middle of downtown, we had easy access to everything we could need, including many shopping malls.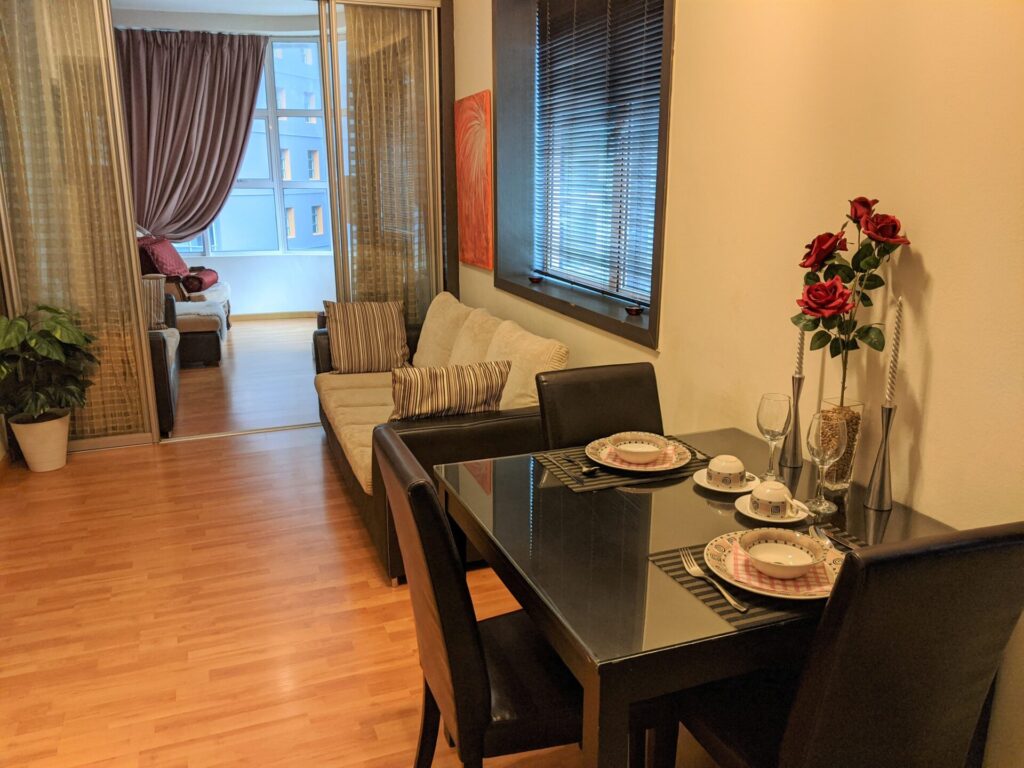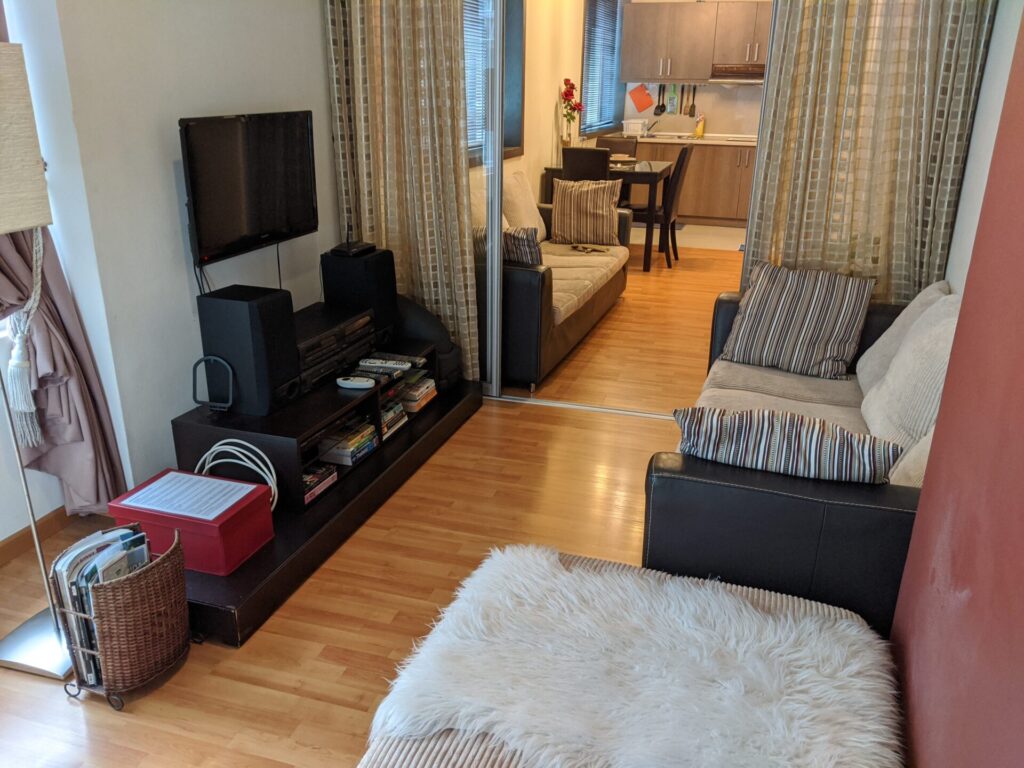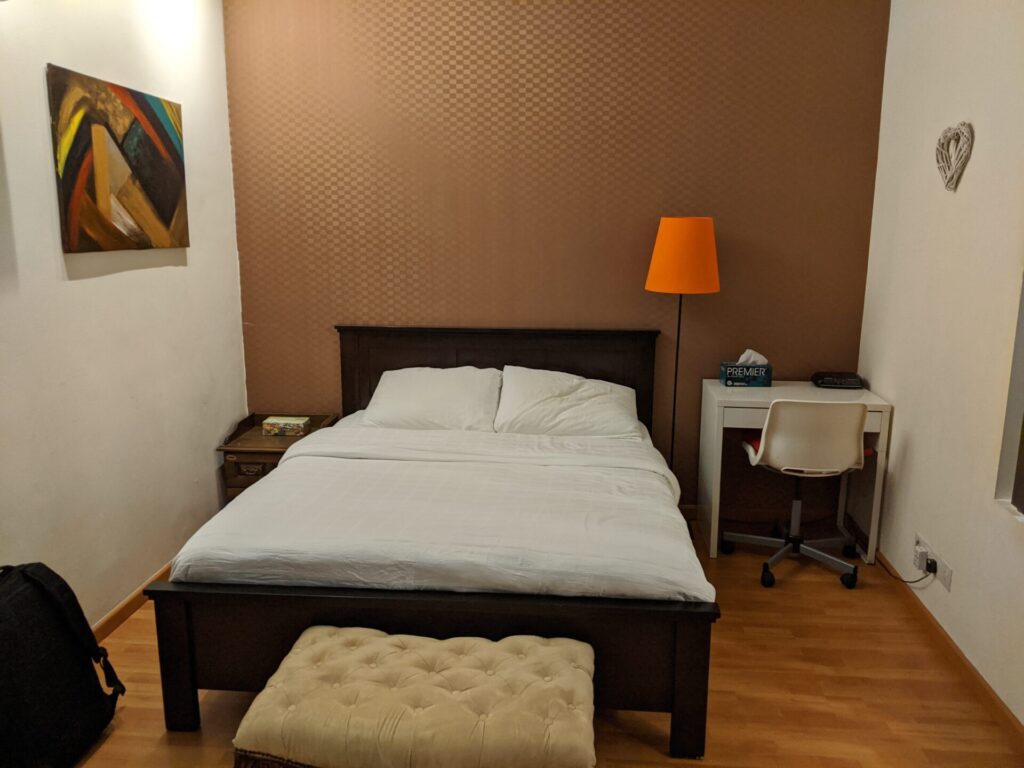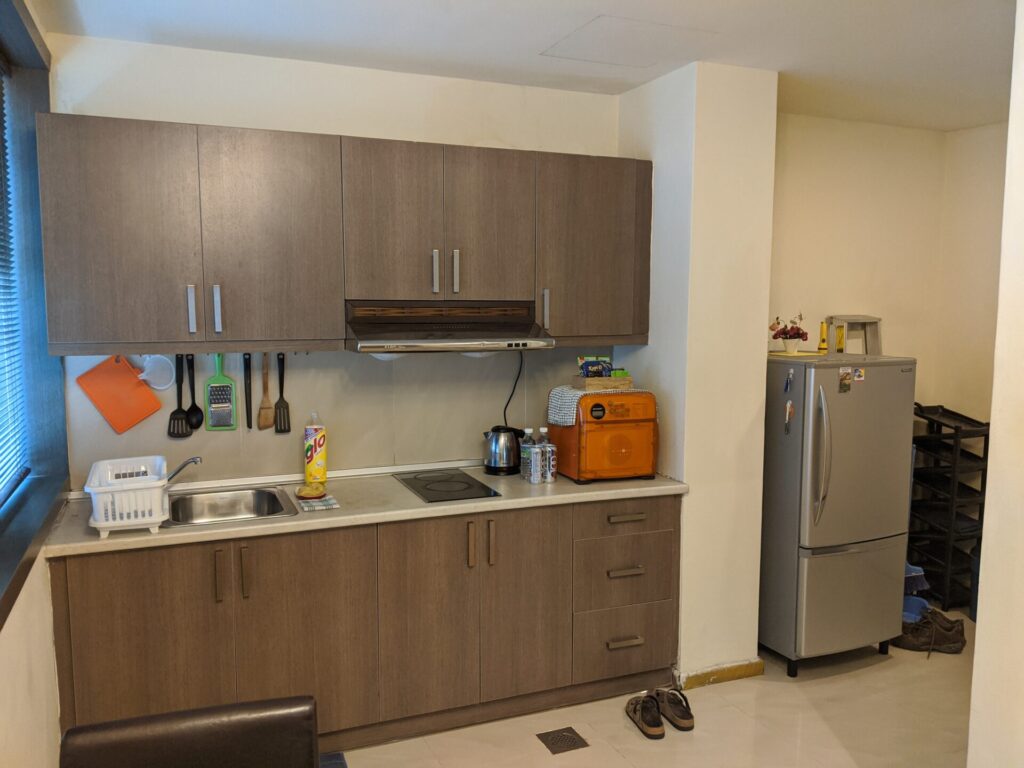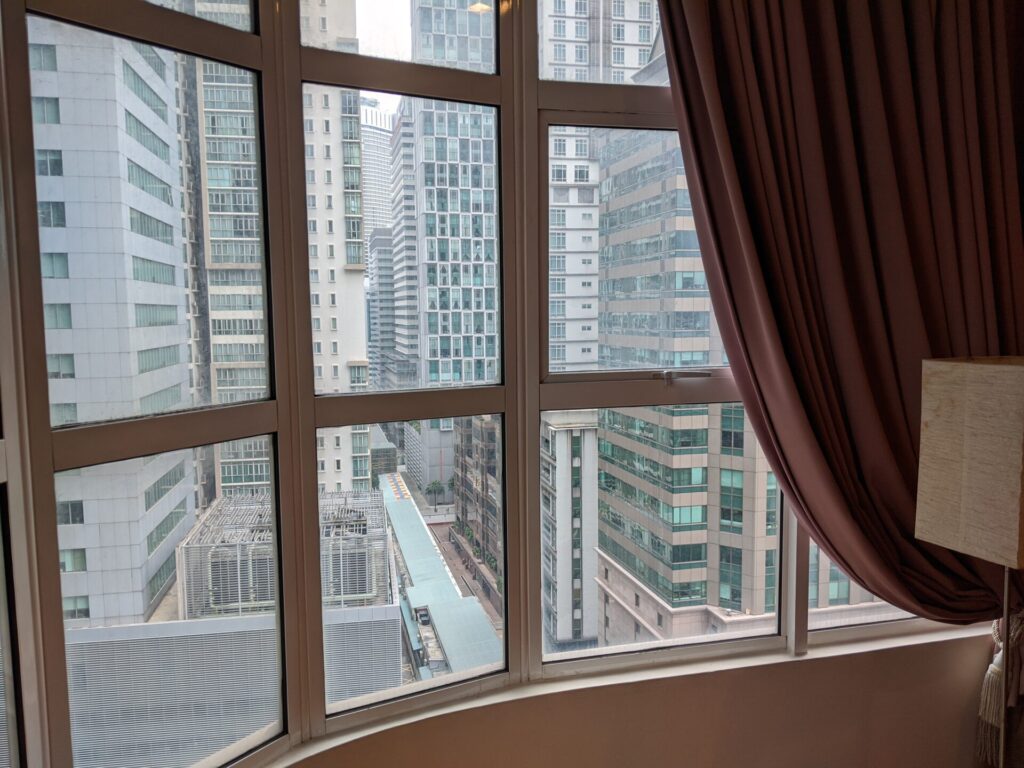 What We Spent
If you haven't poked around the edges of this website lately, I somewhat recently added a few new features. There are new menu tabs that categorize posts based on location and I've also added a spending page so that it's easier to keep track of exactly what it's costing us to travel the world. Check it out. Or if you really want to follow along, sign up for the mailing list at the very bottom of this post and I'll send you an email whenever I have a new post up. Don't worry, I don't write all that often so your inbox won't be in any danger of excess clutter from Bonus Nachos posts.
Prices in downtown Kuala Lumpur were definitely more expensive than Penang or Malacca. But despite that, we didn't spend much extra. The availability of the awesome markets meant that we didn't eat out until the last day of our stay. And even though our rent was the highest, we only paid about $10 in transport costs to get to there from Malacca, so that also helped offset any higher costs. In total we spent $1546 for our 30 days there, which is $51.46 per day. Adding in our regular monthly bills like cell phones and Netflix still kept us under $1700 for the entire month.
We also continued to enjoy challenging each other to a spirited game of Cribbage periodically. During our 86 days in Malaysia we managed to squeeze in 78 games. Katie had a 10 game lead at one point, but I came roaring back. The ending score was 39-39.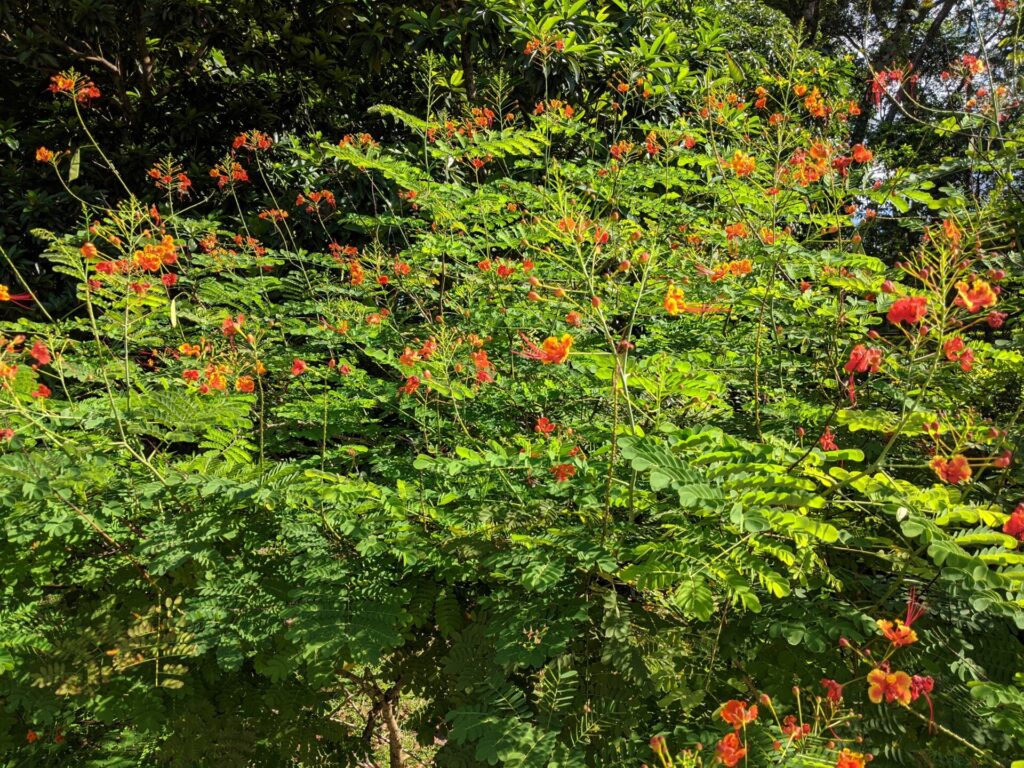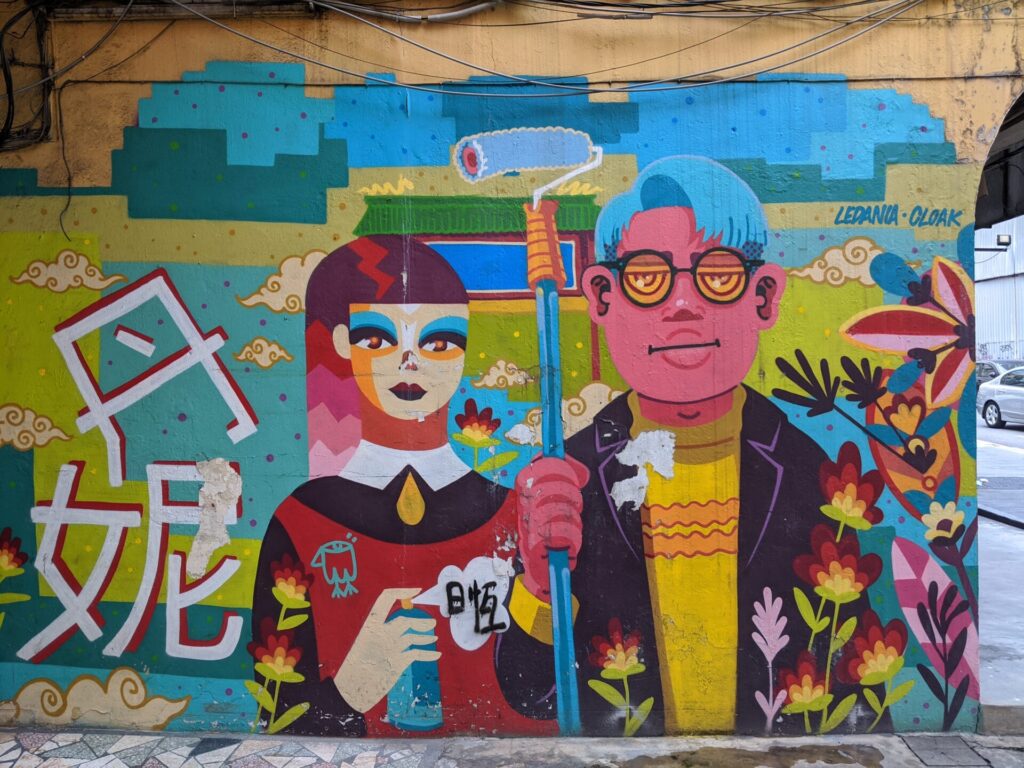 Despite being a major city, it seems like many people skip Kuala Lumpur on their travels due to a lack of tourist activities. I can understand that, as aside from some tall buildings and a few specialized museums, there aren't a lot of star attractions. I'm guessing a fabric museum or a bird park is not high on the SE Asia priority list for most tourists when there are things like Angkor Wat in the relative vicinity. So while it's probably not the greatest city to visit, it is a really nice place to live. We definitely enjoyed our time living there. There was no overdriving urge to see a bunch of stuff, and yet there was always something to do. It had the big city energy that we crave but still balanced it with lots of green space and nature. We would love to return someday. And maybe we'll even visit the Batu Caves.