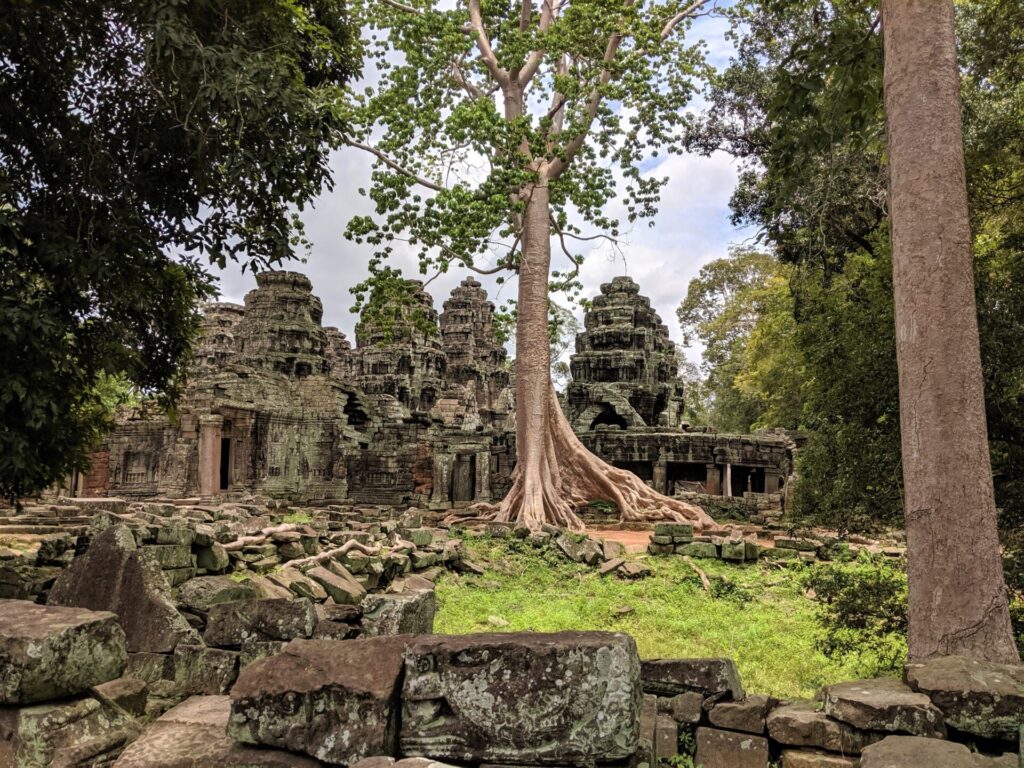 The last time Katie and I stepped foot on US soil was on June 26, 2019 when we walked into LAX to board our flight to Asia. While we quit our jobs two months prior, leaving the country felt like the true start of our retirement adventure. Many hours later, we arrived in Bangkok ready to explore the world. During the last 12 months, we traveled through Thailand, Cambodia, Malaysia, back to Thailand, and then on to Vietnam where we've been grounded due to the ongoing global pandemic. Throughout these travels, we've spent way less than I anticipated. And while I post spending reports for each location, today I'm going to provide a summary of all of our costs by category instead.
We arrived in Thailand in late June, so the "year" referenced is really June 27, 2019 to June 30, 2020, but that's close enough. Considering our total (below), I don't feel the need to exclude those extra few days. Having never traveled long term before, we settled on a prospective budget of $36,000 per year prior to leaving. We blew that out of the water! For our first year, we spent a grand total of …. drum roll please …. $21,580.
This number includes all of our spending. All of the food, flights, housing, tourist activities, cell phone bills, insurance, and everything else which I'll break down below. As you can probably guess from the total, we still held onto many of our frugal tendencies that we've built up over the years. Being careful with our spending while working towards early retirement is not something that just goes away. So even though prices on almost everything are a lot cheaper compared to the US, we still sought out value. Since we don't plan on working ever again, our portfolio needs to last us 40, 50, or even 60 years. Low spending at the beginning of our retirement helps guard against sequence of returns risk and increases the chances that our money will last.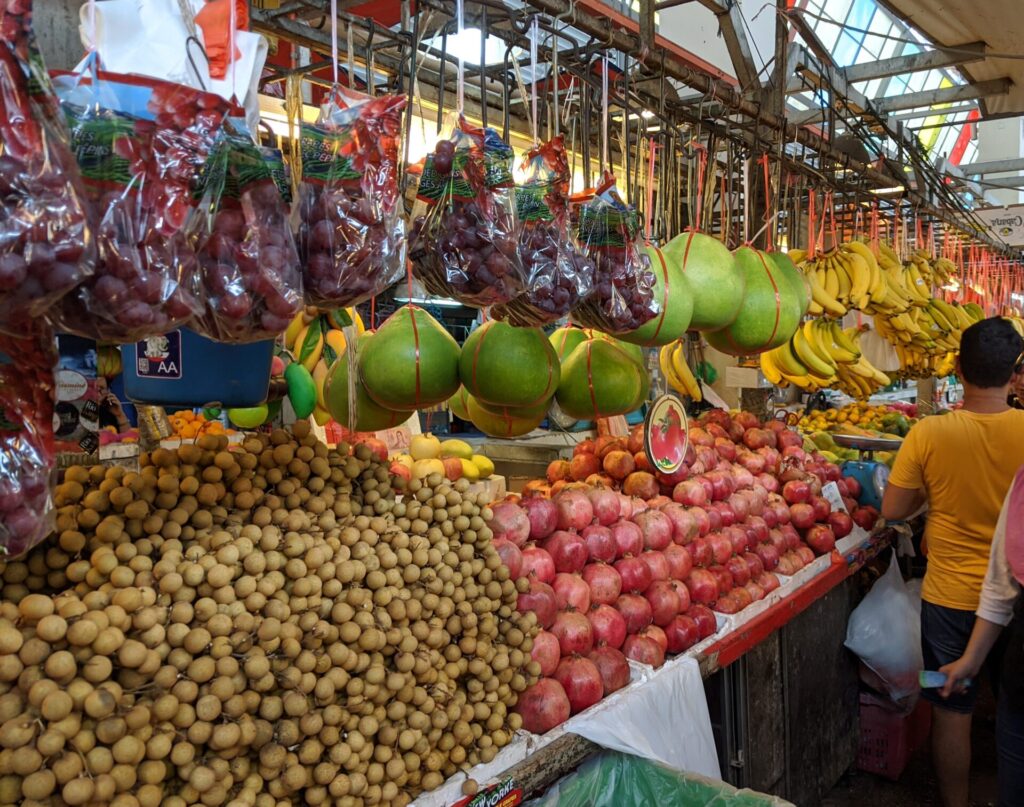 Make no mistake though, this was not the least amount we could spend. We still stayed in modern apartments, visited amazing natural and man-made wonders (like Ha Long Bay and Angkor Wat), ate well, and saw many parts of multiple countries. While we weren't spending with reckless abandon or anything, this was not a bare bones budget. If we really needed to, we could still cut this spending amount, but we're pretty happy with the balance we struck. Here's how it breaks down.
Housing
Housing was our largest spending category as we spent $8050 on rent, representing 37% of the total. At 370 days (the last 4 days of June 2019 plus Leap Day 2020), that's an average of $21.76 per night while staying in 16 different apartments. 15 of those 16 were found through the Airbnb platform. It costs a little bit more to rent via Airbnb, but it sure is convenient. Of course when we had more time, we were able to find better deals. A couple of them we didn't like too much, but for the most part we were happy with where we chose to stay.
Most expensive: We paid $32.25 per night in Ha Long, Vietnam. We decided to stay in a brand new condo on a high floor with a great view. While we probably wouldn't pay this amount for a month, we only stayed a week so it worked out just fine.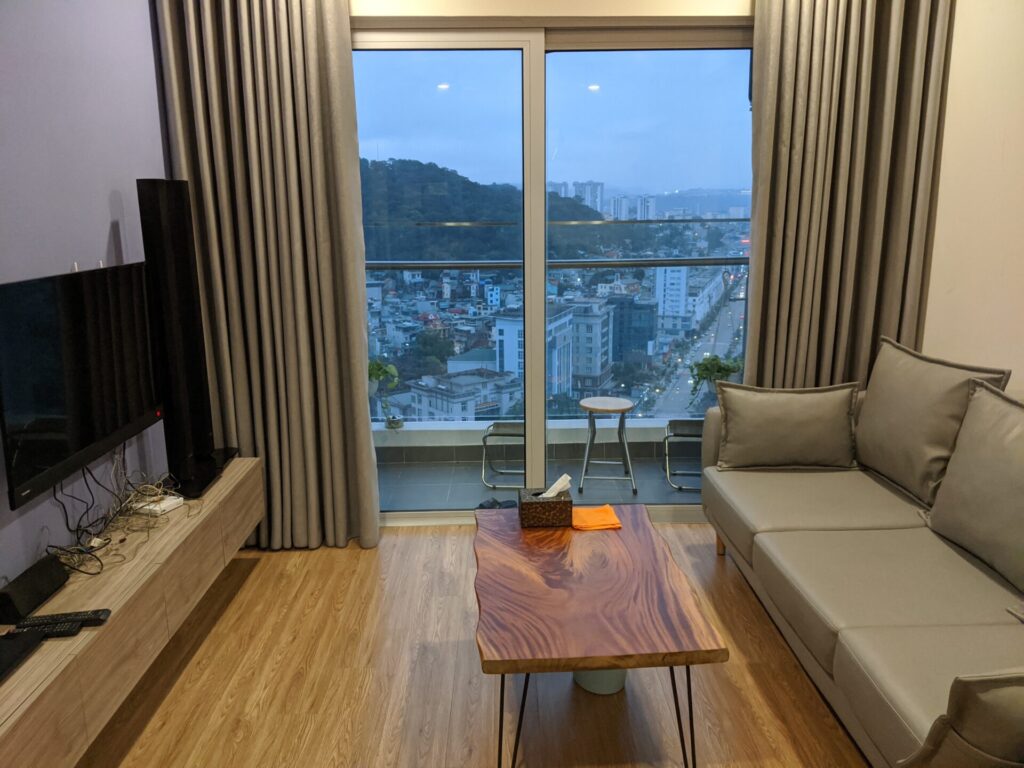 Least expensive: Our current apartment in Danang, Vietnam is $350/mo plus electricity costs of around $30, so that's only $12.66 per night. We are only a few blocks from the ocean and have a rooftop pool that's basically our own private swimming area, due to the current lack of travelers. The bed is comfortable and we're on a high enough floor to get really good breezes. However, this is not the "normal" price. Since Vietnam's borders are closed, we were able to negotiate a "COVID discount". (The owner's words, not ours.) We'll take it!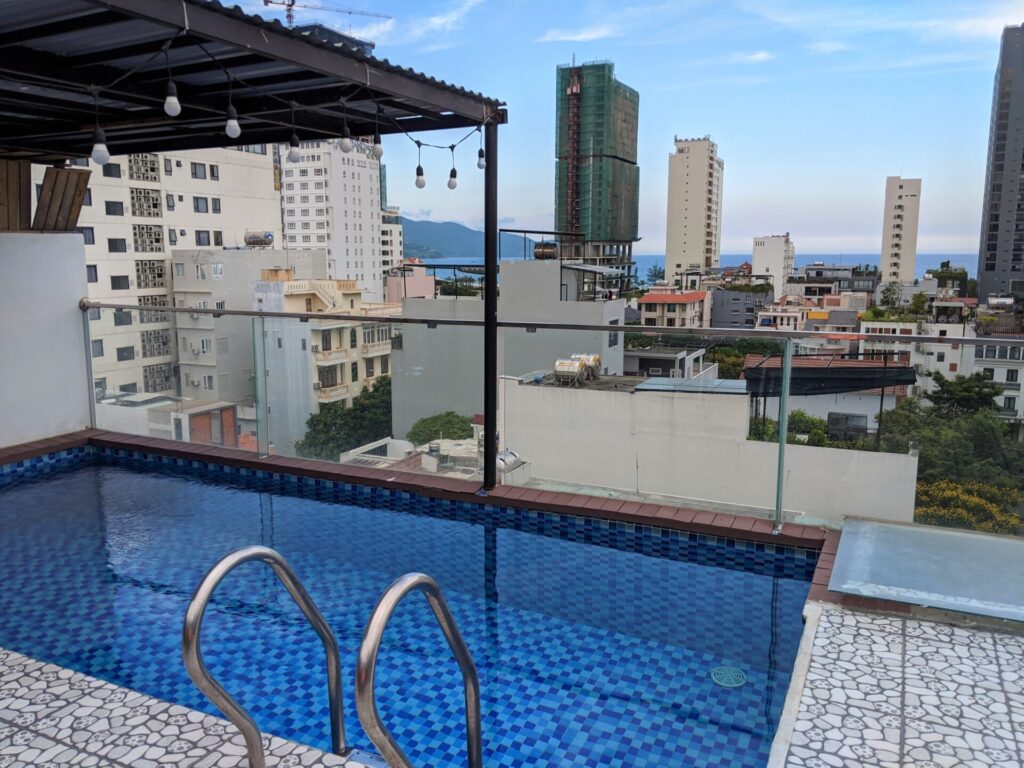 Least expensive without the "COVID discount": Malacca, Malaysia at $13.19 per night. We didn't really like this stay too much, as our apartment faced a main street with tons of street noise. The bed also left a bit to be desired. But hey, if we're going to end up somewhere that we don't like that much, at least it didn't cost us a lot.
Best location (tie): As everyone knows, the three most important things about real estate are location, location, and location. We stayed in a beach hut on the Thai island of Koh Samui that was only a few steps from the ocean and a short walking distance from the downtown restaurants and markets. But it was also quiet, as it was away from the resorts and bars. We saw many great sunsets during our two weeks there just by wandering off our porch to the coast around dusk to see what might be happening.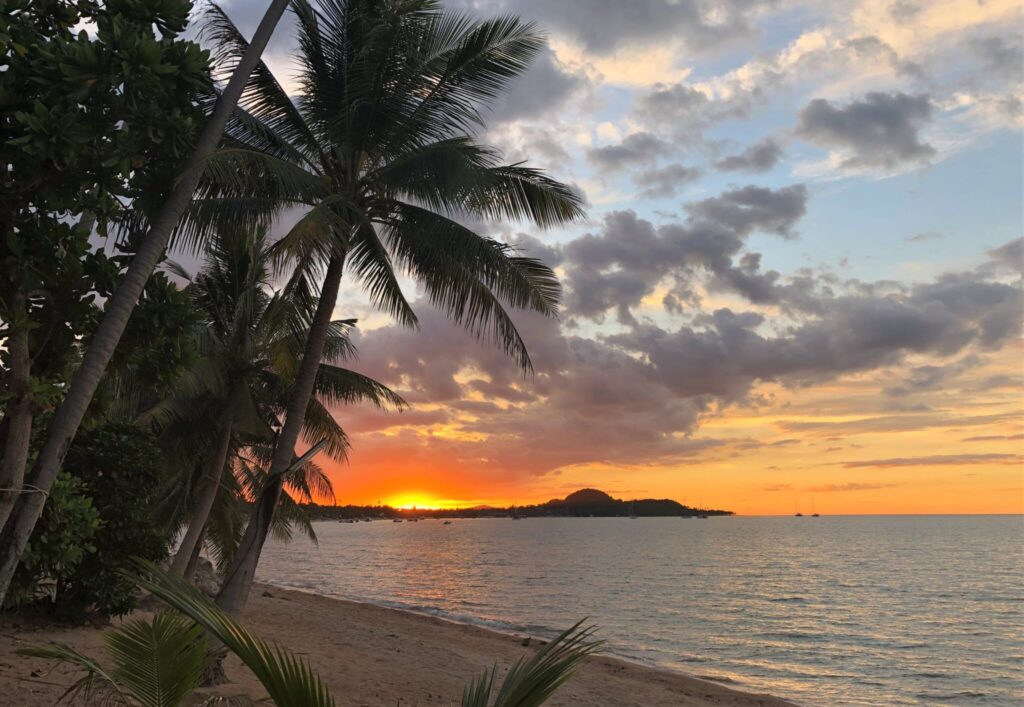 Best location (tie): We also stayed in the heart of downtown Kuala Lumpur, only two blocks from the iconic Petronas Twin Towers. Every time we walked to or from our apartment on a high floor of a local high rise condo building, we witnessed these buildings towering above us. We were in the middle of everything Kuala Lumpur had to offer and it was great.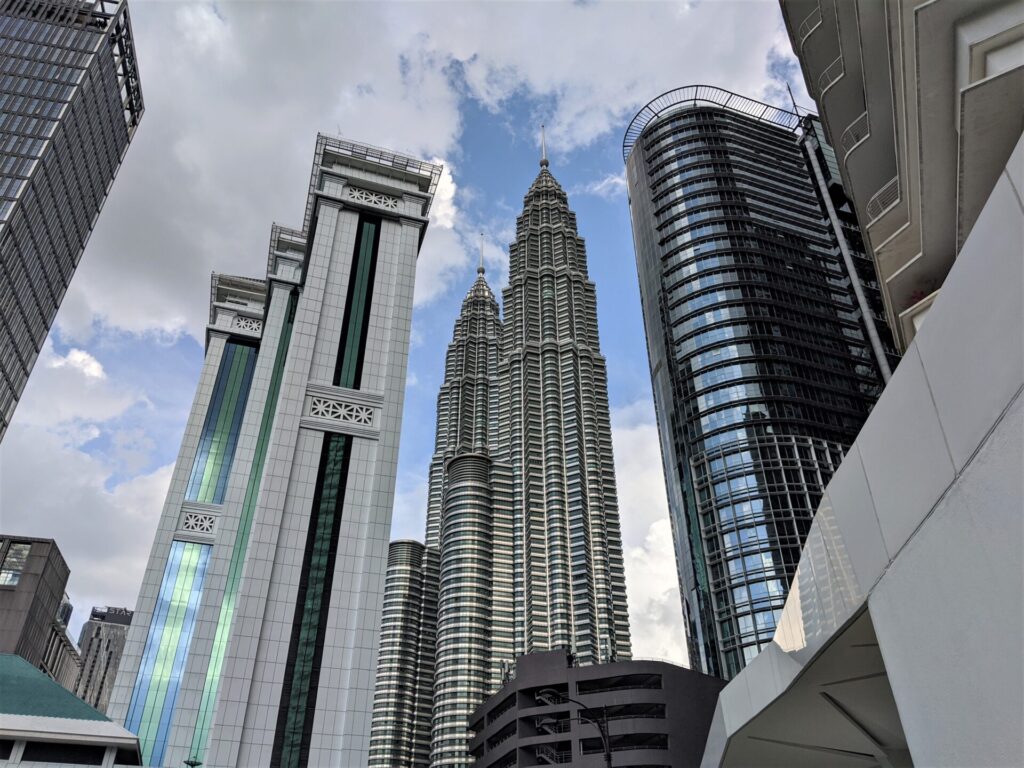 Best value: Kata Beach, Phuket, Thailand. Here we stayed in a new condo with absolutely breathtaking views of the Andaman Sea from our huge balcony. The condo was modern, the bed was great, and it was easily the best equipped kitchen that we have had. And it was still less than $30/night for a short term rental. There's no way we should've been staying in a place like this on our budget. But we had a handful of places that we liked, and it was the off season, so we were able to wait until the last minute to book as we watched the prices drop. That worked out well.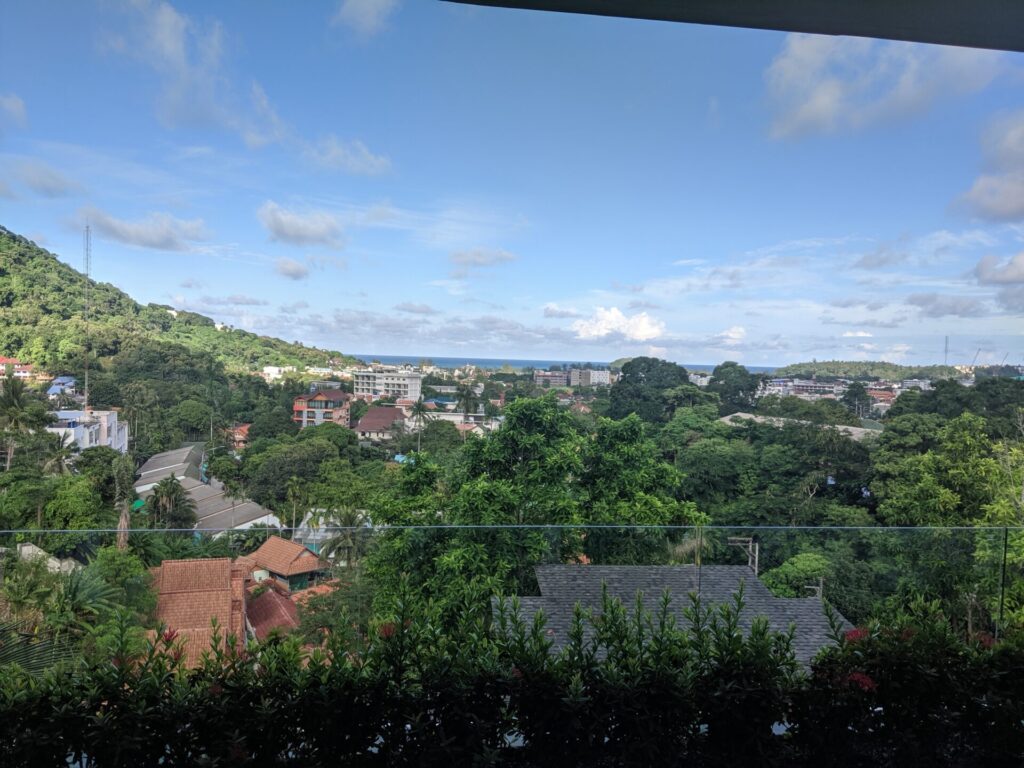 Transportation
We moved around a lot, especially at the beginning when we were only staying around 2 weeks per location in Thailand and Cambodia. After a few months of that, we decided to slow down our travel pace and spend around 4 weeks at each stop for a while. We visited 4 countries (including Thailand twice), took 8 flights, 6 bus rides, 3 ferries, and 2 taxis (1 voluntarily and 1 involuntarily). Altogether we spent $1581, or 7% of the total.
(Side note: we only paid $45 to fly from the US to Thailand as we redeemed 80,000 airline miles. So that's included, but obviously wasn't a big factor.)
Most expensive: $288 to fly from Kuala Lumpur, Malaysia to Chiang Mai, Thailand. Flights are so cheap around most of Asia that it's almost wrong to pay this much. But we basically decided that we wanted to spend Christmas and New Years in Chiang Mai, and we booked a cheap apartment, so we paid what was necessary to get there.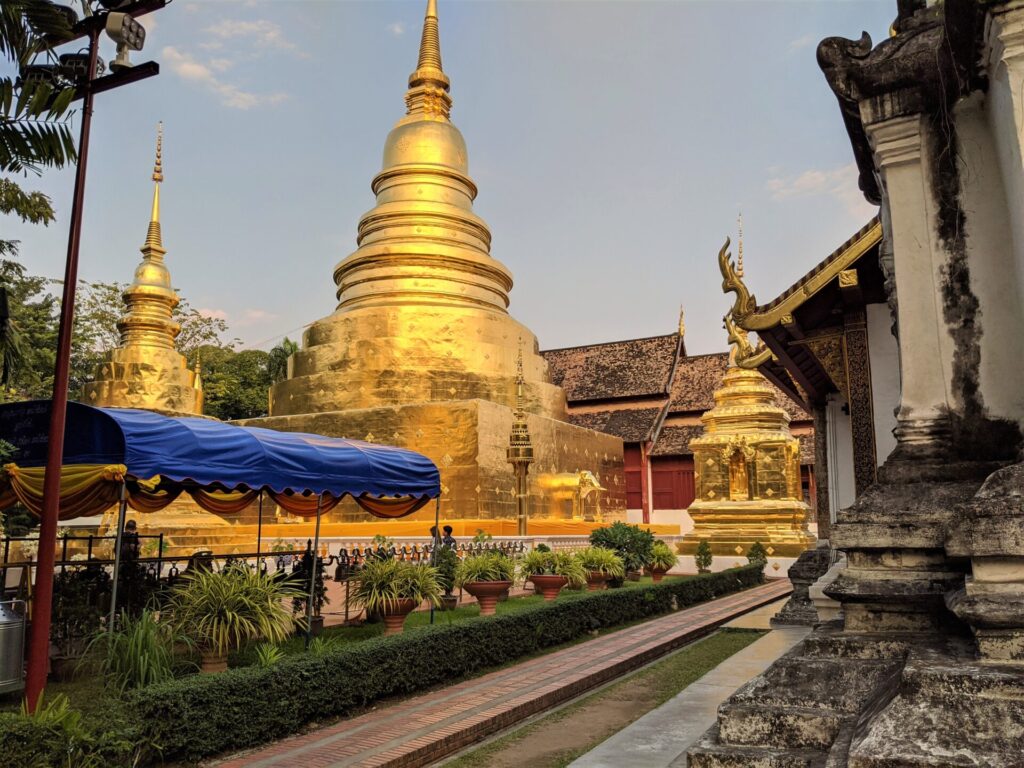 Least Expensive and Best Value: Malacca, Malaysia to Kuala Lumpur, Malaysia. We paid 23 Ringgit ($5.53) for both of us to take a modern, comfortable, air conditioned bus, with wifi, from Malacca to Kuala Lumpur. We covered a distance of 140 kilometers (87 miles) for less than $6. Pretty ridiculous!
Food & Drink
Our second highest spending category at $5943, or 28% of the total. This further breaks down to $2,960 on groceries, $679 at produce markets, $744 at restaurants, and $1560 on alcoholic beverages. Most of our restaurant spending was not at official sit down restaurants but eating street food from markets or food carts. We still prefer to make most of our meals in our own kitchen, but there were exceptions.
Best location to eat out (tie): Chiang Mai, Thailand – While I could never personally pull it off, I can see how people could live in Chiang Mai and never cook. Aside from the absolutely awesome weekend markets, there are multiple others that happen every single night. There's plenty of prepared food at produce markets that is ready to be taken home and heated up later too. And it's all cheap and delicious. It's a great place to eat.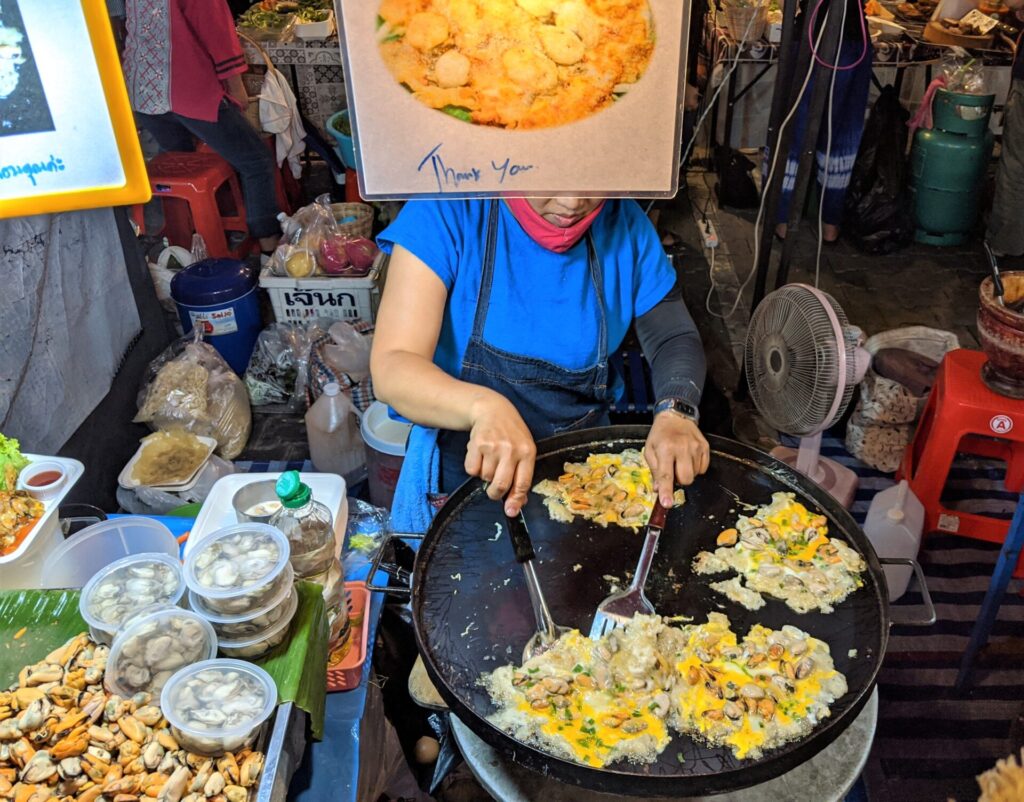 Best location to eat out (tie): Hoi An, Vietnam – We ate out the most in Hoi An, as their specialty Cao Lau noodles are amazing and cheap. Their local twist on the ubiquitous Vietnamese Bahn Mi also made it the best sandwich we've had. We haven't found anything close, even though we're currently only 17 miles (27km) away in Danang. Something about all those fresh herbs and pickled veggies combined with a perfectly toasted baguette. It was a rare day when we didn't eat one of these two dishes. In fact, we're currently kicking around the idea of taking a vacation to Hoi An just to eat them again. Which seems a little ridiculous when I type it out, as if we need a vacation. But we still might do it just to eat. That's how good it is.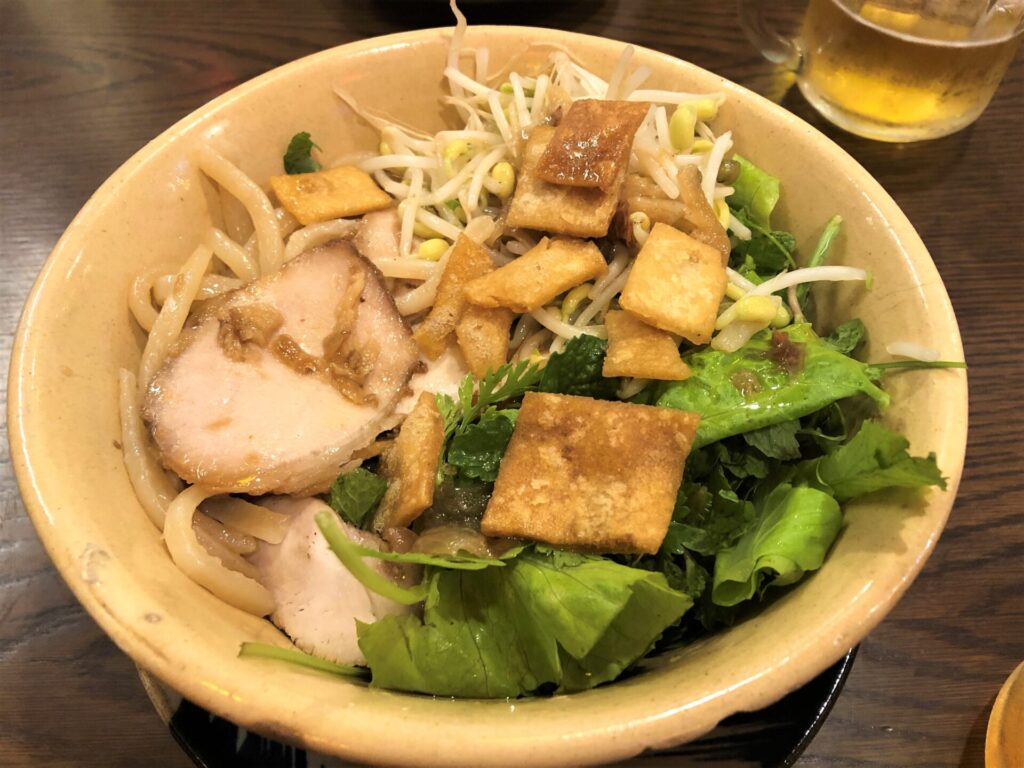 Household/Personal Supplies
We spent $862 or 4% of the total on necessities and things to keep us comfortable. This includes household items like toilet paper and shampoo along with kitchen items like rice cookers or pots and pans as needed. It also covers personal items like allergy medication, lotion, sunscreen, and bug repellent.
Clothes
We spent $537, or 2% of the total on clothing and shoes. This number, for as low as it is, includes a lot of clothes shopping. We have probably replaced close to half of the clothing items that we started with a year ago. It's just that most clothing, even good quality stuff, is so much cheaper in Asia than in the US. The biggest problem is finding things that will fit. While I don't feel like my 5'11" 190 pound (86kg) frame makes me a giant, I am bigger than most of the locals and the clothing for sale reflects the sizes that will sell. (Hopefully I'm still around 190. I haven't stepped on a scale in months)
I recently have been on the hunt for a pair of shorts. Everywhere we went, I would stop by clothing shops and stands but nothing was my size. I even went into a store with a sign advertising "Fashion for BigSize". They had one pair of 35" shorts that was just a little too small and one pair of 42" shorts. That was it. After searching for 2 months, I was very close to giving up and going to a tailor. Luckily, before that happened I found a clothing store in a mini mall that had a pair of 36" shorts, although they had to get them from the back. I asked if they had any more and they found one more pair after some searching. I bought them both. They're quite nice and only $20 each, but it was certainly a challenge trying to find them. It's a good thing I'm retired and have time to search!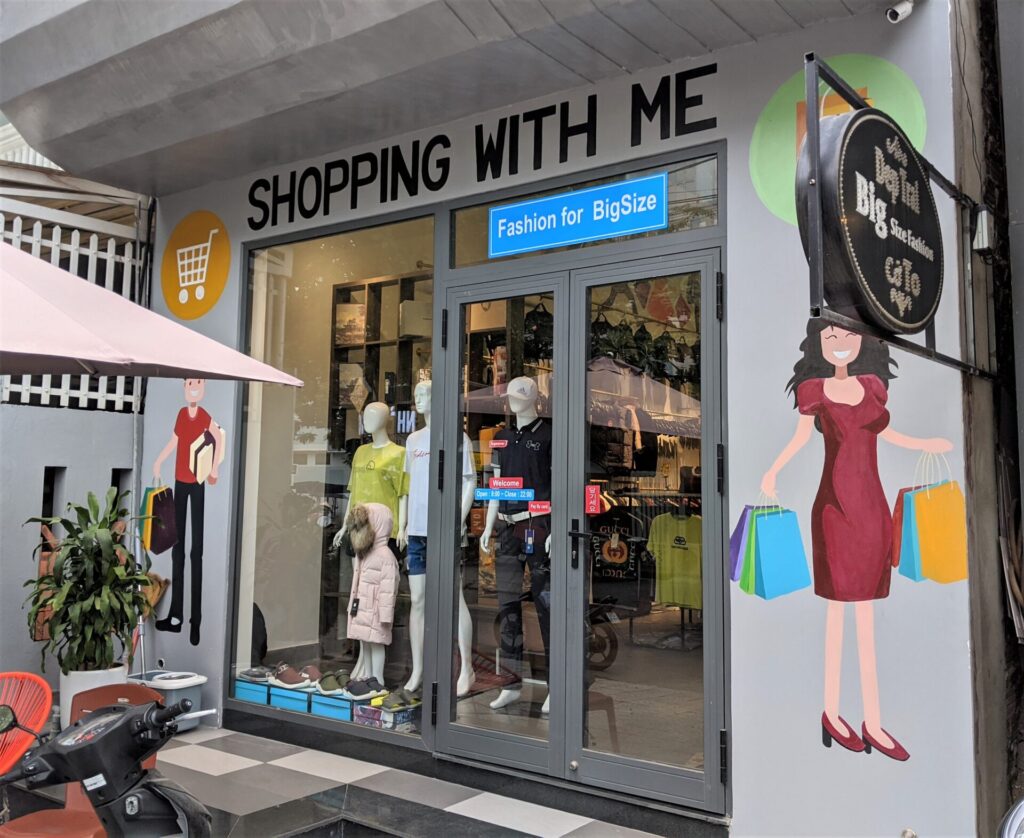 Entertainment
We spent only $393, or 2% of the total on entertainment. This is mostly the Angkor Temple Complex ticket and our Ha Long Bay cruise ($233 combined). We visited lots of other temples but most of them are free or only charge a nominal fee. There were a few museums too, along with the ridiculously entertaining KL Bird Park. For the most part, much of our entertainment is free as we like going on long walks through different neighborhoods, to the beach, or through markets (covered in food spending). Unfortunately, COVID means that markets are less desirable at the moment, since they are crowded and we have to deal with multiple vendors while handling cash from each of them.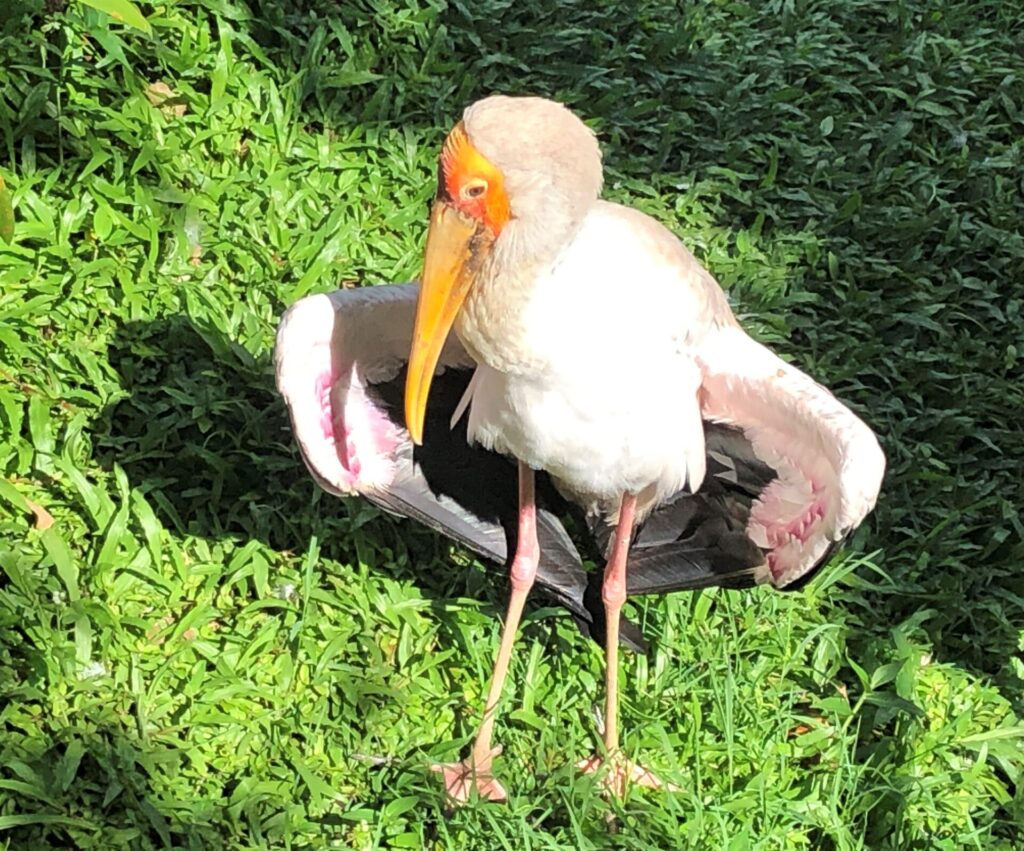 Health & Dental
$1018 covered all of our spending on health and dental at 5% of the total. This cost is almost fully encompassed by our international health insurance plan, which we happily didn't use. We also visited the dentist twice for cleanings and minor work, but that's really cheap even at a modern facility.
Visa Fees
For $1628, or 8% of our total, we were granted the ability to legally visit and stay in these countries. The vast majority of this cost is due to the necessity of extending our visas in Vietnam. Our first 3 month visa here cost us $50 each, whereas the extension was $380 each. If COVID wasn't a thing, we would've only spent about $300 in this category. But we are happy to pay for the privilege of staying in Vietnam where COVID is basically eradicated (for now). In fact, we recently extended a second time so we'll be here until at least mid-September.
Miscellaneous
We spent $635, or 3% on other random things that don't fit in any category above. Examples could include flowers, new eyeglasses, local sim cards, donations, and things like that. I'm not entirely sure I remember everything that made up the spending in this category, but I wrote it down as it was spent nonetheless.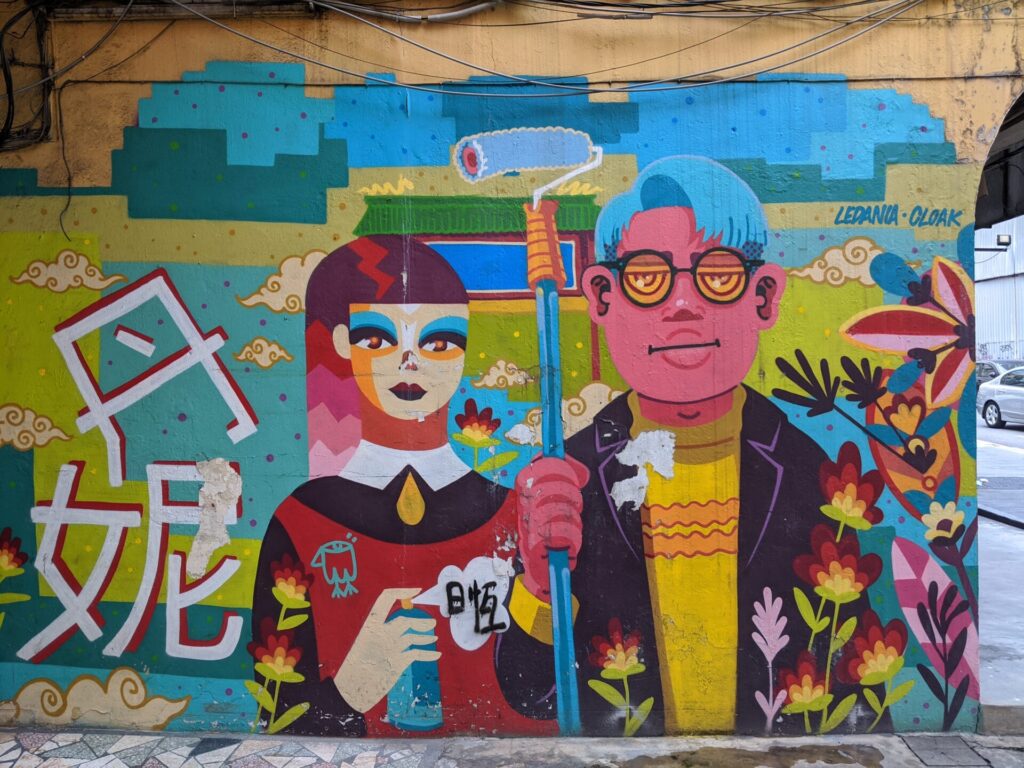 Speaking of miscellaneous, we've still been playing cribbage, although not as frequently as when we first set out. Our year long battle ended at Eric 156, Katie 146. Although my 1.5% edge has been falling lately, so I expect Katie to even things out soon.
Monthly Bills
Even as nomadic travelers we can't escape recurring monthly bills, where we spent $933, or 4% of the total. We subscribe to Netflix and Skype and have a VPN. I pay for a Google Fi cell plan, but they cut off my data after 6 months out of the country, so now it's just a way to keep my US number. At least my bill went down. I also buy MLB.tv when baseball happens and we have a mail service that handles anything we would get in the postal mail. And of course, blogging fees for website hosting, our domain name, and an SSL certificate so that you can securely read about our journey.
So that's the official spending report, including every dollar that we spent over the last year. This $21,580 allowed us to see and do a lot of really amazing things. We watched monkeys, saw a pink dolphin, swam in three seas and found some super unique batik painting. We visited more temples than I can count and saw lots of great street art too. Our stomachs were always full with lots of delicious food and we stayed in some pretty cool places. You think I'd be used to it by now, but I'm still constantly shocked by how cheap most things are. If I hadn't done it myself, I would've never believed that we could've done all of these things for this little amount of money.